Pick up shares of these seven stocks that operate in industries seeing huge growth potential during four years of President Trump. His proposed policies should directly benefit business opportunities and profitbaility of these seven stocks.
Donald Trump is the 45th President of the United States, and in rather unexpected fashion. Trump noted in his acceptance speech that "it's time for America to bind the wounds of division." However, much of the stock market is still divided on how Trump will impact their portfolio.
For now, a Trump Presidency has turned out positive for the markets. After the market initially 'tanked,' things rebounded nicely as investors realized that a Trump Presidency could help boost shareholder value and lead to more mergers.
There's a number of Trump policies that could shake up several industries, from technology to energy. To start, there's the tax-efficient repatriation of cash from overseas, which is something we've talked about in the past, as there are companies that could finally bring home billions of dollars.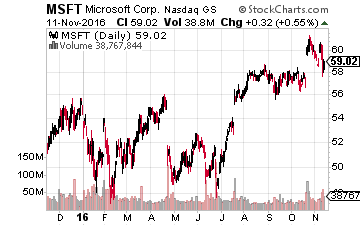 Trump has pushed for a repatriation holiday of 10% for some two trillion dollars in cash overseas, and promising the biggest tax overhaul since Ronald Reagan. The companies with the most cash overseas include the likes of Microsoft (NASDAQ: MSFT), General Electric (NYSE: GE) and Pfizer (NYSE: PFE).
There's also the well-known stocks that will do well with Trump, including the defense stocks and anything anti-immigration. On the defense side, Trump wants to put an end to the sequester on defense spending and build up the military, putting major defense contractors like Lockheed Martin (NYSE: LMT) and General Dynamics (NYSE: GD) in the spotlight. With Trump's immigration plans, which includes building a wall to separate the United States and Mexico, the most obvious play is the Mexican cement company, Cemex (NYSE: CX).
A Trump Presidency means many things for this market, and we've done the hard work of figuring out the top three angles to take for investors:
Top Trump Presidency Play No. 1: Infrastructure
One of Trump's biggest focuses is on infrastructure spending. He's promised to boost spending on bridges and roads. Even that repatriated cash mentioned earlier could be a benefit for infrastructure spending, where the tax received could be spent on revamping airports and the like. Trump has said, "We are going to fix our inner cities … We're going to rebuild our infrastructure, which will become, by the way, second to none … And we will put millions of our people to work as we rebuild it."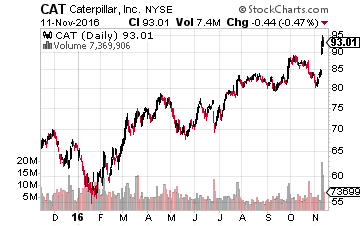 This comes after a boost in infrastructure investments has failed to gain Congress approval for years. The Republicans now control Congress, having the majority in the Senate and House of Representatives. Trump can now get a reduction in the repatriation tax on foreign cash approved, a reduction that's enough to spur companies to bring cash home, then use that tax revenue for infrastructure. The big plan for infrastructure brings us to the leader in the heavy equipment industry, Caterpillar (NYSE: CAT). CAT shares have enjoyed a nice rally this year, but are still well off the $100 a share high we saw just a couple years ago.
Top Trump Presidency Play No. 2: Climate Change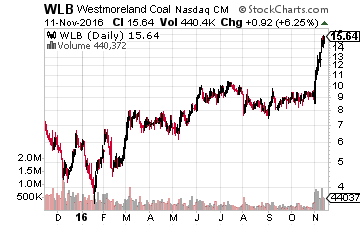 Trump has called climate change a hoax, which means energy and oil companies could see a boom from a Trump Presidency. With that, solar stocks took it on the chin after the news of Trump's win, but coal stocks have been surging. This includes names that had been beaten down for months, like Westmoreland Coal (NASDAQ: WLB), soaring 30% in the last week.
The more underrated play on climate change is the auto industry. The auto industry has been pressured to focus on electric vehicles and increased fuel efficiency, but with Trump in the White House, these pressures will be relieved for automakers like General Motors (NYSE: GM) and Ford (NYSE: F).
SEE ALSO: Investing for Retirement Under President Trump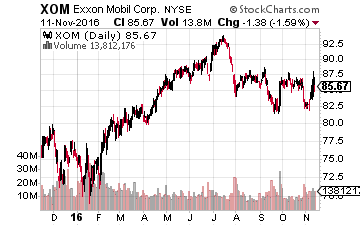 And "drill, baby, drill" is back in business. The oil and gas drillers are back with Trump in charge. This is good news for the likes of ExxonMobil (NYSE: XOM), which offers a hefty 3.5% dividend yield and is one of the best plays in the energy space.
Top Trump Presidency Play No. 3: Healthcare
Major pharmaceutical and biotechnology companies have been on edge for several months with the assumption that Hillary Clinton would be bad news for industry. However, Trumps win means that biotech is a great industry again. The big key is that it looks like the fear of the healthcare industry becoming regulated like utilities won't happen after all.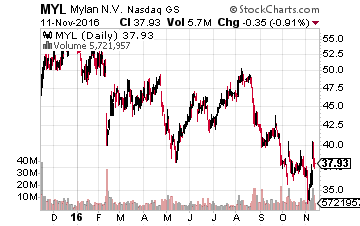 The fear of drug companies being taken to task for drug price hikes has been put on the back burner for now. The companies that were previously taken to task could continue to move higher with the political overhang somewhat cleared. This includes the likes of Mylan (NYSE: MYL) and Novartis (NYSE: NVS). Both of these stocks are still down more than 10% in 2016 and are trading at reasonable valuations. However, some investors might be more interested in safer drug stocks, which have strong balance sheets and plenty of cash.
Investing in sectors and stocks where there is hidden value not yet recognized in the market has become my specialty. Since the majority of investors have not heard of the stocks I pick or seen the opportunity yet, I can buy shares for much lower prices and supercharge my returns even more.
This is what makes my investing methods and advisory services so powerful for people who invest their own money. I have the time and resources to scour hundreds of financial reports and conference calls to search out these undiscovered gems and then share them with you, someone who might never have the time to find and qualify these investments.
In my Growth Stock Advisor newsletter, I share a new growth-oriented investment every month and my subscribers have already seen explosive returns by following my contrarian investing strategy.
Just recently, I shared with my subscribers a report detailing my top five growth investments for 2017 and you do not want to miss out on these potential triple-digit winners. You can access this report by clicking the link below.
Click here to access my latest report.