This little-known MLP just provided guidance that almost guarantees a 24% annual return for the next half decade or longer. That could turn every $1,000 invested into a whopping $2,963.21 in five short years. This has the potential to be one of those rare low risk, high growth investment opportunities. Get all the details now.
To keep up with what's happening in the energy markets, one source I use is the daily Energy Journal put out by The Wall Street Journal. Today's email is titled "The LNG Race Is On". According to the WSJ, Royal Dutch Shell PLC's massive $70 billion deal to buy BG Group PLC is the first shot in the global LNG race. Although the business is global, liquefied natural gas is poised to become the next great export for the U.S. energy industry. Later, I will reveal a little known way to very profitably participate in this transformative energy business.
A decade ago, U.S. energy companies were building de-liquification facilities so LNG could be imported into the U.S. from places like Australia and Qatar. The shale energy boom flipped that paradigm on its head, and now the U.S. is the world's largest producer of natural gas. The facilities required to process natural gas into LNG are expensive and take years to build. Also, it takes several years and a couple of government agencies to get approval to start construction on an LNG facility. To date, the Federal Energy Regulatory Commission (FERC) has approved proposals for nine LNG export terminals and of those nine, four are currently under construction. The first completion will be Sabine Pass LNG in Louisiana, owned by Cheniere Energy, Inc. (NYSE:LNG) is scheduled to come on line and start exporting LNG in late 2015.
For income investors, the way to play the coming LNG export boom has been with Cheniere Energy Partners LP (NYSE:CQP). Three years ago, CQP provided a 7.5% yield, while Cheniere used the MLP as a vehicle to raise capital to pay for the LNG terminal construction. As completion of the facility nears, the CQP unit price has gained value. However, the distribution rate from the MLP has not changed, and the units now yield about 5.5%. Cheniere has piled so much MLP equity capital into the project, it is doubtful that the start of LNG exports will provide enough cash flow to allow distribution increases on the MLP units.
However, there is another, low risk, high-growth potential way to invest in one of the approved and under construction LNG export facilities. Large-cap ($43 billion market cap) utility company Dominion Resources is building the Cove Point LNG terminal in Cove Point, Maryland. Cove Point will be the only LNG export location on the East Coast with close access to the prolific Marcellus shale natural gas play. Dominion forecasts that the terminal will start exporting in late 2017. While Dominion Resources is more growth-focused than the average gas and electricity utility company, it is not a growth investment.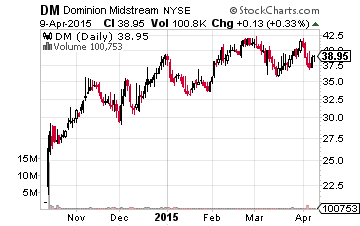 In October 2014, Dominion spun-off an energy midstream MLP, Dominion Midstream Partners LP (NYSE:DM). Over the last few years, large energy companies have been setting up publicly traded MLPs to monetize their energy infrastructure assets. Dominion Resources, as the sponsor of Dominion Midstream Partners, will sell energy assets such as natural gas gathering and processing facilities and pipelines to the MLP. Sales are priced and timed so that the MLP can steadily grow the distribution it pays to limited partner unit owning investors – that's us. With a sponsor that owns significant energy midstream assets, as does Dominion, the growth rate of the MLP distributions can be forecast for years into the future.
At the current minimum distribution rate, Dominion Midstream yields 1.8%. The sponsor and partnership team have provided guidance to grow distributions by 22% per year for the next several years. When the Cove Point facility is completed, it will become an asset that can be transferred to the MLP, supporting a high level of distribution growth for years. In this case, Dominion Resources is spending the $4 billion it will cost to develop Cove Point and then the MLP investors will get to participate in the profitability of the terminal through growing quarterly distributions. A 22% growth rate on a 2% yield will produce an average annual 24% total return. With Dominion Midstream, you can expect to earn that very attractive return for the next half-decade or longer.
If you're looking for high yields from MLPs but higher yields than DM I have several that are integral to my Monthly Dividend Paycheck Calendar.
The Monthly Dividend Paycheck Calendar is set up to make sure you're getting 6, 7, even 10 dividend paychecks per month from stable, reliable stocks with high yields.
The calendar ensures that your dividend stock income stream, including REITs, will be more stable and predictable as you're getting payments every month, not just once a quarter like some investors do.
The Monthly Dividend Paycheck Calendar tells you when you need to own the stock, when to expect your next payout, and how much you could make from stable, low risk stocks paying upwards of 8%, 10%, even 17% in the case of one of them. I've done all the research and hard work; all you have to do is pick the stocks and how much you want to get paid.
The next critical date is Thursday, April 30th, so you'll want to take action now to make sure you don't miss out. This time we're gearing up for an extra $3,150 in payouts by Memorial Day, but only if you're on the list by the 17th. Click here to find out more about this unique, easy way of collecting monthly dividends.
Position: Long DM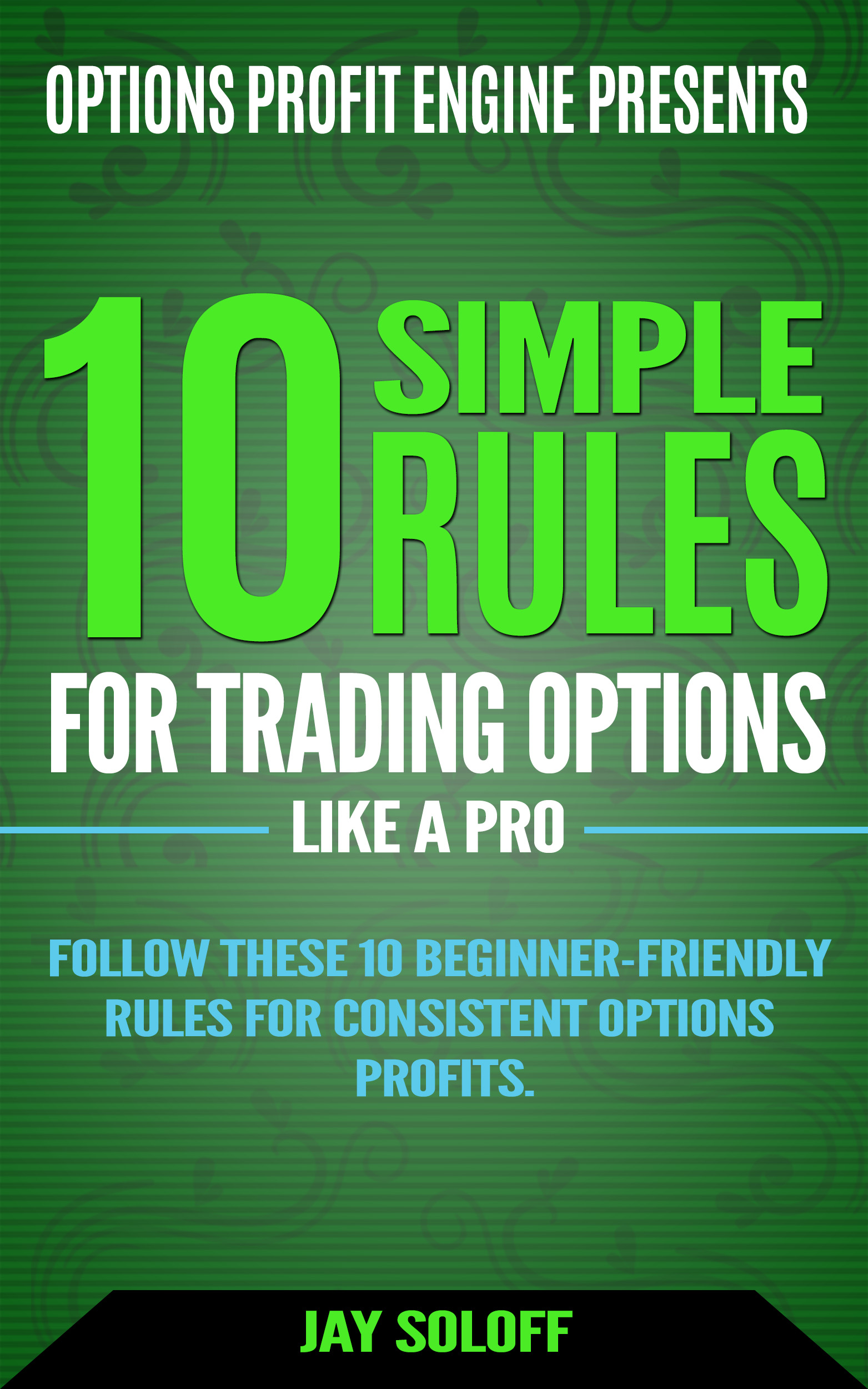 [FREE DOWNLOAD] 10 Simple Rules for Trading Options Like a Pro
Follow these 10 simple rules from 20-year professional options trading veteran, Jay Soloff and start earning a reliable extra income from options.
NO prior experience needed to master these 10 simple options trading rules. 
Enter your email below and receive access to this FREE guide...