After having one of his earlier recommendations go up 250% in just four months, Alan Knuckman, an Investors Alley options contributor, now recommends a new trade to lock in those gargantuan gains and even position this trade to profit more. 
Metal mania saw Freeport McMoRan rally from the September recommendation to the January option series end and a 120% performance.
Not to be left behind, iron ore producer Cliffs Natural Resources doubled from $6 to new annual highs at $12 and has produced at 250% positive push.
Steel prices are solid with prices doubled in the last year.
YES 250% in four months…on a limited risk $225 investment.
October 4th publication http://www.investorsalley.com/a-simple-options-trade-with-triple-digit-potential/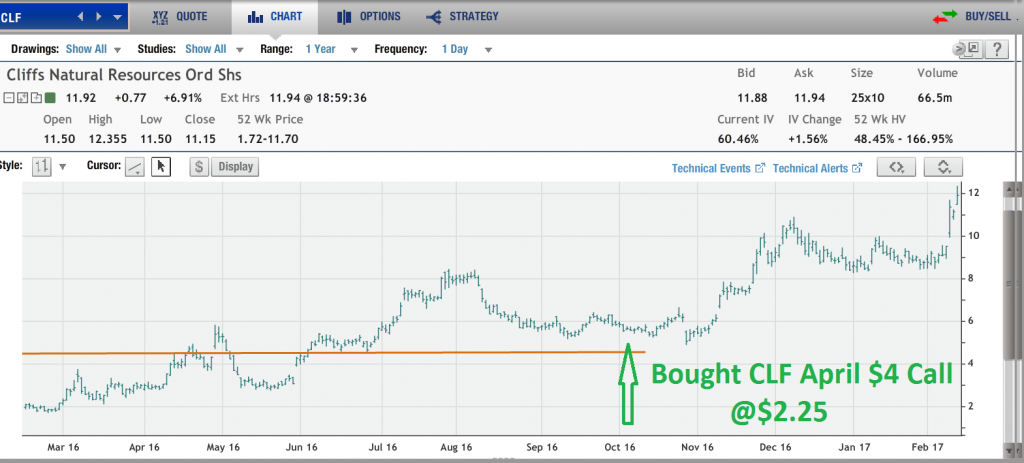 This successful strategy had five main benefits over a stock purchase.
1) Less investment cost – Option $225 versus $600 for 100 shares
2) Absolutely limited risk to the premium paid with a $100 exit stop at half.
3) Staying power to effectively be long CLF from $4 for though April expiry.
4) Modest option breakeven level just 50 cents higher.
SEE ALSO: The 1 Stock to Profit 285% or More from President Trump's Biggest Campaign Promise
5) RETURN of 250%+ in CLF option.
The million dollar question is how to manage this profitable position?
Taking profit is an option… though the momentum with new annual highs means more upside is possible.
A collar strategy could put a price floor in place at NO NET COST. That protection can be financed by selling a higher strike call that is covered by the core $4 call position.
The tradeoff of FREE insurance is limiting the profit potential to the higher strike price sold.
EX: Long the CLF April $4 Call with stock at $12 (Option $8 Real Value)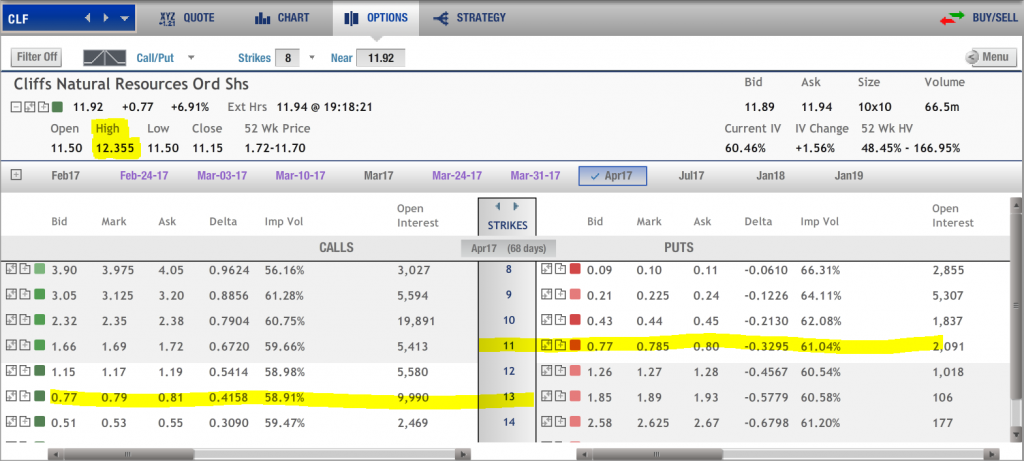 COLLAR STRATEGY: Sell the April $13 Call for 80 cents to buy the April $11 Put for 80 cents…NO NET COST for in effect free insurance.
The only negative is that if the stock continues to surge profit is capped by the sale of the April $13 Call. Therefore the maximum profit is $900 per option (long $4 Call to $13 higher strike covered Call sold ).
If CLF is at or above $13 at April expiration it is a 300% profit.
The benefit is the downside insurance in case of a stock fallback. The $11 Put protects the gain of $700 (long $4 Call to $11 Put strike).
In essence, the strategy locks in a worst case PLUS 210% profit with potential for a 300% GARGUANTUAN GAIN if CLF is above $13 at expiration.
It's so nice to have options with options…