Investing successfully in income stocks means you need to own businesses with long-term focuses. As the years go by and the dividend keeps increasing, compounding interest will take control and exponentially increase your returns. Tim Plaehn sees this stock as being a great long-term dividend stock holding and recommends adding it to your portfolio today.
It just so happens that today some very interesting real estate investment trust (REIT) related articles crossed my computer screen. The articles point out some very interesting facts about REITs that all income stock investors should know.
First up was a Wall Street Journal article titled, "Big Investors Cut Back on Commercial Property as Bull Market Loses Steam". That is certainly a title to cause concern for REIT investors and push them to read deeper. Here are the first two paragraphs of the article:
"Some prominent real-estate investors are reducing their holdings and getting more selective about new deals, in a sign that the eight-year bull market for U.S. commercial property is coming to a close.
Asset managers at pension funds and endowments, as well as private-equity firms and other big investors, are throttling back on new acquisitions, selling more assets and shifting to less risky strategies as a way to protect against potential losses in a downturn."
Further reading shows that the article is talking about private level investors such as asset management firms, pension plans, and university endowments. These are investors who focus on generating capital gains from the invested money.
The next article was on Seeking Alpha, written by Hoya Capital. The piece is an interview of Professor Jonathan Morris, who teaches one of the only masters level REIT classes in the country at Georgetown. Morris had some very interesting thoughts about the differences between private investors and REITs. He also discussed the positives of REIT investing for the individual investor. Here are a couple of remarks about REITs vs. private investors.
"REITs are a long-term business model versus a generally short-term, profit-driven model in the private markets….Public REITs use very conservative levels of debt whereas the private sector loves debt, especially when rates are low."
SEE ALSO: The One Construction Company to Own for Trump's $1 Trillion Infrastructure Boom
Morris was asked about the common belief that rising rates are bad for REITs. His response is a succinct answer compared to the many words I have used to tell investors and subscribers that REITs will do fine as interest rates increase:
"A REIT is a complex structure and it's not easy to understand what makes them tick. Major institutional investors are fully aware of this relationship – "rates up, REITs down" – and will invest heavily in the top REIT names as their shares soften as a result of a tick-up in interest rates. They do this because they know that the rise in rates alone won't affect the fundamentals of these REITs, so they let the financial media drive the prices down with their erroneous chatter and then they come in and buy the shares, which have become somewhat depressed solely due to a flawed paradigm."
Which brings me back around to one more quote from The Wall Street Journal article:
"Few investors predict a crash along the lines of the 2008 downturn because debt levels aren't nearly as high and the economy continues to show signs of strength. Some believe office buildings, malls, apartment buildings and other commercial property will continue to enjoy rising rents and occupancy rates..."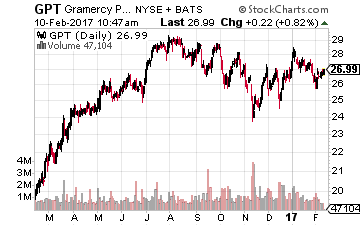 The total take away is that individual investors who focus on building a dividend income stream will continue to be well-served by shares in quality publicly-traded REITs. In the February issue of my Dividend Hunter newsletter, I added industrial and office property-owning REIT Gramercy Property Trust (NYSE:GPT) to my 20 recommended income stocks list.
With its 5.6% yield, investment grade credit rating and growing dividends this is a good example of a REIT investment that will provide attractive total returns through the short-term news cycles. GPT's growing dividend puts it ahead of many other high-yield stocks in the REIT sector, and the potential for dividend growth is always one of the features I look for and recommend in my high-yield income newsletter,  The Dividend Hunter.
This is where I recommend the market's strongest, most stable high-yield dividend payers, and there are 20 high-yield stocks currently available through my Monthly Dividend Paycheck Calendar, a system for generating a recurring monthly income stream from the market's most stable high-yield stocks.