The S&P 500's financial-sector components are the third-worst performing group of 2014, with only consumer-discretionary and telecommunications stocks performing worse. The big Wall Street firms that caused the financial crisis and received multi-billion-dollar bailouts are dragging down the sector as a whole. Nevertheless, there are some promising bank stocks with ample potential for growth, and they're trading at attractive valuations – this article seeks to identify the best of the group, and also give you two banking names you should avoid at all costs.
Too Big To Succeed?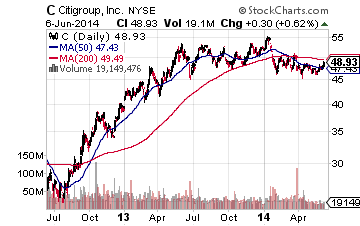 The banking sector as a whole trades at just 12.4 times projected 2014 earnings. While this shows that there's value to be found in the sector, it also shows that traders aren't particularly excited about banking names. One reason is that the sector is very top-heavy, and it's dominated by inflexible oafs deemed "too big to fail." These bailout recipients now need government approval to return capital to shareholders, and they must pass financial "stress tests" at regular intervals. Banking titan Citigroup (NYSE: C) has failed two of these stress tests over the past two years, and the firm recently announced a 25% drop in projected trading revenue. Citigroup is one of the two banking stocks I would avoid.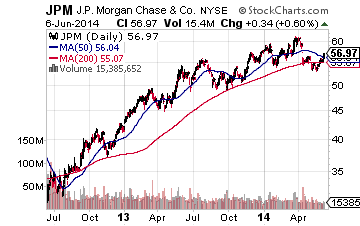 Citigroup's earnings per share (EPS) were down 2% last quarter, and estimates for the current quarter were revised down to -12%. Compare that to the performance of competitor Wells Fargo (NYSE: WFC), which grew EPS by 14% last quarter and revised estimates higher.
Wells Fargo is the best of the big U.S. banking stocks, but for the truly best play in the sector, we'll have to look elsewhere. The big U.S. banking stocks tend to look more like JP Morgan (NYSE: JPM), which is under constant assault from regulators. JP Morgan saw EPS fall by 19% last quarter, and management revised estimates for the current quarter down to -16%. Morgan's three-quarter average for EPS "growth" is -3%, and the firm is expected to see its net income fall by nearly 12% in 2014. JP Morgan, along with Citigroup, is a banking stock I would avoid.
Better Banking Plays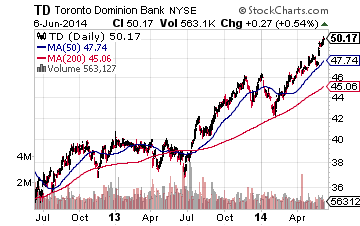 The two best banking stocks trading in the U.S. are actually Canada-based firms: Toronto Dominion Bank (NYSE: TD) and Bank of Nova Scotia (NYSE: BNS). While these banks may not be household names in the U.S., they're certainly not tiny operations: Toronto Dominion has a $92.4 billion market cap, and Bank of Nova Scotia is no slouch either at $78.33 billion. Citigroup, Wells Fargo, and JP Morgan are bigger, yes, with respective market caps of $149 billion, $273 billion, and $216 billion – but Toronto Dominion and Bank of Nova Scotia are far from small potatoes.
Toronto Dominion earned $6.57 billion on total net revenue of more than $27 billion last year. Although Toronto Dominion is Canada's largest bank, it's most active in the northeastern U.S., with branches spanning from Maine to Florida. The company's earnings were up 15% last quarter, which was the third straight quarter in which Toronto Dominion's growth rate accelerated. The current quarter's results will be announced on August 29, but management has already revised estimates higher to +21%, which would make four straight quarters of accelerated growth. Oh, and Toronto Dominion has a history of exceeding expectations – just like it did last quarter, when it beat earnings estimates by 17%.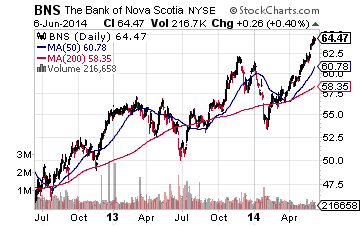 The other contender for "the hottest banking stock to buy right now" is Bank of Nova Scotia. It reported $6.42 billion in earnings on $21.34 billion in total net revenue last year. Bank of Nova Scotia is the third largest bank in Canada, and it also has operations in 54 additional countries – including parts of Asia, South America, and the Caribbean. EPS were up 14% last quarter, but Bank of Nova Scotia doesn't have the impressive growth history of Toronto Dominion. What's more, earnings are expected to fall by 3% in the coming quarter. Bank of Nova Scotia does have an excellent-looking stock chart, though, demonstrating a clear, uninterrupted uptrend over the past six months.
And The Winner Is?
While Toronto Dominon's growth looks more promising than Bank of Nova Scotia's, valuation must be taken into account. Both firms trade at earnings multiples below the industry average of 15.8 times trailing earnings, but Bank of Nova Scotia's trailing P/E of 13.0 is even lower than Toronto Dominon's of 14.6. Both firms trade at 2.0 times book value, so that contest is a wash. In terms of price-to-sales, Toronto Dominion's multiple of 3.5 bests Nova Scotia's 3.8; and in terms of cash flow – where the industry average is negative – Toronto's modest multiple of 3.9, vs. Nova Scotia's of 11.9, helps seal the deal: Toronto Dominion (NSYE: TD) is the hottest bank stock to buy right now. Its prospects for growth, its valuation, and its 3.6% dividend (Bank of Nova Scotia pays 3.2%) make it the most attractive name in the sector.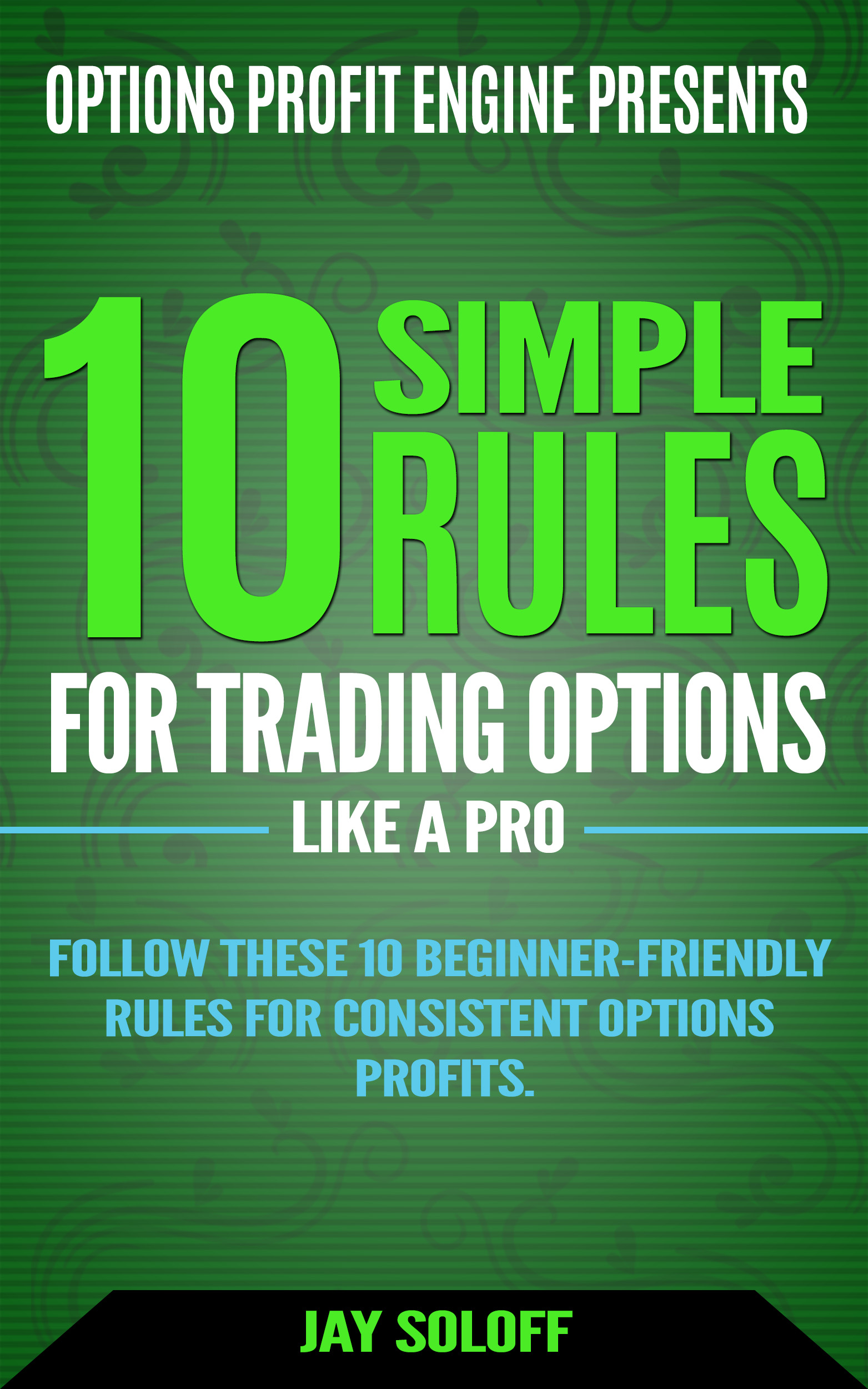 [FREE DOWNLOAD] 10 Simple Rules for Trading Options Like a Pro
Follow these 10 simple rules from 20-year professional options trading veteran, Jay Soloff and start earning a reliable extra income from options.
NO prior experience needed to master these 10 simple options trading rules. 
Enter your email below and receive access to this FREE guide...