Snapping up this fast-growing software company might be just the spark needed to boost this tech stock to new highs in 2017. With management's commitment to growing this cash-cow technology veteran now crystal clear, the stock price should start to rise even further. 
Could 2017 be the year when IPOs (initial public offerings) are back in the spotlight? IPOs tend to be popular among the investment crowd for their high reward (and high risk) tendencies. It's also exciting for many to invest in something new and fresh.
That excitement was hard to find in 2016, which was a particularly down year for IPOs. The stagnant market and uncertainties of an election year certainly contributed to the dearth of new equity offerings. But 2017 could be quite different.
Since the new administration is being perceived as business-friendly, the stock market has taken off. With stocks soaring to new highs, interest in IPOs is also rapidly increasing. Companies who are looking to go public want to get their stocks listed while investors are happy to snap up shares. After all, we have no idea if this euphoria will exist six months from now.
In fact, the first big IPO of 2017 was planned for just last week. That highly anticipated IPO belonged to software company, AppDynamics. In a nutshell, the company's software gives businesses the ability to analyze and optimize various software products across their network and cloud computing environment. A simpler way to describe what the product does is real-time application performance monitoring and management.
Here's the thing…
Just when investors thought they would get a chance at a hot new tech IPO (the initial share sales were reportedly oversubscribed), AppDynamics was snapped up by networking giant, Cisco Systems (NASDAQ: CSCO). In an aggressive move to expand beyond networking hardware, CSCO acquired AppDynamics for $3.7 billion. That's substantially higher than the roughly $2 billion the IPO was expected to fetch.
Given the timing of the purchase, just days before the IPO, CSCO was clearly in no mood to do any bargain hunting. The fact is, networking hardware alone isn't enough to sustain a massive player like CSCO. The company has been actively trying to expand into the software side of networking/cloud computing. And what better way to do so than acquire an enterprise software solution for network-wide application management.
SEE ALSO: The One Stock You Want to Own to Cash in on Trump's $1 Trillion Infrastructure Boom
While AppDynamics only generated about $160 million in revenue through 9 months last year, it's the growth rate that really attracted Cisco management. (For comparison, CSCO generated nearly $49 billion in revenue over the last 12 months!) CSCO is dealing with negative revenue growth rates and AppDynamics posted a 50% year-over-year growth rate. That's quite a stark comparison.
By making this acquisition, management is sending a message to shareholders that they don't intend to let their revenue growth stagnate. After all, CSCO is sitting on $71 billion in cash, one of the richest tech companies out there. $3.7 billion barely makes a dent in the company's massive cash reserves.
So then, what's next?
The purchase of AppDynamics may not have an immediate impact on CSCO's top or bottom lines, but it shows good foresight by management. What's more, there's significant cross-selling potential down the line between AppDynamics' enterprise software products and CSCO's current lineup of networking products. Eventually, this should pay dividends for the network giant.
Does it mean it's time to buy the stock? Let's look at a chart: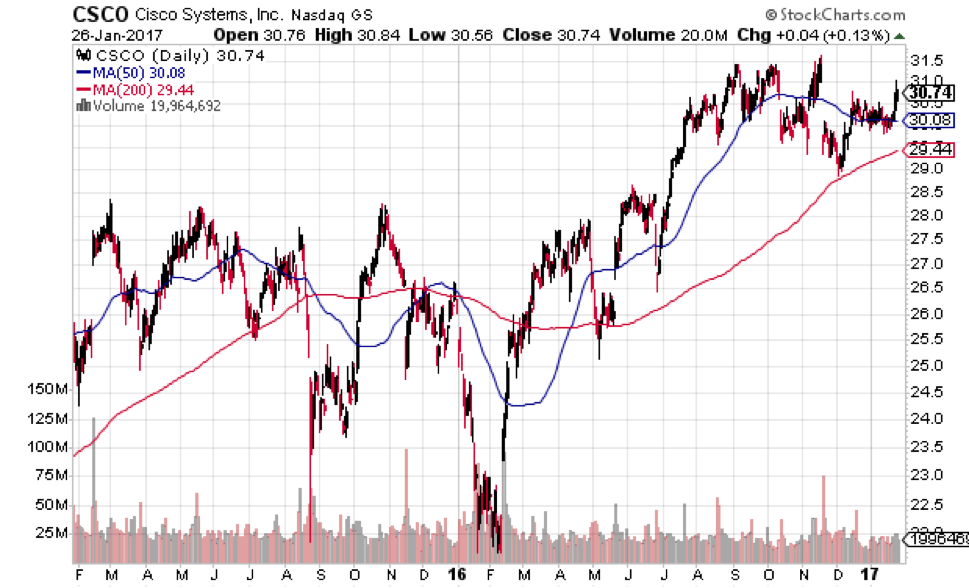 As you can see, CSCO has had a pretty good year (up about 35% over the course of a 12-month period), but is having trouble breaking through the $31 level. Will this acquisition do the trick? Perhaps, but it could take time.
Instead of dropping over $3,000 on 100 shares of CSCO (and tying up the capital for the foreseeable future), why not buy some long-term options instead? Since CSCO isn't a particularly volatile stock, you can get the options for cheap.
In fact, the January 2018 30 call is trading at just $2.65. That's just $265 for one contract, the same as 100 shares of CSCO. You control the shares for nearly a full year. And while you won't collect a dividend over that period, you're also paying less than 10% of the cost to own 100 shares outright.
Breakeven for this trade is $32.65 in the stock, about 5% higher than where we are now. Of course, the upside is unlimited. Don't forget, your max risk is just the $265 you spend on the option premium.
Once again, why tie up a bunch of capital buying stock when you get a much better risk/return profile with buying options? It's a low-cost method of betting on Cisco's acquisition of AppDynamics with unlimited upside potential.
After spending countless hours doing research and scanning the country to find the most promising infrastructure-related companies, Bret Jensen has uncovered the ONE infrastructure-related company that could add thousands of dollars – or more – this year to your pocket as America rebuilds their crumbling infrastructure that is in desperate need.
You can see all of the details on the one stock you want to own, the stock that has the potential to shoot up 285% or more by March 15th, in Bret Jensen's new report "The One Stock You Want to Own to Cash in on Trump's $1 Trillion Infrastructure Boom".
Click here to learn how you can score 285% gains – or more – as America rebuilds their failing infrastructure.