Which tech stock should you double down on in your portfolio? See why the battle is on between Facebook, Microsoft, Apple, and Google for what could be a trillion-dollar purse and which stock deserves the spot in your portfolio.
The Race for AI in the Cloud
It's an area that all the tech giants speak about incessantly – cloud computing.
For anyone not familiar with the term, it refers to the practice of using remote servers hosted on the internet to store, manage and process data rather than using your own servers or computers.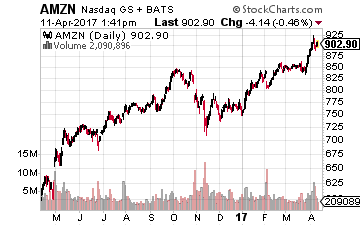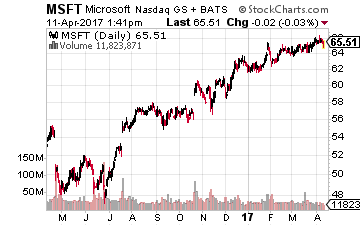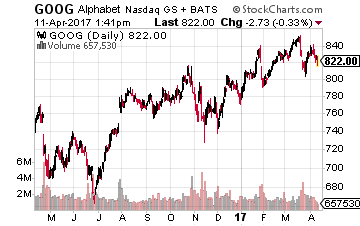 The biggest player in the sector currently is Amazon.com (Nasdaq: AMZN), through its AWS (Amazon Web Services) division. Next is Microsoft (Nasdaq: MSFT) with its Azure platform. Third is Alphabet (Nasdaq: GOOG) with its Google cloud platform.
Software in the Cloud
All sorts of companies are using powerful software from the cloud. They span almost every industry from insurance companies to TV networks to breweries to everything else in between.
Sophisticated software used to require thousands of processors, not to mention the electricity to power the processors. That was way too expensive for all but the very largest firms.
But now, everyone has access to software over the internet.
What that translates to is a $25 billion annual cloud infrastructure market, according to researcher IDC.
And there's more to come, says IDC. It forecasts spending on cognitive systems to grow at a 55% annualized rate for the next five years with the cloud-based portion of that spending to grow at an even faster pace.
That seems like a conservative estimate since 95% of the world's data is still not in the cloud.
From an investment viewpoint, the question will be who will win the race to provide the tools for machine learning and artificial intelligence.
The Cloud Moat
As I stated earlier, the clear leader is Amazon with Microsoft a solid second. Alphabet, which had a late start, is third.
Amazon Web Services earned $12.22 billion in cloud revenues last year. Microsoft's Azure garnered about $2.42 billion and Google Cloud Services got about $900 million.
Can anyone catch these three behemoths?
SEE ALSO: A Perfect 12% Yield Stock for the Retirement-Focused Investor
It will be tough. As Deutsche Bank Securities analyst Karl Kierstead told the Wall Street Journal, any potential rivals would need to spend tens of billions of dollars to match the top three's computing capacity. He said, "They've created a powerful moat."
Of course, that's not to say no one is trying.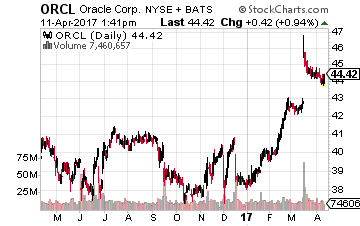 One company is Oracle (Nasdaq: ORCL). But it has only spent $1.7 billion in the year that ended in February. A mere pittance is this high-stakes sector.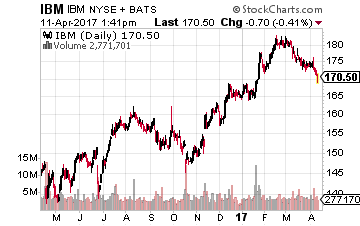 Others including IBM (NYSE: IBM) also seem to be too late to the game and will have to settle for offering data analytics services, for example.
The AI Battleground
The tussle for dominance in the cloud is constantly shifting though. The new battleground at the moment is a powerful form of artificial intelligence (AI) called machine learning.
And here is where both Microsoft and Alphabet hope to catch Amazon.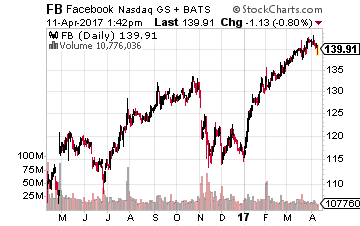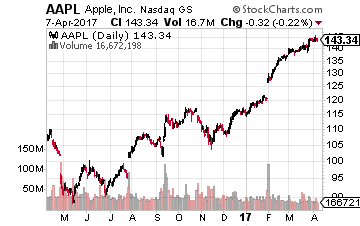 For years, both Microsoft and Google have led among technology companies in terms of artificial intelligence research. Facebook (Nasdaq: FB) has also been a big spender in AI. The relative laggards in AI spending among the tech titans have been Amazon and Apple (Nasdaq: AAPL).
However, Amazon has awoken to the vast potential of AI. Its AWS arm has come out with a number of AI products and is investing in a deep learning framework called MXNet.
Amazon has to get AI right since it will be a major future source of demand for cloud computing as more complex algorithms require even more computational power.
Its importance can't be overstated when one considers that many industry analysts predict that the cloud and related corporate tech spending will be a $1 trillion market in the not-too-distant future.
And the Winner Is…
Who will be the biggest winner among these three titans?
Amazon has the best reach among corporate clients with its AWS. But can it develop the AI tools of the future?
Google may actually have the best AI tools available. But corporations are still skeptical. And it doesn't help that Google has little relationships with corporate ecosystems including the world's major consulting firms.
That leaves Microsoft. It is a leader in AI research and does have existing relationships with many corporations and their consultants.
Microsoft should more than double their cloud sales over the next two years. The company itself says its corporate cloud business will have revenues of $20 billion by the end of its fiscal year ending in June 2018.
It will be the one to focus on in this space.
With not even a month of being president under his belt, Donald Trump has shown America that he is a man of action. Whether you support his policies or not, at least make some money by investing in the fact that President Trump plans on fulfilling every promise he made on the campaign trail. And, the biggest campaign promise that President Trump made was investing $1 trillion in America's infrastructure.
Investors stand to make upwards of 285% gains by investing into this specific construction stock that can almost triple in size by taking advantage of the coming infrastructure boom. Find out all the details and why you must own this stock before March 15th in Bret Jensen's new report "The One Stock You Want to Own to Cash in on Trump's $1 Trillion Infrastructure Boom".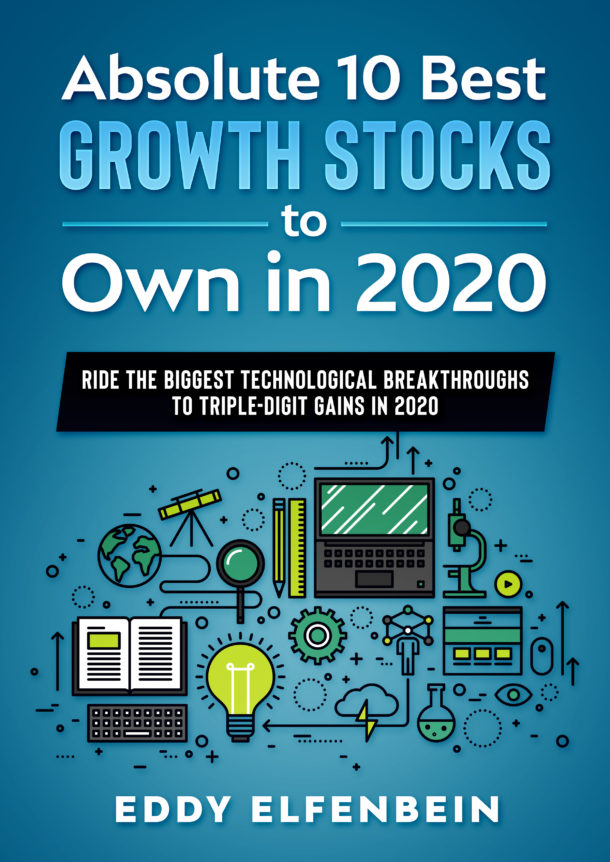 [NEW REPORT] Absolute 10 Best Growth Stocks to Own in 2020
Get the best 10 stocks to ride the 2020 tech explosion. 
One could be the most valuable stock of the next decade. 
Normally, I charge $20 for this report…
But, today...you can claim a copy absolutely free.
One stock alone has a chance at 167% profits in the next 12 months (or sooner). 
Enter your email below to claim a free copy while they last.