Don't just assume that your high-yield stocks will lose money if the Fed starts to increase interest rates. In fact, these two safe, high-yield stocks that both yield over 8% will become even more profitable as interest rates rise. And with the rest of the market ignoring this fact, you will be able to snag a great deal on these buy and hold income stocks. 
Once again, the stock market is in worry-mode about the effects on share prices if and when the Federal Reserve Board –the Fed– announces its next interest rate increase. The general belief among investors is that higher interest rates will be bad for higher-yield stocks. While this may apply to certain companies, there are others that will see higher profits when interest rates start to go up.
There are two reasons why there is a concern that higher interest rates from the Fed could hurt stock values. One is the fear that with higher rates on "safe" investments like government bonds and CDs, investors will sell their dividend stocks and invest in fixed income securities. However, in the current rate environment, longer-term fixed rate investments yield less than 2% while income stock investors can earn 5%, 6%, or even more than 8% on secure dividend stocks. The Fed is talking about interest rate increases in the one-quarter to one-half of a percent range. Not the 3% to 4% that would be needed to actually make bond yields competitive with income stock yields. The argument that investors will leave income stocks for bonds if rates increase is not a valid one in the current interest rate environment.
Higher borrowing costs is the second reason for investors to fear about the future of dividend paying stocks. Most of the higher-yield types of companies carry significant debt loads. Higher interest rates would raise the cost of debt servicing and squeeze net profit and cash flow margins. Consider the case of a property-owning real estate investment trust (REIT). The REIT may not be able to increase the rents it charges as much as the increase in interest cost on its debt. The potential of this scenario occurring for higher-yield sectors such as REITs and utilities can increase investor fears about dividend safety, which can lead to a sell-off and lower share prices. The reality is that each company will be different in how it has structured both its debt costs and its revenue stream. Some will be hurt by higher interest rates. For many companies, higher interest costs will be offset by higher revenues, and for some companies, higher interest rates will produce higher profit margins. When the share prices of good, financially stable dividend payers fall, it will be a great time to buy and lock in higher yields.
For the last several years, two commercial mortgage lending REITs have been shifting their portfolios so that their financial results will be even stronger when interest rates start to increase. Both companies have been originating the bulk of their new commercial mortgages with variable interest rates. So if short-term interest rates go up, so will their revenues. At the same time, they have been locking in their borrowing costs at the current low-interest rates. When the Fed does get around to raising rates, these companies will be more profitable and should start paying even higher dividends.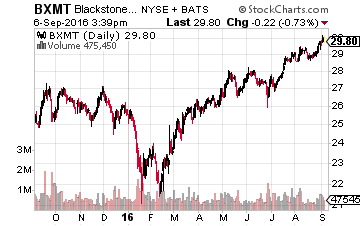 Blackstone Mortgage Trust Inc. (NYSE: BXMT) is a finance REIT advised by the large asset management company, Blackstone Group LP(NYSE: BX). In May 2013, Blackstone took the basically non-operational Blackstone Mortgage Trust and re-purposed the REIT to offer commercial mortgages. Blackstone Group manages a large portfolio of commercial properties and can feed leads to the REIT. Blackstone Mortgage retains the loans it originates and generates profits on the difference between the interest it charges and the company's low cost to borrow money. BXMT focuses on making larger mortgage loans, with an average loan size of over $160 million. The average loan size to property value is around 60%. Currently, 78% of the company's $7 billion loan portfolio is floating rate and new loans are only being made with variable rates. The chart below shows how the BXMT net income per share would increase if interest rates start to rise. The stock yields 8.4%, so it's a good income producer whether or not interest rates do start to increase.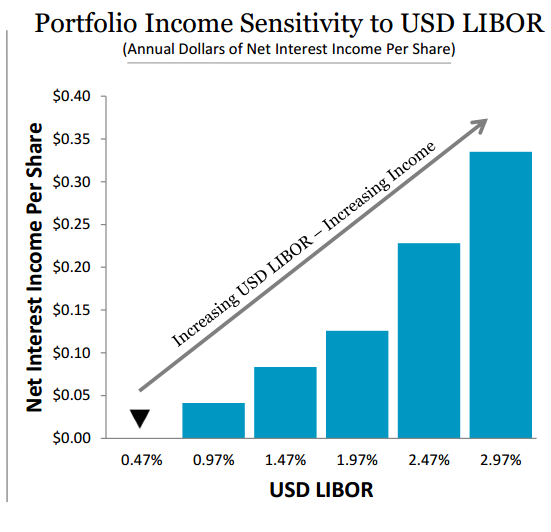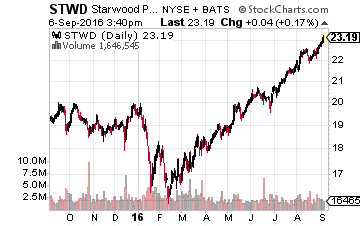 Starwood Property Trust, Inc. (NYSE: STWD) is a finance REIT that has been a public company since mid-2009. The company is now one of the largest providers of commercial property mortgages and commercial mortgage services. Starwood also retains most of the mortgages it originates and the portfolio has a conservative 61% loan to property value. In the portfolio, 100% of all new loans are floating rate indexed to LIBOR, and 89% of the total loan portfolio is floating rate. In its earnings information, the company management indicates that for each 1.0% increase in short-term interest rates, the STWD annual earnings per share will increase by about eight cents. Starwood yields 8.5%.
I don't know if the Fed will actually have the guts to raise short-term interest rates, but I do know that with these two finance REITs, I will generate great returns in either case.
If you're interested in consistently finding dividend stocks like the three above, you can join my community of readers who use a unique tool I have developed called the Monthly Dividend Paycheck Calendar. We've been using it for a few years now to deliver a steady stream of monthly income for investors from safe, high-yield stocks. And unlike what the scare mongers out there offer, my Monthly Dividend Paycheck Calendar offers you a real solution whether you're just looking for extra income or trying to make up for lost time.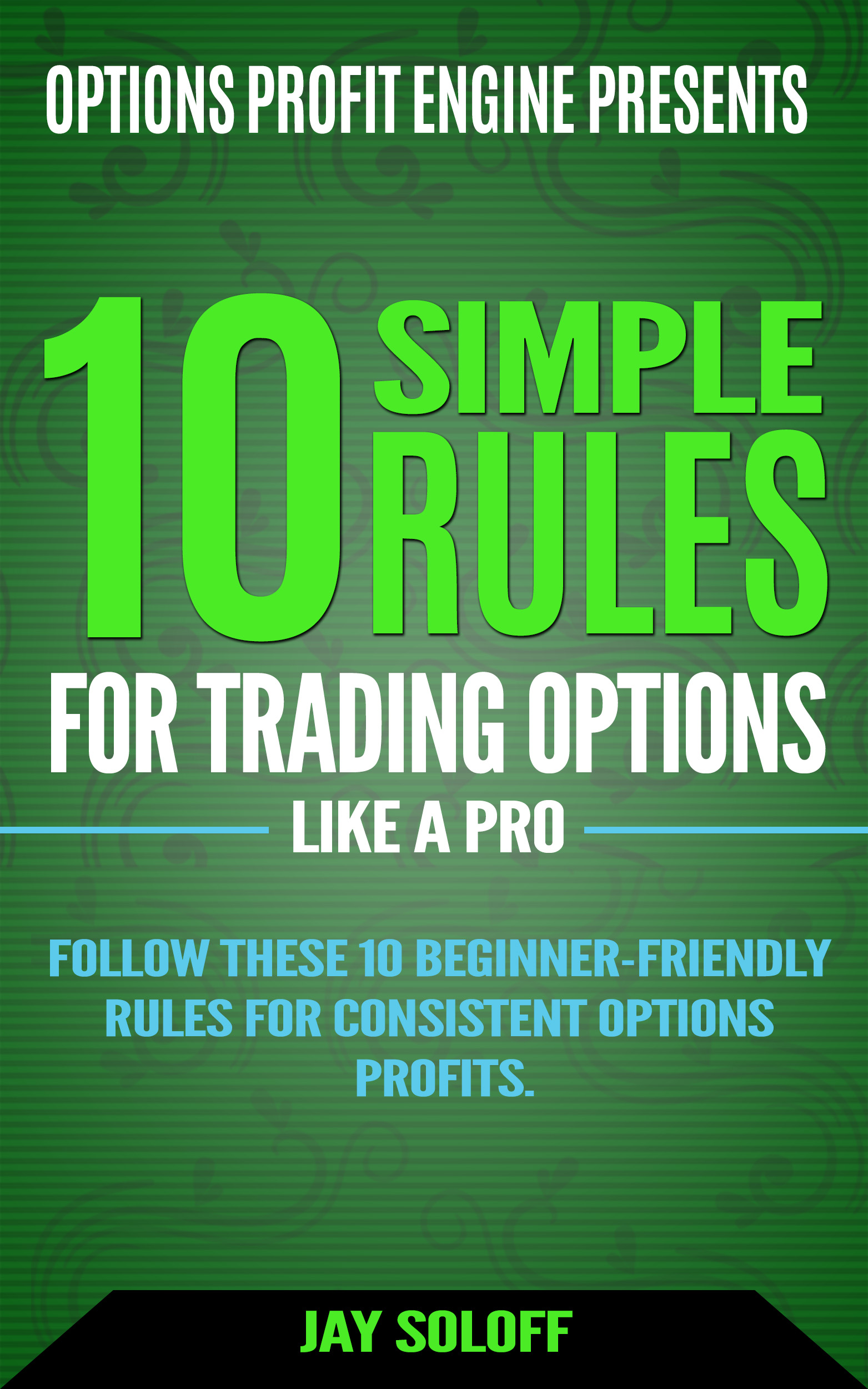 [FREE DOWNLOAD] 10 Simple Rules for Trading Options Like a Pro
Follow these 10 simple rules from 20-year professional options trading veteran, Jay Soloff and start earning a reliable extra income from options.
NO prior experience needed to master these 10 simple options trading rules. 
Enter your email below and receive access to this FREE guide...