Technology is key to whether a country's economy grows and to whether a country can exert geopolitical influence. Every country knows this including the world's top two economies – the United States and China.
The United States has held the technological top spot for longer than many people's lifetimes. But that dominance is being challenged at the moment, particularly by China.
This challenge is a primary reason for the demand by the U.S. in trade talks that the Chinese government quit directly supporting technology start-ups and projects through its 'Made in China 2025' program whose aim is to make the China the leader in technology. The Chinese simply smile and point to the Apollo program where the U.S. put men on the moon as an example they're following with joint efforts of government and private corporations.
For whatever reason, the U.S. seems to be losing its technology edge. For example, a recent study by the consulting and research firm Analysis Mason found that in the next global wireless technology, 5G, China had a narrow lead over both the U.S. and South Korea.
The company pointed to the benefits that 4G technology gave the U.S. with its leadership position as to the importance of the race to 5G. Findings from Recon Analytics include the following.
Winning the race to 4G boosted America's GDP by nearly $100 billion and its 4G launch spurred an 84% increase in wireless-related jobs.
American 4G leadership helped secure leading positions in key parts of the global wireless ecosystem, including the app economy.
Losing wireless leadership had long-term negative effects on Japan and Europe, contributing to job losses and the contraction of their domestic wireless industries.
As important as 5G may be, even more important will be leadership in artificial intelligence (AI), which is one of the pillars of the Made in China 2025 plan. Russian president Vladimir Putin emphasized AI's importance last year when he said: "Whoever becomes the leader in this sphere will become the ruler of the world."
Related: The #1 Stock Powering the Artificial Intelligence Revolution
The AI Arms Race
And here, Michael Chui – a partner at McKinsey that led its most recent in-depth study on AI – said it best, "If you look globally, it's a two-horse race in AI." The McKinsey study found that the U.S. and China were the two clear leaders.
The study from the McKinsey Global Institute found that, for some industries, deep learning — the most advanced form of artificial intelligence — has the potential to create value equivalent to as much as 9% of a company's revenues. Multiply that many times and it will translate into trillions of dollars of potential economic value.
That's why the most important aspect of the AI revolution comes from a source that isn't always visible with just a cursory glance — the ability to sweat the largest amount of data the hardest. Machine learning systems that can find patterns by analyzing huge volumes of data are at the cutting edge of today's AI.
Overall, most experts still think the U.S. is in the lead. Here's why – it takes three things to be a world-class AI power: the most advanced algorithms, specialized computing hardware, and as mentioned previously, getting your hands on as much of the raw material that machine learning systems depend on — data .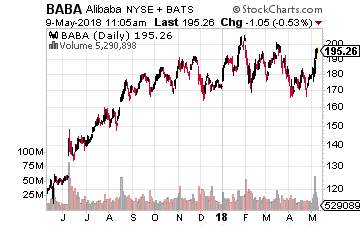 In the first category – algorithms – the U.S. has a lead, but it is narrowing fast. China's growing capabilities were evident in the good showing by Chinese researchers in the annual ImageNet competition for image recognition or when relative newcomer Alibaba (NYSE: BABA) tied perennial powerhouse Microsoft (Nasdaq: MSFT) in a reading comprehension test for AI.
In the second category, the U.S. maintains a clear lead as China still struggles to get a homegrown chip industry off the ground. But keep in mind that semiconductors are also a pillar of the Made in China 2025 plan.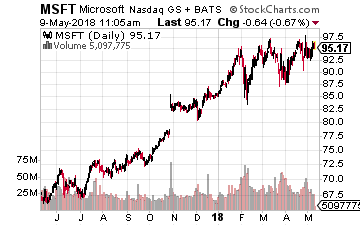 In the third category – data – China is far and away the leader. The reason is simple… not only are there a lot more Chinese people from which to gather data from, but with a Communist government there is no such thing as privacy rights. All Chinese citizens' data is open for use by both government and companies.
So what does this AI race between the U.S. and China mean from an investment perspective?
Related: 5 Stocks to Buy in the AI Race Between the U.S. and China
China AI Investments
I'm largely in agreement with a Silicon Valley venture capitalist quoted in the Financial Times with regard to AI opportunities: "The business is bigger and better in China."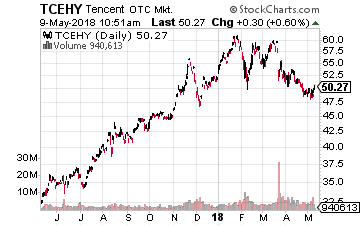 However, some of the very best Chinese AI companies are either still in the start-up stage or their stocks trade only in China. That leaves the three national champions, the so-called BAT stocks – Baidu (Nasdaq: BIDU), Alibaba and Tencent Holdings (OTC: TCEHY).
These three giants often are the leading investors into the top Chinese AI start-ups. According to McKinsey Global Institute, China is in the world's top three for venture capital investment in core sectors of digital technology: virtual reality, autonomous vehicles, 3D printing, drones, robotics and artificial intelligence (AI).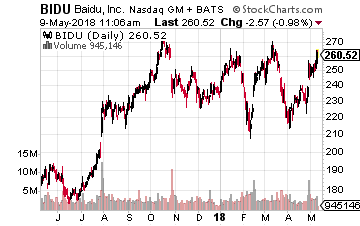 Baidu, the smallest of the BAT group, has staked out its strategic future on leading the global research in self-driving cars and other AI applications. The company is investing heavily into Apollo, its open-source autonomous car software. At the last Consumer Electronics Show in Las Vegas, it unveiled Apollo 2.0, which offers improved security against hacking.
Baidu already has partnerships with Intel and Nvidia, as well as automakers Ford and Daimler. In China, it is working with local auto manufacturers JAC and BAIC, who plan to start producing autonomous vehicles based on Apollo as soon as next year.
In addition to its own research, one start-up that Tencent invested into is UBTech. It has developed a small domestic robot called Lynx that costs only $800 and which has facial recognition and can be used to talk to Amazon's Alexa. It also developed a Star Wars Stormtrooper that can be controlled with a smartphone or tablet, and which sells for $300 in partnership with Disney.
Alibaba is pouring $15 billion into its research and development projects. One prominent project it is working on is a neural network chip capable of carrying out AI functions such as facial and speech recognition with substantially less power used. And the company is also acquiring local chipmaker C-Sky Microsystems.
Meanwhile, one start-up that Alibaba invested into is SenseTime. Its facial recognition software is used by Chinese police and the plan is for it to have its technology adopted around the world. It is considered to have the best face recognition technology because it has had so much data – the faces of Chinese citizens – to work with and to learn from.
There are many more Chinese start-ups these companies have invested into. Today, there are almost as many Chinese unicorns as there in the U.S. Research firm CB Insights rates China second worldwide with 64 businesses valued at $277 billion versus America's 114 unicorns valued at almost $400 billion. And CB Insights did not include one of the biggest companies – Ant Financial – in its calculation.
Bottom line – China is closing fast in the AI race. The best way for you to play that currently is through owning the BAT stocks.
3 Stocks That Could Go to 2,524%!
Don't risk your money on IPOs, risky tech startups… or the next Pets.com, Snapchat, Groupon, Webvan hyped by the financial media as the next big thing… all of them black holes for investors' hard earned money. Instead, bank on these 3 high-growth tech stocks that offer a high likelihood of outperformance in the near-term, and a chance of TRIPLING – even quadrupling – before the end of the year!
Click here for names and details.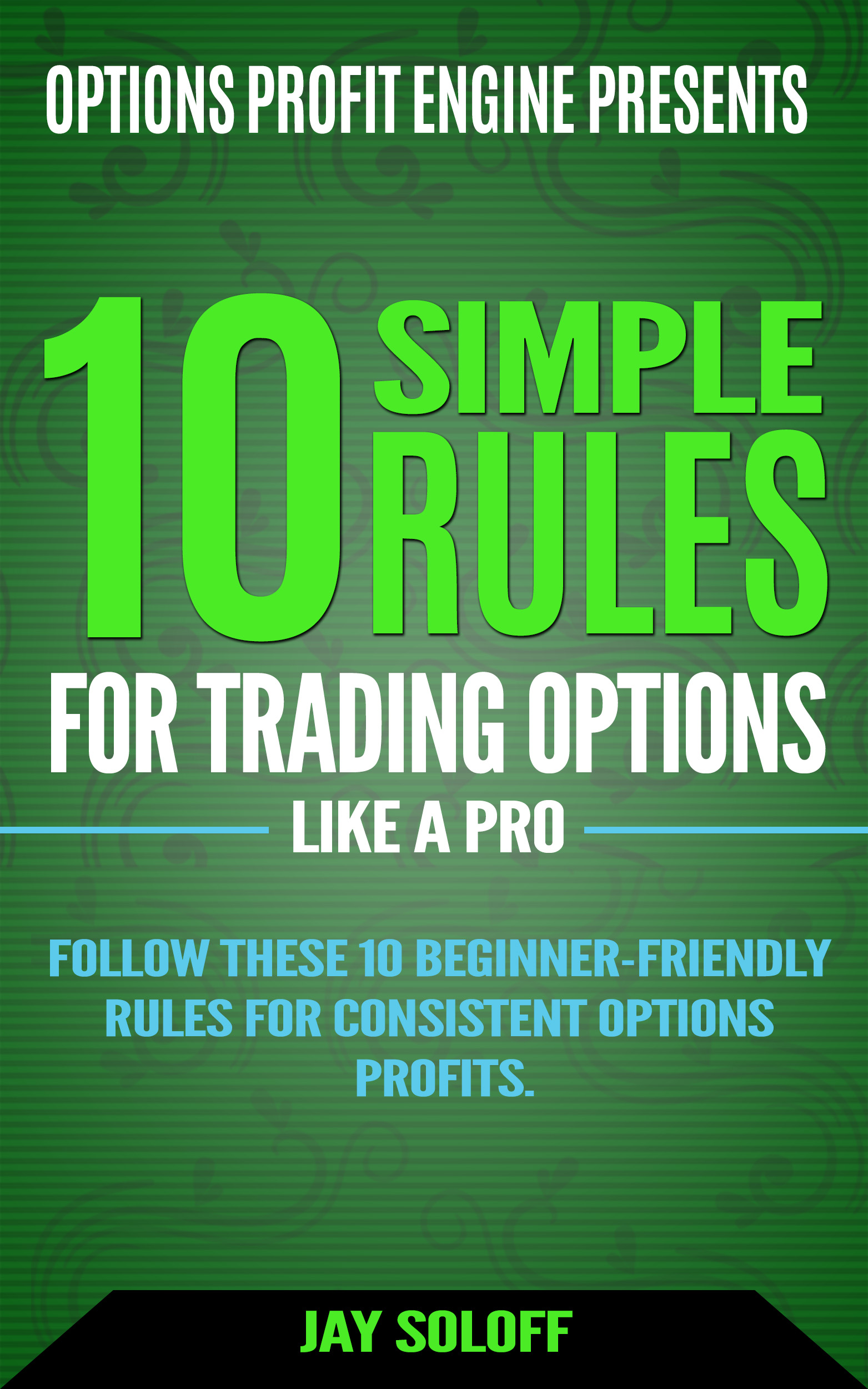 [FREE DOWNLOAD] 10 Simple Rules for Trading Options Like a Pro
Follow these 10 simple rules from 20-year professional options trading veteran, Jay Soloff and start earning a reliable extra income from options.
NO prior experience needed to master these 10 simple options trading rules. 
Enter your email below and receive access to this FREE guide...