Get ahead on the market trends that might end up dominating the news in 2017 with Bret Jensen's analysis. He shares his observations about what's going on in three different sectors and how to profit.  
2016 was a tumultuous year which ended with an unexpected election outcome. What followed was even more unexpected; the "Trump Rally" simultaneously took all the major indices to all-time highs on the same day for the first time since 1999.
2017 should be another volatile year given the rise of terrorist attacks in western countries, scheduled elections throughout Europe, and still tepid global growth prospects. Domestically, the new administration will have much different priorities and focus areas.
Although the year is young, here are three observations about some sectors in the market so far in 2017.
Retail Sector is Full of Landmines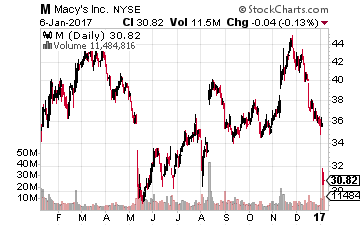 Retail has gotten off to a punk start to the year even as the overall market has continued to rally. Macy's
(NYSE: M) and Kohl's (NYSE: KSS) both had large sell-offs last week after reducing guidance on holidays sales. The rest of the department store sector and quite a few other retail names staged significant declines in empathy.
For all the talk in the 2016 election year about NAFTA and unfair trade with China, the real job killer in retail seems to be Amazon (NASDAQ: AMZN), not a foreign entity.
I think Macy's will be fine here as their market capitalization looks to be significantly under the value of their real estate holdings. Their flagship Herald's Square store sits on a city block in mid-town Manhattan that has to be worth some $3 billion to $5 billion alone.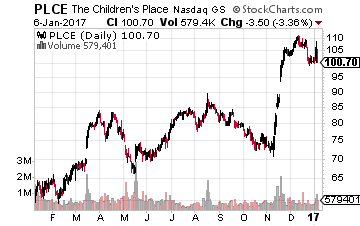 The stock also yields over four percent which should maintain a floor under the shares. This news will boost efforts to sell off non-performing stores and monetize the real estate they sit on. This will also mean, unfortunately, significant layoffs. At around $30.00 a share, Macy's seems a good deep value play and one that will pay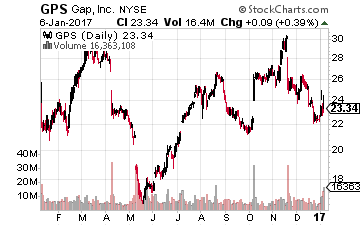 a larger dividend than most utility stocks these days.
Children's Place (NASDAQ: PLCE) and Gap
(NYSE:GPS) seem to be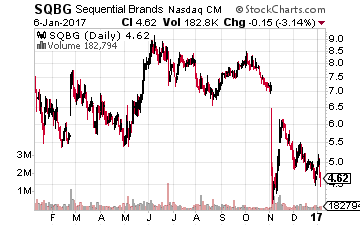 some of the few winners
this holiday season among the brick and mortar retail set. It is a sector I continue to be very underweight in within my own portfolio.
One of the few retail plays I own here is brand management group, Sequential Brands Group (NASDAQ: SQBG). The company digested numerous acquisitions made in 2015. This year that integration should pay off, and earnings should go from under 40 cents a share this year to over 50 cents a share in fiscal year 2017. The stock sells for less than $5.00 a share. The stock also saw some $500,000 in insider buying in November.
Rising Interest Rates Might Accelerate
The yield on the ten-year treasury has gone from just over 1.3% near the end of the first half of 2016 to 2.4%. Rates were boosted by better GDP numbers in the second half of the year as well as the prospects of better economic growth under the new administration. This is provided that it can deliver on tax and regulatory reform.
Unlike the myriad head fakes in past years, I think higher rates and better economic growth will pan out in 2017. This will continue to pummel income investors who chased yield in Utility and Consumer Staples stocks and bid those names to stretched valuations. I am totally out of these sectors of the market. REIT investors will also have to be selective in a rising interest rate environment.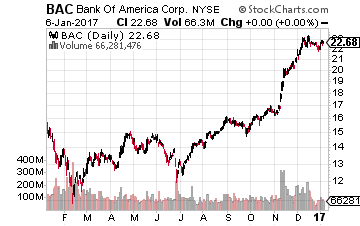 On the other hand, banks and other financials are benefiting greatly from rising rates and their positive impacts on net interest rate margins. The prospect of a lighter regulatory touch is also buoying sentiment on the sector.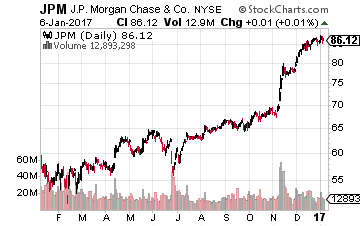 Banks like J P Morgan (NYSE: JPM) and Bank of America (NYSE: BAC) have rose some 30% since the election. If you don't own any shares yet, I would probably wait for a decent pullback to establish positions.
Hot Hand in Biotech
After a dismal 2016 that saw the main biotech indices drop just over 20% on the year, biotech has had a strong start to 2017 and was up some five percent in the first trading week of the New Year. The combination of a probable uptick in M&A activity across the industry, low historical valuation levels for the large cap concerns in the sector, and potential benefits of tax reform have boosted sentiment on biotech to start the year. The end of tax loss selling season also probably played a part.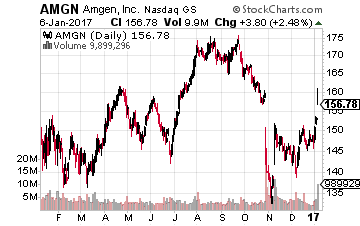 There are myriad bargains to be had across both the large and small cap parts of this arena. Long-term core holding Amgen (NASDAQ: AMGN) got some great news late last week. A judge told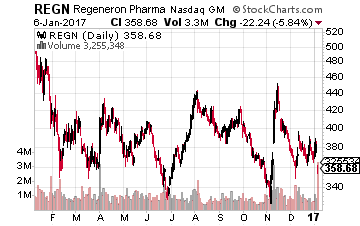 Regeneron (NASDAQ: REGN) that it would have to pull its PCKS9 inhibitor cholesterol drug off the market. This drug competes against Amgen's Repatha.
This permanent injunction is obviously good news for this biotech pioneer and stalwart. Repatha is one of the most important drug launches for the company in years and it has gotten off to a slow start.
Obviously, the elimination of the company's primary competitor in this evolving space should provide a huge boost to its prospects here. I would expect several reissued Buy recommendations on Amgen this week. Biotech remains my highest allocation in my portfolio in 2017.
A Special Note from the Editor
Growth-oriented stocks are the clearest path to stock market profits for many investors. But finding them can be challenging. It's not like you're getting the next big winners watching CNBC or any of the other financial news channels… they're talking up yesterday's winners. I've recently launched a new service giving investors tomorrow's winners, today. It's called Growth Stock Advisor and in the few short months it's been around we've already closed a 226% winner, getting ready to close on a 291% winner, and hold nearly a dozen other double-digit winners. I'd like to invite you to become a charter member today to start getting tomorrow's winners. Click here for more.
Positions: Long AMGN, M, and SQBG