The transportation sector has made a strong rebound from the recent stock market correction.  After October's V-shaped decline and rally, we have become used to watching the Dow Jones Transportation Average reach new record highs on an almost-daily basis. This is taken as a bullish sign for the overall stock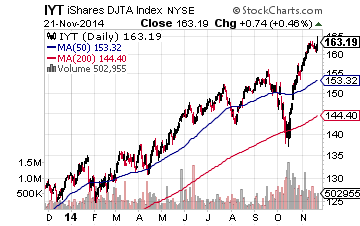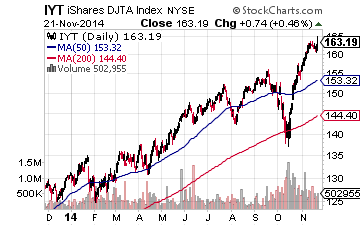 market and economy as the transportation sector is a leading indicator of economic activity.
The drop in oil prices has been bad news for oil drilling companies but extremely positive for airlines, railroads and trucking companies.
For instance, airline stocks are at all-time highs, with new records being set on an almost daily basis.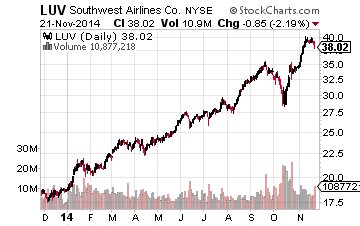 The share price for Southwest Airlines (LUV) has skyrocketed more than 40 percent since July 1. The November, 3 IPO of Virgin America (VA) stock at $23 was followed by a 47.60 percent advance, after five days of trading on the Nasdaq.
Crude oil prices are at multi-year lows which translates directly to the bottom lines of transportation related companies. Overall, there is too much oil and too little demand, and Saudi Arabia's recent price cuts on exports to the United States have further bolstered the transportation sector.
Many analysts now believe that transports have hit bottom and that a new bull market is underway after the worries over Ebola and high oil prices have become seemingly ancient history. Other analysts say that the easy money is already in the bank and that transports are overbought. Nevertheless, the fourth quarter is generally bullish for business activity and the transportation sector, and so higher prices could be seen heading into the end of the year.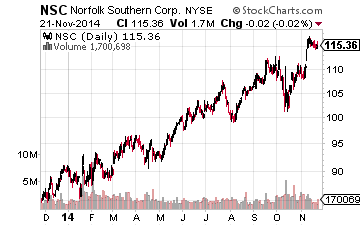 Aside from airlines, railroad stocks have been hot. The stand-out leader among railroad stocks has been Norfolk Southern (NSC).  NSC shares have jumped almost 14 percent since July 1. The big threat to the railroad and railcar sector going forward is the expansion of oil pipelines. Good news for companies such as Kinder Morgan (KMP) and especially TransCanada (TRP) is bad news for railroad and railcar companies, which rely significantly on the transportation of oil.
On the high seas, overseas shipping companies are just beginning to recover from the recent stock market correction. The Guggenheim Shipping ETF (SEA) ended the November 20 trading session 3.05 percent below its 50-day moving average of $20.00. Similarly, Baltic Trading (BALT) remained 9.8 percent below its 50-day moving average, despite jumping 8.05 percent to $3.49 per share on November 20.
Falling oil prices combined with expanding economic activity in the United States have cast a ray of sunshine on the transportation sector and transportation related stocks. This is also a bullish indicator for the overall stock market as the Dow Jones Transports Index is one part of the Dow Theory trading strategy that is perhaps the original market timing system developed by Charles Dow, himself. Bullish signs from transports could offer opportunities in that sector and also bode well for the stock market and overall economy, as well.