It's 18 years since I moved from England to America. And there's one thing I've never got used to.
The summers.
We're used to clouds and rain, not sun and heat. And certainly not humidity! We're way too pale and pasty.
So there's obviously one thing I want nothing to do with in the summer…
Soup.
I wouldn't want it in a portfolio, either.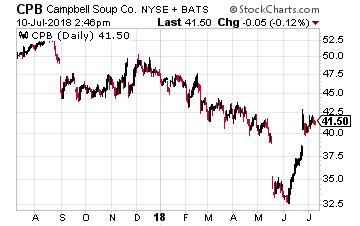 Specifically, I'm talking about Campbell Soup Company (NYSE: CPB).
From Soup to Nuts (And Other Stuff, Too)
The actual name of the company is a bit misleading.
Campbell doesn't just make soup. It manufactures and markets many foods under various brands.
Americas Simple Meals & Beverages: This segment makes the famous soups, but also Campbell's pasta, beans, and sauces, Prego pasta sauces, V8 juices, Swanson-branded poultry and broths, Plum foods, and Pace Mexican sauces.
Global Biscuits & Snacks: This includes Pepperidge Farms products, plus Kelsen worldwide and Arnott's in Australia and Asia.
Campbell Fresh: Brands include Bolthouse Farms and Garden Fresh (chips, salsa, dips, hummus).
Around 80% of Campbell's sales come from the United States. And in trying to boost those sales, the 149-year-old company (yes, founded in 1869!) adopted the "speculate to accumulate" adage last year.
It snapped up Pacific Foods for $700 million last May, plus the $6 billion acquisition of pretzel-maker Snyder-Lance.
What's it done for Campbell's performance?
The Bad, the Worse, and the Ugly
Simply put, the acquisitions have merely plugged holes in a very leaky boat.
In the first quarter, Campbell notched 15% sales growth. But according to Investor Place, 14% came from Snyder and Pacific, while the remaining 1% was currency gains.
The real story is that Campbell's core business is flatlining.
Sales have dropped for the past three straight years. Over the past five years, average annual sales growth and net income growth are a paltry 0.5% and 2.4%, respectively. The company lost another $393 million in the last quarter.
And while analysts project 10% sales growth this year, they also forecast a 5.6% drop in EPS. For 2019, the numbers are 18% sales growth and a 2.5% EPS fall.
Needless to say, that's not a good formula. It would be even worse if not for Snyder and Pacific.
But while those two acquisitions have added sales, they've also saddled Campbell with a pantry-full of debt.
At $9.8 billion, the debt is over four times more than a year ago and is highest of the major food companies. It's also terrible, given that its market cap is $12.5 billion (significantly lower than most of its rivals), interest rates are rising, and it has just $200 million in cash.
Yet incredibly, Campbell still pays a $1.40 per share annual dividend (3.3% yield).
Unsustainable? The 88% payout ratio indicates the company is over-extended.
That debt and dividend are serious pressures if its fortunes don't improve.
It's not like the food industry is growing, either…
Zero Growth and a Tariff Punch
"Zero percent, maybe 1% growth, if they're lucky."
That's what JPMorgan Chase food & retail analyst, Ken Goldman, recently told CNBC when referring to growth expectations for packaged food companies.
The reason: Intensifying competition from online retailers like Amazon (which owns Whole Foods, in addition to selling other foods) that has eroded Campbell's so-called "legacy" brands and squeezed margins.
It's a timely warning, with an industry-wide slump dragging many food stocks to cheap price-to-earnings levels that might lure many investors.
There's another fly in Campbell's soup: Trade tariffs.
As aluminum and steel prices rise, Campbell has admitted its costs will, too – hence its lower full-year EPS guidance – from a 1% to 3% loss to between 5% and 6%.
Buy the Rumor, Sell the News?
Like I said with GameStop last week, the one thing that might rescue Campbell is a buyout.
In May, ex-CEO Denise Morrison retired and the company announced a complete strategic review of its business, including possible separation of operations. Speculation mounted that it was prepping for a potential sale.
Interim CEO Keith McLoughlin fueled rumors on the last earnings: "Everything is on the table. There are no sacred cows." Campbell plans to announce the results of its review in late-August.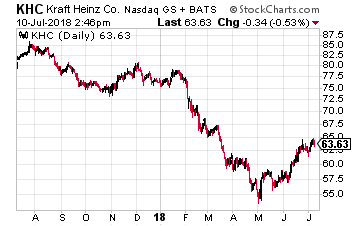 And on June 25, shares shot up 9% after a New York Post report said The Kraft Heinz Company (NYSE: KHC) is "very much interested in buying Campbell," with the sale process set to begin. It also named General Mills Inc. (NYSE: GIS) as a potential buyer.
Will it happen?
Why It Should: Campbell is under huge pressure and really needs help. It seems willing to at least explore possibilities.
Activist investor Daniel Loeb and his Third Point hedge fund are also in discussions with the Dorrance family (which owns over 40% of the stock) over a sale. Loeb reportedly sees Campbell as undervalued.
Why It Won't: Campbell's low-growth business and poor fundamentals aren't attractive to buyers. It prompts the question of whether anyone actually needs it.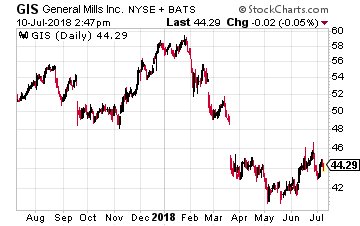 General Mills would pay a fortune for a company with approximately half its own market cap. And it already has soups in its stable.
Kraft ($77.2 billion cap) would also pay a hefty price. It also wants to expand globally and Campbell doesn't fit the bill. As JPMorgan's Goldman says, Kraft "might want the iconic brands" but would be "taking on an awful lot of risk. We'd be surprised if Kraft Heinz wanted Campbell, which does not solve Kraft Heinz's growth problems… desire to buy top-line growth… Campbell has many issues… so we do not expect a deal."
Quoted in Barron's, Piper Jaffray analyst Michael Lavery thinks Kraft can "dream bigger."
As I mentioned, the Dorrance family has a large stake in Campbell. And with such a storied family ownership history, this complicates matters. The New York Post reports that while some family members are open to a sale, Mary Alice Malone, granddaughter of Campbell founder John Dorrance (who owns about 17%) and Bennett Dorrance (who owns about 10%), are reluctant to sell.
Be warned: Campbell buyout rumors have happened before… with no sale.
Russian Roulette
Ultimately, while it might be tempting to buy a potential takeover target… it's risky.
Campbell is well-established and boasts "legacy" brands… but it's in bad shape and hardly appealing.
Sales are lopsided, with its core business struggling… it's losing money… industry growth is non-existent… and debt is sky-high.
With the stock down 17% over the past year (and 31% over the past two years) and having lagged the market over the past one-year, three-year, and five-year periods, no wonder 20% of the float is sold short. Of the 17 analysts that cover Campbell, 41% of them recommend a "sell."
If a buyout doesn't happen, Campbell is sitting on a zero-growth business and huge debts. And you're sitting on big losses if you own the stock.
3 Stocks That Could Go to 2,524%!
Don't risk your money on IPOs, risky tech startups… or the next Pets.com, Snapchat, Groupon, Webvan hyped by the financial media as the next big thing… all of them black holes for investors' hard earned money. Instead, bank on these 3 high-growth tech stocks that offer a high likelihood of outperformance in the near-term, and a chance of TRIPLING – even quadrupling – before the end of the year!
Click here for names and details.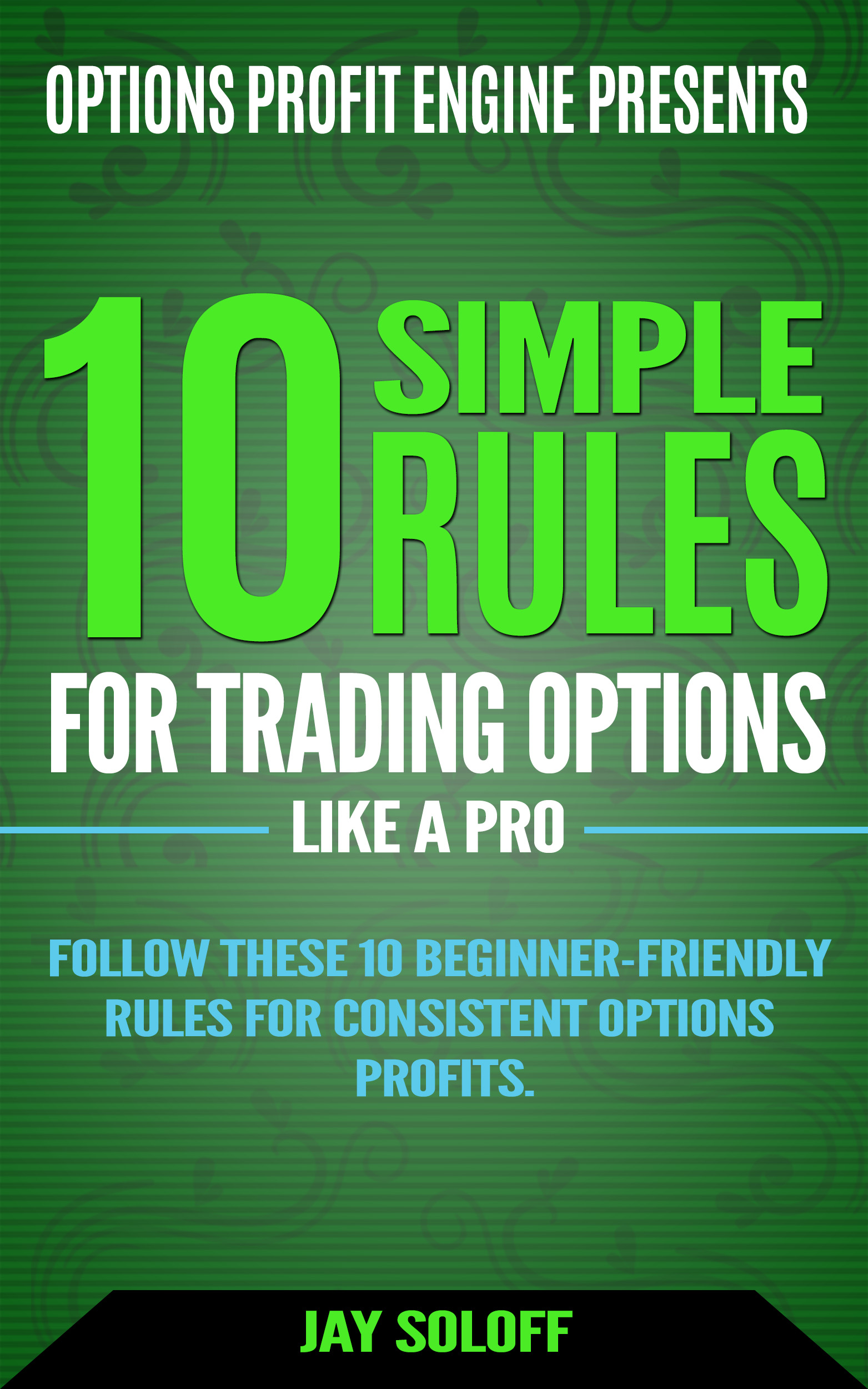 [FREE DOWNLOAD] 10 Simple Rules for Trading Options Like a Pro
Follow these 10 simple rules from 20-year professional options trading veteran, Jay Soloff and start earning a reliable extra income from options.
NO prior experience needed to master these 10 simple options trading rules. 
Enter your email below and receive access to this FREE guide...