Despite his enormous wealth from real estate and other deals Donald Trump may not be the best example for all investors to follow in terms of portfolio selection. With his recently released Public Disclosure Report (required of the Presidential candidates) we get a peek into "The Donald's" stock portfolio, and it's not pretty. 
Donald Trump, the Presidential candidate and real estate mogul, has been saying the stock market is a disaster for close to five years, which nearly matches the entire length of the current stock bull market. Anyone who has listened to him has been grossly disappointed as the major indexes like the S&P 500 and DJIA are up 90% and 68%, respectively over the same time frame. This extends across most of Trump's stock market dealings as well. Even this month, he said we're in a "big fat economic and financial bubble like you've never seen before." Will he be right this time? After being wrong so many times before?
I believe there are a number of reasons why you just shouldn't listen to Trump when it comes to your stock portfolio:
No. 1: Trump isn't a stock picker
As part of the whole running for President scheme, Trump had to release his net worth and assets to the public. With that, we got a look into the portfolio management skills of the Donald.
In truth, Trump might not be a stock picker at all. Trump has a knack for sticking to large Dow component stocks, which, for a financial renegade, is a bit boring.
And for a man that has no faith in the financial system, advocating decreased regulation, he certainly has enjoyed the fruits of the rebound in banking. Bank of America (NYSE: BAC) is by far his greatest stock market winner.
We don't know exactly when Trump bought his stocks (that's not disclosed on the form), but we can tell by what he owns that he's in for additional pain.
He owns shares of the troubled tech giant IBM (NYSE: IBM), which is down close to 17% over the last twelve months. IBM will continue to struggle as it loses market share, while also proving too big, with a $160 billion market cap, to meaningfully pivot to a faster growing market.
C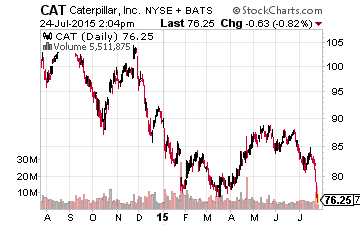 aterpillar (NYSE: CAT) is another questionable investment by Trump. The stock is down close to 30% over the last year, but there remain plenty of concerns related to its inability to gain meaningful traction in emerging markets. And despite pumping home ownership in 2011, Trump sold out of D.R. Horton (NYSE: DHI) at a loss. (He should instead probably look to housing stocks from Bret Jensen here and here.)
Then there's his exposure to the oil and gas industry. He's taken losses on energy companies Occidental Petroleum (NYSE: OXY) and Enbridge (NYSE: ENB); yet, he's holding strong to others. This includes ConocoPhillips (NYSE: COP) and Chevron (NYSE: CVX).
I'm still not a fan of owning anything that relies on higher oil prices. MLPs that collect income from the transportation and refining of oil and gas, rather than the price, continue to be the best play in this market.
No. 2: His own public company was a disaster
In 1995, Trump took his Trump Hotels and Casino Resorts (former ticker THCR) public, which owned the Trump Plaza and was building the Trump Casino in Gary, Indiana. He raised $140 million in the public offering.
Yet, it was all downhill from there. Trump was chairman and de facto decision maker, owning a special class of stock that gave him voting control. The company lost money the years that Trump was in charge — losing upwards of $650 million for the near 10 years that Trump was at the helm.
When the company filed for bankruptcy in 2004, all that was left was 10 cents on the dollar for investors. The really interesting aspect is that over that same time period other casinos were booming.
Trump lost control of the company, but the damage was done. The company filed for bankruptcy twice more after that, in 2009 and then again in 2014.
No. 3: Trump lied to us about gold
Back in 2011, Trump was touting gold as the must own asset. Heck, he was even taking gold, in lieu of cash, as rent payment from his tenants. His premise was that President Obama was being reckless with his financial policies and endangering the U.S. economy.
Trump said of gold, "I think gold will go up as long as people don't have confidence in our president and our country. And they don't have confidence in our president."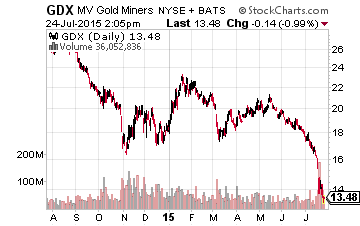 Yet, since the start of 2011, the price of gold is down 20% and the Market Vectors Gold Miners ETF (NYSE: GDX) is down nearly 80%.
Two gold investments that Trump still owns are Barrick Gold (NYSE: ABX) and Gamco Global Gold (NYSE: GGN), owning between $115,000 and $300,000 combined. Shares of Barrick are down 73% and Gamco Global Gold is down 87% since the start of 2011.
Granted, these positions make up a small part of his wealth, that in itself is telling, where Trump recently said we're amidst a huge financial bubble, but no longer believes gold is a safe haven.
Earlier this year, I told investors that owning gold was a fool's game. Since then, the SPDR Gold Shares (NYSE: GLD) is down 12% and the Gold Miners ETF is down 28%. And the spot price of gold has plummeted 6% just since the beginning of this month.
I'm not sure many believe that Trump has a real shot at being president, but it's certainly entertaining. Being a multi-billionaire, you would think Trump would be a bit more savvy when it comes to the stock market. It looks like Trump is best served leaving stocks to us and sticking to real estate for himself.
For all the grief I've given Trump about his stock picks it's his real estate deals that made him a household name even before his stint on "The Apprentice". Trump's made bold moves in real estate and while some have been disasters, like the casinos mentioned earlier, many have been outstanding successes leading directly to his current high net worth.
Real estate investing has been very profitable over the long term whether in land and buildings or in the stocks of builders and suppliers. Our own Bret Jensen has been quietly adding homebuilder related stocks over the past few months for his Small Cap Gems readers, positioning them for the double digit returns they're now seeing as new home starts pick up and stocks in the sector are on the move. Click here for more on three of Bret's top picks from with double digit gain potential.