Just one month ago, U.S. Treasury Secretary Steven Mnuchin said the trade war was "on hold while we try to execute the framework."
The ceasefire didn't last long.
Simmering trade tensions between the United States, Canada, and Europe bubbled over at the G7 summit earlier this week, with the meeting ending in chaos as the leaders ended up warring among themselves.
Shots Fired at G7
Having initially soured the mood by saying Russia should be invited back into the fold, Donald Trump then kicked up the rhetoric on trade. Quotes included the United States being "the piggy bank that everybody's robbing," how it's "unfairly clobbered" and that other countries are "taking advantage" and "ripping us off on trade."
Somehow, the leaders still managed to come up with a joint communiqué that emphasized the need for "free, fair, and mutually beneficial trade" and "striving to reduce tariff barriers, non-tariff barriers, and subsidies."
After Trump left for his summit with North Korea's Kim Jong-un, however, Canadian Prime Minister Justin Trudeau reiterated that while he didn't want to "punish American workers, Canadians will also not be pushed around" on trade and would employ retaliatory tariffs (in response to U.S. levies on imported steel and aluminum) on some U.S. imports from July 1.
What was supposed to be a bonding mission quickly became unglued, as Trump promptly unsigned the communiqué and criticized Trudeau.
Germany's Angela Merkel called the rejection "sobering and a little depressing" and pledged, "We won't let ourselves be ripped off again and again. We will then act, too," saying it would counteract U.S. tariffs.
France's Emmanuel Macron decried the "fits of anger and throwaway remarks."
Not good for intercontinental relations, business confidence… or trade.
World Trade Organization Director-General Roberto Azevedo said, "We must stop this escalation of tensions. A tit-for-tat process is not going to be helpful."
Price Pressure on Tap?
With steel and aluminum among the biggest headline industries to suffer from a trade war between the United States, Canada, Europe, and China, it stands to reason that companies heavily dependent on those metals for their business will be under pressure.
Enter, RBC Bearings Inc. (Nasdaq: ROLL).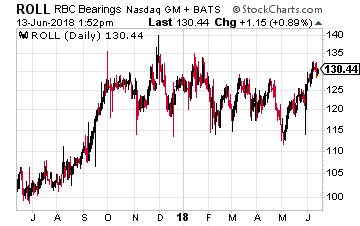 Next year, the company will celebrate its 100th anniversary, having a built a strong reputation as a major bearings and parts supplier for a host of different industries across the world – including aerospace/aviation, construction, mining, oil and resource extraction, semiconductor equipment, plus rail, trucking, and marine transportation.
However, most of its revenue comes from aerospace – around two-thirds, in fact. As I've mentioned in previous articles, I'm always a little wary of companies with such heavy exposure to one area. While aerospace isn't going to die, a downturn (be it trade-induced or otherwise) would put RBC's under pressure.
Amid the trade war fears, much attention has focused on how big-name aerospace players like Boeing and Airbus will suffer. But major suppliers like RBC are just as vulnerable if core materials prices like steel and aluminum rise. That's in addition to other metal-dependent industries that use RBC's products, too – and who'd also feel the pinch from rising prices.
Trade Strife Puts RBC Downside in Play
In its fiscal fourth quarter, RBC reported a 12.3% climb in sales, to $179.9 million, compared with a year earlier. Net income totaled $26.7 million – which was up 20%, but the adjusted EPS of $1.08 per share was below analysts' estimates of $1.13.
Hurting the results was a 12.8% jump in expenses, which led to a 20-basis-point reduction in the operating margin.
For the year, sales rose by 9.7% to $674.9 million, resulting in a 22% net income rise. However, the $3.87 EPS missed estimates that called for $3.91. And both gross and operating margins shrank, too.
The current quarter's estimates put sales between $171 million and $174 million.
Over the past 12 months, RBC shares have jumped by a solid 26.5%. But with a current P/E of 38 putting it well above the industry average of 22, the stock looks pricey now. Indeed, the PEG ratio of 2.5 shows it's overvalued. And with a beta of 1.4 indicating that shares are more volatile than the overall market, trade pressures could suck the air out of the price.
Don't get me wrong… RBC isn't a particularly bad company. But in the wake of yet more escalating trade tensions, it could encounter some problems, due to its dependence on the key metals at the heart of the war.
Until the dust settles, this is a stock to dodge, or consider playing the downside via put options, as shares only recently crossed both the 50-day and 200-day moving averages.
Warren Buffett Went All-in With a Sector He Swore He'd Never Touch. Will you?
Buffett could see this new asset run 2,524%. And he's not the only one...
-> Shark Tank Personality Mark Cuban says "it's the most exciting thing I've ever seen."
-> Facebook CEO Mark Zuckerberg threw down $19 billion to get a piece...
-> Microsoft Founder Bill Gates wagered $26 billion trying to control it...
What is it? It's not gold, crypto or any mainstream investment.
But these mega-billionaires have bet the farm it's about to become the most valuable asset on Earth. And if you act fast, you could earn as much as 2,524% before the year is up.
Click here for immediate details.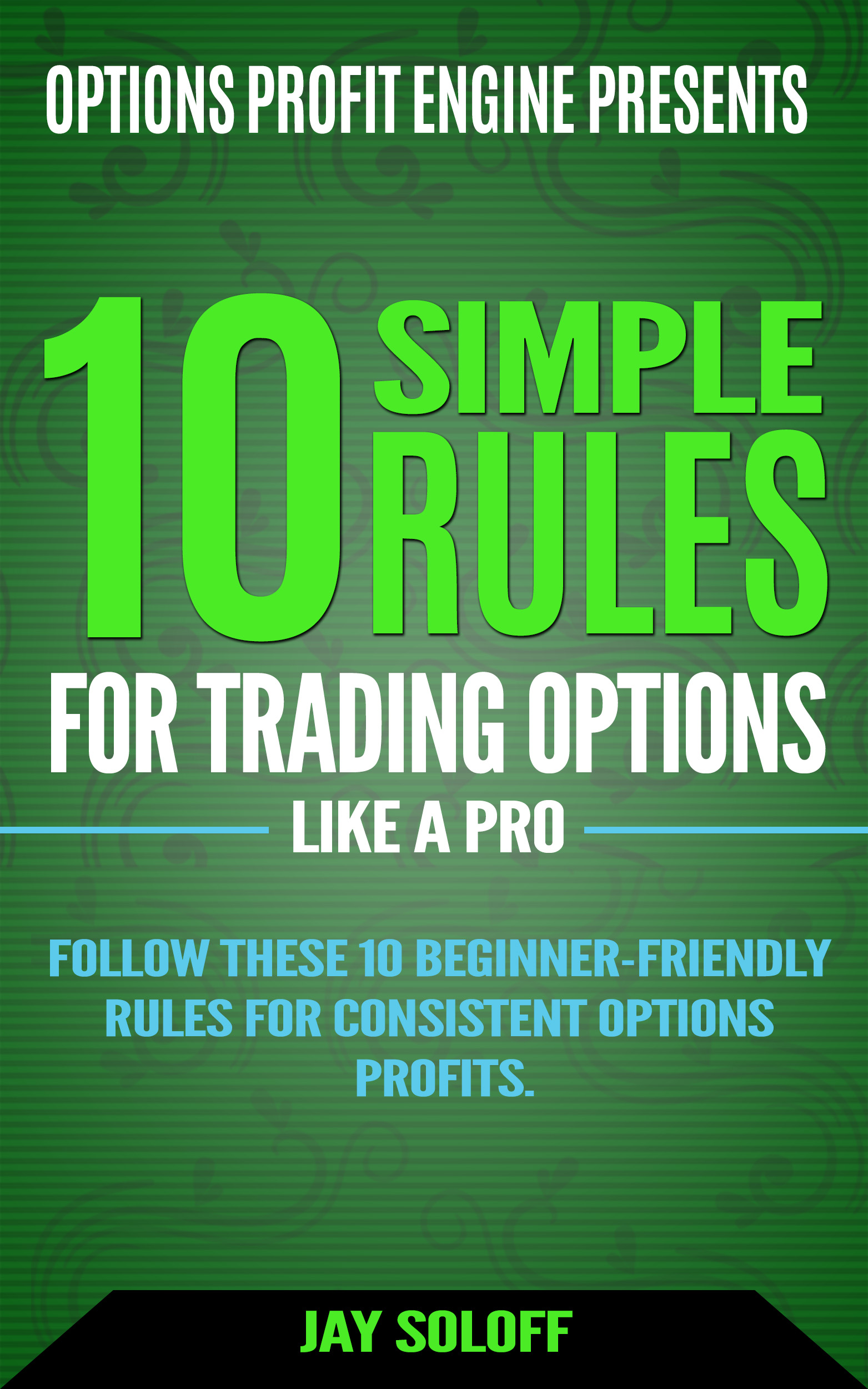 [FREE DOWNLOAD] 10 Simple Rules for Trading Options Like a Pro
Follow these 10 simple rules from 20-year professional options trading veteran, Jay Soloff and start earning a reliable extra income from options.
NO prior experience needed to master these 10 simple options trading rules. 
Enter your email below and receive access to this FREE guide...