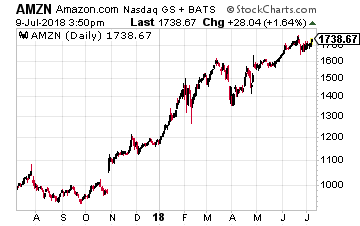 There has been no company like Amazon.com (Nasdaq: AMZN) ever with the ability to affect entire industries just by announcing its entry.
The most recent example of this was in late June when Amazon announced a roughly $1 billion acquisition of PillPack, a mail-order pharmacy that packages pills into daily portions before shipping them to patients in 49 states.
PillPack was backed by several well-known investors including Silicon Valley venture capital firms Accel and Menlo Ventures. Its target market is people with chronic illnesses or multiple conditions who take several different tablets every day, rather than people who take a single medication or use prescription drugs only occasionally.
Amazon already captures more than $4 out of every $10 spent online in the U.S. So in response to its PillPack announcement, about $14 billion magically disappeared from the stock market valuations of the biggest players in the U.S. drug distribution and retailing. Shares in those six companies – Walgreens Boots Alliance (Nasdaq: WBA), CVS Health (NYSE:CVS), Express Scripts Holding (Nasdaq: ESRX), Cardinal Health (NYSE: CAH), McKesson (NYSE: MCK) and AmerisourceBergen (NYSE: ABC) had already been depressed last year when Amazon hinted that it was coming into their territory. Proof positive trimmed their values by as much as 10%.
Related: Sell These Stocks As Amazon's Doctor Will Soon Bring Back House Calls
Already the fear of Amazon's entry into the sector had started a frenzy of consolidation in the sector including CVS agreeing to acquire health insurer Aetna for $69 billion in December, and in March Cigna, a rival health insurer, agreed to pay $67 billion for the aforementioned Express Scripts, a pharmacy benefits manager that also delivers medication by mail.
Amazon's Long Game
There is one characteristic I've always liked about Jeff Bezos and Amazon – its planning for the long-term. This is so unlike most U.S. companies that are focused on the very short-term.
The PillPack purchase looks like a crucial part of a strategy that Amazon has been slowly building brick by brick, and likely just one step of many in the sector it has long eyed.
Its interest goes back to 1999 when it bought a minority stake in Drugstore.com, but never fully integrated it into its core retail offering. Walgreens later bought the website and eventually shut it down in 2016. More recently, Amazon has pursued pharmacy licenses in several US states, held meetings with healthcare industry executives and made several senior hires from insurers and pharmacy benefits managers. And of course, it also recently joined with JPMorgan Chase and Berkshire Hathaway to create a not-for-profit healthcare company that aims to reduce bills for their employees and "potentially all Americans".
In buying PillPack, Amazon is sticking with the same game plan it is following in the grocery business and its Whole Foods purchase. That is, acquire a company with an existing footprint in a market rather than trying to build a brand new business within its existing retail network. With this purchase, Amazon buys regulatory permits and contracts with health insurers.
While mail order deliveries represent a small proportion of the overall prescription market, it is seen as a source of growth due to demographics – an aging U.S. population will require higher levels of medical care in coming years.
The acquisition should create another competitive advantage for Amazon over others in the space thanks to its extensive logistics network and loyal customer base to its Prime subscription (with 100 million subscribers) delivery service. Amazon may bundle its prescriptions with other products where people make regular, frequent purchases, such as groceries. That could help attract even more Prime subscribers, who spend more and order more frequently from Amazon than non-Prime customers.
Related: Sell These Healthcare Middlemen About to Get Amazoned
But it will not be an easy road for Amazon. That's because the trend in the pharmacy business is going in the opposite direction of other retail businesses. Last year, about 88% of prescriptions filled were collected at brick-and-mortar pharmacies. That compares to 82% in 2009, according to Goldman Sachs.
As to why this is happening, it's simple. . .existing mail-order pharmacies stink. For example, with Express Scripts it can take eight days to have a prescription filled and up to two weeks for a new prescription to be filled. Obviously, Amazon is hoping its strength in logistics will shorten those times greatly.
But its logistics won't help with another problem – about 30% of prescriptions result in a "pharmacy callback". That is when the medicine prescribed to a patient is not covered by their insurance and the pharmacy then has to contact the doctor's office to see if a cheaper alternative is acceptable. Perhaps that is why Amazon is pursuing the insurance angle with JPMorgan and Berkshire Hathaway.
Investment Implications
This move into the drugstore space looks to be another win for Amazon. And a loss for the drug distributors and especially the retail drugstores. After all, Amazon is already undercutting them on the prices for non-prescription medicines.
According to Jeffries Group, median prices for over-the-counter, private-brand medicine sold by Walgreens Boots Alliance and CVS Health were about 20% higher than Basic Care, the over-the-counter drug line sold exclusively by Amazon. Amazon began selling the Basic Care line last August with roughly 35 products and has since expanded its range to 65 medicines including mild painkillers, cold and flu medication, sleeping aids and other medication commonly found in the pharmacy aisle. Many of these meds are available through Amazon Prime.
Take all of these moves by Amazon into the distribution of medicines and you have one more reason to sell the drug retailers or, if you're an aggressive trader, short them.
3 Stocks That Could Go to 2,524%!
Don't risk your money on IPOs, risky tech startups… or the next Pets.com, Snapchat, Groupon, Webvan hyped by the financial media as the next big thing… all of them black holes for investors' hard earned money. Instead, bank on these 3 high-growth tech stocks that offer a high likelihood of outperformance in the near-term, and a chance of TRIPLING – even quadrupling – before the end of the year!
Click here for names and details.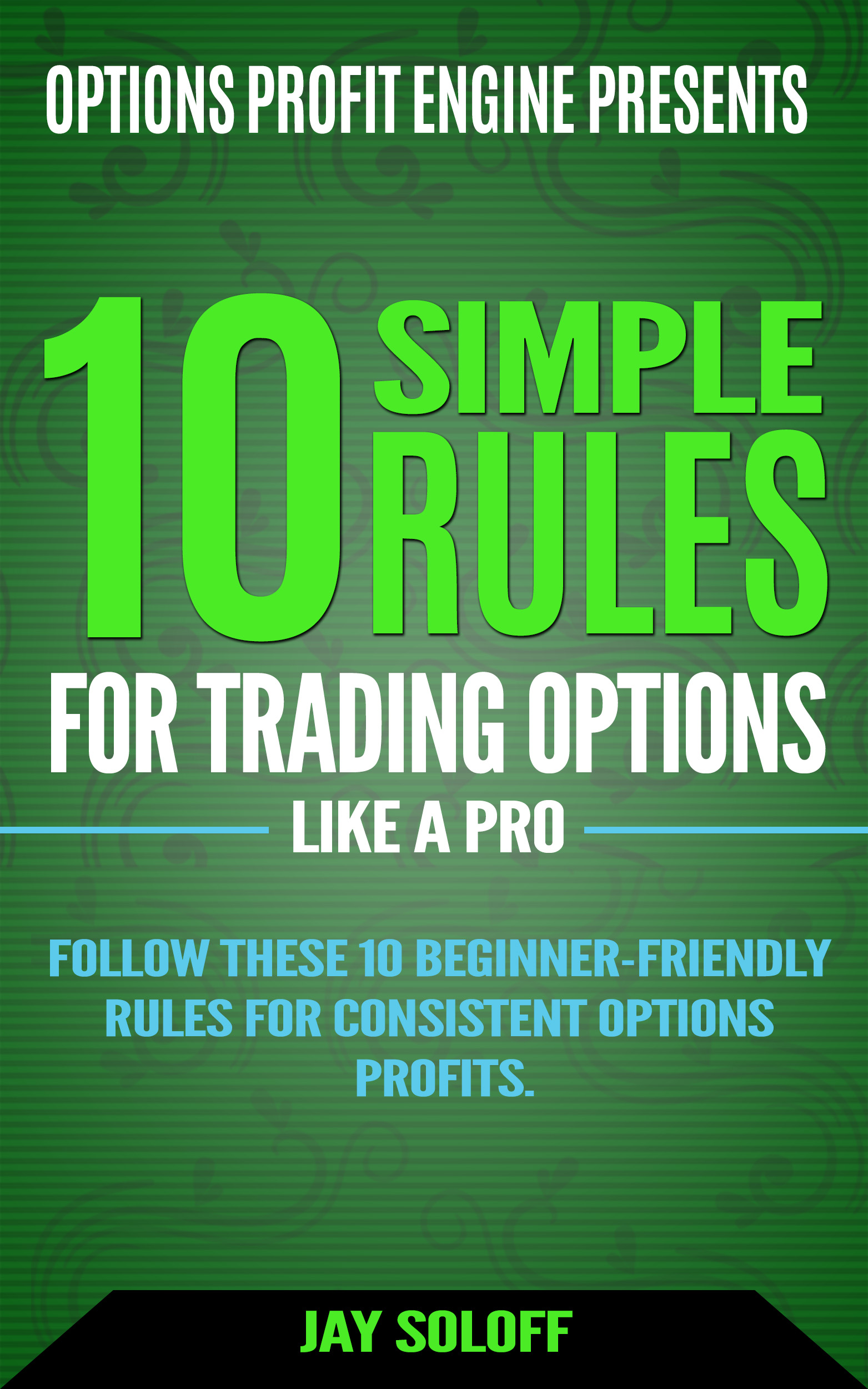 [FREE DOWNLOAD] 10 Simple Rules for Trading Options Like a Pro
Follow these 10 simple rules from 20-year professional options trading veteran, Jay Soloff and start earning a reliable extra income from options.
NO prior experience needed to master these 10 simple options trading rules. 
Enter your email below and receive access to this FREE guide...