A lot of my focus has been bigger picture, such as the strong dollar and the routing of oil prices. Looking at things from a macro perspective is useful, but sometimes you can miss the simple signals that can be your most powerful tools.
One such signal is insider trading, just not the illegal kind. Rather, the buying and selling that company owners do.
After digging deep into the recent trends of insider trading, it wasn't the recent insider buys that stood out, but the insider sales.
Now, rushing for the exits because a handful of insiders are selling is never a prudent strategy.
Its true Insiders have the proverbial inside track, they also have financial obligations to meet, as well as the fact that some simply want to diversify beyond just their employer's stock. Nothing wrong with that; diversification is portfolio management 101.
So, in a lot of cases, using insider sales is harder than insider buys. You really have to do your due diligence. It's also important to focus on the right type of insiders.
S&P Capital IQ has done some work on insider trading and found that CEOs are the best bellwethers. Here are a few thoughts for this. One, CEOs are at the top of the company food chain and should know the most about the company. And two, there's the fact that more investors and other employees are likely to follow the CEO rather than a lower level executive.
Thus, look for big transactions by employees higher up the management chain. Plus, the more employees selling, the more interesting insider trading trends are. With all that in mind, let's look at seven stocks that insiders have been dumping of late:
Insiders Are Dumping This Stock No. 1: Wells Fargo (NYSE: WFC)
W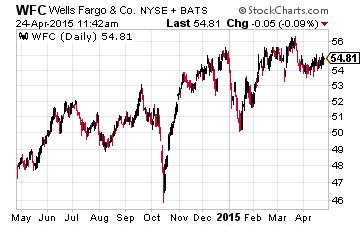 ells Fargo has long held the interest of dividend seekers. This comes as it has long been one of the best dividends in banking, offering one of the highest yields among big banks at 2.5%. It's also been the number one holding in Warren Buffett's Berkshire Hathaway (NYSE: BRK.A) for well over two years.
However, things are a changing. Starting with the fact that insiders are dumping the stock. Over the last couple weeks, four different EVPs (executive vice presidents) have dumped about $16 million in shares. One of those EVPs was the bank's controller and the other is a senior EVP of the consumer lending business. The amount doesn't sound like much, but this was one of the largest amounts of sales by insiders that we've seen over the last year.
This comes as the low interest rate environment continues to put the screws to the big bank. Its net interest margin has fallen every year since 2010, going from 4.3% in 2010 to 3.1% in 2014. But another big problem for Wells Fargo is that the relative success it's been having over the past half-decade has been driven by mortgage banking. That's a market that's sure to fade as the build-up of homebuyers is exhausted and as the cultural shift of renting versus buying continues.
This should pave a new path for the big regional banks like PNC (NYSE: PNC), which pays a 2.2% dividend yield. The beauty of PNC is that it's positioned to continue growing even if it takes interest rates another year or so to move higher. This comes as it generates a high level (around 40%) of revenues from non-interest related activities like asset management.
Insiders Are Dumping This Stock No. 2: IMAX Corporation (NYSE: IMAX)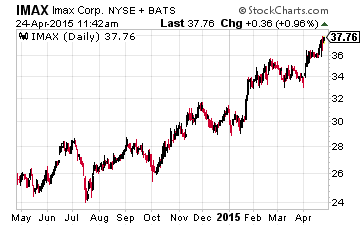 With the stock selling at levels we haven't seen since 1997, and even then it was just for a brief few weeks, insiders are hitting the sell button. The CEO has been leading the charge in terms of insider sales, but the CFO and an EVP are also following suit. This is the smallest stock on our list with a $2.6 billion market cap, and yet, it has seen one of the highest values of shares dumped over the last month, coming in at over $7 million.
And for good reason, IMAX appears to be hitting a saturation point. In part, because theater installments are slowing, but also because theater visits continue to be threatened by on-demand and at-home services.
Let's not forget that much of IMAX's business still relies on box office releases and their relative success. Finally, there's rising competition from a similar concept by Cinemark called XD.
Insiders Are Dumping This Stock No. 3: salesforce.com (NYSE: CRM)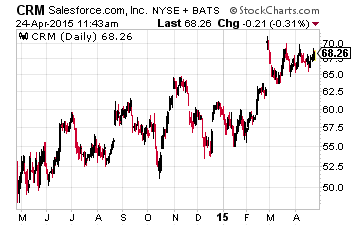 Software as a Service and cloud computing are two of the hottest buzzwords in the tech market today. That's served salesforce.com well, until now. It's positioned itself as the market leader. Generally a good thing, but as the leader they'll soon start having a tough time finding prospective customers.
On the other hand, the likes of IBM, SAP, Microsoft and Oracle will get more aggressive in this attractive high margin business, and find it easier to snatch customers away with their deep pockets. The rise of cyber security threats also brings into question putting information in the public cloud in the first place.
Now, salesforce.com has managed to grow nicely with an aggressive acquisition strategy, something that might be tough to continue, especially as it tries to make acquisitions in non-core markets, making integration harder.
Along those lines, salesforce.com has had the likes of its CEO, President of Products and one of its co-founders dumping shares since the start of April. Together, these guys have sold off north of $10 million in shares.
Insiders Are Dumping This Stock No. 4: ServiceNow (NYSE: NOW)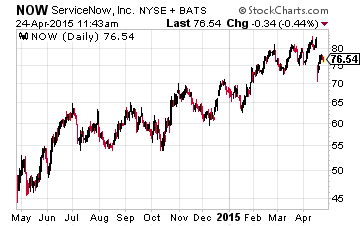 The valuation alone is enough to persuade insiders to sell. ServiceNow trades at over 15x sales and north of 150x next year's earnings expectations. It seems insiders are starting to realize that the company may never grow into this frothy valuation.
It all started just a couple weeks ago when the CFO, CRO (chief revenue office), and CPO (chief product officer) all started dumping shares. Cumulatively, they've unloaded $20 million worth of stock. Some of these guys were even able to get out when ServiceNow was hitting all-time highs above $83 a share just a couple weeks ago.
Granted, ServiceNow has managed to grow its market share in the IT operations management industry quite nicely. It's done so by lowering the ownership costs for customers. Yet, it's still having issue with selling customers its higher value products like project management and job scheduling services. Have investors realized that actually generating and growing earnings will be harder than expected?
Insiders Are Dumping This Stock No. 5: Charles Schwab (NYSE: SCHW)
S
chwab has seen its CEO and two EVPs selling shares over the last month and a half. These guys were getting out at all-time highs near $32 a share. Cumulatively, they've managed to unload over $6.5 million in shares. Over the same time period, no insiders were stepping up to buy.
Has the rapid rise of startups in the trading space convinced insiders that there's some pain on the horizon for Schwab? This brokerage house relies on trading volumes, but the rise of alternatives, like the free trading app Robinhood, could bring into question why investors are paying close to $10 a trade. Then, there's the rise of various roboadvisors, which could mean more asset outflows for Schwab.
Insiders Are Dumping This Stock No. 6: Yelp (NYSE: YELP)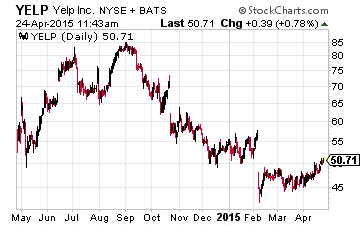 Trading at nearly 170x earnings, there's still a lot of questions surrounding Yelp. Questions that investors aren't waiting around to have answered.
In truth, the action at Yelp has been some of the fiercest in terms of insider sales. The sheer amount of the insider sales over the last couple months tops all of the shares sold by insiders over the last twelve months. The major players in the C-suite, including the CEO, CFO and COO, dumped over $6.5 million in shares since mid-February.
This comes as growth at Yelp is slowing, driven by a fall in monthly unique visitor growth. It's just not finding traction internationally and still doing a poor job of getting businesses to pay to advertise. Meanwhile, it still spends a lot of money on sales and marketing efforts to generate the sales it does have. So there's little the company can do in the interim to help cut costs.
Insiders Are Dumping This Stock No. 7: United Therapeutics (NASDAQ: UTHR)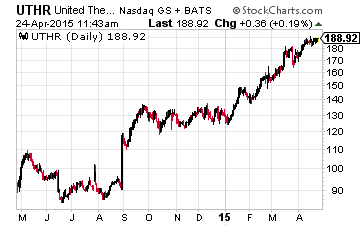 Well, it looks like investors aren't loving all biotech stocks. Insiders have turned sour on United Therapeutics. It has two CEOs (each with the title co-CEO) and both have been actively selling over the last few weeks. Their general counsel has also gotten in on the action. In any case, the cumulative action between the three is $6 million in stock sales.
This comes after its shares are already up 100% during the past twelve months. Yet, insiders are starting to see what the market might be missing. United Therapeutics has one key product, Remodulin, which serves a very small market. Its focus market is for those suffering from pulmonary arterial hypertension, which is less than 250,000 people worldwide.
It does have three products in total on the market, but all three have competition. Plus, it will lose patent protection for Remodulin in 2017.
At the end of the day, who knows the business better than the people that work there?
Now, there is something to be said for insiders buying their company's stock, as opposed to selling it. They could be selling for a number of reasons. But the bottom line is, with some due diligence, you can find insiders might actually be selling because things are changing (for the worse) at the company, as is the case with our seven stocks above.
One of the key indicators that a company's management expects future growth is insider buying. This is particularly true in the small cap biotech sector where data is sometimes hard to come by or when we do get it, it's arcane, complex scientific jargon. Small Cap Gems editor Bret Jensen has an uncanny knack for spotting biotechs about to take off by using insider buying activity as just one of his many "tests" for new portfolio additions. His subscribers have recently enjoyed quick gains from firms like Avanir (up 215%), Agenus (up 115%), and many others because of his system. He issued a strong buy to his readers on a small biotech that legally circumvents lengthy (and costly!) FDA trials: it's up 329% as I write this. Bret thinks it could still double or triple from here, so it's not too late to get in and ride it for profits. He's written up a detailed briefing on this firm and the sector. To read it CLICK HERE.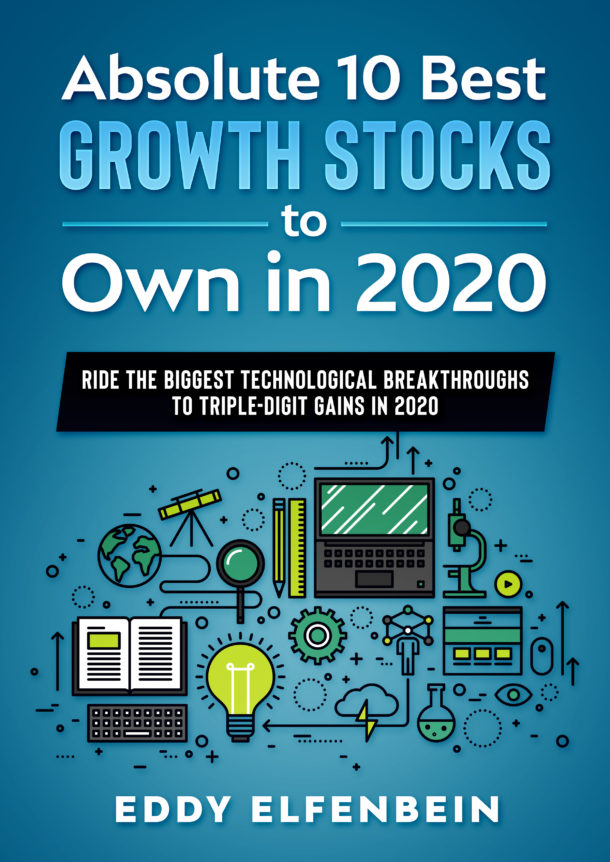 [NEW REPORT] Absolute 10 Best Growth Stocks to Own in 2020
Get the best 10 stocks to ride the 2020 tech explosion. 
One could be the most valuable stock of the next decade. 
Normally, I charge $20 for this report…
But, today...you can claim a copy absolutely free.
One stock alone has a chance at 167% profits in the next 12 months (or sooner). 
Enter your email below to claim a free copy while they last.