On the campaign trail, Hillary Clinton has promised changes that might radically alter the profitability of traditional dividend growth stock companies if she is elected. That means dividend cuts and plummeting share prices for the seven popular dividend stocks that Tim Plaehn shares today.
In her run to become the next U.S. President, Mrs. Clinton has promised a lot of things to a lot of people. Policies to generate meaningful economic growth is the one area where she has not made any proposals or promises. If she gets the programs she has stated that will be part of her administration, there will be lots of money needed to pay for new programs and not much from overall economic growth to pay for them. However, Clinton has received the majority of corporate sourced campaign donations. Given the Clintons' history, it is plausible to believe that these corporate leaders are expecting favors and corporate crony deals as payback for their help to get Mrs. Clinton elected.
My forecast is that with another Clinton presidency, GDP growth will be even lower than the anemic 2% per year of the Obama years. However, the combination of increased regulations for some industries and special favor deals for others will lead to a greater spread between the winners and losers. If you depend on dividend income from companies that end up on the loser side, you could see both dividend reductions and significant capital losses in your share values. Here are three themes and representative stocks where I think Clinton administration policies will be bad for business.
SEE ALSO: 3 Monthly Dividend Stocks for a Growing Income in Retirement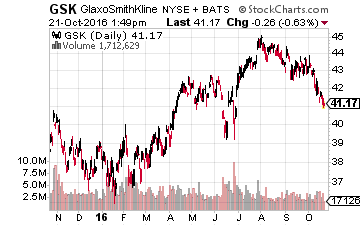 Theme One: Mrs. Clinton has to find a way to reign in healthcare costs. The final result of ObamaCare has been rapidly increasing healthcare costs and insurance premiums. Yet insurance companies are dropping out of the healthcare exchanges because they can't increase premiums fast enough to avoid losing money. The Clinton administration will not look for a free market solution but will try to dictate costs and prices. The biggest target will be on
the back of the drug companies, many of which have been very aggressive in raising prices for their drugs in the U.S. while continuing to sell them cheaper in the international
markets. Here are three blue chip drug companies with attractive yields, whose profits may be severely curtailed with Mrs. Clinton in the White House:
GlaxoSmithKline plc (NYSE: GSK) currently yields 5.1%. GSK has a $100 billion market cap. This international drug company generates 34% of its revenues in the U.S.

Sanofi SA (NYSE: SNY) is another $100 billion international drug company and it currently yields 4.4%. Sanofi also generates 34% of its net sales in the U.S.
With a market value of over $200 billion, Pfizer Inc. (NYSE: PFE) yields 3.6%. Pfizer is generating just under 50% of its revenue in the U.S.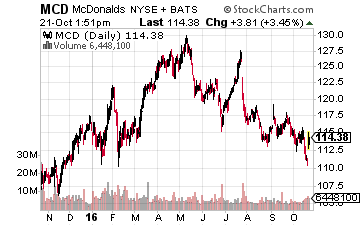 Theme Two: The Clinton administration will push hard for a higher minimum wage. If enacted, a higher minimum wage will be hard on the profit margins of those companies that hire entry level workers. Here are a couple of historically steady dividend growth stocks that could be forced to cut dividends, or stop announcing dividend increases:

McDonald's Corporation (NYSE: MCD) has been a strong dividend growth stock, increasing its payments to investors by an average 17.8% per year over the last 10 years. MCD currently yields 3.1%.

Dunkin Brands Group Inc. (Nasdaq: DNKN) has been both a growth stock and a dividend growth stock, with the dividend rate doubling in the last four years. DNKN currently yields 2.4%.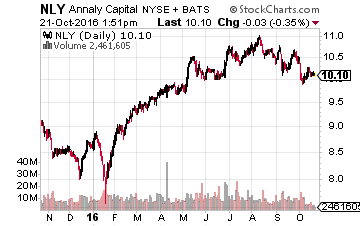 Theme Three: A no-growth economy means that the yield curve could flatten even further. Imagine a scenario where the Fed gets short-term rates up to 0.50% and the 10-year Treasury yields less than 1.0%. A less than 50 basis points spread between long and short rates will destroy the profit margins of the mortgage-backed security (MBS)  owning REITs that use a lot of leverage to generate profits from the interest rate spread along the yield curve. Here are the two largest agency MBS REITs:

Annaly Capital Management, Inc. (NYSE: NLY) has a $10 billion market cap and currently yields 10.1%. Annaly currently has borrowed short to leverage its equity over 6 times to generate profits to pay that big dividend.

American Capital Agency Corp. (Nasdaq: AGNC) has a $6.4 billion market value and the stock currently yields 11.1%. As of its last earnings report, AGNC was leveraged to 7.2 times its equity.
Returns in my 30 Day Dividends service have been on a tear since we launched. Six out of the last eight trades I closed out handed my subscribers returns of 21.40%, 17.54%, 18.39%, 2.25%, 23.79%, and 9.88% respectively!
And, since launching 30 Day Dividends in June of 2014, my subscribers have closed out an amazing 80% of our trades with positive total returns… even during one of the most volatile markets in five years. That works out to 45 out of 56 total trades coming in with positive total returns.
There are still a few open slots remaining for current subscribers to receive the instant 50% discount right now. If you want to start compounding your dividend income with regular trades, I invite you to click the link below.
Click here for more information on compounding your dividend income.