Reading Time:
4
minutes
The stock market's string of record highs should be making investors nervous, but the VIX Volatility Index is at a 52-week low. Stocks are overvalued at this stage of the game, and analysts agree that future price appreciation will have to come from earnings growth, since earnings multiples are already rich.
It appears that the market is due for a correction, and when anticipating which stocks will be on the cutting edge of that correction, it's wise to consider which stocks institutional investors are selling. The following five stocks with heavy institutional selling should be avoided, or potentially sold short.
From Leader to Laggard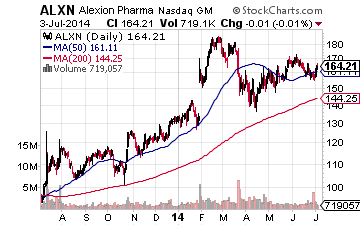 Alexion Pharmaceuticals (Nasdaq: ALXN) is a $32.6 billion developer of therapeutics to treat hematological and neurological diseases, as well as metabolic and inflammatory disorders. In 2013, the firm reported net income of $253 million on sales of $1.55 billion. The stock has gained nearly 30% over the past six months, but during that same time, institutional investors have turned bearish on Alexion, selling more shares of the stock than they're buying, as reflected by its C- accumulation/distribution grade.
Alexion is also overvalued across the board. Its trailing P/E ratio of 100 is rich even by industry standards, in which the average is 73.5. Alexion's price-to-book ratio of 12 is nearly 40% higher than the industry average of 8.6; its price-to-sales ratio of 18.5 is almost double the industry average of 9.4; and its price-to-cash flow ratio of 78.1 is high, irrespective of the industry average (which is, in fact, negative).
A premium across-the-board valuation doesn't necessarily indicate a "bad" stock. Indeed, stocks with premium valuations tend to lead during bull markets, and Alexion has performed well over the past six months. But now, with the market itself heavily overbought, and with both volatility and volume at curiously weak levels, "hot" stocks like Alexion that already have heavy institutional selling are likely to lead the market's reversal.
Nobody Likes F5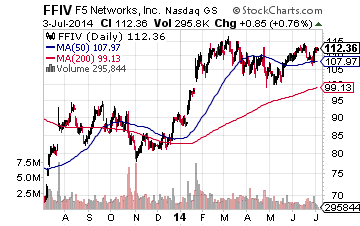 As with Alexion Phamaceuticals, institutional investors have recently turned bearish on F5 Networks (Nasdaq: FFIV). The stock is also overvalued: Its price-to-earnings ratio is 30.9 (vs. an industry average of 17.4), its price-to-book ratio is 6 (compared to an industry average of 4), its price-to-sales ratio is 5.5 (compared to an industry average of 4.4), and its price-to-cash flow ratio is 16.9 (compared to negative industry average).
F5 provides network-traffic management products. This is a fragmented industry undergoing consolidation, and F5 doesn't really have a dance partner. The recent Cisco (Nasdaq: CSCO) partnership with Citrix (Nasdaq: CTXS) makes Citrix a more formidable competitor to F5, and the Riverbed Technology (Nasdaq: RVBD) acquisition of Zeus has turned up the competitive pressures even more. These factors combine to make F5 Networks a stock that should be avoided, if not sold short.
Discount This Discount Retailer Stock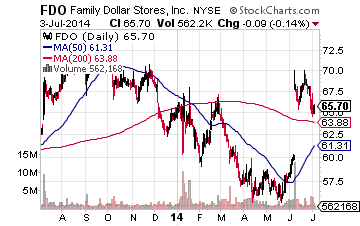 Shares of Family Dollar (NYSE: FDO) surged by 15.7% on June 9, from a previous close of $60.25 to a high just two cents shy of $70. Since then, Family Dollar has come down 6.3% from its highs to close the holiday-shortened week at $65.54. Nevertheless, the stock is still overvalued.
What prompted Family Dollar's gains? Merger talks with Dollar General (NYSE: DG), which have since cooled. Institutional investors have been heavy net sellers over the past six months, earning Family Dollar an accumulation/distribution grade of D+. Family Dollar is overvalued relative to its peers along every valuation metric, save for price-to-cash flow, where it's multiple is a still-rich 16.9.
Last quarter, Family Dollar's EPS fell by 30%, which brought its three-quarter average for EPS growth to -4%. Estimates for the year are calling for Family Dollar's bottom line to contract by nearly 18%. This is a stock to be avoided.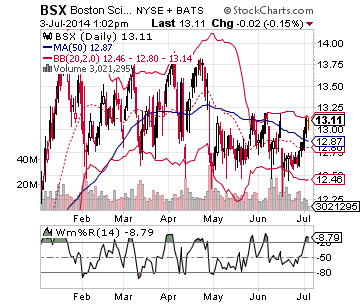 Get Technical on This Science Stock
Institutional investors have been heavy net sellers of Boston Scientific (NYSE: BSX) over the past six months, earning the stock an accumulation/distribution grade of D-. Boston Scientific's price-to-earnings ratio of 48.1 is considerably higher than the industry average of 32.4.
Technically, Boston Scientific has been in a short-term uptrend since mid-June, but now it's meeting resistance at its upper Bollinger band, which could make this an optimal time to initiate a short position on the stock.
One More for the Road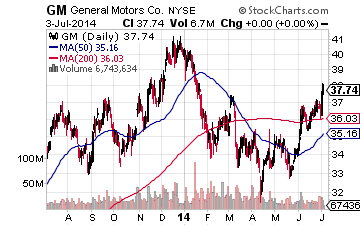 "As GM goes, so goes the American economy" – unfortunately, that statement continued to ring true in 2009, as the automaker collapsed under the weight of the financial crisis and needed to be "bailed out" by the federal government. Since then, General Motors (NYSE: GM) has gotten back on its feet – just like the U.S. economy! But now, with the stock market in "irrationally exuberant" territory, GM looks overvalued – and institutional investors are turning their back on the stock just like the Occupy crowd would argue they've turned their backs on the country.
GM's accumulation/distribution grade is a woeful D-. Mutual funds in particular reduced their GM holdings by 3% last quarter. GM's P/E ratio of 21.5 doesn't sound extraordinarily rich, until it's compared to the auto industry average of 12.8. Don't let the weekend's fireworks and flag-waving fool you: GM is a stock to avoid this July.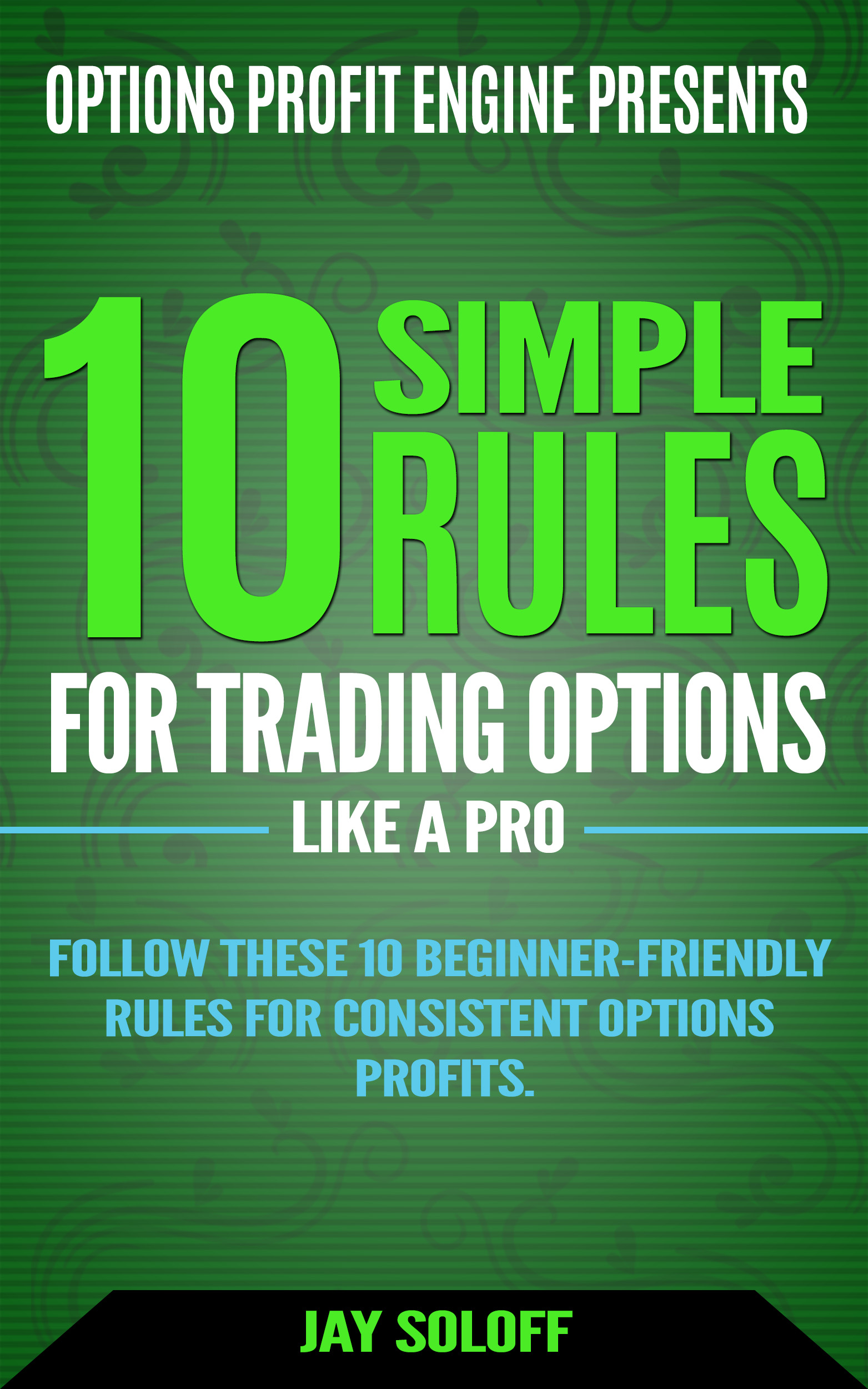 [FREE DOWNLOAD] 10 Simple Rules for Trading Options Like a Pro
Follow these 10 simple rules from 20-year professional options trading veteran, Jay Soloff and start earning a reliable extra income from options.
NO prior experience needed to master these 10 simple options trading rules. 
Enter your email below and receive access to this FREE guide...