Few things are more costly than being invested in the wrong companies at the wrong time. For example, it wasn't long ago that the world's largest gold producer Barrick Gold (ABX) was as hot as molten metal. Today it's hard to find an analyst who would encourage an investor to touch it with a ten-foot pole.
Or how about investors who jumped into Amazon.com (AMZN) near its 52-week high of $408.06. They felt the pain of a 30% correction before the stock bottomed near $284.
Stocks that are richly valued like Amazon, trading with a trailing PE ratio of 476 and a forward (1-year) PE of 92 are often subject to violent sell-offs when the big market players seek "Growth at a Reasonable Price" (the acronym is GARP).
GARP stocks are the ones with realistic PE and PEG ratios with plenty of free cash flow to offer investors dividends, stock buybacks and a strong return-on-investment. An example of GARP stocks are Apple (AAPL), Marathon Petroleum (MPC) and Chevron (CVX).
That doesn't mean a company with strong revenue like AMZN won't correct enough to become a "buy". According to the chart (right) that's happened before and it'll happen again.
When the price falls below the 50-day Moving Average (MA) and the 50-day MA falls below the 200-day MA, history says stand aside at least until that ominous crossover corrects to the upside.
Remember the mantra "The trend is your friend"? Smart investors and traders do.
When a trend is in motion, whether it's upward or downward, it usually stays in motion until reversed by many up days on heavy volume. AMZN's trend is too uncertain at this point. Avoid till further notice.
Another stock I'd avoid is Chipotle Mexican Grill (CMG) which is nearing the same kind of ominous MA crossover that Amazon experienced. The chart to the right speaks volumes.
This developer and operator of casual and fresh Mexican food restaurants had a phenomenal run higher since the fall of 2012.  That was the last time its share price fell below its 50-day and 200-day MA.
With a trailing PE ratio of 48 and a share price of $524 the stock is trading at 47 times trailing earnings. Even with the company's projected growth in the year ahead it's trading at over 32 times next year's earnings.
On May 22 Oppenheimer said the company's margins will be boosted by price increases. The firm kept a $625 price target and Outperform rating on the shares.
CMG is expected to grow its EPS in the current quarter by about 9% and revenue by 20%, hardly enough to justify a rich valuation. It doesn't pay a dividend either.
My suggestion is that investors avoid Chipotle Mexican Grill for now. If you're determined to buy wait until the price breaks above the 50-day MA before speculating.
The next stock to avoid for now is Target (TGT). Not because of high PE ratios or for technical reasons, but because the company has had too much uncertainty surrounding its massive data breach and expansion into Canada.
This will be the most controversial suggestion in this article. I'm aware the stock pays a 3% dividend and has fallen hard in recent weeks. But I avoid companies that have unsolved problems or potentially big legal battles ahead.
The company is still not able to estimate the cost of the data breach that affected tens of millions of customer's credit and debit cards. It may not know until late in the second quarter or early third quarter, interim CEO John Mulligan told CNBC's "Street Signs" on May 21.
On the same day the company reduced its full-year EPS guidance to between $3.60 to $3.90, well below the prior range of $3.85 to $4.15 or the consensus of $3.99. What concerned me is that it didn't provide details about its decision to cut guidance.
With all the bad publicity and the lingering concerns about data breaches there aren't many reasons to expect Target's financial numbers to rebound anytime soon. That's partly why the company has suspended its stock buyback program as it accesses the data breach costs.
Target's interim CEO followed the abrupt departure of Target's chairman and CEO, Gregg Steinhafel, earlier in May. Steinhafel's resignation was related to the severity of the data breach.
That means for the time being this is a big retailing "ship" without an experienced "captain". In the CNBC interview Mulligan was asked if he would want the top job on a permanent basis.
"I will be very content to move back to my CFO role when we get the right individual to lead the company going forward." His reply adds to the uncertainty, something investors loathe.
"We're in a place when it comes to the data breach where we don't have visibility yet to potential third-party liabilities and operating expenses they've incurred," Target's interim CEO added. This tells me that the company really doesn't know how much the data breach will impact its bottom line.
Instead of Target why not go with the top retailer in the country, Wal-Mart Stores (WMT). At about $75 a share investors earn a 2.56% dividend yield with a realistic 8% upside price potential. It's forward PE ratio is around 13.
The last two stocks to avoid until further notice are Salesforce.com (CRM) and LinkedIn (LNKD). Although both stocks have experienced nasty corrections, the carnage may not be over yet.
That's mainly because both have negative earnings and are trading at high forward PE and Price-to-Sales (P/S) ratios. Salesforce.com, even at a share price of $54, trades with a forward PE of 75 and a P/S of close to 8. Put another way, CRM is trading at almost 75 times next year's earnings and nearly 8 times sales. Shares have also been very volatile of late, down over 5% on May 21 then up 7% on May 22.
Let the 1 year chart illustrate the vulnerability of CRM's share price.
Salesforce.com shares fell below both the 50-day MA and the 200-day MA. To make matters worse the 50-day MA looks ready to fall below the 200-day. That would indicate the next support level may be the low from August 2013 near the $42 level.
LinkedIn shares are in similar shape. Trading at a forward PE of 61 and a trailing twelve month P/S of nearly 11, the stock continues to look susceptible to more selling. Again the 1 year chart is useful.
The so-called "death cross" happened back in March as the 50-day MA fell further below the 200-day MA.  I wouldn't touch this stock until it tests the 52-week low of $136.02. If it does, I'd take notice and see if it can rally on stronger than normal volume.
In the meantime if you have a passion for volatile stocks with better fundamentals and upside potential I'd rather own The Priceline Group (PCLN).
Priceline operates as an online travel agency with strong fundamentals. Currently the stock trades with a forward PE of only 18. I estimate its earnings will grow by about 40% over the next 12 months.
Its operating margin is a very healthy 36%. The profit margin is 28%. High margins indicate the company has a strong advantage in its market.
Take a look at the 1 year chart for PCLN. The fact that it fell for only a day below the 200-day MA bears watching, but if it rallies above the 50-day MA on strong volume it's likely to continue higher.
During the summer and autumn months smart investors will avoid overly valued stocks. Stick with GARP, buy best-in-sector companies during corrections and use a buy-limit order to insure a margin of safety.
At the time of publication the author was long shares of APPL, ABX, CVX and MPC.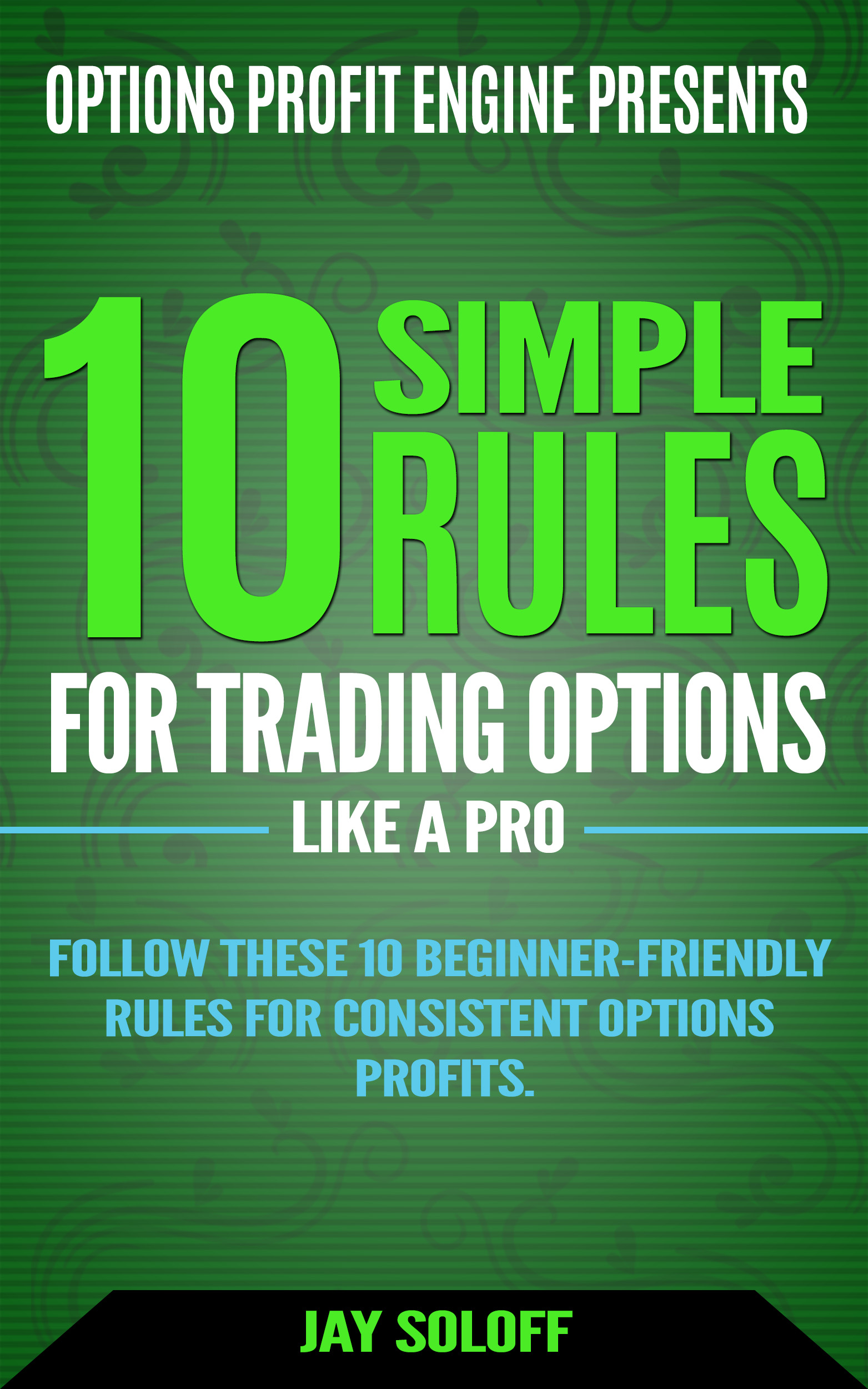 [FREE DOWNLOAD] 10 Simple Rules for Trading Options Like a Pro
Follow these 10 simple rules from 20-year professional options trading veteran, Jay Soloff and start earning a reliable extra income from options.
NO prior experience needed to master these 10 simple options trading rules. 
Enter your email below and receive access to this FREE guide...