Plummeting treasury yields put these five income stocks with highly leveraged portfolios at risk of dividend cuts that will send their stock prices plummeting. Last time this happened in early 2013, many of these names lost 30% of their values in quick succession.
The positive Brexit vote in the United Kingdom has turned much of what the financial world was expecting on its head. Rapidly falling bond interest rates have replaced the fears of interest rate increases from the Federal Reserve Board. The record-low rates on the U.S. 10-year Treasury bond will have a very negative effect on one type of high-yield income stock. Now is the time to clear these stocks out of your portfolio and add some more stable high-yield dividend payers.
The stocks to ditch are the high-yield finance real estate investment trusts (REITs) that generate cash flow from owning portfolios of federal agency guaranteed mortgage-backed securities (MBS). You will often see this group of companies identified as agency mREITs. However, since the government-backed mortgage securities only yield 2% to 3%, these REITs use significant amounts of leverage to boost the net yield on their MBS portfolios.
A hypothetical example such as this is the standard in the industry: A mREIT can buy agency MBS with an average yield of 2.5%. The company can borrow money at 1.0% for a net yield of 1.5% on bonds purchased with borrowed money. The REIT leverages its equity six times to buy a MBS portfolio equal to seven times the equity in the company. As a result, the net yield on equity is 1.5% times the 6 times leverage plus 2.5% on the MBS amount covered by the equity, for a net yield of 10.5% on equity. The equation written out looks like this: (1.5% X 6) + 2.5% = 11.5%
SEE ALSO: 3 Undervalued Stocks with Strong Upcoming Catalysts
Out of that net interest earnings, the REIT must pay management expenses. Also, since both short-term interest rates (the borrowing costs) and long-term rates (MBS yields) fluctuate, the company must invest in interest rate hedges to try and lock in as much of that interest rate spread as possible. MBS pricing can get very complicated as rates change, so hedging is not an exact science. History has shown us that when rates or prices move significantly, hedges do not protect earnings or profits. At best, they keep a company out of bankruptcy court until the markets return to more normal conditions. We all had a taste of this exact situation when the energy markets crashed. Many upstream oil producers with significant hedging still did not survive.
With the Brexit vote, long-term interest rates as indicated by government bond yields have declined dramatically. We can use the spread between the 2-year and 10-year U.S. Treasury bonds as an indicator of what is happening to the spreads earned by agency mREITs. A year ago, the Treasury 10-2 spread was around 1.75%. Now it has fallen to well under 1%, at about 0.85% as I write this. Just over the 2016 second quarter, the spread has dropped from above 1.0%. This means that net interest margins for the mREITs are shrinking rapidly. Remember that all company expenses must be paid out of that margin before dividends can be paid to shareholders. The result will, sooner or later, be large reductions in dividend rates.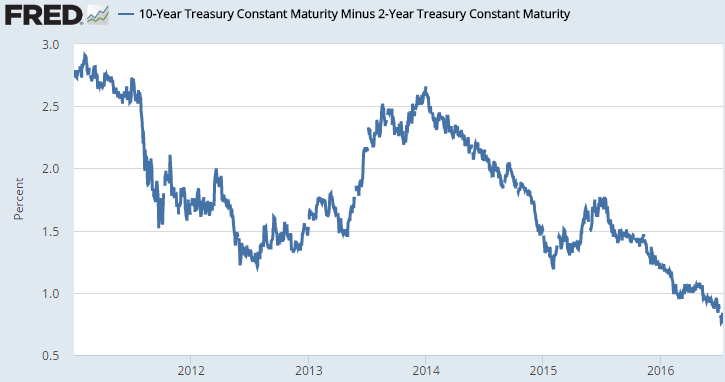 To avoid dividend cuts and the resulting share price declines, investors should sell these agency mREIT stocks:
A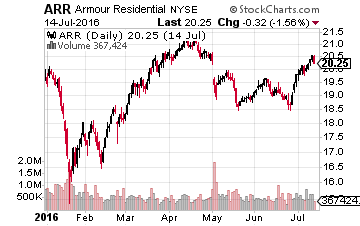 RMOUR Residential REIT, Inc. (NYSE:ARR) currently yields 13%. For the 2016 Q1, the company reported a net interest margin of 1.27% and a leverage ratio of 9.06 to 1.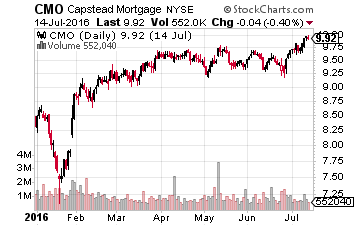 Capstead Mortgage Corporation (NYSE:CMO) currently yields 9.3%. For Q1, the company's net interest spread was 0.90%. Leverage was 9.14 times equity.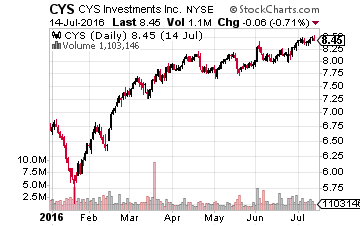 CYS Investments Inc (NYSE:CYS) yields 11.8%. For Q1, CYS reported an interest rate spread on its portfolio of 1.45% and leverage of 6.76 times equity.
Two Harbors Investment Corp (NYSE:TWO) currently yields 10.8%. For the first quarter, net interest margin on the company's agency MBS was 2.49% and the company's leverage was 3.0 times equity. TWO does own non-agency MBS which pay higher yields and are typically not leveraged to the level of an agency MBS portfolio.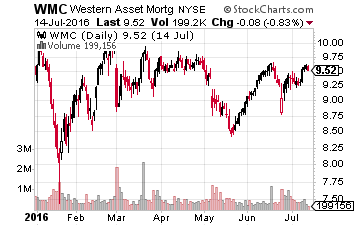 Western Asset Mortgage Capital Corp (NYSE:WMC) yields 20%. In Q1, the company reported a net interest spread of 1.53% and the portfolio was 5.3 times leveraged.
While the agency mREITs use leverage and financial engineering to generate high dividend yields, there are high-yield REITs that generate their dividend cash from what I call "real" businesses. Here are two REITs that pay attractive yields and won't slash their dividends. You may even see dividend increases.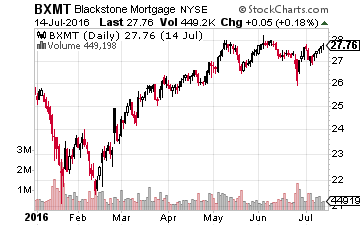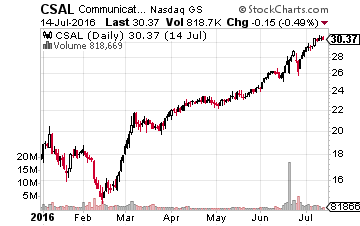 Blackstone Mortgage Trust Inc. (NYSE:BXMT) is a finance REIT that actually makes loans on commercial property mortgages. The REIT gets a lot of leads from its sponsor, Blackstone Group LP (NYSE:BX), one of the world's largest commercial property investors. BXMT currently yields 9.0%.
Communications Sales & Leasing Inc. (Nasdaq:CSAL) is a unique REIT that owns telecommunications fiber and copper wire lines along with cell tower assets. These assets are rented to telecom companies on long-term, triple net leases. CSAL went public in early 2015, and with recent acquisitions may soon be able to start growing the dividend. The stock yields 7.9%.
Avoiding stocks that might be about to significantly cut their dividends, like the five I profiled above, can sink your portfolio down the drain. That is why I like to share these articles often as I know the high yields on these stocks can look enticing from an income perspective, but many stocks with high yields do not have sustainable business models that can not only produce regular cash flow but also grow it.
I make it a habit of only hunting down and recommending stable companies that regularly increase their dividends, and this is the strategy that I use most often to produce superior results, no matter if the market moves up or down in the shorter term. The combination of a high yield and regular dividend growth is what has given me the most consistent gains out of any strategy that I have tried over my decades-long investing career.
And, there are currently over twenty of these stocks to choose from in my Monthly Paycheck Dividend Calendar, an income system used by thousands of dividend investors enjoying a steady stream of cash.