Oil refiner stocks are set to record big earnings growth this quarter, making them one of the rare bright spots in an overbought market. Tim Plaehn recommends four in this sector that should outperform the rest of the market.
The greatly untold story related to lower crude oil prices has been the growing profits in the refining subsector of the energy sector. The financial factors affecting a crude oil refiner are much different than the profit picture for crude oil producers. The current energy price environment should allow refining companies to post very attractive profit margins.
Refining Spread Drives Profits
The gross profit margin for a refiner is calculated from the prices of the fuels it produces minus the cost of the crude oil purchased to make the fuels. Using available benchmark prices, Wall Street and investors can calculate and track a "crack spread", the industry term for an indexed refining margin. For example, the popular 3/2/1 crack spread uses the typical production of a refinery that two barrels of gasoline and one barrel of distillate fuel (diesel, jet or heating) will come out of three barrels of crude oil. As an example, WTI crude is $60 per barrel, RBOB gasoline is $1.95 per gallon and low sulphur diesel is $2.00 per gallon. There are 42 gallons in a barrel, so the three barrels of fuels can be sold for $202.60 and the crude oil costs $180, giving a crack spread of $22.60 per barrel.
Individual refiners report their own refining margins based on the costs of where they source crude oil and fuels prices in their local markets. Every refining company reports its own gross refining margin each quarter, and you can use that number to see how a specific company's results stack up against a chosen crack spread. Even though they may be several dollars per barrel different than the benchmark, refining margins, for the most part, will follow the changes in regional crack spreads.
For my own refining company analysis, I use a spreadsheet to calculate a running crack spread using the Energy Information Agency, WTI crude and New York Harbor fuels spot prices. I also keep an eye on a few regional published crack spreads. Scotia Howard Weil provides a useful weekly update. By watching the changes in benchmark crack spreads, I have a pretty good barometer whether refiner profits will be higher or lower quarter over quarter.
For all four quarters of 2014, my calculated crack spread stayed in a tight range of $18.60 to $18.90 per barrel. For the first quarter of 2015, the spread widened to $21 per barrel. Now in the second quarter of the year, for the first two months the spread has continued to increase and is over $22 per barrel. For a refining company, basically 100% of any increase in the refining margin falls all the way to the bottom line net income. As a generic example, a refiner has refining costs of $5 per barrel and general and administrative costs that work out to another $3 per barrel. With a refining margin of $18 per barrel, the net profit margin is $10 per barrel after expenses. If the refining margin increases by $1, or 5.5%, net profits jump by 10%. You can see how the $3 increase in crack spread so far in 2015 will result in much higher reported profits from the refining companies.
Dividend Focused Refiners
My newsletters focus on dividend investing for high current income and a growing income stream. Here are some refining companies that will reward investors with higher dividend payouts in this period of high refining margins.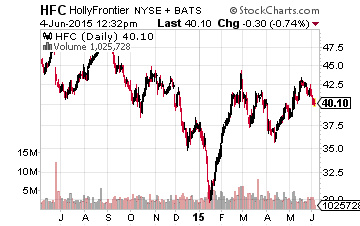 HollyFrontier Corp (NYSE:HFC) owns a half dozen refineries in the Midwest and Mountain West. HFC currently pays a $0.33 quarterly dividend for a 3.3% yield. When the company has a good quarter an additional special dividend will also be paid. For eight out of the nine last quarters, HFC investors have received an additional $0.50 per share.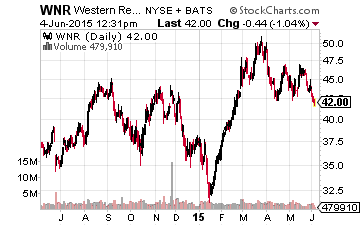 Western Refining, Inc. (NYSE:WNR) owns two refineries in El Paso and New Mexico and is a majority owner of Northern Tier Energy (NYSE:NTI). WNR yields 3.2% on a $0.34 quarterly dividend. The regular dividend has been growing by 12% per year and WNR paid a $2.00 per share special at the end of 2014.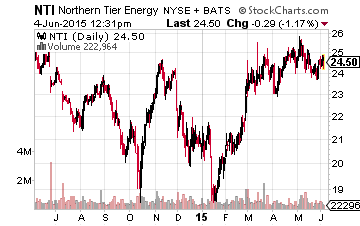 Northern Tier Energy (NYSE: NTI) and Alon USA Partners LP (NYSE:ALDW) are master limited partnerships that each own a single refinery. These MLPs have full cash flow, variable rate distribution policies, so investors earn a different amount every quarter. Based on their first quarter distributions, NTI yields 12.5% and ALDW sports a 14.5% yield. Current energy prices point to higher distributions for the second quarter.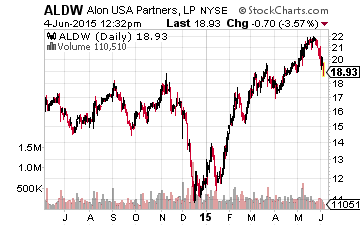 The refining business is cyclical, so to invest you need to track gross profit margins. Serious profits can be made if you buy when margins tighten and share prices decline. However, in the current commodity price environment, it appears the rest of 2015 will be very profitable.
High yield energy stocks, like the ones mentioned in this article, are found in my Dividend Hunter portfolio and are an integral part of the high yield strategy in the Monthly Dividend Paycheck Calendar.
The Monthly Dividend Paycheck Calendar is set up to make sure you're getting 6, 7, even 11 dividend paychecks per month from stable, reliable stocks with high yields.
The Monthly Dividend Paycheck Calendar tells you when you need to own the stock, when to expect your next payout, and how much you could make from stable, low-risk stocks paying upwards of 8%, 10%, even 11% in the case of one of them. I've done all the research and hard work; all you have to do is pick the stocks and how much you want to get paid.
The next critical date is Wednesday, June 10th, so you'll want to take action now to make sure you don't miss out. There's an extra $3,326 in payouts up for grabs before the end of July, but only if you're on the list before Wednesday. Click here to find out more about this unique, easy way of collecting reliable monthly dividends.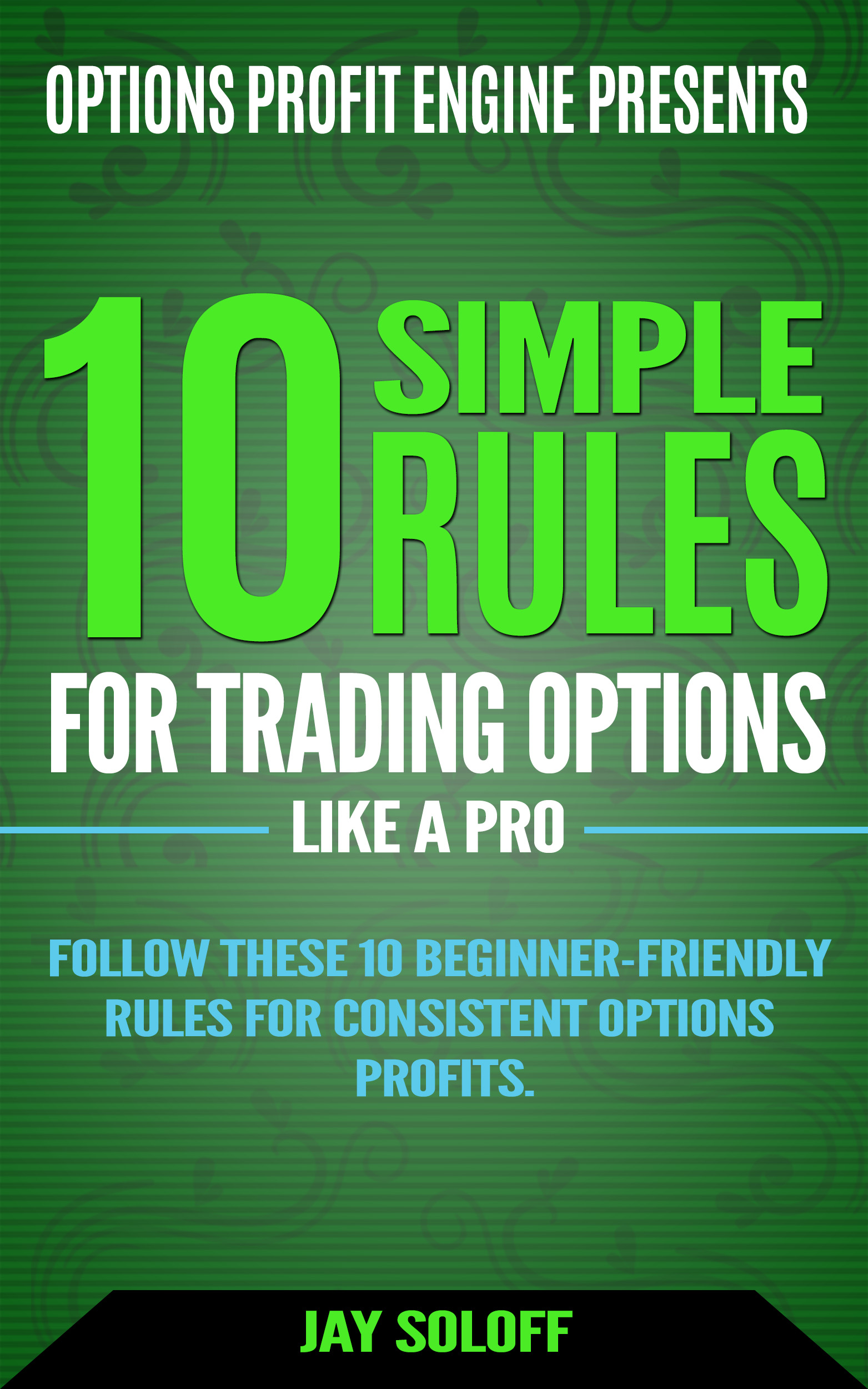 [FREE DOWNLOAD] 10 Simple Rules for Trading Options Like a Pro
Follow these 10 simple rules from 20-year professional options trading veteran, Jay Soloff and start earning a reliable extra income from options.
NO prior experience needed to master these 10 simple options trading rules. 
Enter your email below and receive access to this FREE guide...