Since early May, most of the commentary concerning China's economy has been relatively upbeat, while at the same time, providing some apprehensive discussion about the downside risks which lie ahead.
The June, 2014 edition of the World Bank's Global Economic Prospects report had this to say about China's economy:
Growth for China is expected to ease gradually to 7.6 percent in 2014 and to 7.4 percent by 2016, with less, but only gradually declining reliance on credit-induced investment-led growth.
Given the fact that China's economic growth target for 2014 is 7.5 percent, this bit of prognostication was likely received as good news.
On June 13, China's National Bureau of Statistics issued its preliminary report on the nation's GDP for the first half of 2014. The nation's second-quarter GDP increased at an annual rate of 7.5 percent, compared with 7.4 percent for the first quarter. The result beat economists' expectations of a 7.4 percent rate of expansion during the second quarter. The weaker first-quarter GDP kept the GDP for the first half of 2014 at an annual rate of 7.4 percent.
Anxiety about China's economic expansion rate returned on July 9, when the nation's consumer price index registered at 2.3 percent, falling far short of the government's 3.5 percent target and missing economists' expectations of 2.4 percent. The news reinforced expectations that the government would introduce stimulus measures in attempt to stay on course for its 7.5 percent economic growth target.
On July 10, China's General Administration of Customs reported that the nation's exports increased by only 7.2 percent during June on a year-over-year basis. Economists were expecting a 10.5 percent increase.
On July 15, the People's Bank of China reported that new local-currency loans were 1.08 trillion yuan in June, compared with 860.5 billion yuan in June of 2013.
On Thursday, July 24, the HSBC Flash Manufacturing PMI for July climbed to an 18-month high of 52.0. Economists were expecting a less-impressive increase to 51.0 from June's final reading of 50.7. The Flash China Manufacturing Output Index rose to a 16-month high of 52.8 from June's 51.8. China's "official" PMI will be released by the National Bureau of Statistics on August 1.
Hongbin Qu, Chief Economist, China & Co- Head of Asian Economic Research at HSBC provided the following Commentary for the report:
"The HSBC China Manufacturing PMI rose further to 52.0 in the flash reading for July. Both new orders and new export orders expanded at a faster pace than in June. The employment and prices sub-indices also improved. Meanwhile, stocks of finished goods contracted at a slower pace. Economic activity continues to improve in July, suggesting that the cumulative impact of mini-stimulus measures introduced earlier is still filtering through. We expect policy makers to maintain their accommodative stance over the next few months to consolidate the recovery."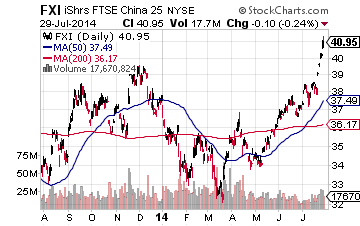 During the past week, more of the nation's local governments have announced that they are easing their restrictions on real estate transactions in order to prevent a significant economic slowdown. The government's $161 billion loan to the China Development Bank fueled rumors that more stimulus measures could be in the works.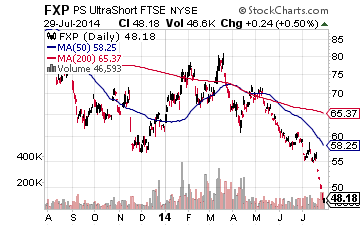 Investors who are interested in profiting from the economic developments in China might want to consider one of the following ETFs:
iShares FTSE China 25 Index Fund ETF (NYSE:FXI): This ETF tracks the FTSE China 25 Index Fund which is made up of the top 25 companies in China.
ProShares UltraShort FTSE China 25 (NYSEARCA:FXP): This ETF tracks the inverse (-2x) of the daily performance of the FTSE China 25 Index.
China continues to offer investment opportunity but these opportunities are accompanied by volatility and the potential for rapid profits as well as losses.