If you just emerged from hibernation and didn't know what time of year it is, the television would quickly tell you.
That's because the holiday season advertising bombardment is in full swing.
And it will reach maximum madness over Thanksgiving next week.
Not even temporarily being back in my native England is a safe haven. It's just as bad.
To my horror, not only did "Black Friday" migrate into our retail lexicon a few years ago, the Advertising Association says retailers will spend a record £6 billion ($7.9 billion) on Christmas advertising this year.
It speaks to the incredible competition at a critical time. Retailers typically generate around half their annual sales over the holiday season and are splashing out on memorable, blockbuster campaigns.
And this year will mark a watershed moment in the United States: For the first time ever, consumers will spend more online than in stores, according to Deloitte.
It continues the underlying trend this decade. In every year, except 2013, annual e-commerce sales growth has risen by over 10% – and it's set to do so again this year.
And with Deloitte also saying that the average outlay per person will hit a hefty $1,226 this season, the question for investors is simple: Who'll win the battle for those dollars?
Here are two that I believe will fare well…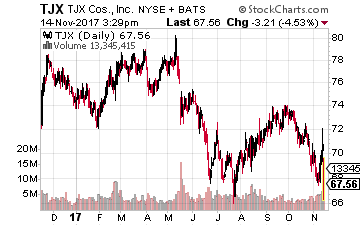 The TJX Companies (NYSE: TJX): Like a bargain? Well, TJX has plenty for consumers – and investors, too.
Founded in 1956, the company owns the T.J. Maxx, Marshalls, and HomeGoods brands, among others, and operates in the United States, Canada, United Kingdom, Germany, and five other countries. It sells clothing, footwear, home items, jewelry, and gifts, specializing in buying brand-name goods from other retailers and selling them at a discount.
It's a model that continues to work. TJX boasts healthy margins and has almost $4 billion in cash. And even as other retailers are closing their stores, TJX plans to open around 250 new stores this year. In the process, it can buy those companies' overstocked inventory!
However, in its earnings report on Tuesday, TJX couldn't extend a run that's seen it beat earnings estimates in nine of the past 10 quarters.
While high foot traffic did result in an overall sales increase of 6%, to $8.76 billion, it fell short of the $8.86 billion projection. And same-store sales were flat – below estimates that called for a 2% rise.
Explaining the shortfall, TJX said crippling hurricanes and floods had a negative $0.03 EPS impact, but that "sales trends improved as the weather turned more seasonable."
And total net income stayed in line with estimates – $641.44 million ($1 per share) – up 16.6% on the $550 million ($0.83 cents per share) a year ago.
Current projections for fiscal 2018 (ending on February 3, 2018) show adjusted EPS of around $3.93 per share.
The past quarter notwithstanding, bargains are always popular, no matter what. And that makes TJX a solid seasonal play, where discounts are craved amid mass buying. The company expects same-store sales to rise by 1% to 2% over the holiday season.
What's more, with a forward P/E of 16.6, it's cheaper than discount peers like Ross Stores (18.4) and Burlington Stores (20.6). It's cheaper than the S&P 500 (18.5), too.
TJX has also raised its dividend for 20 straight years. The current payout is $1.25 per share annually – a 1.8% yield. With all that cash on the books, and analysts forecasting $4.24 EPS next year, it's more than enough to cover the dividends – as evidenced by the 31% payout ratio.
And with the stock's post-earnings decline this week, you can grab shares for a few bucks less.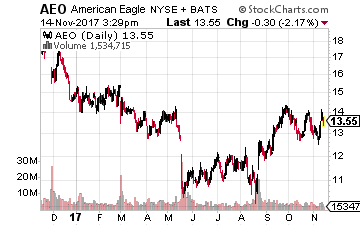 American Eagle Outfitters, Inc. (NYSE: AEO): Here's one for the kids. Or the kids in your life, at least.
Founded in 1977, American Eagle sells trendy clothing and accessories aimed primarily at the youth and young adult markets under American Eagle and the fast-growing Aerie brand. It operates around 1,050 stores across the United States, Canada, Mexico, United Kingdom, China, and Hong Kong, and ships merchandise to 82 countries.
In a significant move, the company recently signed a multi-year licensing deal with India's Aditya Birla Group – a $41 billion retail corporation, with 900 stores and 6,000 other points of sale. In doing so, American Eagle will expand into the world's largest youth market, with the first stores set to open in the spring.
And just last week, the company celebrated its 40th anniversary by opening a new concept store called AE Studio in New York City's Union Square. Customers can enter the Maker's Shop to create their own unique, customized jeans. AE has also partnered with Atelier & Repairs to offer bespoke clothing that's recreated (and improved) from previous AE clothing lines.
Fitting rooms feature iPads and a "Digital Concierge" for further engagement and personalization. And students can even do their laundry in the store for free!
Snazzy additions aside, AE offers value for investors. The company maintains a trim inventory and robust online business, as you'd expect for a younger target audience, as well as solid same-store sales. It's shoring that up further by closing 25-40 underperforming stores this year.
Like TJX, AE is undervalued relative to its peers, with the P/E, P/S, and P/B ratios all below the industry average.
As with many retailers, margins remain tight, but there's nothing like the holidays to help beef them up. And AE's expansion and innovation is encouraging.
Like TJX, AE also coughs up a dividend to investors – $0.50 per share annually, to be exact. That's a 3.6% yield.
For retail executives and management, store employees (I've been a seasonal worker… never again!), and consumers, the sector is a bloodbath at this time of year.
But for investors, if you pick your candidates wisely, you can emerge from it with your wallet in better shape than before the season started. It won't be easy, but I believe these two are in good shape.
The 36 Month Accelerated Income Plan
How would you like for all of your bills to be paid every month for the rest of your life without anyone's help… without any special knowledge or training… without having to put your money in risky stocks? And what if you could fix your current financial situation in as little as 36 months? Dividend expert Tim Plaehn has just recently released his new "36 Month Accelerated Income Plan" created specifically for us retirement investors who want to make sure we're on track. He's written a short backgrounder on how you can start today. CLICK HERE for more.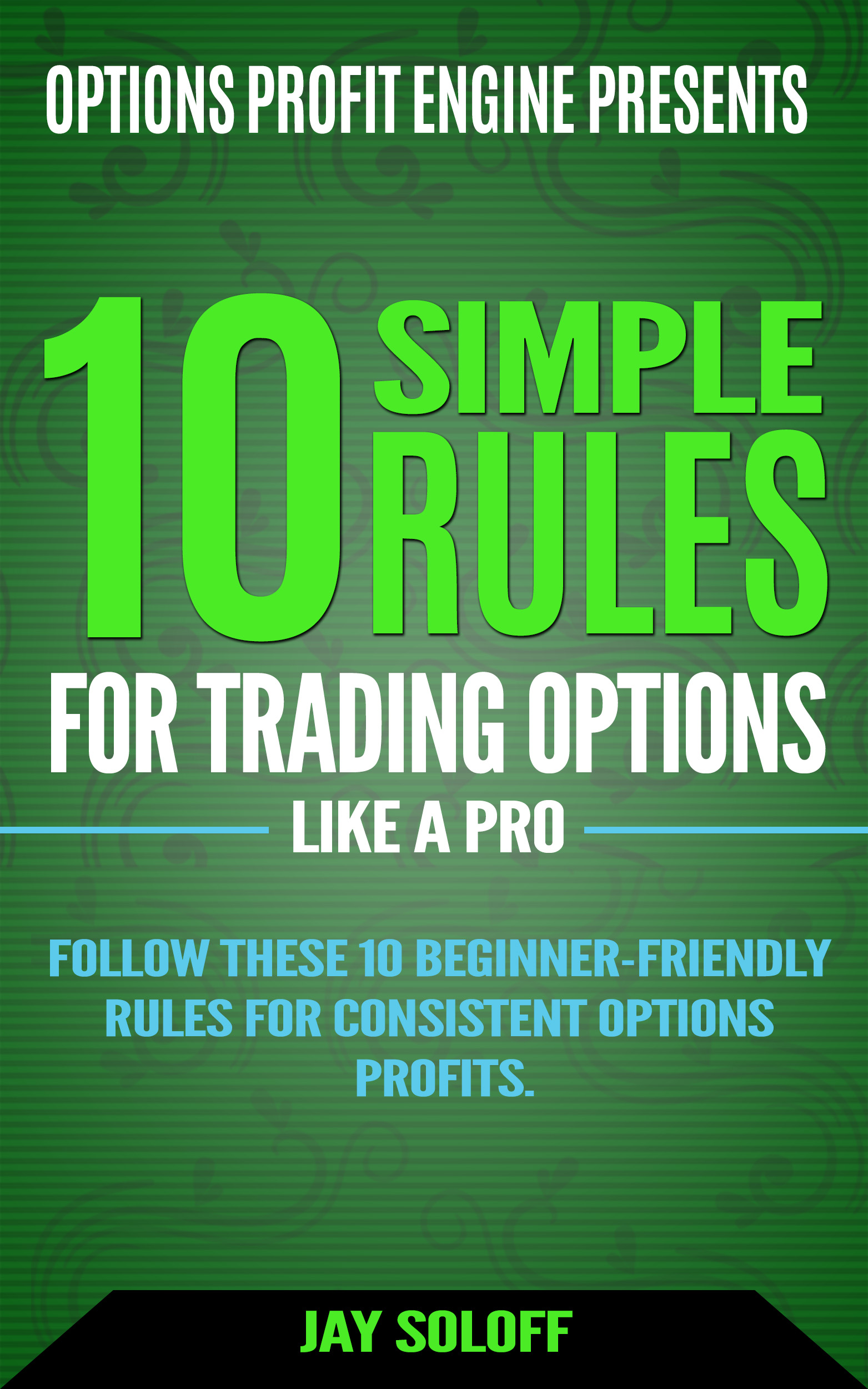 [FREE DOWNLOAD] 10 Simple Rules for Trading Options Like a Pro
Follow these 10 simple rules from 20-year professional options trading veteran, Jay Soloff and start earning a reliable extra income from options.
NO prior experience needed to master these 10 simple options trading rules. 
Enter your email below and receive access to this FREE guide...