If you're looking for growth and value in this overbought market, consider these three underfollowed stocks operating in some of the market's hottest sectors. Seeing solid revenue and earnings growth in the intermediate term should propel their stock prices higher over the next couple of years.
The market continues to sell near all-time highs despite domestic GDP growth averaging just one percent over the past three quarters, five straight quarters of declining year-over-year profits within the S&P 500, and worldwide demand that is just above the anemic levels of 2009. Not the rosiest of landscapes.
Parts of the market are obviously overbought, especially those sectors that are primarily purchased for their dividends. Yield-starved investors have bid up any stock with a decent dividend to way above historical norms because of their search for income. Many consumer staple and utility stocks that have next to no growth are going for twenty or more times earnings and yield as little as three percent. This is will not end well, but I can only speculate when this bubble will pop. My guess is it will happen when interest rates finally start to rise, whenever that will be.
So, where am I still finding some value in this stretched market? Here are a few names I own and are worth consideration here.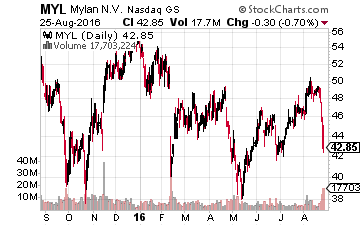 Let's start with generic drug giant Mylan (NYSE: MYL) which has sold off lately because of attacks from the likes of Bernie Sanders and Hillary Clinton on the price hike and cost of the company's EpiPen, always a sure-fire winner in an election year. However, Mylan is no Valeant Pharmaceuticals (NYSE: VRX).
The company has already moved to quell these assaults by significantly expanding its patient assistance programs that reduce out-of-pocket costs as much as 50% off the list price via a savings card that will cover up to $300 of the cost of the EpiPen 2-Pak. In addition, Mylan is doubling the eligibility for its patient assistance program to 400% of the federal poverty level which will eliminate out-of-pocket costs for the uninsured and under-insured.
This is a smart and well-timed move to get out of the focus of this recent political deluge. It should also be kept in mind that although the EpiPen is Mylan's largest selling product, it will only represent about $1 billion of its over $13 billion in overall sales in 2017. The company bought European drug maker Meda last year and that purchase diversified its product portfolio as well as expanded its footprint significantly in emerging markets like China and Russia. At approximately eight times next year's earnings consensus, the stock is priced at a huge discount to the overall market multiple, and I like the stock's long-term risk/reward profile at these levels.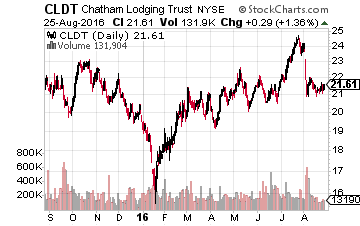 I am just amazed that desperate yield seekers are willing to pay 23 times earnings for General Mills (NYSE: GIS) which is showing no revenue growth at the moment just to get a 2.7% dividend yield. Income investors would be much better served to take a look at lodging real estate investment trust Chatham Lodging Trust (NASDAQ: CLDT). The dynamics in the hotel industry are not as bright as they have been over the past few years but they should pick up with the economy in the second half of 2016. The Atlanta Fed's projection of 3.5% GDP growth in the third quarter seems optimistic but it is a good bet that the economy grows at two or three times the anemic one percent rate of the first half of 2016 to finish the year.
In addition, the company is still seeing some revenue growth even if it does not match the robust levels of growth over the past few years. The stock sells at 10 times FFO (Funds from Operations) which is the equivalent to earnings in the REIT space. Better yet, the REIT yields north of six percent and pays its dividends monthly. Not to mention, it is one of the best-managed lodging REITs in the sector. A much better value than General Mills and other Consumer Staples as well as Utility stocks at these levels in my opinion.
One of the few consistent parts of the economy over the past year or two has been the housing market which has continued to stage a nice recovery. New home sales recently posted their strongest monthly totals in eight years, and housing starts just reached their highest levels since 2007 while still remaining significantly below their annual averages of the past three to four decades.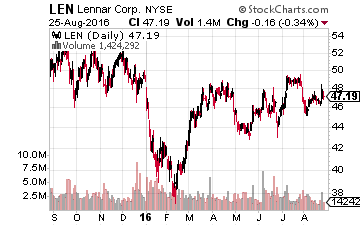 I like the smaller home builders here like Taylor Morrison (NASDAQ: TMHC) and LGI Homes (NASDAQ: LGIH). Investors looking for a larger, more geographically diverse home builder with one of the best balance sheets in the industry should consider Lennar (NYSE: LEN), one of the "Big Three" in this fragmented sector of the market.
In the second quarter, the homebuilding giant reported results that beat both the top and bottom line consensus. Revenues grew 15% on a year-over-year basis. Earnings were up slightly more at 17% from the same period a year ago. Given that order backlog also grew some 15% by dollar volume in the quarter, the company seems positioned for another year of revenue and earnings growth in the mid-teens in 2017. The stock sells for less than 13 times this year's earnings  consensus, a bargain compared to the overall market multiple of 19 times forward earnings.
The next part of the market that I see heating up this year is domestic-focused small cap stocks (especially the homebuilders like the two above). I see them having a huge breakout over the next 12 months fueled by low interest rates and cheap valuations. I expect M&A in the small cap sector to increase at a fast rate and many of the stocks in my Small Cap Gems portfolio I have specifically selected for their attractiveness as buyout candidates.
Not only are small caps historically cheap (even though the market just hit all-time highs), they have two other distinct advantages over investing in large-cap multinational stocks right now that I want to share with you in my just released report "Are You Ready for the Biggest M&A Rally of Your Lifetime?"
Click here to read my urgent report on the imminent small-cap rally.
Positions: Long CLDT, LEN, LGIH, MYL, and TMHC