Having been spun-off by a large private equity company, this new income stock has attracted a lot of interest from dividend investors. But, after looking over the pros and cons of this new $6 billion market cap stock, I've found more than enough reasons to hit the pass button. 
Initial public offerings of new REITs are relatively rare. But because this new stock was sponsored and spun-off by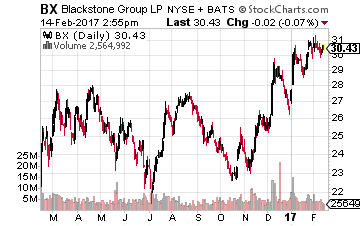 Blackstone Group LP (NYSE:BX), the IPO of Invitation Homes Inc. (NYSE:INVH) has generated a lot of interest from investors who like to own REIT shares. Let's look at the pros and cons to see if this new $6 billion market cap stock is a good bet now a week or so after the IPO.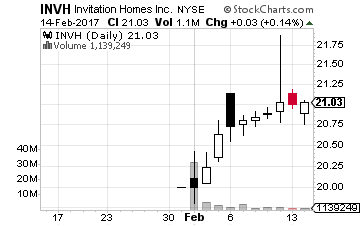 Invitations Homes is the newest member of the small group of single family rental (SFR) ownership focused REITs. Before this IPO there were just three other pure play SFR REITs. With ownership of over 48,000 homes at the time of the IPO it is now by a small margin, the largest SFR REIT based on number of homes owned.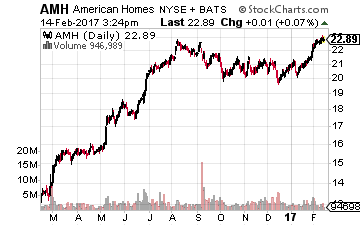 Based on the most recent numbers, American Homes 4 Rent (NYSE:AMH) owns about 300 fewer homes than Invitation Homes. The INVH portfolio was acquired from April 2012 through the end of 2014. Blackstone bought the houses in blocks out of foreclosure at prices well below where the homes were selling before the housing crash. With the IPO, Blackstone sold 28% of the total shares, bringing in proceeds of $1.54 billion. The IPO price was $20 per share.
The Positive Factors
The primary positives for INVH and the other SFR REITs are demographic and economic factors that point to continued strong demand and rental rate growth for SFR homes. Since the housing crash, the rate of home ownership has fallen to historic lows. And it appears that those former home owners plan to stick with the flexibility of renting.
Single family home rentals are growing in popularity compared to apartments. A house offers the benefits of more space, yards, multi-car garages and access to desired school districts. With stronger economic growth, individual incomes should start to grow, which will facilitate SFR monthly rent increases.
The Invitation Homes prospectus provided business results for the first nine months of 2016. These results show the positive trends in the SFR business. Net effective rental rates on new leases signed in the third quarter were up 6.1% compared to the previous rental rates on the homes.
SEE ALSO: The 1 Stock to Profit 285% or More from President Trump's Biggest Campaign Promise
Total same store revenues grew 5.0% for the first nine months compared to the same period in 2015. Same store net operating income (NOI) was up 7.4% for the nine-month period. Also, the company experienced home price appreciation of 6.2% year over year. Average occupancy was 96.1% for the 36,500 homes included in the same store portfolio.
Corporate property owners have preferred the apartment business because of the lower management and operating costs associated with large numbers of rentals in a single complex. The SFR REITs are attempting to generate the same efficiencies by owning hundreds to thousands of homes in the cities where they operate. Invitation Homes leads the pack in this respect, generating 95% of its revenue in cities where it owns more than 2,000 homes. In contrast, American Homes 4 Rent owns about 1,100 homes on average in each city where it owns properties.
Over the last several years, the SFR REITs have been growing revenue through the process of rehabilitating purchased homes, marketing them and signing rental leases. Now these companies have 95% plus of their homes under lease contract, which is basically fully rented. Future growth will come from rental rate growth and expense efficiencies and reductions.
Invitation Homes said this in the prospectus about growth: "We believe we are well positioned to achieve organic growth through a combination of rent increases driven by strong market fundamentals (including demographic shifts), new ancillary revenue opportunities and increasing operational efficiencies." Additional growth is possible through acquisitions, but the housing market is now much higher priced and all of the SFR REITs still have to prove that they can generate additional growth through accretive acquisitions.
The Negative Factors
The income statement numbers in the INVH prospectus show a company that is not currently competitive with what REIT investors expect from a dividend generating stock. Here are some financial numbers from the prospectus covering the first nine months of 2016.
• Revenue: $688 million
• Net income: a net loss of $0.05 per share
• EBITDA: $358.4 million
• NOI: $325 million
• Adjusted FFO: $156.9 million
AFFO is the cash available to pay dividends. Taking the nine-month amount and annualizing gives $0.70 AFFO per share. If 100% of the AFFO is paid as dividends, INVH would yield 3.3% at the current $21 per share. A more typical 60% payout would start the stock out at a 2% yield. A 2% yield is not adequate for a REIT with 5% to 7% NOI growth prospects. When the first declared dividend is $0.05 or $0.07, investors are not going to be happy with this REIT. In addition, the company has yet to prove it can grow revenue and NOI from the IPO starting place with 96% of its homes under lease.
Because of the currently low AFFO and expected initial dividend per share, I expect that INVH will touch $15 per share long before it sees $25. I would watch the quarterly earnings results to get a better idea of the company's growth prospects. If the share price did drop below $15 I would consider a speculative investment. Currently, INVH with a share price in the low $20's is not an attractive investment prospect.
INVH is not a model high-yield stock. It's lack of cash flow and high valuation isthe exact opposite of the features I look for and recommend in my high-yield income newsletter,  The Dividend Hunter.
This is where I recommend the market's strongest, most stable high-yield dividend payers, and there are 20 high-yield stocks currently available through my Monthly Dividend Paycheck Calendar, a system for generating a recurring monthly income stream from the market's most stable high-yield stocks.