After being dormant for two years, the European banking crisis reared its ugly head again last week.
It all started on June 30 when European stock markets responded to some bad news from the region's banking sector, ahead of the European Central Bank's upcoming round of stress testing. Italy's Banco Popolare gave up an attempted sale of its bad debt unit until after the stress tests – at which point it would hope for a merger. Meanwhile, shares for Portugal's Banco Espirito Sancto took a 14-percent nosedive on that Monday, after falling 11 percent on Friday, June 27, as an investigation into the bank expanded in the wake of an audit by KMPG, which found some "irregularities".
On July 1, the European stock markets demonstrated virtually no reaction to the fact that the Markit Eurozone Manufacturing PMI for June fell to a seven-month low of 51.8 from May's 52.2 and the "flash" reading of 51.9. The silver lining within this cloud concerned the less-bad-than-expected reading from France, which dropped to a 6-month low of only 48.2, compared with the "flash" reading of 47.8.
At the conclusion of the European Central Bank Governing Council meeting on July 3, a pep talk by ECB President Mario Draghi was warmly received by the European stock markets. The ECB decided to keep its key interest rate at a record-low 0.15 percent and to keep the deposit rate at negative 0.1 percent. Beyond that, Draghi announced that the central bank had its printing-press fired-up and ready to start creating more money, if necessary.
While Americans were celebrating Independence Day on July 4th, stocks fell in Europe after dreadful guidance from Austrian bank Erste, which reported that underperforming loans in Hungary and Romania would result in a record loss for the bank in 2014. More trouble followed on Monday, July 7, when European stocks sank after Destatis reported that Germany's industrial production fell 1.8 percent in May, its most-significant drop in more than two years.
Tremors continued on July 8 when Destatis reported that Germany's exports declined 1.1 percent during May, while imports sank by 3.4 percent. It was the nation's most significant monthly decline for imports since November of 2012.
On Thursday, July 10, surprisingly bad manufacturing reports from France and Italy revealed that the Eurozone's economic recovery has been much weaker than previously assumed and European stocks responded with steep declines.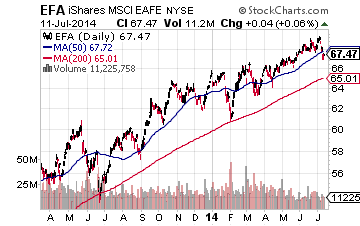 A peak at the chart of iShares MSCI EAFE ETF shows the recent swoon that has taken the index below its 50 day moving average and about 3% below recent highs.
The question now revolves around whether or not this issue can be contained to Europe and its banking system. Since the Euro Zone in aggregate is the world's largest economy and the United States' largest trading partner, the answer to this question is important for both the European and United States' economies.
So far the summer of 2014 has brought a turning over of that rock known as the Eurozone economy, and so far, nobody likes what they see. Major loan defaults and more banking problems could be ahead, and new weakness in the German economy has now been exposed for the first time.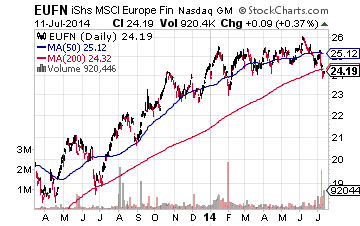 Investors seeking to profit from advances or declines in the European stock market could consider long or short positions in the following ETFs:
iShares MSCI Europe Financials (EUFN): This ETF is designed to track the investment results of the MSCI Europe Financials Index.
iShares MSCI EAFE (EFA): This ETF tracks the MSCI EAFE Index, which is composed of large-cap and mid-cap equities, from developed-market nations, excluding the United States and Canada.
Mario Draghi has pledged to support the health of the European economy and the Euro dollar, but so far it appears that his actions have had little effect. Judging from last week's developments, it's now even more likely that he will be called upon to back up his promise to "do whatever it takes, and believe me, it will be enough."