Oil prices continue to tumble and this dramatic price action offers both potential trouble and opportunity for oil market investors.
Oil investors have been experiencing a good deal of pain lately.  West Texas Light Crude is down roughly 30% from its summer highs and Brent crude is in the same bear market territory, down some 33% from June highs.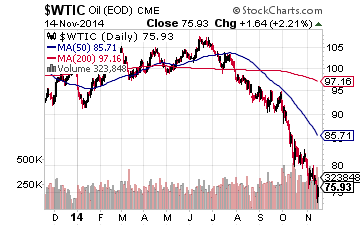 The charts for these investments are pathetic.  Brent Crude experienced a "death cross" (where its 50-day moving average crossed below its 200-day moving average) back on August 20 and its price has declined ever since, despite chopping around in the $85 -$87 range through the second half of October.
The death cross on the chart for West Texas Light Crude did not appear until September 2, although its price had been stair-stepping downward before then and has continued in more or less of a waterfall descent.
Analyst Dennis Gartman, publisher of the Gartman Newsletter, recently appeared on television to defend his prognostication that crude oil will drop to $10 per barrel, and many analysts expect oil prices to remain weak through the end of 2015.
The oil price decline was the inevitable result of the enthusiastic expansion of fracking, which brought Texas an oil production increase beyond 100 percent in the last four years.
Mindful of the law of supply and demand, many oil extraction companies have announced cutbacks in capital spending.  Another obvious consequence of the current market is that acquisition targets are being hunted by stronger companies.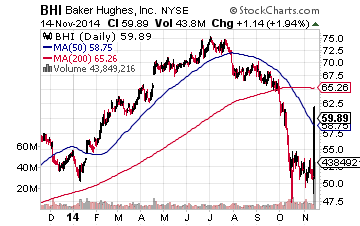 On November 13, the share price for oilfield services company, Baker Hughes (BHI) skyrocketed 15.24 percent to $58.75, following reports that the company was negotiating a possible takeover by Halliburton (HAL).
At this point, investing in likely takeover targets appears to be one of the most potentially lucrative strategies for oil industry investors since a wave of industry consolidation appears to now be underway.
For investments directly in the price of crude oil, value hunters can watch for a rebound and try to ride the next wave higher in oil prices.
This could be awhile, however, as The International Energy Administration recently forecast that oil prices could remain under pressure well in 2015, saying, "It is increasingly clear that we have begun a new chapter in the history of the oil markets. Barring any new supply problems, downward price pressures could build further in the first half of 2015."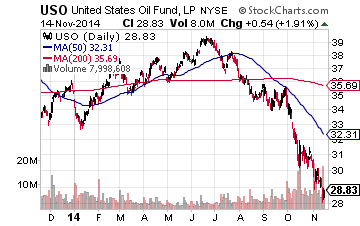 ETFs for the "long" side of the oil market include United States Oil Fund (USO) and iPath Crude Oil Total Return Index. (OIL)
Oil market bears could take a look at:
PowerShares DB Crude Oil Short ETN  (SZO)
This ETN is a -1X product designed to offer inverse exposure to oil prices.
ProShares UltraShort DJ-UBS Crude Oil ETF  (SCO)
This is a popular and widely traded 2X leveraged short ETF that tracks the daily performance of the Dow Jones-UBS Crude Oil Sub-index. This approach gives twice the inverse performance, on a daily basis of WTI crude oil.
VelocityShares 3x Inverse Crude ETN  (DWTI)
This is a high velocity ETF that is -3X exposure to the daily price of movements of the S&P GSCI Crude Oil Index.
The oil market is known for high volatility and quick gains and losses on wild price swings, and ETFs can offer opportunity for the knowledgeable investor or trader in this arena.  When investing in commodity ETFs and leveraged ETFs, it's important to understand how these work differently from regular ETFs and to have a solid trading plan and risk management program in place.
A glance at the chart tells us that a "reversion to mean" in oil prices could offer significant opportunity while fundamentals could point to still lower prices ahead.  Either way, oil market traders and investors will be watching the 50 day moving average for hints of continuation or reversal of the current downtrend.