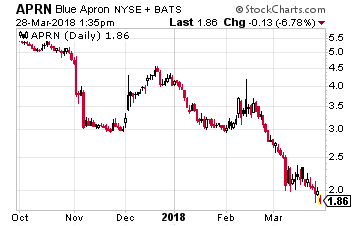 On June 29, 2017, meal-delivery firm Blue Apron Holdings Inc. (Nasdaq: APRN) IPO'd at $10 per share.
Today, shares have collapsed to just $2.
What gives?
The company's business is simple: It delivers pre-portioned, ready-to-cook ingredients (with recipes) to customers' homes. And if you like a tipple with your meals, it offers Blue Apron Wine delivery, too.
Alas, it has two major problems: A deteriorating business and growing competition.
Since going public, Blue Apron has endured three straight quarters of steep earnings losses. It lost $210 million in 2017… its profit and operating margins are both -20%… layoffs followed… and co-founder and CEO Matt Salzberg departed last autumn.
It's easy to see a key flaw: With each meal costing around $10, it's similar to the price at a casual dining restaurant and higher than most takeout orders. So you don't go out and you've got to cook the meal yourself! And you can probably buy ingredients cheaper at your local supermarket.
No wonder year-over-year sales dropped by 13% in the last quarter, compared to 36% overall industry growth. Despite spending heavily on marketing (and tripling operating losses last year in the process), Blue Apron's prices, monthly subscription-based model, and minimum order of six meals are deterring consumers. Subscribers have dropped from over one million last year to 746,000 last month. And shipping perishable food can cost 20% to 30% of the meals themselves.
Not a good recipe.
It gets worse…
The Sharks Are Eating Blue Apron's Lunch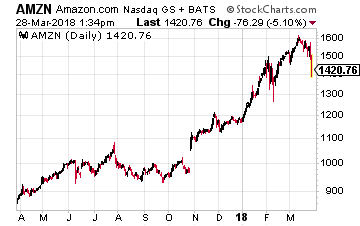 Two mega companies have both entered Blue Apron's world…
Amazon.com Inc. (Nasdaq: AMZN): When Amazon bought Whole Foods, it delivered a double wallop to Blue Apron. Not only are Whole Foods' organic, healthy products similar in nature and price to Blue Apron's, they're now shipped by Amazon's unparalleled delivery network. To underline the advantage, Blue Apron spent heavily on a new distribution center in New Jersey, but operational problems saw customers receive the wrong orders and shipments get delayed.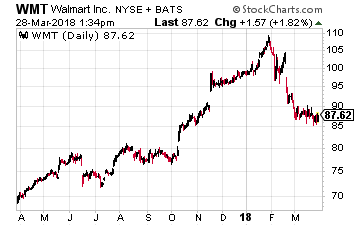 Walmart Inc. (NYSE: WMT): Walmart recently announced that it will sell its own meal kits in 250 stores, rising to 2,000 stores later this year. And at $8 to $15 for two servings, that's cheaper than Blue Apron.
In addition, grocery store chain Kroger (NYSE: KR) sells meal kits and Weight Watchers will sell its diet-based offerings in stores, too.
They're all trying to capitalize on a meal-kit market that saw sales shoot up 27% to $155 million in 2017, according to Nielsen.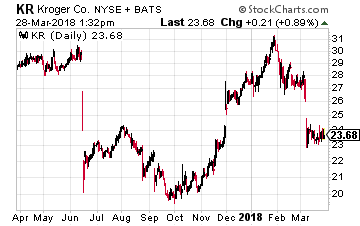 Not good for Blue Apron. At all.
Its response?
Adapt or Die
The company is branching out from its subscription-and-delivery model by offering meal kits in grocery stores this year, too. Most consumers still prefer to go to stores anyway (less than 5% of the annual $800 billion in U.S. grocery store sales are online), so Blue Apron is forced to "adapt or die."
The benefit is greater brand presence and availability, plus lower delivery costs by shipping in bulk to central locations, rather than bespoke orders to multiple addresses. Stuck for dinner? Just grab a pre-packaged meal box.
Or maybe not.
As I noted, consumers can probably buy ingredients cheaper at the very same store anyway. Not to mention Blue Apron is selling pre-packaged food to grocery stores, many of which make prepared store-brand items themselves… and cheaper.
Plus, Blue Apron's move to stores is offset by having to battle for locations, shelf space, and sales with rivals – which will likely further cut into the company's profit.
And which locations anyway?
As yet, Blue Apron doesn't know where or when it will start selling in stores.
Walmart and Kroger don't seem likely destinations. Not only will their own offerings be cheaper, they won't want competition. Even if Blue Apron can negotiate a deal with Walmart, its premium products probably aren't a good fit there anyway.
And while Whole Foods is a better match for Blue Apron in terms of product quality and price, Amazon certainly won't want a rival on its shelves… unless it buys Blue Apron, too! (Unlikely, given Blue Apron's ailing business and increasing competition).
So while Blue Apron is at least adapting to the changing climate, it's forced to. And in-store selling may not prove cost-effective and successful – especially with bigger, richer rivals there, too.
Blue Apron would also need to better monetize in-store customers by "upselling" them to its subscription model. Not easy, given the prices. And Blue Apron is currently losing customers, not adding them.
Hello… Fresh Competition
To underline Blue Apron's problems, Germany's HelloFresh (which IPO'd on the Frankfurt Stock Exchange in November 2017 and has seen shares rise by 30%) blitzed into the U.S. marketplace last year… and blew Blue Apron away.
As Blue Apron's customer numbers sank, HelloFresh's U.S. customer base shot from 430,000 to 890,000, overtaking Blue Apron by 150,000. And it only spent $50 million more to do it.
HelloFresh's fourth quarter year-over-year U.S. sales also blasted 106.5% higher.
And while Blue Apron projects declining sales this year, HelloFresh estimates 25% to 30% overall growth. The number will be higher in the United States, exceeding Blue Apron.
Talk about companies going in opposite directions.
In addition, HelloFresh just solidified its position as the second-largest U.S. meal-kit provider by buying Colorado-based Green Chef. It gives HelloFresh a brand-new market, because Green Chef sells organic, gluten-free, and paleo-friendly meals.
The deal is expected to add $15 in quarterly sales and reinforces HelloFresh's position as the world's leading meal-kit company.
Feeling Blue
Blue Apron CEO Brad Dickerson was formerly CFO and COO of Under Armour, where he helped rocket the company's sales from $200 million to $4 billion.
But Blue Apron is a different animal. Its business model looks unsustainable… customers, sales, profits, and cash flow are eroding at a rapid rate… debt is rising… and rivals are gobbling up its marketshare. It has no cost advantage, nor competitive advantage.
Getting bought out probably remains Blue Apron's best long-term hope. But given the problems, it's hardly an attractive prospect.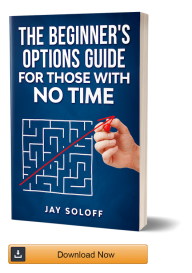 If not, here's your chance to save it to your computer while it's still free. That way you will never have to pay for it again in the future.
This guide will get you placing winning trades without you needing to spend hundreds of hours studying.
In fact, you can place your first trade today after reading my "Beginner's Guide" to trading options.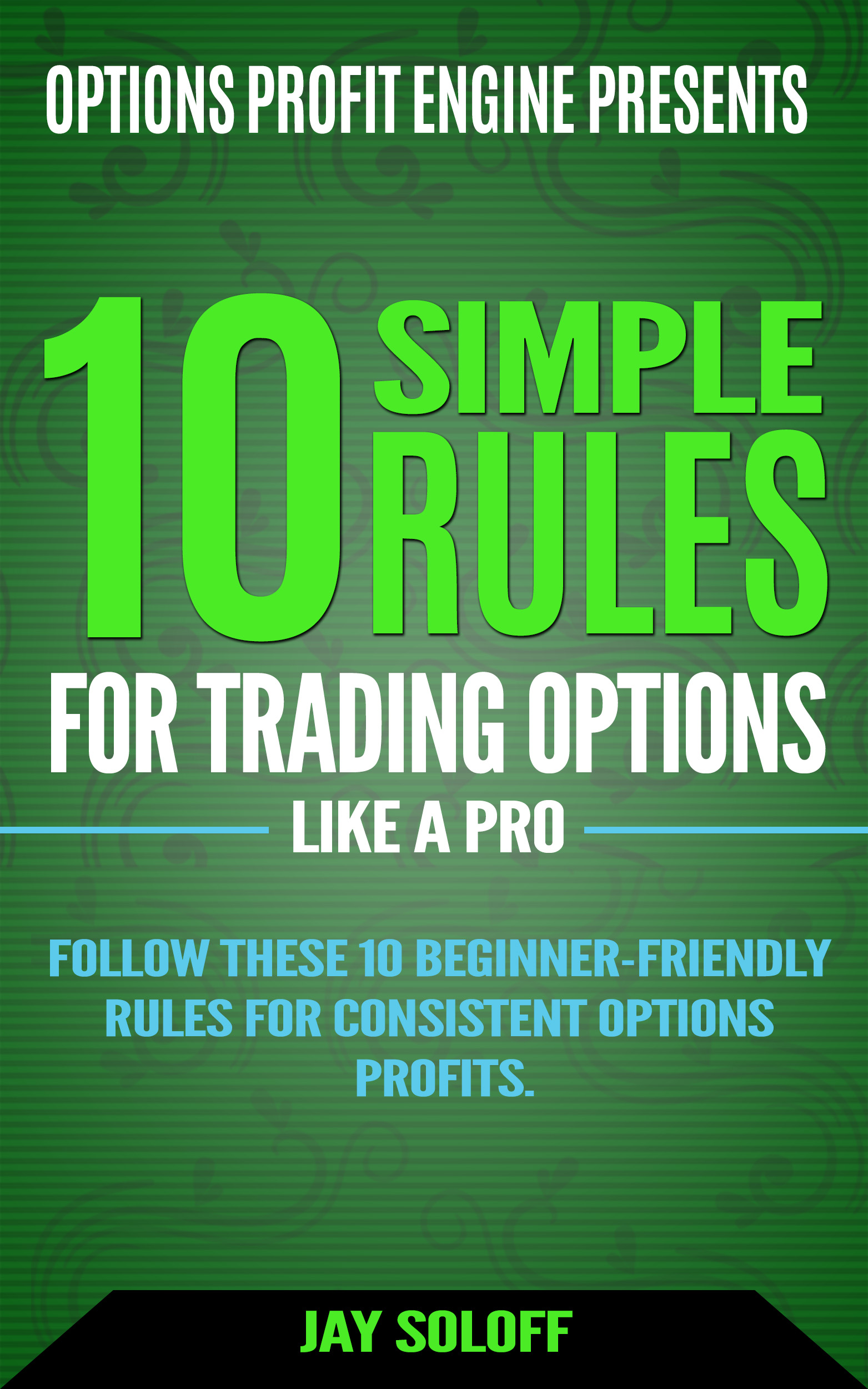 [FREE DOWNLOAD] 10 Simple Rules for Trading Options Like a Pro
Follow these 10 simple rules from 20-year professional options trading veteran, Jay Soloff and start earning a reliable extra income from options.
NO prior experience needed to master these 10 simple options trading rules. 
Enter your email below and receive access to this FREE guide...