Many of the most heavily traded stocks these days are tech stocks. For many traders and investors, technology stocks are the way to go because they often move faster (and farther) than other sectors. Tech products also tend to be more exciting than other products, especially because they could potentially disrupt an entire sector or industry.
It's safe to say, the tech sector has basically been leading the market for the last several years. You will be hard pressed to find a stock portfolio which doesn't include the likes of Apple (NASDAQ: AAPL) or Amazon (NASDAQ: AMZN), among others.
(Of course, you could also consider stocks like AAPL and AMZN retail stocks. Ultimately though, these companies are what they are because of technology. It's also their tech that will drive the future of each company.)
Even the latest investing craze, cryptocurrencies (like Bitcoin), are all about the tech behind the currencies. Now most people don't understand the blockchain technology behind Bitcoin or other digital currencies. However, many have heard that blockchain tech will likely revolutionize the way we handle financial transactions moving forward.
So what does this mean for the technology sector in 2018?
Well, despite the huge volatility in cryptocurrencies, most major tech stocks have been quite calm in recent weeks. In fact, the PowerShares QQQ ETF (NASDAQ: QQQ) has been subdued from a volatility perspective since early December. As a reminder, QQQ tracks the Nasdaq-100 index.
At least one big options trader thinks volatility is entirely too low in QQQ and we could see a decent-sized move in the next month. This trader purchased around 1,000 January 19th 157 straddles with QQQ trading around $157.50.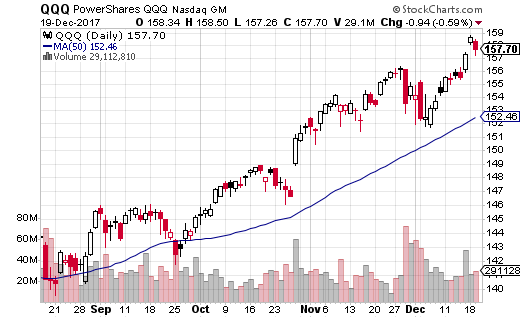 Remember, buying a straddle is simply buying a call and put at the same strike in the same expiration. You use this strategy if you have expectations of a big move in either direction. The trade makes money if the stock or ETF moves more than what you paid for the straddle.
For instance, the trader paid about $4.40 for the 157 straddle, so it would start making money higher than $161.40 or lower than $152.60. As you can see from the chart, making money on the upside would require new highs in QQQ, but the lower breakeven point is right around the 50-day moving average.
The most this straddle buyer can lose is the roughly $450,000 paid in premium. On the other hand, the trader can make $100,000 for every point above or below the breakeven points. Keep in mind, it's less than a 3% move in either direction to break even. That's not too much of a risk when we're talking about holding big tech stocks for a month.
I like this trade since I agree it's a cheap price to pay for the potential (not very sizable) movement of leading tech companies. However, I may consider lowering the price of the strategy a bit by purchasing slightly out-of-the-money options instead (a trade called a strangle).
For example, the January 19th 156 put plus 159 call only costs around $3.00 total. Your breakeven points move to $153 and $162, but you are shaving $1.50 off the cost of the trade. This may be a little easier to stomach for those who don't like spending a bunch of money on options premiums.
Does everything seem to go wrong right after you place an options trade?
You watch the stock and everything is going right.
Then you open the trade... and within an hour, you've lost money.
It's not your fault. You just simply weren't given the "behind the scenes" knowledge every options professional knows.

If you knew how they worked, already you could've booked gains of:
March 3rd VXZ call = 367%
March 4th XLY put spread = 170%
February 18th WMT put spread = 178%
January 14th DISH call = 109%
February 11th ETFC call = 1,421%
January 28th FAST put = 233%
January 21st GLD call butterfly = 156%
January 30th XLB put butterfly = 222%
January 2nd ARNC call spread = 70%
Just like I did.
The road to success for your first big, triple-digit options win is simple.

Have a checklist for every trade so you don't repeat rookie mistakes.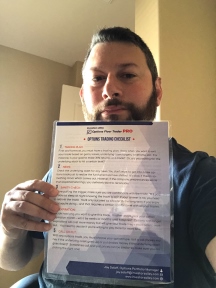 For the first time ever, after 20 years, I'm releasing my own personal options trading checklist for no charge.

Click here to get the checklist and stop losing money right now.

I'm only sharing it for a limited time, so claim your copy immediately even if you're not trading right now: CLICK HERE.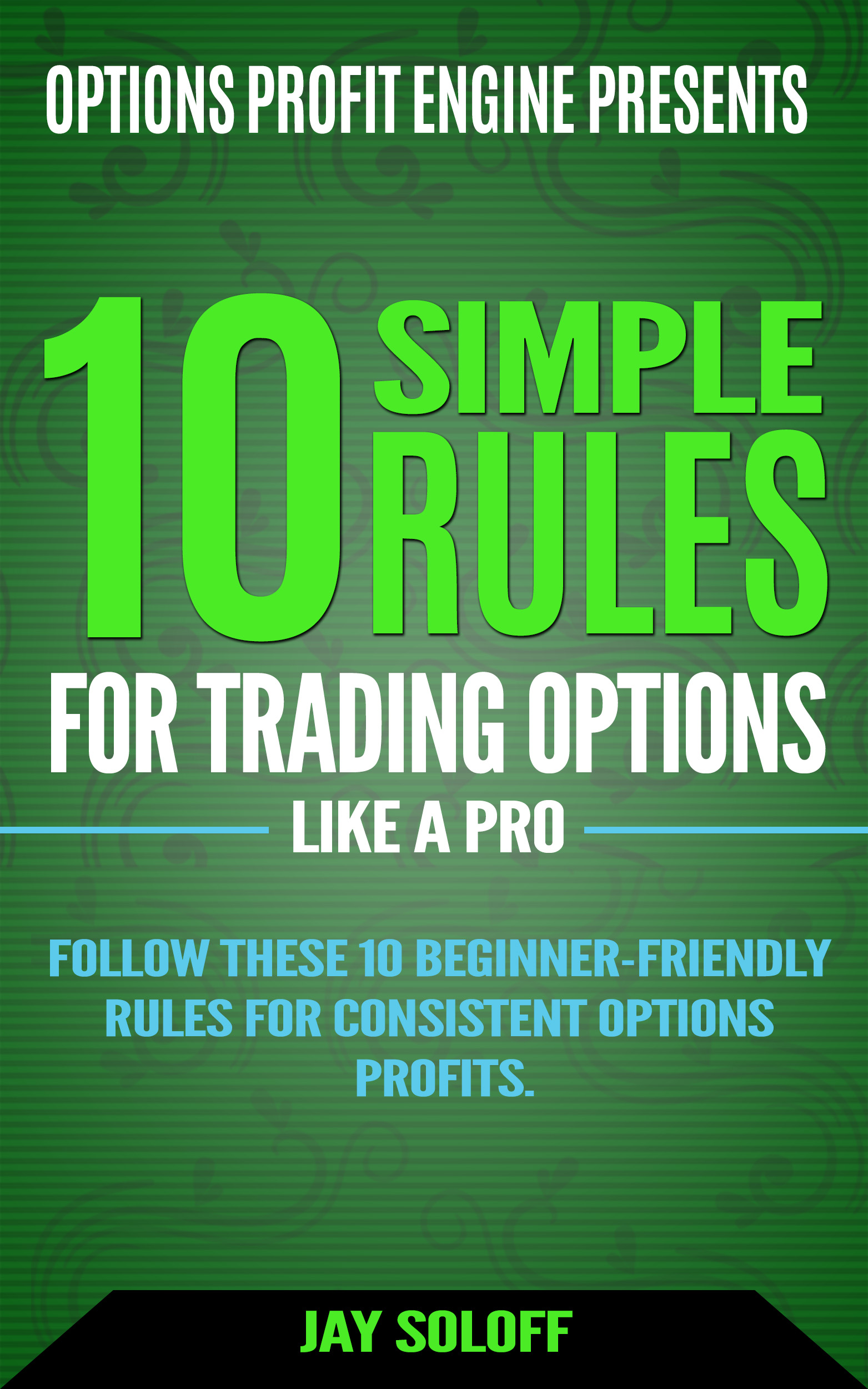 [FREE DOWNLOAD] 10 Simple Rules for Trading Options Like a Pro
Follow these 10 simple rules from 20-year professional options trading veteran, Jay Soloff and start earning a reliable extra income from options.
NO prior experience needed to master these 10 simple options trading rules. 
Enter your email below and receive access to this FREE guide...