The surprising drop in the price of a barrel of crude into the $70's, down from around $95 earlier this year, has thrown the energy sector into turmoil. Stock market participants have lumped together price dependent energy companies with non-price dependent companies, driving down the values of all. This handful of companies that are immune to the price swings of crude oil will reward intelligent investors who purchase shares during the downswing.
Now that the U.S. is the world's largest oil producer, it is safe to say that the companies that support our booming domestic oil industry will have plenty of cash-flow to support and grow distributions. These companies make their money by providing the fee based services that facilitate the movement of crude oil into the refineries and refined products out to retailers and customers. The general support services around refinery operations are referred to as logistics.
Logistics assets include facilities such as fuel loading racks, crude train unloading terminals, storage tanks for crude and refined products, and pipelines to move products between refineries and the various storage and transport assets.
Over the past couple of years, companies that own and operate refineries have been spinning off their logistics assets into master limited partnerships (MLPs), which they then retain control of and operate. The MLP spin-off allows a refiner to monetize assets which are important, but not core to the refining operations. A logistics MLP has an inflation indexed fee for service contracts with the refiner that guarantees a minimum level of revenue, with the potential to increase those revenues as the refiner produces and moves higher levels of product. Typically, the sponsor company transfers just a portion of the logistics assets it owns to the MLP with the IPO. Then, additional assets can be sold to the MLP on a periodic basis, called drop downs, which allows the partnership to increase the dividends paid to investors over time.
The mostly unknown little secret with MLPs and the companies that sponsor them is that the partnership agreement provides the general partner interest owned by the sponsor with incentive distribution rights (IDRs). The IDRs are payments from the MLP to the general that grow as the distributions to the limited partner units grow. As a result, the sponsor will be highly incentivized to make sure the limited partner distributions continue to grow. For investors,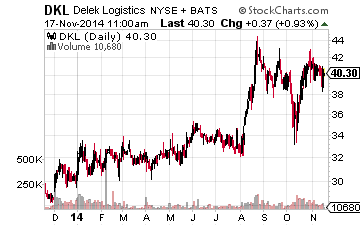 the general partner and IDR system gives a very high probability that the MLP will be able to meet its distribution growth goals and guidance.
Currently, some of the smaller logistics focused MLPs offer very attractive combinations of current yield and projected distribution growth rates. Here are four that deserve a closer look.
Delek Logistics Partners LP (NYSE: DKL) is a 10 year old MLP that owns assets to support the refinery operations of its sponsor Delek USA Holdings (NYSE: DK). DKL currently yields 4.9% and is growing the LP distributions by more than 15% per year.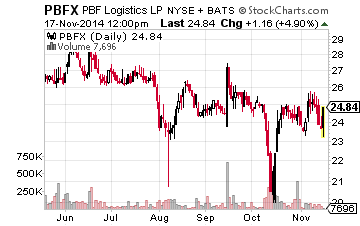 PBF Logistics LP (NYSE: PBFX) was spun off by PBF Energy (NYSE: PBF) with a May 2014 IPO. PBFX yields 5.1% and is forecast to grow distributions by 13% annually.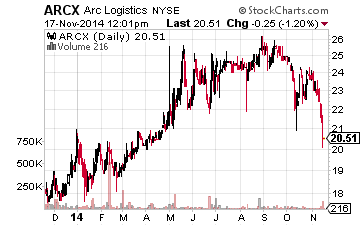 Arc Logistics Partners LP (NYSE: ARCX) launched with a November 2013 IPO. ARCX is a third party provider of logistics services to customers along the East Coast, Gulf Coast, and Midwest regions of the U.S. Arc Logistics Partners yields 7.9% and has been increasing its distribution at a 10% annual rate.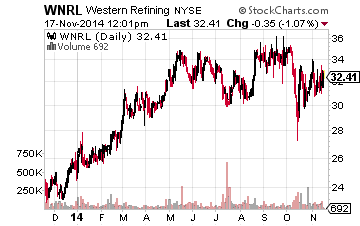 One year old Western Refining Logistics LP (NYSE: WNRL) supports the crude gathering and refining operations of Western Refining (NYSE: WNR). WNRL yields 3.9% with a 17% distribution growth outlook.
To generate some attractive current income with a very strong growth outlook you can mix and match from these four MLPs to meet your investment income goals.
MLPs are an integral part of the income strategy with my newsletter, The Dividend Hunter. And there are currently several of them in my Monthly Paycheck Dividend Calendar.
The Monthly Dividend Paycheck Calendar is set up to make sure you're getting 3, 4, even 5 dividend paychecks per month from stable, reliable stocks with high yields. And that you're income stream will be more stable and predictable as you're getting payments every month, not just once a quarter like some investors.
The Calendar tells you when you need to own the stock, when to expect your next payout, and how much you could make from stable, low risk stocks paying upwards of 8%, 10%, even 11%. I've done all the research and hard work, you just have to pick the stocks and how much you want to get paid.
The next critical date this month comes on Wednesday, November 26th, so you'll want to take action today to make sure you don't miss out. Click here to find out more about this unique, easy way of collecting monthly dividends.