I've discussed many times in the past about how it's smart to always take a global perspective when looking for investment opportunities.
A perfect example of this has been in the business headlines for the past several months with the numerous corporate scandals occurring in Japan. These scandals will benefit one of my favorite industries for 2018 and are creating a fertile hunting for certain companies to profit, which I will reveal to you in a moment.
The sector in question is the Industrial Internet of Things (IIoT). But first, let me fill you in on some of the specifics of Japan's corporate scandals.
Japan's Corporate Shame
Back in the 1960s, Japan was still basically an emerging market and the products it produced were considered to be junk. Made in Japan was synonymous with low quality. But that changed over time and 'made in Japan' became synonymous with the highest-quality products.
But now, that trust in Japan's manufacturing sector is under threat from the ever-growing number of corporate scandals. Shortcomings in quality control exposed at Kobe Steel (OTC: KBSTY) and Nissan Motor (OTC: NSANY) have now been found as well as at subsidiaries of Toray Industries (OTC: TRYIY) and Mitsubishi Materials.
Subsidiaries of Kobe Steel, Toray Industries and Mitsubishi Materials – all manufacturers of industrial materials – were found to have tampered with data to falsely indicate that materials they sent to customers had met the agreed-upon quality standards. Meanwhile, Nissan and fellow automaker Subaru (OTC: FUJHY) had permitted unqualified technicians to carry out pre-shipment inspections of finished vehicles.
These Japanese firms seem to have forgotten that they're in business to meet customers' needs. The solution to their problems is pretty straightforward – these companies must re-build their quality control systems from the ground up.
The Solution Is IIoT
The solution for corporate Japan in ending these scandals is easily within their grasp in the form of the Industrial Internet of Things. I'm sure you remember my discussing the bright future for this industry on numerous occasions. See here, here, here, and here for a start.
It also goes by several other names including Industry 4.0 and the Fourth Industrial Revolution. In simple terms, the IIoT is the convergence of two worlds – information technology (IT) and operational technology (OT) – that have always been disconnected. In other words, it's a bridge between the digital and the physical, creating cyber-physical manufacturing systems.
This whole new world – the factory of the future – is becoming possible thanks to the rapid advancements in robotics, sensors for data collection, faster transmission of that data, and then analysis of that data.
In the case of these scandal-ridden Japanese firms, the volume and transparency of data from connected machinery will help restore the confidence of their customers that they are indeed receiving product made to their specifications.
Already, both Nissan and Kobe Steel have earmarked capital spending for automation and the IIoT. I believe many more Japanese companies will be making similar moves. The reason is that while Japanese manufacturing is highly automated, it is well behind their American and European counterparts in terms of connected digital technologies.
Of course, Japanese manufacturers will be just a small part of the move around the world toward building the factories of the future. The market intelligence firm IDC (International Data Corporation) says that global spending in 2017 on the IIoT was just over $800 billion. It forecast that number to climb to $1.4 trillion by 2021.
IIoT Investments
Most likely the IIoT subsector that stands to benefit the most from the Japanese corporate scandals will be robotics in conjunction with other digital solutions (sensors, cloud software, etc.). That makes it easy for you to invest into because there are three large companies heavily involved in robotics that are highly liquid stocks, traded on U.S. exchanges.
Ironically, Japan is home to some of the world's top robot manufacturers.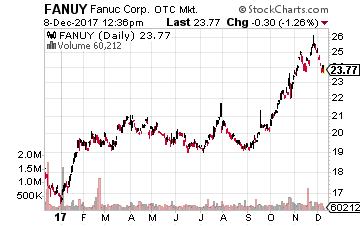 The world's largest provider of robotics and automation is still Fanuc (OTC: FANUY). The three pillars of its business are: robots, numerical control devices, and other industrial equipment. Its ADR (for U.S. investors) is up 45% year-to-date.
You may be familiar with Fanuc from its joint announcement in January that it was teaming up with Nvidia (Nasdaq: NVDA) to build factory robots powered by artificial intelligence. It also announced this summer that, in order to meet soaring demand, it was building another Japanese factory to manufacture robots.
Thanks to that soaring demand (particularly from China, which is 30% of the global market) for robots, Fanuc logged an impressive 43% gain in net profits to $750 million for the six month period ending in September. Sales in that period rose 35% to 347.6 billion yen, just short of the record 349.9 billion yen set in the same time period in 2015.
Fanuc is also rather shareholder-friendly for a Japanese company. Its dividend ratio was raised to 60% back in 2015 and it may return up to 80% of its profits back to shareholders in the form of dividends and share buybacks.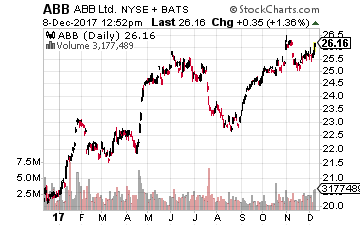 Right on Fanuc's heels is the Swiss company, ABB Ltd. (NYSE: ABB), whose stock is up about 21% year-to-date. The company is divided into four divisions: robotics and motion, industrial automation, electrification products and power grids.
Its management has made it very clear it wants to pass Fanuc and become the number one provider of robotics and IIoT solutions. ABB plans to become number one through a major push into the race to build robots for China. It is accelerating its expansion in China with plans to double robot production capacity. Part of that plan involves doubling the number of robotics research employees in China.
ABB also would like to take the lead in China in providing the necessary infrastructure (supplying charging stations) for electric vehicles. China is the world's largest electric vehicle market and growing very rapidly.
Related: 3 Electric Car Stocks to Crush Elon Musk and Tesla
ABB has been on an earnings winning streak, beating Wall Street estimates for four quarters in a row by an average of 11.7%. That is likely due to its number two position behind Fanuc in robotics and its number one position in the related 'motors and drives' segment.
The company is further enhancing its digital and IIoT capabilities with its strategic partnership with Microsoft (Nasdaq: MSFT). The partnership involves combing Microsoft's cloud technology with ABB's industrial digital technologies.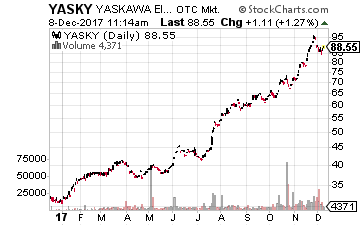 Finally, there is another of the Japanese robotics maker, Yaskawa Electric (OTC: YASKY), whose ADR has soared 180% this year!
In addition to industrial robots, the company manufactures servos, motion controllers, AC motor drives and switches. The company has a rich history in robotics, introducing Japan's first all-electric industrial robot all the way back in 1977. The MOTOMAN line of industrial robots continues to this day.
Yaskawa is building another plant in Japan to boost production. And it is moving ahead in China, with plans to manufacture 25% more robots in China in 2018 than in 2017. To meet that goal, it is expanding production lines at a plant in Changzhou with the aim of doubling local monthly output to at least 1,200 units by the end of the decade. Yaskawa also has a joint venture with the Chinese firm Midea.
I'm sure you may wonder whether falling prices for robots will adversely affect these companies. Based on history, the answer is no. During the past decade, robot prices have dropped by about 40%. Yet, gross margins for companies like ABB, Fanuc and Yaskawa have actually been steadily improving.
Bottom line – the scandals in Japan are just another reason to like the robotics sector.
Tony Daltorio owns shares of Yaskawa in his personal portfolio because he sees how this new wave of technology merged with industrial applications presents so many investing opportunities. Tony's recently completed extensive research on the coming transformation of technology, commerce, government, education, employment, housing, even what we'll eat in the very near future. It's called The Singularity and it threatens to disrupt those who don't adapt and to enrich those who do. The report is currently free for viewing. Click here for more.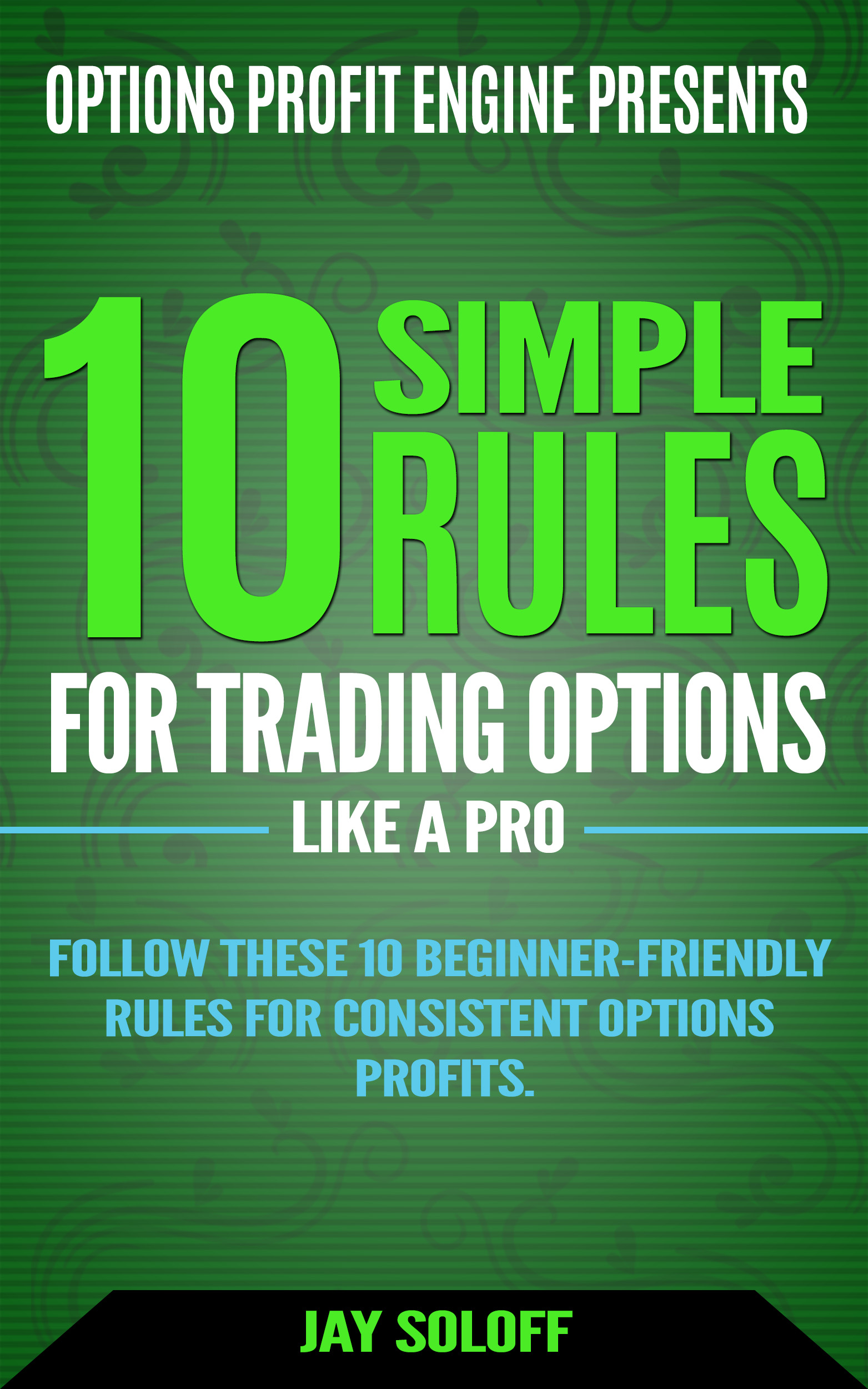 [FREE DOWNLOAD] 10 Simple Rules for Trading Options Like a Pro
Follow these 10 simple rules from 20-year professional options trading veteran, Jay Soloff and start earning a reliable extra income from options.
NO prior experience needed to master these 10 simple options trading rules. 
Enter your email below and receive access to this FREE guide...