Veteran Trader Reveals: How Any American Can Generate Up To…
96X More Income Inside 401(k)s & IRAs
By Requesting An
"Income Accelerator Account"
"… [Now, I have] two ways to make income
and I'm enjoying the ride."
— Mark
"You're missing the boat if you're not doing this…"
— Samuel
"… I can see 30% returns rather than
10% just investing in dividends."
— John
Read on to discover how to upgrade your account and start collecting extra income in 2023…
Dear Reader,
Brokers don't typically advertise "Income Accelerator Accounts"…
But if you follow the simple step-by-step instructions here…
And request an upgrade before my next trade…
You'll be able to buy the same stocks as everyone else but collect as much as 96X MORE income. 
Because this is bonus income on top of your dividends… 
You do NOT have to stop investing like you've been doing…
An "Income Accelerator Account" unlocks a new type of trade that lets you squeeze more income out of your current portfolio. 
Especially now…
Folks with an "Income Accelerator Account" see more opportunities for profits when stocks move down or sideways.
Just take American Airlines (AAL) stock for example.
I spotted bonus income opportunities SEVEN different times on American Airlines stock last year alone…
And just look at how volatile it was: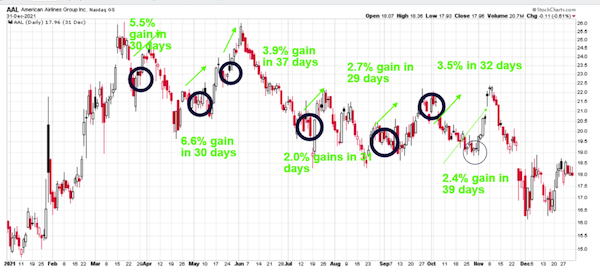 American Airlines pays a 1.10% yield on average…
But when you factor in all these bonus income payments, the effective yield in 2021 skyrocketed up to a whopping 51.70%!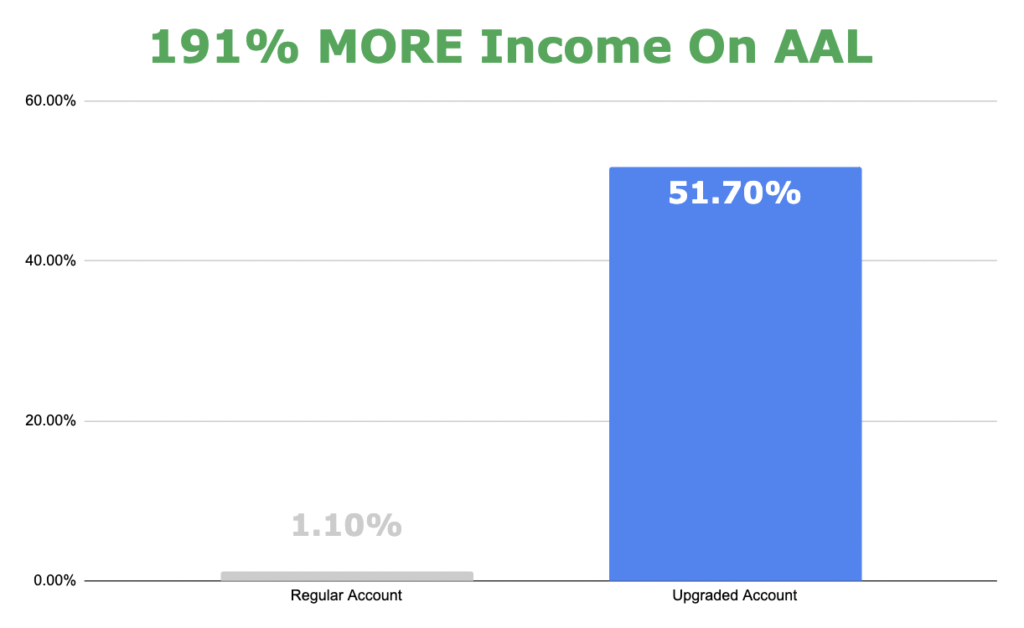 Of course, you won't double or triple your returns every time…
In 2020 for example, my readers and I won 87% of the time…
In 2021 that number jumped up to an incredible 95%…
And so far in 2022, I've spotted 48 extra income opportunities with only 7 losers — for a current win rate of 85%.
While no investment or strategy is risk-free, I think you'll agree that's pretty low risk.
And in my professional opinion as a 24-year trading veteran… 
This is the easiest way to reach your income goals faster. 
You don't have to just take my word for it though. 
One reader, Mark, told me… 
"… [Now, I have] two ways to make income and I'm enjoying the ride." *
Another reader, Samuel, believes… 
"You're missing the boat if you're not doing this…"*
And John is enjoying incredible results, he claims… 
"… I can see 30% returns rather than 10% just investing in dividends."*
*These readers received compensation for their honest feedback.
Then there's Kiplinger, which reports these opportunities…
"…add stock income without extra risk… "
CNBC calls it an… 
"Ultimate protection play for volatile markets…" 
MarketWatch says this is a…
"…low-risk way to boost your retirement income…"
That's why I believe anyone can take advantage of this.
Unfortunately, brokers don't often advertise their "Income Accelerator Accounts" so many never request an upgrade.
Now you don't have to worry about missing out…
I've prepared everything you need to know right here…
The opportunity for you here is endless…
Because the fact is…
If Your Stock Portfolio Took a Beating in 2022, This Extra Income Could Transform Your Results
You're just in time to upgrade your account…
And enjoy your first bonus income opportunity in 2023. 
Yet I predict that most Americans will not request an "Income Accelerator Account" upgrade. 
And even fewer will use it on time.
That's why, if you act before my next trade…
I wouldn't be surprised if your nest egg GROWS while everyone else gets left behind.
Why am I so confident? 
Because when you get an "Income Accelerator Account"…
You get access to an income-generating trade that multiplies a stock's effective yield fast… 
No matter what is happening in the markets! 
You saw the potential of this bonus income earlier with American Airlines (AAL) stock… 
But the wins don't end there. 
VanEck Gold Miners ETF's (GDX) yield multiplied by 96x!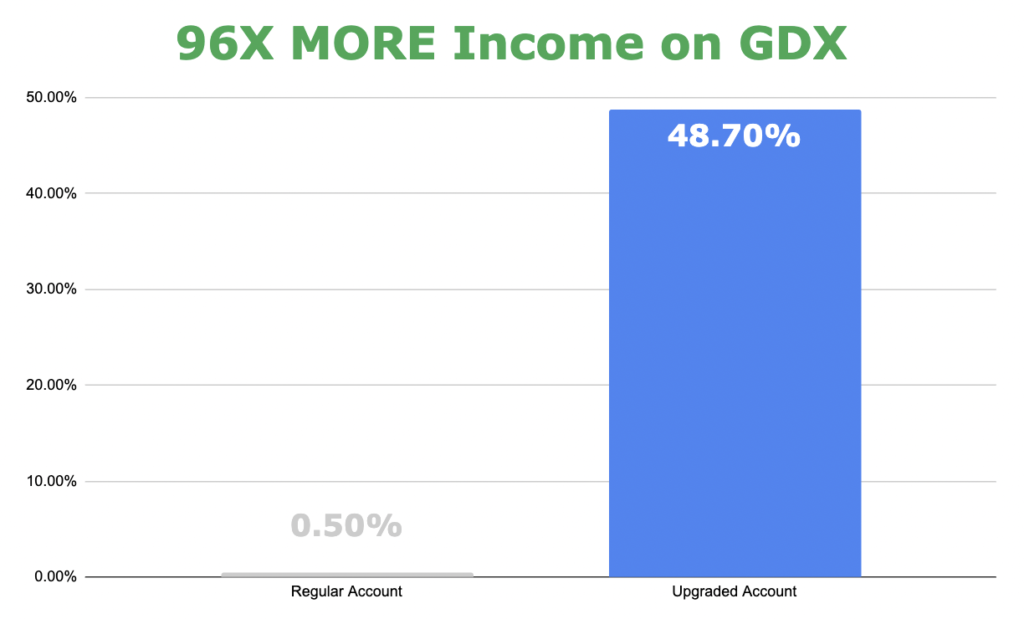 Imagine collecting a 46.70% yield from an ETF…
No high-yield stock comes close to paying that much!
Or look at Macerich (MAC)…
The typical Macerich yield is 5%… 
Sure, that's nothing to scoff at.
But I showed readers how to enjoy an effective yield of 19.94%: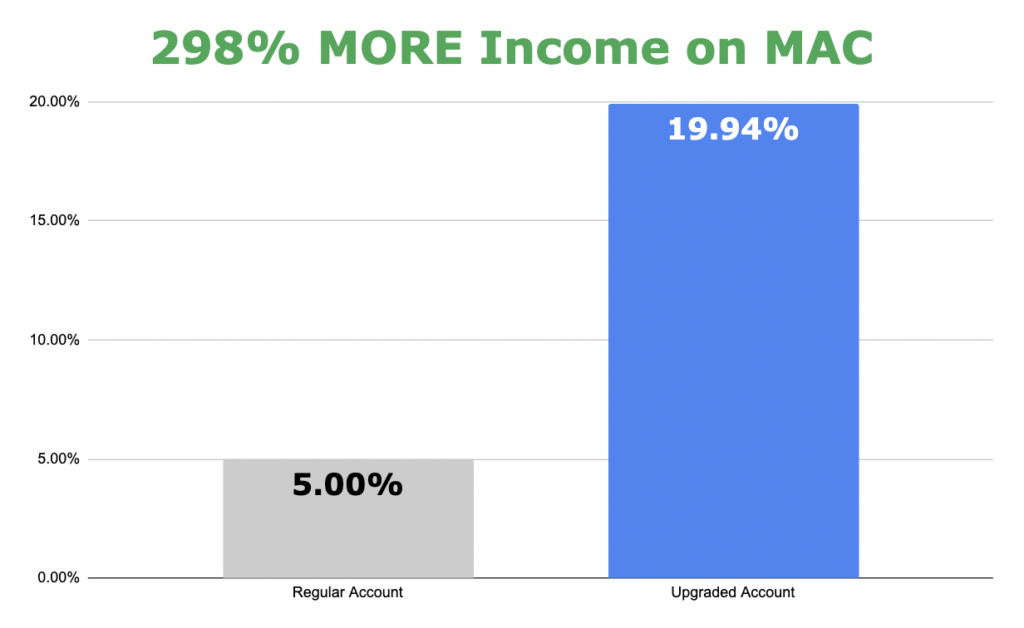 That's a 298% income boost!
Depending on the size of your initial investment, that could mean an extra $200 or $2,000 in your pocket. 
Of course, past wins don't guarantee future results. 
And not all my trades were winners. 
No strategy or trader is perfect. 
But as you'll see in a bit, the wins far outweigh the losers.
I'll even show you my full, uncensored trading record.
Because I have plenty more wins to show you, for example…
Kinder Morgan (KMI)'s yield ballooned up a shocking 664%!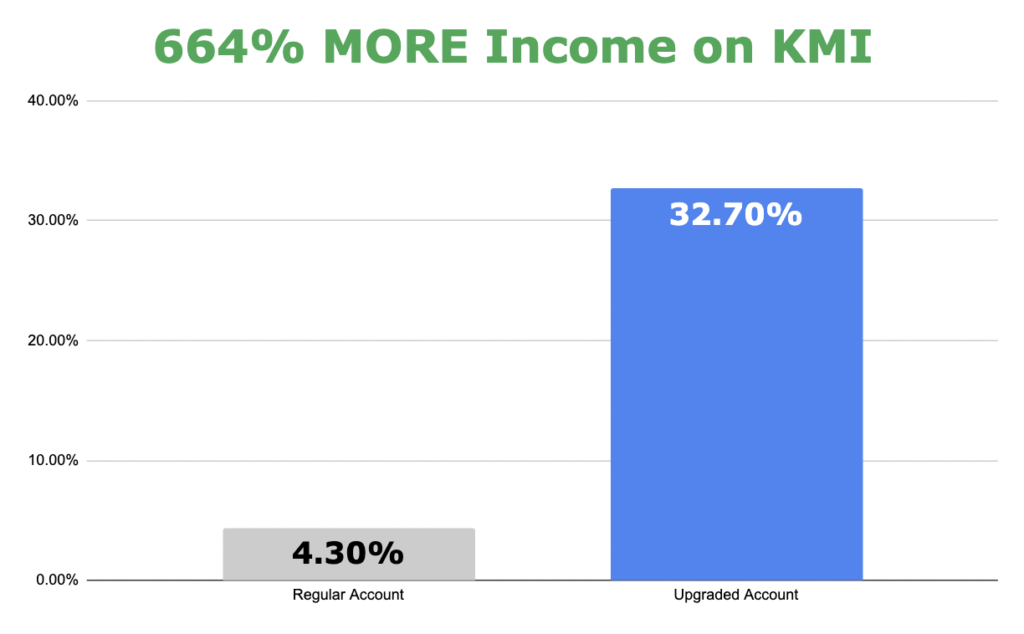 That's potentially hundreds, or even thousands, more dollars you get to pocket monthly by using this simple trade.
To put this in perspective…
Can you imagine if Tesla announced a new car that kept a charge 664% longer than the previous model?
It would be a historic upgrade… which is just the kind of boost to your income this trade can provide. 
And Verizon Wireless (VZW) delivered 295% more income…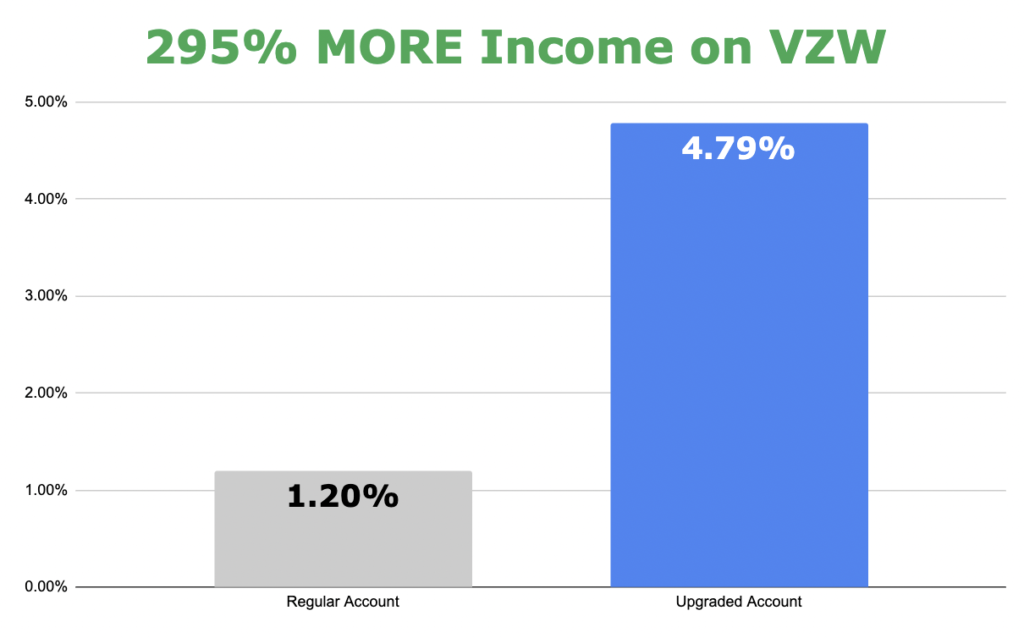 Again, just because I showed my readers big wins in the past does not mean it'll happen again in the future. 
However, this trade is as easy as buying and selling any stock… 
Making for a speedy alternative (or addition) to dividends.
And I'll even show you a simple way to make these trades part of your weekly routine… 
So that you can tweak it depending on if you want to be conservative, moderate, or aggressive.
Here's what it boils down to:
If you make the decision now to upgrade your account…
Then invest a little bit of your time each week to learn how to master this newly unlocked income-generating strategy…
This bonus income will help you get more out of life. 
Take Lisa K., for example.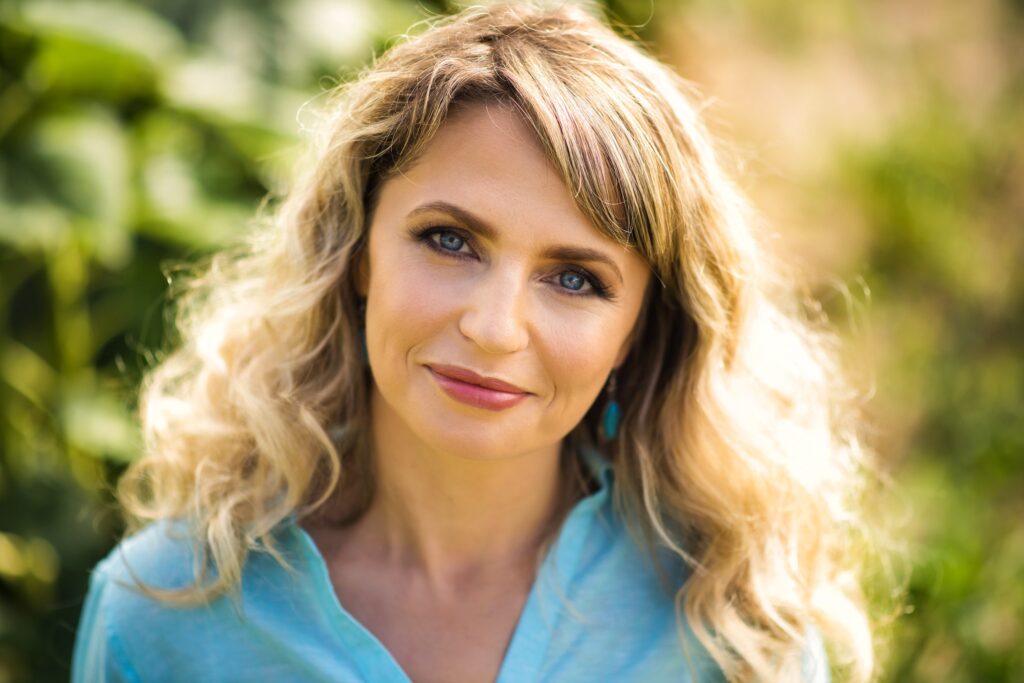 Lisa K. is now on track for an early retirement.
A little while ago, I showed her how to place these unique trades…
The result?
She's now on track to retire at 55!
In her own words…
"At first, [it was] terrifying, but now I'm regularly collecting income, and I love it."
Imagine that…
Collecting enough income to retire 7 years earlier than average!
All by requesting an "Income Accelerator Account" upgrade…
And taking advantage of the newly unlocked trading strategy.
Don't worry if you've never heard of it before…
It's for a specific reason I'll explain on the next page.
I'll also tell you the secret behind my 85-95% win rate…
And why, after upgrading your account…
You can trade just ONE stock over and over again to generate extra cash on demand — in any market!
Before we get to all that, though, let me introduce myself:
The Income-Generating Discovery
That Became My Life's Work
My name is Jay Soloff.
I'm the lead portfolio manager at Investors Alley, one of America's longest-running independent financial publishers…
Thousands of readers trust me to deliver income-generating trade recommendations every week the market is open…
Because I've dedicated my entire adult life to mastering simple strategies that can work for the majority of investors. 
Right out of college I cut my teeth trading at one of the largest securities exchanges in the world, the CBOE…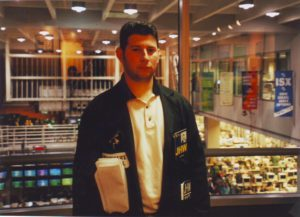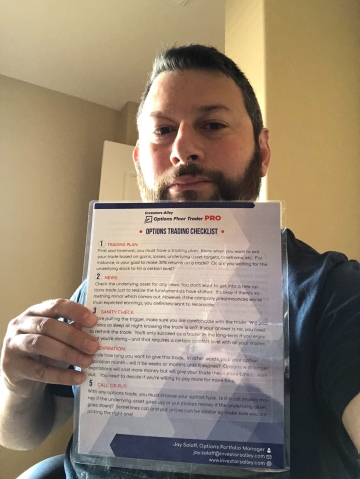 I've traded professionally for over 20 years, starting at the CBOE.
There I brushed shoulders with folks who had the power to move entire markets with their trading…
And they did it using "Income Accelerator Accounts."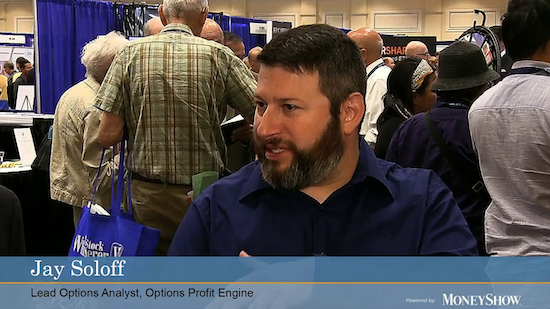 Making a featured guest appearance on the MoneyShow
See, when 'Fat Cat' investors want to make money reliably…
They don't buy and sell stocks like the average person…
Instead, they use a "parallel" market that unlocks the ability to make more money… often, with less risk.
So when most folks are buying stocks like this…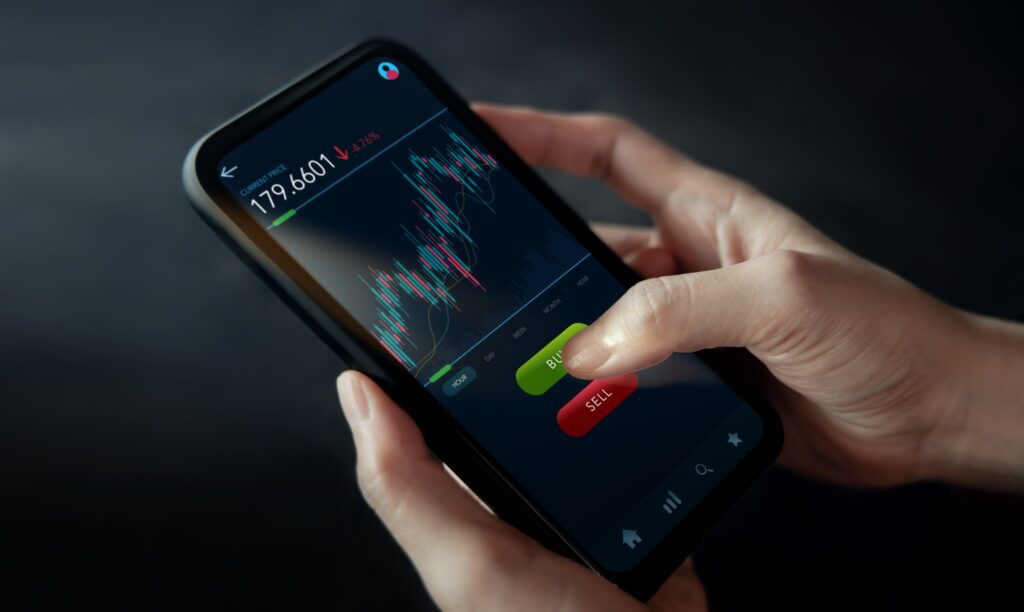 Wall Street has access to a different market entirely: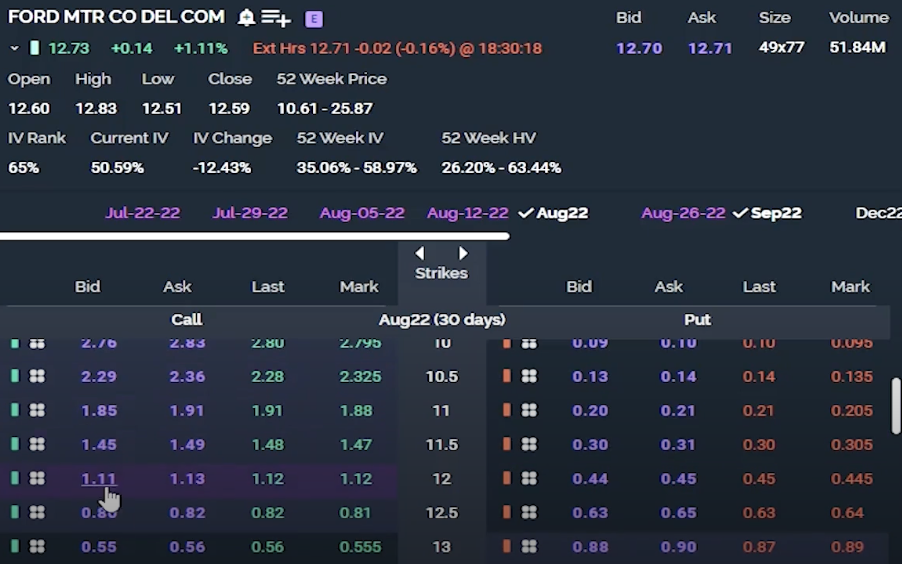 It's the same market Paul Tudor Jones used to make his fortune…
And how Michael Burry made $100 Million during the '08 crash. 
At first, I thought this market was only reserved for the rich…
But then I discovered that anyone can get access to it.
All you have to do is request an upgrade from your broker… 
Wait 1-3 business days on average…
And you'll gain access to your "Income Accelerator Account."
I don't know how it could be any easier…
And you can even be in your first trade in the next 30 days!
Now, every broker is a bit different, and there are way too many for me to run through them all. 
But it's a very, very simple process. 
Once I made this discovery, I immediately began attracting a large readership by teaching the technique to others…
Folks like Paul, Rich, and David:



Year after year, I honed this strategy for my readers…
It soon became a monthly ritual, with over an 85-95% chance of collecting bonus income.
Since making this discovery, I've moved to sunny Arizona, over 2,300 miles away from the hustle and bustle of Wall Street. 
Here's the view from my home: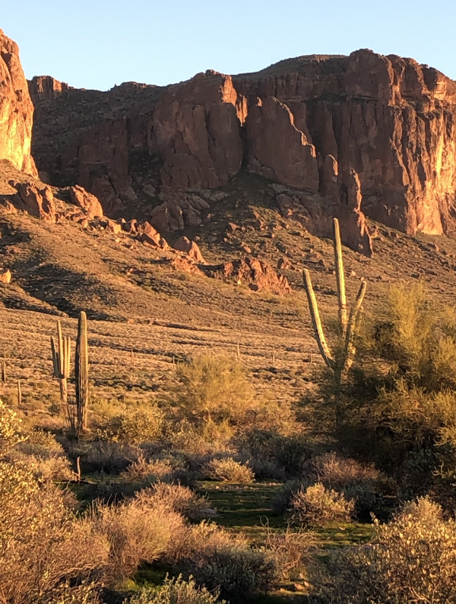 My Arizona backyard
I have more time to dedicate to my wife, kids, and favorite hobbies, namely, reading fiction books.
But look, as you've probably guessed… 
This trade is not as easy as buying and holding a dividend stock. 
There is more work involved… 
For example, you'll have to navigate through a few new menus in your newly upgraded brokerage account before each trade… 
Which is exactly why I'm about to show you how it all works…
If you want (or need) extra income in your life right now…
Then listen close to what I say next…
Because I'm going to make the whole process easier for you…
But you need to see this first:
Has Wall Street and the Mainstream Media Sold You a Lie?
Let me ask you a question…
Do you think Wall Street or the Mainstream Media have your best interests at heart?
Probably not.
You see, when they point to where you should invest your money…
They often go in the OPPOSITE direction.
Remember seeing headlines like this back in 2007?
"Why Stocks Will Keep Going Up" – June 20th, 2007
Thanks to advice like this, many people thought a crisis would never happen.
That's why so many bought at the height of the bubble.
You know what happens next.
Bankers like JP Morgan's Jamie Dimon made a killing betting AGAINST the market… 
… while regular folks were left in financial ruin.
Fast forward to today…
And USA Today's advice is to delay your retirement.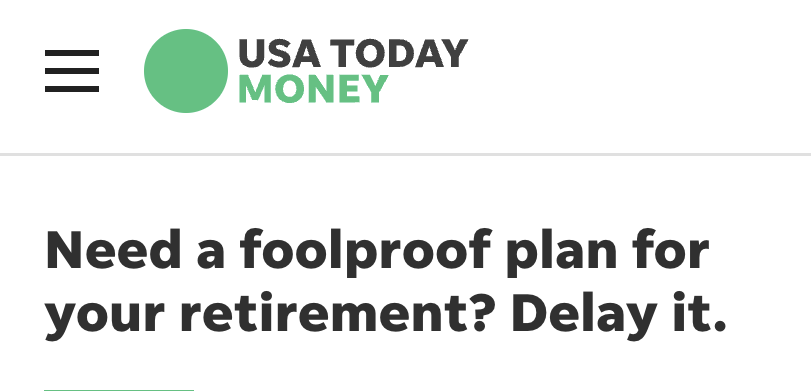 Pardon my French… but that's BS.
If you're anything like me…
Delaying retirement to pump more money in a 401(k)… just to watch it deflate during a recession… sounds terrible.
And with all this uncertainty…
Running out of money is America's #1 retirement fear…
Some even fear it more than death!

That's why I've made this message my life's work…
And why it's crucial you make this upgrade before my next trade…
You see, most Americans just want to buy and hold their way to retirement… in other words, they want to live off capital gains…
It's a message the mainstream media loves to promote…
Even though it can be a disaster waiting to happen!
Here's how — if you have $250,000 now, at 5% growth, but withdrawing your $2,500 per month to use for bills… 
You're out of money in 10 years.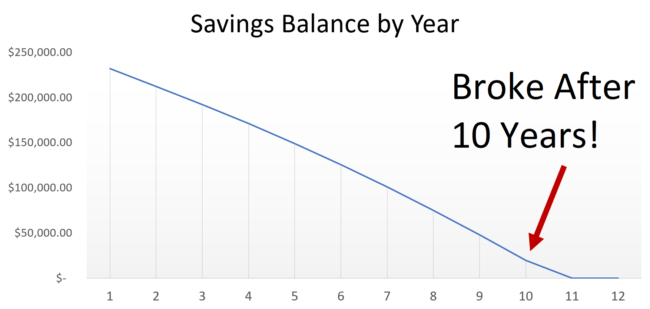 Have $150,000? 
Out of money in 5 years.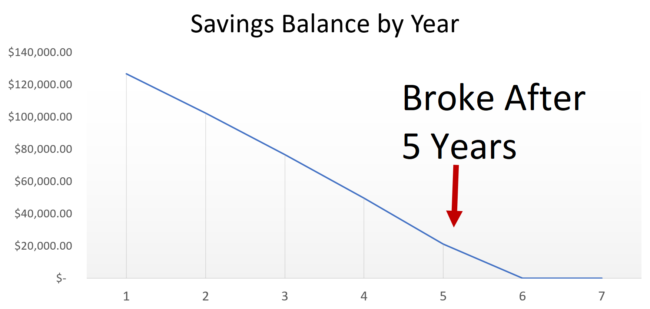 $100,000? 
Broke in the middle of Year 3: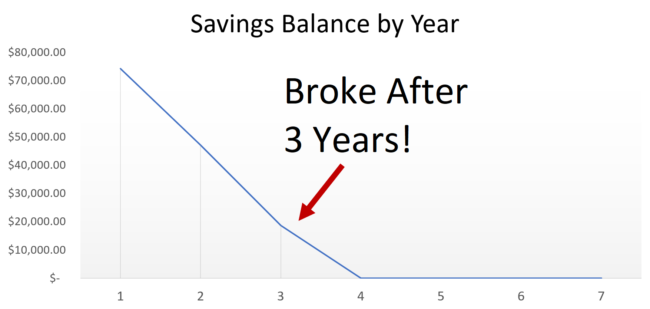 If you want to live your golden years free from this worry…
You need to generate MORE income.

Here's the good news…
You don't have to keep working until you're 70 or 90 to retire…
With an "Income Accelerator Account…"
You can start padding your nest egg today with potentially thousands in extra income…
Because you deserve to retire on time…
Or if you're already retired, you should NOT have to go back to work… that's not the America I grew up in.
And it gets even better…
As you're about to see, there's ONE stock you can use this trade on over and over again…
You can trade this little-known stock every month… or weekly if you want…
The potential for extra cash is jaw-dropping. 
And compared to other investments with this kind of potential, I believe it's safest, too…
Here's Proof "Income Accelerator Accounts" Can Generate Bonus Cash In This Crazy Economy!
Remember, trading is never NO-risk…
But the trade you get access to after upgrading your retirement account can indeed be called LOW-risk.
In 2019, for example, I showed my readers an 84% win rate.
And in 2020, when the market crashed…
My win rate INCREASED to 87%.
Last year I skyrocketed up to 95%…
And so far this year I'm 41 for 48 on my recommendations. 
As you can see below with my full trading record: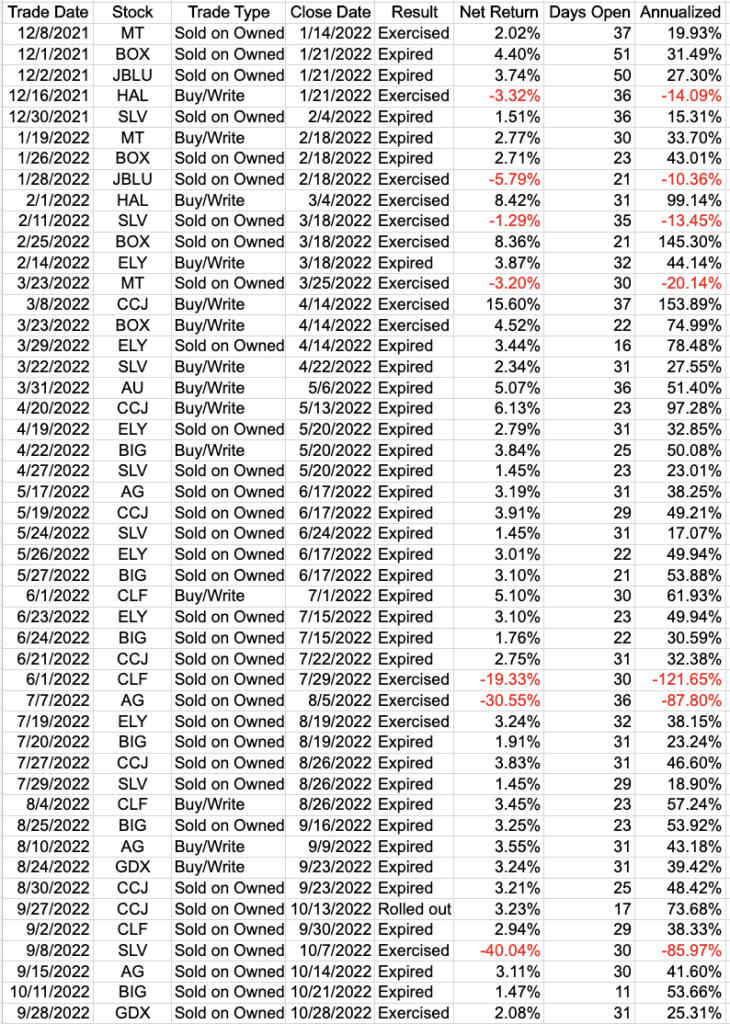 41 wins and only 7 losses so far in 2022
Of course, the future may be different. 
Past results don't guarantee future results, but you can see the potential here for steady income.
And this also goes to show that it's not too late for you to join in!
As long as you upgrade your account, and make the move I tell you to make, you'll be set to profit in 2023.
Because I'd like to make this clear…
Right Now, You Have Two Choices
You Can Make With Your Money
Either you remain stuck with your regular retirement account and an unpredictable stock market…
Or you upgrade your account (at no cost to you…) 
And unlock an income-generating trade that works in bull, bear, and sideways markets…
Plus, that's not all:
It creates steadier returns with less volatility 

Involves no hectic trading 

It has dramatically higher odds of success than typical trades 

And best of all,

you can focus on just one stock 
The trade, of course, uses a kind of option…
Options trading, as you may know, becomes available after getting approved for an upgrade by your broker.
Most everyone gets approved for a Level 1 options account, which is the one you can use for these income accelerator trades.
Because rather than just go for outsized gains…
The most successful options traders I know sell covered calls to generate income on stocks they already own.
And unlocking access couldn't be easier…
You just need the lowest, easiest-to-get level in your account.
Each broker assigns levels a little differently… 
Here's Fidelity for example:

Then there's Charles Schwab, which puts covered calls at level 0: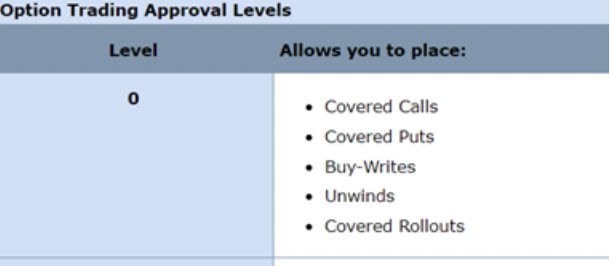 You can upgrade completely online (or via snail mail)… 
The short form should take you just a few minutes to complete. 
And look, I know there is a fear out there about options trading… 
So here's what you need to know: 
This strategy is not complicated… or risky…
The idea that trading options has to be expensive, risky, or complex is usually spread by folks who have never tried it…
Or don't want you to try it…
That's been my experience, at least…
And in my professional opinion, as a 24-year trading veteran…
Anyone can learn how to "sell covered calls."
This trade is safe and easy to get the hang of…
That's why it doesn't matter if you've never done it before…
Investopedia says…
"This conservative approach to trading options can produce additional revenue, regardless of whether the stock price rises or falls…."
Fidelity claims…
"….a wide range of investors can benefit from covered calls. From long-term investor to short-term investor, from casual trader to aggressive trader and from growth-oriented risk taker, to income-oriented conservative…."
And TheStreet reports…
"It is important to first understand that selling covered calls has a lot less risk involved than buying calls."
Of course, you still have to make the right trade at the right time — more on how to do that easily in just a moment… 
Because if you have $25,000 or more in the stock market now…  
But you're not making this special trade…
You're Missing Out On Extra Cash That Can Keep You From Running Out of Retirement Savings
I'm talking an extra $513… $1,282… even $2,565 per month, depending on your portfolio size…
And one trade is all it takes to start collecting this income…
On any stock in your portfolio…
You can sell covered calls as often as you'd like, which can quickly add up to thousands in extra cash.
Will you win every time? Of course not.
Nothing in the stock market is guaranteed, nor can anyone predict the future….
But the potential of these trades is undeniable.
And I hope this comes as a relief to you.
Because most folks make the same mistakes anytime there's uncertainty in the market like there is now… 
Here are the 3 biggest mistakes I've noticed:
'Buying the dip' for no reason

Holding on to loser stocks

Selling good stocks at the wrong time
In other words, they get caught up in the panic.
How do people keep making the same mistake?
Well, the moment something bad happens…
Wall Street and the Mainstream Media start putting the world in a frenzy…
Soon enough, everyone is making mistakes with their money.
Many, I'm sure, had dreams of retiring rich…
But because they followed the crowd, they lost untold thousands, if not millions.
If it's happened to you in the past, it's not your fault. 
That's why you MUST stick to one all-weather plan…
And that's exactly what I'm about to reveal to you…
Because to give your retirement the best chance at surviving any uncertainty…
You can't just upgrade your account and hope for the best…
You also need to focus on ONE home run stock…
And given the state of the global economy…
I believe this is the most important work of my career. 
You're about to see how trading this ONE stock over and over can flood your bank account with reliable, extra income…
I've Found a "Commodity GIANT" That's Perfect For Monthly Covered Call Trades
I've traded with great success through the Dot-Com crash… the Great Recession… and the COVID reset.
And in my 24-year career as a professional trader, I've never found a better option than this "Commodity Giant."
If you invested $1,000 in this stock on March 8, 2022, with a regular account and reinvested your dividends…
Today your investment would be worth a mere $1,029.02. 
That's a tiny increase of just 2.86% and a total profit of $29.02.
But if you upgraded to trade covered calls…
You would've enjoyed SEVEN extra opportunities for cash!
See, I noticed a shift in the market at the start of 2022… 
After months of record-high prices, I thought the market was due for a correction.
Most folks weren't looking forward to this…
After all…
If all you do is buy and hold, share prices going down means that you just lost value.
But you could do much better by selling a covered call while you held on.
On March 8th we closed a 15.60% win in just 37 days!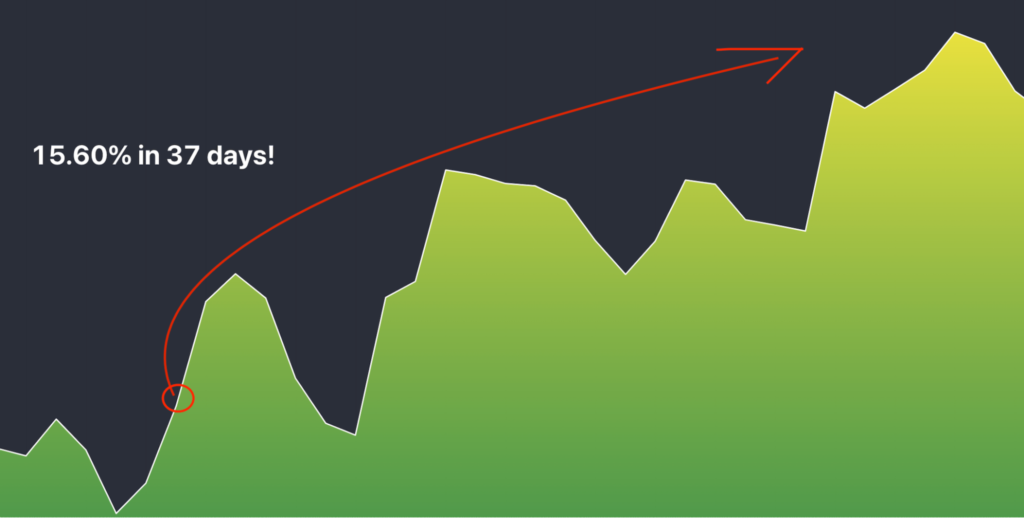 Then in April, just 6 days later…
We traded again for a 6.13% win, as the stock fell!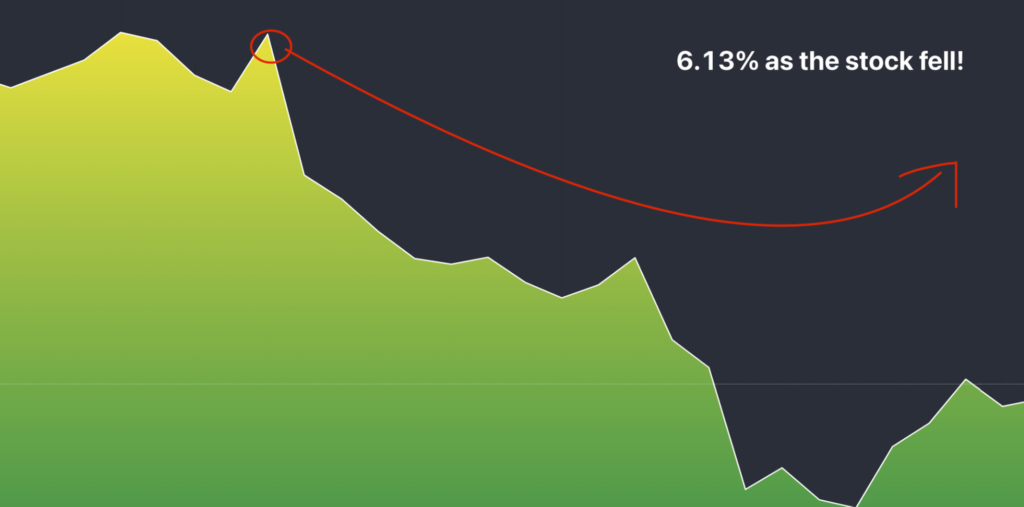 May it was a similar story…
A nice 3.91% win even with volatility: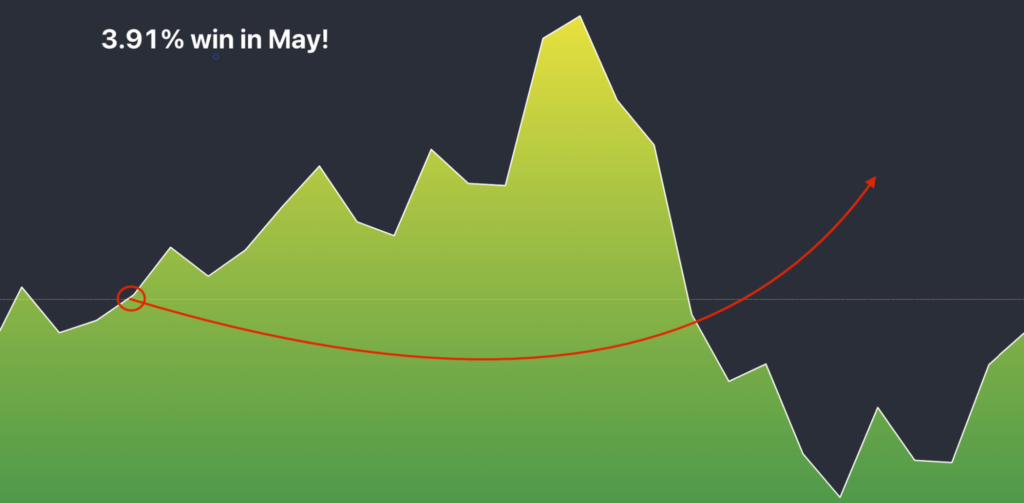 June, 2.75% win closed in 31 days…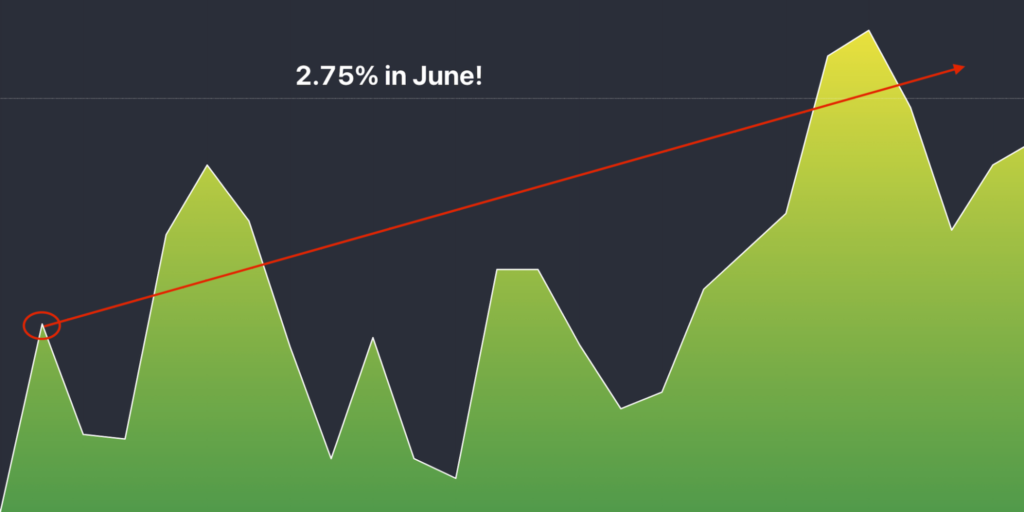 July 3.83% in 31 days…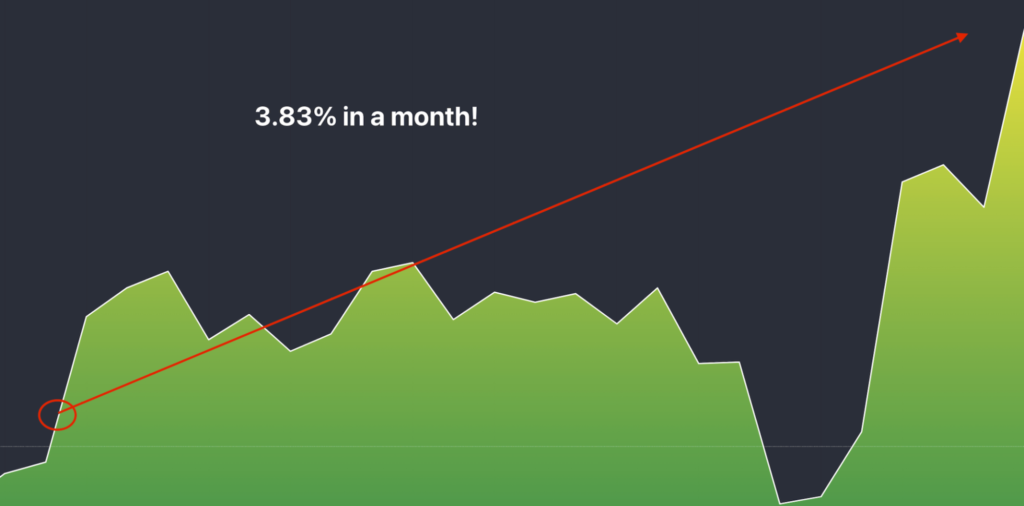 August 3.21%… September 3.23%… October 2.38%…
I think you get the picture! 
And if you chose to reinvest after each win…
That's a 41.52% return in just about 6 months…
… as the market tanked!
But here's what I recommend all my readers do instead:
Cash out after each win and go enjoy life with the extra income. 
Just think…
After you upgrade to trade covered calls…
You could soon find yourself with thousands in extra cash every month to spend on your friends and family…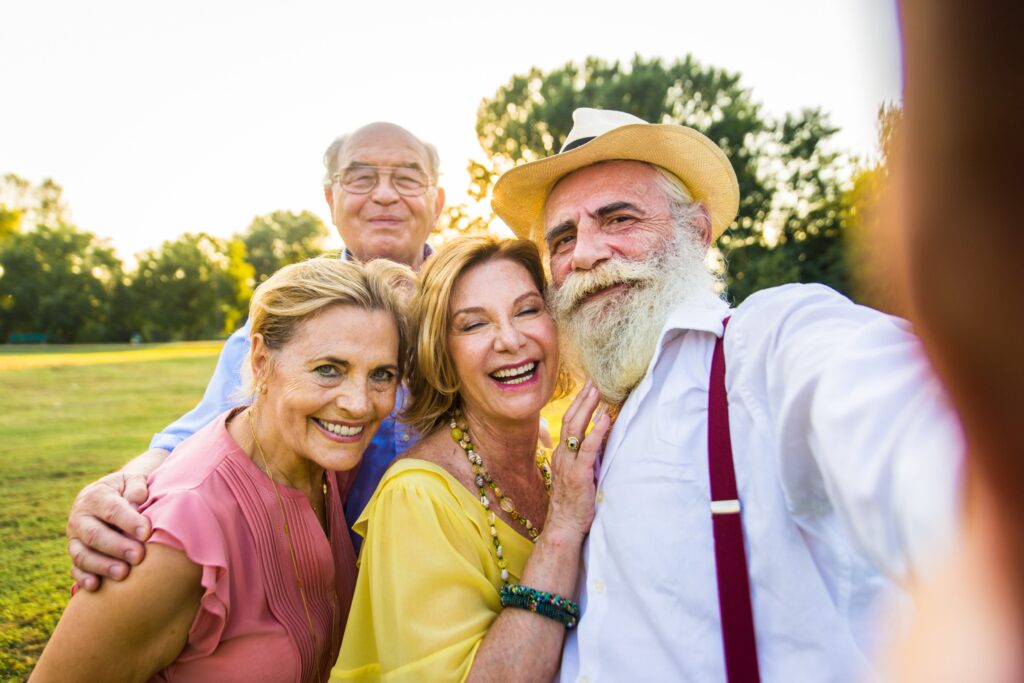 Or your favorite hobbies!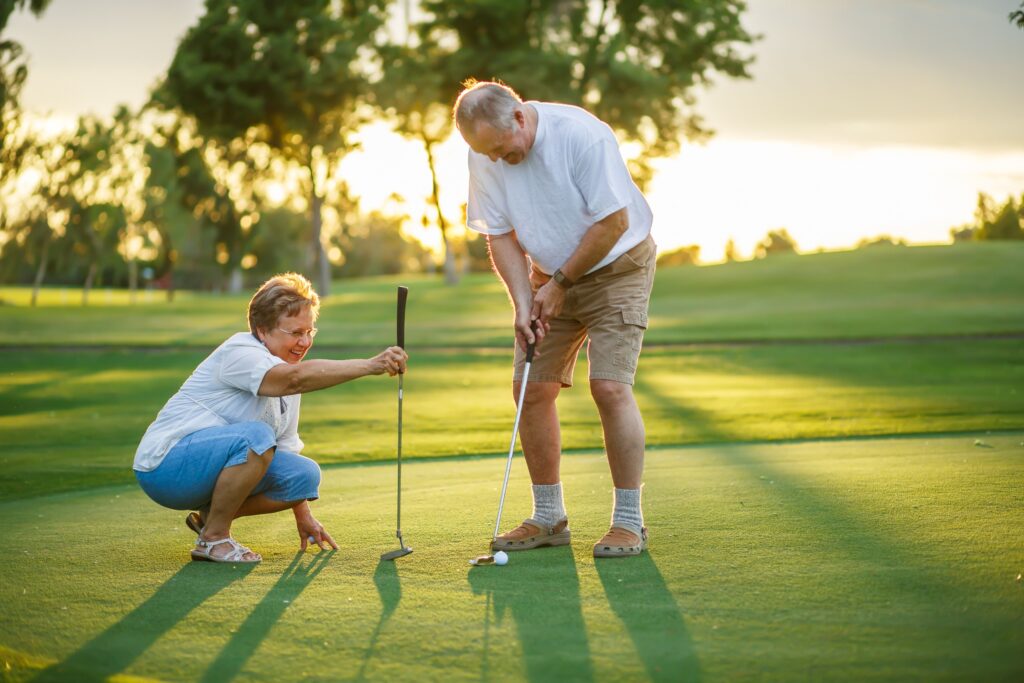 Only covered call traders get to enjoy this.
There's simply no other way to get access to these opportunities. 
Under normal circumstances, you'd lose money if this stock fell…
But you could've collected extra cash every month by selling a covered call while still keeping your shares!
Now, of course…
Though I'm a perfect 8 for 8 on this stock in 2022…
Past results can't guarantee future wins. 
But I think you'd agree, it's been a very safe trade so far. 
Which is why folks love this strategy so much…
This extra cash can give you the freedom to do what you love…
One subscriber of mine, Glen C., wrote: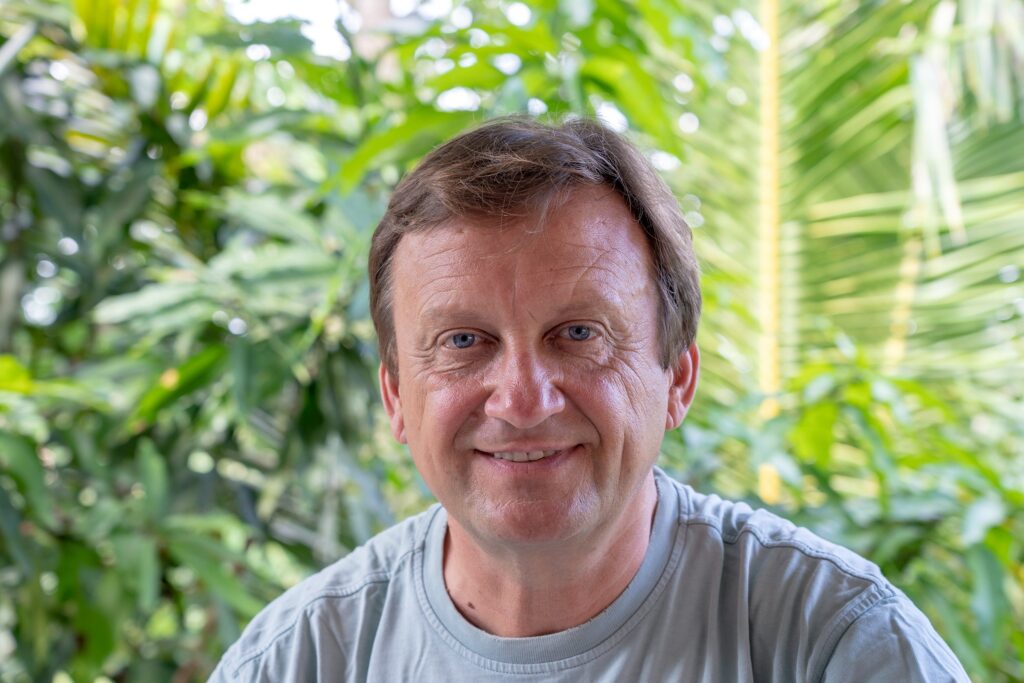 "We love using our [income] to travel and … volunteer in disaster areas." 
Again, your results may vary…
Nothing in the stock market is guaranteed…
But you can certainly see the potential here for steady income.
As I mentioned earlier, I've never seen a more reliable way of collecting extra cash from your stocks other than this.
It's kind of like renting out your position and collecting income.
And you still have time left to upgrade before it's too late…
Because as I write this…
Hedge Funds, Whales, and Insiders Are in a FRENZY Buying More Shares of This Stock
Right now, 'fat cats' are gobbling up more shares of this stock.
Fidelity Institutional Asset Management just bought an additional 2,409,495 shares, bringing their total to over $281 Million…
The Bank of New York Mellon Corp recently increased its stake by 122.36% for a total value of $51,382,000…
Citadel Advisors LLC also bought $2.6 Million worth of shares…
Capital World Investors are now the proud owners of over 11 million shares, valued at a whopping $306 Million…
And countless funds have now added hundreds of thousands, even millions, of shares for the first time ever… 
I could go on and on with all the examples: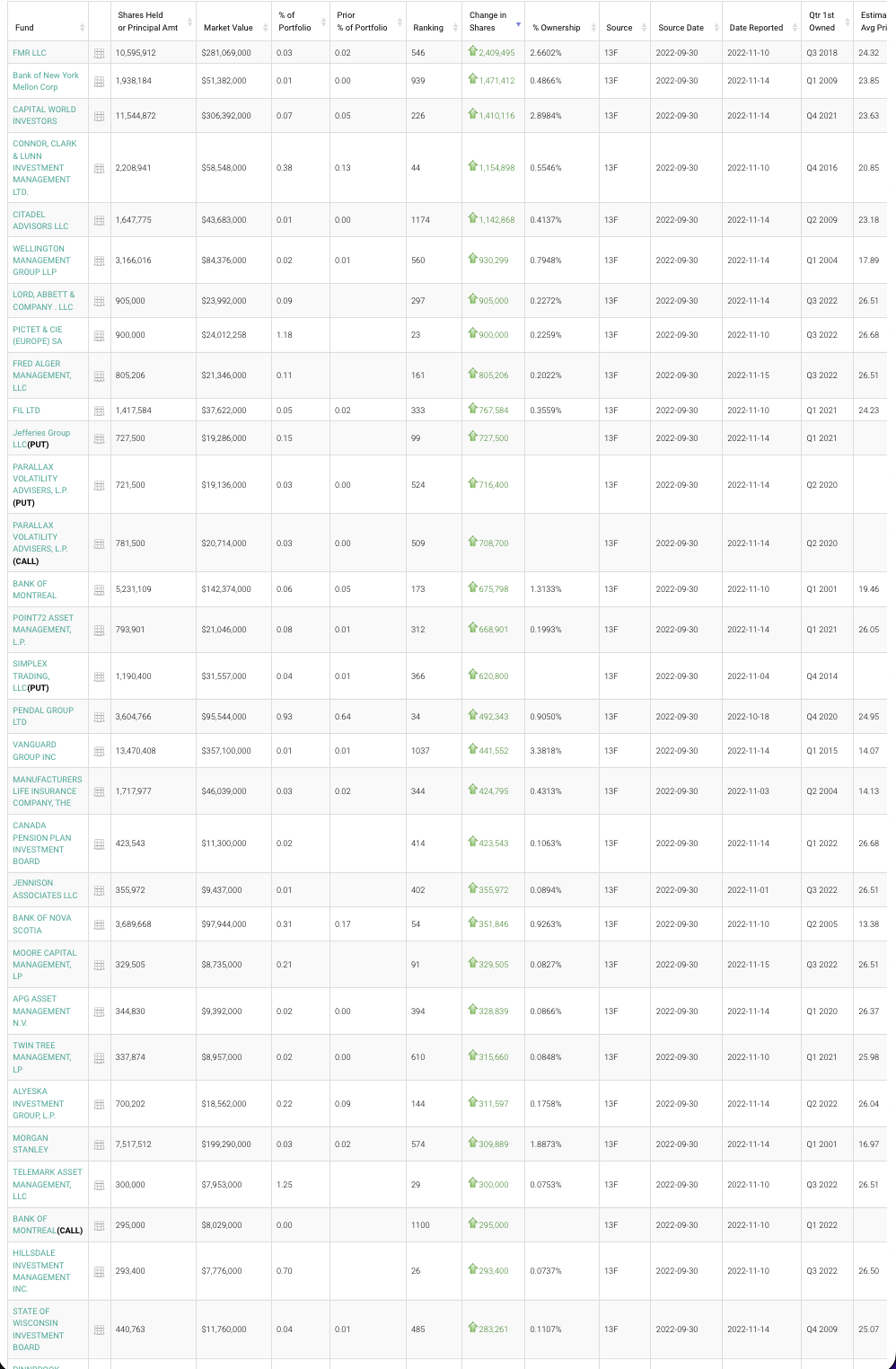 But you get the picture. 
Why are they so excited? 
Well, this "Commodity Giant" doesn't produce gold or oil…
It's the world's largest URANIUM supplier. 
In fact, there is a good chance more shares of this stock change hands on any given day than the physical asset itself!
That's why Zach's Investment Research concludes…
"…. [this stock] is in the top 20% of more than the 4,000 stocks that we rank…."
Nasdaq lists this stock as it's #1 pick for investing in uranium:
"[This stock] provides 9% of the world's uranium products. It's a great option for investing since it has long-term contracts."
And even in the midst of all this market uncertainty…
Bank of America says this stock, "could rise 30% from its current level…."
See, here's the deal with uranium:
Most investors tend to think about solar, wind, and hydrogen fuel when it comes to green energy investing…
But nuclear energy produces nearly zero emissions
In fact, the International Energy Agency admits:
"Over the past 50 years, the use of nuclear energy has reduced CO2 emissions by over 60 gigatonnes – nearly two years' worth of global energy-related emissions."
And in the era of serious concerns over climate change…
"Zero emissions" is a huge deal and nuclear energy can play a part in the solution.
That's why nuclear power is the second-largest source of low-carbon electricity today…
And why there's always going to be demand for uranium, the element that is vital to creating nuclear fission.
But I'm not bringing this up to discuss 'clean energy' or politics… 
When I see an asset like uranium experiencing a "renaissance" according to TD Ameritrade…
And hundreds of millions of dollars being thrown at it…
That signals to me an incredible investment opportunity. 
And that's why this trade is so powerful…
Right now, shares of this overlooked stock trade at a discount from their all-time highs…
You can upgrade your account then scoop up more than enough shares to trade on the cheap and enjoy this extra income…
It doesn't matter which way the stock moves…
But if the uranium market grows, all the shares you're holding will increase in value…
It's a win-win scenario!
Because uranium is popular now in this time of uncertainty…
There likely isn't a lot of downside to this trade. 
It's hard to imagine the price plunging now, especially a prolonged drop in the price…
CNBC claims Uranium is "on a tear…."

And Bloomberg reports a bright future ahead…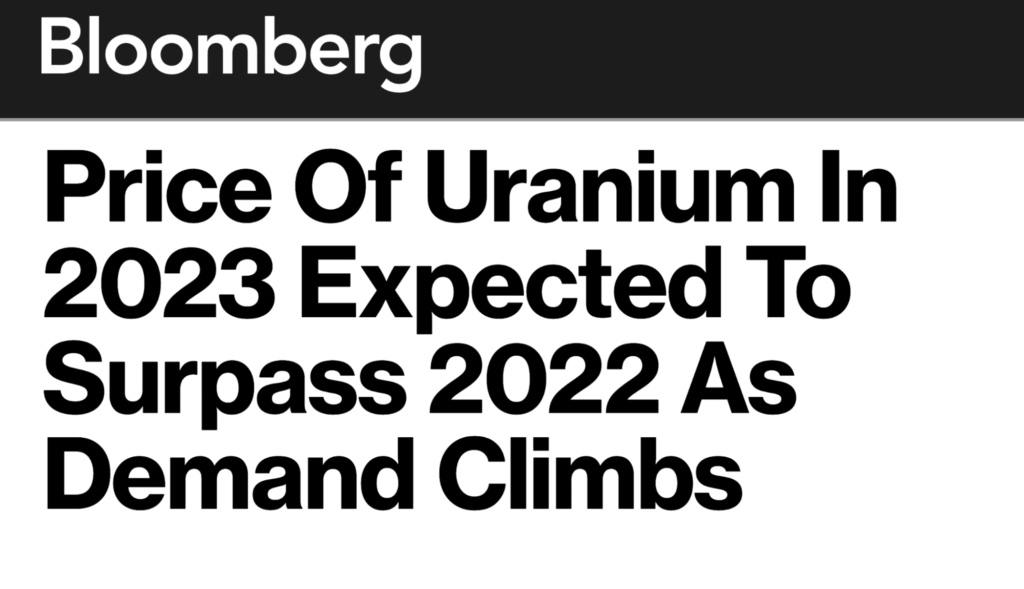 In other words…
Right now is the PERFECT opportunity to generate a solid yield and gain exposure to uranium's upside potential…
It's almost inevitable.
And with this upgrade plan…
Extra monthly income could start flowing into your pockets starting today… and anytime you need it most!
Because it's practically there already, waiting to be claimed. 
So please, listen up to what I'm about to say next.
Because this could be your ticket to more financial security. 
For yourself… your wife… your kids… and even your grandchildren. 
Most folks miss out because they don't know how to get started… 
I don't want that to be you. 
Just think…
You could soon be trading one stock monthly for safe work-free income in retirement… 
That's why I don't want you missing out…
Here's How You Can Get In Before It's Too Late
Right now there's a lot of uncertainty in the markets…
That's why your focus now should be on generating as much income as possible…
As QUICKLY as possible.
Remember that to stay safe during times like this…
You need to stick to one all-weather income plan.
Which is exactly what I've prepared for you here.
It's a trading strategy you can use no matter what's happening in the markets…
And collect up to 96X MORE income than dividends…
Plus, you can use these trades on a single stock…
You can make the same trade over and over for reliable income…
And to make sure you get in while there's still time…
I've put all the details inside a report titled The ONE Trade Retirement Plan.
Inside, you'll discover the name, ticker symbol, and the specific price I recommend you trade my #1 stock at.
PLUS much, much more.
In beginner-friendly language…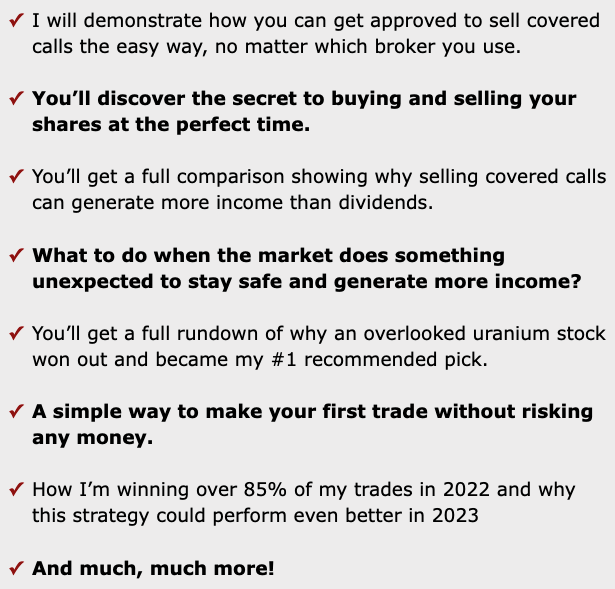 You'll be off and running faster than you expect…
With this retirement plan, you can use it to collect income on this stock as often as once per week…
Or, if you're more conservative, you can use the plan to trade just once per month for a boost in retirement income.
And with this knowledge in your back pocket…
Your worries about outliving your retirement savings could disappear forever…
You'll know how to generate income in a pinch…
And when combined with Social Security, you could have enough income to pay your bills for life.
This is why I could see this report easily worth over $199…
But you won't pay anywhere near that amount today. 
More on that in a moment.
Just imagine surprising your family with a new income stream that can keep you all safe in the future!
It's not out of the question if you start trading this stock today.
Here's what's possible with any portfolio size:
When you make these trades with a $10,000 investment…
You'd pocket $513 per month on average!
The extra cash from these trades can pay for groceries… gas… you name it. 
And if you continue to collect this cash month after month…
Here's how your income could compound…
In 1 Year… $6,156
In 3 Years… $18,468
In 5 Years… $30,780!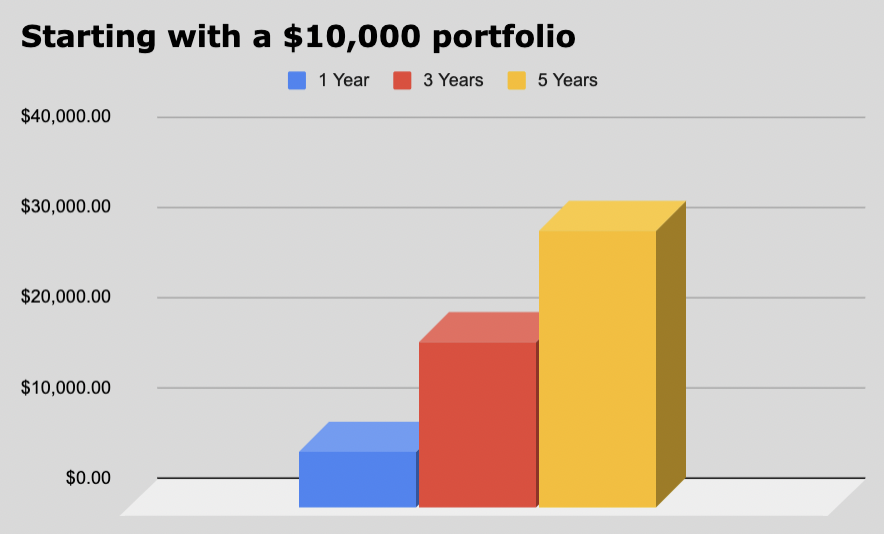 Of course, these results are not guaranteed…
It's based on my average gain percentage this year, the future won't be identical.
And it's also assuming you don't increase your starting stake…
With a $25,000 investment, for example, you could be collecting $1,282 per month.
That's plenty to fight off a rise in inflation!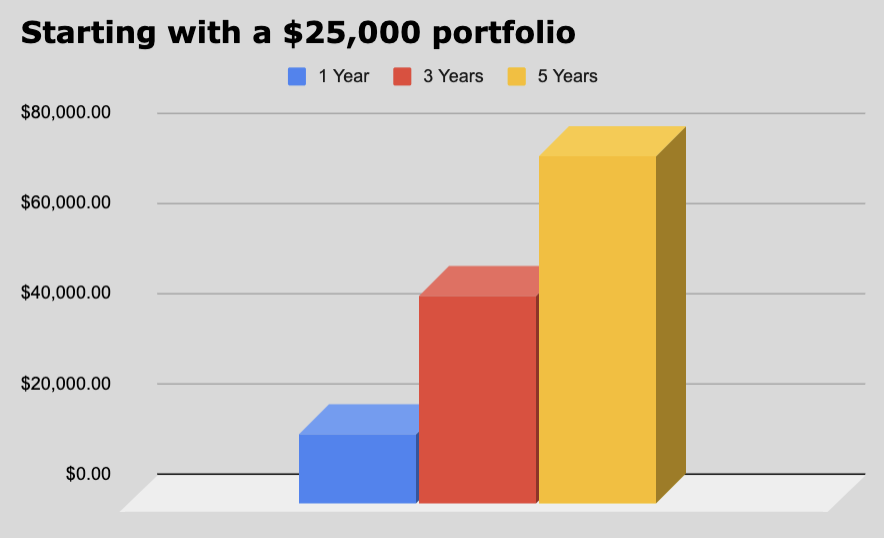 And if you're able to afford a $500,000 portfolio…
You'd potentially add an extra $150,000 after only 5 years!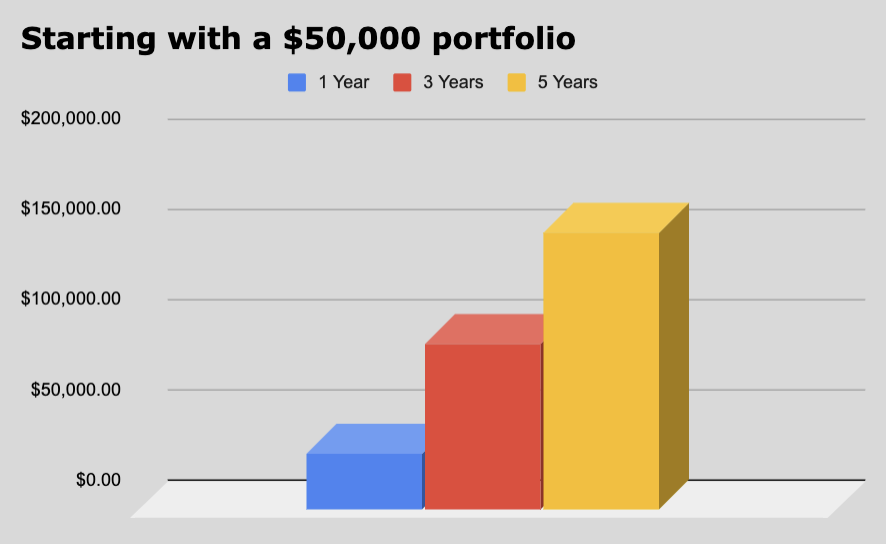 I think you see the potential here!
And again, while past results can't predict the future…
Even a fraction of these results could generate life-changing bonus income for you and your family. 
All you need is to learn how to place this one trade, and this plan could change your life.
Again, I'm prepared to give you this plan right here…
But I have even more surprises for you…
Claim Your Report Now and Start Collecting Reliable Bonus Income for Your Retirement 
As I mentioned earlier, my name is Jay Soloff.
I'm a lead portfolio manager at Investors Alley… and the chief strategist for the Options for Income Pro newsletter.
I've built my career helping thousands of people generate more income using reliable options strategies. 
In 2021 I won 45 trades and only had two losses…
That's a 95% win rate — and in 2022 we have an 85% win rate.
Plus, my readers have also seen winners like these:
VXZ = 367% 
XLY = 170% in just a few days
WMT = 178%
DISH = 109%
FAST  = 233% as the market fell
GLD = 156%
XLB = 222%
ARNC = 70%
And… 1,421% on ETFC
Not every trade works out like this…
But these winners can be life-changing.
Don't just take my word for it. 
Hear from folks like Samuel, Terry, and Mark who sent me their honest feedback and received compensation: 
"Jay is excellent. You can listen to him all day and his knowledge is second to none. He's surgical when it comes to breaking down an options trade and finding the next opportunity…."
— Samuel B.
"….I didn't even know you could generate income with options through covered calls…. I didn't know they were so lucrative and easy to do…."
— Terry S.
"…. we had all our money under management. Today, we've moved over $3.5 million into [these] recommendations…. Keep up the good work!"
— Mark T.*
And there's also Richard and Curtis:
"[This strategy] has tremendously changed my life. It has given me an additional income opportunity to add to my multiple sources of income…."
— Curtis S.
"…. I had been out of investing for many years. When i got back in, I subscribed to a variety of services, many of which were run by BS artists and hustlers…. but your philosophy of earning (and compounding) INCOME is what we need to ensure we do not outlive our money."
— Richard A.
I love getting notes like these.
That's why as part of this special one-time offer…
You'll also get 1-year access to my Options for Income Pro research and recommendations starting TODAY.
As the name suggests, this service is dedicated to showing you how to boost your income fast by trading options…
It's an incredible bundle of value…
There is now an opportunity in front of you to catapult your retirement income…
Rather than run away from this uncertain market…
You can scoop up valuable shares on the cheap and start enjoying extra cash no matter which direction this stock moves.
When you sign up for Options for Income Pro, you'll gain instant access to my special report, The ONE Trade Retirement Plan.
I've done everything possible to show you this opportunity's seriousness and urgency.
Now it's up to you to decide.
Weekly Opportunities to MULTIPLY Your Income for Only $0.13 a Day!
My goal at Options for Income Pro is to publish options trades and research that can generate reliable income fast.
And for years, I've delivered on that promise.
Readers of mine have enjoyed win rates of 84%… 87%… and 95% year after year with my strategies. 
Options for Income Pro will teach you how to trade and use this incredible income-generating strategy. 
We're positive so far in 2022 on all our trades, a lot better than the market return during the same period!
And with all the income you could soon be collecting…
It'd be fair to charge at least $999 for access to Options for Income Pro on its own. 
In fact, at that price, I'd still consider this a bargain…
Just think, you could make your first income-generating trade this month and pocket thousands depending on your starting stake.
But don't worry…
I'm NOT going to charge anywhere near $999 for access.
You won't even pay $500.
If you act now…
You can lock in a special piece of only $79 for the entire year.
That's just $0.13 a day… basically nothing.
Why such a low price?
Simply put, this retirement plan could help thousands, possibly even millions of Americans retire more comfortably…
And I don't want anyone to miss out. 
So I've made access to this research as affordable as possible. 
When you join Options for Income Pro today, you'll get 1-year access to:
3x trade ideas per week (for a total of 156x) with Q&A, economic analysis, and risk estimations:

Published every Tuesday, each O

ptions for Income Pro

issue guides you on our latest trade. You'll have three ways to play each trade, depending on your risk tolerance. The goal with aggressive trades, for example, is for net returns of around 10%, whereas a defensive play aims for safe returns closer to 5%. I provide you with the exact dates to select, breakeven points, and expected returns for all three risk levels. You'll also receive my economic analysis for each stock we trade and I answer questions from my mailbox each week. Most services don't provide this level of access and trade customization, and certainly not at this price. But  this is truly my passion to present to you which is why I love overdelivering on the value here.

Member-submitted trade reviews:

At the end of each month, I do a video deep dive on one trade submitted by a member. This is an excellent opportunity for you to check if you're on the right path with your own research. In fact, these trades are some of our best performers!

The ONE Trade Retirement Plan (report):

Included is the ticker symbol of my #1 covered calls stock. It's a uranium stock that's delivering steady income. You'll also find complete instructions on how to claim the "Income Accelerater Account" upgrade from your broker.

Monthly live sessions with special guests:

Join me and a special guest live on Zoom every month to talk options trading, the economy, and more. I've spoken with Sean Ryan from Predicting Alpha, Jay Hatfield from Infrastructure Capital Management (ICAP,) and our most recent guest is U.S. Army Vet and 2019 Investing Champion (Options Dividsion), Travis Wilkerson, a.k.a Trader Travis.

Access to the Options for Income Pro online portal:

A simple login link will be sent to your email immediately after you join.

12-month money back policy: You're covered for 365 days to be 100% satisfied with my service. Else, you receive every penny back.

Plus more…
You'll Also Receive Two
*NEW BONUSES*
New Bonus No.1: 2 "Recession-Proof" Stocks to Trade ASAP ($99 value)
These two stocks can accelerate your income even faster by throwing off more trading opportunities…
… no matter what's happening in the markets!
Inside you'll discover…
The Perfect Pick and Shovel Gold Stock:

I recommend you pair this pick with the uranium stock I showed you earlier. Together, these two "Commodity Kings" can hand you safe and reliable extra cash for years to come.

A Dark Horse Retail Giant:

We're a perfect 4 for 4 trading this Columbus retailer so far this year, and expect more trades soon. As an added bonus, right now, the premiums on this overlooked giant are robust to collect instant income.
In this special report, I'll reveal the names and ticker symbols of these explosive stocks…
And you'll be able to turbocharge your income.
You'll also receive…
New Bonus No. 2: Complete A-To-Z Video Training Series ($299 value)
If you're used to traditional buy and hold strategies…
I know selling covered calls may not be what you're used to…
Or options trading in general, for that matter.
That's why I've put together a complete video guide revealing all I know of trading options for income…
And this video training is included as part of this special offer.
These videos come bite-sized for easy viewing…
And you'll learn…
An income-generating play that allows you to purchase stock below the current market price.


The basics of buying calls and puts, including how to navigate the order menu with ease.

How to maximize your returns while reducing risk.

The easiest trade to place when you're unsure which direction a stock will go.

A long-term plan to set up a "cash flow machine" using the options wheel strategy

And much, much more!
You won't find these videos anywhere else.
They're not on YouTube, nor do I share them with my thousands of Twitter followers. 
But I'm including this video training with your risk-free trial.
Again, these bonuses are yours when you agree to try Options for Income Pro…
And of course, you'll also receive my premier report, The ONE Trade Retirement Plan.
But you're running out of time… wait any longer, and you could miss your best opportunity to start collecting this extra cash.
Here's Everything You'll Receive When You Join Today…
One full year of Options for Income Pro. (Value: $999)
Start your journey to earning a consistent income by trading options. Options for Income Pro will teach you how to trade and use multiple income-generating strategies. 
This service is for you if you want to create a secure retirement by adding an additional income stream(s).  
Every month you'll receive educational content, a subscriber trade review, opinions from experts, and more… 
And you'll get THREE trade ideas every week, one standard, one aggressive, and one conservative. 
Special Report: The ONE Trade Retirement Plan (Value: $199)
Special Report: 2 "Recession-Proof" Stocks to Trade ASAP (Value: $99)
Complete A-to-Z Video Training Series. (Value: $299)
This is a total value of nearly $1,600.
But today, you can get access to everything for just $49. 
That's over 96% savings!
Plus, you also get my…
12-Month Moneyback Policy
Give me 12 months to prove to you that Options for Income Pro can change your financial future. 
You can try everything that's included…
Start using The ONE Trade Retirement Plan…
Participate in the subscriber trade reviews…
And if it's not what you expected…
You have a full 12 months to request a prompt, hassle-free 100% refund of your subscription fee. 
That sounds fair, right?
The only way I make money is if I deliver on everything I've promised you today…
If not, then you get the money you paid back. 
And it's not too late to join before my next trade…
Imagine collecting hundreds or even thousands in extra cash on your very first trade… and more in the months to come…
Using ONE trade that delivered a 95% win rate last year…
Simply because you tried Options for Income Pro risk-free today.