Who knew when you crawled out of bed today you'd be creating a brand-new monthly income stream out of thin air. 
You've done that. 
Right now when you requested my free calendar.
And it'll only take you 30 seconds to set up.
From now on…
Every month…
You'll receive an extra special envelope in the mail. 
I want you to happily open your front door…
Skip on down to your mailbox and tear open the crisp white envelope you'll find inside.
Not from me…
The envelope will be from one of the three companies I'll show you below. 
Because by requesting my free Monthly Dividend Paycheck Calendar, you've officially set yourself up to receive at least 1x check per month. 
Congratulations!
#1. Buy all 3 of the stocks right now…that'll take 30 seconds
#2. Collect monthly income 1X per month
#3. That's it.
That check peeking out among the junk mail is yours to keep. 
Yours to spend on whatever you need right now. 
More importantly, count on that check to hit your mailbox every month. Rain or shine. Recession or no recession. 
The next one is going out soon so pay attention. 
If you're excited about that… then if you have just a few more minutes, I'll show you how to receive even more checks.
I'm talking about cashing an extra 4-5 checks starting next month.
Of course, if you're lazy like me…you'll have your cash automatically deposited into your checking account. 
Either way…because of collecting monthly dividends like this… some people I know are seeing their income surge quickly…and it's changing their life. 
Leo M. says

"I've been able to withdraw an average of $5,500 per month." 
That's an average of $132,000 in straight income all within 24 months. 
Lori B. says

"[Tim's] recommendations have taken my portfolio from $20,000 in annual payouts to about $50,000."

 
That's $100,000 cash in 24 months. 
Imagine that hitting your account with little effort.
Mike told me:

"This month, I raked in over $4,000 in [income]!"

Jack G. says

"I have increased my…income 100%…from $23,000 to $49,000." 
I've shown over 19,356 people how to do this already.
These folks aren't rich…they didn't sell their company for millions…
They aren't doing any complicated trading…
They aren't spending hours per day studying financial report after financial report…
All they're doing is following the income advice I'll show you today. 
With my free calendar, you'll know…down to the day…when the next check will hit your account. 
You buy the stock by this date: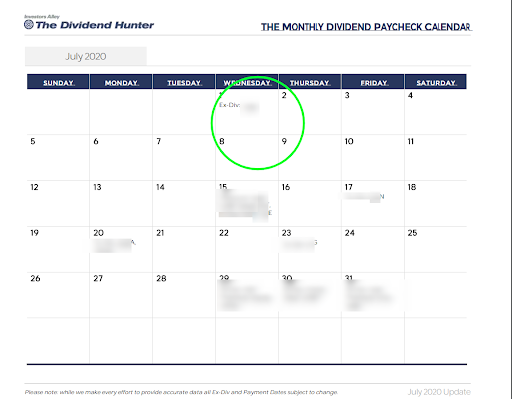 Then collect your dividend on this date: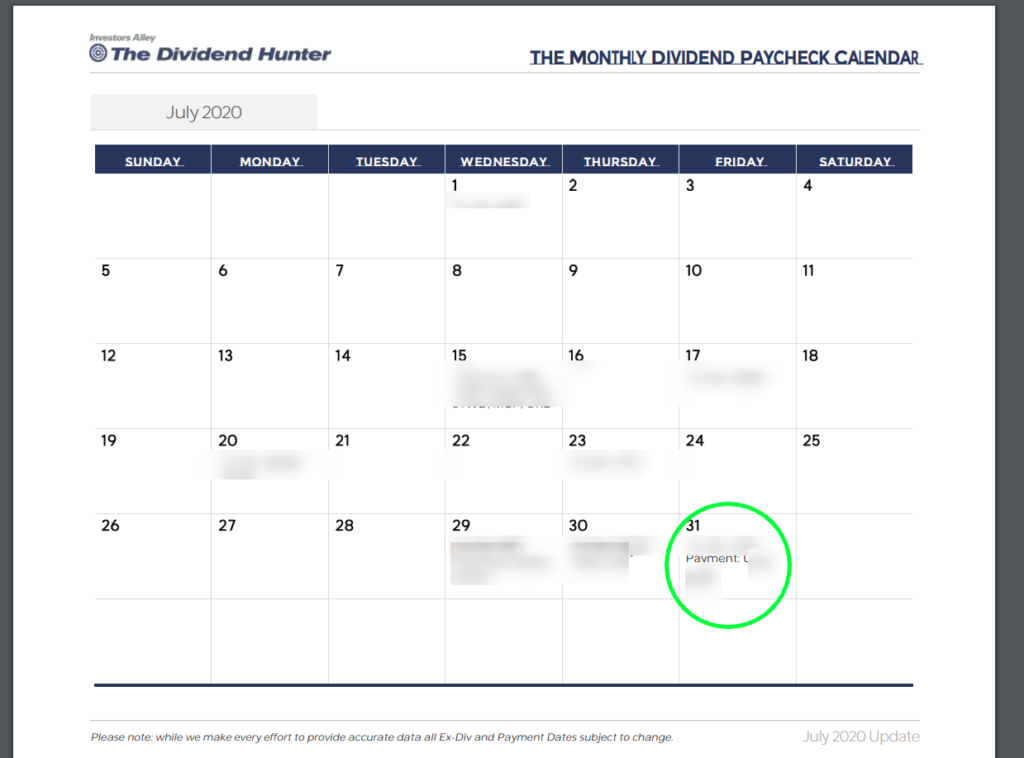 That's it. 
It's your very own paycheck. 
Now, in this instance, on the 31st, you'll know, "Hey, tomorrow I'm getting dividends in my account. We can pay the electric bill and gas bill easily…and we'll have some leftover we can go take that weekend trip we talked about." 
After today, you'll be repeating that to your spouse so much, they'll be thinking you picked up a night job.
You'll be like an income superhero to them.
Because you're not spending any time away from your house to earn more…there's no extra time in front of the computer…or feeling drained after a long day at the office.
It's a security and simple luxury that seems gone nowadays. 
Because retirement isn't what it used to be. 
Social Security checks can't keep up with inflation…
Pensions are long dried up…
Annuities sound like a scam…
Reverse mortgages are definitely a scam…
I've tried it all.
I've been through it. 
But the secret to collecting monthly checks that I'll share today all comes back to 7 years ago when I first developed this calendar. 
This calendar was sparked by two ground-breaking events in my life.
First, when I went broke overseas. (You'll hear that embarrassing story today). 
Plus, like many Americans, the Great Recession completely decimated many of my friends and family. They were left with pennies of income to live on.
The problem is they followed…and it is still followed to this day…a huge, huge, HUGE mistake that could cause you to go broke in as little as 4 years. 
4 years isn't that far off…that's a trip through high school again…so if you take anything from the stuff I'll share today…at least save yourself from going broke.
It's a mistake still touted by overpriced financial advisors and wealth managers.
Actually…I'll be honest and claim this widely spread mistake is set to cripple millions of retirement accounts in the coming year or two. Maybe even yourself, unless you heed my warning.
Before I reveal that deadly mistake, let's go through what I already gave you. 
This calendar. 
I'd like to congratulate you on taking this big step. 
This free Monthly Dividend Paycheck Calendar is not available anywhere except on this page.
I've spent over 7 years perfecting it…and now it's yours.
With this specific one you received, you'll start receiving 1x check per month. 
You'll do that by buying 3 Dividend Aristocrats. 
Genuine Parts Company (GPC)
Simply buy shares of each of these stocks…and you will start receiving a check every single month. 
That's because each stock pays quarterly, but they payout on alternating months four times per year.
For example, GPC pays out January, April, July and October. 
The other two fill in the other months.
Pretty neat, right?
Like I said, maybe without knowing it this morning, you've created a new monthly income stream for yourself.
Maybe you have a job, Social Security…whatever helping you pay your bills. 
Here's your new income stream to add to your arsenal…and I've shown it to you for free. 
And these stocks are strong.
I've already vetted these three stocks using my three criteria. They're good stocks. One of them — GPC — has paid their dividends for 63 straight years. That's as solid as they get. 
Enjoy receiving a monthly check like clockwork. 
However, I have more to give you. 
What if I showed you how to collect 4-5X checks per month on top of what you got now?
That's more cash…more income…more checks to cash. 
You'll be getting some regular exercise hustling out to your mailbox more than once per week. 
The way to start collecting these additional 4-5X checks per month is with more opportunities I'll show you today. 
I'd argue they're even better opportunities.
Opportunities that pay way more than 2-4% than most Dividend Aristocrats pay…
It's not Coca-Cola or AT&T…
These opportunities aren't talked about much on TV…
Yet, they're some of the most powerful income machines on the planet. 
Being able to collect more checks at a pace of 4-5X per month opens so many doors for you.
More money to travel…buy a bigger, better house…
For me, I love buying the newest Toyota Tacomas. I'm regularly taking down a bigger, better version with a fistful of checks I'm collecting every month. 
However…let me step back for a second. 
Collecting 4-5X checks per month is incredible. You feel rich receiving money without any sweat on your forehead, or stress in your chest from a job.
Still, I'm not promising you'll get rich.
I'm not promising this is all going to happen to you overnight. 
But here is what I promise you. 
What you're about to see will turn dividend investing completely on its head. 
You'll never look at dividend stocks the same again. 
Whether you believe it or not… living off dividends works again and again. 
John claims dividends cover "112%" of his lifestyle. That covers his bills and then some.

Steve captures "$3,000 per month".  He loves it because "I have the flexibility to stay or leave my job at a moment's notice." 

Kristi and Bryce told the

New York Times

that the 2020 coronavirus crash wiped out 6-figures of their wealth in one day. But…these 30-somethings who quit their job in 2015…are able to survive thanks to dividends that can "cover their expenses." Dividends saved them their early retirement
That's why I ask…
What if you could rapidly increase your income…into the thousands each month…while doing very little different?
You still buy those 3 stocks I showed you earlier. 
But then also buy the other 23 opportunities I'll show you that allow you to collect 4-5X more checks per month. 
You don't have to day trade those or anything. 
Just buy them like any stock. It takes 5 minutes a day, nothing more.
No complicated strategies. No digging through boring SEC filings. No reading any stock charts.
In the next few minutes, I'll reveal how to start collecting these 4-5X checks each month on top of the 1X check you'll receive with your free calendar. 
You'll also discover the crippling rule being touted by all financial managers that'll leave you broke…
First, let me share how I stumbled on this calendar after going broke…
My name is Tim Plaehn.
My first years in the market were spent as both a stockbroker and time as a financial advisor. 
It's this second job that opened my eyes initially to the problems most retirees face in America. 
Am I going to run out of money? 
Will I have to move in with my kids? 
Who will take care of my bills if I end up in a home?
I was confronted with these questions time and again…and I realized no matter how much my clients saved…could be $500,000 could be $5 million, these worries lingered. 
Which told me it wasn't about the money. Money is just the resource we use to enjoy retirement. 
The #1 thing you need to enjoy retirement isn't a mansion or a vacation house in Florida. 
It's having cash. 
Cash coming into your bank account every single month like clockwork. 
I discovered this principle when I moved to Uruguay a while back. 
There, my plan was to enjoy life, start a little business to earn enough money to pay the bills and live the rest of my time enjoying the food and wine.
While there, I would enjoy late-night dinners and drinks with new friends.
One man stood out. 
To this man, money was no object. He spent what he wanted. His clothes were from a European fashion magazine. He bought houses on the coasts in cold hard cash. 
He invested like a mogul…
One evening, I mustered up the courage to ask him, "Why are you still doing all this? You have more money than 99% of people in the world, why don't you just retire on what you have?" 
He sipped his whiskey and leaned back. 
"Tim, cash is king." 
"You have cash", I responded sarcastically. 
"I need cash flow" he shot back. 
Think about that. Acquiring assets that pay you cash month after month. 
I didn't understand this principle at the time. 
But now I get it.
You need assets producing more income coming in then what you spend.
If you don't, you're broke. Plain and simple.
My friend had an expensive taste…he needed assets to pay those expensive bills. 
Consider the alternative trap that I followed…
I spent my time in Uruguay working to make a buck. Didn't matter how hard I worked this month…next month I would need to work more to cover the bills.. If I wasn't working…I made $0. 
Not surprisingly, this went on to the point when I opened my bank account one day to an overdrawn balance. 
Not surprisingly, it was a tough time. Again, very embarrassing to pack my bags with nothing to show for it…I used to be a captain in the Air Force, mind you.
But, I picked up and moved back to the States to start again. 
Still, I didn't connect the dots of —> if your income can exceed your expenses you're free. And that's possible with enough assets producing enough income.
That was until 2008 hit. 
The following events were a turning point for me. The point where my eyes fully opened.
Where this Monthly Dividend Paycheck Calendar was first born in my head. 
See, in 2008, I had a family…even my own parents…who were hit hard by the financial crisis. Imagine baseball bat-to-the-head hard. Their finances were completely wiped out.
No longer did they think 'oh, I need to keep saving for retirement.'
After all, those savings had just crashed in value.
That was the last thing occupying their mind.
Instead, they worried "do I have enough money to just pay the bills this month." 
Guess what they did to pay bills? 
They dipped into their savings that took years of sacrificing to build up, or, WORSE 

They sold their stocks and hard assets to raise cash – just when those stocks were worth the least
Any income they earned was from low-yield bonds or 2-4% yield stocks. 
Nothing worked. 
Let me ask you this?
Isn't that the same story today…a decade later?
Savings accounts pay pitiful 0.05% interest rates…
Bonds pay 1-2%…
CDs…the same…maybe 2%
Most stocks only shell out 2-4%. 
Meanwhile…
Pensions are dried up. 
Social Security barely covers any of the bills. 
But it doesn't have to be this way. 
If you're collecting 4-5X checks per month free from a boss…free from being at the government's whim…suddenly that's income you have control of. 
Using my calendar, you know when cash will hit and can budget accordingly.
In August 2020, for example, we had checks arriving on all these dates: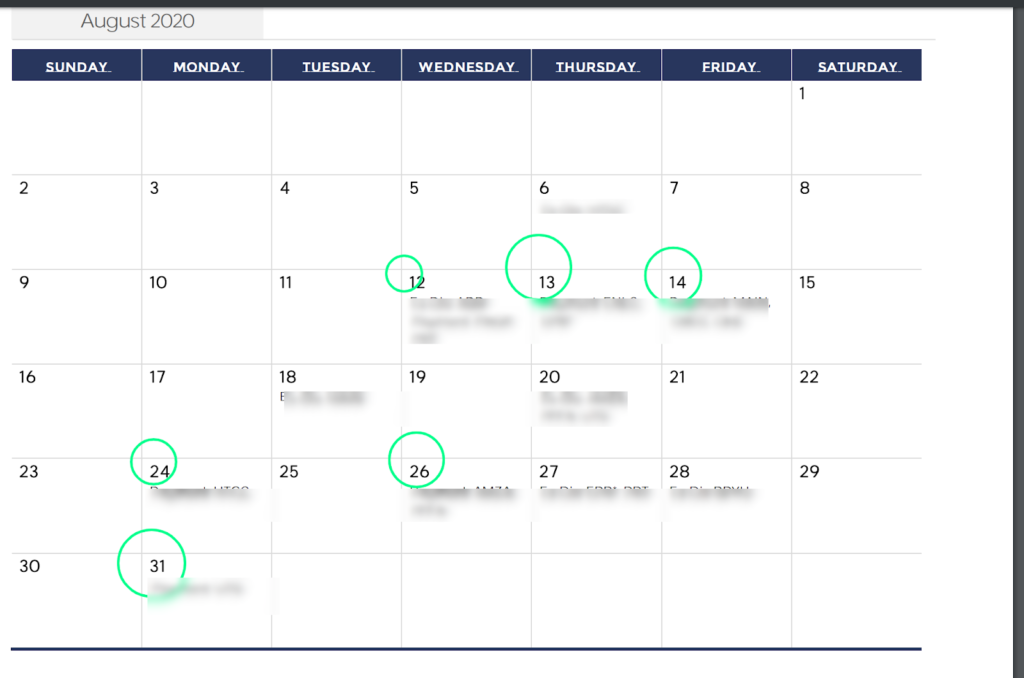 Count them. 1, 2, 3, 4, 5, 6. 
6X checks!
The following month, there are four more checks to be collected…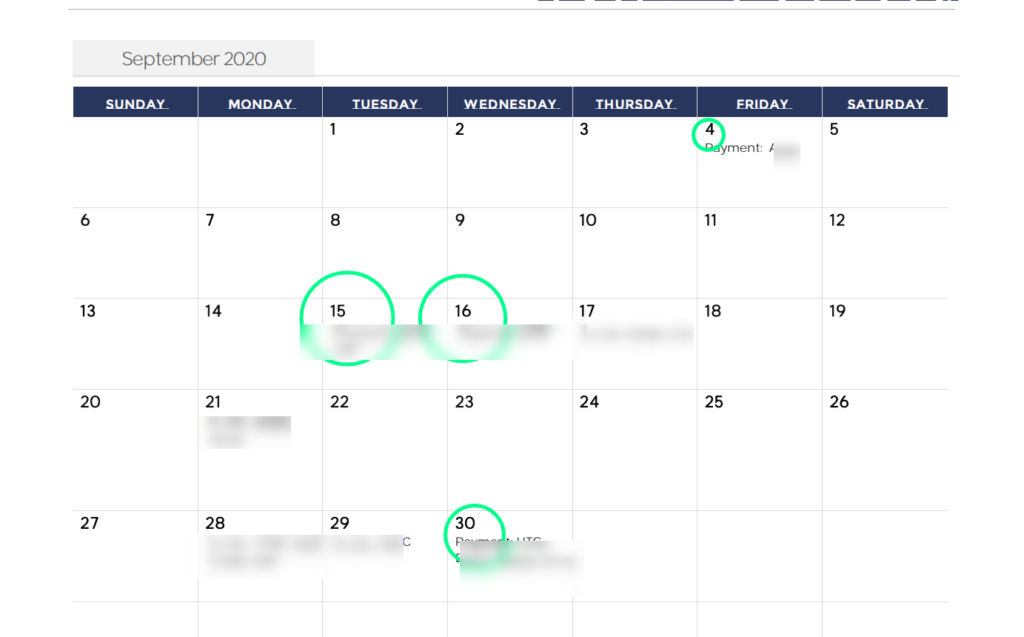 Much like a paycheck. Except you don't do any work for it. 
Buy the stocks, that's it. 
I've given you 3 today. I have 23 more opportunities to show you.
Even better…
Opportunities will pay you even more than the 3 stocks you already saw. 
Here's the point…there's still a way for you to 'win' monthly income in retirement.
Thousands of others have prospered.
Since these tough times, I've helped over 19,356 people just like you learn how to live off their dividends. 
Tom and Gayle H. praised the income they get:
"…I have had great success investing my retirement nest egg… My wife and I are living off of the [income] payments and have seen a total portfolio return of 23% over the past year.
We have been so successful that we now have some "extra" money to put to work…
So a big thank you from two very grateful subscribers."
— Tom and Gayle H., husband and wife
Steve L. wrote me saying:
"I have been following your advice…I am seeing my [income] stream grow. I just might be able to retire before 65."
Gary F. says:
"I have invested just under $100k and my return percentage is higher than my financial agent can manage. Go figure."
Jerry M. had some inspiring words:
"You have completely changed how I think about investments…"
Here's Ross giving my program 5-stars:
"I am doing much BETTER than I ever did on my own or with ANY OTHER program!"
—Ross H.
Brad B. wrote in excited:
"Thanks for what you do, my account balance hasn't looked this good ever, and I've only been on board a few months.".
My work has helped so many people.
Back in 2008…
People I knew were selling off their assets to stay afloat. Could be their stocks, bonds, rental properties…all being liquidated at fire sale prices.
They ended up with little at the end…no assets…income all spent.
Maybe you aren't panic selling like they had to…but — without knowing — I bet you're doing something similar.
Let me explain…
This is one of the most important things you'll hear about retirement income.
Because it'll drastically change how you think about creating monthly income in retirement. 
As a financial advisor, I started around the early 90's. 
Around that same time, in 1994, a certain idea became popular that became the calling card of 'retirement experts.'
It's called the 4% rule. 
If you've ever talked to a financial advisor, you'll hear this phrase ad nauseum. 
The idea being, if you save up money…you can withdraw 4% safely each year and be able to retire. 
The hope is that money grows at an 8% rate or more. 
"Because the market always goes up!".
Call me negative…but here's breaking news, 8% is not happening.
Here's what the average investor is doing.
Say you have $250,000 saved up. You want to pull out $2,500 per month to live on comfortably. 
Social Security pitches in another $1,341 as that's the average…giving you close to $4,000 per month.
Leading up to retirement, you invested in big-name blue chips… Microsoft, McDonald's, Disney.
Over 20 years, you saw these stocks skyrocket.
Thus, in retirement, you want to be prudent and figure you might as well invest more in blue chips.
You feel confident you can pull your money out consistently as the stocks will keep going up.
Except, we all know the market never goes up forever. At some point, stocks will crash. 
Look at Disney stock. In 2000, when the dotcom bubble burst, Disney shed over 66% the following 24 months. Or, in 2008, it lost 50.84% from August to April 2009. 
In 2020, it lost nearly 40% in a month.
If you tried to still take out your $2,500 per month — based off the 4% rule — when stocks cratered, you'd be broke in 4 years.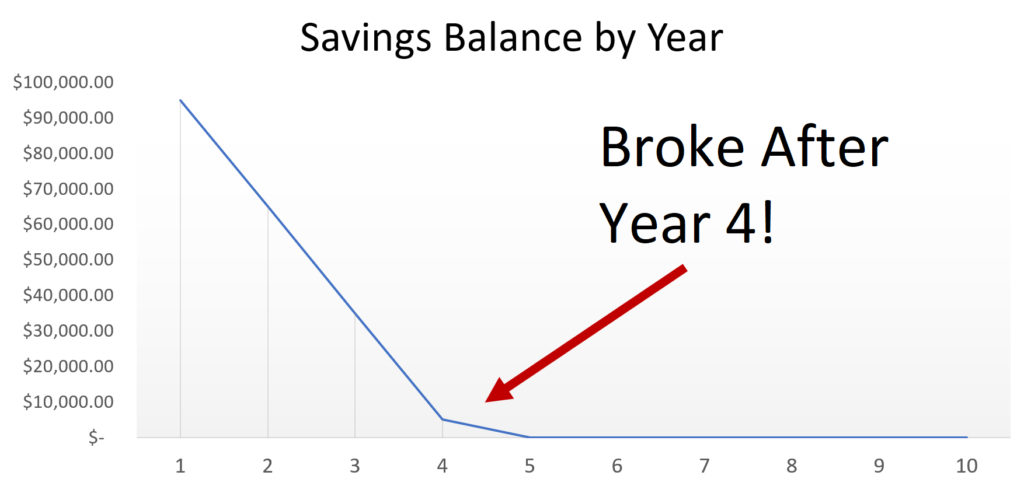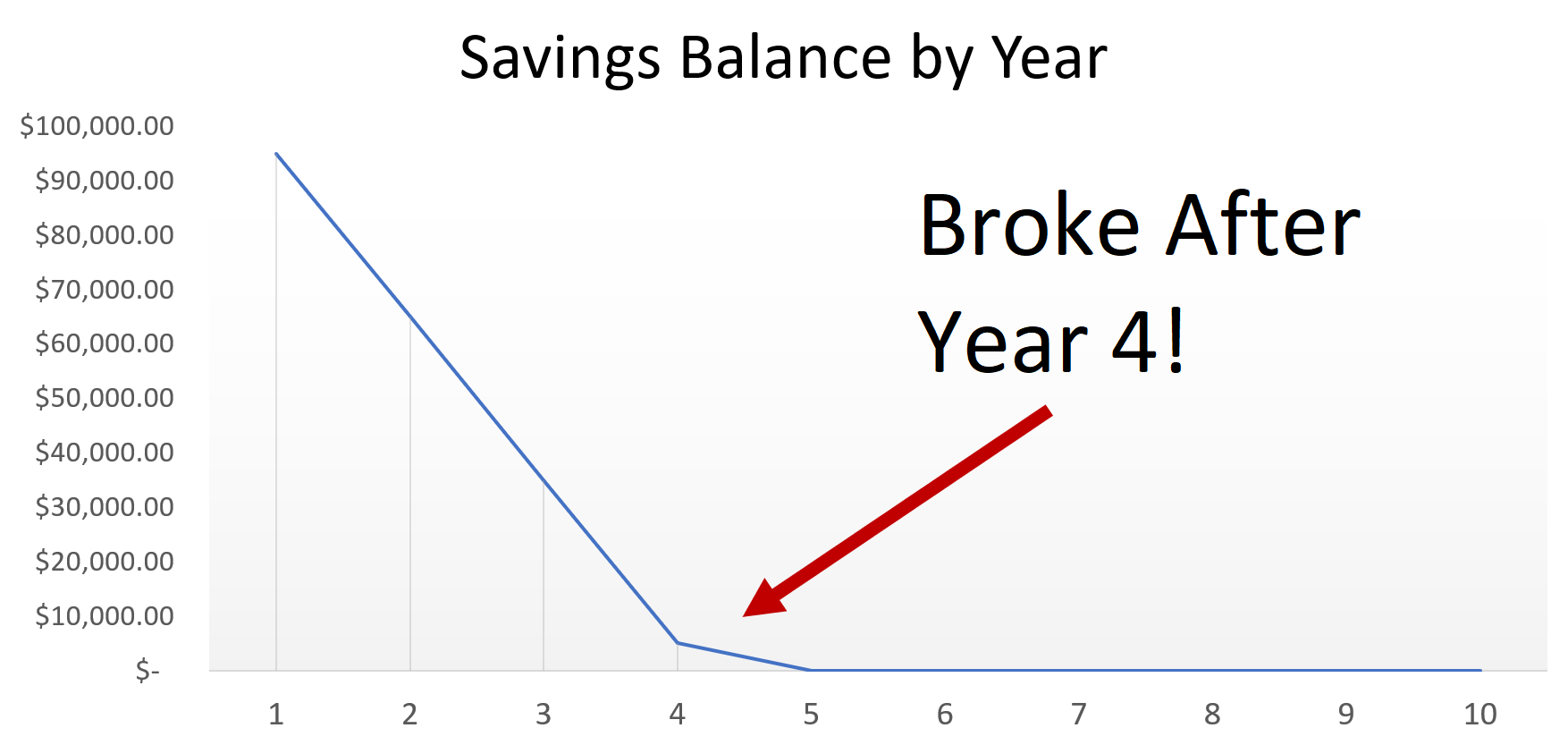 Even as you were withdrawing your money, your account would be shrinking. Without any cash coming in, you'd be out of money. 
And it gets even worse. 
Charles Schwab released research in 2020 claiming returns won't hit their historical averages. 

Bloomberg believes 5% returns will be "slim." No 8% returns here.
Vanguard told CNBC they also see a "5%" return expected annually over the next decade. 

Not very encouraging if you expect to retire on your IRA balance + capital gains.
It's downright scary actually.
If you have $250,000 now, at 5% growth, but withdrawing your $2,500 per month to use for bills…
You're out of money in 10 years.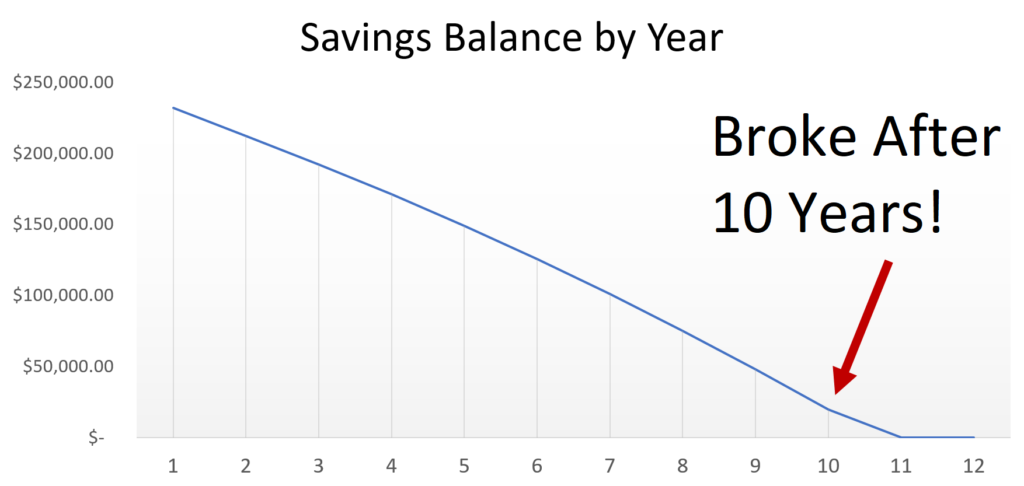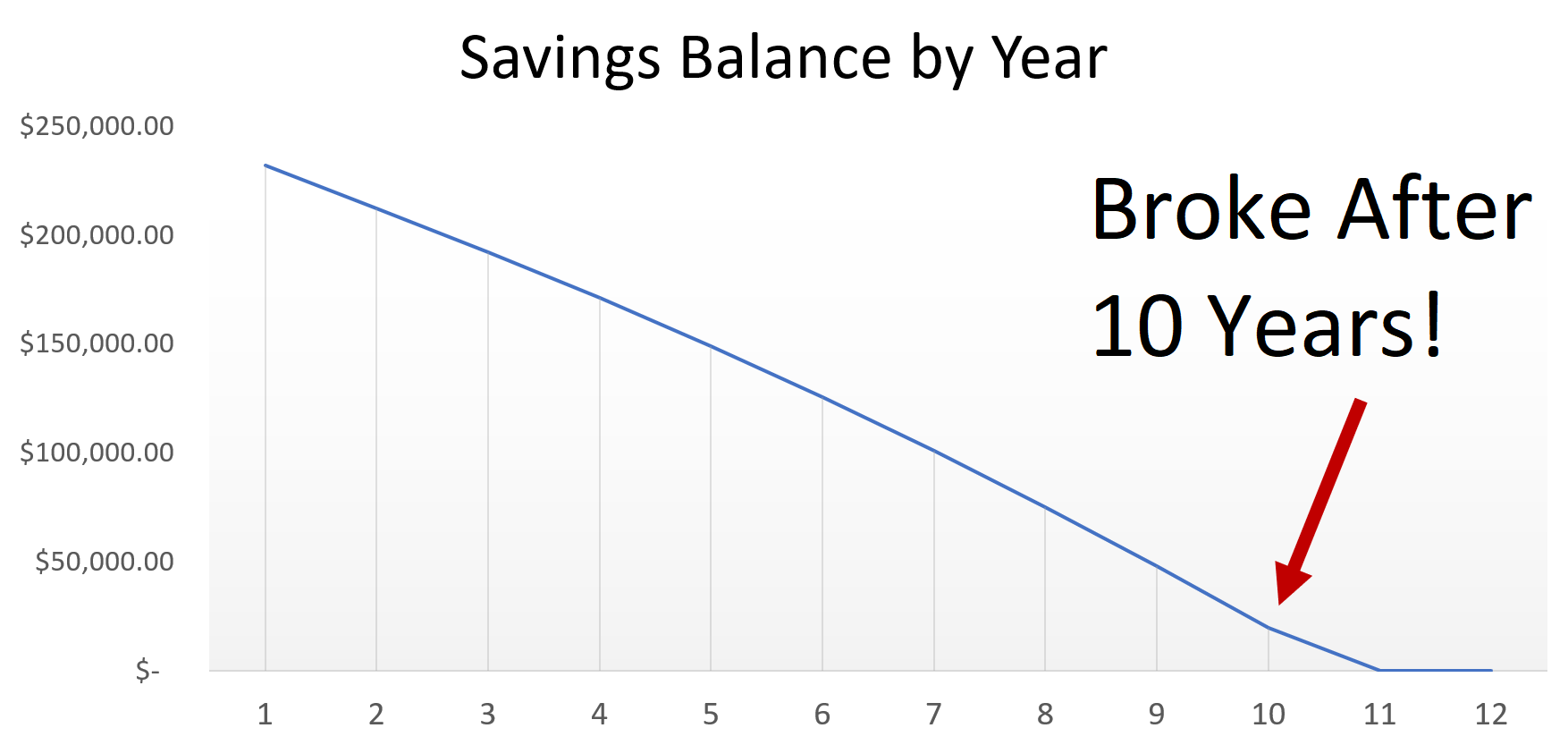 Have $150,000?
Out of money in 5 years.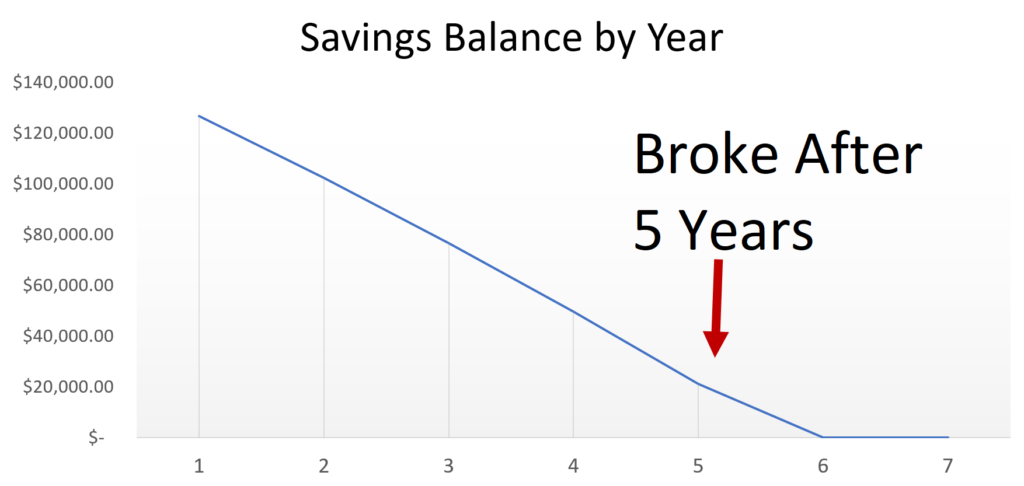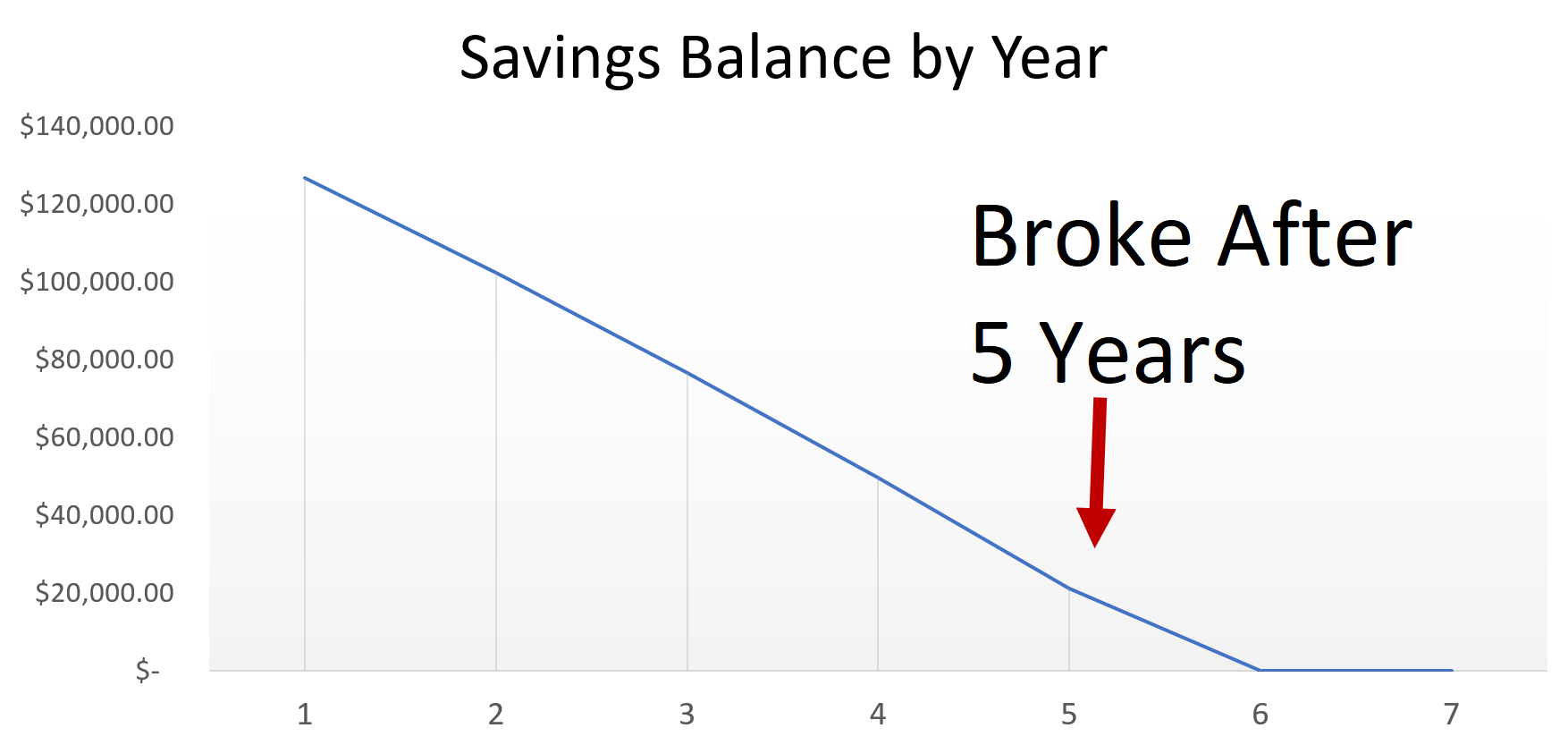 $100,000?
Broke in the middle of Year 3: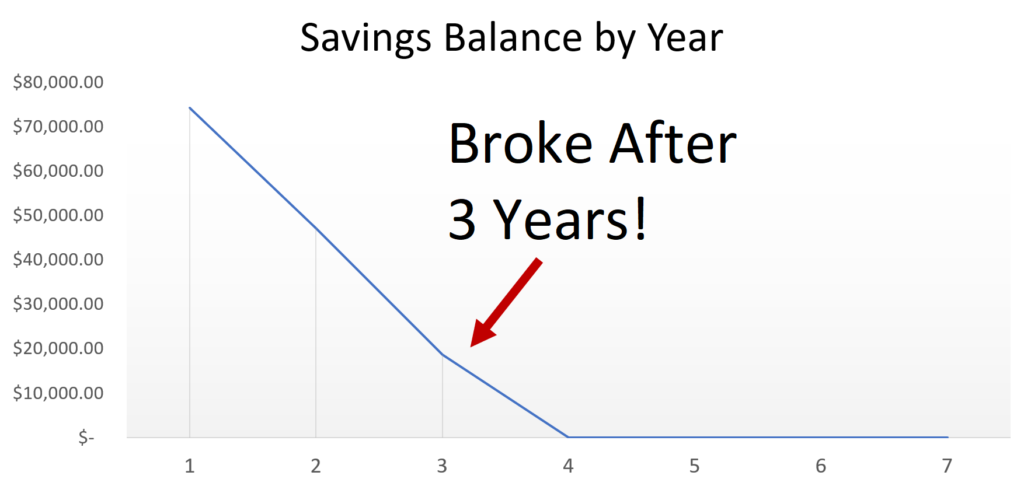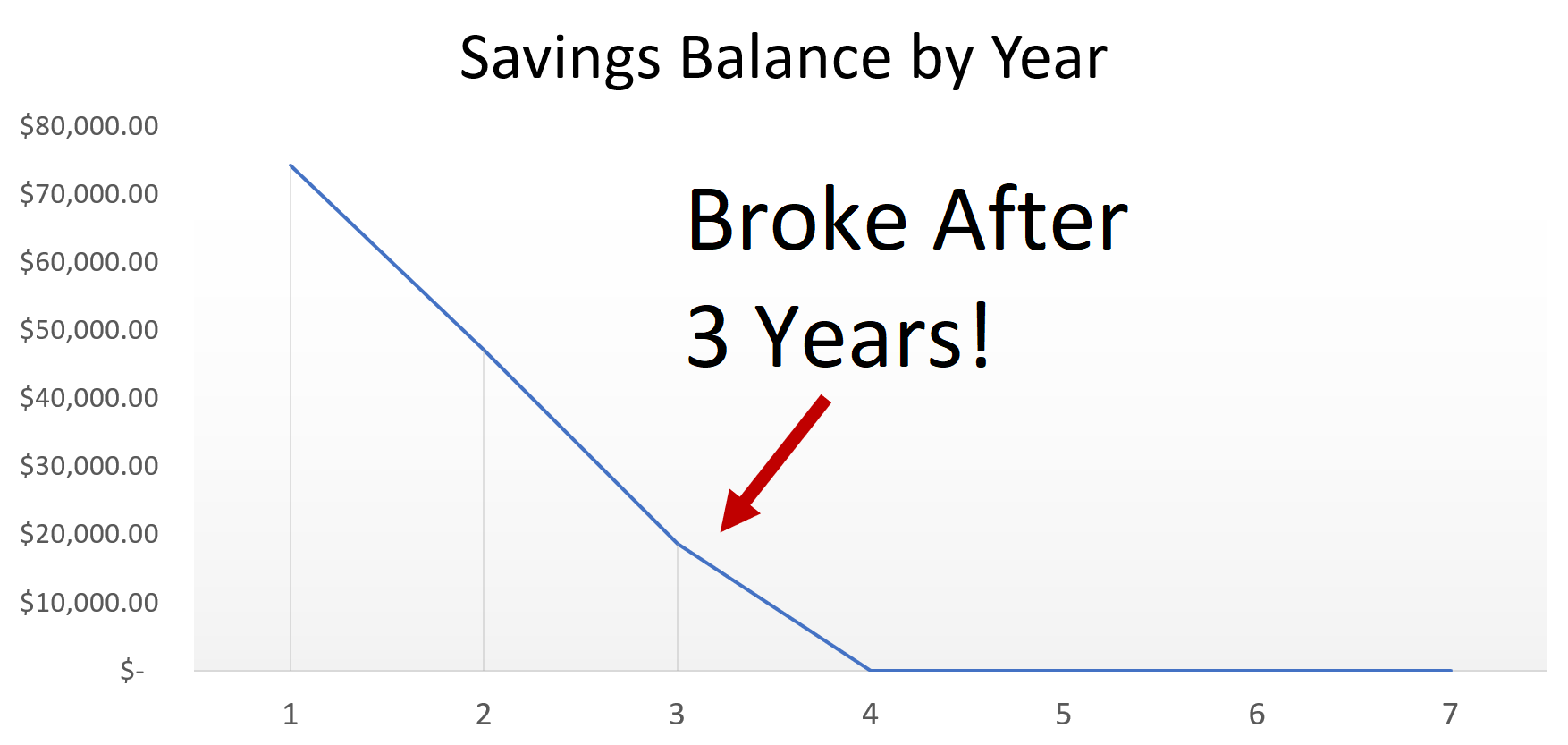 You may say…
"Tim the stock market only goes up!"
Oh…how we forget the past so soon. 
Remember the decade of no returns?  
This wasn't 100 years ago…This happened from 2000-2013. You'd be pulling money out while the market goes nowhere.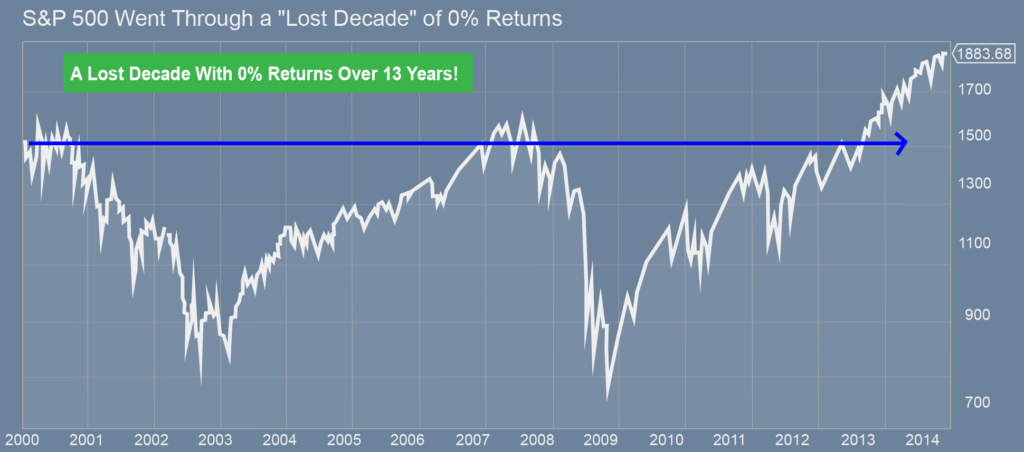 In 13 years you would've made $0. 
Yet, you'd be pulling out 4-5% to live on. 
It's a disaster.
Meaning…at some point, leaning on capital gains is the surefire way to get blindsided.
Would you take out 4% during the 2008 crash? 
"Of course I wouldn't, Tim!" you say.
But you need to sell assets to live. 
So then you're forced to sell them at fire-sale prices. Just like my friends and family were when the Great Recession train wrecked their portfolio.
It's flawed economic thinking passed down from a time 30 years ago that was much different. 
Like cavemen telling us to use fire instead of light bulbs.
That's why you've ended up on this page. 
Maybe it took until this moment…but I hope you've realized the old way to enjoy retirement is long gone.
I do what I do to help people like you avoid the traps ahead…and instead set you up for a better future.
So you're on the right page.
And I'm about to show you how to start collecting 4-5X more checks using my calendar are the missing ingredient to an enjoyable, happy, comfortable retirement. 
Rather than selling off assets…you're keeping your assets, but enjoying checks flooding into your account every month like clockwork. 
But going from one check to 4-5 per month takes going beyond what you're doing now. 
For it to make a dent and change your life…you'll need to look at income assets you may not have touched before. 
They aren't much different than the Dividend Aristocrats…those stocks that pay 2-4% consistently every year for decades. 
Instead, I look at stocks paying 8%, 10%…one stock I recommended last year was paying 18% yields.
These stocks are called high-yield dividend stocks. 
You've probably looked at them and wondered what's the catch…why isn't everyone collecting 10%, 18% yields rather than investing in Verizon and collecting 3%. 
It's because:
One…the media rarely cover them. 
Two…they're boring. 
Three…most people have zero clue how to identify the very best high-yield stocks to play. 
Right now, if you invest in Verizon…for example…
You'll collect 2-4% over the entire year. 
So if you have $100,000, that's $2,000 per year…or $166 per month. 
Not much…
That barely covers a week or two of groceries. 
Well, the high-yield dividend stocks I'll show you allow you to collect tens of thousands of dollars per year. 
One opportunity from my own portfolio would've turned an annual income of $3,973 into an $11,845 annual income stream. I can't share the name out of respect for my current readers. That's an extra $987 per month in your pocket.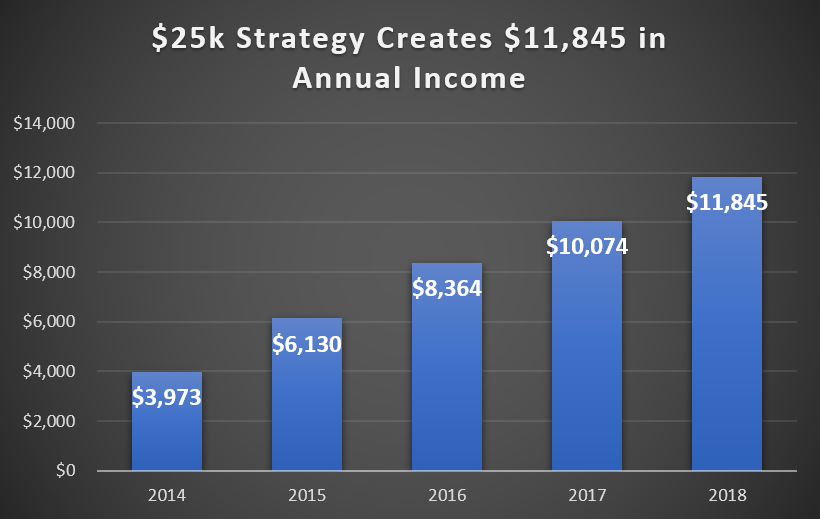 Another opportunity from my portfolio is on pace to turn $6,227 into an annual income of $11,733. I see it generating even more than that in the next 12 months.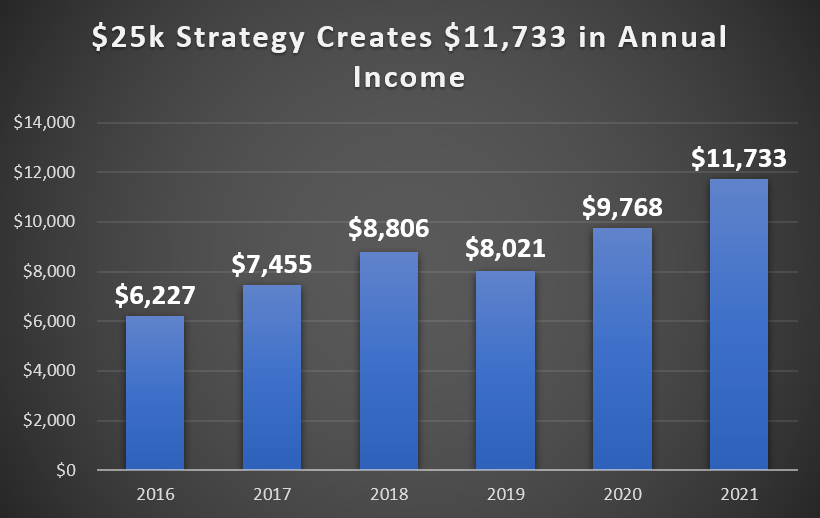 A third is on pace to turn a meager $2,884 income into an annual income of $11,414. That's a 5X increase.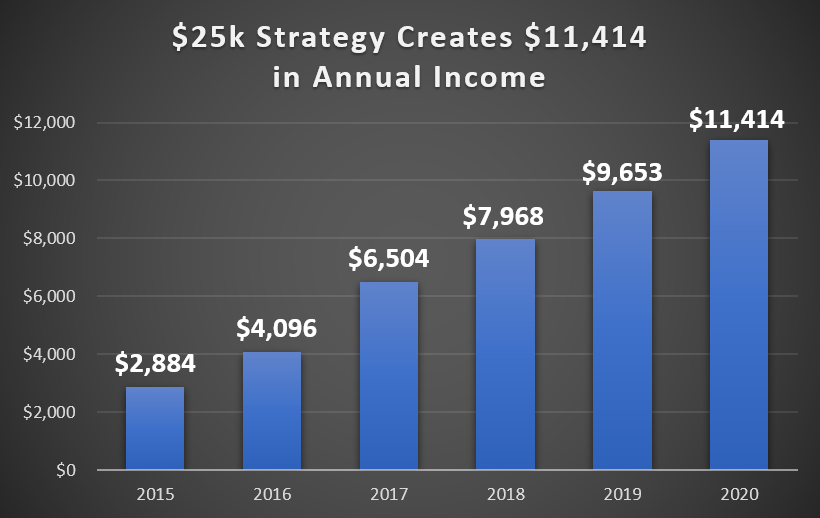 It's why my subscribers believe I've flipped the retirement income script completely on its head. 
High-yield dividend stocks are my specialty.
Stocks that pay 8, 10, 18% yields. 
Imagine how much sooner you can retire comfortably off dividends if you could go from making 2% yields up to 18%.
That's a 9X difference. 
That's 9X less time waiting. 
If you stick with me until the end…I'll actually give you my top 23…yes 23!…high-yield dividend stocks to buy. 
And I'll lay all 23 out on a special calendar for you. 
So you'll have 23 stocks I'm pointing at saying:
Buy here…on the 19th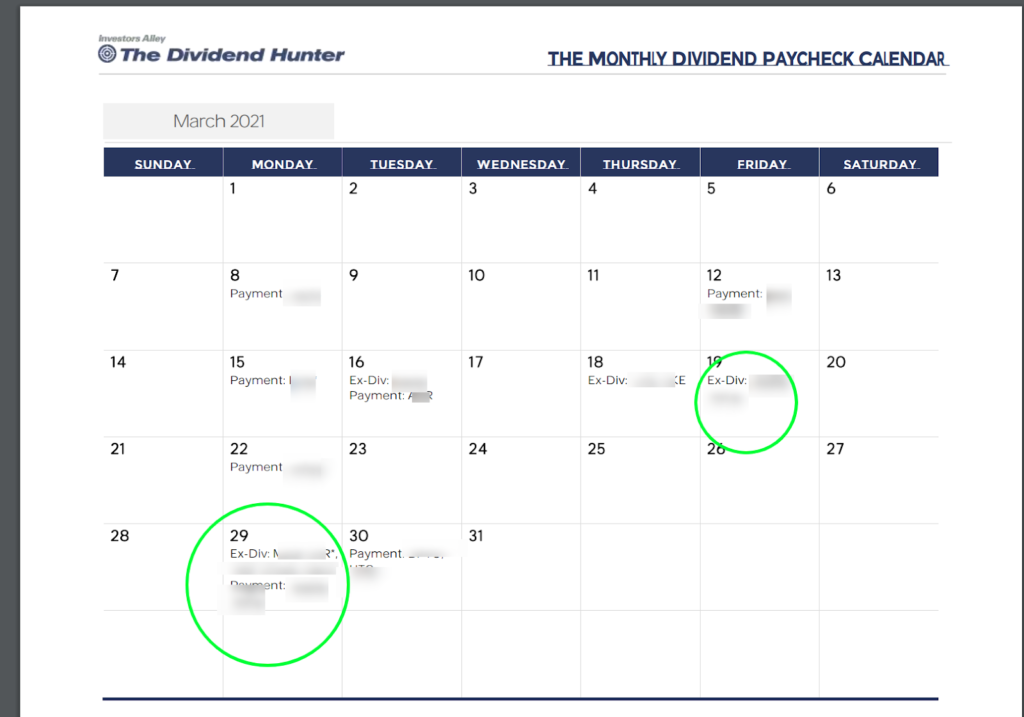 Collect your monthly income on the 29th. 
You'll have that opportunity to get all my best picks. 
Or…you could go find them on your own.
Here's the problem. 
All high-yield stocks aren't created equal. 
Just because a stock has the highest yield doesn't mean it is the best stock. 
Anyone right now can go and search for a "dividend screener" and pull up thousands of dividend stocks, sort by 'yield' and invest in those. 
I have three ironclad criteria I put every high-yield through…
#1. A high yield MUST be a real and profitable company. There are plenty of stocks that sucker in unknowing average investors with 25% yields, then the stock cuts their dividend 95% after the price goes up. 
The stock craters. The dividend has cratered. You're left holding the bag. 
You can see why many people stick to Coca-Cola and AT&T. 
To find the best ones, you need to read a bunch of SEC reports and study the balance sheet and P&Ls.
#2. A high-yield MUST have the cashflow on hand to pay your dividends. We want cash…with other fake companies you might be receiving debt…or capital returned to shareholders. That's bad.
Companies that do this usually are short on cash…and likely headed for a massive dividend cut. 
Again, to discover where the cash is coming from, you need to read the SEC and financial statements extremely carefully. 
#3. A high yield MUST be in a strong industry. Most of my stocks are in real estate, oil, business development, lending, and others. Real cornerstones of our economy. 
No cryptocurrencies or speculative penny stocks trying to sucker folks in with yields. We want strong industries with billions in earnings.
I set out to research the best places to find high-yield stocks. Stocks I can rely on and that will pay my bills and my family's with consistency. 
I wanted to only be invested in the very best…cream of the crop…high-yield stocks. 
Unfortunately, as I scoured the internet…I could not find a reliable place that recommended great high yield stocks. 
Nobody talks about REITs or BDCs (business development companies)…they're all talking about the popular stocks like Google and Amazon. 
That's when over 7 years ago, I started building this very calendar you have now.
My first goal was to build a portfolio that paid dividends every month. 
My second goal was to research which high yield stocks will pay me consistently without cutting. 
With high-yield stocks, some stocks pay as many as 12 checks per year…That's how my calendar came together.
Combining the best high-yield plays…together with how often they pay out dividends…I realized it's possible to collect checks on an ongoing basis.
In fact, there are 23 opportunities I've found so investing in all of them could collect 4-5X checks each month. 
Imagine that money coming again and again. 
For example there's Jonathan D., age 64. He'll collect $1,020 this month. And he'll collect another $1,020 again and again this year…and every year unless he decides to add to his position, then he'll bank even more money.
And Karen T., age 56, who gives much of her time to charitable organizations in New York. She was regularly collecting $1,682 …but has seen it rise again and again up to $4,423. And she's getting a check like clockwork.  
Then there's Dominick B. of Houston, Texas owns 5,151 shares of one of our portfolio holdings that's special to him. When the calendar was started he was collecting $850, but with recent increases he's collecting even more.
Some high yields pay every month, some others pay quarterly, like the three I showed you already. 
Even better, you're receiving much, much higher income than other income sources like bonds, savings accounts, or stocks like Coca-Cola.
What's funny, when I first rolled out this calendar, I got a few hundred, then a few thousand people interested.
However, since 2018, I've seen a huge surge in interest for my calendar. 
Remember, 2018 we saw some volatility hit the market. 
Now, when 2020 hit, thousands more have piled in. 
I've tweaked this calendar for 7 years. 
I've studied, researched, dug into the financials, even talked to some executives at the 23 company's I put in this high yield calendar. 
After 7 years, and now a market crash, this is the best time I've ever seen to get your hands on this exclusive PREMIUM calendar.
I wish I had it for my family and friends in 2008 and 2009. 
But I have it now. I'm sharing it with them. 
I'll call this the Monthly Dividend Paycheck Calendar PREMIUM Edition. 
It's a mouthful, I know…but we're going with it. 
With this Premium layout…
I'll update the calendar for you every single month with the very best 23 high yield stocks I've found
Investing in them allows you to collect 4-5X checks…or more…per month.
You can sleep easily…and so can your spouse…because you know you're invested in the top shelf high-yield companies…companies I've personally vetted myself. 
You won't have to dig into any research yourself. 
Simply pull up my calendar…it's a full 12 months rolling forward every time I update it…and know you'll need to own your shares on the 22nd…to then get paid on the 30th.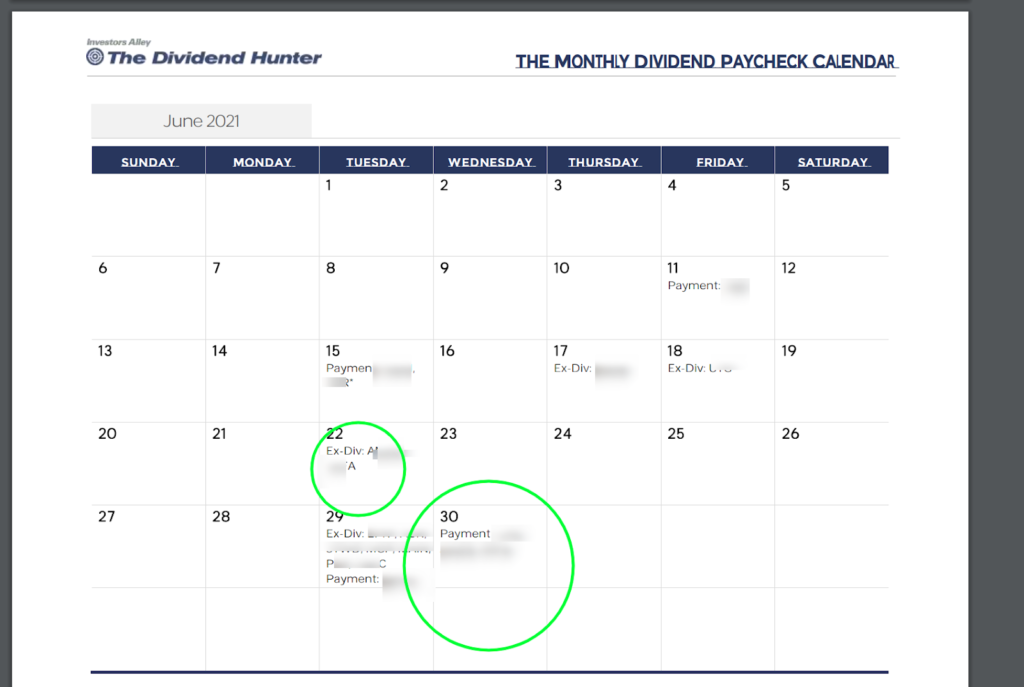 Like I said, sometimes we have months where we're collecting many checks…in this instance, in June 2021, we'll collect 8 checks!
But you don't need to keep track when to own the stock. I track it all for you.
You'll see exactly what stocks are taken in and out
There are no 'filler' stocks because we're bored. Every stock is exactly where it should be to send you monthly income…pay your bills…and give you peace of mind. 
It's not high-frequency trading. You're maybe making 1 or 2 moves per month. That's it. 
On this premium-edition of the calendar, I'll map out 23 different opportunities to collect monthly income.
That's 23 different companies you can start collecting income from and making money.
Let me lay it out plain and simple for you.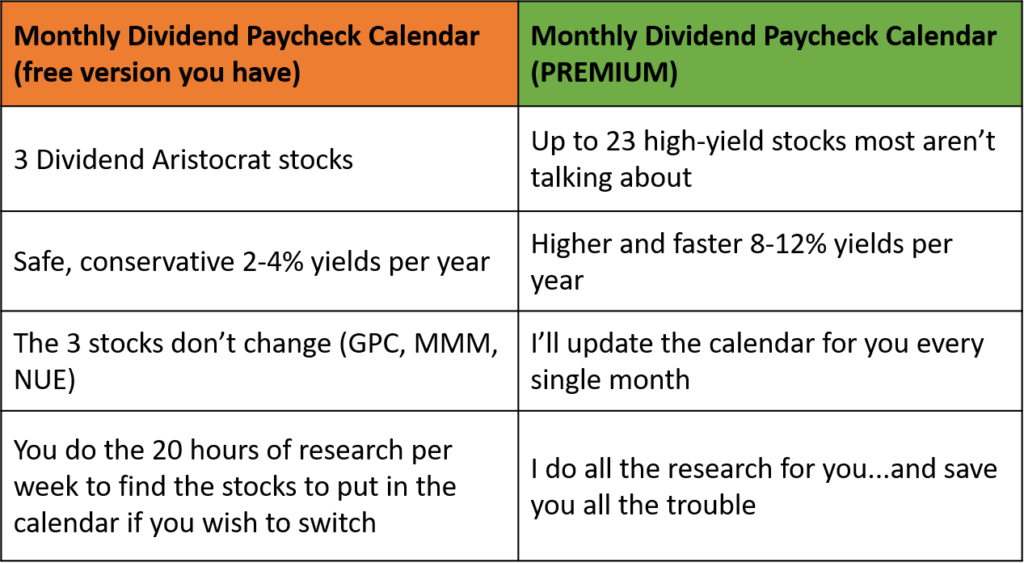 The value for me to do this is about $50 per month…That's around $600 per year. 
That's nothing compared to what you're getting…that will pay for itself in month #1. 
Some of my members are collecting $5,500 per month!
Still, if you stick with me, you won't pay anything close to $600 per year for this updated calendar.
On the other hand, here's your alternative. 
You search for high-yield stocks yourself to put in your calendar. You spend 20+ hours per week (as I do) scouring SEC reports, reading financials and cashflow statements…all the boring stuff. 
According to Dividend.com, there are 1,401 high yield dividend stocks out there. 
Say it takes you 10 minutes to research each one…
That's 14,000 minutes…or 233 hours of your time. Without any breaks.
Instead, with the Dividend Calendar Premium version…it takes you 30 minutes per month…if not less to manage your calendar with the very best plays. 
But I won't stop there. 
What if I also included deep analysis on every single company we're investing in.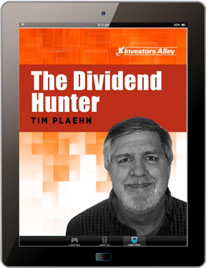 Meaning, every month, you're also receiving a 10-12 page newsletter filled to the brim with deep insight and research you won't find anyone else. 
Well, when you grab my Premium monthly calendar today…
You'll also become a member of my flagship newsletter, The Dividend Hunter. 
The Dividend Hunter is read by thousands and thousands every month. It's one of the top high-yield newsletters on the market…and I've been its sole editor for the past decade. 
Every month, I send out a monthly digital issue to you. 
Inside, you'll receive: 
Deep dives on some of our stocks…including which ones are performing even better than we expected and which ones we may be selling soon.

I also include a section that tracks all the stocks in our portfolio so you don't have to, plus which new high-yield income opportunities we're adding that month. 

I include a section with investing tips on how to boost your income even more and get the best use of my calendar. One recent issue had a special interview with my longest subscriber who's been with me since the beginning!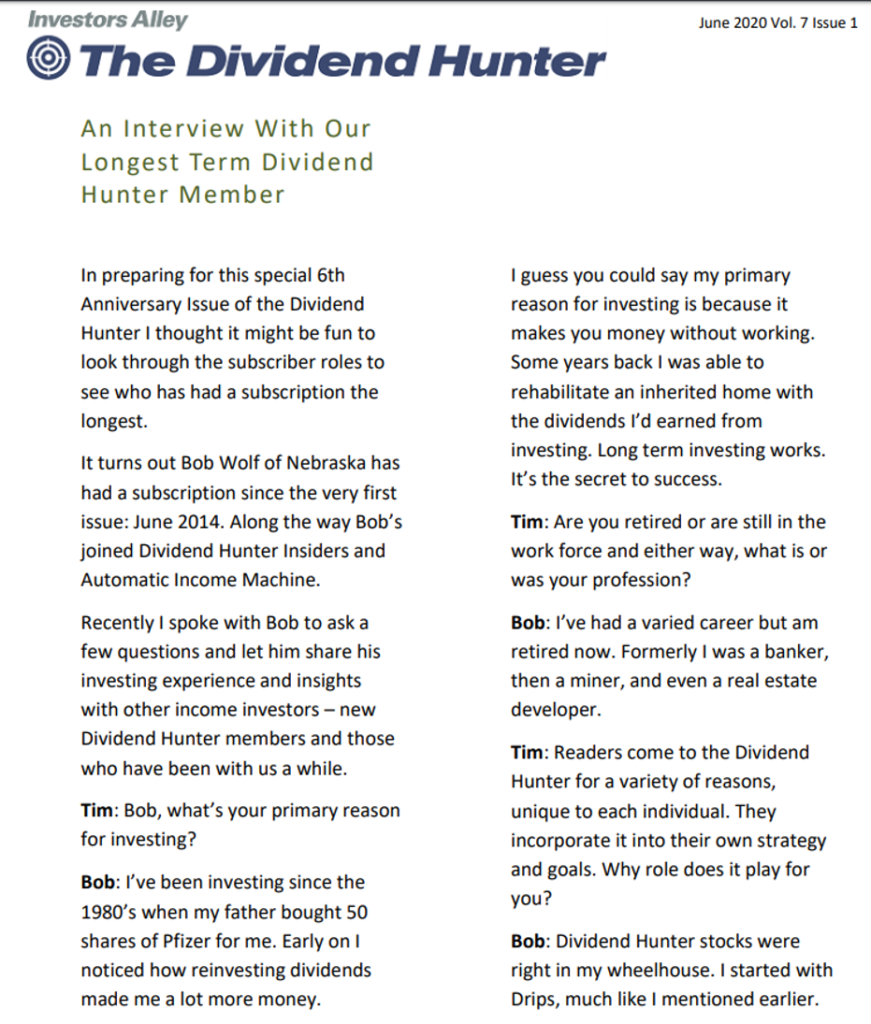 I regularly receive rave reviews for The Dividend Hunter.
My wife and I have been very pleased with your picks and they now make up a good portion of our assets.
— Jeff C., California
What a privilege to have access to your sage advice-I'm shaking my head in disbelief at how my dividend portfolio is performing. Thanks again.
— John O., New York
I cannot remember just how I became acquainted with your Dividend Hunter newsletter, but I am truly thankful. The dividend payouts are like clockwork. Set and forget… have already made back my subscription fees plus. Consider me hooked!
— Alan F
The goal of the Dividend Hunter is easy —to help you pay your bills for life with dividend stocks. 
Not cutting down your assets to produce income…but to hold your assets and receive income from doing so. 
That's a lesson I learned years ago when I ended up broke in Uruguay.
The lesson being to own great assets to increase my monthly cashflow to pay my bills for life.
That's what you can expect as a member of The Dividend Hunter. 
What's incredible…
It doesn't stop there. 
You receive the calendar I update each month, your monthly issues, but there's a lot more. 
You also receive as a bonus: 
Monthly NEW MEMBER Webinar:

Joining a monthly newsletter can seem overwhelming. And we don't want you to feel lost as a new member. I promise you'll get the hang of everything we're doing soon enough…to make it easier, every month, I hold a monthly "orientation" for new

Dividend Hunter

folks like yourself. You can even watch the replay later if you miss it. I'll go through all the features, where to find the stocks, the reports, everything. You'll know your way around in no time.
My Weekly Mailbag Video:

As tens of thousands of readers have enjoyed

The Dividend Hunter

, you can imagine I receive quite a handful of emails every single day. I try to answer as many as I can…at the same time, many questions are similar. So, every week, I'll open up my mailbag and answer questions like: 
I don't understand what preferred shares are?
BONUS: Emergency Webinar Replays from Bear Markets:

When the markets cratered in 2020, I recorded some important emergency webinars for

Dividend Hunter

readers like yourself. You can gain access to these recordings not shown anywhere else. 
All of this included with just your Dividend Hunter subscription is easily another $500 per year. 
On top of the $600 annually updating your calendar…
That's $1,100 of value. 
Many pay $99 per year for access…which is an absolute steal…
But I've negotiated with my publisher, Investors Alley — a 22-year mainstay in the financial publishing industry — to allow you a deeper discount than what others are paying for.
Keep reading to claim a huge discount if you're ready to create monthly income for life. 
Imagine if within the next 36 months, you have built an income stream that covers your mortgage, your groceries, Christmas gifts for your grandkids…all taken care of. 
The Dividend Hunter and my Monthly Dividend Paycheck Calendar isn't something you'll use once or twice like an ugly sweater…
You'll be using this for the next 12 months…36 months…maybe the next 10 years. 
I'll be with you to compound your money rapidly through retirement. 
The stress will melt off your shoulders…
That medical bill…covered…
That electric bill…covered…
Your mortgage payment…check, it's covered. 
Going forward, with me by your side, you'll have an opportunity to build your future. Assets you can hand down to your family. 
Because we aren't selling your shares to make money. 
Let the Tesla and Amazon shareholders do that…stocks that pay $0 in dividends and cost $3,000 to buy one share. 
Not you. 
Your shares will stay in your account. Cash will be taken out and you can spend as you will. 
Now, like I said, we're looking at over $1,100 in value…
Others are currently paying $99 per year…already a huge discount. 
For a financial advisor to do this exact management of the same exact high yield stocks, on a $100,000 account, you're paying $1,000 per year minimum…
Not to mention lots of time driving to their office and waiting around in their lobby as they tend to their most prestigious clients…and they finally open their schedule for you. 
$1,000 for all that…
You can gain access for $99 per year like others…
But since you already picked up my free Monthly Calendar…I'm ready to give you a huge 50% discount today. 
Meaning, you aren't paying $1,100…$1,000 for a financial advisor…or even $99 as others are paying…
You can gain access to my premium calendar…plus all the features of The Dividend Hunter…a newsletter read by tens of thousands of investors like you…
For just $49.
That $49 gives you 12-months of access to all this material. 
Even though it's only 12 months, you'll want this kind of research for years to come. 
That's why you can renew again and again when the time comes. 
To claim everything I've shown you today…simply click the button below right now. 
When you do, you'll be sent to a private, secure portal where you can finish signing up. All your information is kept private and confidential. 
You'll also see that on the next page, I've added a couple more bonuses for you. 
One…
What's maybe even greater than 4-5X checks per month…
You can squash the #1 problem most people have with dividend stocks. 
If you have a normal account like most Americans, the dividends you receive are extremely small. Miniscule. They would barely cover a couple tanks of gas in my Toyota Tacoma. 
2% on a $100,000 account is just $166 per month.
"Why didn't I just buy Amazon stock? I would've made more!?" you tell yourself.
This is a common frustration I hear over and over again. You're not alone.
It seems dividend stocks only make sense if you have $1 million, $2 million…$5 million or more dollars saved in your portfolio. 
Well, I'm going to show you by investing in high-yield dividend stocks, and collecting 4-5X checks per month that's absolutely false. 
In fact, with my quick and easy 2-step process, you can use this calendar to turn a small account…as little as $25,000… into monthly income that pays your bills for life. 
And you already completed step one by claiming your calendar.. 
I have two more steps to now follow for you to hit your monthly income goals.
The steps consist of four letters…and two numbers. Easy to follow. Easy to do. 
It's all inside my popular report.
The #1 Strategy to Turn $25k into an Income for Life (FREE)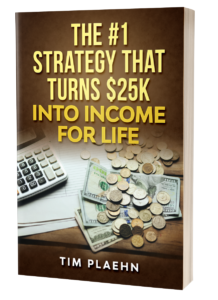 Inside, not only will you discover:
But, I'll also provide a full, detailed write-up on the $25k strategy, including:
How to trade commission-free throughout the entire $25k strategy.

The 10-minute road-map to automate the plan so you never have to touch it again, just spend the income

The 'pouring fuel on the the fire' strategy that ratchets up your income faster and cuts your timeline down by 48 months. Ever number I showed today includes this 'fueling' piece.

How to keep the $25k strategy working even if the market crashes or there's a shakeup in Washington
You'll receive a full, step-by-step writeup of the $25k strategy inside for FREE.
This report is valued at $99 alone…you get it for free. 
Join me now inside The Dividend Hunter to set yourself up for a lifetime of monthly income. 
If you're still on the fence…I have a special guarantee for you. 
Zero Stress
12-month money-back guarantee
If at any point, you don't feel The Dividend Hunter is right for you and your family, you can ask for a refund.
That means if after 364 days, you haven't received the value I promise, shoot us a message and your entire purchase will be refunded.
And as a token of good will to your future, you can keep all my special reports, including my bonus $25k report and strategy.
However, I don't think it will ever come to that.
I have subscribers to The Dividend Hunter who have been around for awhile. They look forward to my emails and updates.
Listen to this:
I just wanted to take a moment to thank you for your wonderful newsletter and dividend tips. I have subscribed to a lot of stock newsletters in the past and found them to be very hard to understand.
I have tried several newsletters and yours is the only one I have stayed with.
— Vic B. , Colorado
Now, you've seen what's possible…
You don't need as much as you think to create tens of thousands of dollars in income every year.
Start with $25,000 as my bonus report shows.
Are you going to continue on as you have, or will you make a change.
Click the button below to get started now. 
The way I see it…you have two choices. 
You've already made a huge decision today claiming your monthly calendar for free. It's waiting in your inbox. 
That will always be there for you. 
But this offer will not. 
You can continue with the high value free calendar. Take it and use it to invest in well-known stocks. You'll earn your 2-4% per year. 
That may work for you depending on the size of your account. That's okay.
But if 2-4% isn't enough…
If you don't want to spend over 200 hours this year reading through SEC reports and financial statements…
If you want a captain to lead you to a monthly income that pays your bills for life…
Accelerating your income 4-9X faster than regular dividend stocks like Coca-Cola…
If you want an expert updating your monthly calendar automatically without you lifting a finger…
And of course collecting 4-5X checks per month…
Then joining me inside The Dividend Hunter is absolutely right for you.
$1,100 of value for just $49 today. 
If that's enough…
If you don't think I can help get you to your monthly income goals faster than anyone else…What if I showed you how to Triple Your Income in 10 Minutes. 
That's right. 
I have one more special goodie to give you absolutely free. 
How to Triple Your Income in 10 Minutes (FREE)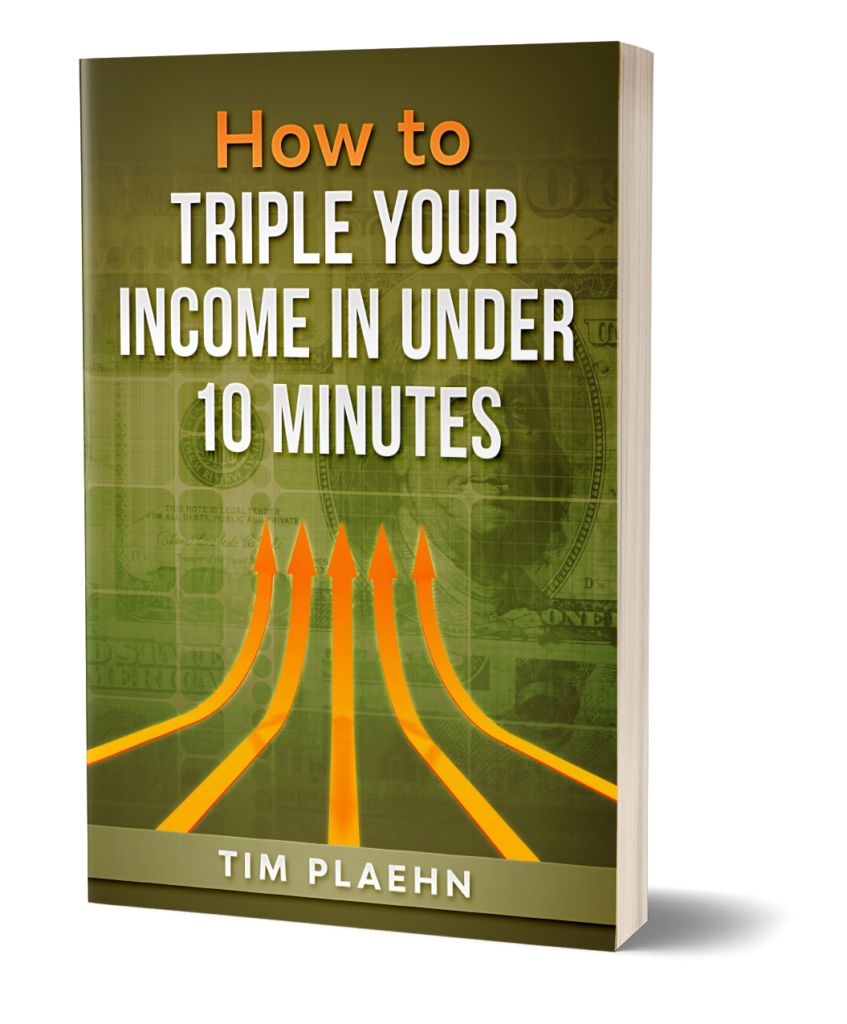 If you want even more income even faster on top of what you'll earn from my calendar and your new subscription, then you'll enjoy this report.
You'll discover how to add thousands of dollars in extra income without buying another share of stock.
Instead, I can show you how to collect 'rental income' on the assets we already own. Much like renting out your house.
I've used this incredible strategy dozens of times the past few years to add even more income into my accounts.
In fact, here's what it would like if you used this strategy starting with just $25,000
You could go from a $20,284 annual income with my #1 high-yield opportunity…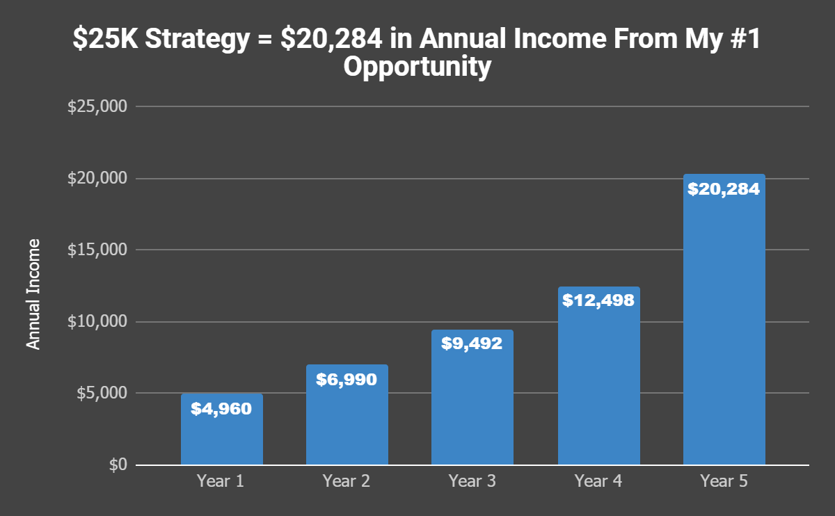 To almost 5X-ing your income with this one strategy to $98,381 of income per year.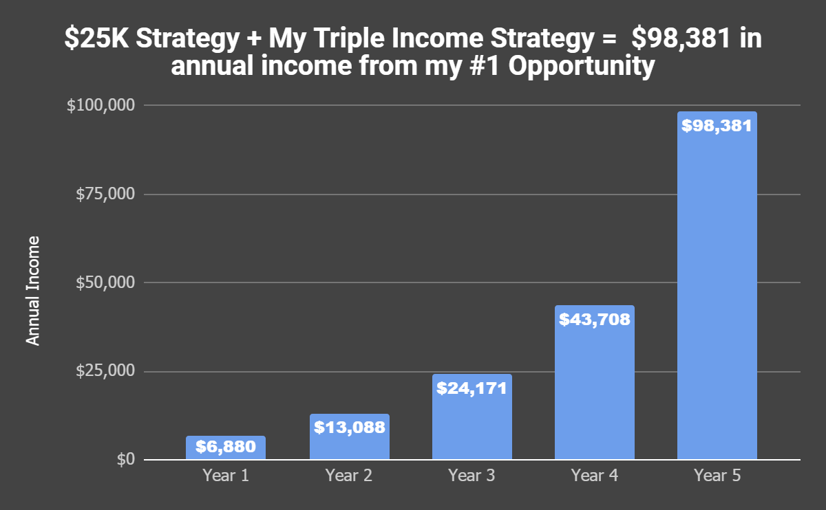 And if you stuck with it…
Your portfolio with reinvestment could go from a potential $124,975…
To as much as 377% higher at $606,152…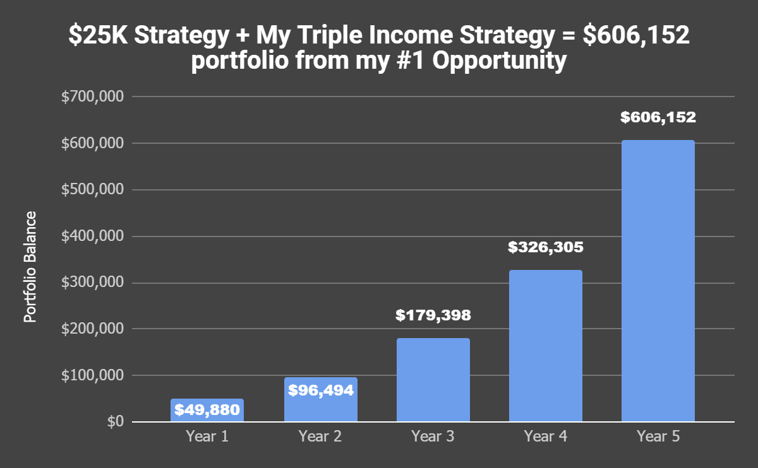 Think of it as a way to magnify your income instantly.
Either way, the strategy inside How to Triple Your Income in 10 Minutes only takes 10 minutes to do, and simple to follow.
This means…for just a mere $49…
That's less than what you'd pay for a steak dinner for two this Friday night…
You'll receive: 
Not only that, but I have an entire vault of other special reports you can access as well I didn't even mention. 
There is so much packed into here…again a $1,100 value…
Yours for a mere $49. 
Others will charge you $1,000+ for this kind of research… not me. 
This message goes away once you click off this page. 
Continue collecting 2-4% with the free calendar I sent you…that's fine. 
Or, start collecting 4-5X more checks per month…and I'll do all the work for you.
Just click 'buy stock' in your account…I'll do the rest.
Click the button below and join The Dividend Hunter right now. 
Thanks for reading, and I'll see you at the next New Member Orientation call. 
Tim Plaehn
Editor of The Dividend Hunter