World War II.
The counterculture revolution.
9/11.
These major turning points in history changed the lives of Americans forever.
The initial shock was sudden.
America ended up recovering from all three and thriving…
But not before first dealing with the devastating economic fallout each time.
Look at these charts showing the S&P 500's annual percentage change just immediately before and during each event.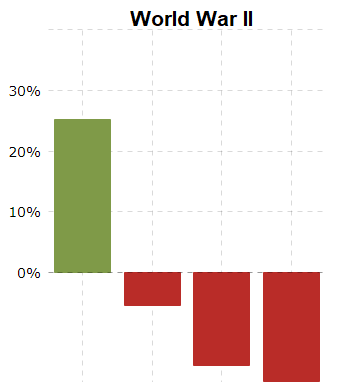 Fell from 25.21% to -17.86%.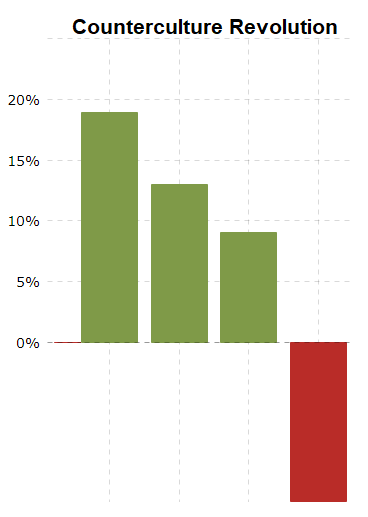 Slid from 18.89% to -13.09%.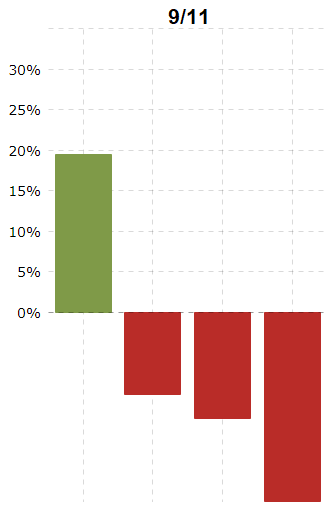 Dropped from 19.53% to -23.37%.
Investors who tried to make capital gains in the stock market lost the shirts off their backs.
Change always brings about volatility.
The bigger the change, the greater the volatility.
I see another Turning Point happening in America… 
And by the end of this page, you'll know exactly what to do to not only protect your portfolio…
But also to generate a lifetime of income every single month. 
None of this is to cause panic…
More to share my research and what I personally am doing to prepare for what may come ahead…
Because fast forward to the present and some pretty crazy things have been happening over the last two years.
Rampant inflation at never-before-seen levels.
Massive supply chain breakdowns from coast to coast.
Shortages of food, shortages of vehicles, and even shortages of toilet paper.
Our lives have been flipped upside down.
… You get groceries delivered to avoid bumping into neighbors at the supermarket.
… You "talk" to your family using video calls because you can't be together with them.
… You stock up on bottled water and canned goods because there might be nothing left on the shelves tomorrow.

Look at these insane scenes at supermarkets across the country.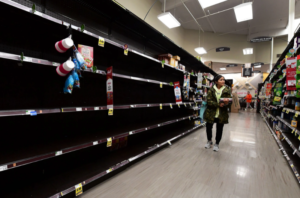 Things didn't used to be like this.
There's never been so much fear, worry, and anxiety all at the same time.

The Dow Jones, S&P 500, and Nasdaq are taking a beating.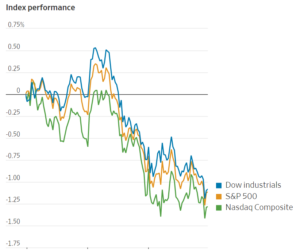 Meanwhile the Fed continues to make promises it can't keep.
Their initial claims of "transitory" inflation turned out to be a bunch of B.S.

You know it's bad when the government backtracks on its own word.
I can't predict what will happen tomorrow.
The only thing I can say for sure is there will be more uncertainty in the days ahead.
Uncertainty about how to live.
Uncertainty about how to save money.
Uncertainty about how to retire.
It's impossible to prepare for the future when you're constantly worried about the present.
Welcome to the "new normal."
Is this America's next turning point?
All signs point to yes.
Like I said…
This doesn't mean you need to bunker down like it's the end of the world.
Don't pay attention to the gurus who cry "doomsday" because every turning point has always made a recovery.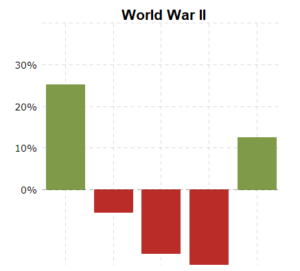 Jumped from -17.86% to 12.43%!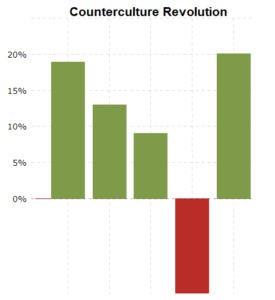 Rose to 20.09% in just one year!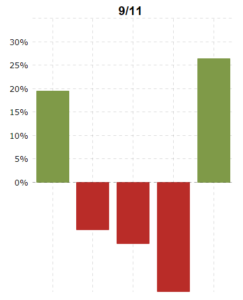 Bounced back from the brink to 26.38%!
I strongly believe this latest turning point will see a recovery too.
How long before that happens?
It could be another 5 years.
Or it might all blow over tomorrow.
Nobody knows.
That's why you need a plan to survive the "new normal" because frankly it's anything but normal.
"Bacon Is More Expensive for Americans Than It Has Been in the Past 40 Years." – CNN Business
The Bureau of Labor Statistics recently revealed the price of bacon has hit a record high.
Yahoo reports "bacon is 28% more expensive."
And The Seattle Times forecasts "bacon could see a [further] 60% price spike" in just a few months from now.
At the rate things are going, soon you might not be able to afford it at all.
That's why I'm chowing down on all the bacon I see.
… Double bacon cheeseburgers and fries.
… BLT sandwiches dripping with mayo.
… Bacon wrapped hot dogs covered in ketchup.
You should eat as much as possible too while you still can.
Pork isn't the only meat on the chopping block.

Beef prices have jumped 14% and poultry has gone up 6.6% as well.
It's not just food that's being threatened by inflation.
Price increases across the board are hurting everyone's pocketbooks.
The cost of eating out is now 4.7% higher (before you factor in tips)

Rent has gone up 11.5% over the last 12 months

And gas at the pump is 56% more expensive than a year ago
If you have a suspicious feeling the cost of daily living is creeping up, rest assured you're not alone.
Everybody is feeling the pinch.
Fox Business notes inflation is at a "30-year high, and has been for months." 
Even five of the Fed's own regional presidents agree the low confidence in the economy is due to "worries over inflation."
What's causing prices to go up (and stay up)?
Take a look at this chart and you'll see a scary trend.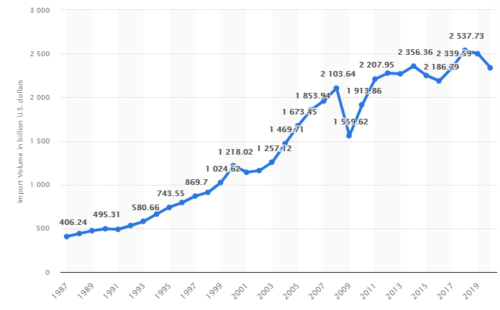 U.S. imports have grown by a staggering 372% to $2,337 billion in just over 30 years.
Our reliance on overseas production– everything from machinery to pharmaceuticals to fruit — is coming back to bite us on the behind. 
70% of the apple juice we drink is made overseas.
So are 43% of mushrooms and 23% of garlic.
It's not much of a stretch to say soon the food you eat will be practically made in China and not America.
The shipping rate for an import container from the People's Republic to the U.S. has gone up 500% from a year ago and is causing prices to go through the roof.
Some restaurants have started running out of basic ingredients.
"Sorry. No French Fries with any order. We have no potatoes."
This is the sign that recently greeted a customer at Burger King in Florida.
The National Restaurant Association reports 75% of restaurants have been forced to change their menus because of supply problems.
A&W Restaurants recently switched to selling chili-cheese fries because they couldn't source any chicken tenders.
A woman in Atlanta couldn't get a drink from Starbucks after going to four different cafes.
Even the tradition of "Pizza Friday" at a Massachusetts school has been canceled due to a lack of dough.
But it's not just food which is being affected by logistical issues.
Book stores don't have copies of New York Times best-sellers on the day of their release

Medical labs are experiencing delays for supplies by up to five months

Transport companies can't get auto parts
This last one is a real doozy.
Trucks are sitting idle in garages while waiting to be repaired.
That means it takes longer to move cargo from the docks to stores.
Meanwhile shipping containers keep piling up, sometimes for months, full of the products our economy needs and wants.
The Port of Savannah in Georgia's backlog is currently 50% more than normal and approximately 80,000 containers still haven't been unloaded.
The Georgia Ports Authority says the "supply chain is overwhelmed and inundated… It's not sustainable at this point."
The situation is just as bad on the West Coast.
"It's a headache. Cargo is sitting here [at the Port of Los Angeles] longer than planned."
– Steven Trombley, APM Terminals (the largest container site in the Western Hemisphere)
The labor shortage is further adding fuel to the fire.

The Minnesota Trucking Association says 60,000 more drivers are needed just to get the domestic supply chain back on track.
Put this all together and you get sky high demand going head-to-head with limited supply.
No wonder everything from groceries to gas is climbing at such an alarming pace.
Even though wages are increasing, it's still not enough to keep pace with inflation.


Things could get a lot worse before they get better.
Mary Erdoes, CEO of J.P. Morgan Asset & Wealth Management, says…
 "This is not a normal time period."
That's the last thing you want to hear while heading into retirement.
Will the market drop and wipe out investors?
I don't know but I'm not willing to leave my future up to chance.
After burning the midnight candle deep in research…
I've figured out how to brace for this "new normal" and still come out ahead.
All you need is a simple plan that's…
Achievable in a very short time frame.

Simple to implement without needing a hundred different calculations.

Easily accessible regardless of your savings.
I'll share the details with you in just a second.
First, allow me to briefly introduce myself and explain why you should continue reading on.
I'm Boring When It Comes to Money Because Boring Works
My name is Tim Plaehn and I'm a former U.S. Air Force captain.
I was an F-16 fighter jet pilot before being promoted to flight instructor to teach the next generation of brave men and women.
After defending my country for 13 years, I became a licensed stockbroker and financial advisor to help people prepare for the future.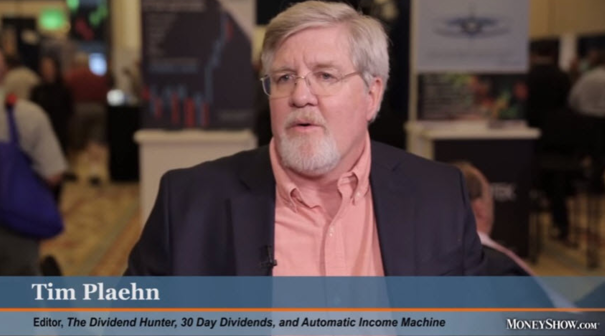 My goal is to help you create consistent income with minimum risk.
I don't buy into any of the new fangled trades from Wall Street.
I've got zero interest in high risk plays like options, cryptocurrency, or whatever "flavor of the month" meme stocks are making the rounds on the internet.
I'm a simple man who loves my dog, RV, and whiskey.
I'm boring and so are my investment strategies.
After helping over 20,000 readers with my tried-and-true methods, I know that boring beats flashy every time.
"Finally found an advisor who reflects my view on investing for income. I'm 66 so income is my primary goal but I want stable vehicles as well. Thank you!"
– Wade J.
Wade isn't rich in the traditional sense but he has more than enough money to comfortably retire.
That's what I'd like for you too.
To be completely clear, I'm not promising you'll make $1 million overnight.
You should run away from anyone who makes such absurd claims.
What I can do is show you how to get ahead of this latest turning point now before it gets even worse.
But in order to plan ahead, first you must understand what's happening now.
How to Protect Your Loved Ones From an "Inflation Attack"
The current state of the economy has got me concerned.
I'm not worried about an "end of the world crash" or anything ridiculous like that.
However, there's no denying money doesn't stretch as far as it used to.
Mark Zandi is the chief economist at Moody's Analytics.
His calculations show the average household is now spending an extra $175 every month on food, fuel, and housing.
This isn't just hypothetical.
It's affecting everyday people right now.
Allison from Chicago is married with two children. 
Fox Business interviewed her about how price increases have impacted her budget.
"There are no more splurges like going to Home Depot to buy an extra plant or eating out."
Allison isn't asking for much.
She's not shopping for sports cars or booking vacations at 5-star hotels.
A splurge for her simply means enjoying a meal with the family (or a plant to decorate the house).
Now she can't even afford to do that because her money is worth less than it used to be.
Make no mistake, your money is under attack from inflation.
Most people's reaction might be to hide cash under the mattress.
This is the worst thing you can do right now.
Filling up a safe with gold bars gives you an interest rate of 0.00%.
Meanwhile, rising inflation is causing your money to lose value by the day.
And it doesn't look like it's going to slow down anytime soon.
When under attack, you must fight back.
You need to create financial value and you need it to do it fast.
So how can you make your money work harder for you?
Some people try to flip stocks but that way of thinking is too narrow.
Let me explain.
Everyone knows the age old advice of "buy low and sell high."
And before you ask — yes, there are still opportunities to make profits this way even with everything that's happening right now.



On the surface these three stocks all appear to be incredible investment opportunities.
However, look closely at the volatility of Amazon, Netflix, and Tesla over the last 12 months.



Even though these stocks are trending upwards, there have been wild price fluctuations along the way.
You might think you can time the market.
Please don't make this mistake.
Even the "Oracle of Omaha" advises against it.

However, let's just say you manage to sell all your stocks at the right time for a profit of $200,000.
You'd be pretty happy, right?
There's only one downside.
Every withdrawal permanently reduces the amount of cash you have available in the future.
I'm sure you can already see the problem with this method.
The Bureau of Labor Statistics reports you need approximately $4,008.83 each month during retirement.
(This is an important number and I'll come back to it in a moment.)
Here's what your cash balance would look like after taking out the cost of living expenses.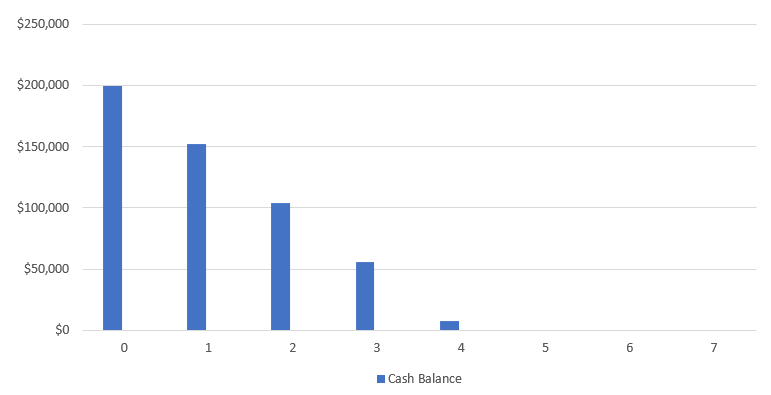 You'd be broke in just 5 years.
(Don't forget rising inflation could cause your money to run out even faster.)
The average life expectancy is 79 years.
With only 5 years' worth of savings to live on, that means retirement is out of the question until you hit 74 years old.
Yes, I know this is only one possible scenario.
However, this example highlights how quickly your money can disappear when you rely solely on selling stocks for capital gains.
It's like living in a gingerbread house and eating part of it each time you're hungry.
Soon you'll have nothing left.
This is exactly what happens when you draw down from a fixed amount of savings.
What's the alternative?
Using a combination of savings plus income to fund your retirement.
Just say you receive the average Social Security check of $1,437.55.
Assuming your monthly living expenses are $4,008.83 as calculated by the Bureau of Labor Statistics, you'd have to make up the difference of $2,571.28 from your own savings.
The orange bars below show how your new balance would look.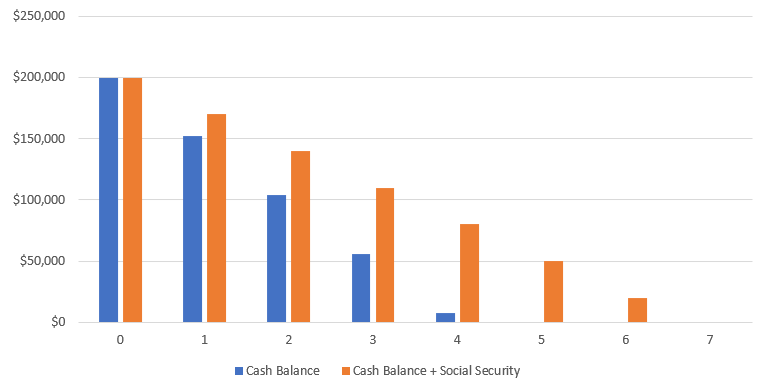 Unfortunately all your money would still run out in 7 years.
You can't cheat mathematics.
There's simply no way to avoid going broke unless your income is higher than expenses.
This is why relying on capital gains isn't such a good idea.
To be clear here, I'm not saying investing in stocks is bad.
You just need to think about stocks differently when it comes to retirement.
Not every goose can lay a golden egg…
But there is one that can…
Over and over again…
The "Golden Goose" of Stocks
Amazon, Netflix, and Tesla give shareholders zero dividends.
They never plan to pay any dividends in the future either.
That means when the market is down and you need some quick cash…
… If you receive an unexpected medical bill then you have to sell your shares at a loss.
… If you need to urgently fix your car then you have to sell your shares at a loss.
… If you want to help your kids pay for a house deposit then you have to sell your shares at a loss.
I'm sure you'll agree this is a terrible situation to be in.
Many of the so-called "must buy" companies pushed by the mainstream media don't pay any dividends.
Luckily there's another type of stock…
One which keeps producing money for you day in, day out…
No matter if share prices are going to the moon or dropping like a lead balloon.
This "Golden Goose" will keep paying you for the rest of your life.
That's right, I'm talking about dividend stocks.
Procter & Gamble (PG) is a great example.
The consumer goods giant has paid dividends for 131 consecutive years.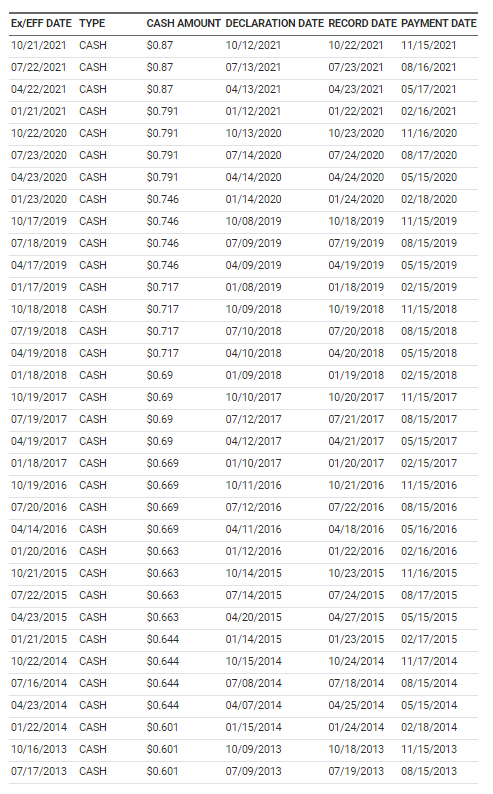 You could be receiving dividend payments like this.
Once you buy the stock, payments will keep arriving in your bank account like clockwork.
This is the power of dividends.
Unfortunately $10,000 of PG stocks would only give you $241.
That's because the yield is so low, at just 2.41%.
Even owning $100,000 worth of shares would only hand out a meagre $2,410 each year.
Obviously this amount is nowhere near enough to retire on.
This is why I ignore the big name companies making headlines in the news.
Yes, they work in theory but the payout is way too small.
I prefer to dig deeper to find diamonds in the rough.
My focus is only on stocks with high-yield dividends.
This is the same method Warren Buffett uses to make $6,731 every minute.
Here are some of my recent trades to show you what's possible with this method.
✔️ 7.7% from venture lending
✔️ 10.4% from oil production
✔️ 6.6% from investment banking
✔️ 9.6% from equity funds
✔️ 5.9% from business development
✔️ 8.8% from lending solutions
✔️ 10.0% from energy
✔️ 5.3% from natural gas
✔️ 7.4% from real estate
✔️ 7.3% from mortgage lending
✔️ 5.3% from business services
… And many more.
High-yield dividend stocks give you the opportunity to create a lifelong income stream, not just one-time stock gains.
Of course this doesn't mean all of my picks are winners.
I want to make it very clear that it's impossible to completely avoid losses.
I've certainly made some bad judgment calls including YTD returns of…
-0.07%

on corporate bonds

-1.11% on telecommunications

-17.40% on financial services
Naturally I'm not happy about that last one but I'm upfront about admitting my mistakes.
The reason I can get over it so quickly is because the losses only make up a small proportion compared to my long list of winners.
"Thanks for your service. I am on a limited budget and your service has really changed my standard of living." 
– Hyam K.
"Tim is the best investment advisor I've seen for the novice investor."
– Don H.
"Since joining you in late 2016, we have done well with your recommendations. With this much extra income, life is good. (We are leaving on a 10-day Caribbean cruise today!)" 
– Mel G.
Who wouldn't want to go on a cruise without having to pinch pennies to stay under budget?
Now I'm not guaranteeing you'll see the same results as Mel or any of my readers.
These results haven't been verified as I can't personally check every person's bank account or receipts.
However, they do show you what's possible with high-yield dividend stocks.
I'll say it again — there are no guarantees when it comes to investing.
I've personally made some bad calls which resulted in YTD returns of…
-0.07%

on corporate bonds

-1.11% on telecommunications

-17.40% on financial services
But at the end of the day losses like these don't matter when your net income is positive.
My readers think so too.
"My return percentage is higher than my financial agent can manage. Go figure."
– Gary F.
"Thanks for what you do, my account balance hasn't looked this good ever, and I've only been on board a few months."
– Brad B. 
"I eagerly await all your updates and thank you for improving my income stream with all your great ideas."
– Ronald P.
This is why I recommend income producing stocks so that you won't be powerless in the face of the current turning point.
Investing for capital gains means you have to always rely on rising share prices in order to make a profit.
(Obviously this is impossible.)
Whereas investing for income means you can receive dividends every month regardless if the market goes up or down.
Makes it a no brainer, right?
There's no need to risk it all on a crapshoot when you can potentially make returns like these…
✔️ 7.7% from venture lending
✔️ 10.4% from oil production
✔️ 6.6% from investment banking
✔️ 9.6% from equity funds
✔️ 5.9% from business development
✔️ 8.8% from lending solutions
✔️ 10.0% from energy
✔️ 5.3% from natural gas
✔️ 7.4% from real estate
✔️ 7.3% from mortgage lending
✔️ 5.3% from business services
High-yield dividend stocks hand out regular payments so you never have to wait long to receive your money.
How would you like to see paychecks hitting your bank account every month like this?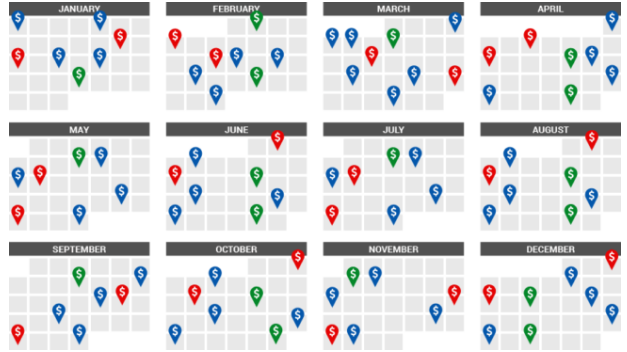 This is my Dividend Paycheck Calendar which I update every month.
Each colored marker shows the dates for each dividend payout.
Now you can plan your spending in advance knowing the money will be there for you when you need it.
The calendar also shows you the cut-off dates to buy each stock in order to receive the dividends on time.
There are no minimum purchase requirements.
Buy whichever stocks you like depending on your income goals.
It doesn't matter if you want to throw a gigantic birthday bash and paint the town red, invite the whole family over for Christmas, or just want consistent income throughout the year.
Simply choose the stocks with dividend dates that match your requirements.
This takes all the uncertainty out of financial planning.
The Dividend Paycheck Calendar is calculated 12 months in advance and every pay date is clearly written in black and white for you.
Everything about this strategy is 100% tailorable to your lifestyle.
You'll know exactly how much income to expect for the upcoming year down to the penny.
This is the cornerstone of retiring on your own terms no matter what happens in the days ahead.
I believe it's so important that I want to give you a copy today.
This is just one part of the plan I designed to help you create a continuous stream of income.
Let me explain how it works.
Put Up Your Feet and Relax Knowing Exactly When Your Next Paycheck Will Arrive (For the Rest of Your Life)
At the heart of it, retirement comes down to one thing:
Not running out of money before you run out of life.
I know this is a bit morbid and I apologize.
But it doesn't mean it's not true.
Forbes reports the number one worry for retirees is outliving your savings.
Marketwatch says it's scarier than death itself.
And the Massachusetts Institute of Technology discovered… 

Living in fear is no way to live.
The only reason I mention it at all is because I want to help you eliminate this worry once and for all.
I believe high-yield dividend stocks are the best way to do this.
That's why I developed a strategy to help you create reliable income without putting yourself at the mercy of the market.
It's called the "36-Month Accelerated Income Plan" and makes use of high-yield dividend stocks to keep paying you regardless of what happens to share prices.
This is the perfect way to receive regular payouts no matter if you're in a bull or bear market.
But you can't just pick the stocks with the highest yields.
(A lot of amateur investors make this mistake.)
It's not that simple.
There are three important factors which make this work.
The company shows a trend of continued growth

over the next 3-5 years.

The company has a track record

of paying dividends.

The company owns a large cash reserve in order to keep paying dividends, or even better, increase the dividend amounts as time goes on.
As long as the stock meets these criteria then you're good to go.
There's no need to watch the news like a hawk in case you miss out on a critical buying (or selling) window.
There's no need to waste your time tracking complicated market movements using spreadsheets.
There's no need to constantly worry if your portfolio will become worthless tomorrow.
The market moves in cycles and crashes are unavoidable.
Normally this would be bad news if you're an investor trying to make capital gains.
However, this is fantastic news for dividend investors because your yield increases when the share price decreases.
One of my recommendations lost half its value when the market dropped.
I didn't lose a wink of sleep.
That's because the $0.52 dividend on every share kept coming in like clockwork.
In fact, I recommended my readers buy more shares to take advantage of the discounted price.
End result?
The stock's yield is now 20%.
This is just one example of how the plan works.
If you had followed my recommendation on a different play, you could now be collecting a potential $2,015 every month.
After 10 years this would put an extra $241,800 in your pocket.
Remember, this is all extra income.
The principal is completely untouched so you can pass it down to your children or grandchildren if you like.
In another play, I discovered a REIT paying out a yield of 15.7%.
This would have given you the opportunity to collect a monthly paycheck of $2,819.12 off a small 6-figure portfolio.
That's $338,294.40 over 10 years.
Again, all of this is income, not stock gains.
My readers certainly love the results.
"I am truly thankful. The dividend payouts are like clockwork. Set and forget… Consider me hooked!"
– Alan F.
There's only one more thing you need in order to grow your income as fast as possible.
Double Your Money With a "DRIP"
DRIP stands for Dividend Re-Investment Plan.
This can potentially double your portfolio in just 36 months.
A DRIP allows shareholders to automatically reinvest dividends back into the same stocks which paid them out.
The best part is you can purchase "fractional shares", meaning you can acquire additional shares even if the dividend amount you receive is less than the actual stock price.
Think of it like a discount for members.
Most brokerage accounts let you set up a DRIP without charging any commission fees.
A few simple clicks and you're done.
Everything is automated so your money continues to grow even while you sleep.
Choosing a stock which pays the same dividend amount every year is a good "starter" choice.
But there's another "advanced" option for getting better returns.
Let's say you followed one of my picks which has increased its dividends by 185.71% from $0.175 to $0.50 per share.
Assuming the dividend only increases by a modest 5% every year from here on out, even a small deposit of $5,000 would turn into $7,067 after 36 months.
That's an increase of 41.34%.
In addition, the yield on cost would jump from 10.91% to 16.09% (for a 47.47% increase).
All it takes is just 36 months.
This time frame isn't a random number I picked out of a hat.
My calculations show this is the ideal length of time for you to build an income stream which will last forever.
Another one of my recommendations using the DRIP could have potentially turned an initial investment of $25,000 into $79,821.42.
The key to making this work is financial discipline.
You're going to see a lot of paychecks coming in.
Often several times in the same month.
It'll be tempting to spend everything.
I don't blame you.
Who doesn't want to have a little bit of fun now and again?
But if you hold back and commit to the plan… 
You could potentially turn a $150,000 portfolio into $3,318.91 of income every month.
Pay all your bills in full without batting an eyelid.
Dine at nice restaurants and enjoy yourself out on the town.
Go on vacation to places you've always dreamed about visiting.
Spend time with your family and friends whenever you like.
Or simply leave behind a legacy for the next generation to give them a leg up in life.
The more you use the DRIP, the more income you'll receive.
The beauty of this plan is you can always sell the stocks later when the price is right.
It's a win-win situation for you.
In summary, here's how the "36-Month Accelerated Income Plan" works in three easy steps.
Choose stocks which meet the high-yield and low risk criteria.

Collect the dividends and use the DRIP to supercharge your portfolio.

Create a continuous income stream which pays your bills for the rest of your life.
Don't worry if you're not sure how to start.
Simply follow along with my step-by-step instructions which show you how to collect regular paychecks like this every month.
All the details are inside the…
"36-Month Accelerated Income Plan"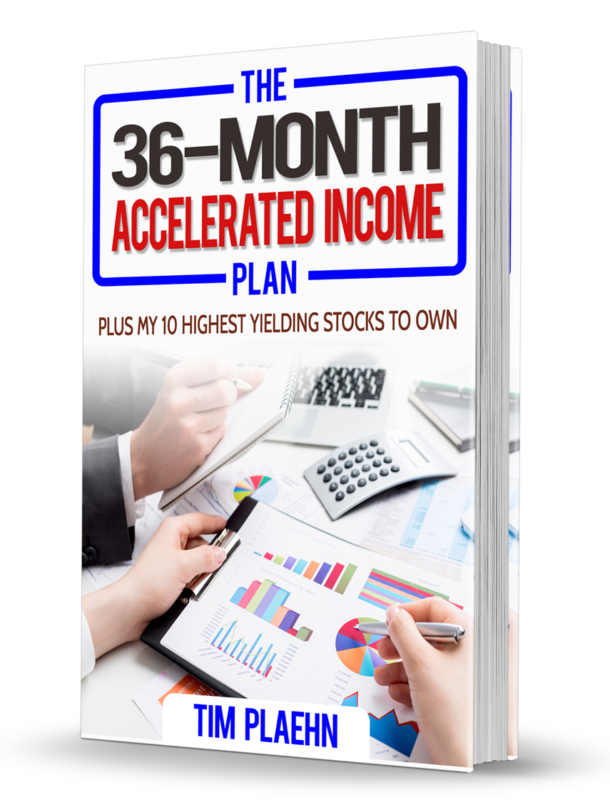 This is my proven plan to safely create predictable income.
You don't need to time the market on risky plays.
You don't need millions of dollars in savings to make this work.
And you don't need to wait years to see a pay off.
In fact, you'll start seeing a consistent income stream in your bank account in only 36 months.
This easy-to-follow roadmap takes all the guesswork out of how to get started.
Here's what you'll discover inside the "36-Month Accelerated Income Plan"…
The "36-Month Accelerated Income Plan" has already changed the lives of my readers.
"I never believed in my life I would be able to have this much in my portfolio in what I would consider a very short time." 
– Steven D.
Steven isn't "rich" in the conventional sense of the word but he's enjoying life.
The truth is you don't need a million dollars to retire.
Too many people fall into the trap of trying to "swing for the fence" but end up losing everything instead.
The "36-Month Accelerated Income Plan" shows you how to collect regular paychecks and live in comfort even if you don't have a large savings account yet.
Today I want to give you a copy.
In addition, I'd also like to give you two special reports…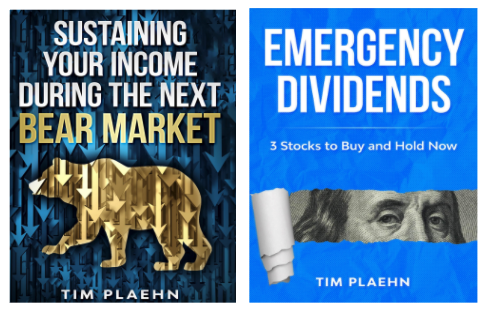 Together with the Monthly Dividend Paycheck Calendar…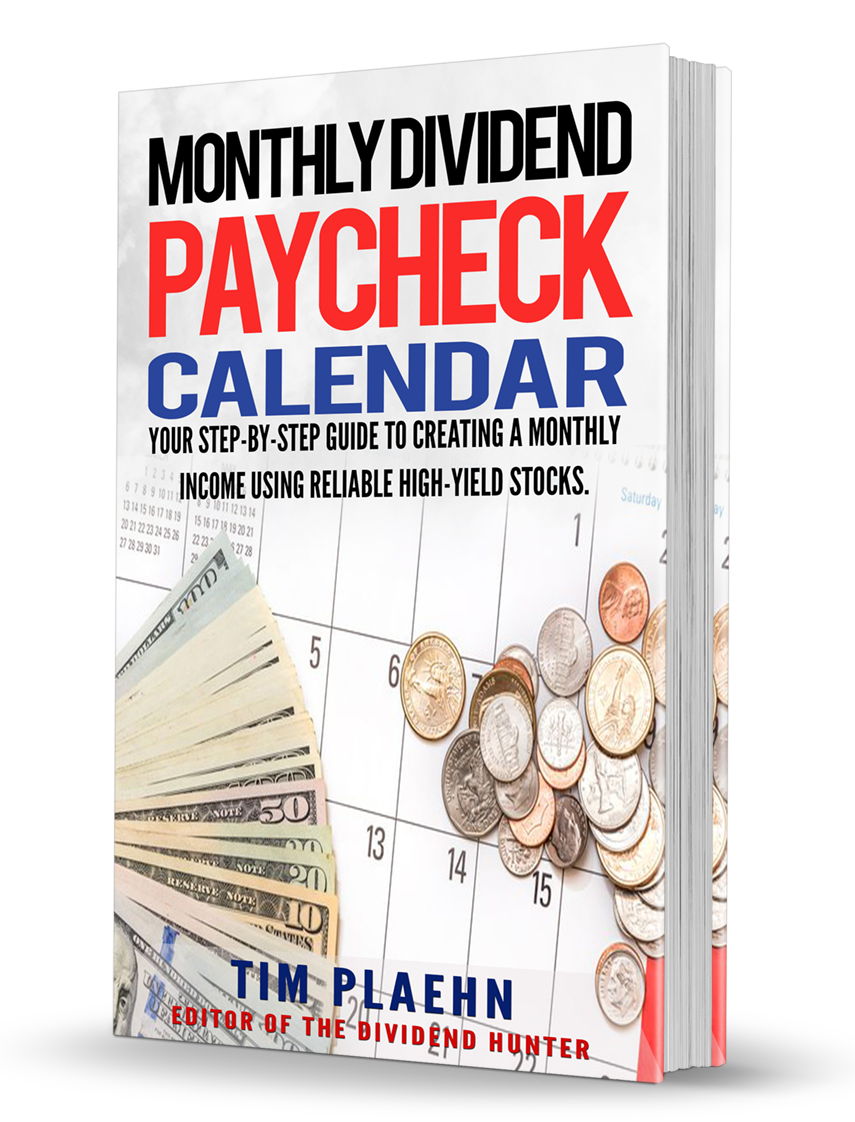 Along with an invitation for a trial subscription to my income-focused newsletter. 
Create a Lifetime of Income With "The Dividend Hunter" in Just 36 Months From Today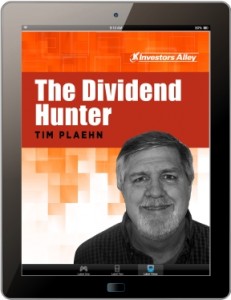 The Dividend Hunter is my members-only service where I dive deep into the world of high-yield dividend stocks.
Your subscription gives you unlimited access to The Dividend Hunter for the next 12 months including…
Monthly newsletters

where I break down the latest developments in the market including detailed forecasts showing you exactly what and when to buy (or sell)…

Dividend pay dates for 12 months in advance

so you can plan your finances for the whole year ahead…

Weekly Mailbag Videos where I answer questions from members which gives you the chance to ask anything and get a personalized reply from me…
Bonus #1:

Every week I'll send out a flash bulletin with my Stock of the Week recommendation. These special "buy alerts" are red hot opportunities with enormous upside potential you can take advantage of immediately…

Bonus #2:

Access to

Divcaster

TM

, our exclusive planning tool which lets you automatically track, analyze, and even forecast dividend income based on your current portfolio…

Bonus #3:

Regular training resources including live sessions to constantly improve your knowledge and further grow your income…

Additional reports including

The #1 Strategy That Turns $25K Into Income For Life, How to Triple Your Income in Under 10 Minutes, U.S. Dividend Stock Investing for Canadian Investors,

and many more…

And of course

Sustaining Your Income During the Next Bear Market

and

Emergency Dividends (3 Stocks to Buy and Hold Now)

plus the

Monthly Dividend Paycheck Calendar

…
Normally a full year subscription to The Dividend Hunter costs $99.
That's not even enough to buy a third of a share in a blue chip stock like Microsoft.
MSFT currently trades for $309.16 with a yield of 0.73%.
Meanwhile, my trade recommendations are making yields like… 
✔️ 7.7% from venture lending
✔️ 10.4% from oil production
✔️ 6.6% from investment banking
✔️ 9.6% from equity funds
✔️ 5.9% from business development
✔️ 8.8% from lending solutions
✔️ 10.0% from energy
✔️ 5.3% from natural gas
✔️ 7.4% from real estate
✔️ 7.3% from mortgage lending
✔️ 5.3% from business services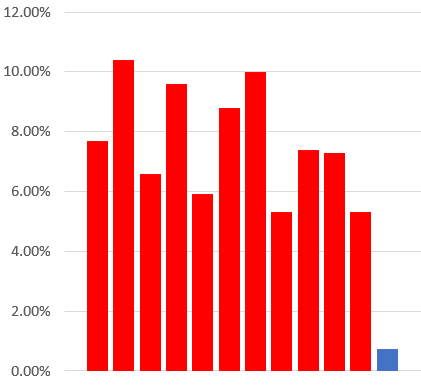 YIELD COMPARISON
Red: Recommendations from The Dividend Hunter.
Blue: Microsoft (MSFT)
None of this is me trying to brag.
The only reason I share this at all is to show you what's possible when you look at stocks as consistent income-producing assets instead of one-time gains.
I want you to have a consistent flow of predictable income in just 36 months from now.
Receiving letters like this are why I continue doing what I do every day.
"You have completely changed how I think about investments."
– Jerry M.
I want to make this newsletter accessible to as many people as possible.
That's why I've decided to slash the price of The Dividend Hunter in half to only $99 $49 today.
Here's what readers are saying about the service…
"Thanks for all your hard work researching… I am finding that if I stick to following The Dividend Hunter recommended stocks, I have much more success with my investments."
– Kris B.
"I have finally found (in you) a service and strategy that I feel very confident about."
– Tom C.
"Love the service you have provided."
– Mark B.
Join The Dividend Hunter today completely risk-free knowing you're covered by a…
100% Money Back Policy for 12 Months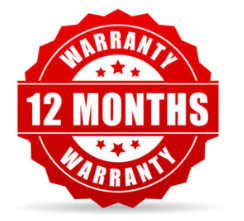 Try out the newsletter for one full year with zero risk.
In fact, I encourage you to do so.
Read every report.
Watch every video.
Even ask me questions and get personalized feedback.
Take your time.
There's no hurry.
You have 365 days to go through the newsletter with a fine tooth comb.
If you aren't completely satisfied, simply contact my US-based customer service team and you'll immediately receive a full refund.
No questions asked.
All the bonuses are yours to keep no matter what you decide to do.
The Dividend Hunter is my flagship newsletter and I hold my feet to the fire to make it the best possible service I can for you.
I'm absolutely confident you'll love what you see.
That's why I put my money where my mouth is to back what I say with a 100% Money Back Policy for 12 months to give you complete peace of mind.
There's absolutely no risk for you.
Join The Dividend Hunter for Only
$99
$49 (50% Off) Today and Receive…

Along with…
One full year of unlimited access to

The Dividend Hunter

…

Monthly newsletters detailing the best high-yield dividend stocks available in the market right now…

Constant updates on your positions so you see how much income you're earning on any given day…

Weekly Mailbag Videos

with personalized questions to your answers…

Additional special reports including

The #1 Strategy That Turns $25K Into Income For Life, How to Triple Your Income in Under 10 Minutes, U.S. Dividend Stock Investing for Canadian Investors,

and many more…

Plus my 100% Money Back Policy for 12 months…
Investing for dividends is boring.
There, I said it.
You won't make colossal capital gains but you also don't have to risk everything at a time when nobody knows what will happen tomorrow, let alone next week.
Instead, you'll start seeing paychecks consistently appear in your bank account, month after month, year after year.
Boring simply works.
Today you can test drive my dividend investing approach at the lowest price I'll ever promote the newsletter. 
This isn't an attempt to rush you into making a decision.
Even after I take down this special offer, the newsletter will always be available at the regular price of $99.
But there's no reason to pay full price, especially when there's zero risk for you.