Dear Investor,
I doubt you've seen anything like this before…
Elon Musk's "Israeli Desert Tech" partner could spark 2,000% profits for savvy investors…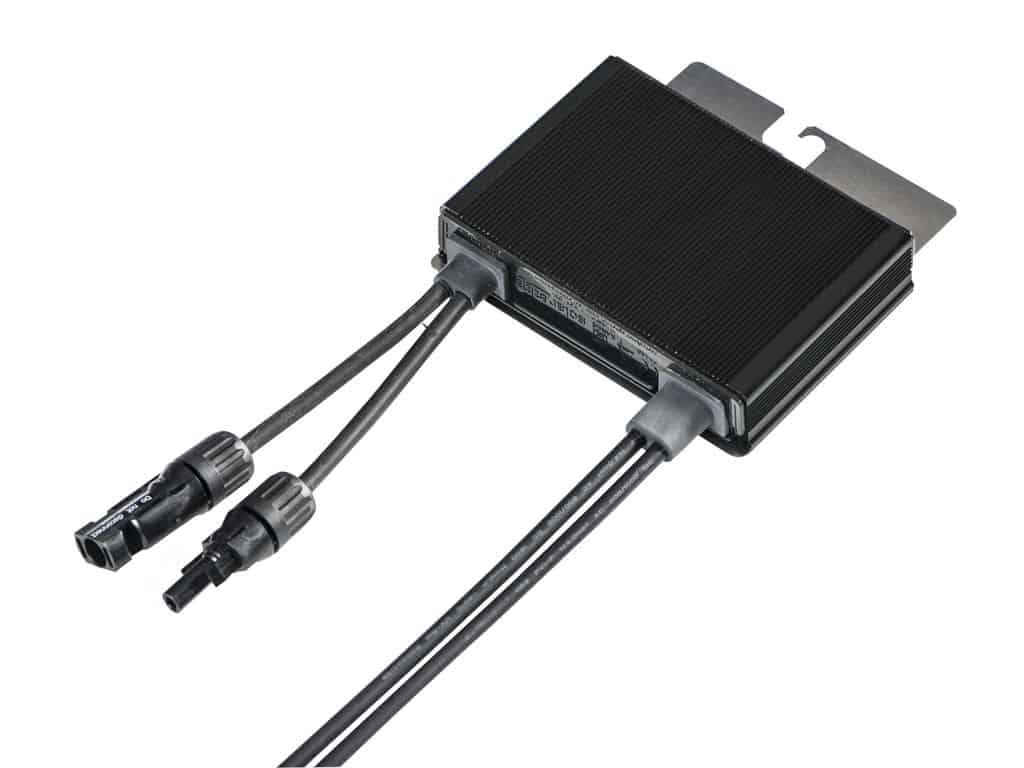 But it could soon be installed everywhere in the world.
And that's why I'm urging you to get in on the ground floor… before this technology goes mainstream.
Now, this technology doesn't have anything to do with 5G…. and it's not some new advanced microchip.
Most importantly… it's not a speculative project existing in one of Elon Musk's research labs.
Instead, this is a revolutionary device that's already generated over $1.2 billion in cold, hard sales during the past 12 months…
And it's set to bring in tens of billions more for early investors in the one company who owns its patent… and that company is NOT owned by Elon Musk himself.
But you have to act fast… 
April 2020 is the date you need to keep in mind.
That's when you need to have a full position in this revolutionary tech stock.
Those that invest in this game-changing technology could easily be looking at a 2,000% or more. 
You've never seen this 'secret device' because it was created in a lab on the other side of the world.  
And it's no exaggeration to say that it very well could spark the greatest energy boom since the internal combustion engine. 
This 'secret device' that fits in your hand solves the biggest puzzle for solar panels…
And allows everyone in America to benefit from these "mini-power plants" capable of powering everything we use…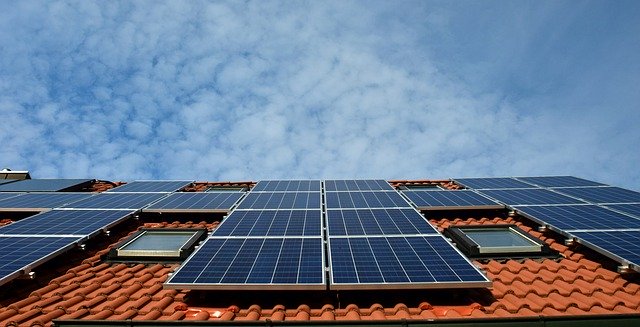 Best of all, anyone that owns the stock behind it could soon be sitting on a small fortune. 
You see, for the last 50 years, solar has failed to live up to the hype.
Free energy from the sun? 
You'd think the entire world would run on Solar by now! 
But there's been one key problem…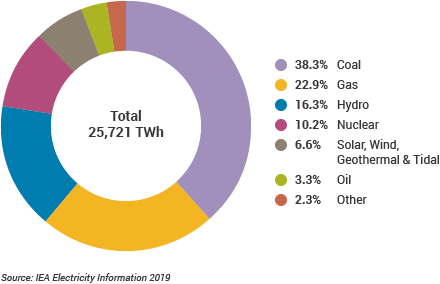 Until recently, Solar has only worked in places where there's plenty of Sunlight…
The largest solar farm in the world is in the Sahara Desert.
Which explains why even today solar is a tiny fraction of total global power generation…
It's less than 6% according to the most recent data available.
But that's about to change rapidly…all thanks to this 'secret' device.
This small device evens the playing field for solar power. 
And it is the catalyst to make solar the dominant energy source of the 21st century. 
Solar power has tons of room for rapid growth at only 6% of global supply.
Already, electricity utilities are pouring billions into solar projects across the United States using this new tech…
According to Allied Market Research, solar power will be a $223 billion market by 2026. 
None other than "The Oracle of Omaha", Warren Buffett, is spending $1 billion to build the biggest solar farm in the United States. 
"Warren Buffet's [$1 Billion Solar Project] Expected to Transform Nevada Energy Landscape"
-Clean Energy Authority
Not to be outdone, Elon Musk has thrown his hat into the ring…
When Musk's not busy making electric cars or launching rockets, he's pounding the table on solar to anyone who will listen…
"Elon Musk Is Talking About Powering All Of America With Solar."
-Futurism Magazine
Mr. Musk is even putting his money where his mouth is, with Tesla having invested over $6 billion in solar power.
Elon sees the writing on the wall, and is racing to put Tesla on the map as a leading solar-panel manufacturer…
"Tesla's new Solar Roof costs less than a new [regular] roof…"
-TechCrunch
But what many didn't notice was that Musk inked a partnership agreement with the maker of this device over 5 years ago. 
Make no mistake…
The solar market is growing so fast that the biggest technology and manufacturing firms in the world are rushing in, including…
GE… Mitsubishi Electric… Toshiba… and Huawei.
But what these firms don't know is that for their dreams of making solar-billions to become a reality, they're going to need the 'Secret Device' I showed to you earlier. 
Which explains why the stock behind this device has risen more than 134% in just the past 12 months: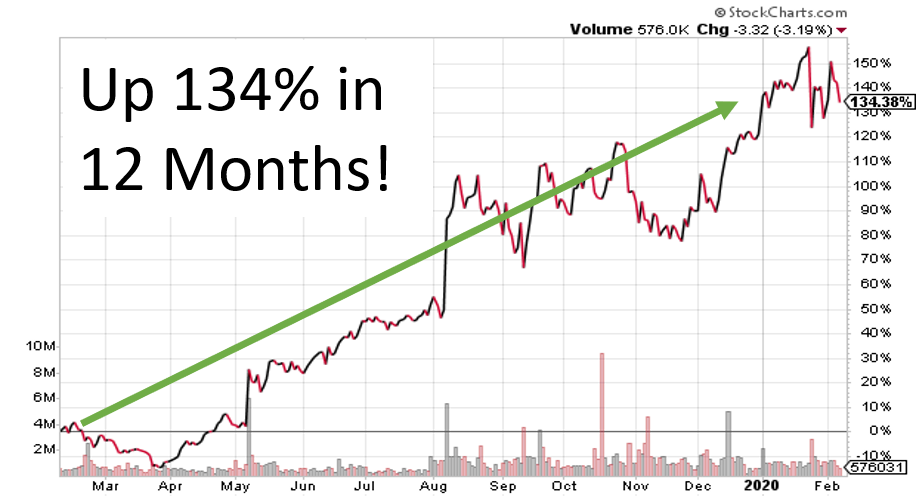 The writing is on the wall.
And investors that buy today will see the bulk of the gains because…
This Device Will Make Solar the #1 Energy Source of the 21st Century
And one of the biggest growth sectors in the world.
Let's face it…
Until now, solar has been all talk and no walk. 
Take what happened a decade ago…
Back then everyone thought the future would be solar-powered.
And investors sent solar stocks through the roof only to watch them crash back down to Earth…
Here's what happened to a leading stock, First Solar (FSLR)…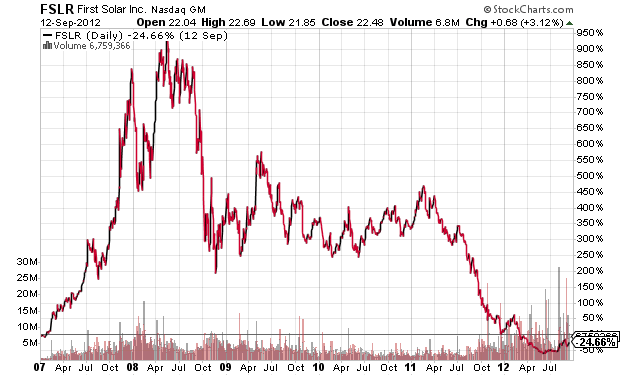 And SunPower (SPWR)…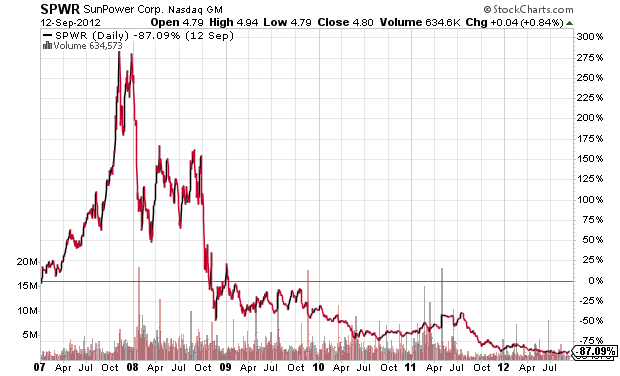 Now let me reassure you.
I would have never put all this time and money into developing this research unless something has changed.
Before I share Why Solar Growth is About to Explode…
Let Me Share Why it Has Not Been Able to Lift Off
Until today solar power was less efficient than other energy sources.
And forget about installing solar unless you lived in a place with abundant sunshine.
The biggest States in America for solar happen to get plenty of Sun:
California 

North Carolina

Arizona 

Nevada 
Even worse, the costs to switch to solar power can be huge. 
"[Solar Panels] cost $14,119 after claiming the [Federal] tax credit."
-Solar Reviews
But the problem isn't the solar panels…
It's the energy that gets wasted AFTER the Sun's rays hit the cells. 
Just like a car engine getting hot during a long drive… solar power "wastes" energy as heat, too. 
Of course, no fuel source is 100%… 
But for solar power to become the $200 billion+ market it's projected to become…
We needed a way to capture all that wasted energy. 
That's the only way solar will work across the globe. 
Which is exactly what my "Top Secret Device" I share above can do.
And once the word gets out…
The whole world will start buying a lot more of the device I've been telling you about… 
This Advanced Device Instantly Solves Solar's Biggest Flaw and Unlocks Billions in Value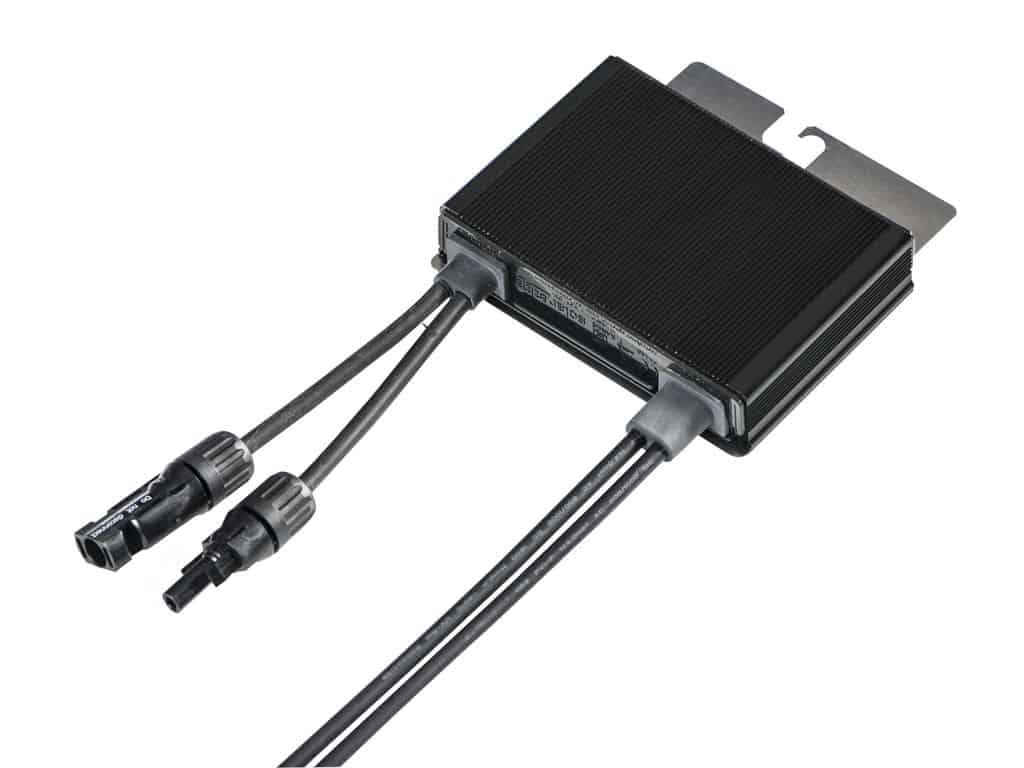 Remember the device I showed you at the beginning?
Here it is again…
This very well could be the most important invention of the decade because it can bring solar to almost every home on the planet.
It allows solar-power systems to work practically anywhere. 
Industry insiders have slowly realized what this device is capable of, sending shipments soaring…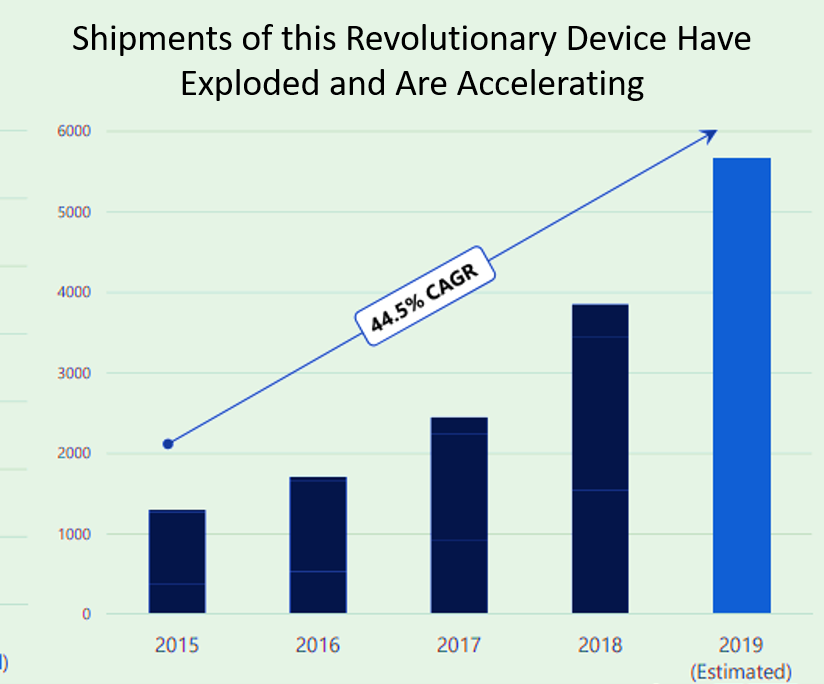 Even Elon Musk rushed to partner with this device manufacturer after seeing an early model of this device…
"[Solar Device Stock] Announces Collaboration With Tesla Motors to Offer… Solutions to the Global Market"
And the best part is nobody is talking about this revolutionary device…
Because it was invented on the other side of the world in Israel. 
And while most people think of conflict when they picture Israel…
What they don't realize is that the small small nation of 9 million is quickly becoming a new 'Silicon Valley'…
"Israel [has become] The New Silicon Valley"
– Apex
Israel has the highest number of startups per capita in the world. 
Which makes sense….
The tiny nation, not much bigger than New Jersey, is surrounded by hostile neighbors and has few natural resources. 
So Israel has placed its chips on technology. 
It's home to…
Teva Pharmaceuticals (NYSE: TEVA), the maker of

medications used by more than 200 million people worldwide

.

Security software leader Check Point (NASDAQ: CHKP) with a market cap

of approximately $20 billion.

 

Billionaire Warren Buffett's first foreign acquisition

was Israeli tool manufacturer

Iscar

,  closed in 2013 for a cool $2 billion. 
…just to name a few. 
Intel, Apple, and Microsoft all chose Israel as the best place to open their first overseas R&D facilities. 
That's because Israel's technology workforce is fueled by an elite (and secretive) branch of the Israeli military known only as "The 8100."
And it's because of "The 8100" that an entire generation of Israeli "Elon Musk" tech leaders are emerging and determined to change the world. 
Just imagine if the CIA's most elite spies regularly left Langley and headed for Silicon Valley to revolutionize everything from energy to software and even medicine. 
That's exactly what happened, because…
This Secret Devices' Inventors Left Israel's Elite 'CIA' Agency to Make Billions
I have to share the story of the founders of this stock.
It's straight out of a James Bond movie.
The year was 2006 and two young members of an elite Israeli spy agency left to become entrepreneurs after their mandatory service was up. 
But they didn't know where to start…
Then a chance meeting with a Silicon Valley entrepreneur convinced them to focus on revolutionizing solar power. 
They knew this was their chance…
Not only achieve their goals but to make Israel energy independent.
After all, if there's one thing Israel has plenty of it's Sun… 

They immediately learned everything about solar power… And that's when they found it.
A huge gap in the solar market worth billions in annual revenue…Maybe even hundreds of billions.
Because solar technology hasn't changed much over the past 70 years.
IBM had an experimental solar cell just as good as today's panels back in the 1970s!
Think about that for a sec…
In 50 years our ability to generate electricity from sunlight has barely budged. 
It's sad…
Over that same time frame computers went from this…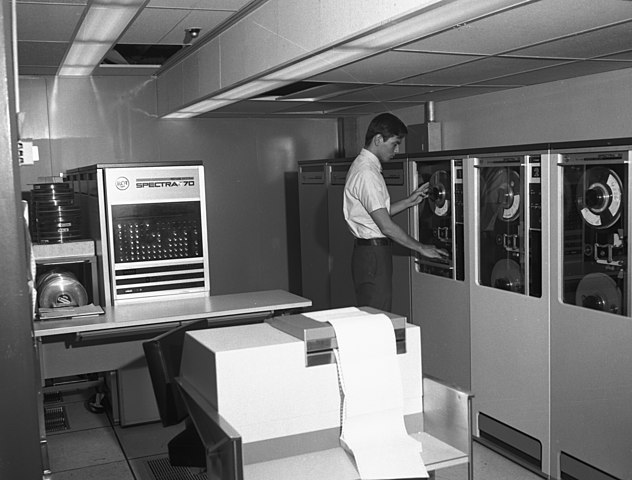 To this…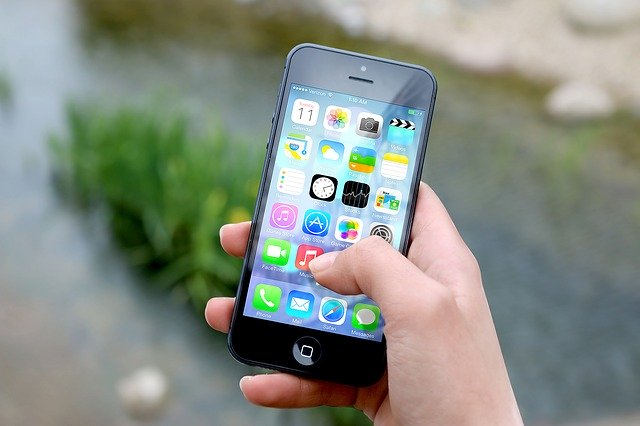 But solar panel tech has barely budged. This leaves a massive gap in the market that our 'Secret Solar Tech' founders are filling today. 
The average solar panel is only around 23% efficient.
This means today we can only convert about 23% of the sun's energy into electricity.
The remaining 77% is wasted. 
So what the solar industry has been lacking for the past 50 years hasn't been better solar panels but a way to prevent these losses. 
Which brings me to what the two inventors this 'Secret Solar Tech' realized…
The problem hasn't been solar panels, it's the entire solar power system. 
Like I said earlier…no energy source is 100% efficient….
No matter what you do, some of that energy always gets lost ( just like the heat from your car engine).
It's all lost energy that's going to waste…And it's the same with solar power.
Solar panels leak a lot of energy as heat., You need to save every watt of power you can get to make solar a world-wide dominant energy source.
So the two inventors took a step back and looked at the entire solar-power process… 
And by the time they were through they had invented a device that would guarantee as much power was preserved as possible.
While everyone has been trying to squeeze out an extra percent of energy with better solar panels…
Our 'Secret Solar Tech' founders built a device that prevents up to 50% energy loss from the panel to your home.
They nailed a massive opportunity to make solar power a dominant energy source! 
My Top Investment for 2020: The Revolutionary Solar Device With a Virtual Monopoly
Hi, my name is Eddy Elfenbein. 
I have 25 years' experience in the investing industry. 
I've done it all… and started out in what one might compare to a "Wolf of Wall Street" situation only to wind up running my own growth-stock newsletter.
I even helped legendary growth investor Louis Navellier grow his publishing audience…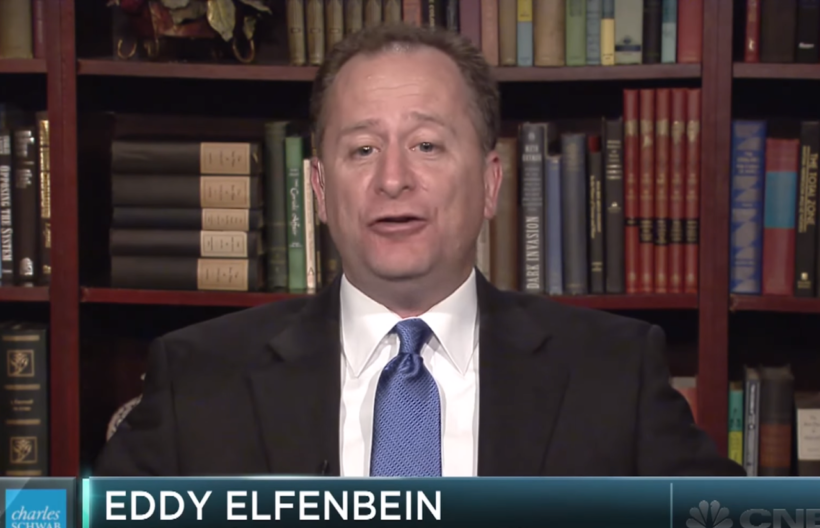 Through it all, I've always focused my attention on future trends.
The kind of economic shifts that spread like wildfire…
Like Microsoft in 1986 as personal computers were entering the mainstream…
Apple back in 2006 before the rise of the smartphone…
Or Facebook in 2012 – before mobile ad spending produced $40+ billion a year in revenue…
No matter how you slice it, getting behind massive trends is how you get rich in the stock market.
So regardless of what Wall Street says about the direction of markets, I'm always focused on something else…
My goal is simple: Find stocks that dominate industries.
The dominant companies are the ones that produce massive gains for years on end….
Which brings me to whyI'm sharing all of this with you today. 
As you know, I've discovered what might be the most important invention of the solar revolution…
And it's taking hold right now before our very eyes. 
As of 2018 global solar power production topped 500 GW and we're adding another 100 GW every year.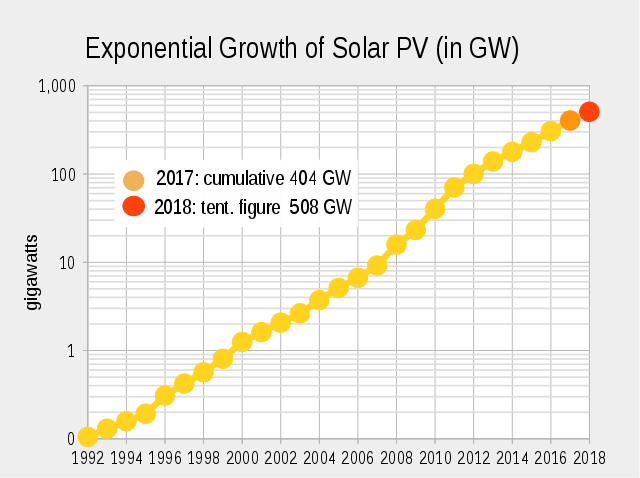 For context, 1 GW is enough power for 300,000 homes…
Which means mankind is already generating enough solar electricity to power more than 180 million homes. 
For context, according to the U.S. Census Bureau, the US currently has 128 million homes. 
The growth of the solar industry itself has been spectacular…
But results for my 'Secret Solar Device' stock have been even better…
With the top line alone expanding at twice the rate of the industry itself. 
And practically since it began making commercial shipments of this device in 2010 it has dominated its market…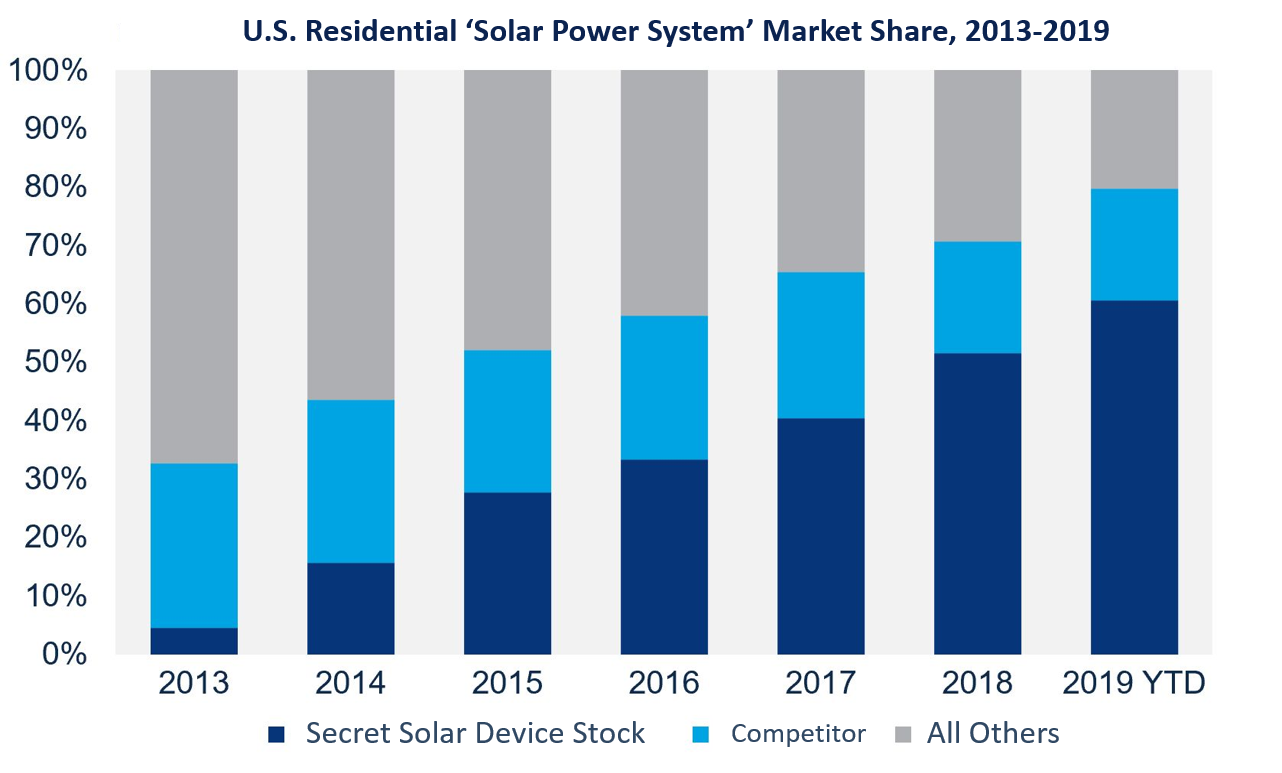 In a moment, we'll get to why this stock's rise is just beginning.
But before we get there I want to make one thing clear…
I've NEVER seen wealth creation as rampant as this for early investors.
And today I'm going to show you how to play this incredible stock and maximize your gains. 
You'll have it all…everything you need to know about the solar industry and why this company is so special. 
Best of all, you'll walk away so confident you'll get to enjoy "set-it-and-forget it wealth."
Because all the facts point to one thing…
Owning this "Secret Solar Device" stock is practically like investing in oil right before the invention of the car. 
This Solar Device Stock is a Once-in-a-Generation Investment
Solar power is about to experience a demand explosion. 
"The Future Of US Solar Is Bright"

-Forbes
Even electricity utilities are starting to get in on the action. 
"Utility-scale solar pipeline hits 37.9 GW, driven by falling costs and corporate buying" -Utility Dive
The only thing that comes close to what's happening today is the growth of the petroleum industry after the invention of the automobile. 
And nobody knows better what's about to happen than the richest American in history: John D. Rockefeller.
Before the car, John D. Rockefeller was one of the richest men in America with a net worth comparable to Bill Gates or Jeff Bezos today… 
But for most of his life, Rockefeller wasn't the undisputed richest man in the world…
It took the invention of the Model T Ford to make John D. the richest man in history. 
With the explosion in car ownership came an explosion in demand for oil.
Bottom Line: Rockfeller became the richest man in history by selling the one thing all cars needed to work.
The same thing is happening with solar power…
And right at the center of it all is this 'Secret Solar Device' stock.
This 'Secret Device' is so effective that as of last year…
Its parent company had been

awarded 334 Global Patents. 
Pulled in over $1.4 billion

in sales for the year. 

Yielded an operating

profit of $200+ million

(its largest ever).  

The California Energy Commission has

awarded it a 99% efficiency rating. 
Heck, this device is so in-demand that its maker had to open offices in over 130 countries worldwide just to keep up! 
That's not all…
Because I haven't even told you the best part…
You already know that this stock dominates its market…
And that it's technology so cutting-edge that Elon Musk put this device in his Tesla Powerwall system.  
But what you don't know is that the inventors of this device have something even better up their sleeves…
The perfect strategy for pivoting from expensive hardware manufacturing to generating billions in profits. 
Allow me to reveal…
Why You Have Less Than 2 Months to Invest in This Stock Before It's Too Late
Remember…
This company

owns over 300 patents

on advanced solar hardware technologies.

Has a head start on

advanced smart-grid development. 
This stock's solutions are so advanced that entire utilities are starting to take notice…
"[Secret Device Stock] Launching Grid Services and Virtual Power Plant Solution" –

May 2018
Once word leaks that this company can help cities, heck, even entire states manage their solar electricity usage the cat will be out of the bag.
Even worse, it will be too late to buy the stock…
But don't worry… You still have a few months to climb aboard. 
As we speak, a pilot program is quietly being conducted in New England…
"[Solar Device Stock] Participating in…New England Virtual Power Plant"

-July 2019
The program is set to take place over a four year period, annual updates will be released in April 2020.
And results have not been made public…
But if history is any guide, it's going to be big. 
Which is crucial…
Because when word gets out of this program's results, the effect on this 'Secret Device' stock will be nothing short of explosive. 
Remember, this company dominates the solar-panel efficiency market…
Now they've cast their eyes to the software-fueled Virtual Power Plant market (a $400 billion+ opportunity!).
This is where the real money is…and the simple fact of the matter is that the sky's the limit. 
This revolutionary pilot program…
Automatically manages

the charging and discharging of solar batteries. 

Seamlessly distributes electricity

across low-and-peak usage periods. 

Rewards the owners of solar systems by paying them for

adding electricity to the grid when it's needed most. 
The pilot program has been launched state-wide across Massachusetts and Rhode Island. 
But what solar industry insiders haven't realized is that software-fueled energy management is already big business for my top stock pick for 2020.
This year, it expects to sell over 50,000 of these futuristic systems.
In the company's latest quarter conference call, we learned that revenues had surged 49.6% year over year…
More importantly, revenues from Smart Grid solutions will be 20% of the top line in 2020. 
In just a few years, the majority of this solar stock's revenue will be derived from Smart Grid systems. 
Soon this 'Secret Solar Stock' company will go from being known for this…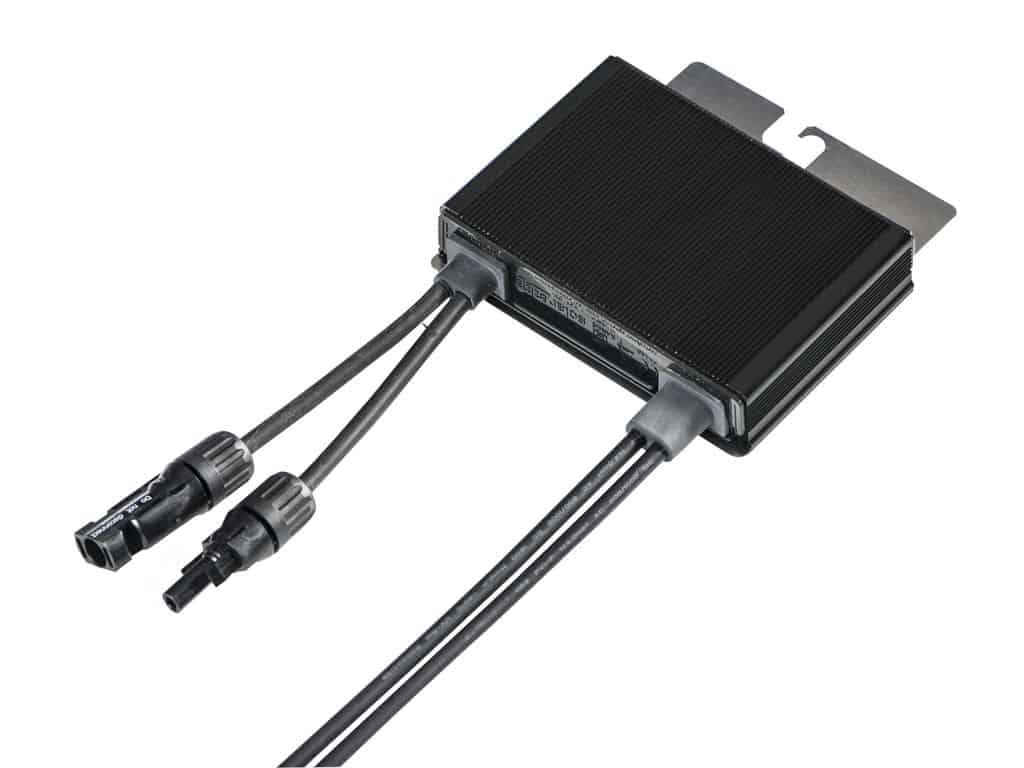 To being the company that made the 21st Century Energy Grid a reality.
And once investors realize this company has pulled off the impossible, there's no telling how high the stock could go. 
Right now, it has a market capitalization of less than $5 billion. 
Which might sound like a lot…
Until you compare it to other energy companies with tens of billions of market cap. 
Factor in this company's 300+ patents and you've got the makings of a $100 billion company without breaking a sweat. 
Which means investors today could reasonably expect a 2,000% return. 
Here's How You Can Get In
Before It's Too Late
Stocks like this don't come along every day. 
Everyone always talks about how big the internet was…But the opportunity to remake the energy grid is far bigger. 
And to get rich off what is about to happen you're going to need to own the one stock that is sure to profit. 
The Secret Solar Device Stock I've told you about today. 
It not only sells a crucial component of any quality solar system but is quickly moving to monopolize the entire energy grid. 
This stock's plans to make billions off the Smart Grid in the years ahead will start to leak in a matter of weeks…
Which means you don't have much time.  
And to make sure you get in on this ground floor opportunity…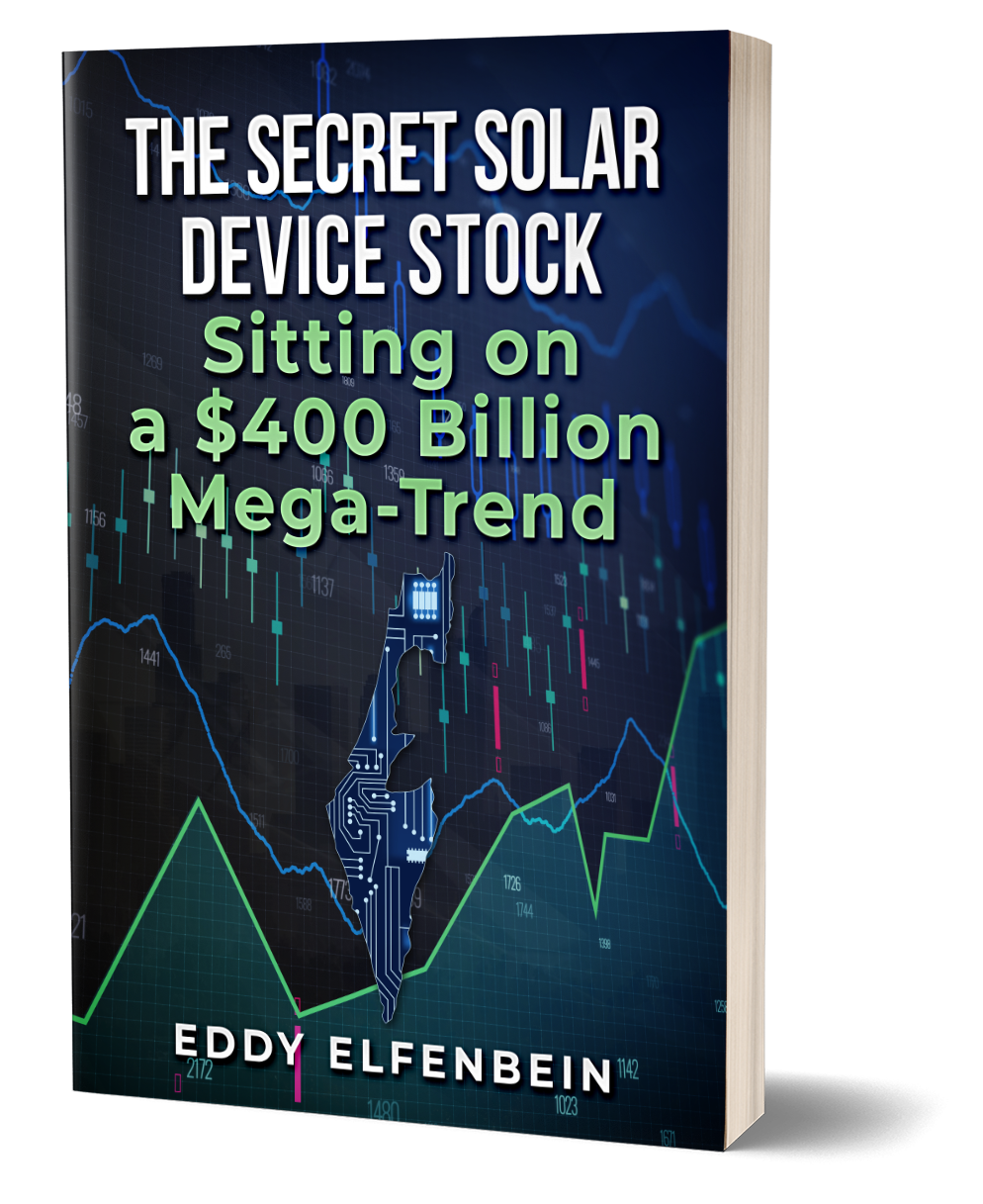 I've put all the details on this company inside a report titled…
The Secret Solar Device With a $400 Billion Opportunity
Inside, you'll discover the name and ticker symbol PLUS my in-depth research on this company…
And a roadmap of where I see it going in the future.
Typically, Wall Street-quality reports like this report go for well over $499…
But I'm prepared to give it to you for FREE today.
More on that in a moment…
What I want you to do is imagine investing in the future of energy in America…in line to make 2,000%+ as this company meets its potential. 
Could This Solar Stock Grow Another 150% By Year-End?
It's more than possible…
Especially with the results of its utility-scale solar program ready to be released any day now. 
I wouldn't even be surprised if this company doubles your money in a matter of months…
But it can ONLY HAPPEN if you act now.
Remember, it's already shot up over 100% since I first recommended it…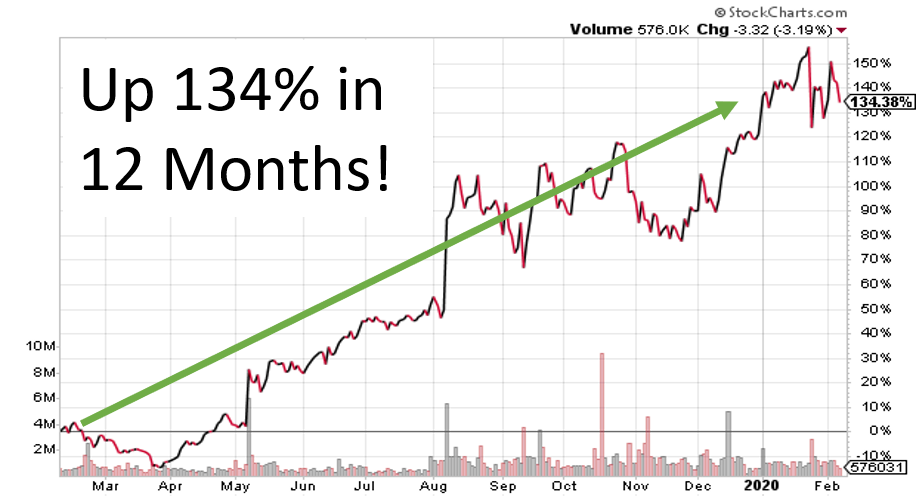 The sky's the limit.
That means the sooner you get in, the more money you stand to make.
But your window to act is quickly closing…
The results of its Smart Grid Pilot Program will be released in April. 
After more folks catch on, this stock could get sent soaring in an instant.
And if you're too late, you're too late.
So please, don't let this opportunity today slip past you.
Typically, Silicon Valley insiders and Wall Street fat cats are the ones who get rich off companies like this…
But not this time: I guarantee it.  
I Bat for the Little Guy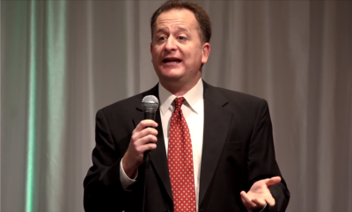 As I mentioned at the start, my name is Eddy Elfenbein.
Thousands know me as the Executive Growth Advisor for Investors Alley.
And if you've seen one of my many appearances on CNBC, Fox Business, Investopedia, or The Motley Fool then you know I follow a simple strategy…
You make money when you buy…
NOT when you sell.
I've proven time and time again this is all you need to succeed.
For example, every year on January 1st I publish a buy list of 25 stocks…
These are investments I DON'T touch for the entire year.
Sounds like a recipe for disaster, right? Well get this…
My infamous buy list has beaten the S&P 500 14 years in a row!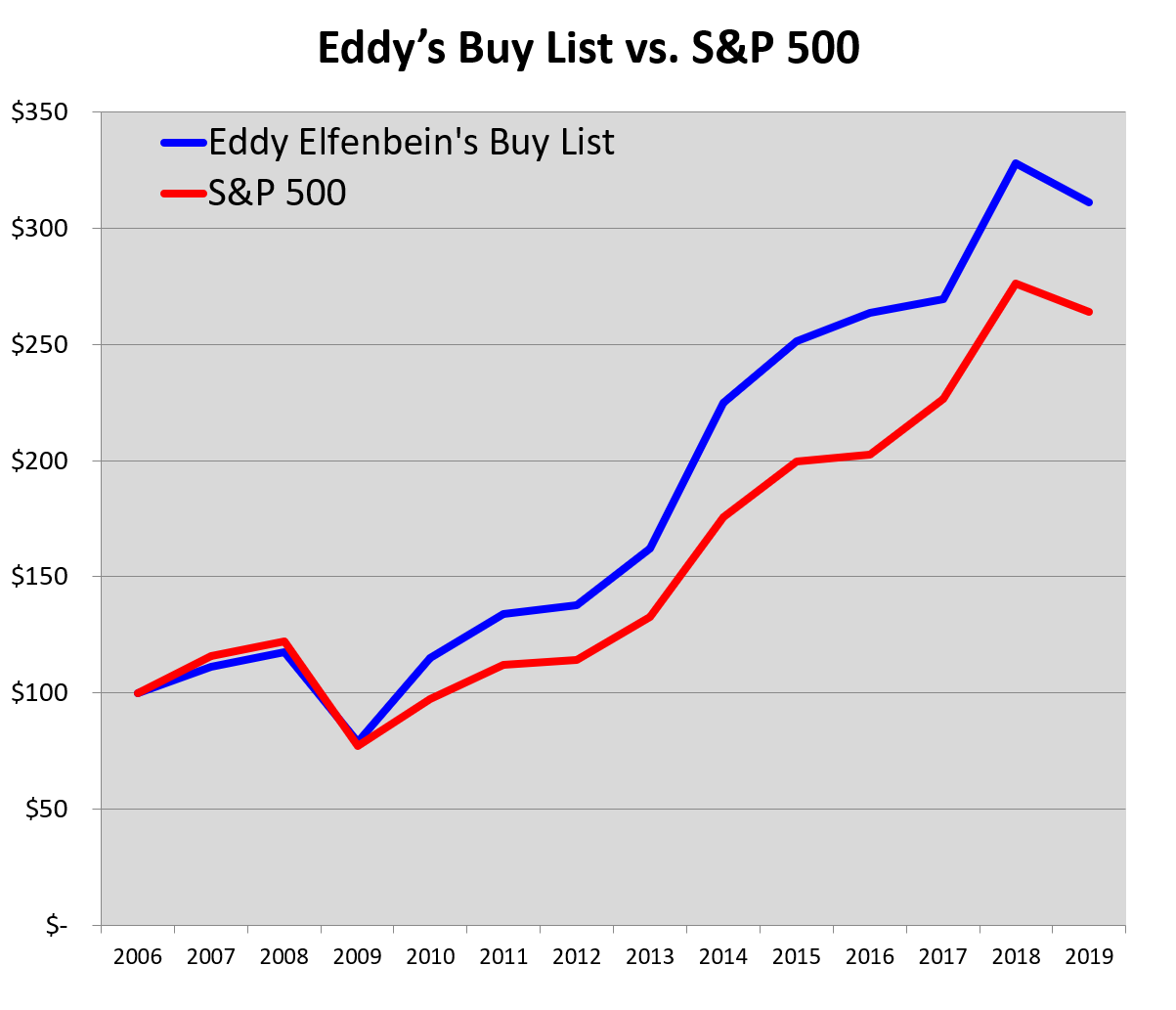 And not by a few percentage points either…
Compounded, my wins are nearly 50% higher than the market!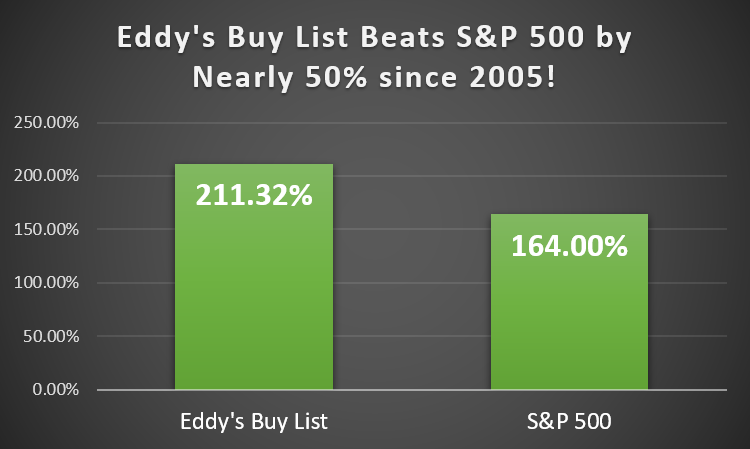 That's the power of my simple investing strategy.
With "no brainer" stocks it's almost impossible to fail.
My Secret Solar Device stock is exactly that type of situation. 
It matches my investing philosophy perfectly…
And I hope that by now you're excited to dive in, buy this Solar Device stock and collect your winnings. 
But there's one more thing I'd like to talk to you about…
What would you say if I told you I share 12 investment ideas like this every single year?
No doubt you'd want to know more…
And that's good, because…
This 'Secret Device' Stock is Just the Beginning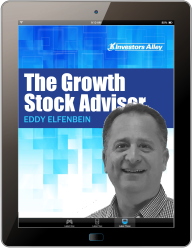 I'd like to introduce Growth Stock Advisor.
This is my brand-new newsletter you'll have immediate access to along with your free Solar Device Stock Report.
Every month I'll publish my best recommendations here…
Exclusive to Growth Stock Advisor readers.
You've already seen how profitable these picks have been.
Like in 2017 when I predicted Moody's (MCO) would breakout…
Sure enough, it delivered 56% gains in one year!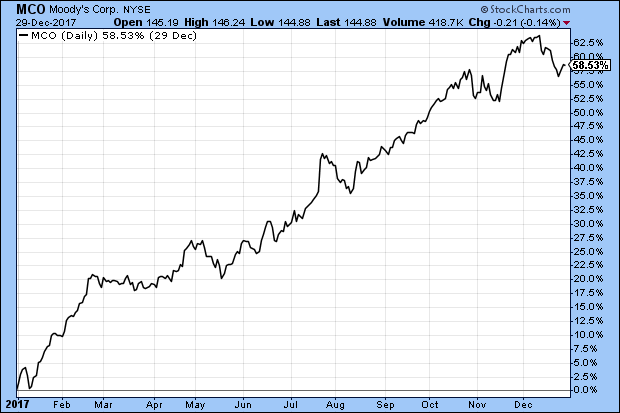 Or back in 2013 when I told folks to Moog (MOG-A) was a great buy.
It proved me right by delivering 65% gains!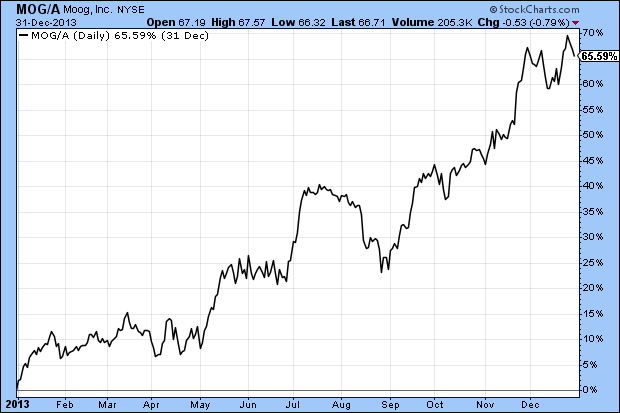 And when I recommended Nicholas Financial (NICK) at the height of the financial crisis… Everyone thought I was crazy.
But sure enough, it grew my readers' money by 222%!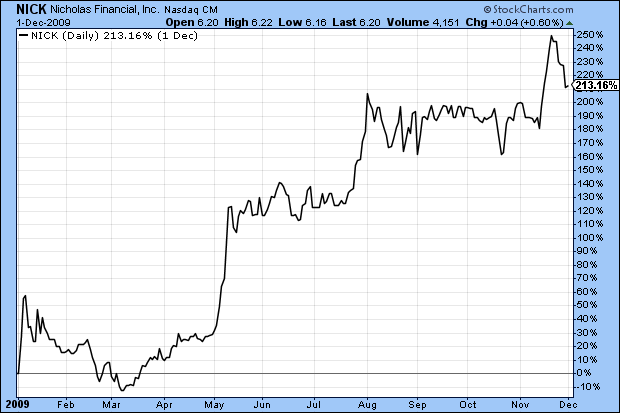 And this Revolutionary Solar Company could more than triple all these results…
It's that big.
But I'm also going to authorize something unexpected.
When you join today, I'll up the ante by including two free bonuses that only current members have access to.
FREE BONUS #1:
An Investor's Guide to The 5G Revolution
Once you join my market-beating investment community, you'll see that in addition to Solar, 5G is the other market I'm investing heavily in. 
But with new revolutions like 5G, it can be tough to see the big picture…
This guide fixes that problem for you.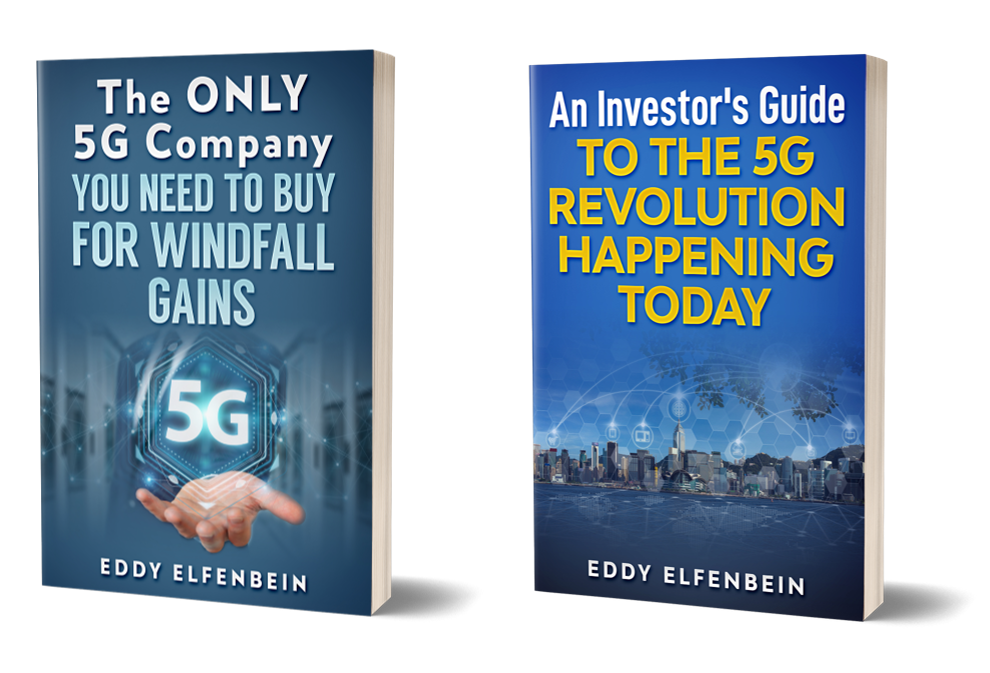 In my "Investor's Guide" you'll get a complete birds-eye view of 5G.
Where it is at…
And where it's heading.
This is how you can become "smart money"…
Rather than following the herd.
You'll know where the next big opportunity could be hidden…
And how you can set yourself up to pounce on it!
If 5G grows to even half its projected size this prospectus should be considered priceless…
But I'm prepared to give it to you for FREE included in this bundle.
Along with The ONLY 5G Stock You Need to Buy, you'll have everything you need to profit from this massive new wealth boom.
But that's not all…
FREE BONUS #2
Streaming Wars: The #1 Investment to Dominate the Future of TV
A "Streaming Wars" gold rush is happening right before our eyes.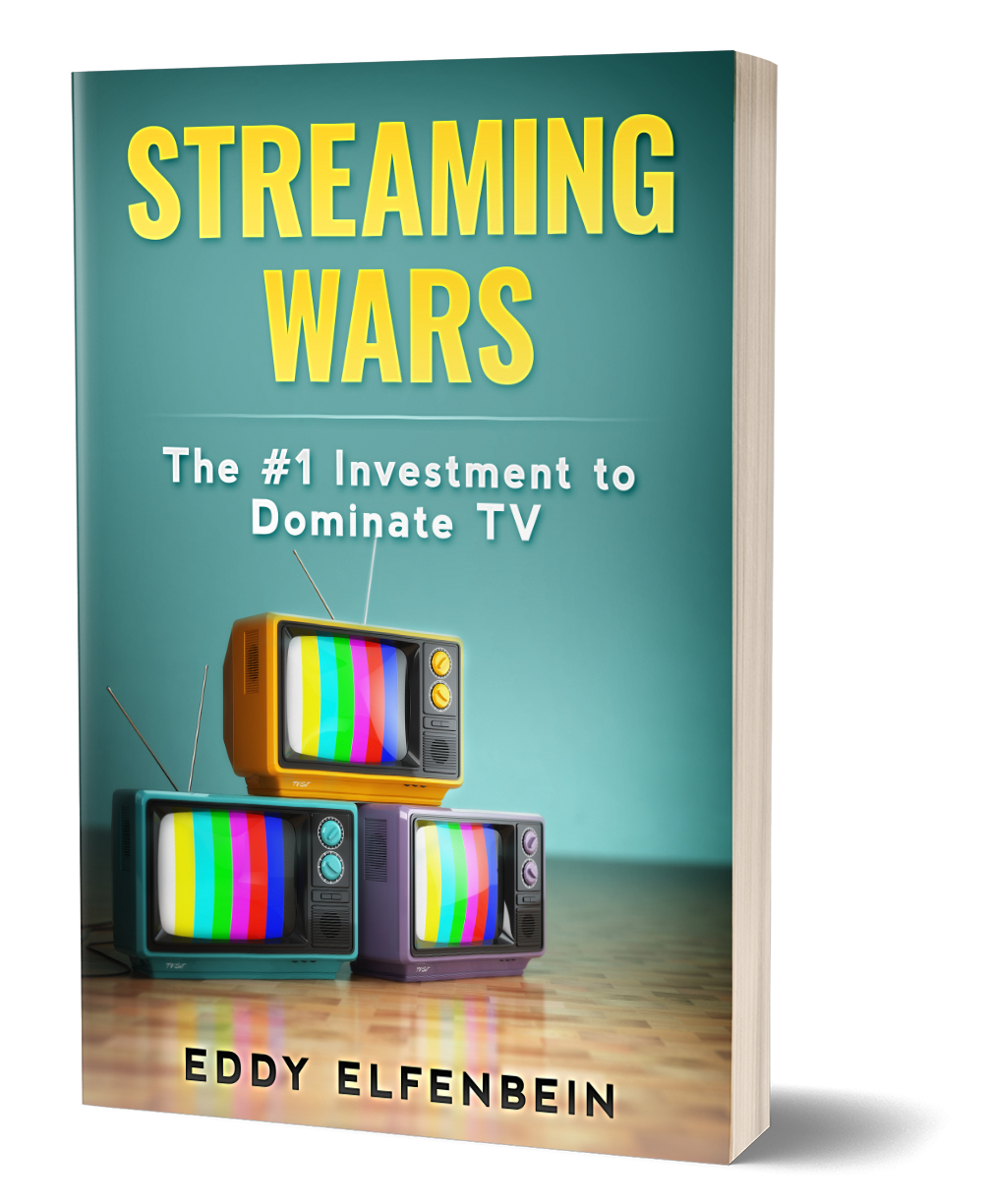 And investors who position themselves today can receive huge windfalls over the next decade and longer.
Inside, this bonus report I'll tell you everything. 
You'll get the name of the company…
The ticker symbol…
The complete backstory on the enterprise…
And, most importantly, the full details on the groundbreaking AI work, hardware and advertising they're doing in the streaming and hardware space. 
This company has already partnered with Amazon, Netflix, Hulu, Disney…all the big players to deliver amazing television in the US and across the globe. 
As you can imagine, this is valuable information, which is why this streaming report is valued at $97. 
But, on this page only, you can get your copy free.
You're Just Moments Away From Joining My Most Exclusive
Group of Readers
As I said, I've beaten the market 14 years in a row.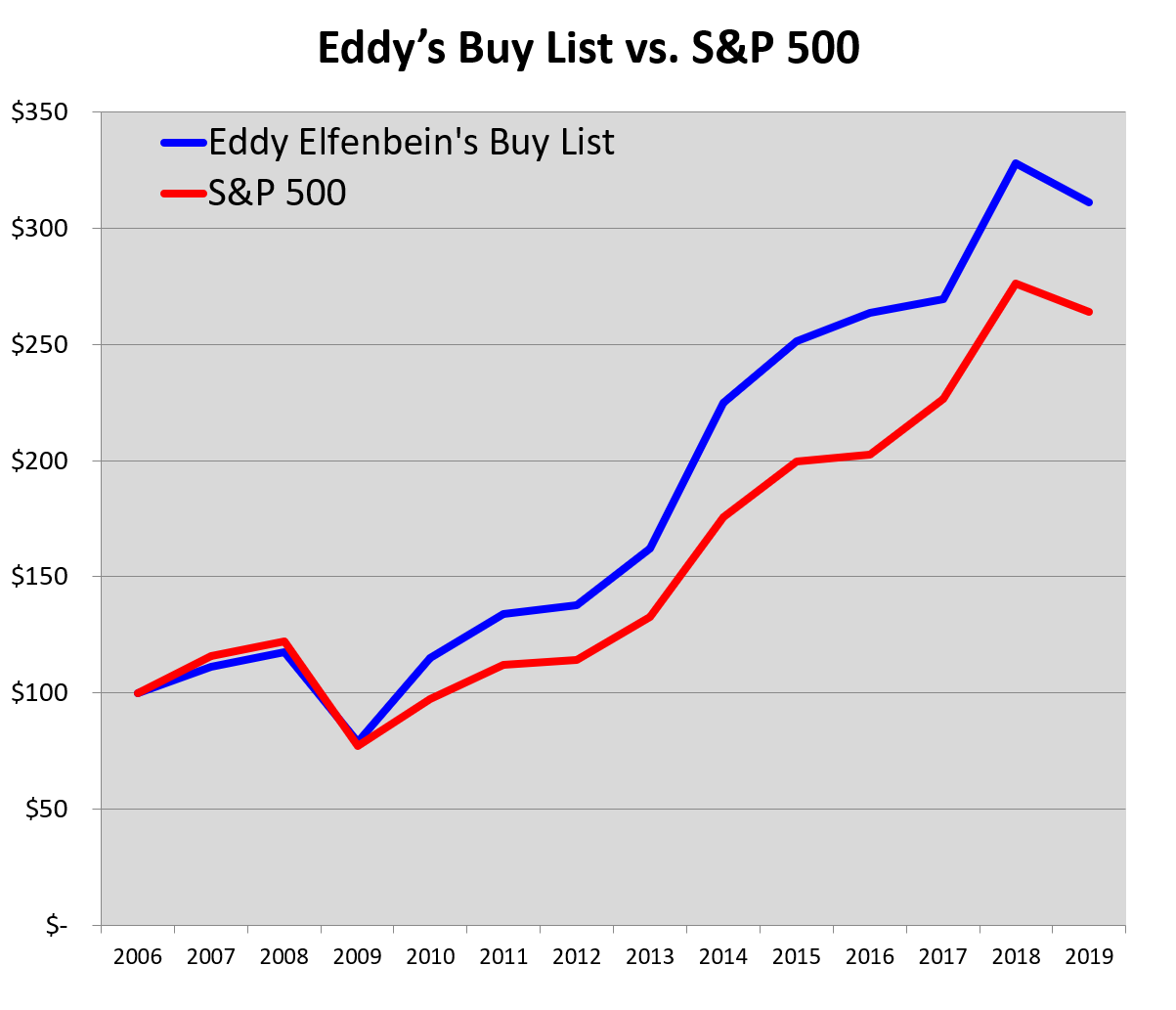 That's no small feat.
Especially when you consider I've won by over 50%.
As a result, folks write about the success they've had following my advice nearly every day.
Here's a sampling…
"In an industry full of cowards, frauds, Eddy outshines everyone by providing great commentary and even better picks…I'm proud to say he discloses the performance of his picks in a very organized fashion… Anyone beating the market by that much, year after year…deserves to be read"
–  Todd Howard from New York
"Very clean and good after day market analysis."
–  Vince Elliot from California
"Eddy is the Jimmy Page of investing"
– George Larson from Nevada
And when you get a chance to profit from this new Secret Solar Device opportunity I'm confident the next note I receive will be from YOU…
So to recap…
Everything You See Below Is Yours…
WHEN You Act Right Now

FREE REPORT – The Secret Solar Device With a $400 Billion Opportunity
The name and ticker symbol of the stock that's primed to surge 2,000+ or more as solar spreads across the globe. 
You'll also receive my in-depth analysis of this company…
And where I could see it headed in the future.
FREE REPORT – An Investor's Guide to The 5G Revolution
Your birds-eye view of the entire 5G market…
Having this guide instantly makes you the smartest investor in the room.
You'll be able to predict where 5G will likely go next, and profit.
FREE REPORT – Streaming Wars: The #1 Investment to Dominate the Future of TV
Revealed inside this guide is the best way to profit from the TV streaming revolution.
Here's your second chance to score if you missed out on the monster gains from Netflix.
Plus Access to My Exclusive Growth Stock Portfolio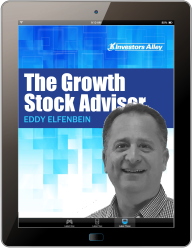 You'll find an additional 21 companies I've recommended in the past…
Right now some are sitting at gains well above 60%.
And you have access to each one the moment you join!
12 Monthly Briefings
Every month I write you a comprehensive report on the markets and our current portfolio…
I'll also recommend a new money-printing stock with each issue.
This takes all the guesswork out on your part, everything is written in simple plain English.
Urgent Buy and Sell Alerts
When I see a new pick and could hand you big gains quickly, I'll notify you immediately.
That way you're the FIRST to know of a hot new trend or stock opportunity.
Also, if a position needs to be sold you'll be notified right away.
Leaving no room for missed gains or big losses.
24/7 Secure Website Access
No matter where you are, you'll be able to login using our secure encryption portal.
That means you won't have to worry about missing out on a trade alert or new report, you'll have access anytime, anywhere!
White-Glove Concierge Service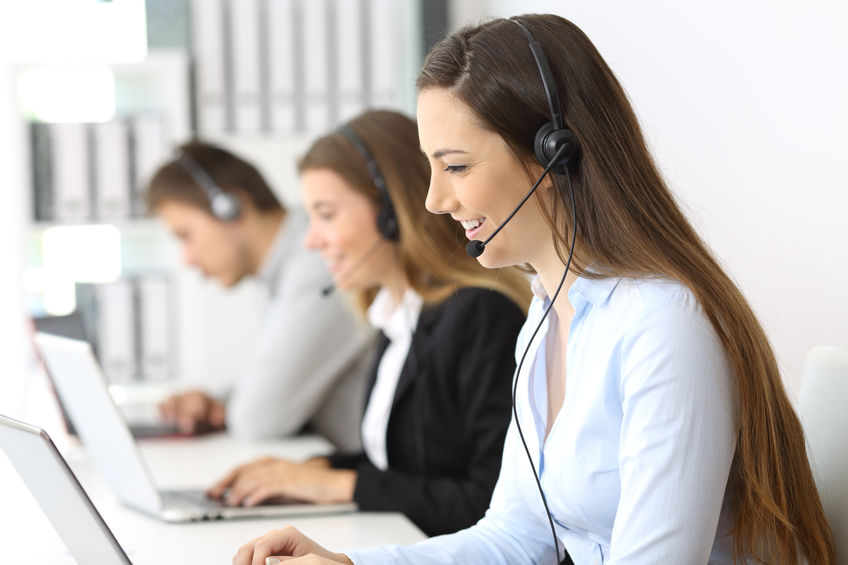 If you have any questions or concerns you can call up our dedicated white glove solutions team at any moment for a prompt reply.
The price for all of this incredible research and service?
You'll be shocked.
Because rather than charging you the $5,000… $1,000… or $500 all of this is probably worth…
You won't have to pay anywhere NEAR that amount.
In fact I've made sure that…
Joining Today Costs Less Than a Dinner for Two at Longhorn Steakhouse
You see, I didn't grow up rich.
I wasn't the kid with a silver spoon in his mouth so I know what it's like to struggle.
That's why instead of charging as much as $5,000 for all the research and bonuses I've shown you today…
I've decided to charge just $49.
A bargain for what all of this really costs.
But because I don't want you to miss out on this urgent opportunity…
I'm losing money giving you that deal.
But I don't mind, because I want you to get in before it's too late.
After all, if I'm even half right about this stock…
Your $49 cost of entry today could pay for itself in just a few short days.
Imagine joining today and seeing your investment grow alongside the rapid solar energy market.
You'd profit off every solar panel.
And at the rate this company is growing…
You'd quickly have enough to cash out and clock out of work for good.
But the incredibly low price is only the first half of the red carpet I'm rolling out for you…
The second half is the guarantee.
Here's Your 100% Risk-Free Guarantee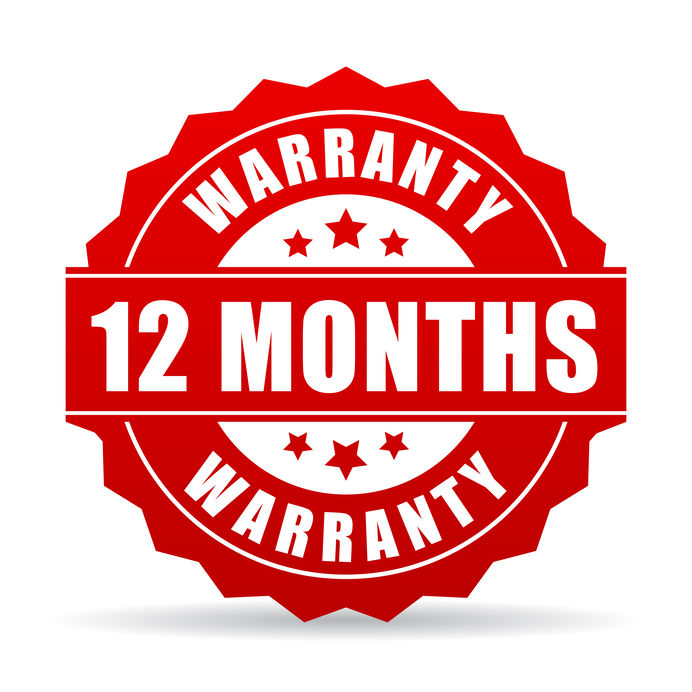 I understand you may still be on the fence, even with the low price.
So I'm prepared to go a step further and offer you this guarantee:
If at any point you're not happy with Growth Stock Advisor during the first 12-months, you can request a full money back refund.
You will have your $49 back with no questions asked.
And you'll get to keep The Secret Solar Device With a $400 Billion Opportunity, all of my monthly briefings, and any other special reports as part of the service.
You can be "not happy" with Growth Stock Advisor for any reason…
And we'll still give you a prompt, hassle-free refund.
So you have nothing to lose by joining risk-free today.
Now's Your Chance to Grow Rich…
Do NOT Get Left Behind
Will you let this opportunity pass you by?
I hope not.
Because if you don't act and join today…
Your chance to rake in a fortune with could disappear forever.
Remember, this is the PERFECT pick and shovel play.
For solar energy to expand, companies need this device…
The sky's the limit for how high this company could rise…
I could see it hitting 500%… 1,000%… even 2,000% in time.
Anything is possible… IF you get in now.
And soon the rest of the world will discover this secret company…
Now's your chance to get AHEAD of the crowds.
It's time to finally make your fortune.
And to get started, simply click the button below…