Tony Daltorio here.
When I was editor of Growth Stock Advisor my investment research would always turn up extra opportunities.
The kinds of investing opportunities for those who want a head start on everyone else. The kinds of opportunities that were at the front of the trend…
They were way more than a typical reader of Growth Stock Advisor would want but I felt that for discerning, forward looking investors these opportunities and the research behind them might be a gold mine.
My publisher wouldn't every allow me to post them online because they're just too valuable.
These are my deepest and best picks I can only share with a select few…
Because my profit targets for these stocks are so high that just one winner can set you up for the rest of your life.
I'm ready to hand you over a dozen chances at a life changing investment if you hear me out today.
That's because I bet you're one of those select investors who's ready to:
Jump on early plays to generate massive windfalls
Generate a retirement fortune, and
Boast a portfolio better than most Wall Street suits
See, after 37 years, I've spotted a thing or two in the stock markets.
And what I've discovered and will share with you today is the 4 proven catalysts that ignite stocks into not just 50% and 100% gains…
But, 1,000% and 2,000% winners.
Thus turning $10,000 into $210,000.
Or, a mere $50,000 into a retirement fortune of $1,000,000.
Nabbing just one of these 1,000% stocks could set you up for life. You could travel the world and never have to work again.
But today, I want to share with you FIVE stocks that have all of the catalysts to be 1,000% winners or more.
I call these catalysts… 'triggers.'
And, if you stick with me today…
You'll see how using these 4 simple triggers can hand you the 'golden ticket' and a potential 1,000% or higher home run investment that will set you up for life.
It's a pretty thunderous claim.
But this is why we invest. We want that one stock that'll lead us to riches others only dream of.
And I'm here today to not only tell you it's possible, but to show you exactly how you'll do it over the next 12 months.
HOW ONE STOCK COULD CHANGE YOUR LIFE
It's true…
Owning just one stock could literally change your life.
During my 20 years at Charles Schwab, high net worth folks would ask me point-blank: "Tony, what's the best stock I can own that will see the biggest gains?"
Well, today, I'll show you to uncover them.
Comparing my 4 triggers to historical stock run-ups, you could've generated massive profits:
Tyler Tech has risen 1,483% and still going.
The 4 triggers identified Lear Corporation … it's moved up 1,142%
SVB Financial Group…exploded 1,243%
Credit Acceptance popped 2,893% thus generating $289,300 profits on a $10,000 investment.
Lippert Components skyrocketed 2,052% and it's a '4 trigger stock.'
And the 4 triggers work in almost every industry.
In automotive, WABCO Vehicles met all of my triggers and it's popped 1,461%.
In banking, WEX Inc. did the same and moved up 1,218%.
In medical, Cantel Medical rocketed 1,330%.
In retail, Pool Corp. jumped 1,189%.
Of course, in tech, Expedia boomed 1,112%.
Even in transportation, I saw Old Dominion reward investors with 1,127% profits.
Because you've already joined me as a Growth Stock Advisor subscriber, I'm willing to share how to find these fortune-making plays for a limited time.
You won't have to know any technical indicators or make complex calculations.
You'll not only be able to start using the 4 triggers yourself to find the next big stock that could shoot up 2,000%…
But, if you read until the very bottom of this page, I'll give my top 5 stock picks away.
They check all 4 of my triggers and one could be the #1 stock you will retire on because it pops 1,000, even 2,000%.
Why 5?
Because nothing is guaranteed in the investing world.
This is your one-time invite on a journey with me to uncover the #1 stock to retire on.
I'll be honest. Most of the picks should earn 50 to 100% gains…and you'll enjoy cashing those checks. They're better than most ever receive from the markets.
But, we'll be searching for that one stock that's an absolute home run.
The one investment that completely transforms your financial outlook.
That's why I'm pooling all my stock-picking knowledge from my 37-year finance career into uncovering the #1 stock you will retire on.
Join me.
First, it's important you understand how we will find this #1 stock…that starts with our 4 triggers.
THE 4 TRIGGERS TO UNCOVER THE #1 STOCK TO RETIRE ON
TRIGGER #1: Get Behind the Trend
I'm sure you've heard the term "picks and shovels." As a refresher, it goes back to the California gold rush starting in 1848.
A lone man, James Marshall, stumbled on some gold like Jed Clampett. As a response, over 300,000 frenetic folks trekked across the country to find their own golden destiny.
What's ironic…the smart people weren't the ones panning for gold…they were the ones selling picks and shovels.
They were selling the dream.
With stocks, getting behind the trend means asking: "Is this company a 'picks and shovels' company or a gold panner?"
A 'picks and shovels' company sells services to those companies trying to 'strike it big.'
For example:
Shopify is an e-commerce platform upon which anyone can build an online store. As of 2017, 600,000 sellers have used the platform to sell books, homemade goods, you name it.
A 'gold panning' play would be investing in one of the 600,000 merchants trying to get rich off of their products.
A 'picks and shovels' play is Shopify because they sell the tools these merchants are using to pan for their "gold". If 100,000 of the merchants fail (and most will), Shopify is still making millions.
In just 4 years, the stock's gained 1,012% for investors. You'd more than double your money every year!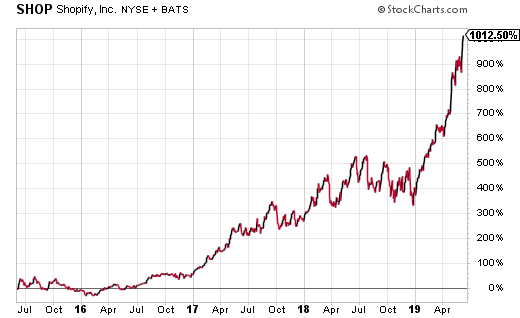 Here's another interesting example…
Pool Corp. is the leading distributor of pool supplies. They distribute over 180,000 national brands and private labels.
A 'gold panning' play is investing in one of the 180,000 brands trying to create the winning label. Again, most will fail.
A 'picks and shovels' play is Pool Corp. because they provide the means others hope to get rich. Without Pool Corp. these labels and brands are dead in the water.
In the last decade, the stock is up 1,174%. Since their IPO, they've popped over 15,000%! That would be like turning $10,000 into $1,510,000. A fortune.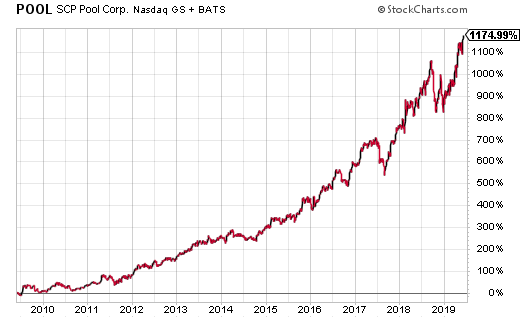 Now, I'll admit, these aren't the sexy plays plastered the financial media – especially television – talk about all day just to sound impressive. To those outside of investing, it might sound downright boring.
But, I'm not sleeping on 1,000% gains even if it is a software platform or a pool distribution company no one has heard of. It's just smart business.
Perhaps, you've heard this more popular 'behind the trend' example…
Back when Apple first launched the iPhone, you'd think investing in Apple would be the best play on the market.
You wouldn't be making a bad decision. Since Apple launched the iPhone in June 2009, the stock is up 755%.
But, what if you got 'behind the trend?'
You'd be investing in NVIDIA…a semiconductor company. Semiconductors are needed in all phones and computers. Their stock is a 1,847% winner since 2009.
And NVIDIA's not alone.
BE Semiconductor is up 3,558% since the iPhone launch.
Lam Research, another semiconductor company, has returned 1,162% to investors.
Again, 755% with Apple isn't bad at all. But, you're leaving massive amounts of money on the table.
While everyone was looking at Apple at the time, you would've been looking at companies like NVIDIA and BE Semiconductor.
Along these same tech lines…
Video games have exploded thanks to tablets and phones.
Electronic Arts (EA) has seen it's stock catapult 1,026%. EA acquires studios to create games, publishes games, and much more.
If you went with an obvious play like a game retailer, you'd be in the dumps.
Since July 2012, Gamestop is down 22%. Toys R' Us tried saving their brands with video game sales. They're now bankrupt.
EA doesn't care if XBox, Playstation, Nintendo or whoever 'wins' the video game war…
they're making money regardless.
So, Trigger #1…find a trend first. Then, locate a potential opportunity for a 'picks and shovels' investment…
I've found the trend already for you. And, my top 5 picks are true 'behind the trend' plays. One of them could be the stock you'll retire on.
You'll get it all if you hear me out just a little more.
First, let's make sure it follows the second trigger…
TRIGGER #2: Find the dominant player 'behind the trend'
After 37 years of recommending stocks, I've found it most profitable to invest in proven companies rather than gambling with unproven startups.
That's why when we invest 'behind the trend,' we still want to look for one of the dominant players in that niche.
I mentioned to you Electronic Arts (EA), they're the 2nd largest video game publisher in the world.
EA is well known, but that's not always the case.
Let's look at the beer industry which has grown exponentially in the past 10 years. Fortune Magazine calls the growth "massive."
If we followed Wall Street, you'd be investing in stocks like Anheuser-Busch. Since 2009, you'd be up 183%.
Not terrible. You'd average about 20% per year.
But, if you went 'behind the trend' and found the top player taking advantage of the "massive" beer industry… you would have found Constellation Brands.
They're the top US importer, and the biggest winner from America's surge in demand for craft beers, wines, and liquors.
In the past 10 years, you could've closed a 1,621% winner.
When Constellation first started, they were just a wine seller. Since then, they expanded and now control a major market share of the alcohol market…in other words, they're a dominant player.
If we dive back into looking at tech, another company fitting the bill for both Trigger #1 and #2 is Rockwell Automation.
Rockwell was founded back in 1904 and specializes in industrial automation and software.
You can see where I'm going with this.
As businesses go more online, growth in the internet-of-things, and machines taking a main role in production, a company like Rockwell is almost a necessity.
Investors have seen the stock explode as much as 1,030% thanks to Rockwell dominating the industrial automation sector.
That doesn't mean if you missed out on Rockwell, you couldn't still benefit from B2B software.
Ultimate Software doesn't work in the industrial space. Rather, they provide software to help with HR responsibilities. They've ridden the same software wave Rockwell's enjoyed.
It's skyrocketed to 1,880% profits.
That's not all for the dominant players 'behind the trend.'
Autodesk makes software for architects and engineers and a top player in that niche. Their stock is up as much as 1,059%.
FICO, the data analytics company that compiles your credit score has jumped 1,696%.
Red Hat Software provides open-source programs for the enterprise industry and followed a similar path. They've delivered a 1,716% winner for investors.
As you can see, uncovering these companies doesn't required any technical knowledge, special software, or bizarre calculations.
It's simply a matter of studying the marketplace, digging up the trends, then finding the main players behind the trend.
The payoffs are potentially massive.
I just showed you 1,059% winners like Autodesk, 1,030% gains in Rockwell Automation, even 1,621% in Constellation Brands.
None of these companies are getting TV time.
Yet, they're the big winners.
You don't have to trade any options, day trade, know the CEO, or anything complicated.
Just buy the stock. Then, watch it run-up for a potential 10X increase in your account.
TRIGGER #3: Love what Wall Street hates
Looking 'behind a trend' is already a contrarian thought.
But, make sure you're doing it when Wall Street isn't looking.
Looking back at our NVIDIA example — the stock is now a Wall Street darling. Even though it's checked the box of being 'behind the trend,' its time under the radar is up. For most its life, it was a sub-$5 stock.
Now, it's a $200+ stock and still cooking.
You want to claim a stake when Wall Street beats the stock down, when it gets stomped on, when Wall Street forgets about it.
That introduces one of my favorite stock stories…Stamps.com.
The company does online postage to save you trips to the Post Office. Their stock puttered around $10 for almost 10 years…laughed at on Wall Street… until e-commerce saw a massive boom around 2010.
Suddenly, the stock exploded to go as high as $221. It hasn't traded below $150 since. Once a Wall Street dud, now, it's a Hollywood comeback story.
Middleby Corporation is another tremendous rising-from-the-ashes story. Middleby manufactures commercial cooking equipment and residential equipment.
Not too exciting…
Except they do business with 97 out of the top 100 food service chains around the world. That's getting behind the trend and being the major player.
Unfortunately, over their first 16 years since IPO'ing, the stock just barely doubled.. Then, suddenly, after the Great Recession, the stock has gone on a tear gaining 1,758%. Just from 2013-2015, the stock doubled. That's 3 years instead of 16!
Here's another example…Cantel Medical is a leading provider of infection prevention products for doctors and dentists. Another 'picks and shovels' play as every hospital and dentist needs these for compliance.
Yet, their stock from 2005 – 2011 was a loser dropping 20%. However, since then, Wall Street woke up and the stock is still climbing past 1,330% profits.
As a contrarian by trade, I love sniffing out Wall Street's garbage.
I'm here showing you a way to amass a retirement fortune.
You'll see how after I reveal my fourth and final trigger.
TRIGGER #4: Flee from the cutthroat battles
Forbes and the Wall Street Journal adore stories like Apple vs. Microsoft or Walmart vs. Amazon.
You know…the heavyweight battles.
While it's not impossible to make money during one of these bouts, I find it's much more profitable and less risky to flee from cutthroat fights.
Call me a coward, but we're here to make money!
One of the wildest corporate battles has been in cars. I'll continue to flee from mainstream car stocks.
You should too.
Since GM's phoenix rise from the ashes in 2010, their stocks is up 4% in 7 years. Since December 2009, Ford stock is up a whopping 20%. It's currently a $10 stock. But not one I recommend.
When the stocks aren't moving much on average, that's a cutthroat industry.
That doesn't mean to pack your bags. But, you do need to pick your spots. That brings us to Trigger #4.
Find the opportunity in a cutthroat industry by going behind the trend. If the companies behind the trend are cutthroat too, you should just walk away.
Yet, if you were dead-set on investing in cars…here was a better play.
Take a look at O'Reilly Auto Parts. The name is self-explanatory for what they do. O'Reilly has made handfuls of acquisitions to consolidate their dominance in the auto part space. They sit above the cutthroat auto industry and the stock has handed smart investors 1,277% returns.
Or, look at Lippert Components. It manufactures parts for buses, trailers, trucks, RVs and more. They've popped 2,052%. It's the same idea as O'Reilly, but they aren't in direct competition.
Thor Industries is deep in the RV space alone not auto or bus parts. They're a less obvious play and it paid off to the tune of 1,395% gains.
Ten years ago, Tesla was in a competition with itself for a sexy but efficient electric car. They were the perfect example of a company in a cutthroat industry but Wall Street had beaten them down and were behind the trend.
Investors have seen as high as 1,897% from when it traded for just above $10.
Today, Tesla is at war against every major car company. The stock is up over 1,700% as they used to be in a league of their own.
Now, they are in a fight with other car companies, like Ford, GM, Lexus, even Porsche and Mercedes who are all planning to release electric vehicles.
Tesla's gone from an awesome 'behind the trend' stock to now not falling under the 4 triggers anymore.
This doesn't mean investing in the electric car craze doesn't follow our triggers anymore.
Far from it, in fact.
THE STOCKS BEHIND THE ELECTRIC CAR BOOM
We need to simply look for the next companies 'behind the trend.'
Companies Wall Street isn't looking at.
And that's what I'm about to show you. You're about to see my top picks I can't share inside Growth Stock Advisor because the growth potential is just too large.
But, you'll get them here…
Right now, the future of mobility is electric. Sales of electric vehicles (EVs) are up 57% in 2017, according to research firm, Frost & Sullivan.
Bloomberg reports EVs are slowly eating away at the $1.7 trillion dollar vehicle industry.
We need to simply look for the next companies 'behind the trend.'
Companies Wall Street isn't looking at.
And that's what I'm about to show you. You're about to see my top picks I can't share inside Growth Stock Advisor because the growth potential is just too large.
But, you'll get them here…
Right now, the future of mobility is electric. Sales of electric vehicles (EVs) are up 57% in 2017, according to research firm, Frost & Sullivan.
Bloomberg reports EVs are slowly eating away at the $1.7 trillion dollar vehicle industry.
By 2040, it's estimated that 35% of all vehicles sold will be EVs.
The wrong move to make is trying to guess which car company will 'beat' the others like Apple trumping Blackberry.
I showed you already with Apple's example, you would've made over 3,000% investing 'behind the trend' rather than in Apple itself.
With EVs, we want to do the same. We want to invest in companies selling the picks and shovels, not the promise of gold.
The answer? METALS.
The most important part of the EV boom is the battery, and there are companies sitting on mountains of metal ready to sell to the next Ford or GM that steps up.
What metals do they sell?
I'll give them to you now.
They are:
Lithium: We need millions of tons of lithium to power lithium-ion batteries.
Cobalt: Will be needed more than ever inside batteries too.
Copper: The greatest resource investor on the planet, Robert Friedland, claims "you will need a telescope to see the copper price in 2021." I agree.
Rare Earth Elements: A collection of 17 elements that are essential to technology, military and now EVs. Some of the elements help with brakes on EVs.
China controls the bulk of rare earths and with the trade war heating up they're talking about an export ban. That will send prices through the roof. The prices for resources are mega-low now making it a buying opportunity… before any ban goes in place.
But, just knowing about these metals won't help you retire well.
THE 5 POWER METAL STOCKS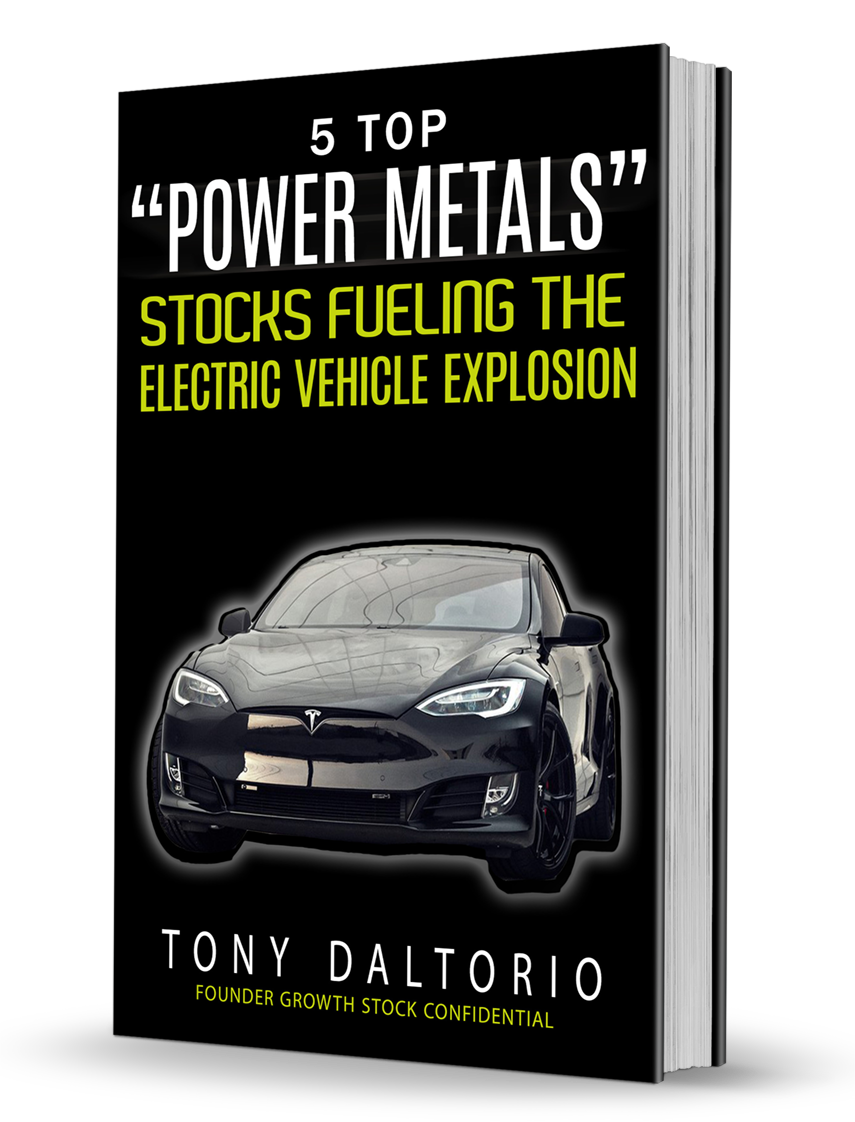 Inside my new report, The 5 POWER METAL Stocks I'll reveal 5 companies that are on the verge of leading the pack in these 4 metals.
I believe one of these 5 stocks could be the stock you will retire on.
I can't promise all of them will accelerate to 1,000%+ and beyond. Likely, it won't happen. But, all it takes is one of them to skyrocket and that could mint you a fortune.
The other 4, we are happy to bank 50-100% gains while we wait for our home run stock to take off.
I'll give you this report free today.
But, this report alone with be a disservice to you.
Remember… I'm inviting you on a journey to a wealthy retirement.
Nothing is guaranteed in investing.
In order to share my highest growth opportunities with you… the stocks on the verge of 1,000%+ gains… I have to invite you to the most exclusive group of investors who I work with.
I'm not going to leave anything to chance for your future.
You can spend the time finding these 4 triggers yourself and doing the work.
Or, here's an opportunity to tap into my 37 years of stock-picking experience and receive my 5 homerun picks in the next 15 minutes.
Imagine every month getting a new investment recommendation with the potential to send your portfolio up 1,000% and set you up for an endless retirement.
An opportunity to see my very best research where you are guaranteed to only see picks that could be your 'retirement stock.'
I've become known for uncovering trends before others.
One subscriber, Daniel D. recommended me publicly saying:
"Few if any financial writers have really impressed me…Mostly because they write about what's happening already. That is just too easy. Tony Daltorio consistently writes about things that will be. The research time that he puts into his articles has to be considerable. I check his facts once in a while as his articles are edgy, and they are right on." – Daniel D. business owner
Let me go to bat for you. Let me uncover all the plays that tick my 4 triggers I mentioned above.
You can get my top 5 picks in the next 15 minutes AND a new 1,000%+ winner every month for the next year.
Normally, I'd recommend my readers to have at least $10,000 to invest right off the bat.
Meaning, a 1,000% move in the portfolio could turn your account balance into $110,000 with just one stock.
It's not absurd to think that's possible.
After all, I've already shown you stocks that have done that…
Like:
1,174% – Pool Corp.
1,847% – NVIDIA
3,558% – BE Semiconductor
1,026% – Electronic Arts (EA)
1,621% – Constellation Brands
1,880% – Ultimate Software
1,758% – Middleby
2,052% – Lipper Component
A mere $10,000 into each of these would turn into $227,500.
Digging up these kind of big profits is my #1 goal for you.
Every month I plan to send a new play for you. You can put up a small stake if you wish.
Or, you could invest more in each.
JOIN ME ON THIS JOURNEY INSIDE
GROWTH STOCK CONFIDENTIAL
If you want to receive my monthly play, all you need to do is sign up for a trial run of my new service, Growth Stock Confidential.
Once you accept my invitation to join Growth Stock Confidential, you'll be treated as an A-list client.
I'll be working day and night, researching, talking to my network, studying the companies, all to find the stock you will retire on.
And you're not going to believe how cheap it is to start now.
Because this service is still relatively new, I'm ready to cut the price completely in half.
Others have paid up to $997 for access to this exclusive content.
I'm seeing growth opportunities beyond just the electric car space.
Actually, I see a global shift happening of epic proportions. I call it the Fourth Industrial Revolution.
We saw the Third Industrial Revolution happen in the 70's and 80's with the digital explosion. It was the foundation for computers and the internet.
Today, we see the rise in:
Robotics
Artificial Intelligence (AI)
Nanotech
Healthcare advancements
And much, much more (including virtual reality)
But, that's just the beginning.
I've identified 3 more trends happening right now. And I've seen companies in all 3 areas that fit our 4 triggers above.
I've included these trends inside my 2nd report, "How to Harness Today's Mega-Growth Opportunities for Gains of 556%…1113%…and 1,354%."
I'm including it with your Growth Stock Confidential subscription free.
Here's everything you get:
Monthly Stock Pick: Every month I'll send you a new pick. These are the picks that could shoot 1,000%+ and you could retire on it.
Monthly 'Behind the Trend' Issue: Here's where you get my complete research on each stock I pick. You'll discover an industry you might never knew existed but has the potential to boost your account 1,000%. I'll also provide analysis on the current markets and my future outlooks.
Vault of Special Reports: I've already shared with you 3 that I'll give you today as part of your subscription. As I add more, you'll get immediate access to them at no extra charge.
24/7 Customer Service: At any point if you have trouble logging into my secure site or have any question at all, I have trained specialists ready to handle your concerns. My specialists are stationed right here in the US and thus can answer in your timezone.
My Personal Email Address: We're in this together. Any time you have a question, just send me an email.
Mid-Month Update so you're never left wondering if you're missing anything.
Once you start Growth Stock Confidential just follow my 4 triggers:
Get 'behind the trend'
Find the dominant player 'behind the trend'
Love what Wall Street loathes
Flee from the cutthroat battles
Once you do, it's quite possible to see true 10X plays like the dozens I've shown you throughout this presentation.
Let me show you all the plays to make. Don't spend your free time researching. I'm offering to do it at a mere $41 and change per month.
Your time is worth much more than that.
Join me inside Growth Stock Confidential and watch the profits stack up.
Just click the link below.