Get 50X… 100X… Even 465X MORE Cash
Fusion Income
The Safest, Most Consistent Way to Build Your Wealth in Any Market – with Up to 80 Instant Cash Payments in the Next 12 Months
Right now, investors have a unique opportunity to generate an incredible amount of cash from the stock market…
I'm talking about generating thousands of dollars a month from stocks – even when share prices go DOWN.
I know that's hard to believe given that 2022 has been an absolute disaster for buy-and-hold investors…
And if you've got your retirement nest egg sitting in the major indices, you've LOST somewhere in the neighborhood of 25% already this year.
Of course, this begs a very important question: just what the heck am I supposed to do now?
Many are thinking it's time to cash out, hit the sidelines, and take cover until markets turn around.
I get it, I do. But it's absolutely the WRONG move right now.
In spite of what the Wall Street Media might have you believe with its fear-mongering headlines, now is NOT the time to PANIC… 
Now is the time to PROFIT
That might sound crazy, considering…
We've seen the worst inflation in more than 40 years…

We've seen open warfare in Europe, with Russia's invasion of Ukraine sowing absolute chaos in markets as volatility spiked and Western governments moved to impose sanctions on the Kremlin…

We've seen the single-largest interest-rate hike in 20 years as the Fed finally began to reverse its loose monetary policy (in order to fight the inflation they caused, go figure).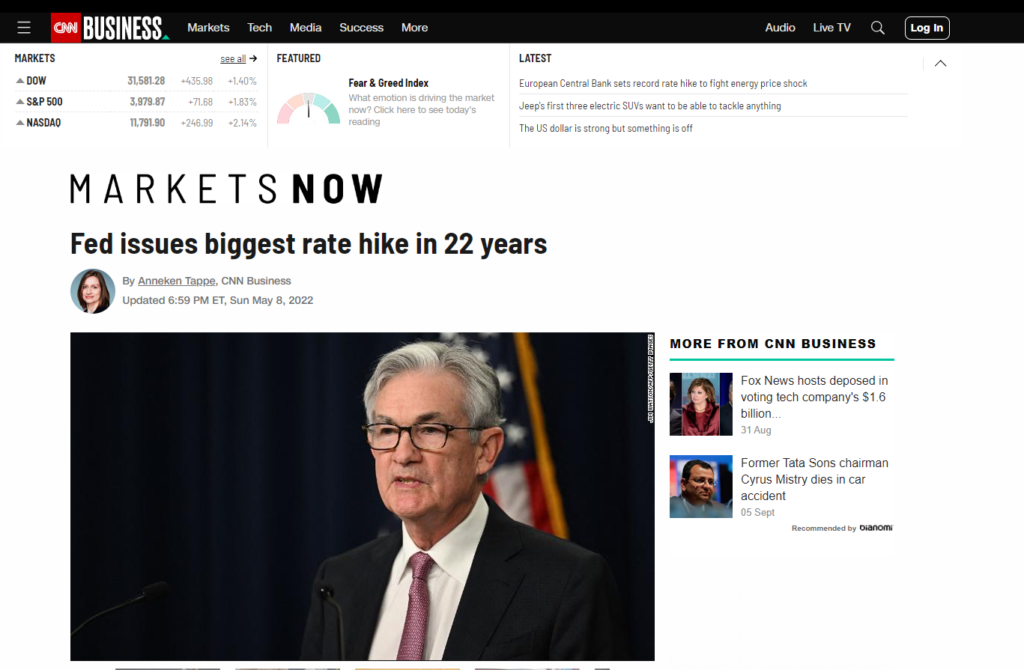 And thanks to all of that… we saw the worst first half in the financial markets in more than 50 years.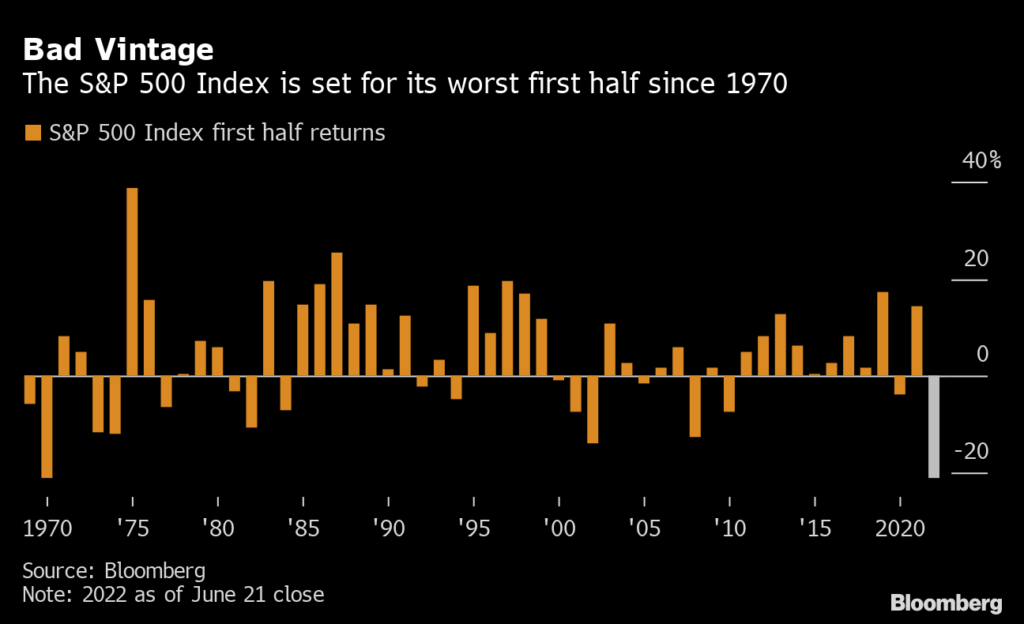 The major indices have not been kind to investors – and that's putting it lightly.
The Dow, S&P, and Nasdaq have lost as much as 20%, 24%, and 33% respectively this year.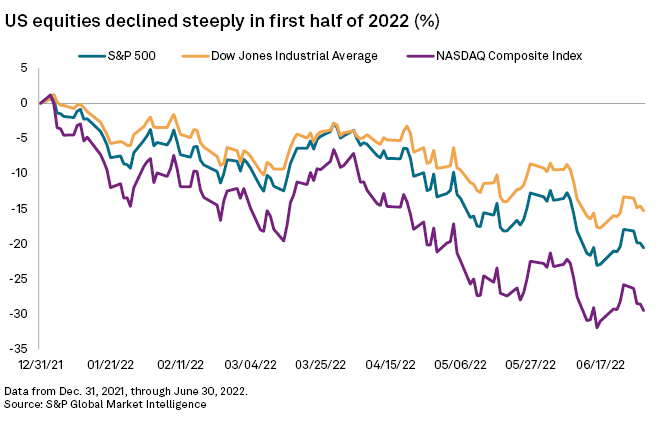 But what if I told you that there's a tried-and-true strategy to grow your account during a down markets just like these?
It's a strategy that Kiplinger says will, "… add stock income without extra risk."
CNBC calls it an "Ultimate protection play for volatile markets."
And MarketWatch says this is a "… low-risk way to boost your retirement income."
TODAY, I'm going to teach you everything you need to know about this simple, low-risk income strategy – the safest, most sure-fire way to grow your money NO MATTER what the markets are doing. 
I call it "Fusion Income"
I'm going to show you how I routinely beat the markets and grow my account by as much as 52% per year… 
I'm going to tell you exactly how you can take advantage of the most consistent, most flexible, and most lucrative income strategy ever created.
And I'm going to introduce you to the trading expert who's helping me bring you this incredible strategy.
I'll give you all the details in just a few minutes. 
But first…
My name is Tim Plaehn, and over the last 30 years, I've lived a life most folks can only dream of…
I've flown all over the world during my 18 years as a fighter pilot in the Air Force on the front lines of the Cold War, facing the kind of dangers that rarely even make the papers…
After I retired from the Air Force, I dove into the financial sector, working first as a broker and then transitioning to a Certified Financial Planner, helping folks protect the money they saved for retirement…
But it wasn't until I struck out for the coasts of Uruguay to start an ill-fated business that I unlocked the secrets of Fusion Income.
Now, that's all well and good but…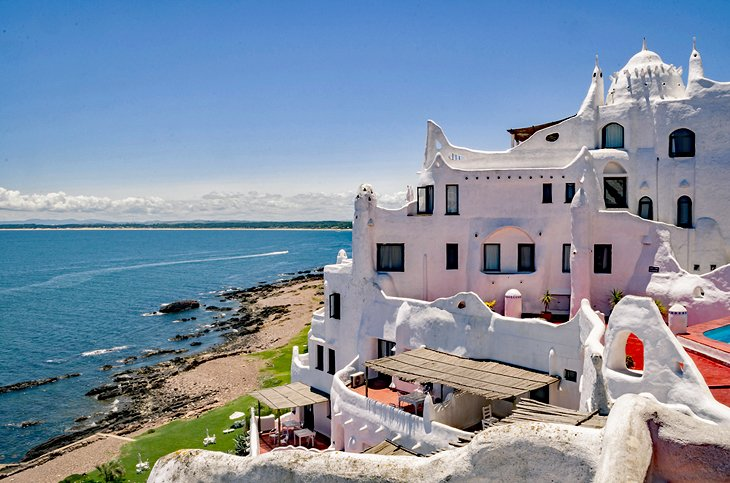 Here's the only question you're asking yourself: 
Why should I listen to this guy?
You see, while living abroad, I rubbed shoulders with some of the wealthiest folks in South America…
And they taught me a singular lesson: CASH IS KING.
But it's not what you think…
Because simply having cash – whether it's sitting in a brokerage account or stuffed in your mattress – isn't enough.
You have to put it to work for you…
And that's exactly what the Fusion Income strategy was designed to do!
It takes just a little more effort than traditional buy-and-hold investing… 
But I'm talking about just five to 10 minutes a week to juice your investment income as much as 465x on an annualized basis. 
And the results can mean the difference between a long, comfortable retirement one one hand…
Or the never-ending anxiety of struggling to make ends meet during your golden years on the other.
Even now, with markets struggling to add wealth in the face of explosive inflation, rising interest rates, shrinking employment, a growing housing market bubble, and so many other headwinds…
This Fusion Income technique just flat-out works
It makes money when stocks are going up and volatility is low…
It makes money when stocks are stuck sideways, going nowhere…
And it even makes money when stocks are going down and volatility is high…
How do I know?
Because while everything went to hell in 2022…
As inflation ran wild and war broke out in Europe…
As stock prices declined as much as 33% and the Fed continued to mess with interest rates…
I made money.
Just as I have every year since 2019 – in some of the most volatile markets in history.
When markets dropped -6.8% in May 2019, I made money…
When they crashed -33% during the 2020 pandemic, I made money…
When they dropped -9.9% in September 2020, I made money…
When they dropped -5.2% in Q4 2021, I made money…
And when they crashed  in 2022, yeah, I made money…
Take a look…
Here's my entire 2022 track record. Every single trade thus far…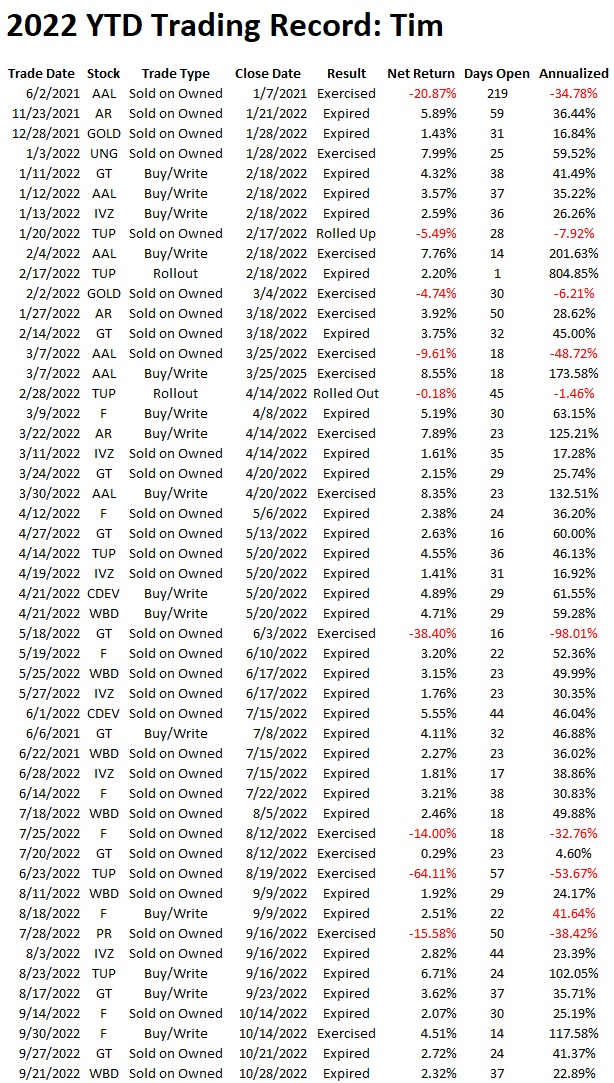 The results speak for themselves…
Even in the first half of 2022 we've made considerable gains while most investors have seen their portfolios torched by spiking volatility and crashing share prices.
Let's dive in…
So far, we've placed 70 Fusion Trades in 2022…
I've managed to win 58 of those trades – an 82% win-rate.
And my average annualized gain is just under 50% – 49.46% to be precise…
Meaning my average Fusion Trade creates an annualized yield of 49% every time we place a trade.
Read that again: Every time I make a Fusion Trade, I average 49.46% on an annualized basis.
Compare that to the average annualized yield of 1.3% for S&P 500 stocks…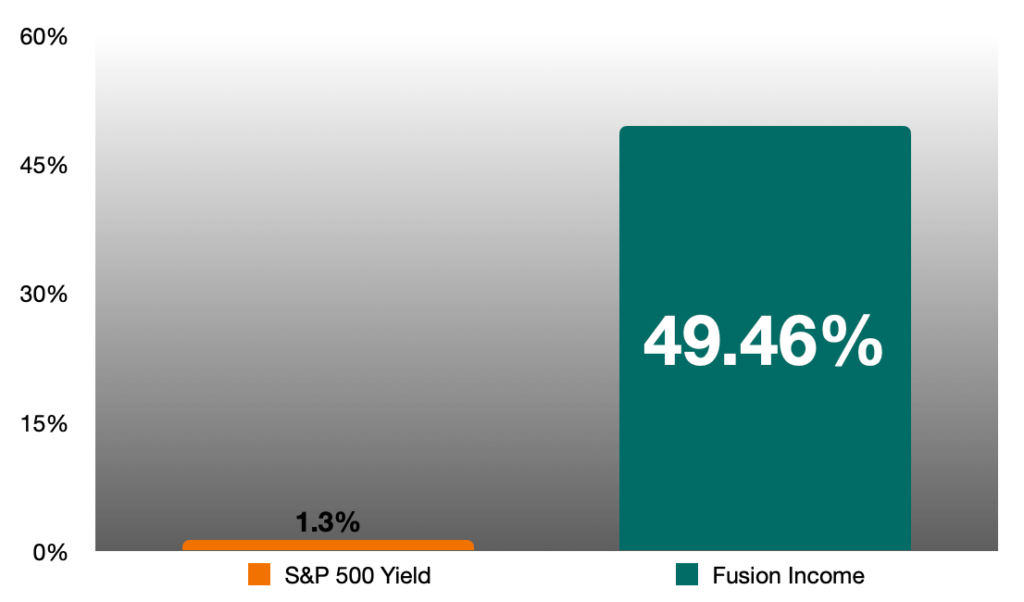 So it's no wonder I'm on pace to grow my entire portfolio by about 15% in 2022 – on income alone.
Pretty remarkable when you consider what's been going on in the markets this year…
In fact, it's a full 39-point swing to the upside compared to the S&P… and a 48-point swing compared to the Nasdaq.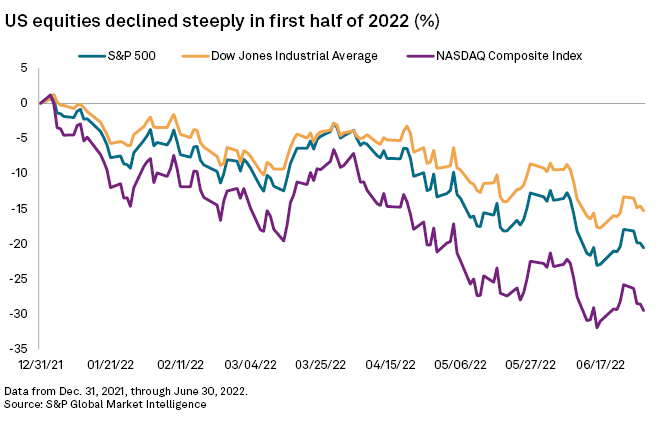 All by using a simple, consistent, low-risk, strategy to grow your money – Fusion Income
Let me show you a quick example of how this works…
If you'd invested in Ford Motor Co. (F) in March 2022, you'd expect to get paid 3.89% just to hold the stock for the next 12 months – a pretty solid dividend given Ford's share price.
But if you'd executed a Fusion Trade instead, you could have secured a 63.15% annualized yield…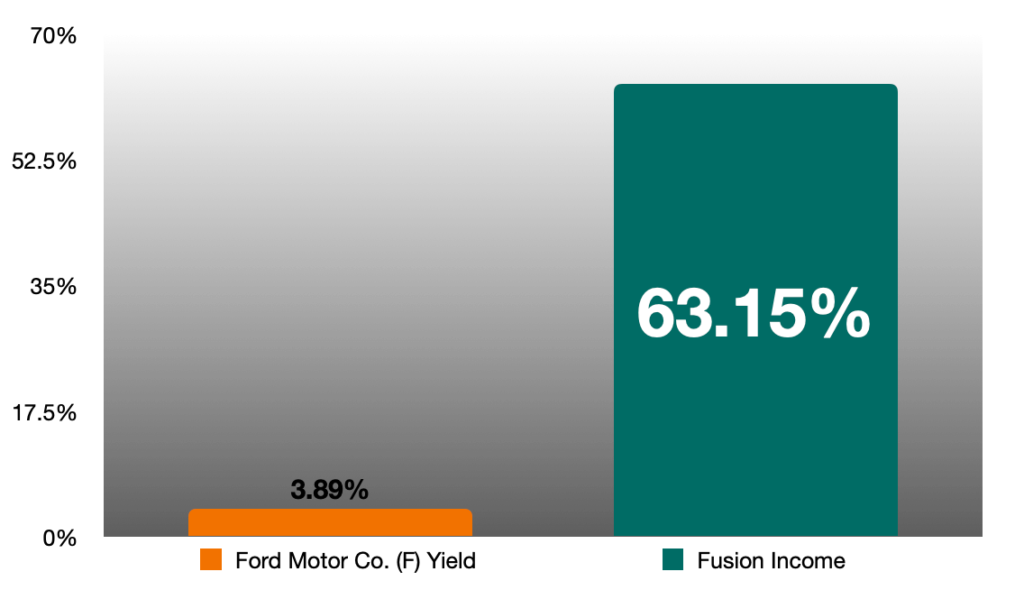 That's an increase of 1,495% – almost 15 times better than traditional buy-and-hold methods, with just one simple low-risk trade.
Here's another one…
Discount retailer Big Lots Inc. (BIG) is a great dividend stock, yielding a very healthy 5.59% per year.
So investors are rewarded with $1.20 per share per year just to own the stock.
But with a Fusion Trade, you can do so much better…
How much?
Eight times better.
Instead of just sitting and waiting for BIG to issue its quarterly dividend, if you'd made a Fusion Trade, you could have increased your annual BIG yield a whopping 863% – from 5.59% all the way to 53.88%.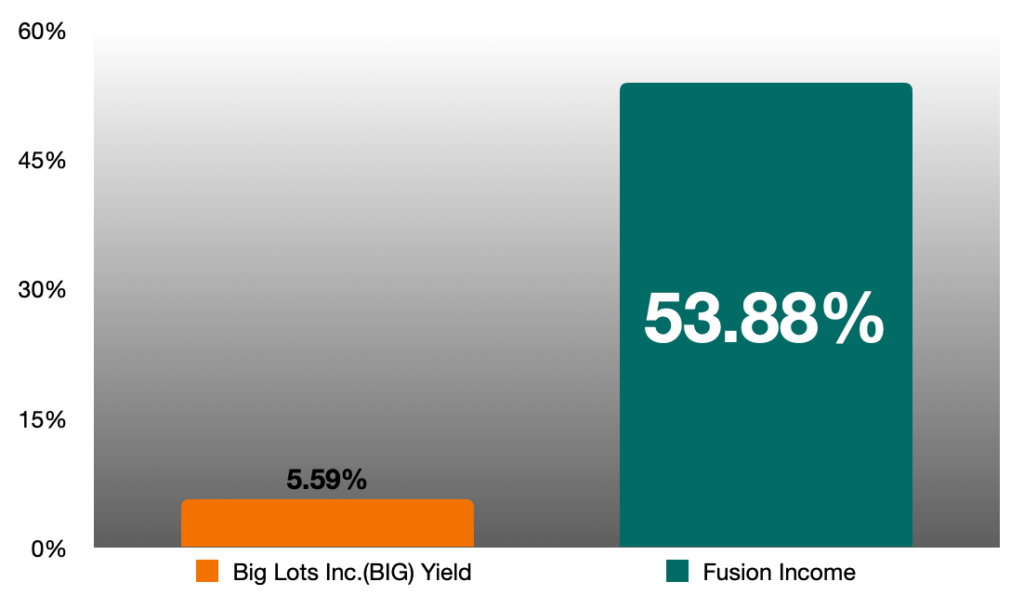 Let me show you one more…
ArcelorMittal S.A. (MT) is a mining and steel manufacturing company that's been offering investors a 1.61% annual dividend to own MT stock. Not a bad deal.
But one low-risk Fusion Trade could have generated a 33.70% annualized yield!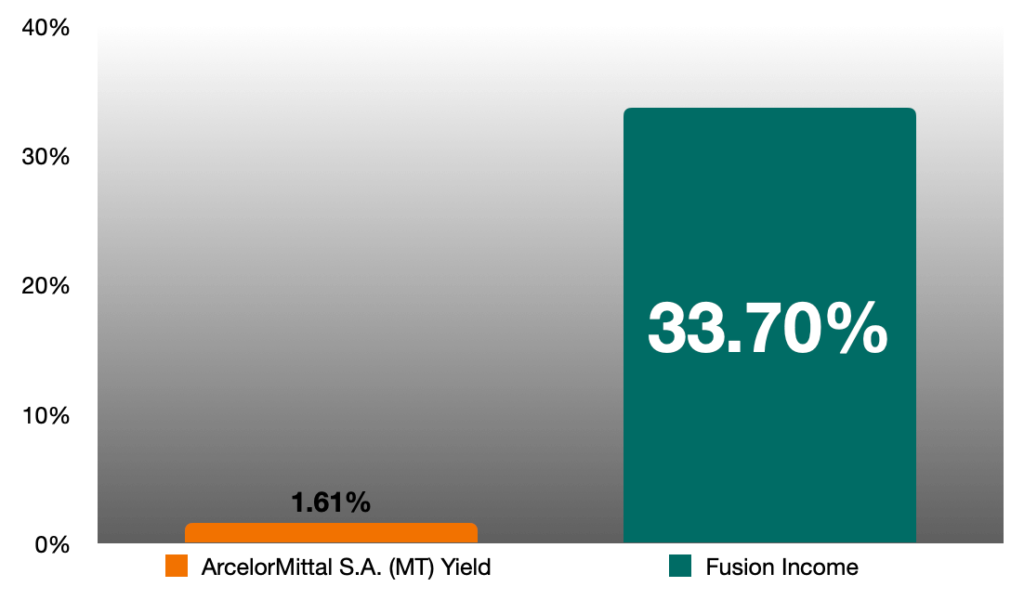 That's a 1,993% increase… meaning our Fusion Trade beat traditional buy-and-hold income investing by almost 20x!
So these Fusion Trades allow you to supercharge a stock's existing dividend by as much as 2,000%.
The best part? 
You can execute a Fusion Trade on any high-yield stock you already own…
Walgreens Boots Alliance Inc. (WBA) is one of the best dividend stocks you can buy, with a fat 5.44% yield at current prices.
WBA is also a stalwart dividend aristocrat, having raised its yield every year like clockwork for the last 47 years.
But what if you could get 5x… 10x… or even 20x more cash in your pocket just by executing a simple, low-risk trade on WBA?
You'd take that every time, wouldn't you?
Or take International Business Machines Inc. (IBM)…
IBM has paid consecutive quarterly dividends every year since 1916, and has increased its yield every year for 28 years.
Right now, traditional yield hunters can grab $6.60 per share per year just for owning IBM stock.
But IBM pays out dividends on a quarterly basis… so you have to wait 3 months to get even a fraction of that dividend…
But you can make a Fusion Trade right now and get paid to own the stock TODAY.
Here's another one… 
Altria Group Inc. (MO) has a mouth-watering 8.29% annualized yield that's been growing steadily for the last 53 years.
It's one of the best dividend stocks you can buy… and pays out a quarterly dividend of $0.94 per share every 3 months like clockwork… 
But you can make a Fusion Trade right now that would pay you $1.20 per share immediately…
And instead of only getting paid 4 times a year…
You can replicate this Fusion Trade over and over!
I'll show you exactly how to do this in just a minute, but here's what you need to know:
Holding Altria stock for 12 months will net you $3.76 per share… 
Executing a monthly Fusion Trade on MO could land you $12.00 per share…
And since you have to hold the stock to execute this strategy properly, you'd earn a full $15.76 per share, per year when you combined MO's dividend with Fusion Income. 
That's a 36% annualized yield – nearly 5x better than one of history's strongest dividend stocks.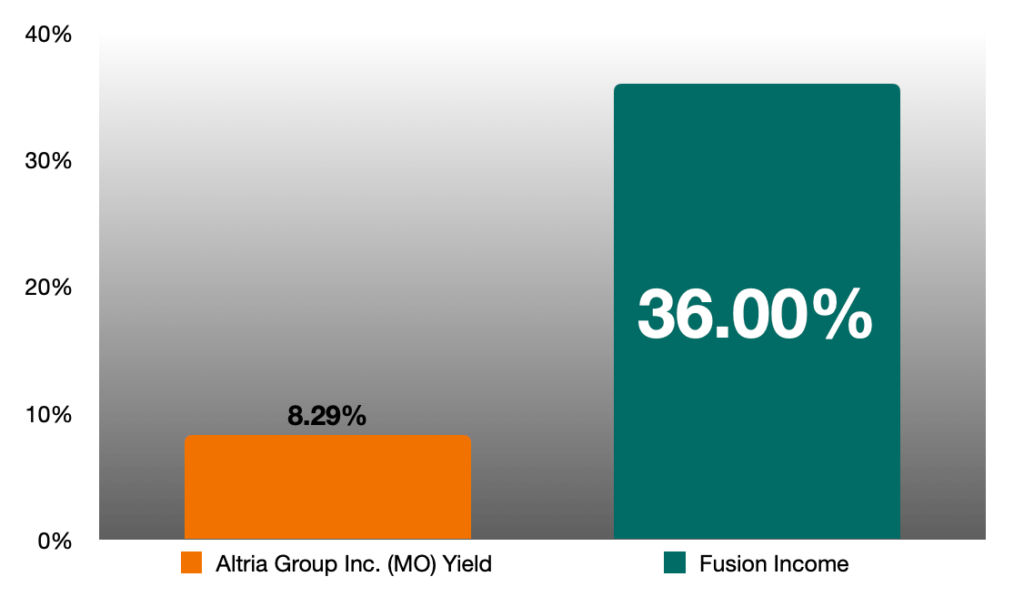 So even the best dividend stocks on the planet don't kick off more yield than a quick, reliable Fusion Trade.
But that's not all…
Because maximizing your yield from traditional income stocks is just ONE way to generate Fusion Income. 
The beauty of these Fusion Trades is that they're super flexible – in fact, you can execute a Fusion Trade on any stock in the market…
Which means you can create a
dividend on any stock you want
You read that right… and it's something I've done over and over again to generate Fusion Income.
I've created countless brand-new dividends using this strategy, and that didn't stop in 2022.
Check it out…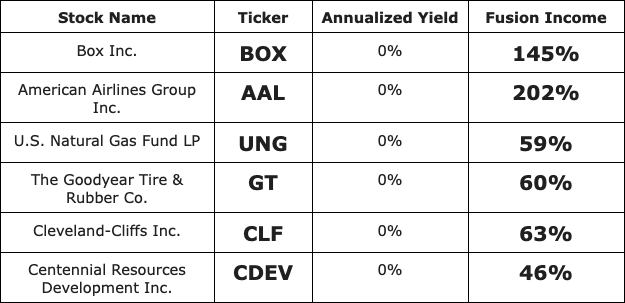 Imagine being able to create your own yield on ANY stock… regardless of whether they offer a dividend to shareholders.
It's so easy…  and you can do it by executing the exact same kind of Fusion Trade I've already shown you today…
Take a look…
BOX Inc. (BOX) is a software infrastructure firm in the tech sector – neither of which is known for great dividend stocks.
And BOX follows suit – the stock does not pay a dividend.
But you can still generate Fusion Income…
One quick Fusion Trade, and you can turn that 0% annualized yield into cold cash…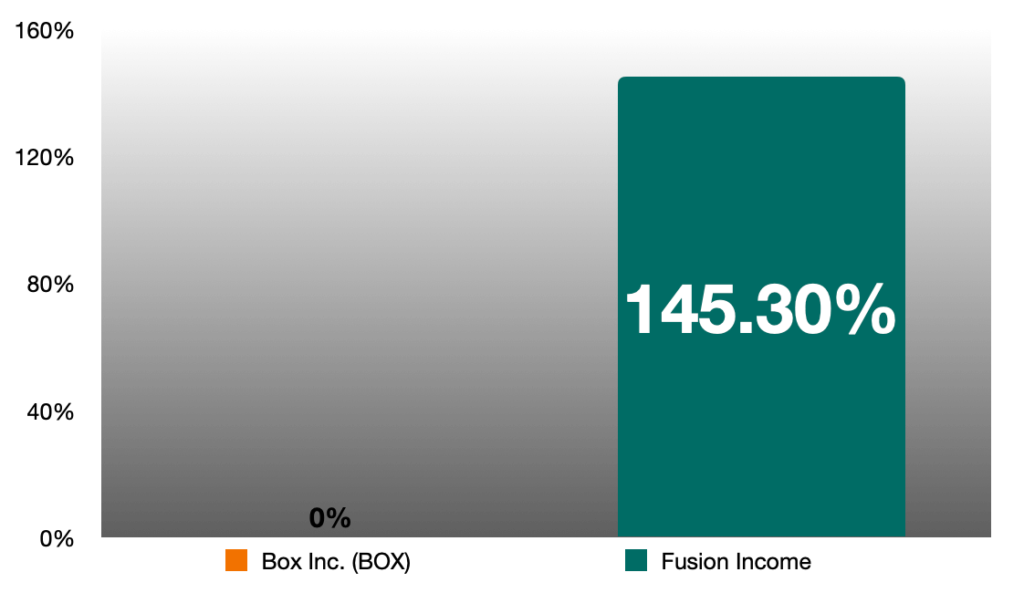 You read that right…
You can create an annualized yield of 145% on a stock that doesn't pay a dividend.
Here's another one…
Antero Resources Corp. (AR), like many companies in the oil and gas space, doesn't offer shareholders any reward for holding the stock.
But that's OK – because we can simply place a Fusion Trade…
And we can create our OWN annualized dividend of 125%.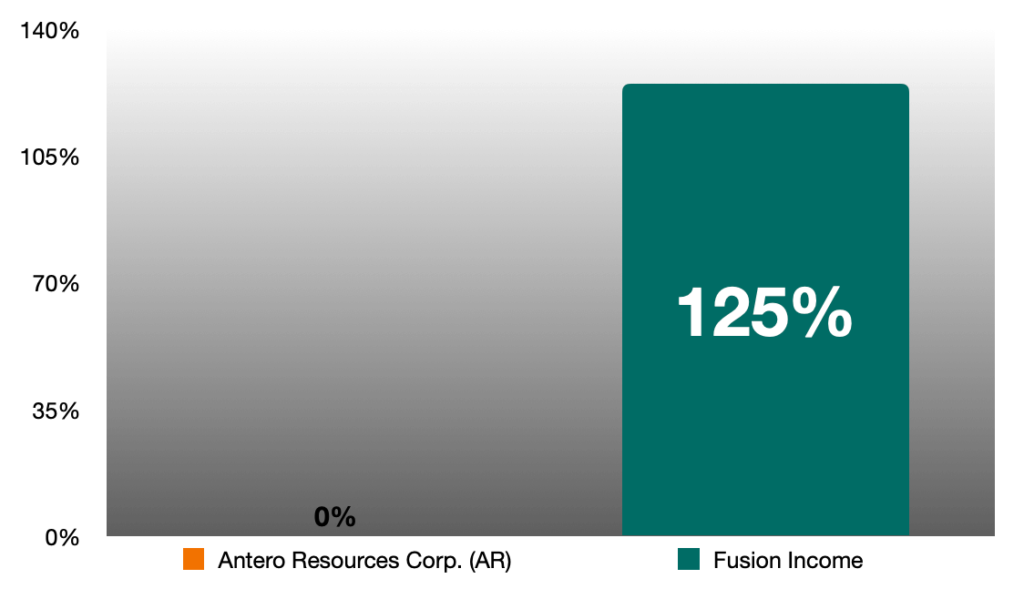 That's another triple-digit annualized gain… and another great example of how Fusion Income can generate massive amounts of cash on stocks with zero yield.
Check this one out…
American Airlines (AAL) doesn't pay a dividend. But it's otherwise a great candidate for a Fusion Trade…
And when I find the perfect stock, the Fusion Income can reach incredible heights…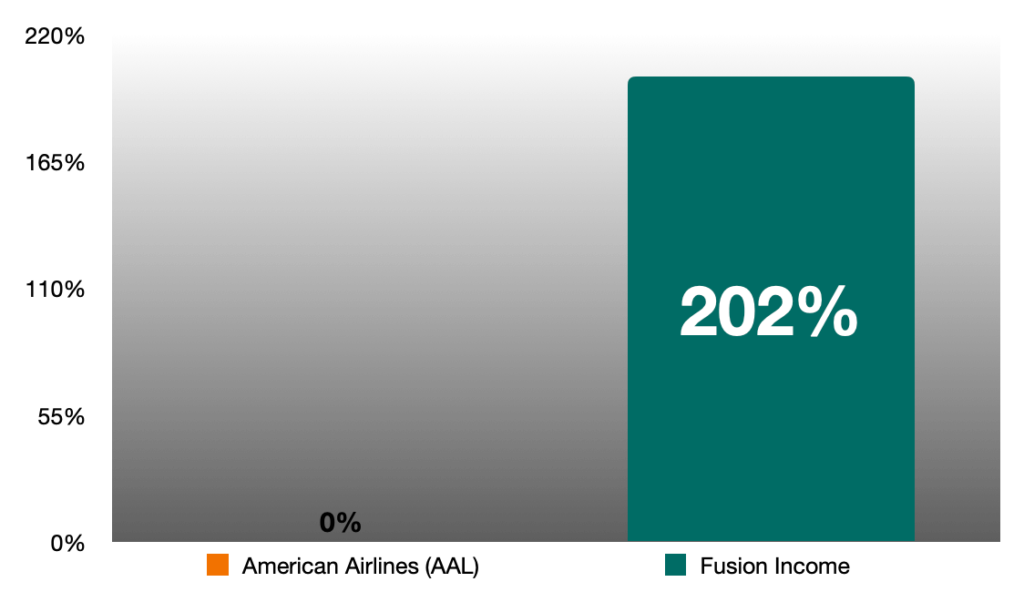 My Fusion Trade on AAL shares created a massive 202% annualized gain…
On a stock that usually yields 0%.
Are you starting to see just how powerful this is?
The ability to dramatically increase – as much as 465X – your existing yield…
AND the ability to create yield – out of thin air – on stocks that don't provide any income on their own.
But that's not all… 
There's another way to leverage my Fusion Trades to benefit your portfolio…
And that's by taking advantage of a Chain Reaction
A Chain Reaction is exactly what it sounds like – one Fusion Trade is immediately followed by a second… and a third… and a fourth… until we've squeezed as much income out of the stock as possible.
Let's go back to AAL…
I've already shown you one very profitable Fusion Trade on AAL – a 202% annualized yield on a stock with no dividend…
But that's not the only time we've created a dividend on AAL in 2022. 
In fact, we've already made FIVE Fusion trades on AAL so far in 2022…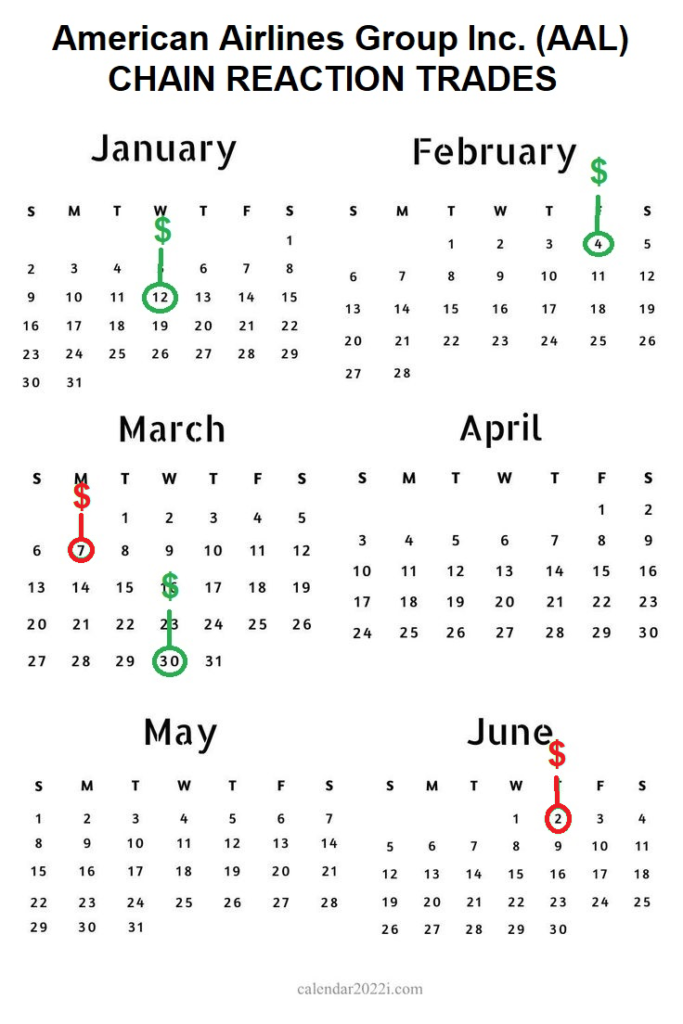 As you can see, I've already captured some really juicy yields – 202%, 174%, and 133% annualized – on a stock that ordinarily ONLY rewards shareholders when the price goes up.
And AAL isn't the only Chain Reaction I've cashed in on this year…
I did the same thing with Big Lots Inc. (BIG). Take a look…
I targeted BIG in April, May, and June… and each time I created an annualized yield between 5x and 20x BETTER than the stock's existing payout.
Same with Box Inc. (BOX)…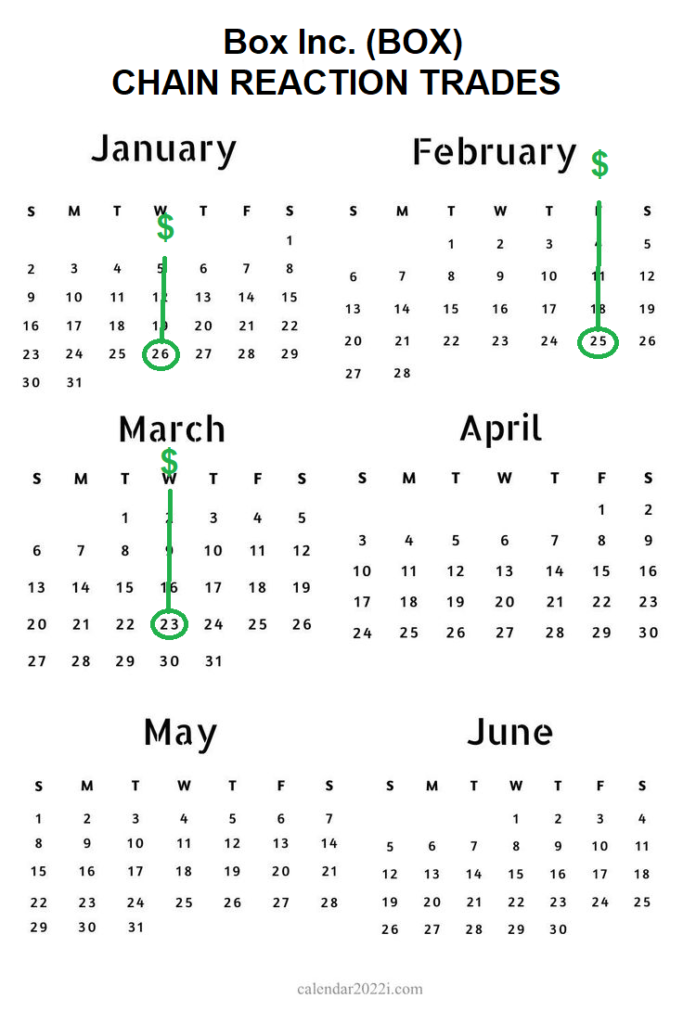 In Q1/2022, I generated regular annualized payouts of 145%… 75%… and 43%…
On a stock that usually offers zero income. 
The list goes on – we've created Chain Reactions on Ford Motor Co. (F), Warner Bros. Discovery Inc. (WBD), and Invesco Ltd. (IVZ), to name just a few. 
Because we know when a stock meets our predetermined criteria, it's already a great candidate for Fusion Income.
Once we know for certain a stock is capable of offering us sustained, regular payouts, we're going to target that stock over and over again for as much cash as possible.
That's how my readers enjoyed an incredible 94% win rate in 2018… 87% in 2019… 90% in 2020… 93% in 2021… 
And so far in 2022, we've won 82% of our trades – a little down from previous years, but given that the markets have lost as much as -33% so far in 2022, I'll take it.
Because this is a proven, reliable way to generate massive amounts of income.
But don't just take my word for it… 
Just listen to what my readers have to say…
Like Ray R., who told me…
"As a small business owner in IT, it's great I can rely on Tim to do the research for me. I've tried other newsletter subscriptions, but Tim's strategy was best for me and my wife. For 30 years, I only invested in stock. Tim introduced me to the world of using options for income and ​I jumped right in doing 41 trades in 7 months. I like Tim, he's easy to listen to, and his dividend strategies are the best around. We had our furnace break recently… cost $12,000 to repair. Having regular dividend income helped take a load off our shoulders. Thank you Tim!" – Ray R.
Mike W. said…
"I always knew I wanted to invest more in dividends, but before Tim, I didn't know how much you could generate! I retired in 2020 and was looking for a more proactive approach to self-management. Before retiring, I simply invested passively in my 401k. After retirement, I went from 'job income' to now 'self-generating income.' Thankfully, Tim does all the legwork and analysis behind the companies. That's what I want as I enjoy golfing during retirement rather than studying. What I also love is he is invested in the stocks right alongside us. Tim has skin in the game." – Mike W.
Or Mike T., who said…
"I gave dividend investing a shot with Tim and it's doing very well. Maybe more importantly, I see Tim as responsive, likable, approachable, and I appreciate that he invests alongside me. I don't have time to do all the research myself, and Tim is looking at things I likely would not. It's highly doubtful that I'd have found most of these stocks on my own." – Mike T.
Now, if you've been paying attention, you may have already figured out that Fusion Income relies on a very specific tactic to generate the outsized yields I've shown you today…
What I'm talking about is selling covered call options to boost or create income on your long stock positions.
Now, I know many of you hear the word "options" and are instantly intimidated…
You've probably heard that options are expensive… risky… even dangerous.
It's true that some options strategies can represent considerable risk to your portfolio. 
Naked, out-of-the-money options ARE risky and dangerous…
But we don't trade that way. We play it safe.
We only sell options against shares that we already own, meaning all our risk is mitigated by offering our shares as collateral.
What I'm referring to is selling covered call options.
I know that may sound complicated at first, but it's really not.
Here's how you trade a covered call option:
Let's say you invested $25,000 into Verizon stock at $50.
That's 500 shares.
And let's also assume you're collecting VZ's fat 6.12% dividend yield…
You'd be earning a little over $1,500 per year in dividend income, right?
Not a bad yield, all things considered.
But here's where Fusion Income really shines…
We use covered calls to take bets on what other traders think VZ stock is going to do in the next few weeks.
Let's say someone thinks Verizon will reach $55 per share in the next 45 days…
Now, let's say they're so confident that the price of VZ stock is going up that they're willing to fork over $500 just for the right to buy your VZ shares at $55.
So you sell them a covered call, which lets you rent the rights to your 100 shares of VZ stock.
So you sell the option, collect the premium, and wait.
There are only three scenarios that can then take place…
And in all three, you'd collect income.
Scenario 1

— VZ stays at $50. You pocket the $500 premium, keep your shares, and continue to collect your $1,500 dividend.

Scenario 2

— VZ goes to $55 within 45 days. You sell your shares at a $5,000 profit

and keep the

$500 premium.

Scenario 3

— Verizon drops below $50. You lose value on your stock, but you still collect the $500 premium plus your $1,500 annual dividend. 
It's a win-win-win scenario!
That means, with each trade, there are only three outcomes, ALL of which allow you to keep the Fusion Income you've collected.
Now that you know the secret behind Fusion Income, I want to point out that you can't just sell covered calls on any old stock.
In fact, most stocks just flat-out don't work with this strategy…
There are certain criteria that we need to see before I'll make a move.
Longtime stock investors should pay attention
…
Because my criteria may be quite different from anything you've seen before.
We're looking for stocks with:
A sustainable business model

Limited downside potential

Sky-high options premiums
Here's a great example…
Warner Bros. Discovery Inc. (WBD) owns some of the most recognizable media brands and IPs in the world, including DC Comics, CNN, Discovery Channel, Food Network, and HGTV.
As long as the streaming wars continue, that business model isn't going anywhere…
It's also one of the most consistently priced stocks in the market.
Take a look at this five-year chart for WBD…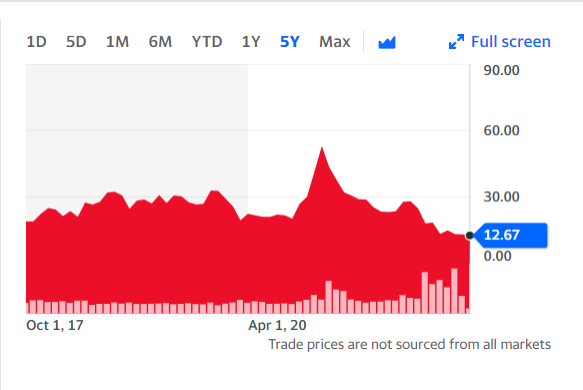 That one, dramatic spike you see in May 2020? The launch of WBD's flagship streaming service HBOMax. 
Other than that, the stock has been incredibly consistent over the last five years – the 2020 Covid Crash barely registers on this chart – making it the perfect Fusion Stock…
And WBD's current price of around $12.67 tells Fusion Income hunters two very important things:
100 shares of WBD isn't going to break the bank; and

The stock comes with built-in downside protection – it's lower than it's been at any time over the last five years.
And of course, high options premiums…
So on April 21, I placed a Fusion Trade on WBD that delivered a 59.28% annualized yield in just 29 days…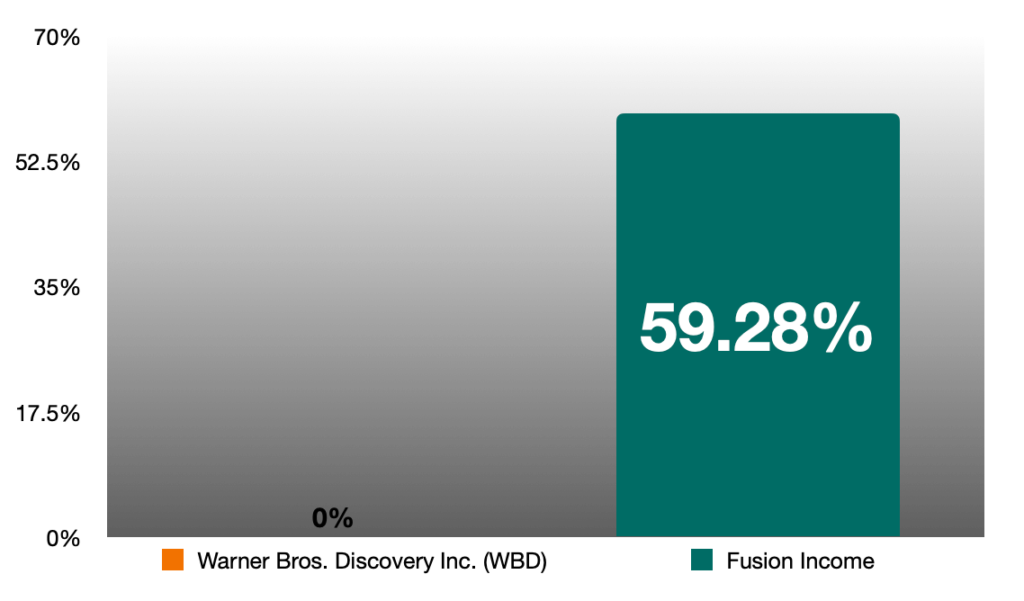 Incredible when you consider that WBD isn't a traditional income stock…
Here's another one…
The Goodyear Tire & Rubber Co. (GT) is a terrific Fusion Stock. 
First, Goodyear's been in business for 124 years. It's the fourth-largest tire manufacturer in the world and a true household name (it also owns other well-known tire brands like Cooper, Dunlop, Mastercraft, and Roadmaster).
Second, at around $13, it's a low-cost stock with limited downside – perfect for generating Fusion Income – even with no existing yield.
So it was a no-brainer to place a Fusion Trade on April 27, when I instantly collected a cash payout that amounted to a fat 60% annualized yield.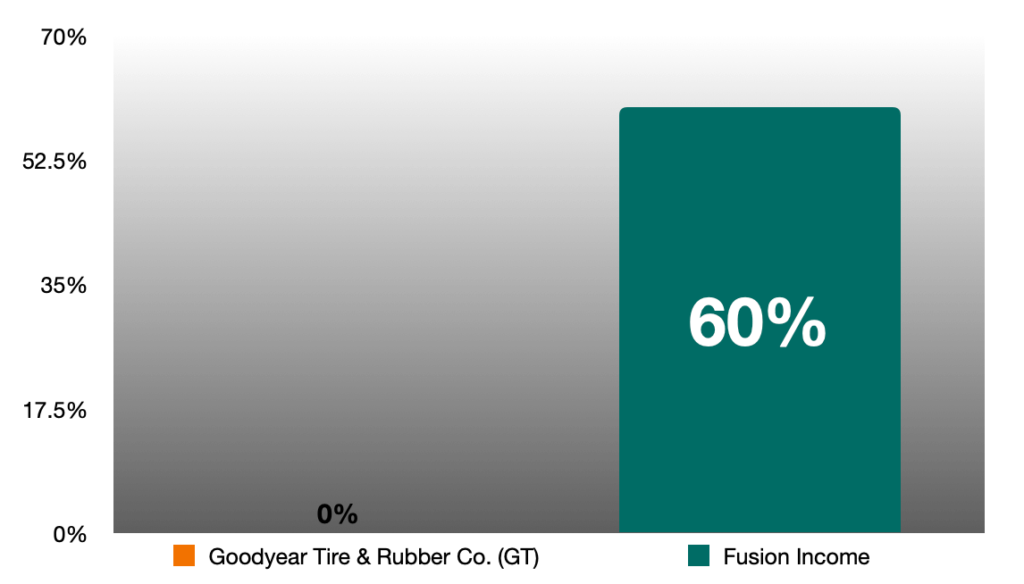 All on a single trade that lasted just 16 days…
Here's one more…
Now, most people don't think about ETFs as a source of income… but that's the beauty of these Fusion Trades – you can create income out of thin air. 
Just like I did on United States Natural Gas Fund LP (UNG)…
UNG is an exchange-traded fund designed to track the movements of natural gas prices in percentage terms.
It has everything we're looking for: a solid business model and limited downside. The demand for natural gas isn't going anywhere (in fact, natgas prices are already predicted to be quite high this winter).
My UNG trade was the first Fusion Trade I made in 2022 – and it delivered a quick 59.52% annualized yield in just 25 days.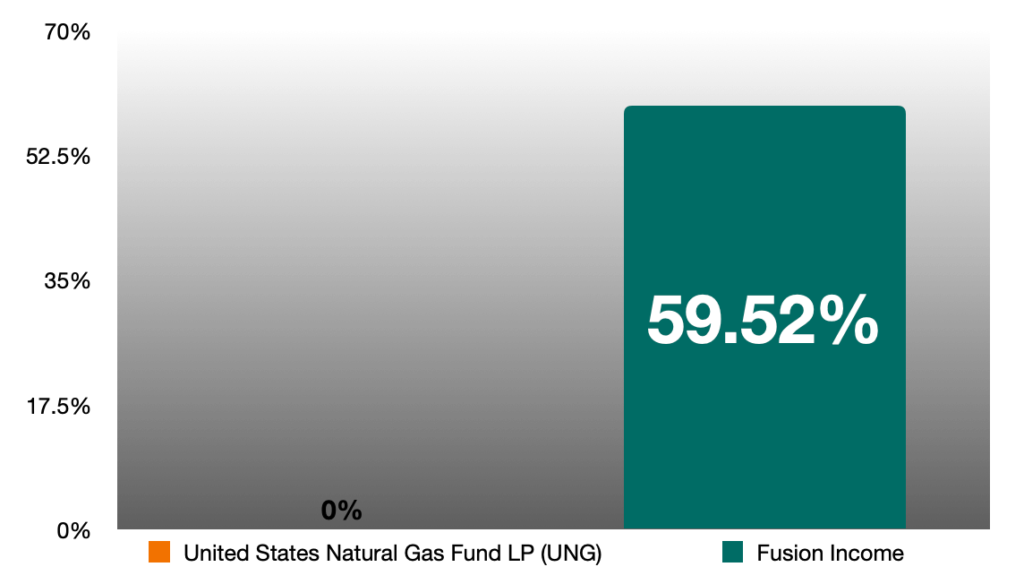 That's instant income – and way better than any dividend yield you can get with a simple buy-and-hold strategy.
Now, if you're still skeptical about options, let me tell you a secret…
I used to be just like you – skeptical
It's true. As a yield-hunter, I used to think options were way too risky to help generate consistent income. 
I avoided options for years, focusing on other ways to maximize my yield.
Boy, was I misinformed… and I don't mind telling you, I left tens of thousands of dollars in profits on the table over the years because of it.
I've been an income guy my entire career, but it wasn't until 2019 that I unlocked the power Fusion Income.
That's when I met Jay Soloff.
You see, Fusion Income isn't just a combination of two of the most reliable, income-generating techniques in the markets, it's also a meeting of the minds.
My income expertise – 30 years as a broker, certified financial planner, and dividend expert – and Jay's mastery of options trading…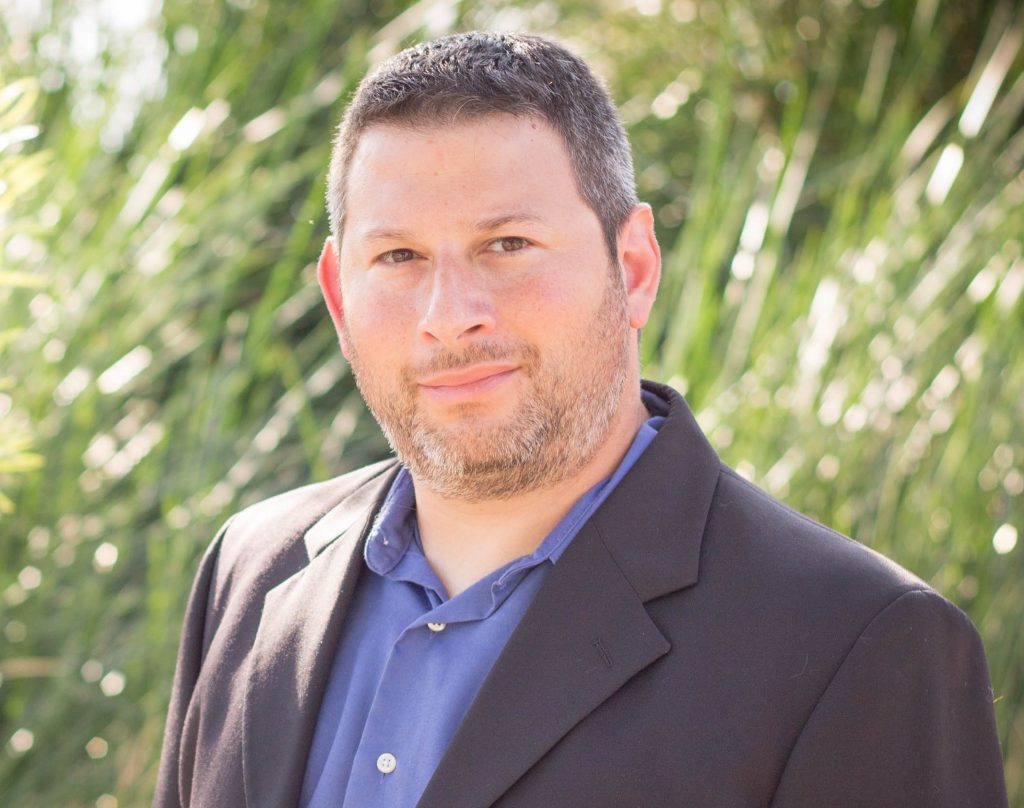 Jay was something of a trading prodigy, starting out as one of the youngest Market Makers in the history of the CBOE.
He cut his teeth at one of the world's busiest exchanges, honing his options trading skills for decades in the pits of Chicago.
And he built a solid reputation as a master trader who could book profits in any market…
That's backed up by an incredible trading resume, including some striking all-time wins like…
109% on DISH over a month
170% on XLY over a month
367% on VXZ over 3 months
127% on GLD in 23 days
148% on SQ in 28 days
229% on SMH in 36 days
But when Jay and I were first introduced and I heard about his 93% win-rate trading options… 
I have to admit it rang my BS alarm pretty hard.
Because like you, I had been led to believe that options were just… not an option for income hungry investors like me.
So when Jay explained the same win-win-win scenario I just shared with you, I was blown away.
He proved to me how selling options can be a safe, reliable instant income strategy…
One that allows you to collect income every week – like clockwork.
He immediately won me over, and since then, he's been helping me make Fusion Income a reality for our readers…
And they couldn't be happier…
"[Jay] gives you simple, easy, no-brainer trades and I recommend anyone to follow him. I invest in dividend stocks for retirement, but Jay adds a little fun into the mix with his option trades. Thanks, Jay!" – Paul
"Jay, just wanted to thank you for the great program. Learned so much from your trades, the perfect explanations, and examples. I have also developed the tools and skills to make my own [options trades]. I have been a biology teacher for the last 29 years and your educational system for learning about options is excellent. I look forward to continuing with this subscription and future option trading." – Rich
"Thanks for all the help! PS: I'm glued to my phone for your next trade!" – David
As I've shown you, we've continued to make money in 2022 – the worst first half of the year for stocks since 1970.
In historically bad markets, we maintained a win rate above 80%. And we continued to make our readers money – we're on pace to grow our entire account by 15% this year, while the S&P 500 has fallen as much as 24% already this year.
That's a full 39-point swing in our favor so far.
It's thanks to the massive income-generating trades I've shown you today…
3x more

income on

GOLD
8x more

income on

IVZ
9x more

income on

BIG
14x more

income on

AU
15x more

income on

F
19x more

income on

MT
*annualized
It's thanks to the annualized Fusion Income we generated on no-yield stocks…
46%

yield on

CDEV
60%

yield on

GT
59%

yield on

WBD
60%

yield on

UNG
145%

yield on

BOX
201%

yield on

AAL
*annualized
And it's thanks to my Chain Reaction trades, which allow us to generate Fusion Income over and over again on the same stocks, creating regular, reliable income on our targeted Fusion Stocks.
Just like we did on Ford, with payouts of 30.83%… 36.20%… 52.36%… and 63.15%!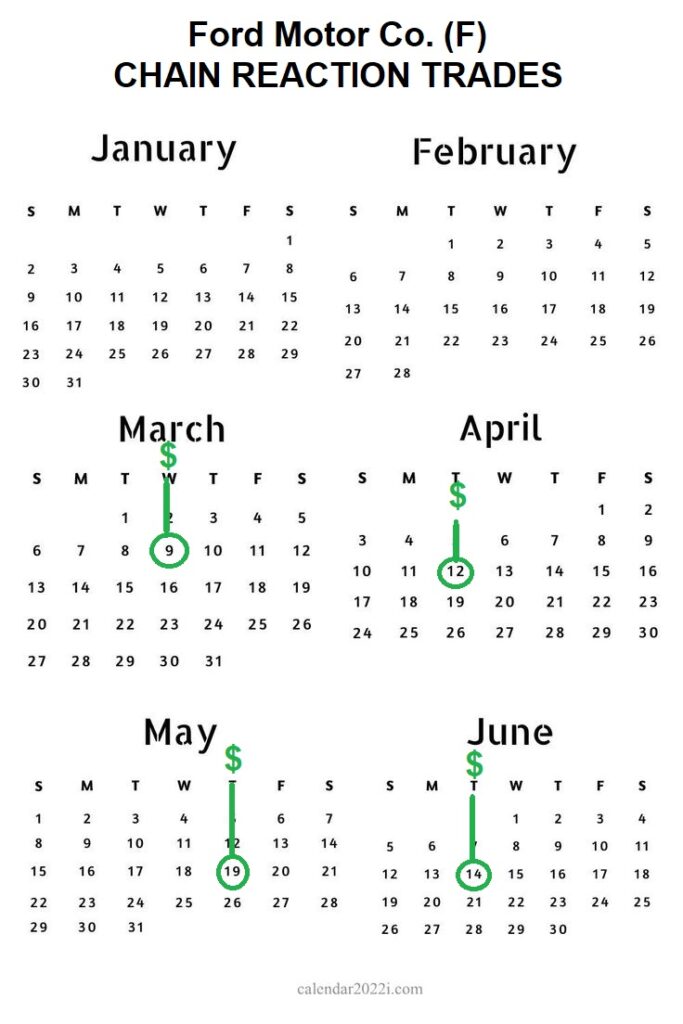 That's four payouts so far – all at least 7x BETTER than what you get just for owning the stock
And like we did on Invesco Ltd. (IVZ)…
So far, we've made FIVE Fusion Trades on IVZ in 2022 with annualized payouts of 16.92%, 17.28%, 26.26%, 30.35%, and 38.86%. 
Together, they average about 26% – meaning our average Fusion Trade on IVZ is nearly 5x better than IVZ's already attractive 4.93% yield…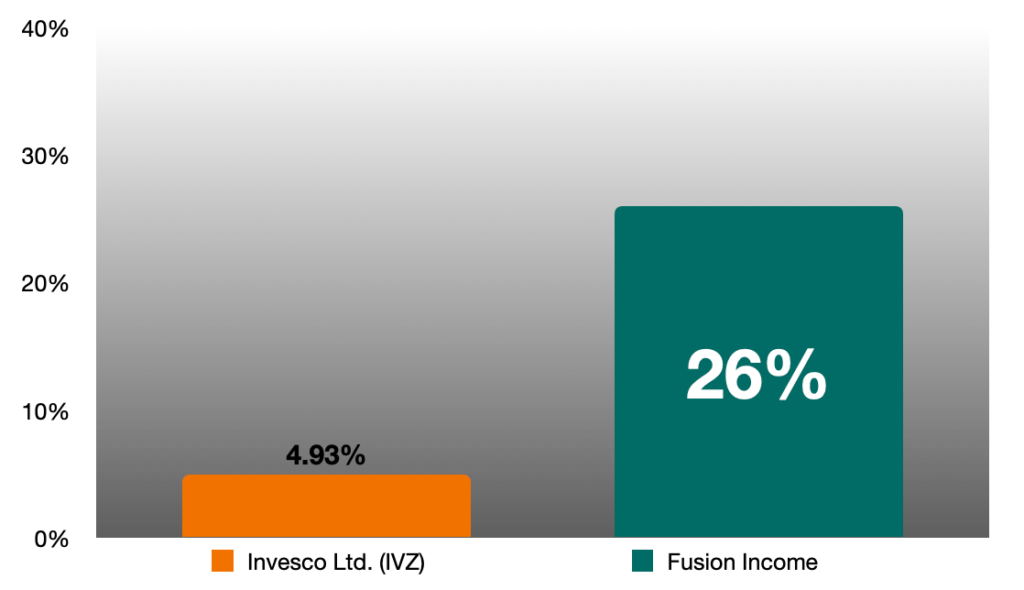 Then there's Callaway Golf Co. (ELY), where we already created yields of 32.85%, 44.14%, 49.94%, another 49.94%, and 78.48% in 2022…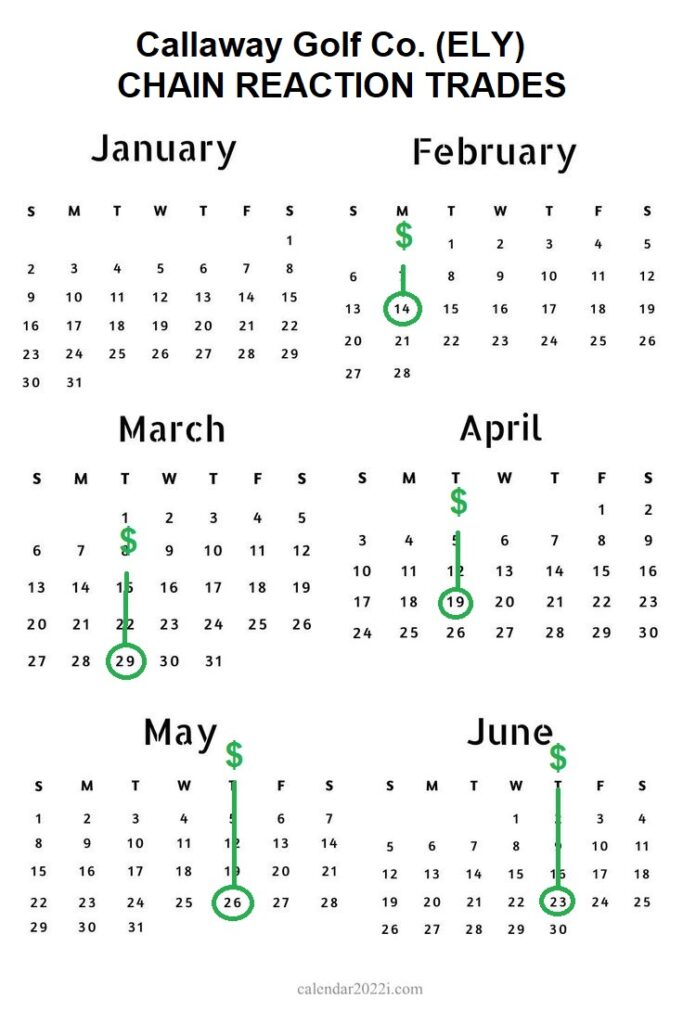 That's an average annualized yield of 51.07% – on a stock with no dividend.
And our readers have been thrilled…
"​I didn't even know you could generate income with options through covered calls before Tim and Jay. I didn't know they were so lucrative and easy to do. Now, they've taught me so well, I can even put on my own trades each week to collect even more income. They make it so easy to understand. Very happy with what they're doing." – Terry S.
"As for covered calls, I've learned so much from Tim and Jay and have become extremely comfortable with them. They tell you exactly what to do… when to get in and when to get out. We're looking forward to our cross-continent cruise from Barcelona back to the States. Thanks Tim and Jay!" – Mel G.
"Totally changed my investment philosophy as I would not have considered covered calls to be a risk I would take. It also allows my wife and I to do more things as we have more income." – Samuel B.
Now, the only way to get the kinds of Fusion Trades I've shown you today is to join Jay and myself in our 
Weekly Income Accelerator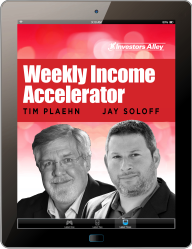 Weekly Income Accelerator is a fusion of my dividend-hunting expertise and Jay's decades of experience as an options trader.
Together, we scour the markets for the best Fusion Trades – the ones that are going to deliver you the most reliable instant cash payouts – over and over again like clockwork…
And the foundation of your Weekly Income Accelerator subscription is our…
ACCELERATOR ALERTS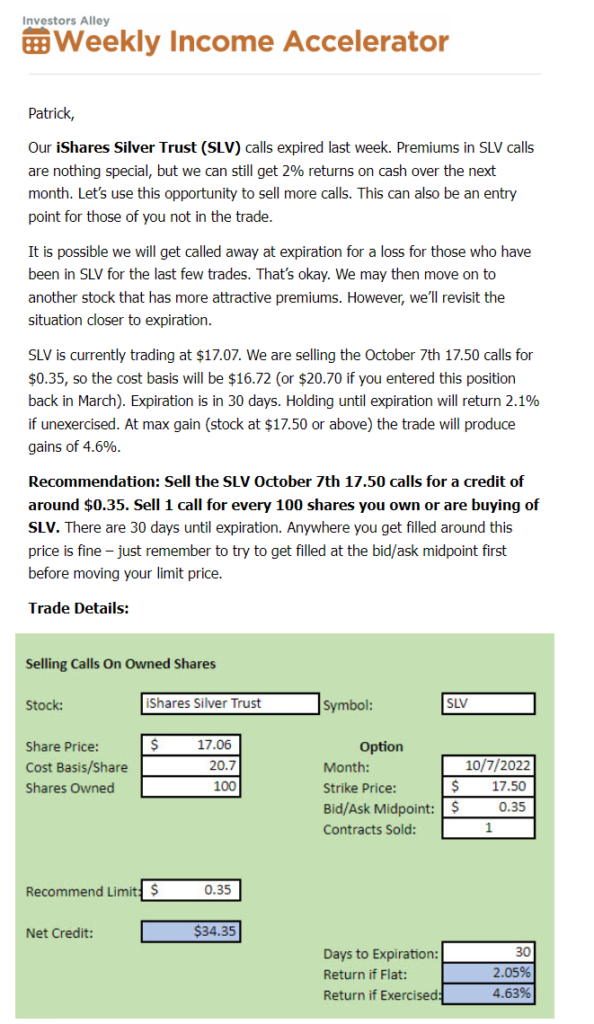 This is our bread and butter. Each week, we'll send you 1-2 Accelerator Alerts with specific instructions on how to place our latest Fusion Trades…
We'll tell you everything you need to know, including:
The stock we're targeting…
The call option we're using to generate Fusion Income – including the option chain.
We'll even tell you how much you can expect to make over the next 30 days 
regardless of how the trade pans out.
And we'll always give you two sets of instructions – one to follow if you already own shares and just need our covered call recommendation, and one to follow if you need to buy the shares (known as a buy/write trade).
In short, we'll walk you through every step of every trade  …
You'll always know the rationale behind our trade… why we've got our eye on a particular Fusion Stock… why we're picking this particular option… and how to execute your trade immediately for maximum income.
No matter your skill level or experience…
You'll feel safe with these alerts, and confident you're getting in at the right time and cashing out at the right time.
Now, we'll send these Accelerator Alerts directly to your email inbox three to four times per month – whenever we spot a new Fusion Trade that meets our criteria.
You can also sign up for our text messaging services so when our recommendations go live, you'll get them as quickly as possible.
In short, Jay and I do all the heavy lifting for you – we tell you exactly when and how to place each trade so you're never wondering what to do next.
Now, I know that many of you have likely never traded options before. If that's the case, you might feel a little intimidated… a little overwhelmed… a little bit unsure.
So let me put those fears to rest right now…
When you join Jay and I in Weekly Income Accelerator today, we'll also grant you immediate access to our…
INSTANT INCOME MASTERCLASS
This three-part video series covers the basics selling covered calls for income.
You'll watch over my shoulder as I teach you one of the most important skills in income investing…
How to buy at the right time and sell for the most income possible (while reducing your risk)
The quick way to get your account approved for options
What is a 'covered call' and how to use it to multiply your income and profits
Plus much more!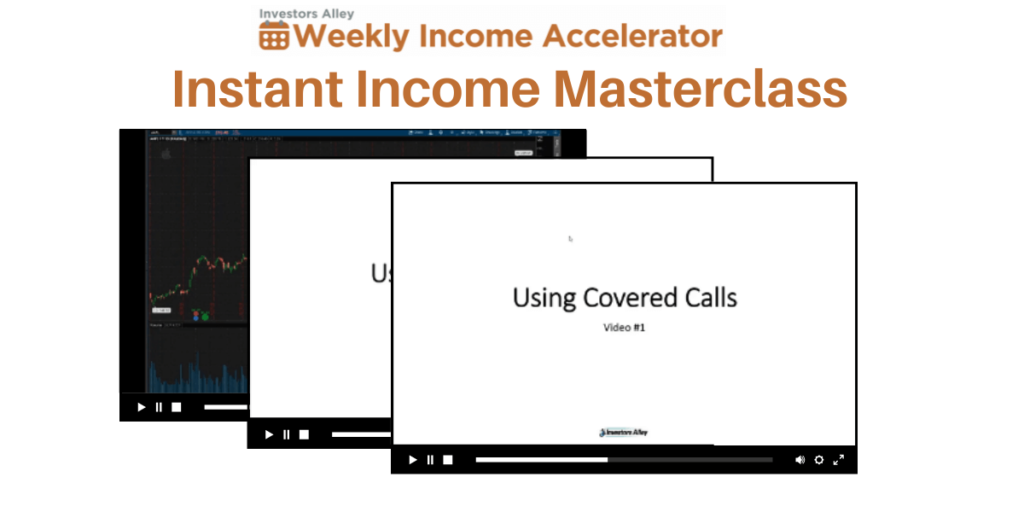 This Masterclass is designed to get you up to speed with my Fusion Income strategy in as little time as possible – so you can start placing Fusion Trades with the confidence of a Wall Street vet.
After learning from a master options trader, you'll know exactly how and why we trade the way that we do. That way, you can cut through the noise and and start earning weekly income ASAP.
But the markets aren't static – they can change drastically from one moment to the next.
So you've got to stay on top of the big picture so you can anticipate what's coming next.
Which brings me to your next membership benefit…
THE "LIVE INCOME" TRADING ROOM
This is a brand-new feature we built especially for new Weekly Income Accelerator in 2022…
There is no substitute for access to expert-level knowledge – especially when it comes to the markets… and your money.
With markets this chaotic, we want to stay connected with members to make sure you're keeping up with rapidly changing market conditions…
So every Wednesday at Noon Eastern, we're going to open our exclusive "LIVE INCOME" Trading Room.
These hour-long sessions – hosted by Jay or myself – are priceless… 
You'll get to look over our shoulder as we analyze the day's action…
Watch as we uncover potential Weekly Income Accelerator trade setups in real time…
Follow along as we take positions in the best setups, giving you real-time, step-by-step instructions on how to input our recommended trades in your brokerage account.
And of course, if there are any adjustments to make to our current holdings – especially if it's time to take profits – we'll take care of it LIVE.
The Live Income Trading Room is designed to make sure we're all on the same page… seeing the markets the way we see them, trading them the way we trade them.
You won't want to miss the Live Income Trading Room.
And once a month, we'll hold the…
MONTHLY ACCELERATOR WEBINARS
In addition to the Live Income Trading Room, Jay and I will also host the Monthly Accelerator Webinar.
You get to sit down with Jay and I as we go over everything:
What the market is doing and how to prepare for the next 30 days
Lessons learned from past trades – winners AND losers
How to roll your profits into bigger wins
How to profit on emerging trends, seasonal volatility
And a lot more!
Every month you'll get the big picture on these live calls. 
But that's not all…
Because like I said, this group feels like a big family…
We want YOU participating alongside us.
That's why we recommend tuning in with questions.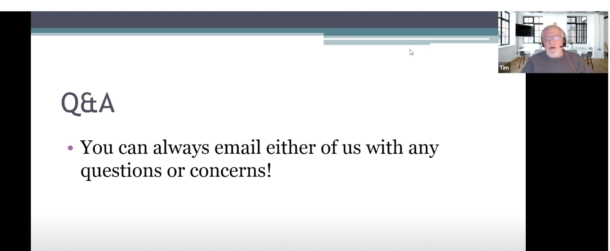 Because after all the live training…
Jay and I love to host a long Q&A session to clear up any questions or roadblocks you may be faced with.
You won't ever feel confused or lost…
We'll guide you every step of the way, and answer any question – as long as it's not personalized investment advice.
Last but not least, you'll also get FREE access to… 
COFFEE & CONDORS
Every Wednesday and Friday, Jay Soloff hosts an exclusive Zoom call with a tight-knit group of options traders just like yourself… 
He talks strategy…
He answers questions…
He offers all the guidance and wisdom of his decades of trading experience…
Members can chime in to talk about trades they're following, the money they've made, or the insights they've unlocked.
It's better than a club… it's a community of options traders helping options traders. 
It's called "Coffee and Condors."
Jay will use this time with you to take a deep dive into different options trading strategies, take questions from members, discuss market movements, new trade opportunities, and MORE.
It's a great way for new traders to learn… and for more experienced traders to help out and give back to this close community.
And as a member of Weekly Income Accelerator, You'll be able to join Jay TWICE A WEEK to discuss trade ideas, strategies, tactics, risk management, or whatever's on your mind.
Today, we want to invite Investors Alley readers to join us inside Weekly Income Accelerator – and experience the power of Fusion Income for yourself.
And we want to make it easy for you…
So we're giving you the best deal we've ever offered.
If you want to get started juicing your yield as much as 465x on some of the best dividend stocks in the market…
If you want to create your own yield on the best Fusion Stocks…
If you want to take advantage of Chain Reactions to cash in on the same stock over and over again for maximum income…
And if you want to learn exactly how to execute this strategy so you can start creating your own dividends on stocks you already own…
You can lock in a 12-month subscription to Weekly Income Accelerator for just $1497 today.
For less than the cost of a daily cup of coffee at Starbucks, you can join an elite group of investors all focused on one thing: growing their money.
Investors like John A., who said…
"[Weekly Income Accelerator] gives me the option to retire in five years and spend more time at our vacation cabin. I stumbled on Tim in 2020 and a light bulb went off for me – my savings could generate cash regularly without me doing anything. Generating income from options with covered calls is also excellent because I can see 30% returns rather than 10% just investing in dividends. Tim and Jay have a good thing going. Keep it up!" – John A.
Or Rene J., who told us…
"[Weekly Income Accelerator] gives a boost to my dividend income. With the extra money generated from Weekly Income Accelerator, I can buy more dividend stocks which helps me to continuously growing my stream of income." – Rene J.
Or Mike W., who said… 
"I'm enjoying the income from options inside Weekly Income Accelerator. It's super easy money, and I can use the money to reinvest in more dividend stocks and collect even more income. I've already made back my investment in the service. Overall, extremely pleased with the services, it's gone beyond what I was looking for. Thanks!" – Mike W.
The best part of this offer? 
It's all backed by a full 60-day money-back policy.
When you join us in Weekly Income Accelerator today, we'll let you take the service for a long, leisurely test drive.  
You'll have 60 days to check out everything we have on offer.
You can…
Browse the open portfolio and jump in on any recommended trades…

Watch the

Instant Income Masterclass

and learn how to place our covered call trades…

Attend 2 live webinars with Jay and I – ask us anything you want about the open portfolio… recommended trades… or anything going on in the current market…
And of course you can take advantage of as many as 12 yield-boosting Fusion Income recommendations… 
Trades just like these – that have helped Weekly Income Accelerator readers beat the markets in 2022…
Back on June 28, I recommended a Fusion Trade on IVZ that landed me a cool 38.86% annualized yield.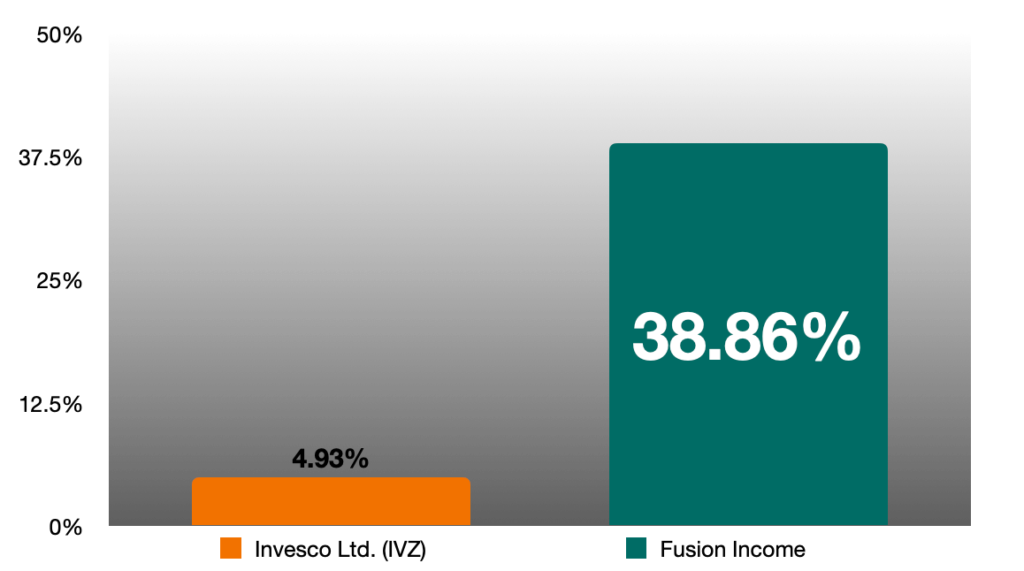 That's 7.5x BETTER than if you'd just bought the stock!
Look at it another way…
By collecting regular dividends on 100 shares of IVZ, you'd be paid $75 to hold the stock for 12 months…
But with a Fusion Trade, that payout would be OVER $500 a year.
Here's another one…
Halliburton Co. (HAL) has a global reach in providing all manner of products and services to the energy sector – everything from seismic services to help find oil and gas in the ground to the drills and pumps to get it out.
The company also offers a fairly modest 1.65% yield at $0.48 per share. So 100 shares will net you $48 in dividend payouts over the course of a year…
But the Fusion Income is off the charts. Take a look…
On February 1, I executed a simple Fusion Trade on Haliburton that delivered a 99.14% annualized yield.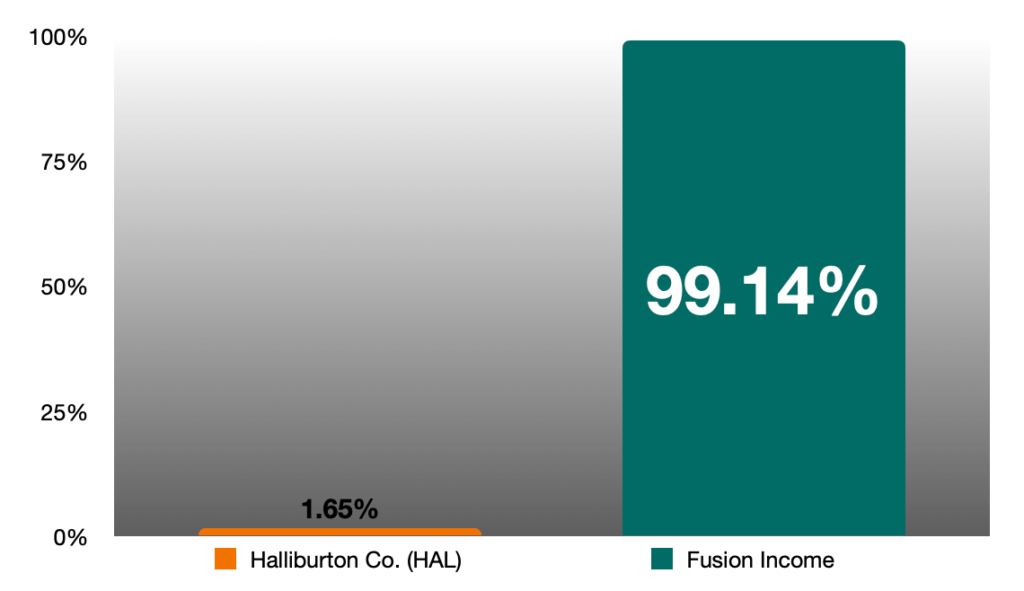 That's 59x BETTER! Not even in the same zip code!
Here's one more… and it's a big one.
Cameco Corp. (CCJ) is one of the world's largest producers of uranium, with 6.1 million pounds of radioactive material unearthed in 2021.
That's thanks to the company's ownership stake in some of the most productive mines in the world, including Cigar Lake and the McArthur River mine in Canada, the Smith Ranch-Highland operation and the Crow Butte operation in the U.S. to name just a few. 
Now, yield hunters like myself have long known that Cameco doesn't offer shareholders much in the way of dividends…
In fact, CCJ's annualized yield is just 0.31% at current prices.
But with a Fusion Trade… you can boost that number EXPONENTIALLY…
From a paltry 0.31% annualized… all the way to 153.89% annualized…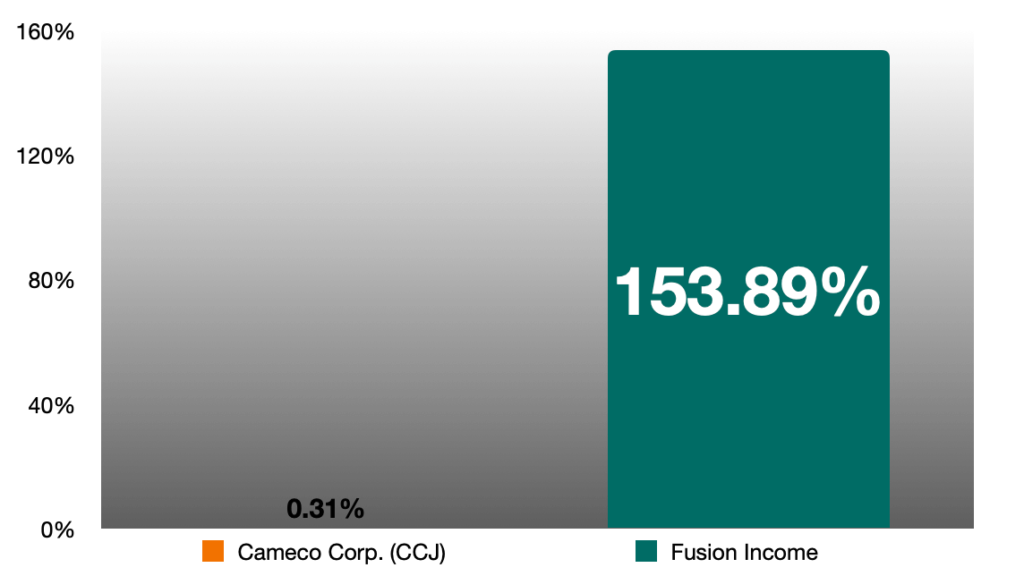 That's 465x more money in your pocket!
All from one quick, easy trade that pays you instantly and lasts just 32 days on average – meaning you can make these trades over and over, all year long – while traditional buy-and-hold investors are locked in at 0.31%.
And thanks to our money-back policy, you can get as many as 12 of these recommendations RISK FREE just for signing up with Weekly Income Accelerator today…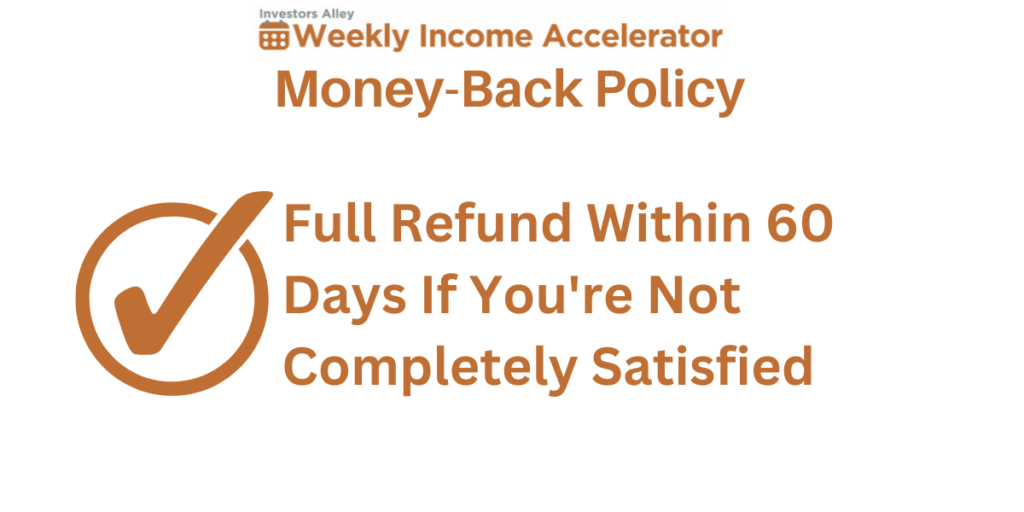 If you're not completely satisfied with everything we've shown after 60 days, just give us a call and we'll give you a full refund, no questions asked.
So let's recap…
Today, we're offering you a one-year subscription to Weekly Income Accelerator for just $1497. 
That's an incredible value for everything you get, starting with…
80 CHANCES TO BOOST YOUR INCOME 465x WITH OUR ACCELERATOR ALERTS
We'll give you all the details, including the stock we're targeting, the specific option we're selling. We'll give you detailed step-by-step instructions on how to place our recommended trade… and how much cash you can expect to pocket… 
And don't forget about the…
LIVE INCOME TRADING ROOM
Every Wednesday at Noon Eastern, we'll open the doors to the brand new Live Income Trading Room. 
You'll be able to follow along every week, look over our shoulders as we look for our next opportunity… manage the portfolio… cash out our winners… answer questions… and tell you everything you need to know to have a profitable week.
WEEKLY ACCELERATOR WEBINARS
Many folks find it tough to stay on top of their portfolios – not to mention the entire market. And it's even harder now given how quickly the markets can shift… 
That's what makes our monthly Accelerator Webinars so valuable. 
All you have to do is watch the latest webinar every week and you'll know exactly what's happening – and what's coming next…
And don't forget…
COFFEE AND CONDORS
You'll get immediate FREE access to Jay's Coffee and Condors twice a week.
These Zoom calls give you incredible access to one of the world's top options traders – plus an entire community of options traders sharing trade ideas, deep-diving different options strategies, and working together to help each other learn and profit.
And of course…
12 MONTHS' ACCESS TO OUR INSTANT INCOME MASTERCLASS
Learn how to sell covered calls as a complete beginner… you'll see how everything works from start to finish… and learn how to take advantage of several advanced strategies, made simple to understand…
All of this incredible value is backed by our 60-Day Money Back Policy. 
Like I said, we're trying to make this as easy as possible for you.
And the way I see it, you've only got two choices.
You can either take me up on my offer and join Weekly Income Accelerator – and start earning Fusion Income immediately – up to 465x better than regular dividends…
Or you can click out of this page and go back to watching your portfolio shrink, hoping the markets turn around…
But here's the thing…
Most economists and market watchers agree on one thing right now: 
The worst may be yet to come…
The doom-and-gloom headlines are everywhere…
And you've heard the chatter, I'm sure – because the Wall Street media won't shut up about it…
This one's from CNBC…

Here's one from Forbes…

Some doom-and-gloom from CNN…

And Fortune…

Some experts are even on record saying that the markets could drop another 20%, 30%, even 40% from here.
So as far as I'm concerned, the choice is clear.
The time is right to start earning Fusion Income!
With markets threatening to go even lower in the next few months, the best thing you can do is build up your cash position while you wait for the market's next big run up…
And the best way to do that is to join the hundreds of folks who are already changing their lives with Fusion Income…
Like Samuel B., who said:
"I used to not trust options. Then, after following Tim, he warmed me up to them, and now I can do covered calls comfortably. You're missing the boat if you're not doing this stuff. I now can pull income out to spend on what I need. If I could do everything all over when we retired in 2009, I would absolutely follow Tim's picks and strategies." – Samuel B.
Or Lisa K. who told us:
"Tim's strategy is just what I was looking for, and now I'm on track to retire at 55. I also enjoy generating income from options with covered calls. Tim and Jay make them easy to understand. At first, options were terrifying, but now I'm regularly collecting income, and I love it. Tim is very trustworthy. He'll tell you when he was wrong about a stock, and that's something you don't often see. Thanks, Tim and Jay for all you do!" – Lisa K.
And Jim M., who said:
"I used to be skeptical of options, but Tim and Jay really showed me the value of using options to generate income. It's a no lose situation trading covered calls. You buy a great stock, collect income, if the stock gets called away, you made money on the appreciation as well. Tim gives me confidence that our portfolio can keep growing and generating more income even if my wife has to take over management. It runs like clockwork. I recommend Tim and Jay to many of my friends. Thanks guys!" – Jim M.
All you have to do to join Weekly Income Accelerator is click the button below.
You'll be taken to a page where you can review everything you'll get with your subscription (including a few more surprises), fill out our secure order form, and lock in 12 months of Weekly Income Accelerator for just $1497 right now.
So click the button below to start earning Fusion Income – and up to 465x more yield!
You'll be glad you did.
For Jay Soloff, I'm Tim Plaehn. Thanks for joining me today, and I hope to see you in Weekly Income Accelerator!
To Your Success,
Tim