If your favorite way to invest is to 'buy and hold stocks' for a long time… 
You're about to read your dream scenario.
That's because I believe I've uncovered the easiest…call it the laziest…way to make enough dividend income to retire comfortably.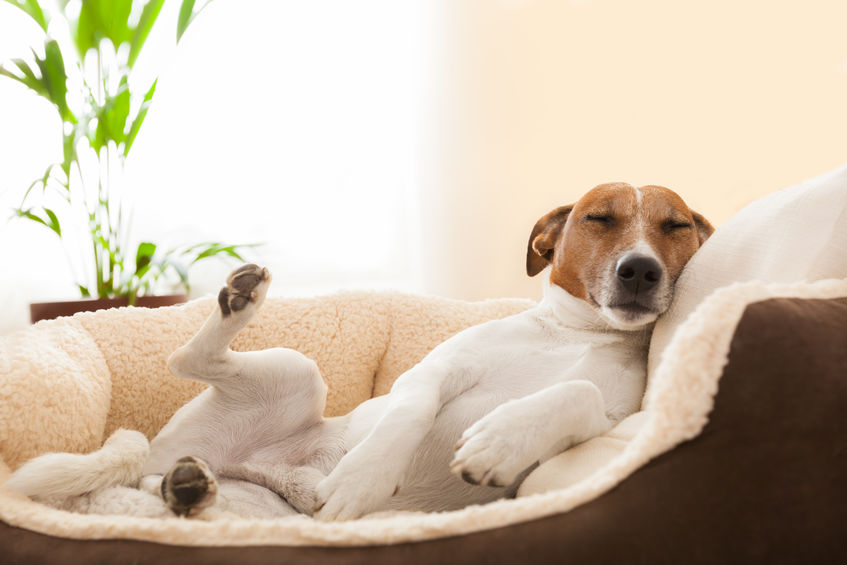 It's as easy as going to bed…and waking up with more dividend income than you had yesterday.
It doesn't happen overnight…but you have to buy a stock and sit back to collect up to 212% more income. 
Buy a stock, hold it, collect more income every year. Easy enough.
That's what we want as dividend investors.
Well, it's only fair if I ask you.
Do you want to wake up with more dividend income than you had yesterday? 
All 'earned' while you slept. No trading options required.
Call me lazy…I don't care if you do…but that sounds pretty great to me. 
I'm sure for you it is as well. 
You already subscribe to The Dividend Hunter, so you know how powerful dividend investing is.
So far. 
You've seen my "buy and hold forever" income stock Main Capital 

Plus, you've gotten started on your path to paying your bills with my 36-month accelerated plan, my endless income blueprint, my $25k plan among others
All those high-yield strategies have paved the way for what I'm about to show you.
Because now there's a way to potentially tripling the income you're getting from The Dividend Hunter without doing a darn thing. 
Push a few buttons in your brokerage account and you're off to lazy land.
Kick your feet up. 
Those guys trading from the beach. Well…you will be lounging at the beach instead. 
If you're making $1,500 per month from The Dividend Hunter…you could start earning $4,680 per month the lazy way. 
That's going from $18,000 per year to over $56,160. 
A 212% increase.
All while you hold the stocks.
All without any trading of options or anything like that. 
It's why I'm calling it my "laziest retirement strategy ever." 
…don't spend all your time reading financial news…
…don't spend any more unnecessary time trading in and out of stocks…
…don't even log into your account for weeks if you don't want to.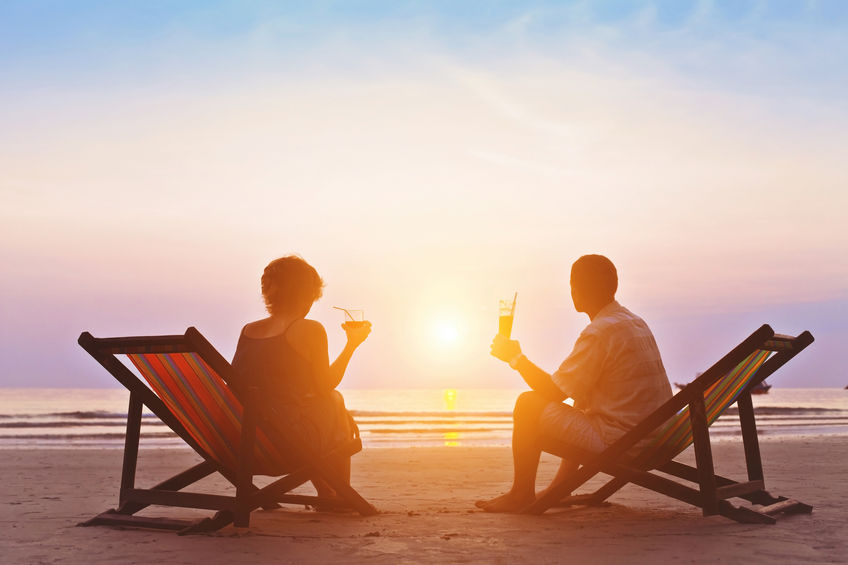 Collect more and more dividend income as you live your life. 
Your spouse will appreciate the extra time they'll get with you. 
Your grandkids will have more time with you rather than you spending it with quarterly reports and your 401(k). 
Those days are gone.
Nowhere else in the financial markets can you do what I'm about to show you. 
And that's as much as tripling your dividend income without touching your account again. 
It's the "buy and hold investors" dream. 
But you have to do exactly what I show you. 
When you do…
I promise if you don't make more dividend income automatically and lazily in the next year, I'll write you a check for $1,000.
I'm so confident because this strategy is one of the most powerful dividend (and retirement) strategies I've ever found.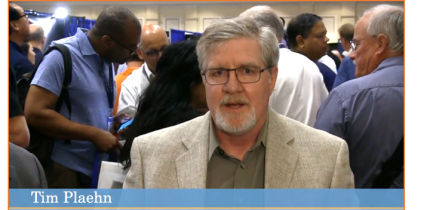 What made me more excited is how easy it is…i.e. Lazy. 
This is Tim Plaehn, your editor of The Dividend Hunter. 
Look, I'm 63 years old. My wife? She's 65 and already drawing Medicare. 
I've put in the work for many decades. 
(I know you have too). 
You and I deserve time to enjoy ourselves. Relax. I still go to the gym and work on my strength, so I can live longer, but I ain't going to be running a marathon anytime soon. 
I like life to be calm and easy. And the same goes for my money.
All these jokers out there trying to show you how to day trade stocks, or make high-risk bets on the market…they don't understand what you and I need. 
We need a way to make money without any of that craziness. 
A passive way. 
And that's why I'm about to show you a lazy retirement strategy anyone can use. 
It's really simple. 
Jason left his job at 33 and now lives abroad off based on rising dividends. Jason didn't start off rich. At 21, he was broke and unemployed. After landing a $40,000/year job, he started saving and investing in dividends aggressively and he's now retired.
I just went to the 40th reunion of my Air Force Academy graduation and many of my old buddies are also about to retire. 
Besides writing for The Dividend Hunter, Investors Alley (our main free publication), and a few of my premium products…I don't like to do much. 
I enjoy a few camping and hiking trips per year.
I enjoy grilling out. 
And there's nothing that can keep me from sipping a new kind of whiskey. 
My point is…
You shouldn't have to work hard…whether at a job, or being glued to your computer…to retire comfortably.
A small army of dividend stocks can hand you 212%…152%…77%…51%…more income simply by buying and holding the shares.
Imagine…you wake up…boom…there's 212% more income in your account. 
You expected a $1,500 dividend…instead, you get a $3,780 payout as your dividends increased 152%. 
A few hundred bucks even extra every month or quarter can go a long way for many of us. 
Of course, this doesn't happen accidentally…
Nor does it happen with every dividend stock out there. 
A select few dividend stocks, you simply push a button and you are all set. 
It's lazy. 
It's how I like it. 
As I said, it's the perfect retirement strategy for the buy and hold investor. My type of thing.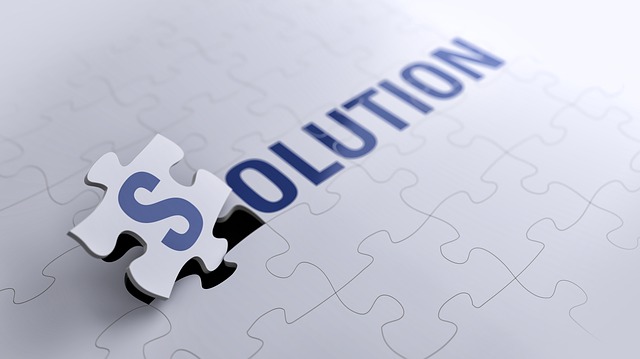 I miss the days of pensions. 
You worked hard. Didn't worry about investing. You retired and were set. 
Unfortunately, those days are done. 
Now, you and I have to build a nest egg that lasts.
Unfortunately, I bet you've had at least one sleepless night worrying about…
…"Do I have enough money to retire?"
…"Will my savings last the rest of my life?"
…"What happens if prices keep going up but my income stays the same?"
And you're not alone if you've had any of those thoughts before. Countless other Americans have had the 'retirement rug' stripped out from underneath them. 
I know after talking with you and other subscribers, you want an income that makes sure you not only never run out of money, but also have plenty of cash left over to enjoy life.
Whether that's to travel more…
Buy that house by the lake or beach you've always wanted…
Finally doing the stuff you love to do, whether it's a hobby or, like me, it's work you want to do, not 'have to do.'  
And I'm here to tell you that I have a solution. 
A solution that allows you to take your nest egg and turn it into a perpetual GROWING cash machine. 
All on auto-pilot for the most part.
A lazy strategy…but one that makes sure:
Your nest egg never runs dry…

You have a growing income that far outpaces the cost of living…

You spend your time enjoying the retirement you dream of 
Up to now, you've done the right things…
You're investing in high-yield stocks with The Dividend Hunter. 
Now, it's time to accelerate that income for years to come. 
The Dividend Hunter Is Only HALF of the Equation.
AMZA…as of this writing produces a 20% yield. That's pretty good.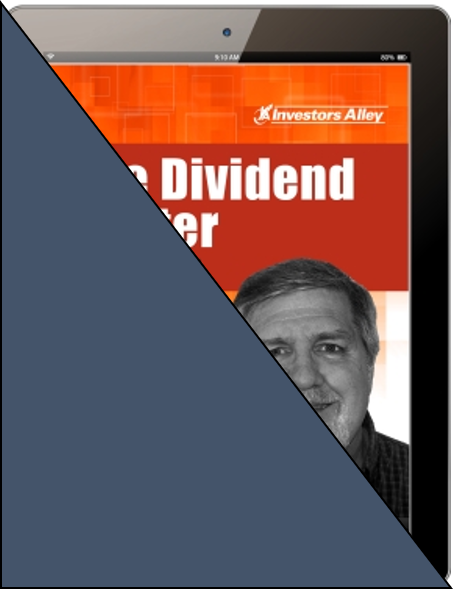 NRZ…as of this writing is around a 13% yield. Still great. 
MAIN…one of the bedrock investments in our portfolio…a nice 6% yield but also up 53% since early 2016. 
Here's where I'm getting at…
The Dividend Hunter is designed to pay you a high income today. It's excellent for a steady income year after year. 
Compare it to earning your first steady paycheck. 
You know it will show up every two weeks, and you can count on it to pay the bills.
At some point, though…you wanted to make more money. You wanted to upgrade your home and start a family. 
To make more money, maybe you had to take on more responsibility, change job titles, whatever it was. 
Point is, you had to change what you were doing. 
Right now, just investing in Dividend Hunter stocks, you'll receive that same paycheck over and over. 
The income will not grow very much, maybe a couple of percent a year.
So if you're NOT earning enough money to live off of for the rest of your life with The Dividend Hunter today… 
You need to start investing in the other half of the equation. 
You need an asset that accelerates your income at a faster clip. 
That grows an $18,000 annual income to $45,360 …
That grows an $18,000 annual income to over $56,300. 
Growth like that would only happen if you invest tens of thousands or more dollars every year into Dividend Hunter stocks.
You need to keep putting more money in to grow your income.
That's problematic in retirement because your income either stops or slows dramatically.
AMZA you'd need to invest $225,000 to earn a $45k annual income.
NRZ you'd need around $346,000. MAIN about $750,000.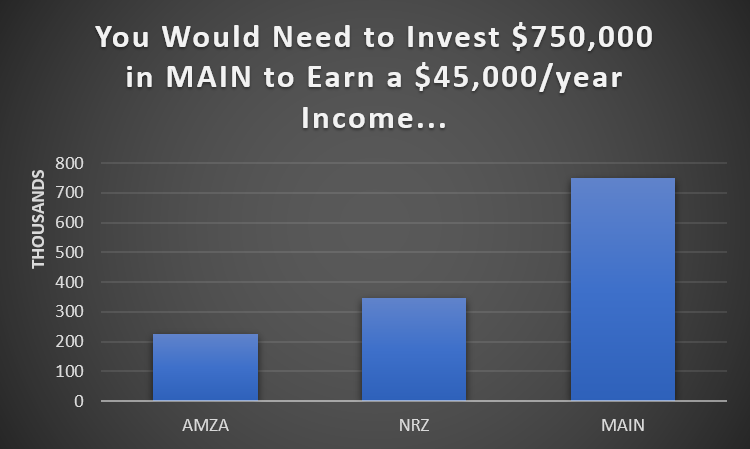 If you can afford to drop three-quarters of a million dollars into MAIN to attain a $45,360 annual income stream and not break a sweat, then you're free to do so. 
But my guess is you don't want to do that.
And that's not to mention the massive risk of putting all your eggs in one basket…
That's why I'm recommending taking what you have in The Dividend Hunter…and now adding to it. 
How I Would Help This Police Officer Already Making a $1,500/Month Income from The Dividend Hunter
I received this amazing email from Cal…take a look:
"[Tim], I've been with you for over three years now and very happy with what I've been able to build.   I'm a 49 year old Police Officer with 23 years on the job. I wanted to build a supplemental income to go along with my retirement (sometime in the next 2-3 years).  My average monthly dividends are over $1,500 a month now. "
I love getting emails like this from my subscribers because it gives me a chance to help them even more. 
Cal reached out to me, I'm thinking, for two reasons:
He was excited to share his progress. And that's amazing to be generating $1,500/month off a cop's salary. A lot of respect for me. 

But, also, I'm betting he was looking for more help in how to grow his income faster. 
After all, Cal's spent his life fighting crime…putting his life on the line to little applause. He deserves a good…no…great retirement for his public service. 
Here's what I say to everyone who is in Cal's position is this…
…especially if you want to retire in a few years… 
It's time to start growing that income faster. 
The faster you start, the more you'll make.
Faster to $2,000 per month…then $3,000 a month and higher.
It's possible for Cal to grow his income to as much as $45,360 per year using the lazy retirement strategy I'm about to show you. 
He can still continue to work…as he will be just buying and holding stocks…
If Cal only continues to invest in AMZA or SMTP and other Dividend Hunter stocks, he'll take that $1,500 to the bank every month… that's $18,000 per year. 
However, what if instead, he increases his income an extra 51%…75%…152%…even 212% in the next three years?
$1,500 per month ($18,000 per year) becomes an incredible $45,360 per year. 
Or maybe even $56,300 per year.
And it's entirely possible if he begins investing in the stocks I'm sharing today.
This allows Cal to collect more income over time without having to invest another penny.
At the end of this page, I'll reveal the top three stocks I've found to increase your income by double-digits…maybe even triple digits in the years to come. 
They're the fastest rising income opportunities I've found in the stock market today.
One of them has already increased our income by 152% in three years.
Others Have Started with my Lazy Rising Income Strategy for Their Retirement and the Results Have Been Incredible
John says…
"I am a little over ⅔ of the way to my goal of generating income from my investments to 100% support me. I am enjoying returns of $90,000 [per year.] I anticipate I'll reach my goal in 24 months. 
Thank you for your guidance."
David wrote me an email claiming:
"I am months away from retirement. Your [system]…is allowing me to achieve an income that permits a continuation of the lifestyle I've established." 
Keeping that same lifestyle is important, as it keeps you comfortable and quite frankly…sane. 
I asked Leo, a subscriber to my strategies, how he was doing, and he responded quite simply…
"Doing fine…77…retired and comfortable." 
His answer was short and sweet. I probably interrupted his time with the grandkids or he was watching the game.
I have countless testimonials from folks telling me something similar.
That's why let me repeat.
You've started the 36-month plan to pay your bills…
Maybe you already follow my Monthly Dividend Paycheck Calendar…my Endless Income Blueprint or $25K Plan…
Those are just the start…
The strategies you receive inside The Dividend Hunter are not meant to be abandoned…
They're meant to be built upon. 
The goal of The Dividend Hunter is to earn income TODAY, and it does an amazing job. 
One of my readers wrote to me about a cruise he went on thanks to my picks. 
But, according to my surveys and talking to readers…
Most people retiring today aren't earning enough income yet to fund the retirement they desire and feel comfortable that their money will last.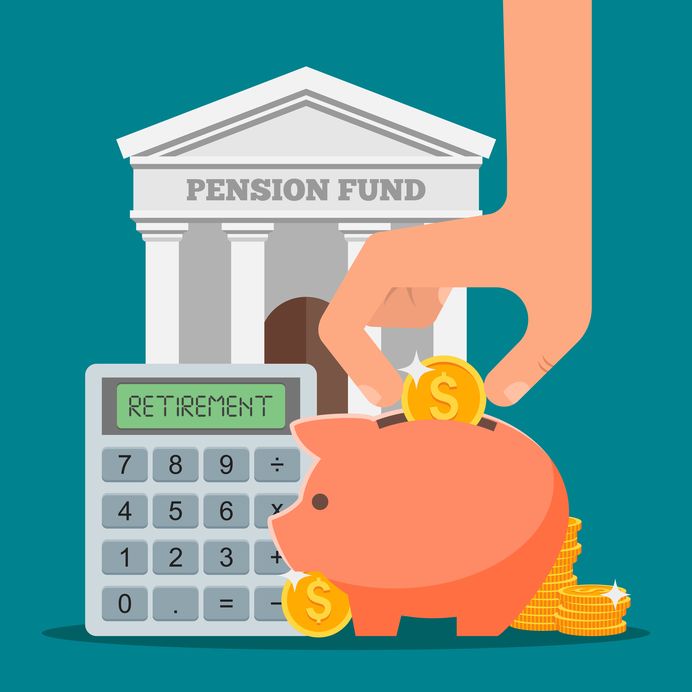 That's why if you follow my lazy retirement strategy…
You could double even triple the amount of income you can draw from these plans. 
My Dividend Hunter income plans pay your bills…
The lazy retirement strategy you'll see today can set you up for years to come with both wealth and income. 
I'll show you proof that doubling or tripling your income could also boost your profits by 280%…even 399% in the process. 
That's why I'm so confident to call it a fixture of your retirement. 
And it's so easy. 
Steps to follow to collect this lazy income…
If you like buying and holding stocks, you can double your income in 36 months
One of the best opportunities I ever found you could've more than doubled your income in 36 months…
Almost tripled in fact. 
A boost of 152%. 
Here are the steps you had to do. 
#1. Buy the stock
#2. Hold the stock forever
#3. Do nothing else. Eat. Work. Sleep
Hold it forever and keep enjoying the rapidly increasing income. 
It's a buy and hold investors dream scenario. 
What's even better is you're beating the pants off of mainstream stocks. 
In fact, take a look at how these stocks I recommend absolutely stomped Dividend Aristocrat income growth.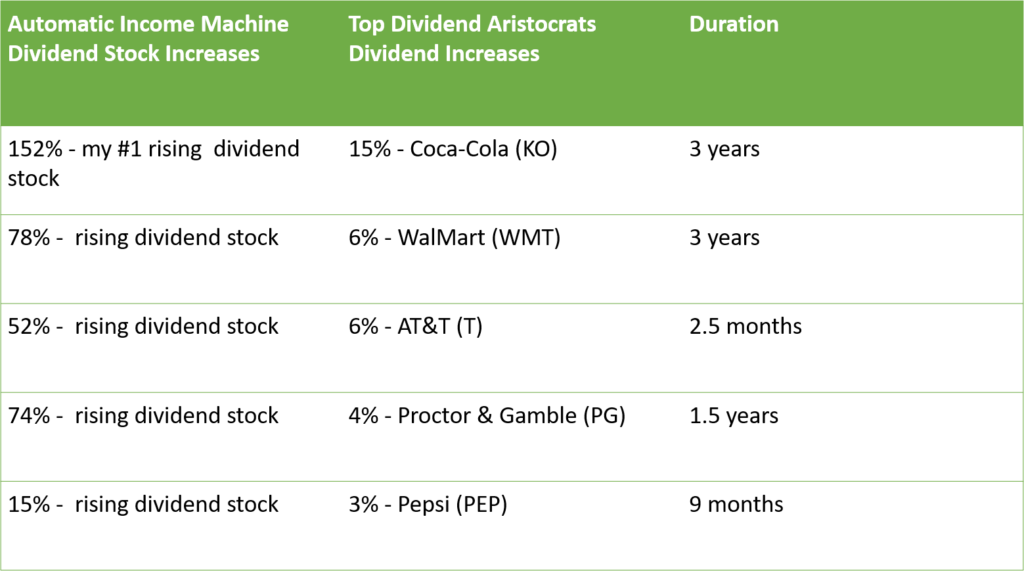 Those don't even include the 212% winner I recommended from Phillips 66.
As you can see, my picks absolutely stomp on the income growth of some of the most popular Dividend Aristocrat stocks out there. 
My #1 play beats Coke by 10X…
Another beats Walmart by 12X…
Still, another beats telecom giant, AT&T by almost 9X in income growth. 
That's why it's important to read this next sentence carefully…
You can't just select any dividend stock to see rapid income growth.
That's why…in a moment… I'll share my FIVE criteria to locate these lazy buy and hold gems. 
It could have you generating up to 12X more income growth than some of the most popular dividend stocks in the world. 
Again, the stocks I recommend are stocks you've likely never heard of. And probably never will unless you keep reading. 
Even better…
Compound Your Income Growth
And Make Millions
Take a look at the power of reinvesting your income.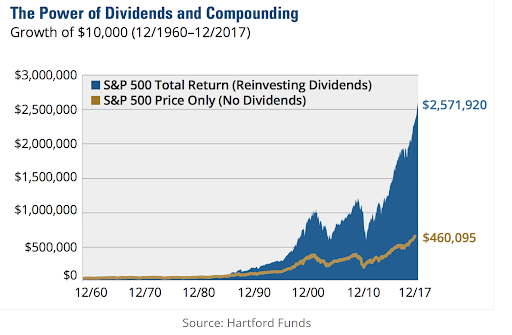 Over a long term study, you'd make 458% more profit than if you just invested in the SPY. 
This compound effect is how we ramp up your income even faster. 
If you're still a few years from retirement, my best advice is to find those stocks raising their income at a rapid rate, reinvest it all, and watch your income pile up faster as you roll into retirement. 
If you could land a 152% increase in the next 40 months…you could be generating $45,000…
Say that happens again three years later…
Then your $45,000 could then shoot up to $113,000 per year.
Without options. 
Without even touching your stocks. 
Without worrying about the stock market, volatility, or who becomes President.
You buy the stock. You automatically receive double-digit bumps each year.
As you can imagine…here's the secret to it all. 
What Makes this Lazy Strategy Work Is You Invest in Stocks With RAPIDLY GROWING DIVIDENDS
Look at the chart again.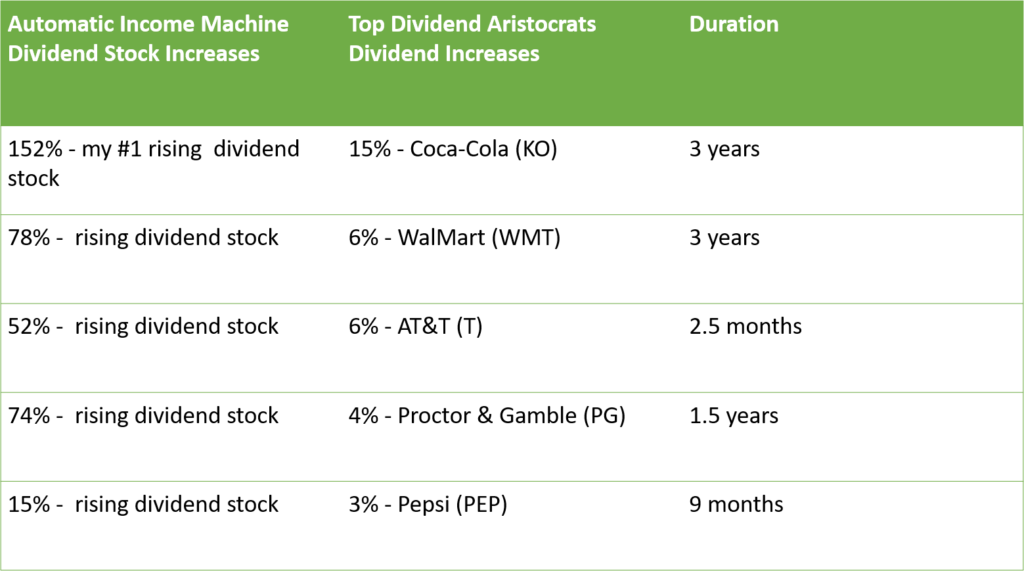 Compare the dividend increases you get with rapidly rising dividend plays to what you get from typical "Dividend Growth" stocks and it's not even close.
We're locating stocks that boost their payouts 43% in a single year.
With other recommendations increasing payments by as much as 77% and 52%.
Now, I can't promise a 152% bump every 40 months. Or a 212% over 60 months.
But I am forecasting a consistent double-digit stream of rising dividend stocks for you to invest in.
If you don't see any growth… as I said, I'll write you a check for $1,000. 
That's how confident I am.
Once you discover it's possible to earn up to 152% or 212% more every few years…you'll never look at dividend stocks again. 
And that's why…to retire comfortably making more money than you did last year while buying and holding stocks…
You must find the right stocks to invest in. 
This is the secret sauce to retiring the lazy way…the way I want to retire…
It all comes down to five specific criteria for the stocks.
Five Key Criteria Every Lazy 'Buy and Hold'
Rising Dividend Stock Needs
Let me run through what you should look for: 
#1: The company has a history of rising dividends. 
If you're investing in the market's fastest rising dividends, there's no room for guessing. Find stocks that are increasing their dividends at a double-digit rate and pile in.

That comes with a caveat. 
#2: Make sure you're investing at a great price. 
A stock may be raising their dividend, but that doesn't mean you should invest in that particular stock.

Take a look at Boeing. It's had some really great dividend growth in the past few years, but the stock is expensive.
Right now it trades for over $300. And that's after pulling back from nearly $450. 
And with the recent bad news surrounding its new 737 MAX plane, this stock quickly gets tossed out.
#3: Look for companies with increasing cash flow every year and paying out dividends from profits, never debt. 
Take a look at Phillips 66 again and why I recommended them. 
Their operating cash flow had increased by 528% in five years. That's six times more cash flowing into their bank accounts.

As you can imagine, dividend growth follows. 

They went from paying out $81.9 million to shareholders, to $360 million to common shares in just five years. That's 339% more.
That's a good stock to hang your hat on. 
On the flip side…
#4: Watch for signs of a dividend cut…and get out. 
Check out this chart. Notice the beta section? 
Beta is how volatile a stock is. 
Stocks raising their dividend are the least volatile. Look down the list some more.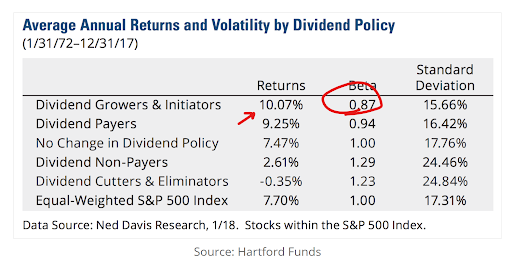 Stocks that cut their dividend are the second most volatile stock to own.
The telltale sign of a dividend cut is when the company's financial situation begins to unwind.
A mainstream example would be General Electric. In December 2017, they cut their dividend for the first time since the Great Depression. 
For the news outlets, they were shocked. 
If they followed the company's cash flow at all…they would've noticed something peculiar.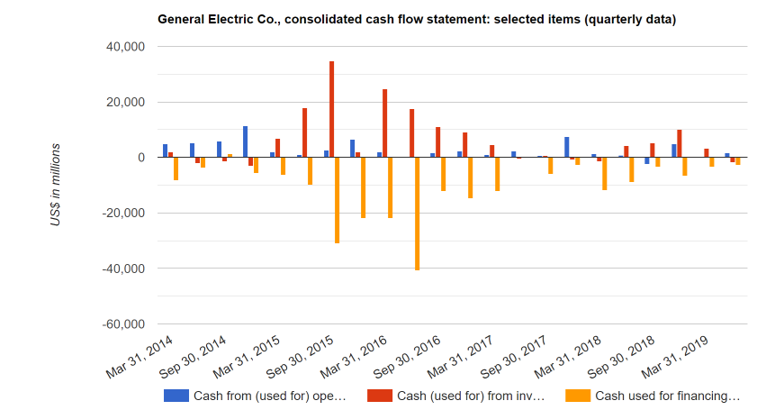 GE had a lot of debt they were servicing. Paying out their standard dividends would only result in more debt and even lower cash flow. 
I was not surprised when they cut their dividend by 50% in Q4 2017.
And not even that stopped the bleeding. Their cash flows continued to unwind and they eventually cut their dividend to $0.01 where it remains today.
Following their cash flow would've gotten you out almost a year earlier than the dividend cut. 
After that 2017 cut, the stock plummeted over 65%.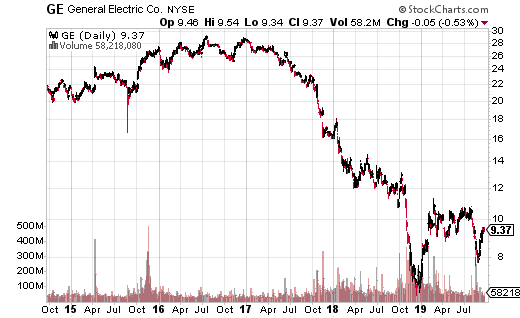 Three years later and GE has only posted a modest comeback.
With investing and retiring, we want to be nimble. Yes, we want to just buy and hold automatically. However, at some point, the winds will turn and you'll need to find the next rising dividend play to invest in. 
That's when you look for opportunities as in this last step. 
#5: Look for companies with high cash flow in high growth sectors
I don't normally recommend mainstream stocks, but this is an example too good to not show you here. 
McDonald's has raised its dividend by an average of 17% each year. They've increased it every year since 1977.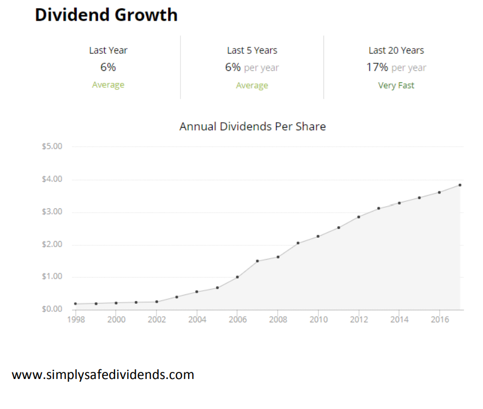 During the Great Recession, you may have been hard-pressed to find any good dividend growers. 
However, when you dug into the stats, Americans were cutting back on fine dining to save money and instead opting for fast food. 
Enter McDonald's. During the downturn, they increased their earnings by 35% and grew their dividend by 34%. 
Pretty impressive when the S&P 500 saw their earnings sink 34% and dividends crater 19%. 
As a result, their stock price boomed 193% since the recession, and their dividend increased by 155%.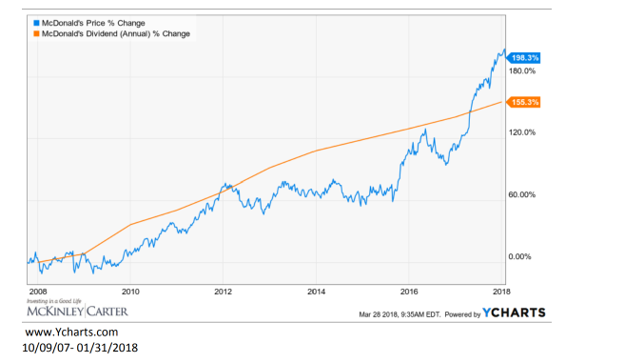 If you can pinpoint these growth opportunities, you will watch your income double, triple or more with the right stock. 
It's like getting a 25%…50%…salary bump at work without doing any work. 
This is automatically happening. You just need to be invested.
I'm about to show you my top rising dividend plays for your buy and hold portfolio…so you can start increasing your income automatically…
But there's one more thing I want to share…
And it's one of the main benefits of why this 'lazy' strategy is key to a relaxing retirement. 
Rising Dividend Stocks Produce More Income Every Year…
But They Also Produce Some of the Biggest STOCK RETURNS You'll Ever See
Remember I just showed you this chart above?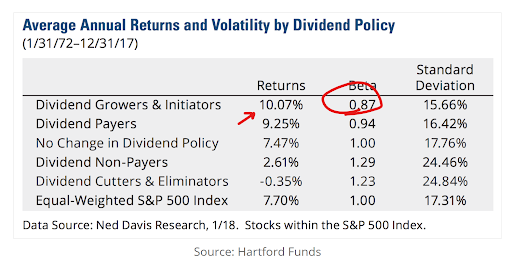 The returns for rising dividend stocks are better than any other income plays out there. 
So not only are you seeing your income grow on one end…
But you're growing your profit at the same time.
Here's another chart showing how much more profit you can make with rising dividends.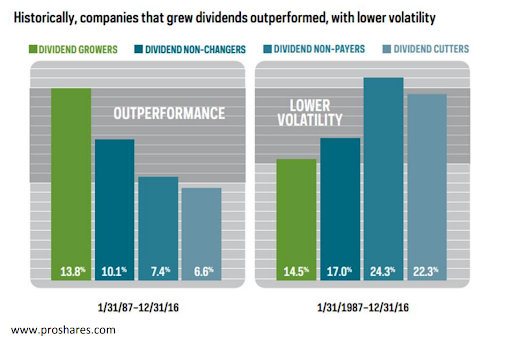 Over double compared to other dividend payers. 
Not all dividend stocks are created equal…I share that inside The Dividend Hunter. 
Rising dividend stocks are the ultimate long-term, buy and hold income and wealth-building plays I've ever found.
But, these numbers above are averages. 
Take a look at some of the profit spikes you can see in individual stocks raising their dividends.
After all, if a stock is raising income fast, more people will want to pile in.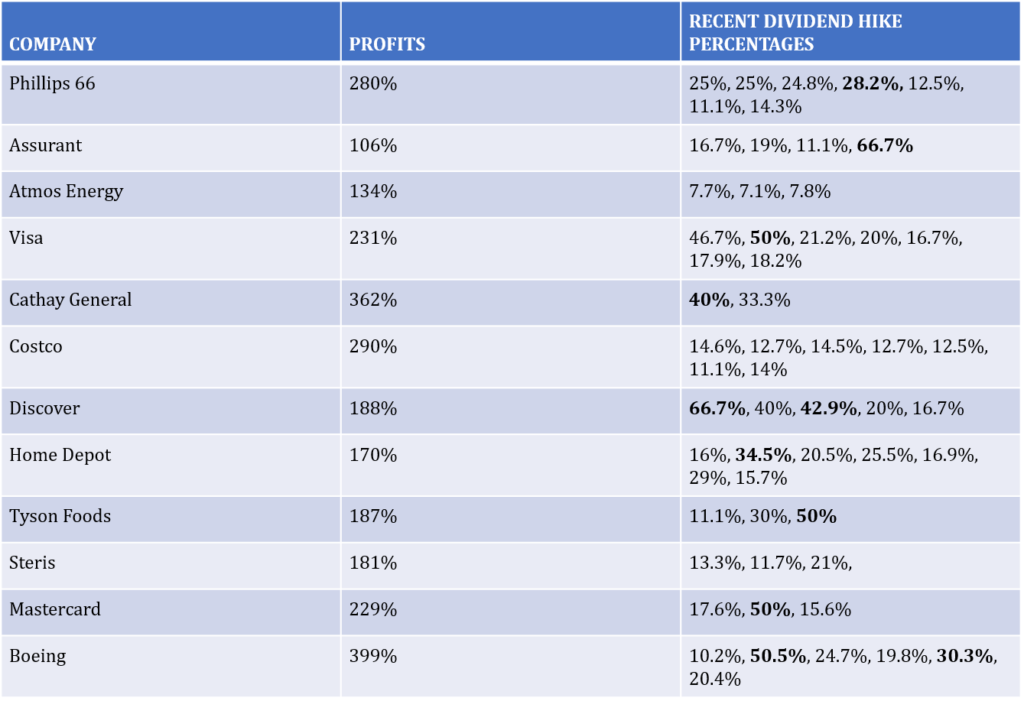 290%…399%…280% gains in stock price alone.
These companies are doubling, tripling, quadrupling your money if you invested at the right time. 
More income…check.
More profit…you can check that too. 
Safe, conservative plays. I like it. 
We have a shot at these gains too. 
Check out a few winners I've shown my readers as part of this system:
107% profits in 4 months

45% profits in 6 months

69% profits in under 2 years

42% profits in under 2 years
And there are more where that came from. 
In fact, how would you like my #1 rising dividend stock for free right now to add to your portfolio? 
It's easy. 
Buy the stock. Hold it forever. Increase your income every year. 
If you don't, I pay you $1,000. 
It's a no brainer for you.
And… as I showed you…there could major stock returns waiting on the other end as well. 
As I said, it's lazy…but amazing to feel when you're seeing your checks increasing each year without lifting a finger.
Find My #1 Rising Dividend Stock (Plus Two More) When You Claim My FREE Special Report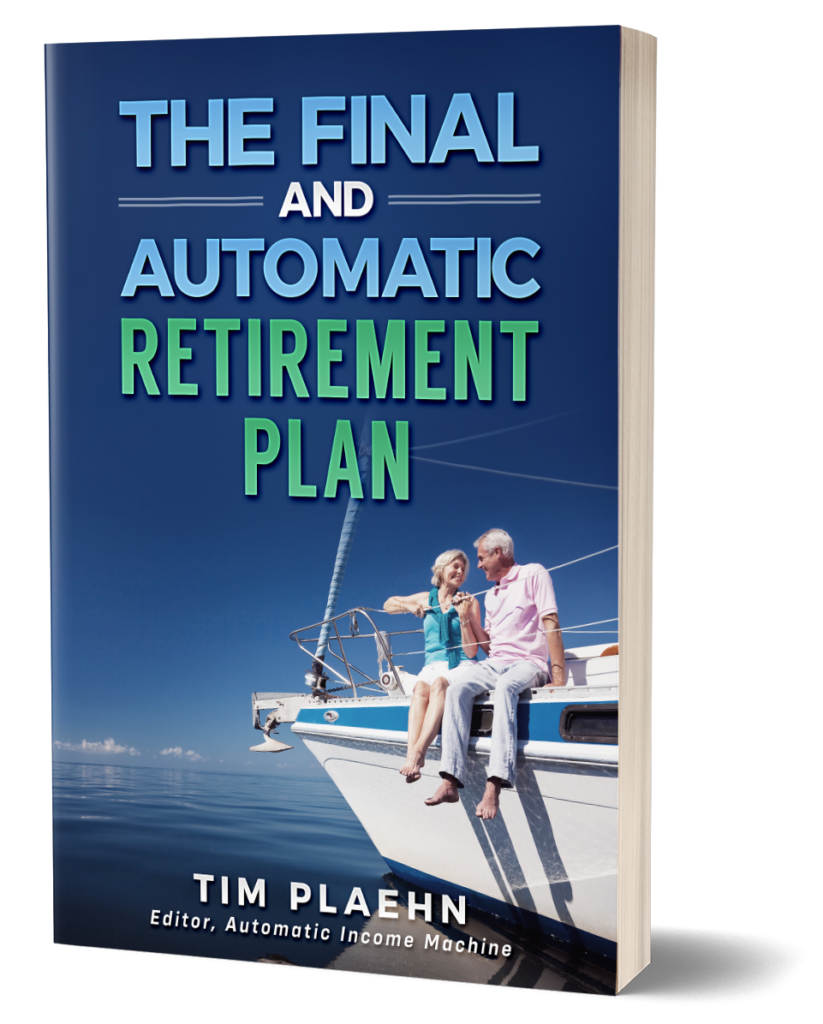 I've talked so far about my "lazy retirement strategy." 
But I didn't feel that name did it justice for how powerful this could be for your portfolio. 
That's why I'm calling this free special report the "Final and Automatic Retirement Plan" because this is the main strategy you need if you plan to retire on your dividend income. 
The Dividend Hunter helps pay your bills. 
My lazy rising dividend strategy…one I've officially labeled as the more appealing "Final Retirement Plan"… will keep you retired comfortably.
Those who are on their way to retirement…
And those already retired. 
That's because more and more income is hitting your bank account each year without doing anything. 
It's quite the dream. A lazy man's dream.
I've built my career and reputation as your editor of The Dividend Hunter. I've been looking for high-yield stocks to hand you income right now. 
It's time to take that next step and secure your retirement for life. 
As I showed you, I've used rising dividend stocks to grow my dividend income up to 152% within 40 months…even 212% in 60 months.
That can turn an $18,000 per year income into as much as $45,000 per year…or even $56,300 per year.
You can claim that income without options, without day trading…frankly without lifting a finger. Just sit back and collect. 
If you want to keep your income as it is, The Dividend Hunter can continue to produce a steady stream of cash for you. 
If you want your income to grow every year at an extremely fast rate so you can live off your dividends and retire for life…a copy of The Final and Automatic Retirement Plan is a must to pick up right now. 
Waiting another minute may have you miss out on the next 152% or 212% bump, and you might have to wait another 12 months for the next one. 
This report is valued at $199, but you get it absolutely free. 
Inside you'll get: 
The best three rising dividends I've found

in the stock market to date

How the Final Retirement Plan can help you land up to $100k

per year in income

Plus, the details behind our three winners and how you can use that intel

to spot the next big income winner for your portfolio
 My aim with this report is pretty simple. Supply you with enough income to retire comfortably. 
Of course, nothing I tell you today or share in the Final and Automatic Retirement Plan is a definite to work forever. 
Still, rising dividend stocks have proven to be reliable. 
But you must be nimble and on top of your holdings to know if they will continue to raise their dividends. 
Or, worse, be ready to pack your bags and move your money out of the stock if they're about to cut their distributions.
That's why if you want to retire well and stay retired, you must be willing to adapt to changing economic times. 
And that's the reason I don't just want to just give you the stocks that will raise your income…
The Lazy Rising Dividends Tool Transforming Retirements in America.
It Was Built to Find the Fastest Rising Dividends Anywhere
That's why I'm excited to release the most comprehensive retirement income service on the planet.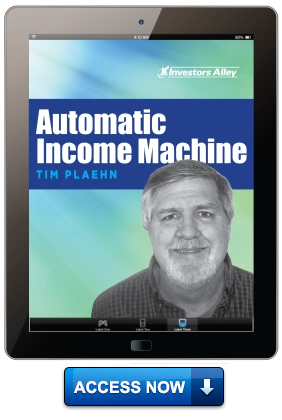 The service is called the Automatic Income Machine.
Our goal is to find the fastest rising dividends on the planet. 
Inside Automatic Income Machine, I have 15 of the fastest rising dividend stocks, including my #1 play above. 
These are 15 opportunities you can retire and make increasing income year-in and year-out without lifting a finger. 
Buy and hold them as long as they fit my five criteria above. 
I'll tell you more about Automatic Income Machine and reveal how it's transforming retirements in America as we speak…
But first…
You may have heard me talk about Automatic Income Machine in the past…
But I've added some highly desired features that add tremendous value to Automatic Income Machine. 
Members have paid up to $1,997 for this service without the bonus feature I'm about to show you. 
But you won't pay anything close to $1,997…  I have a massive discount for you.
PLUS: I'm releasing this bonus feature today as a FREE add-on. 
That's why if you've heard me talk about Automatic Income Machine before, you haven't seen this yet. 
I have completely revamped the service to include all the retirement education you could want. 
This retirement educational arm of Automatic Income Machine is called "Retirement Forever."
Inside will be resources covering multiple topics. Topics on rising dividends and increasing your income, but also: 
How to make your Social Security check as large as possible
Step-by-step how to turn the equity in your home

into a cash flowing machine

Alternate (and easy) ways to add more side income

without a lot of stress or work
And that's just the beginning. 
We're prepared to invest hundreds of hours…and, more importantly, tens of thousands of dollars into "Retirement Forever" the ultimate retirement product for you. 
Because I'm bringing on world class experts who specialize in various areas that you need to know about: 
Is there a benefit to putting my assets in a trust?
Those are detailed questions I honestly am not an expert in. But I know you're interested in them. 
That's why inside Automatic Income Machine…
You Get Access to My Network of World-Class Retirement Experts Who Share Their Insights on The Best Retirement Possible
Entering retirement can be daunting. 
It's almost like learning a new language when you enter this new phase of life. 
Not only do I wish to make sure you have a rapidly rising income every single year…
I also wish to make sure you have all of the knowledge on how to optimize your retirement. 
When you join the Automatic Income Machine you'll get access to world class experts who specialize in various areas that you need to know about.
Like I said, "Retirement Forever" is starting right now. 
When you pick up a copy of the Final and Automatic Retirement Plan, you'll also receive this special book from my friend, Dennis Miller. 
Dennis has been a guest expert on Investors Alley for years. 
He's also the "RetireMentor" over at Marketwatch regularly. He's authored the book "Retirement Reboot" selling on Amazon. 
Before that, he consulted executives at some of the largest Fortune 500 companies in the world including IBM, HP, Exxon and many others.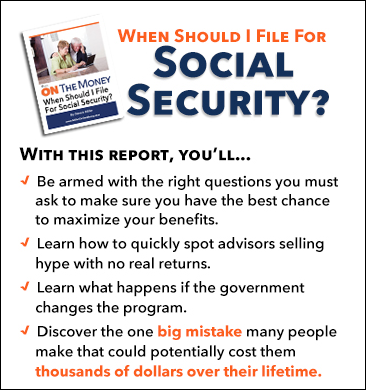 Dennis is the first of hopefully many experts to share their knowledge with you. 
The book you'll get from Dennis FREE with your Final and Automatic Retirement Plan report is called When Should I File Social Security.
Inside, discover: 
The $157,297 secret I found

after determining when to take my Social Security benefits

5 critical steps to complete NOW to shore up your income

in case Social Security sees cuts
The #1 website that spits out when is the absolute best time for you to start requesting Social Security
That report is just one of many research reports to arrive in your inbox thanks to your new "Retirement Forever" service.
This comprehensive research covering all aspects of retirement comes FREE with your Automatic Income Machine subscription. 
With what's going on in the economy…I felt it was time to step it up and provide even more value to my Automatic Income Machine subscribers. 
It's not just about helping you earn even more income at a faster rate. I'm also going to flex my muscles and dig through my network to find the top retirement experts and bring their knowledge back to you to share.
Because no one wants to wake up worried everyday. Worried if you'll run out of money. Worried what news headlines just sent the market tumbling.
In the Air Force, we had a partner that flew with us on missions. We didn't do it alone. 
Well, your financial future is a mission in itself. And I can't let you go at it alone. 
So, I welcome you into the new and improved Automatic Income Machine. 
Here's everything you get now: 
Getting Started With Automatic Income Machine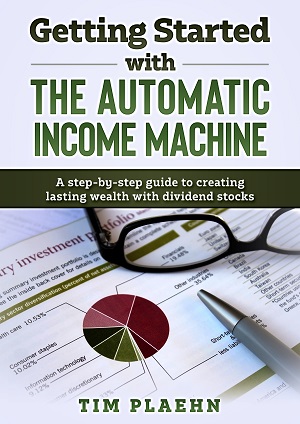 After you click the button below and put in your information, you need to go right to this report and open it up.
It's the true first step to success to put the entire increasing-income system into action which is what Automatic Income Machine is programmed to do. 
This report is a comprehensive guide to how the Automatic Income Machine will work for you.
Inside the Getting Started report, you'll uncover: 
10 more rising dividend stocks that diversify your money and protect your downside

Where to invest your dividends if you're not using a reinvestment plan

The rapid exit strategy we take for every stock so you keep losses small, plus

Where you can find the next rising dividend superstar to add to your income-building portfolio
You'll want to read this report right away. 
After that, I'll show you how to follow my system.
Finally, I have one more benefit for you to take advantage of. 
Automatic Income Machine Private Members-Only Call
Every quarter,  I'll hold a live call with all my Automatic Income Machine subscribers. 
On these calls, I walk through the current economic climate, our portfolio positions, and then, most of my subscribers' favorite part, I answer questions. Sometimes, 60 minutes of the call is just me answering questions. I really enjoy it. 
When the market drops, you don't have to go through that alone. Automatic Income Machine members get together and I help walk you through those rough patches. 
Your family will appreciate how much dedication you're putting in to get retirement right. That way you won't become one of the "40% of Americans at risk of going broke" as Marketwatch reports.
I'm here to walk you through retirement step-by-step. 
Plus, you don't pay me a penny more no matter how many questions you ask, emails you send, or webinars you attend. 
It's all inclusive.
The Price for Automatic Income Machine is the LOWEST It Has Been in Its Three Year History
Due to the volatile nature of the markets…
Plus, due to the revamp of Automatic Income Machine including you getting the complete retirement education content for free…
On top of all the features and rising dividend stock picks…
You also will receive for a limited time…the lowest price ever offered for Automatic Income Machine. 
The retail price for Automatic Income Machine is $1,997. 
And plenty have paid $1,997 already.
Today, you can get 76% off your subscription to Automatic Income Machine for a mere $495 investment right now. 
With the Automatic Income Machine, you could pay off your subscription fee on the first dividend payment.
It's an incredible deal you can get right now. 
I'm not sure the next time I'll open up enrollment, so you should click the button below right now. Put in all your information and get the full details on the next page. 
This is the lowest price for the Automatic Income Machine I will ever offer.
You won't pay $1,997…or $997…
You can start today with one payment of $495. 
That's as low as my publisher will let me go. 
I'm not sure the next time I'll open up enrollment, so you should click the button below right now. Put in all your information and get the full details on the next page. 
Let me assure you, this is a long-term solution for your retirement. 
Automatic Income Machine isn't a static system. It's dynamic and changes as we need it to best serve you…a dedicated dividends investor.
I've been in the market for over 30 years. 
I tried to take shortcuts before and it didn't work. It wasn't until I put a long-term plan into place that I exponentially grew my income.
Automatic Income Machine is the answer to your long-term income plans. 
Let's quickly go through everything you get today: 
The Final and Automatic Retirement Plan 

($197 value)

A 1-year subscription to the

Automatic Income Machine

($1,997 value)

Quarterly calls with me where you can ask anything and get updates ($397 value)

AIM Startup Portfolio

($97 value)

Dennis Miller's REPORT ($197)

[BONUS]: "Retirement Forever" : Ongoing experts and research covering every retirement need you can think of to help you stay retired for life. ($995)