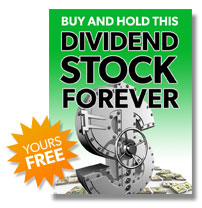 New, FREE report reveals the name of a safe monthly dividend stock that you can hold forever and leave for your grandchildren.

The company pays a dividend EVERY month and a bonus dividend twice a year.

There is simply no other stock that can be counted on to pay you 14 dividends per year AND provide a growing, safe cash income stream.
"I am a satisfied customer of yours, having finally found an advisor who reflects my view on investing for income. I'm 66 so income is my primary goal but I want stable vehicles as well. I am using many of your recommendations and some tax free positions to fund my retirement. Thank you!"
- Wade J, Powhatan, VA
"I really like your straight forward and simple form of investment advising. It is refreshing after wading thru so much BS from the others."
- William R, Newland, NC