BREAKING NEWS! — from the bar top of Rick Rouse's local watering hole.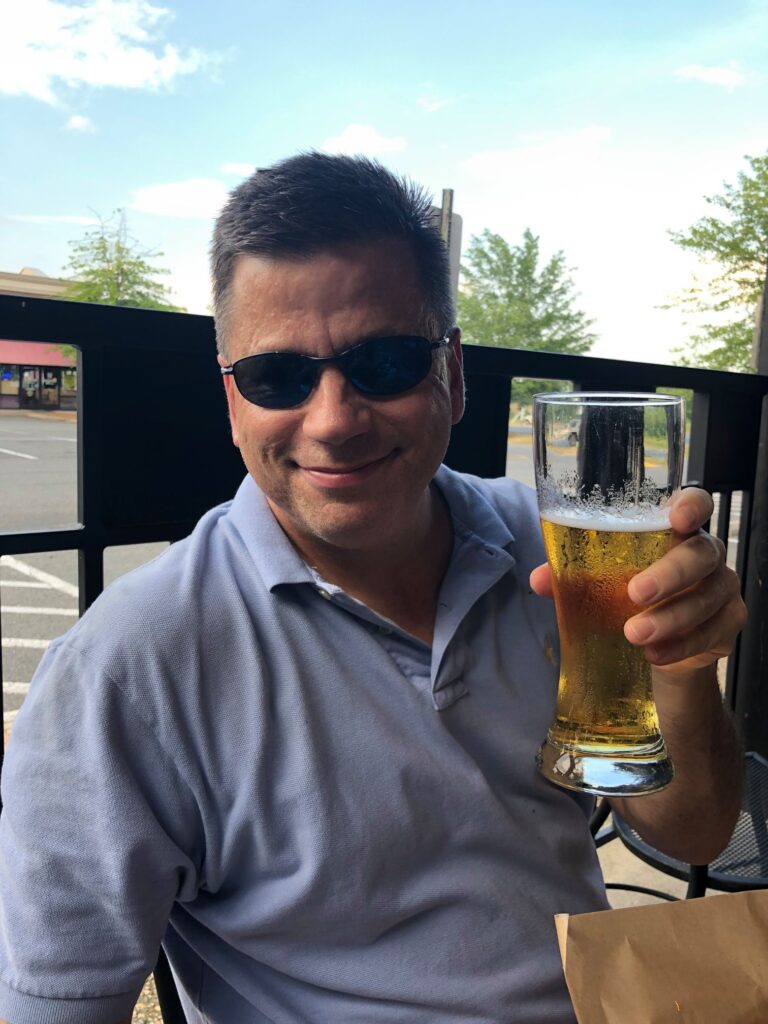 Starting today… in just 3 simple steps… you're gonna find an option that will double in the next 30 days. 
That's a 100%+ profit… from one option trade… every month.
I call it a 30-day double up.
And you're going to have a lot of fun doing it. 
I'm having a blast myself trading 30-day double ups for the past 13 years…
Don't I look it?
I do… because I've landed 326 30-day double ups to be exact.
326 trades that ended up over 100%+ in profits…some returned as high as 2,650%.
Take a look at a few of my recommendations:
| | | |
| --- | --- | --- |
| % win | Money invested | Profit |
| 2650% | $500 | $13,250 |
| 1167% | $500 | $5,835 |
| 1150% | $500 | $5,750 |
| 1057% | $500 | $5,285 |
| 867% | $500 | $4,335 |
| 856% | $500 | $4,280 |
| 817% | $500 | $4,085 |
| 800% | $500 | $4,000 |
($500 into each of these trades yields a whopping $50,320 profit)…
And that's not backtested studies or any of that phony stuff. 
Real recommendations…326 times…an average of two 30-day double ups over the past 13 years. 
In the beginning of 2021, I've already averaged one per month even with the wild tech correction… and you're about to join me for the next 30-day double up right now.
Most folks make options wayyy too complicated. 
They pull up all these charts and start talking about volatility, delta, iron condor spreads
…and I'm like, "Man, what the heck are you doing?" 
There's just an easier way to trade options…and it's so simple…so easy…so stress-free. 
I'm talking open a 30-day double up trade…go on vacation to your spot in Palm Springs for a few days or weeks…come back, fire up your brokerage and close the trade. 
That easy, my friend.
If you're checking your options trades more than twice per day…you're doing it all wrong. 
Sit back…relax…and I'm going to show you how to double up every 30-days like clockwork trading options from anywhere. 
Who am I to say all this? 
I'm not a Harvard grad… I don't head up a big investment firm…
In fact, I was flat-out rejected from Wall Street. Chewed up and spit out like expired meat.
And when you hear the story, you'll know it's probably fate that I didn't make the cut. 
My rejection may explain why I don't look comfy in a button up and tie.
Hi, I'm Rick Rouse.
Look at me.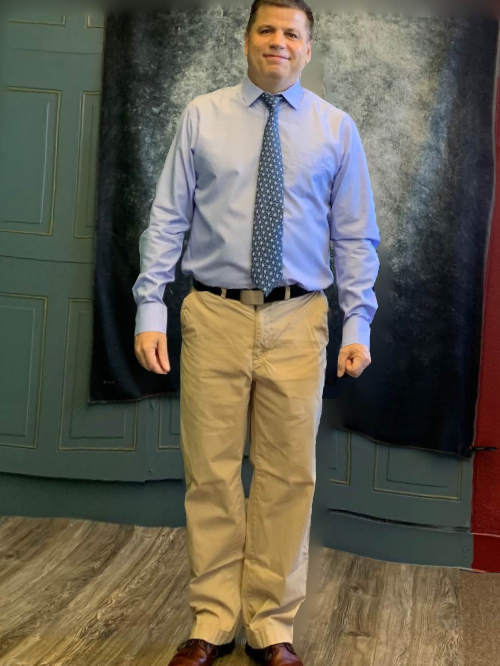 My lack of suit-wearing skills was a clear sign I was never meant to be on Wall Street. 
It was my dream originally…now I laugh about it.
Instead — you'll find me relaxing and trading out here at my favorite lunch spot.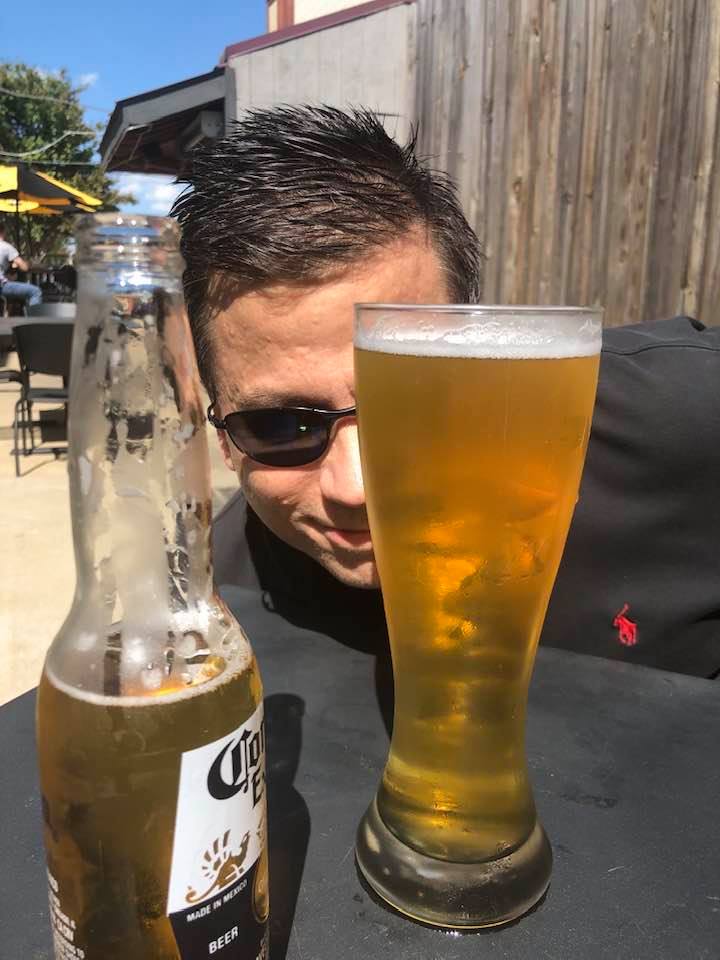 Yeah, I like beer. 
Which is why it isn't weird you'll even find me at a bar trading options…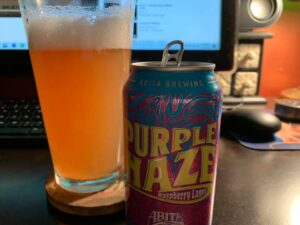 Or on the beach…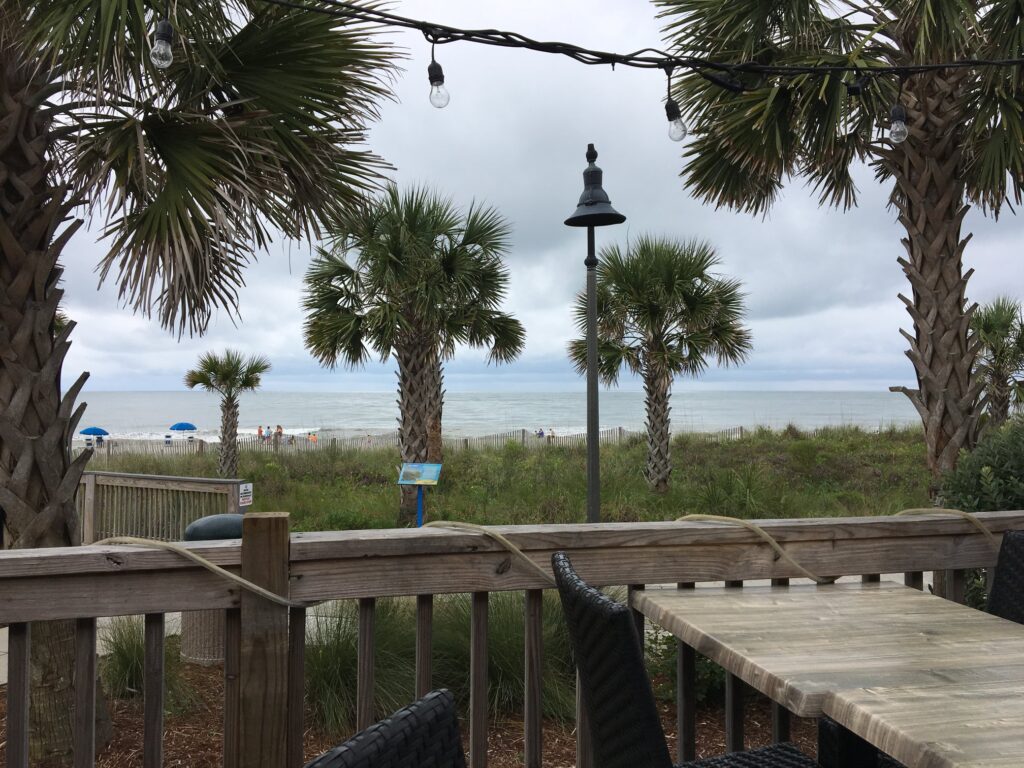 Well, that's a beach bar…
Or while I take down two trays of sushi from my trading cockpit at home…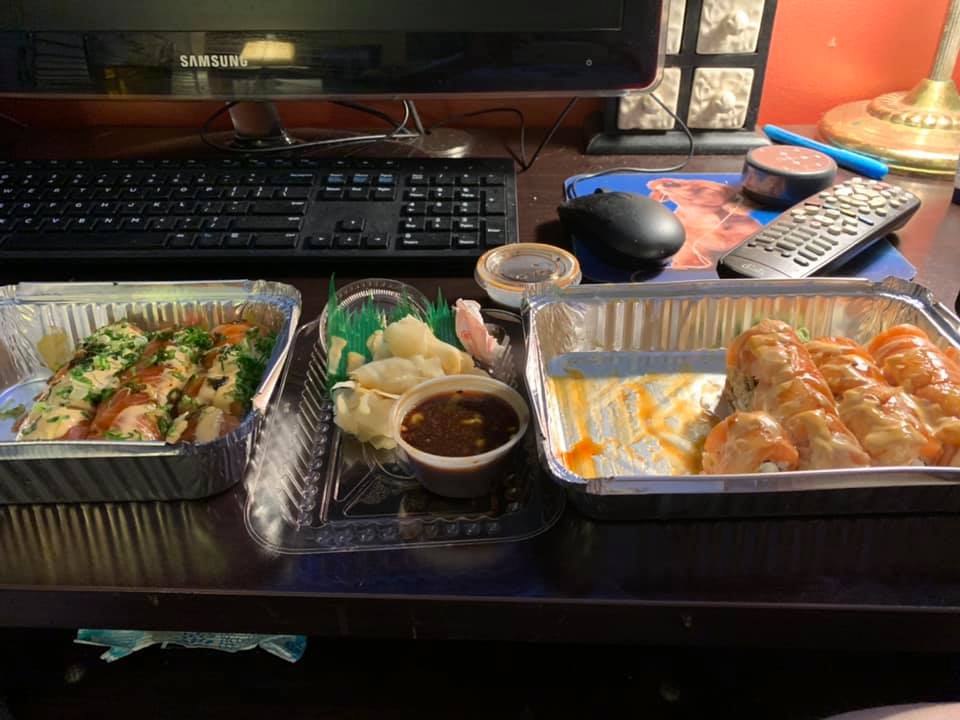 I'm the guy at a coffee shop with an iPad that people wonder "shouldn't you be at work?" 
"I'm at work, butch" I respond. 
Because I'm trading options everywhere I go. 
All I'm doing is trading potential 30-day double ups. That's it. Easy as pie.
Trades that could result in a 100%+ profit in the next 30-days.
That's all I like to do. 
But that doesn't mean we have to trade all the time. 
When stocks were crumbling in March 2020…I took most of the month off. Went to the lake with my two pups.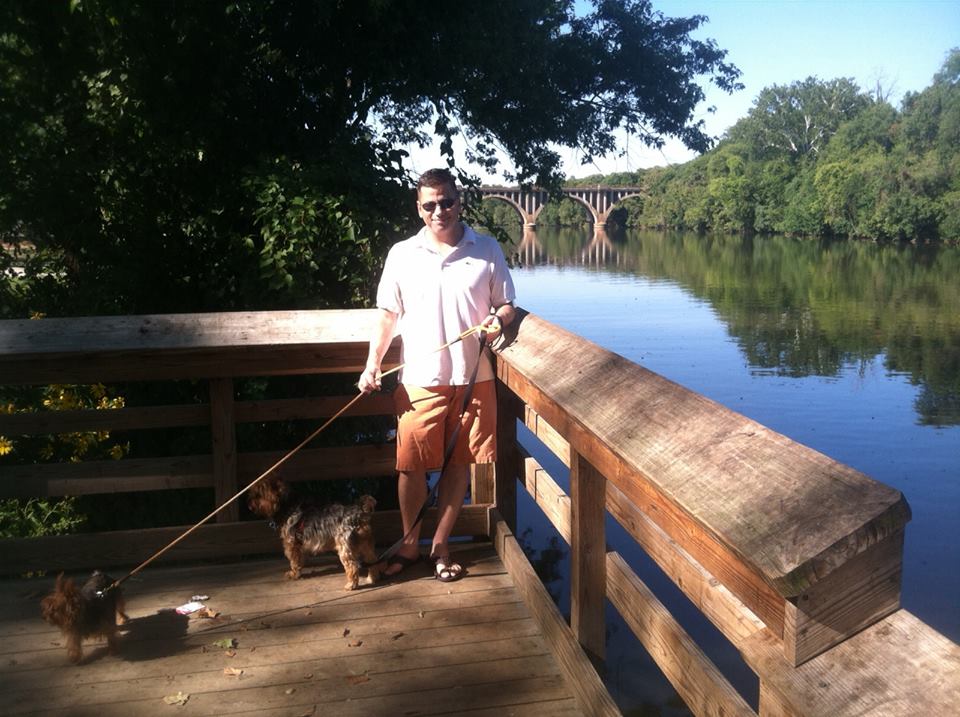 A lot of quiet time while the markets panicked. 
Then…while the worst was behind us…I slipped right in and made recommendations at the very bottom of the market to buy calls (i.e. go long on a stock). 
And the results were huge. 
Here's the results straight from the trading journal: 

Three 30-day double ups in four trades. 
A mere $500 in these trades would've thrown off $3,365 in profit…
673% total gains in under a month.
And you're about to see how I've banked total gains of 50,451% trading this same strategy for 13 years
I'm not day trading options…(too much stress and I can't stare at a screen all day)

I'm not using some fancy software — I use the same stuff you use. I like to keep things easy…so I use only basic charts and brokerages.

I'm making options trades you can quickly place on your phone 
The secret to 50,541% total gains from 30-day double ups is a simple 3-step method I use to trade options. 
And don't worry…
This 3-step method is so straightforward… a 6-year old can follow it… and she does below. Her name is Chloe. You'll get to meet her.
Thanks to little Chloe and what I share today… you'll realize in the next few minutes you don't need to read dozens of books on trading or invest in $10,000 services to trade options well. 
You're not reading SEC reports…or even studying the companies very much at all.
You don't need a background in trading…
You can even do this all from your smartphone. 
Heck, many of my current readers make their trades right from their iPhones. 
And, if you can spot a pattern a 6-year old (step #1 of 3 of my method)…you're in pretty good shape. 
You can trade from the golf course. 
Spend the day with your spouse and kids…a quick alert on your phone and you're in a trade. 
No missing important appointments because you're sitting on your biscuit risking it all trading…
No requirements to learn the ins and outs of a company. 
No need to take a huge chunk of cash and pour it into a couple stocks. 
With options — at least how I trade them — you can be diversified, take small risks, and churn out a nice double up regularly. 
I'll show you my entire 13-year track record to prove this can work for you especially if you trade as a side hobby
We're trading opportunities that don't require the stock to move much to land a double up on our money
Many think you need to trade wild speculative plays to double your money with options. 
I'll show you in the next few minutes how you can spot little-talked about opportunities in stocks that only require a small move to land a big winner. 
Like: 
Alcoa…recommended a 200% winner when the stock moved just a few bucks.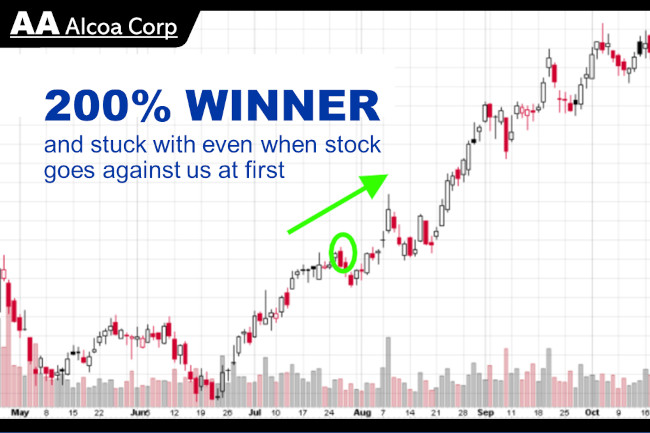 Here's a 114% winner on AT&T in just 1 day!
Small move…big gain!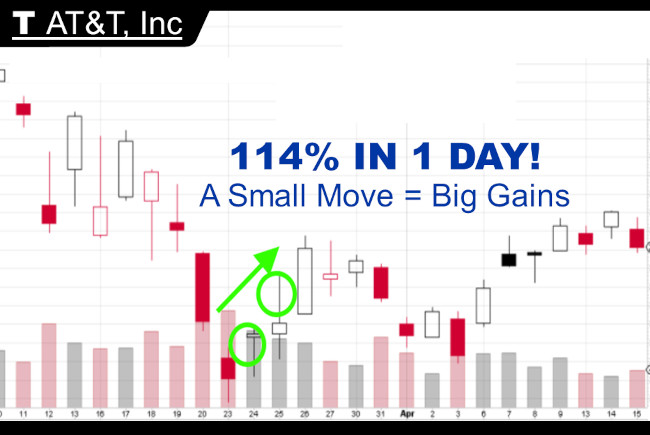 Or…watch Bed, Bath & Beyond…
A move that was barely $1…
Yet a 30-day double up!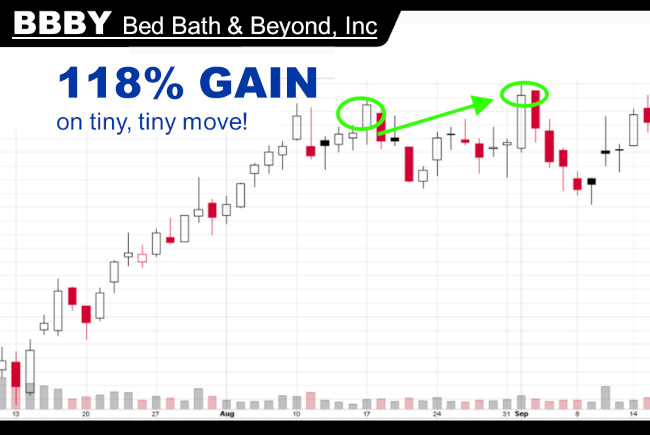 Today, you'll unlock how I've found all these opportunities… 326 30-day double ups.
You're about to discover everything I've learned about options over my career. 
I've learned a lot…
Starting with my first major failure…
In another life…maybe I would've ended up 
on Wall Street. 
In this life, they kicked me out. 
Here's a young Rick…eager for days fetching coffee for VPs like other junior traders on 'the street'. 
Well, not exactly. I just wanted to trade on Wall Street, and get there any which way I could. 
Because I figured that's what you had to do to "make it" as a trader.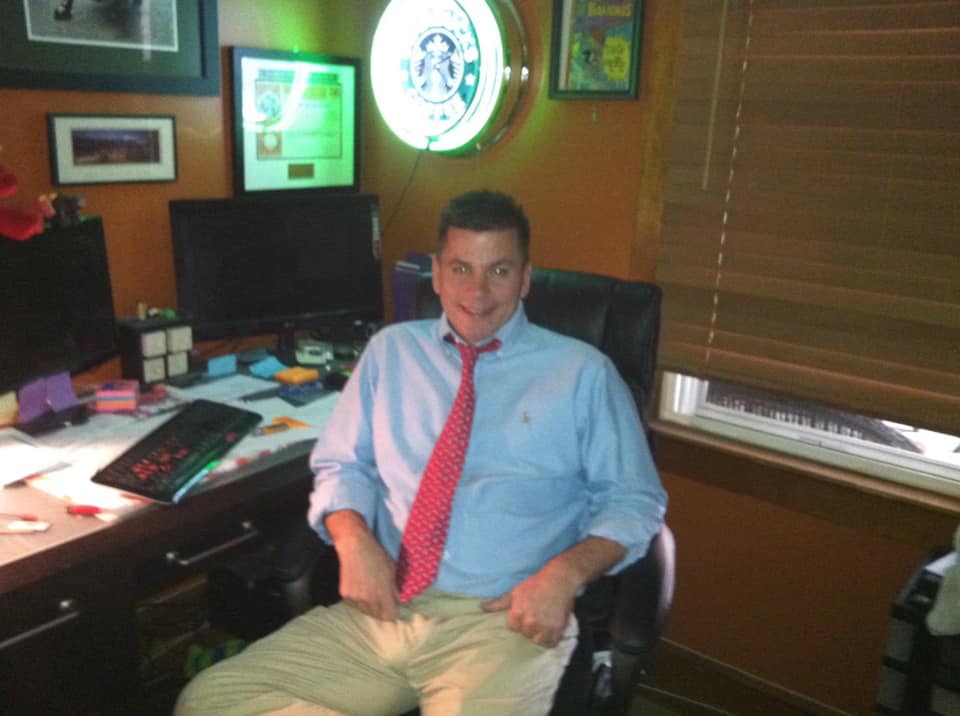 Even then, I hated wearing that tie. 
The passion for trading came from back in high school actually. I worked for a clothing company to make some extra money. 
I noticed my boss always had a copy of the Wall Street Journal. And this guy was rich…I'm talking his house had an elevator, huge kitchen, the works.
I'd sneak old copies of his Journal to read. What drew me in each time was actually the business section and stocks. 
I loved you could put money into a company you knew and actually make money from it. 
That's what motivated me to scrap together $10,000 to start investing right out of high school.
First mistake… gave it to a money manager who instantly lost me money. 
Thus, enter "Rick learns how to trade on his own." 
As a young 20-something, I took a job at an investment newsletter to read about stocks all day. And I got paid to do it! 
I was paid a crummy $10/hour to write some articles on trading and talk to our paid readers. But it got me in the game.
I was doing so much research at the time…learning the ins and outs of how the market moved…and even deep diving into companies…
I saved our readers from investing in Enron. 
Even though my boss recommended the stock…on the side, I'd tell our subscribers NOT to buy it. 
Call me a rebel, but you obviously know what happened with Enron. 
At the same time, I'd started seeing some success trading my own money. 
Which naturally led me to thinking I should marry my love of trading with helping regular folks with their money. 
That's when I decided to take my series 7 license. This would give me the ability to trade other people's money and make recommendations for their personal portfolios. 
I studied my butt off for that test and was pretty confident leading into it. 
To pass…and enter the world of Wall Street, you needed a 70 score. That's pretty much a "D" in school, right? 
I took the test. Felt great about it. 
I got the test results back…I had done well in almost every section…and passed them…
Except one section. 
Sweat dripped down my face as I stared at the score. 
The score for the "Options" part of the exam… 
69.6
I missed passing and getting my Series 7 because I failed the friggin' OPTIONS side of the test by 0.4 points. 
Are you kidding me?
I put weeks of work in… the Series 7 is described as the "most difficult of all securities licensing exams."
Yet, I couldn't even muster a D.
Most people would've given up right there. I wanted to give up. 
This is how I felt…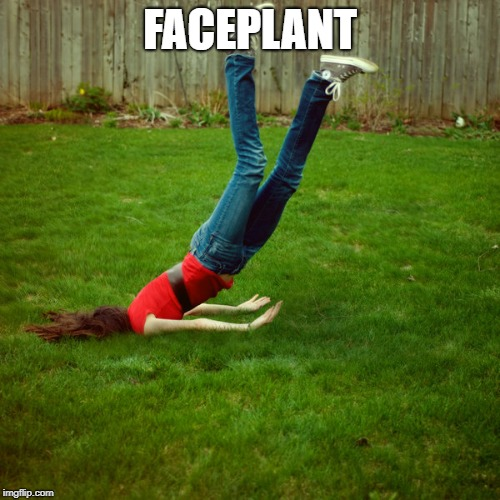 A failure by 0.4 sounds like a sign from the heavens that maybe I should've been a lawyer or something. 
But, man, if that didn't light a fire under me to master the heck out of options. 
And that's what I've done. I'd put my track record up against any options trader out there. 
Over the past 13 years…you could've turned what I estimate to be $7,000 into potentially $252,655 trading all my recommendations (winners and losers).
My life looks a lot different and easier than if I ended up on Wall Street.
Now, I consider myself lucky for not passing. 
I'm lucky because now my time is my own. I spend it trading where I want and when I want. 
Sure, I'm not driving Ferraris or renting private jets…that's not me. 
Give me a spot on Myrtle Beach, a lawn chair, a cold brew, and my iPad (so I can stay on top of the markets)…and I'm as happy as a clam. 
That's what I want for you. 
You don't need to be like me…but I want you to feel as confident and have fun with your trading of options as I do. 
Because options are freakin' fun aren't they? 
Take a look how you could've done if you started trading with me in the teeth of the Financial Crisis in 2008…
All the way through the Covid crash in 2020 and everything in between…
I did the math…you could've started with roughly $7,000 and walked away with over $252,255 trading 30-day double ups with me!
If you put $500 into every single trade I recommended over the last 13 years…winners and losers…you would've walked away with a profit of $252,255.
Average time in a trade is about 16 days…so I'd estimate you'd have at most 12 trades open at one time…
Meaning, you'd only need to start with $7,000…
And you could've potentially turned that initial $7,000 into $252,255. 
That's a 3,504% return on investment over that 13-year timeframe!
Since 2008…
3,504% is:
499% higher than Google's stock return since 2008

81% higher than Apple's stock 

451% higher than Microsoft's stock since '08
Plus, we're not buying and holding a stock for 13 years praying it goes up. We're in and out of the trades so we're not at the mercy of the market.
Let me just show you my entire track record…
13 years 1,723 trades. 
After that, I'll give away my 3 step method to landing a 30-day double up each month. 
Okay. 
Here's the top line numbers. 
Remember, this is just straight buying an option, then selling it. 
A strategy frowned on by most financial managers. Probably because they don't know what they're doing. 
Yet, I'm the only guy on the internet willing to share all my trade recommendations right here. 
| | |
| --- | --- |
| Total trades | 1,723 |
| Total wins | 1,156 |
| Total losses | 567 |
| Win rate | 67.09% |
| Lose rate | 32.91% |
| Average win | 82.99% |
| Average loss | -80.22% |
| # of 30-Day Double Ups | 326 (winners greater than 100%!) |
| Average duration | 16 days (based on multiple year averages) |
| $500 in all 1,723 trades | $252,255 profit! |
| TOTAL GAINS + LOSSES | 50,451% |
Here's the gist of it…
19% of the time, we bank a 30-day double up

You're only in the trades 2-3 weeks

67% we hit a profitable trade overall
Investopedia reported they believe most traders who buy options only win "25%" of the time. 
Meanwhile, here I am winning 67%. 
If they're "winning" 25%…they're losing 75%. 
Meanwhile, my track record reports:
Again, if you put $500 into every single 30-day double up trade…winners and losers…you would've walked away with a profit of $252,255. 
That's about $19,404 per year. 
Let's have some fun and ramp up those numbers. 
Say you started with $20,000 and put $1,000 into every single trade…
You'd potentially have walked away with $504,494…
$2,000 per trade?
Imagine $1,008,989.
Dare I look at potentially $5,000 into every trade. 
Again…$5,000 into every winner and every loser…
You could've been sitting on a $2,522,472 fortune. 
You're taking a small percentage, putting it consistently into trades. 
Then, rinse and repeat. Rinse and repeat. 
I do this all day. I love it. 
I'm at the coffee shop trading. 
Sitting on my back porch sipping a whiskey in one hand…iPad in the other checking another play. 
The key is you're hitting winners consistently
And keeping your losers down. 
Take a look: 
My best year was 2009…as the market went skyrocketing and all the stocks were cheap…so options were cheap.
| | |
| --- | --- |
| Best Year – 2009 | |
| 240 | trades |
| 16 | average trade duration |
| 20 | average trades per month |
| 10 | trades open per month at one time on average |
| $5,000 | required capital in account to collect |
| $97,895 | total gains on wins/losses from $500 in each trade |
| 1958% | ROI |
| 26.46% | stock market return in 2009 |
| 12 | days average in 2009 trades |
We made a lot of trades that year…240…about 20 per month. 
But the ROI paid off, as I estimate you could've turned around $5,000 into almost 6-figures at $97,895. 
The stock market returned 26%, meanwhile, us options traders were making out like bandits with an ROI of potentially 1,958% based on this math.
Big wins. And it's how you win big with options. 
Here's my worst year:
| | |
| --- | --- |
| Worst year – 2016 | |
| 107 | trades |
| 16 | average trade duration |
| 9 | average trades per month |
| 5 | trades open per month at one time on average |
| $2,500 | required capital in account to collect |
| -$1,610 | total gains on wins/losses from $500 in each trade |
| -64.40% | ROI |
| 11.96% | stock market return in 2016 |
I believe based on my estimations…if you had started with $2,500, you would've lost about $1,610 of your capital. 
I only had two losing years in that 13-year span…2016 was a rough year as the market was choppy starting in January. 
Still, what's awesome about options is your risk is limited. 
You're only carving out a few thousand bucks from your main portfolio to trade…and here you lose $1,600…
My best year, we had a shot at making almost $100k in profits (using $500 per trade)
Limited downside, which we can manage. 
Unlimited upside that can turn a small account into a large one. 
But, we make up for that year…
Because in 2018, as the markets returned -4%…
Check out how we did: 
| | |
| --- | --- |
| 2018 – Negative S&P 500 Returns | |
| 72 | trades |
| 16 | average trade duration |
| 6 | average trades per month |
| 3 | trades open per month at one time on average |
| $1,500 | required capital in account to collect |
| $7,105 | total gains on wins/losses from $500 in each trade |
| 474% | ROI |
| -4.38% | stock market return in 2018 |
I estimate you could've returned 474% on your money starting with $1,500. 
In 2020, our ROI was even better: 
| | |
| --- | --- |
| 2020 – COVID | |
| 54 | trades |
| 16 | average trade duration |
| 5 | average trades per month |
| 3 | trades open per month at one time on average |
| $1,500 | required capital in account to collect |
| $10,700 | total gains on wins/losses from $500 in each trade |
| 713% | ROI |
| 16% | stock market return in 2020 |
We traded less due to the uncertainty of the markets and stocks getting expensive…
And I admit, we could've done more trades as stocks skyrocketed from March lows…
But still…I estimate based on my numbers that you could've returned 7X on your money. Meanwhile, the market enjoyed a 16% recovery from the bottom. 
Again, I'm not doing some complicated strategy. 
Buying an option, then selling the dang thing. 
No more risky trading with options. 
Win. Do it from anywhere. Low stress.
All by using my 3-step method that could land you a 30-day double up on your money on average every month. 
Just follow my 3-step method…and you'll start seeing these plays for yourself
Like: 
161% gainer on Amazon… called at the bottom of the Great Recession: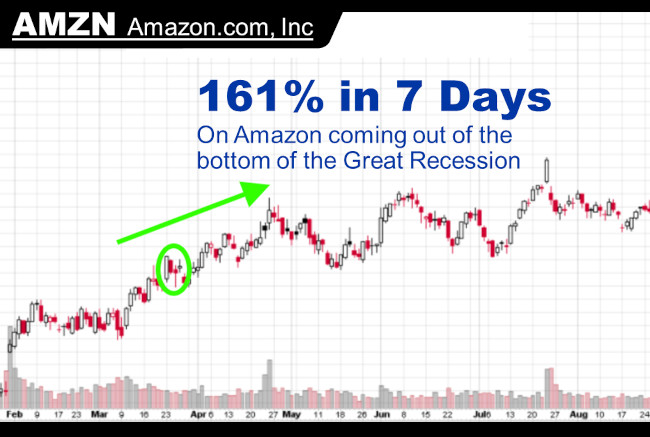 Here's another: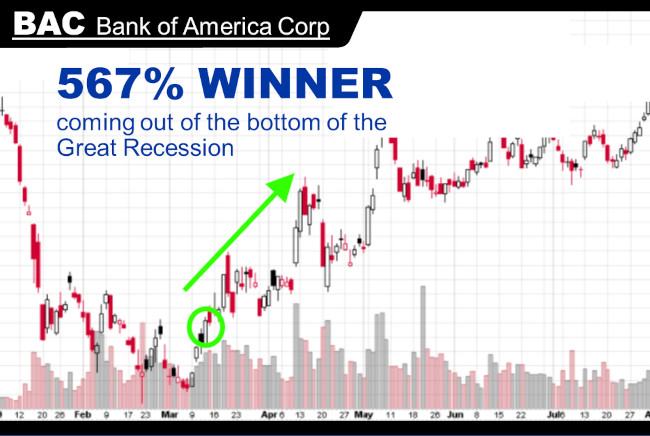 $1,000 turns into $6,670 fast!
Or, maybe one of my favorites…
A 1,057% catch on Google.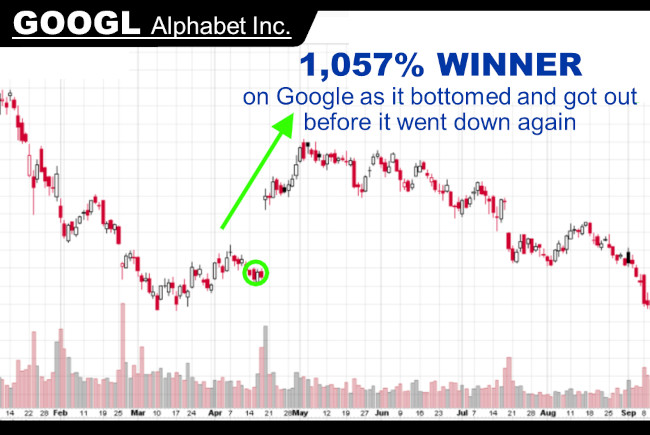 If you went for $5,000 into Google here… man, you'd be up to $52,850 in profits in a couple weeks!
We nailed the bottom as it gapped up…then collected our profits before the stock tumbled again. 
That's what I love about how I trade options. 
You're following the 3-steps.
STEP #1 of 3:
Find your first 30-day double up using the "cup" pattern (a 6-year old could find this)
I'm about to reveal my most consistently profitable pattern I've used hundreds of times. 
I don't have a special name for it…call it the "cup" pattern as that's what it looks like. 
So easy to spot a 6-year old could see it…probably because it looks like the letter "U." 
One of my team members sent me this pic of his 6-year old daughter, Chloe, pointing out a shape on a chart. 
In fact…
She found it three different times.
1)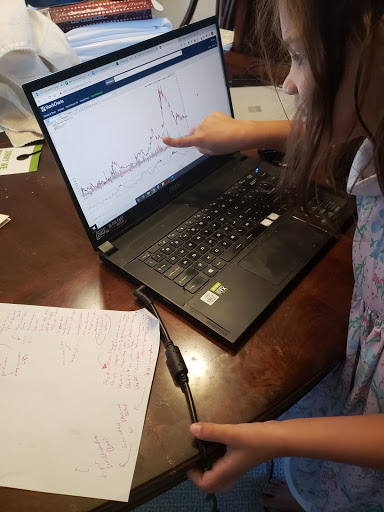 2)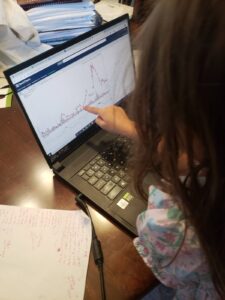 3)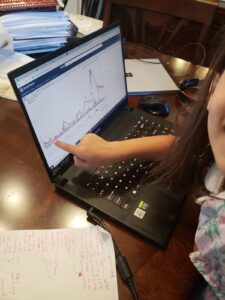 You can even see her smiling…smart kid. 
I count four opportunities on that chart…but finding 3 of them is pretty impressive.
"She found them in about 7 seconds," he told me.
If 6-year old Chloe can find them in 7 seconds…you can definitely find them too. 
You'll find it here on MRVL…a 223% winner in just 7 days.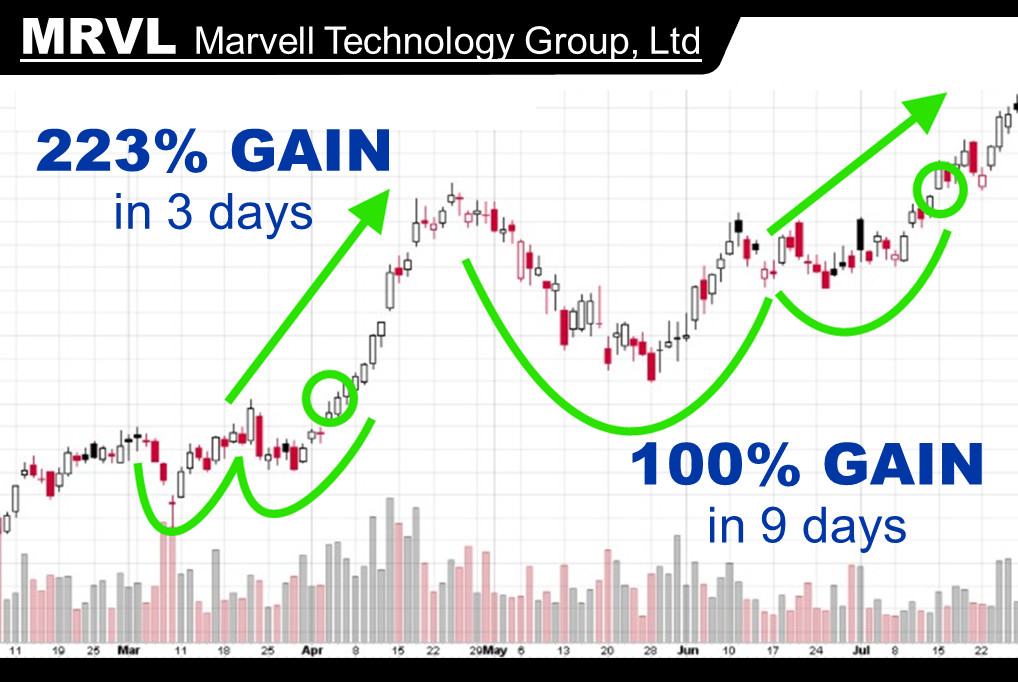 Notice how the cup gets smaller and smaller before the stock rockets! That's the sweet spot for me, baby!
We actually pulled it off twice… as you can see.
Here's another — a 182% winner on FCX in 12 days in 2020…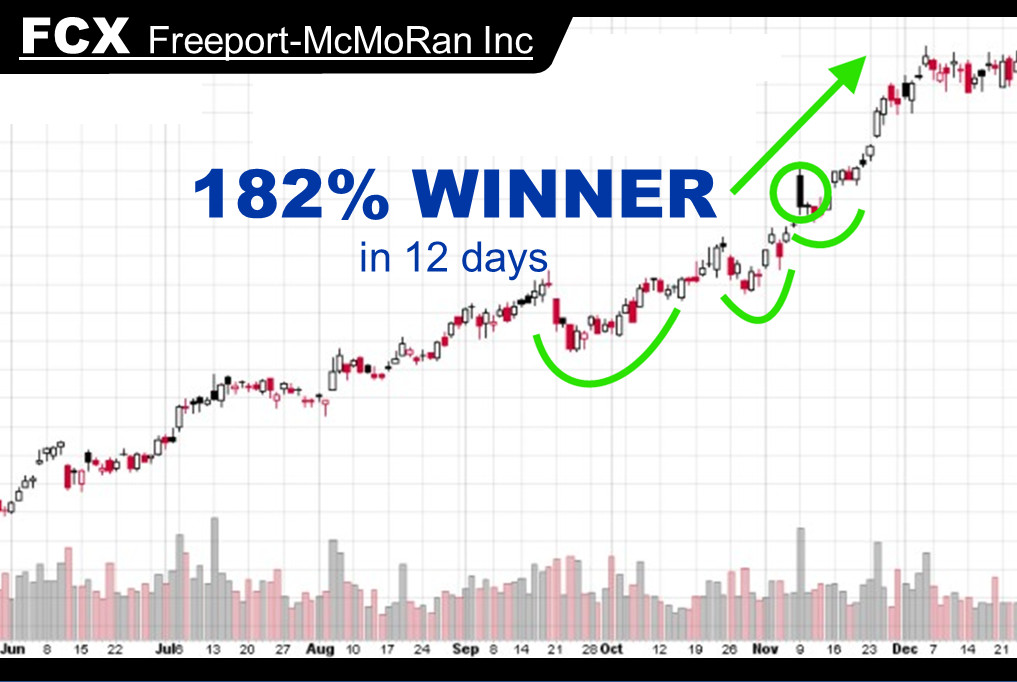 Here's the one little Chloe was looking at in the picture… SPCE.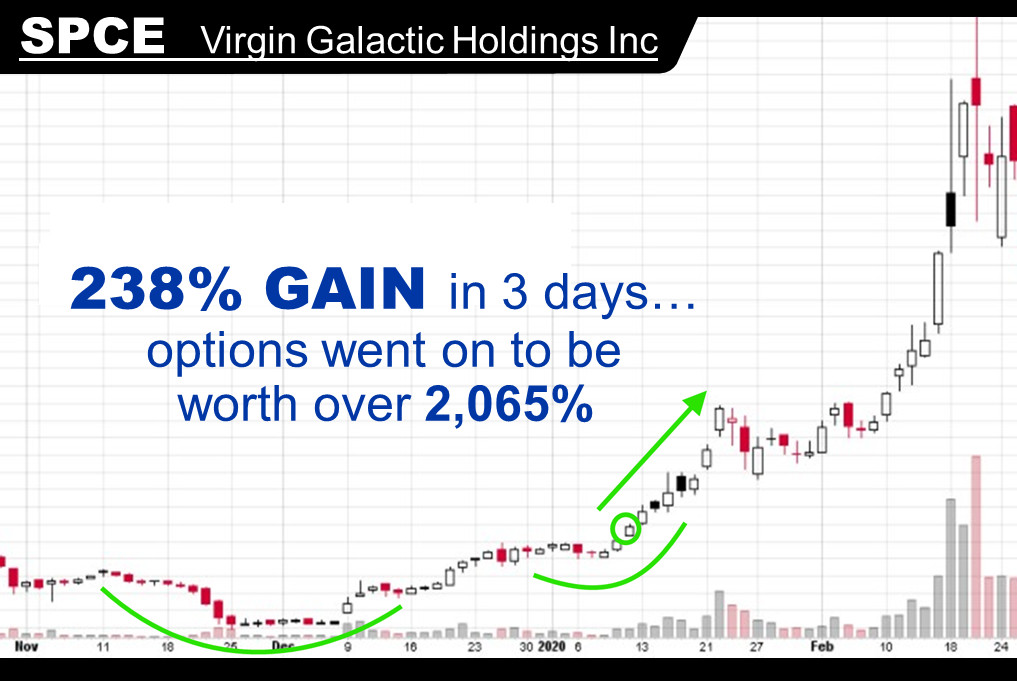 A 238% gain in an incredible 3 days. That's more than tripling your money! We ended up selling too fast as the option went on to bank a whopping 2,065%. I got some uber mad folks about selling that one too early! 
I'm never upset taking a triple up on my money, especially with options.
Watch for the cup pattern on this trade on AT&T. 250% gains in a week.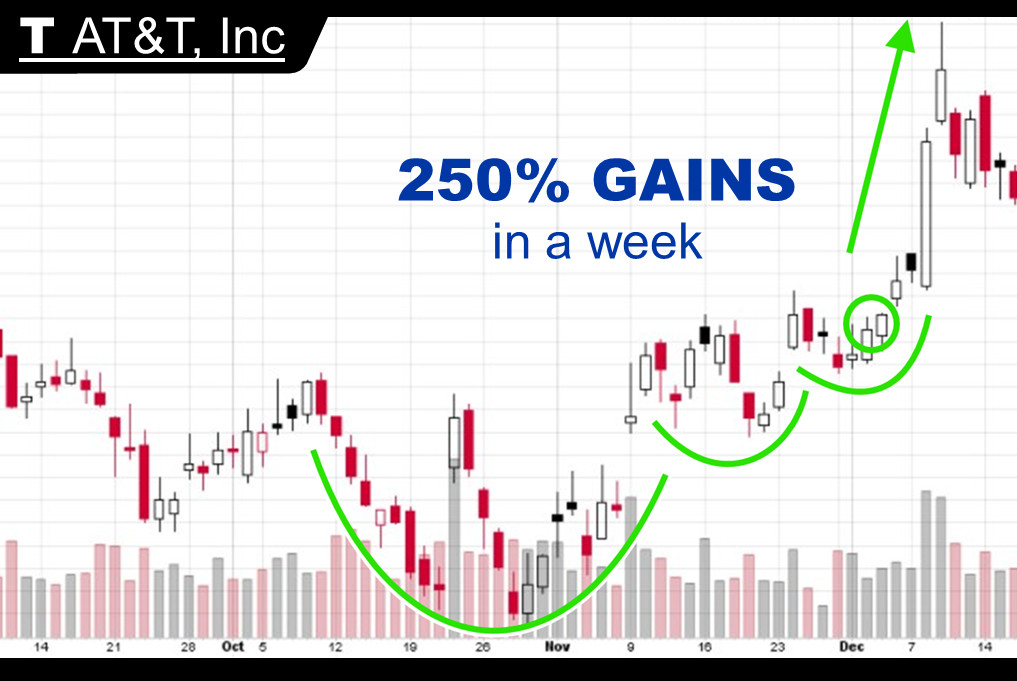 Meaning, if you put $2,000 in…you would've got $7,500 back…in 7 days.
Called the bottom of it…saw the pattern emerge…cups got smaller and smaller…then the stock moved a few points and we were in.
This pattern isn't set in stone though… sometimes the cup is bigger… sometimes it's smaller. 
Here… it's a freakin' big cup on BSX. 
This was catching the move out of the 2020 Covid crash in March.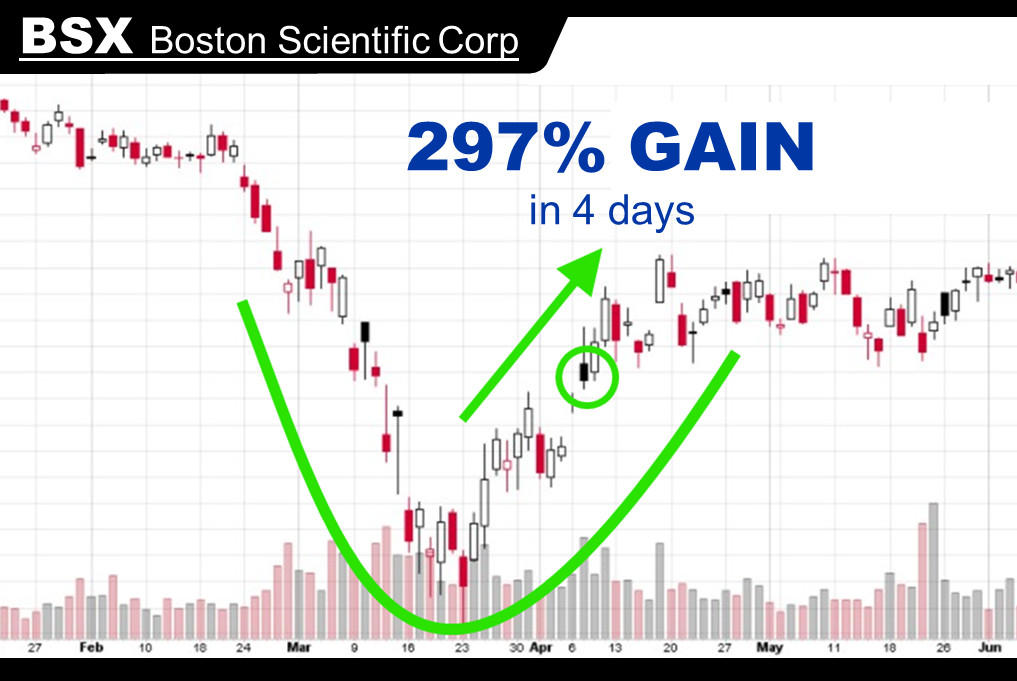 297% gain in 4 days with the market in recovery. 
Look again at BSX. Notice how we got out and BSX then traded sideways for 4 months. 
I'll show you all my tricks. Others would've been greedy and just kept holding. Then their time value in the option would've been sucked dry like a chocolate milkshake by a 6-year old.
Don't get greedy on me.
What's awesome is you can catch multiple moves at one time. 
I just showed you that move on MRVL where we nabbed a 223% win…
But we remember didn't stop there…
Check it out again: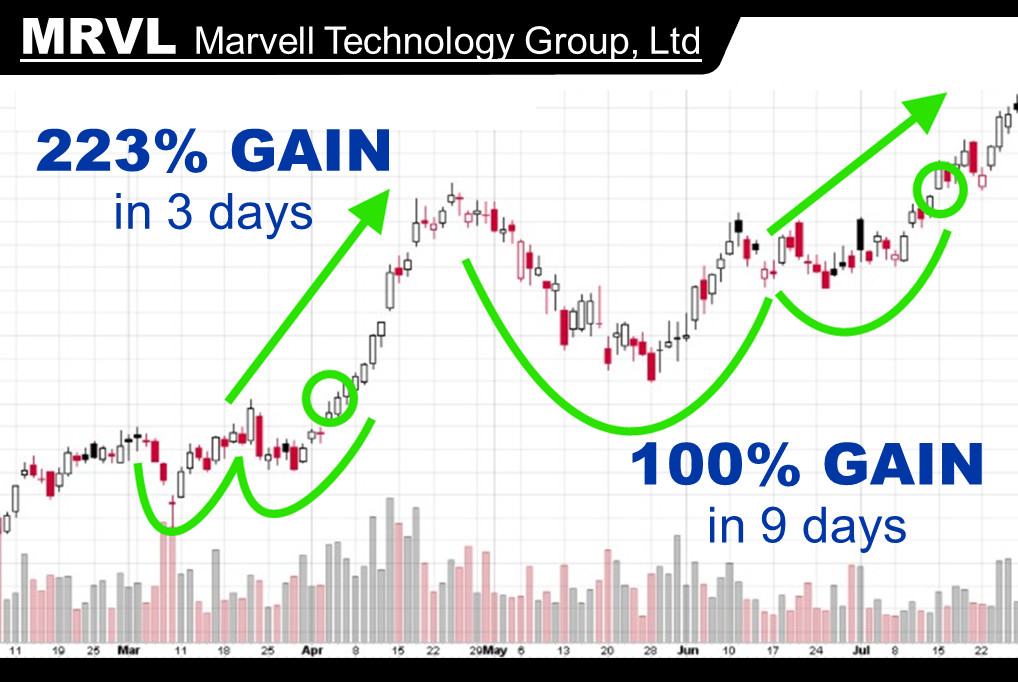 I saw the pattern form again…
The cups got smaller and smaller…boom!
Another 30-day double up. Count it on the scoreboard! 100% winner in 9 days on MRVL again. 
I call this a cup pattern because it looks like one…
But it never looks exactly the same each time…
However, the mechanics behind it are exactly the same.
Notice how the stock takes a breather and makes a somewhat "cup" formation. 
It's taking a breather because weaker hands are taking profits which pulls the stock back down. 
When that happens…the strong hands allow it to accumulate a position at a discount…just as it rises fast.
When you see it forming, it's worth taking a look at the stock for a big move. 
But, it doesn't mean every "cup" you see is one you should shotgun. 
Check out this chart.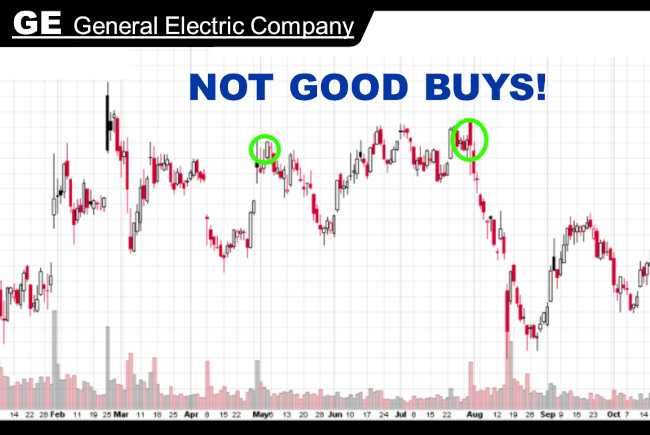 These "cups" aren't good buys because they don't fulfill the main requirement that is necessary…
So pay attention…
For this pattern to work, the stock must be "breaking out." i.e. it must be on the way to new recent highs… maybe even all-time highs. 
We aren't digging through the bottom of the trash can looking for "value stocks." We want stocks that are ready to make a big move up and fast!
However, what if you're in a stock that is breaking upwards with momentum. 
Take a look at Netflix. 
Netflix is one of the pretty gals at the bar all the "big money" weekly option traders like to cozy up to. 
Me? I don't touch her with a 10-foot pole no matter how much cash she tries to tempt me with.
This is a 3-year chart… over that span, Netflix went up almost 100% if you bought the stock.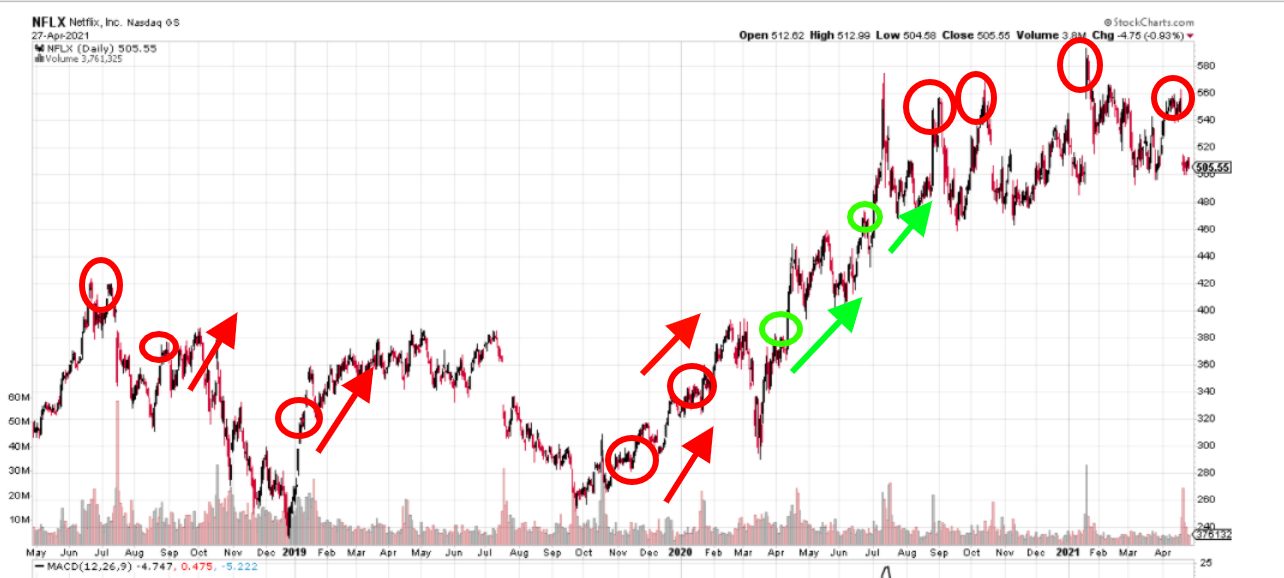 However, buying the options… you likely would've compared the experience to getting hit by a mack truck. 
In this instance, I estimate you may have scrapped out two 30-day doubles over those 36 months. And that's me being generous. 
Why? 
You'd think here: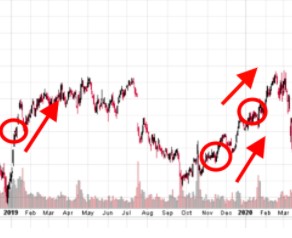 You'd hit a 30-day double up on these moves. 
Wrong. 
Even though the stocks moved pretty good…I calculate you'd only eek out a small gain… and perhaps hit a loss. 
The reason is they violate Step #2 of my method.
STEP #2 of 3:
The options trade must have a 2-to-1 reward-to-risk ratio (100%+ profit potential)
Odds need to be in your favor. 
Many option 'haters' compare buying options to gambling… so let's give 'em a gambling example.
When you go to a casino, full to the brim with confidence, it doesn't matter what your strategy is, the house always wins in the end. 
They always win because the odds are in their favor that they'll win over the long haul. 
With our options trades we're doing the same. 
Meaning, when you approach a trade, you must have at least 2-to-1 reward-to-risk ratio in play. 
2-to-1 comes down to "I expect this option to go to 100%…and I don't expect it to go below 50%." 
So even if you have full conviction from an insider tip illegally obtained from your nephew who shines shoes at the mall…
If you buy a Netflix option for $18 (aka $1,800 — they're that expensive)…you better expect that option to go to $36.. 
For it to go to $36…the stock will need to move $36!
If you're buying 5 contracts at $18…that's $9,000 on the line for one trade!
Maybe you get in and your option goes up 20%…you make $1,800…but over the long haul, taking that kind of risk will only lead to big losers. 
Because if you're wrong… like the 9x out of this chart… you're losing A LOT of cash!
Potentially $81,000 if you really mess up.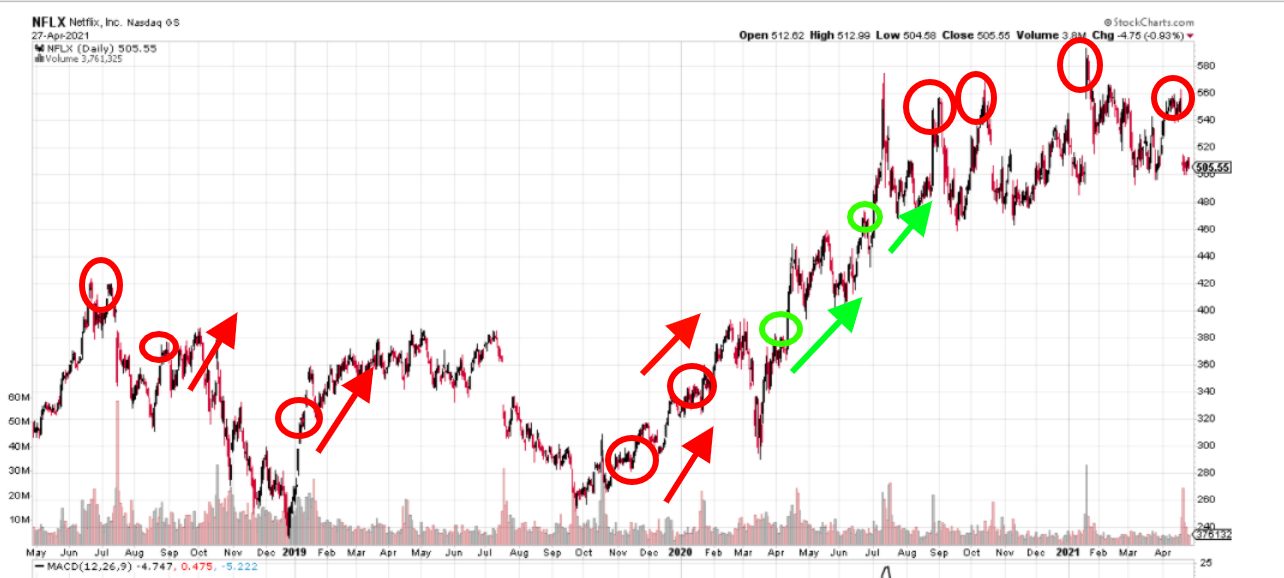 I only go into a trade if I expect the option to double in value. Plain and simple. 
Like these two trades in MRVL again…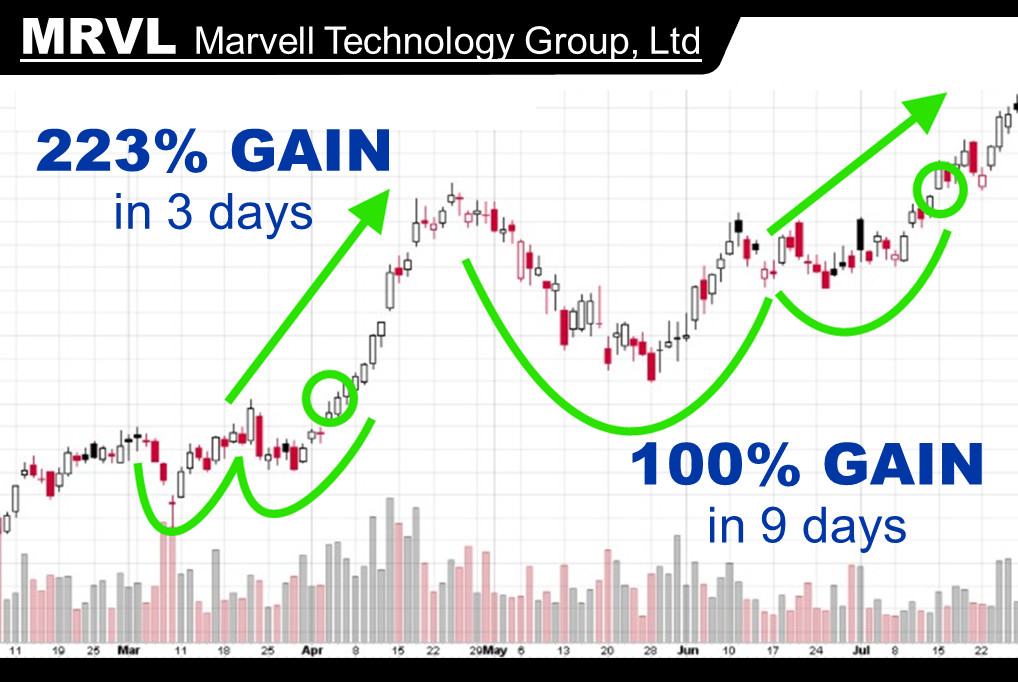 Picture perfect. 
I found these options and realized it only needed to move very little for me and my subs to capture two 30-day double ups.
We nailed it.
And the stock moved maybe $4.
Compare that to needing Netflix to move $36! Netflix goes up and down an average of $14 per day. 
Think of that roller coaster from hell!
You'd need to be checking your trade constantly to make sure you don't miss the small window to close out your trade for a win. 
Talk about panic 24/7!
Meanwhile, I'm simply waiting patiently for a $1, $2, $4 move to bag my 30-day double.  
The art of finding these — call 'em 'arbitrage' — options plays is awesome. You're finding the potential for a stock to move a little to capture big profits. 
Same can be said about this play in FCX.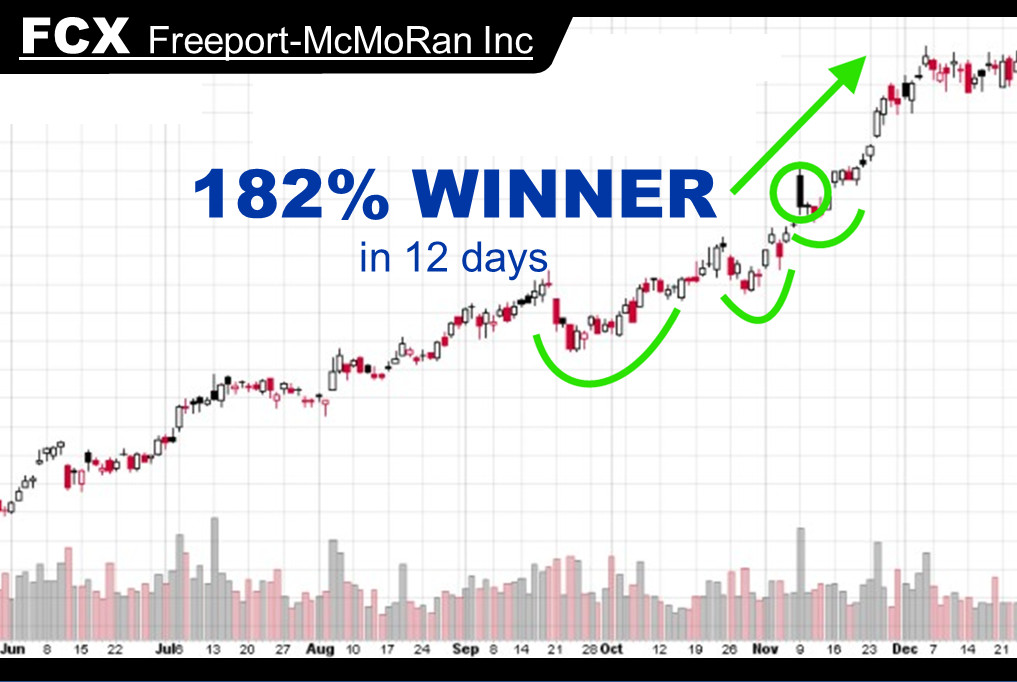 Stock moves $2…182% winner. 
AT&T?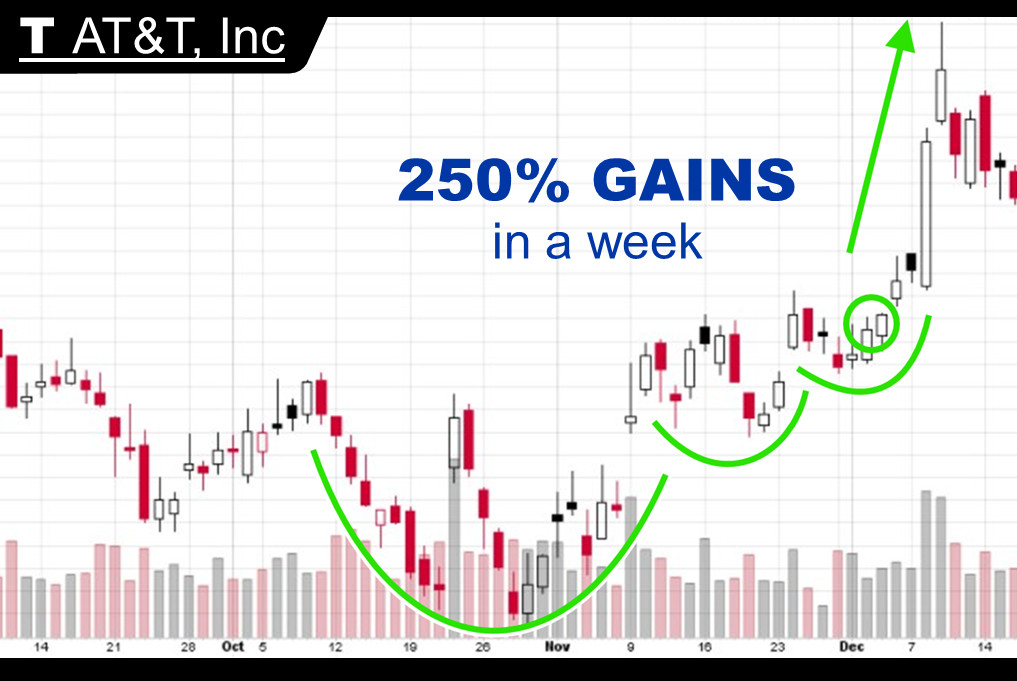 Stock moves $3…250% win in a week!
Small moves on the chart… big moves for me and my account balance!
And you'll have your chance too to start bagging these 30-day double ups. 
Man, it's a ton of fun. 
And it's so effortless and stress-free. 
Because I don't need to be checking my account every 5 minutes to see if I need to "time" the market and sell. 
You're waiting patiently for your move to happen, then getting out. 
And this is where the stress-free part comes in… it's step 3. 
Because I showed you plays where we made some decent cheddar in a week or so. 
But we don't expect them to happen that fast. Pay close attention. We don't expect our 30-day double up move to happen tomorrow or even in a week. 
My average trade duration is around 16 days… but we've gone over 30-days sometimes. 
The market is unpredictable, and we prepare for that. 
We give ourselves time. 
And that's where the last piece comes into play. 
This last piece is how I've had a 67% win rate while other guys have a 25% win rate (as according to Investopedia). 
STEP #3 of 3:
Buy cheap options that MUST be 4-6 weeks until expiration minimum
It's easy to find cheap options expiring in 5 days. 
But when you can locate opportunities that have all 3 steps: 
#1. The breakout pattern — I showed you one of them, the "cup" pattern
#2. A 2-for-1 risk ratio — Meaning the potential for a 100% winner is double the chances of a loss
#3. You're buying cheap options that don't expire for 4-6 weeks
Those 4-6 weeks allow our option room to breathe. (and you to relax as well).
Because, yes, sometimes our trade will become a double up in a week… but sometimes it may take a few weeks. 
And this is how you become and stay profitable as an options trader. I have a very high win rate for options because I'm not being mega-aggressive. 
Even if I have a strong inkling an option could double in 7 days…I still buy an option that expires a minimum of 30-days out. 
Plus… and this is key… the stock must be cheap enough so that it's easy to double. 
An option may be cheap expiring in 7 days… but it may not be cheap expiring in 30-days. 
The plays I recommend do: 
MRVL: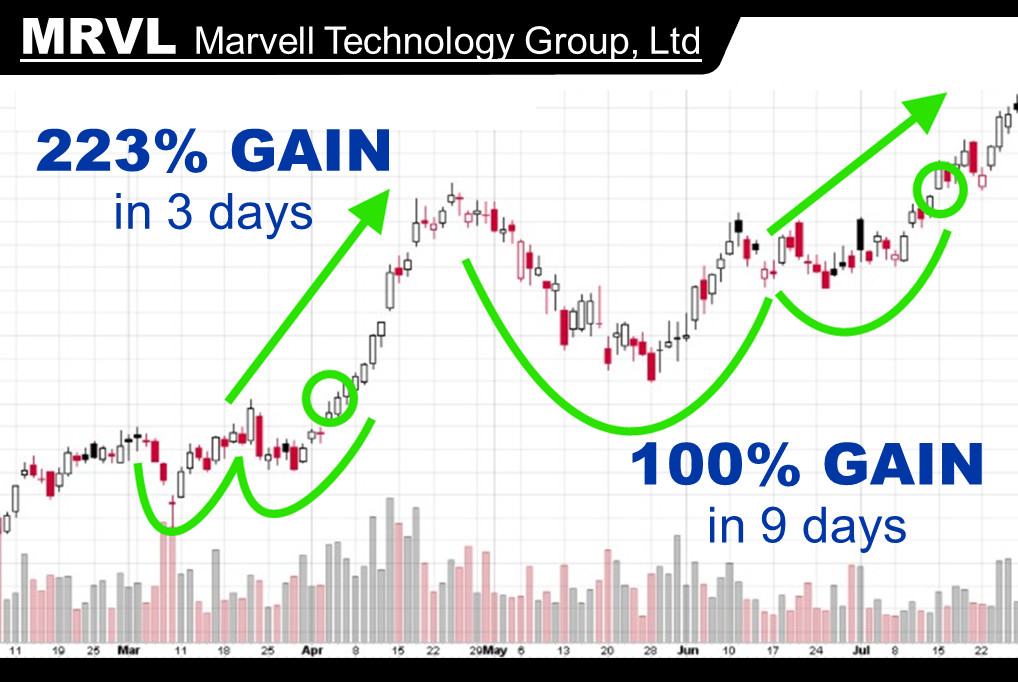 We got into the first trade at $0.58! 
Compare that to getting into a 4-week option on Netflix for $18!
See the difference? 
You only need a small move for a 30-day double up. Netflix, you need a massive move. Plus, you need that massive move to happen in 4-6 weeks. 
BSX, I showed you the pattern… we only need a $3 move so the risk to reward was good…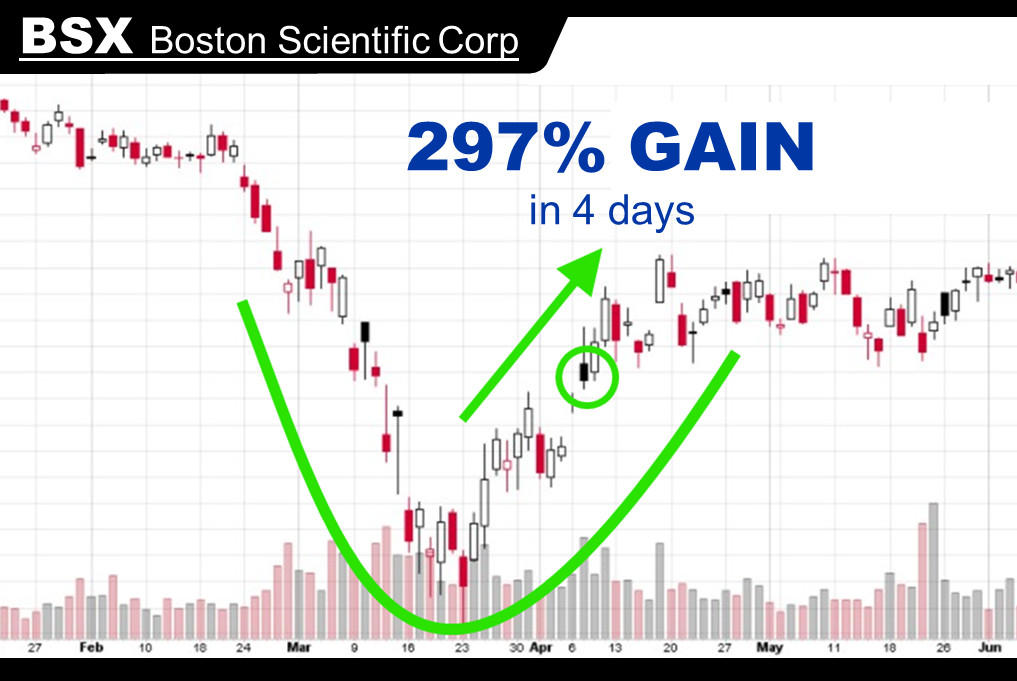 We got in for $0.75 with it expiring in 45 days. 
Others trade Amazon contracts expiring in just 7 days go for $12! That's too much risk for me. I'd never log out of my trading account. Because everytime I would log in, I'd likely be doing it with one eye open out of fear!
If you want to sweat bullets next to your spouse every night while that trade is open…start fluffing the couch pillows.
Because at some point, your spouse will open your trading statements at tax season and blow a gasket.
Trading cheap options allows you to make the same double ups without risking more money nor do you need as big a move in the stock.
Buying an option for $0.75… that's easy for me. 
10 contracts are just $750. A 297% winner = $2,227 in profits! I'll take that all day. 
In the past four years, we've bought all these stocks for under $2/option: 
Twitter

American Airlines

MGM

Intel

AMD

Ebay

CVS

Oracle

Starbucks
…and more.
A $2 move doesn't get anyone out of bed on Wall Street. 
Meanwhile, I'm here flipping these hot contracts like pancakes at a Church breakfast on the reg. 
And you'll have the opportunity to start trading these 30-day double ups yourself. 
In fact, 
Right now as you read this…
I have at least one 30-Day Double up open for you to trade TODAY!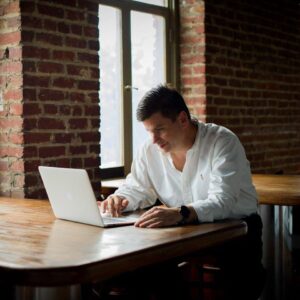 I typically find 6-8x opportunities per month…
So as you read this, I have a 30-day double that's open. 
But here's the sweet icing on the cake: 
My trading opportunities are low volatility. Meaning, even if you're 12 hours late to getting into a 30-day double up trade… it's still possible to place the trade yourself. 
Of course, if the stock already makes a big $2 move, you might be out of luck… but as of this moment, there's time for you to make a trade right now. 
I'll show you how…
And it couldn't come at a better time.
See — 
Now might be the best time ever to trade 30-day double ups!
Take a look… I'll make this quick so we can get to your next trade.
I've followed the VIX — which measures volatility in the marketplace — for 20 years. 
We're on track to hit all-time lows once again.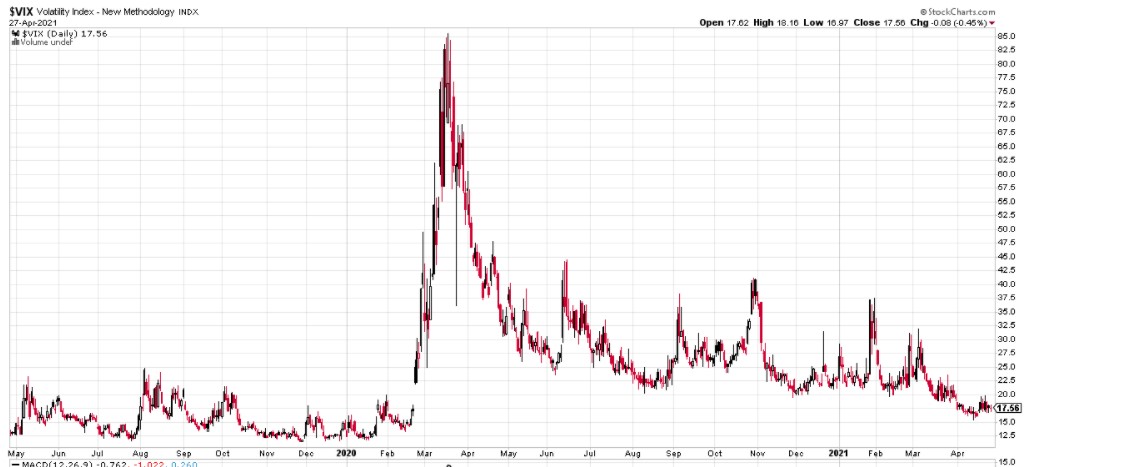 The lower the VIX goes, the CHEAPER options are for you and me. That's awesome as it means we have more opportunities at 30-day double ups. 
But, what really stuck out is we had that big spike you'll see. That was the March 2020 crash. 
The spike wasn't a surprise, it was the rapid drop in volatility almost back to lows that make me sit up. 
This stock market does not want to be volatile anymore. Which plays right into our hands. 
Because we're not trading super volatile stocks like Netflix or Amazon. We're trading easy-breezy ones like what I've shown you. 
Low volatility = higher chance at profits = higher chance at hitting more 30-day double ups. 
And I mean MORE 30-day double ups than the 326 I've nailed the past 13 years. 
More opportunities at 50,421% total gains like I've already shown others…
You can now join me going forward.
If you're more interested in your time enjoying life rather than time in front of a computer screen, let me show you something special. 
Because even though something like my cup-pattern is simple to spot…you need to kiss a lot of frogs first before you dig a winner out.
I'm talking, sometimes I'm looking at 300+ stocks and their charts per day looking for opportunities. 
That's how I found 1,723 trades…and 326 of 'em being 30-day double ups!
Out of 1,723 trades…I likely looked at over 600,000 charts to whittle down to these 1,723 trades. 
Let me do the work for you. 
Imagine being out with your family at the zoo…
You've promised them this for months…
But, a text comes in…
At first, you tense up. Until you see it's from me.
"Here's your trade alert from Rick"…
You know how easy this is going to go…
You open up the link in 5 seconds…
Page opens: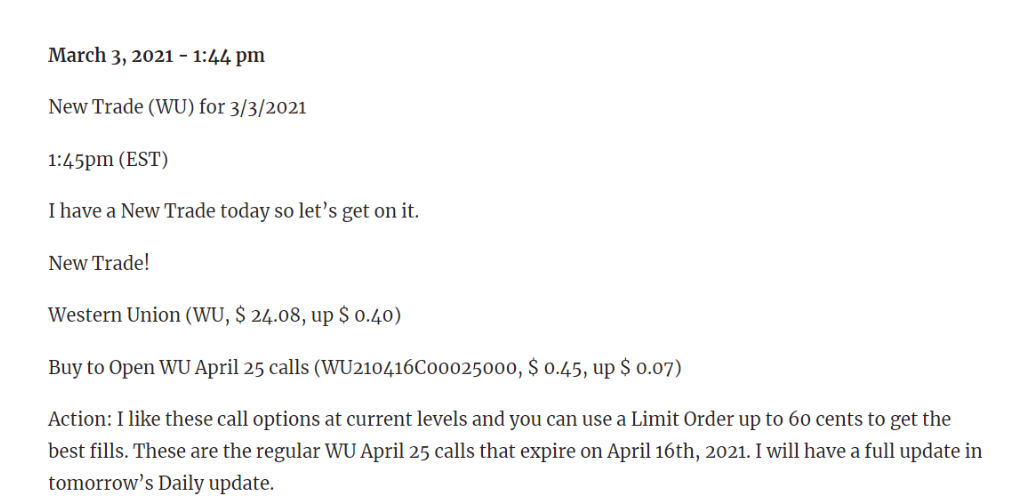 I explain how to decipher through this alert…soon it'll be second nature to you. 
From this alert, you can quickly open up your brokerage account on your phone, type in the trade, pull up the options chain…and BAM! You're in the trade. 
Get into the trade in a few minutes, then you go back to enjoying lions, tigers and bears with your kids and grandkids.
Because your trading is likely done for the day. 
I don't day trade…except in very rare circumstances. 
Once we're ready to close the trade…you get that same alert. Then, you're out. 
One subscriber wrote in and said, "Text alerts are great…I can place trades while at work!"
That's what's possible for you starting today. 
And those who opened that WU trade alert and executed…well, they enjoyed a 111% return. 
From now on, you'll be on track to make some life-changing trades…
Maybe you get to trade an IPO…
Like we did after Alibaba went public: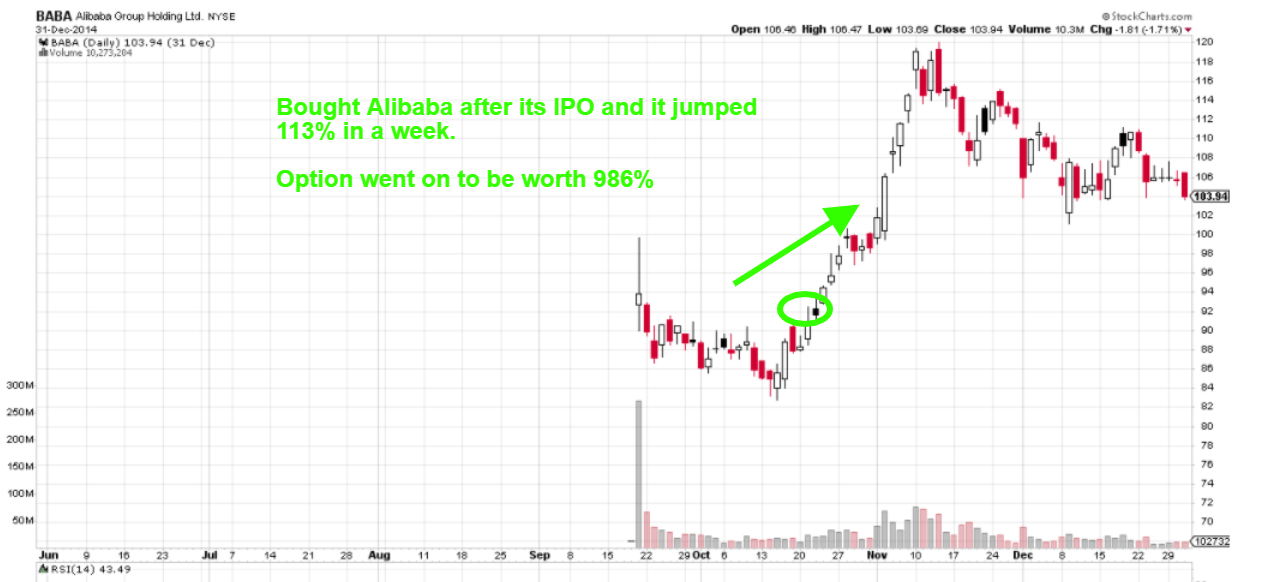 113% winner that went as high as 986%…
Or, maybe you and me can tackle another earnings play like I recommended with Nike.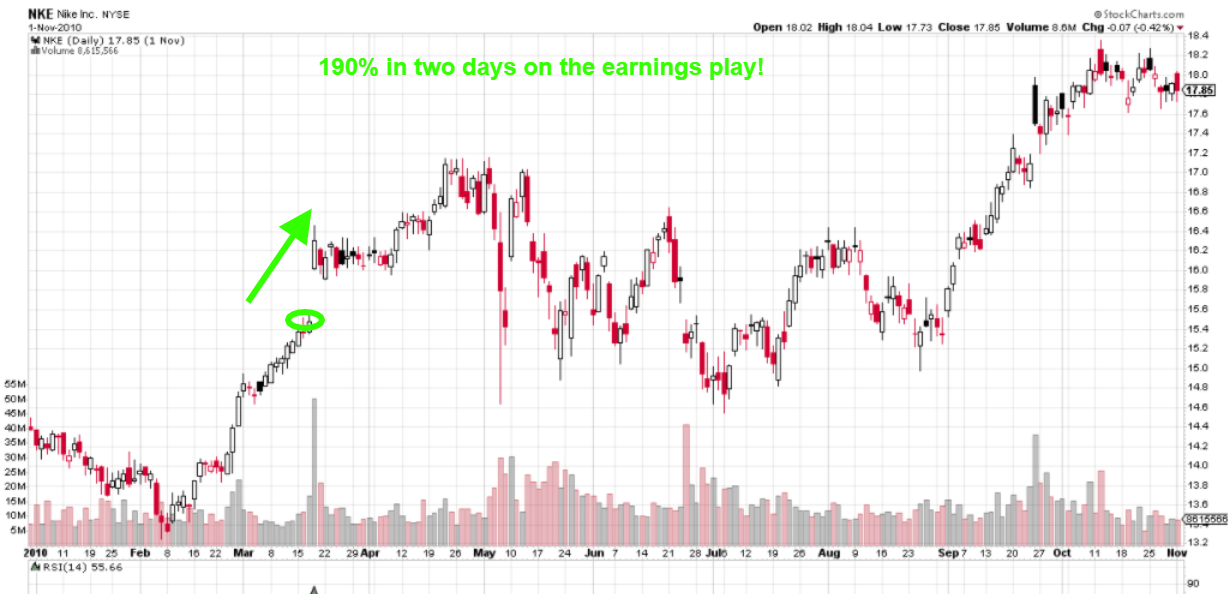 190% in 2 days here. 
118% on Deere & Co. the day after earnings.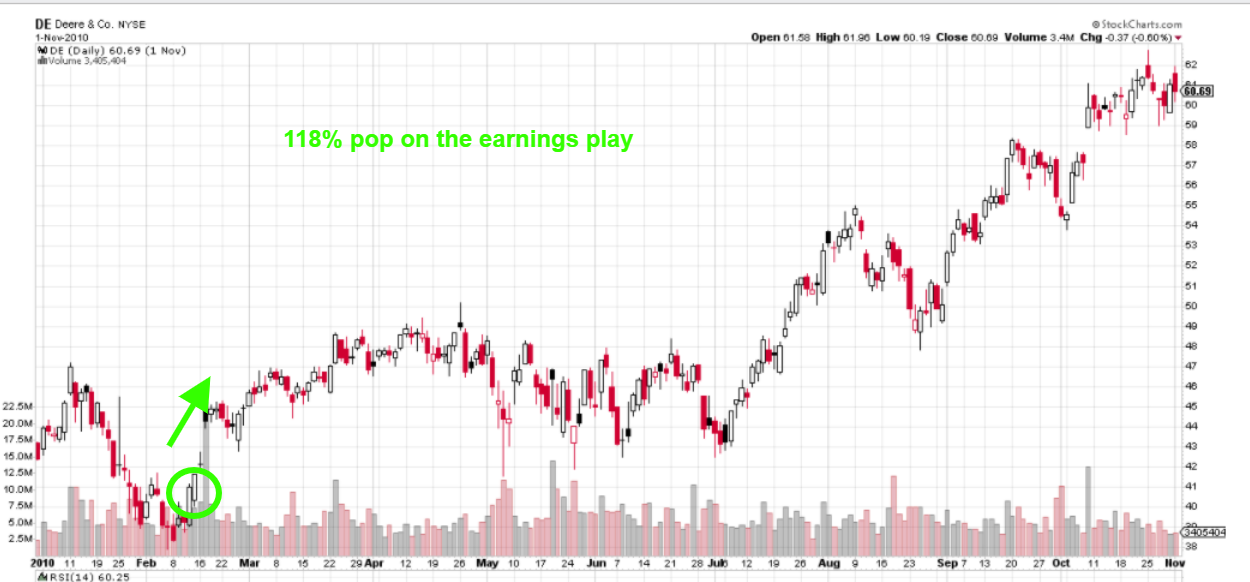 Maybe you'll ride with me on a hot trend in the market. 
Like when me and subscribers jumped on the train when finance exploded: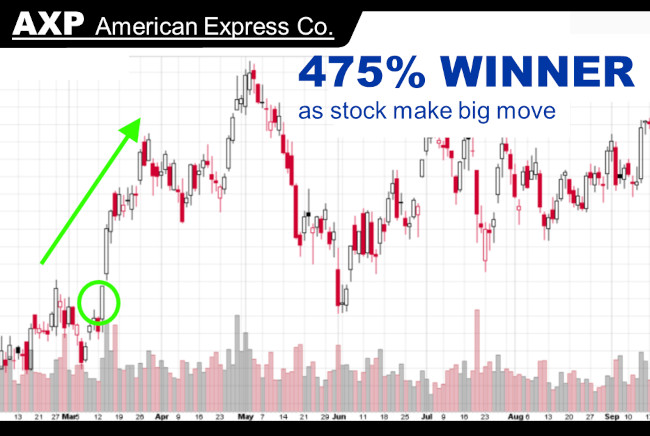 A 475% win on American Express. 
Then…on the same day, I recommended Capital One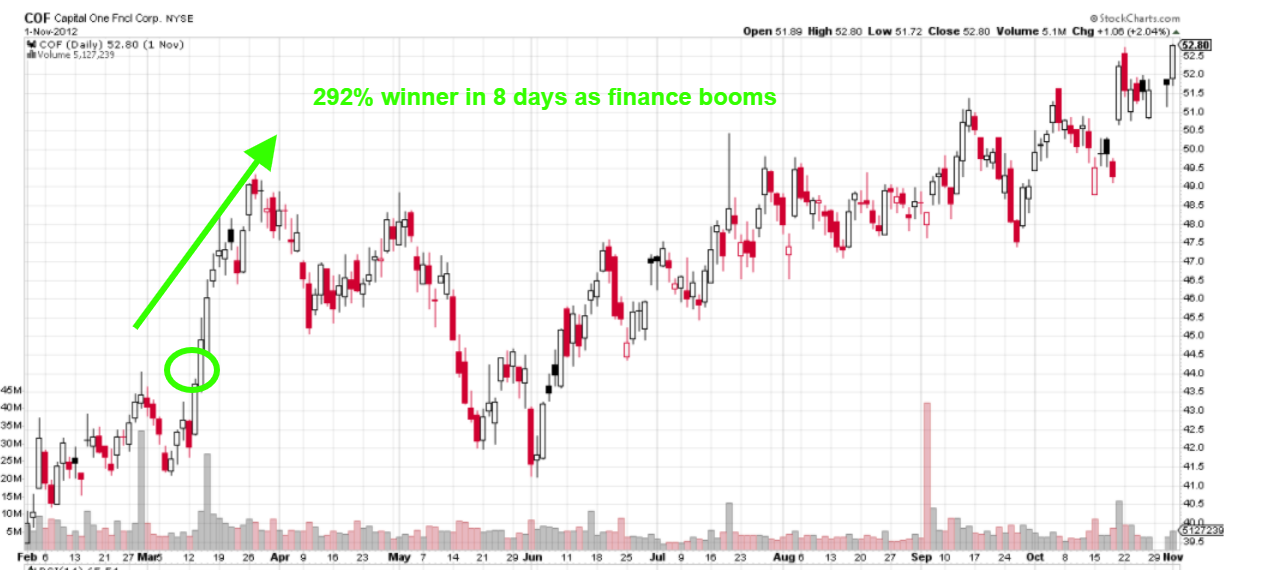 292% gainer in 8 days. 
Plus, I didn't share…
This all works… 30-day double ups… my 3-step method…
It all works for stocks about to tank too!
Check out this play on BBBY.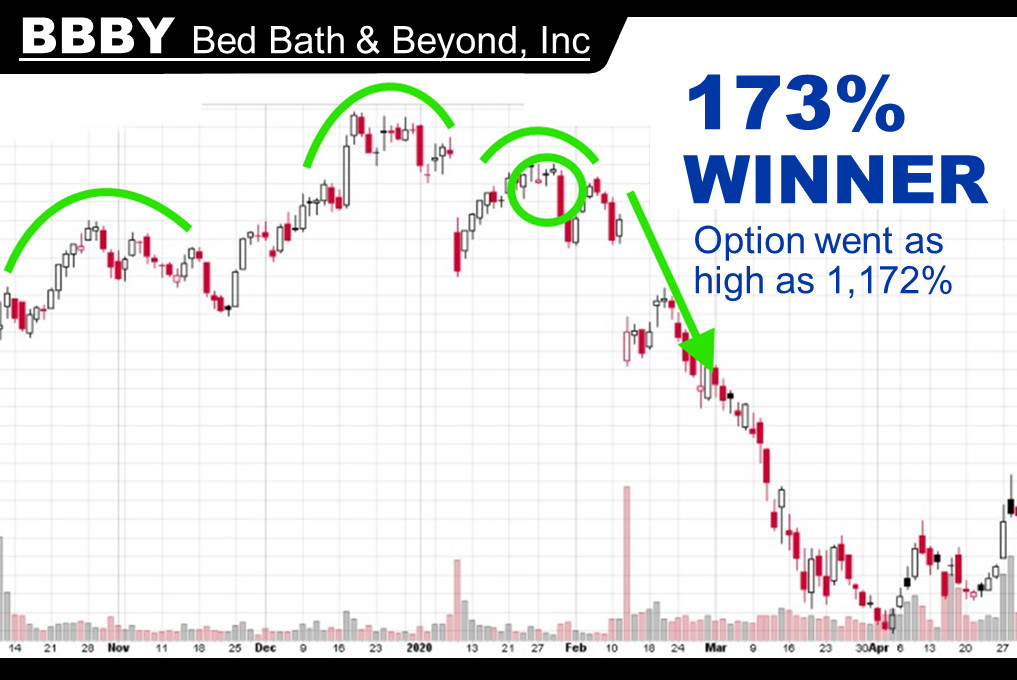 Cup formed except upside down… breakout happened… stock acted like a roller coaster. Top of the hill… then steep drop!
We rode it down for a 173% winner. 
That wasn't the only one I called the top on… bought puts (not calls)… and won big. 
MRVL…I showed you how we won twice…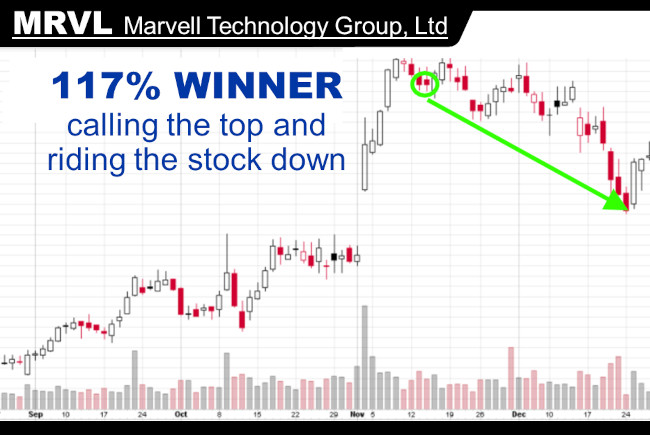 Here, we called the top… and rode the elevator down for a 117% win. 
IMAX, the same: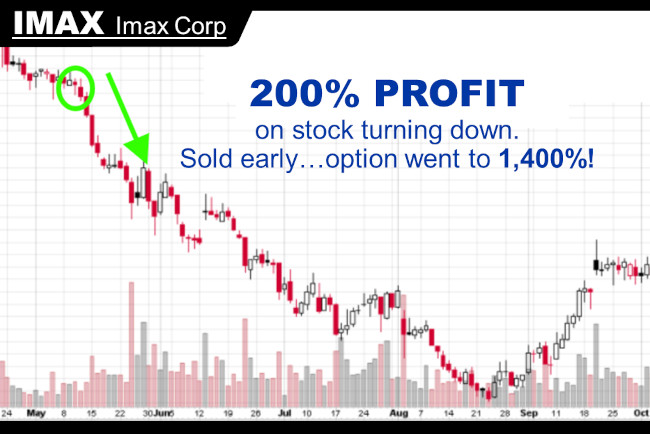 If we had let the put option ride… it would've gone on to 15X your money!
These are the types of opportunities I have waiting for you. 
An average of 6-8X per month served up to you like clockwork. 
6-8X trades per month should guarantee you'll hit at least one 30-day double up winner per month. After all, my average is almost 1 out of 5 trades that gave you a chance to double your money. 
Which is why I'm inviting you into my brand-new service, 30-Day Double Up.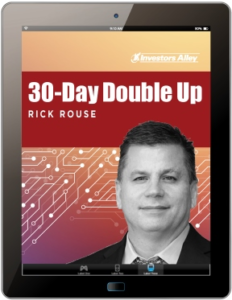 30-Day Double Up has one goal —> To land you an average of one 30-day double up every month
(12x per year)
I'm shooting for many more than that…
In one year…I had a whopping 80 trades that hit 100%+ profits.  Yeah…in 12 months.
And we see more bullish action in the next couple years with the Covid problem behind us…I say the sky's the limit. 
As a Charter Member of 30-Day Double Up you'll join a very small group of traders who already have access to my recommendations. 
I want to make options trading fun for you. 
Fun, easy, low-stress and profitable. 
If you're tired of options trading services where you worry if your 'guru' is about to go on a wild losing streak and lose you a bunch of money…put those to bed. 
Obviously, we will have losing trades. 
You've seen my track record. 3 out of 10 trades on average for me (over 1,723 recommendations in 13 years) were losing trades.
But, by following my 3-step options method, you're setting yourself for consistent profits and a big winner every month.
Except, rather than buying and holding stocks…which is boring…
You can carve out a small piece of your portfolio to just trade options with and have a blast. 
One of the first users who started in March 2021, he was swimming when he saw a text message from me at 10:46 am. 
The message said "buy an option in [hidden for subscribers only] company." 
He received the exact option to buy…and what our expectations for the trade. 
In just about 3 minutes, he made the trade…and was back in the pool by 10:55 am to play with his kids. 
It's really that easy. 
As a Charter Member to 30-Day Double Up, you receive: 
6-8x trade alerts every single month —

No complicated strategies. Buy and option and then sell it. About 1 out of 5 of my trades hits a triple-digit win…which is why it's possible you could be seeing a 100%+ winner…maybe even a 1,057%+ winner starting this month.
Text alerts for every trade:

You'll never be behind a trade. Get alerts to buy, and you get alerts to sell. Plus, our options don't move 20% after an alert so you miss out. I'm tired of those annoying services where they claim "Buy AMD at $1" and by the time you open up the options chain, the AMD option they recommended is trading for $1.25. Not fair. Our options rarely do that as the volume is low enough to keep away wild volatility.
Monthly LIVE round-ups on our trades —

Plus, get all your questions answered about my strategy, our open positions and more. These monthly calls are where I really want you to feel comfortable with our trades and the long-term vision with the strategy. These are imperative to attend so you stick with trading options and don't give up.
Easy access customer service AND access to my email:

Any problems logging in or about your subscription, we have an awesome customer service team here at Investors Alley. This publication has been around over 21 years, partly due to how well we take care of our subscribers. On top of that, get my email to talk with me whenever you need help. 
The value for just my trades in the past have sold as high as $2,497. 
Add in the monthly calls…I'm thinking 30-Day Double Up is easily a $4,000 service. 
That's a lot you're probably thinking. 
Well, think of it like this. 
If you had put $500 into every one of my winners and losers…you had the chance to walk away with over $252,255 in profits. 
That's an average of $19,404 in profits per year. 
So essentially, 30-Day Double Up going for $4,000 is almost an 80%-off steal. 
Got a larger account? 
$1,000 into all my trades would've yielded potentially $504,494 in profits. That's an average of $38,807 per year. 
Now, you'd be looking at a 90% off discount. 
But, since you're coming on as a Charter Member…I'm not going to charge you $4,000. 
I have a massive discount in store for you.
And when you do join…I'm throwing in a special feature you receive DAILY or being a member. 
Every morning…
Charter Members to 30-Day Double Up Will Receive "Rick's Daily Update"
(including one stock to watch each day)
Every morning, I put together about an 800-1,000 word summary of what I'm seeing in the stock market that day. 
I give a pre-market update: 
I break down the major indexes like the S&P and Nasdaq: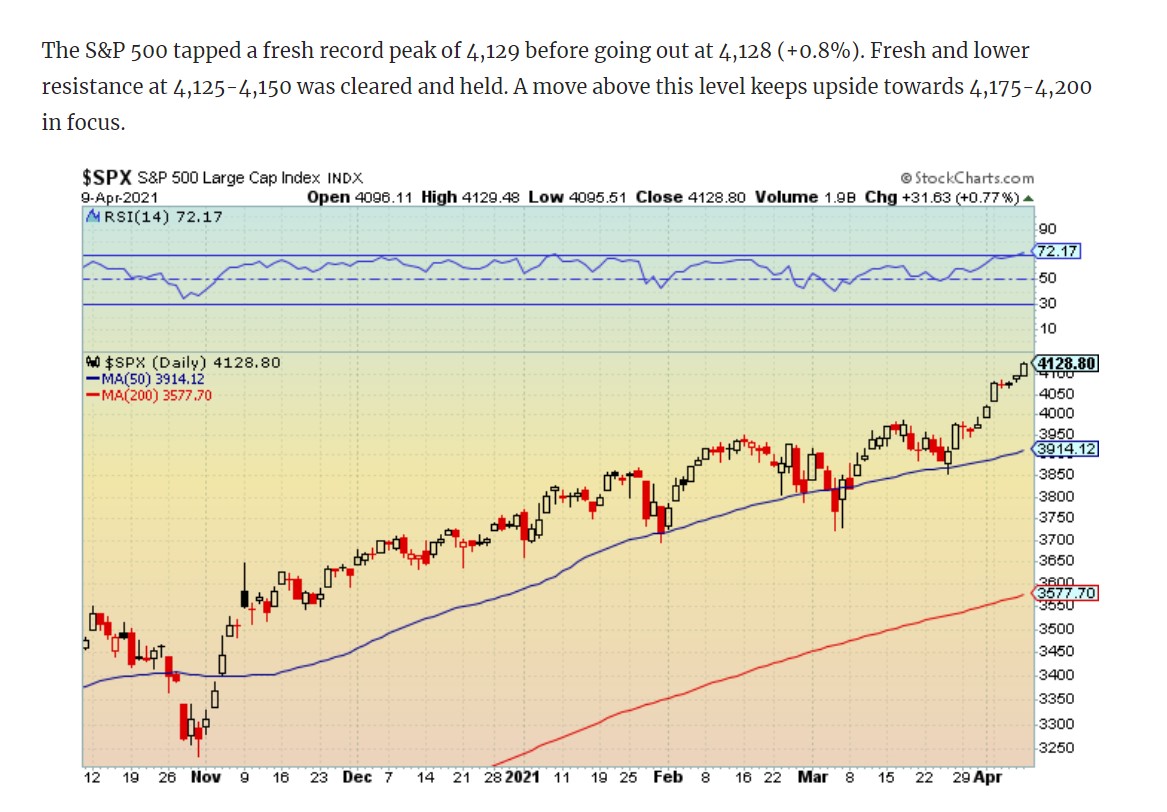 I usually hand-pick a potential stock that could make a move soon…or, is moving the market that day. 
This particular day, FUBO was disrupting stocks: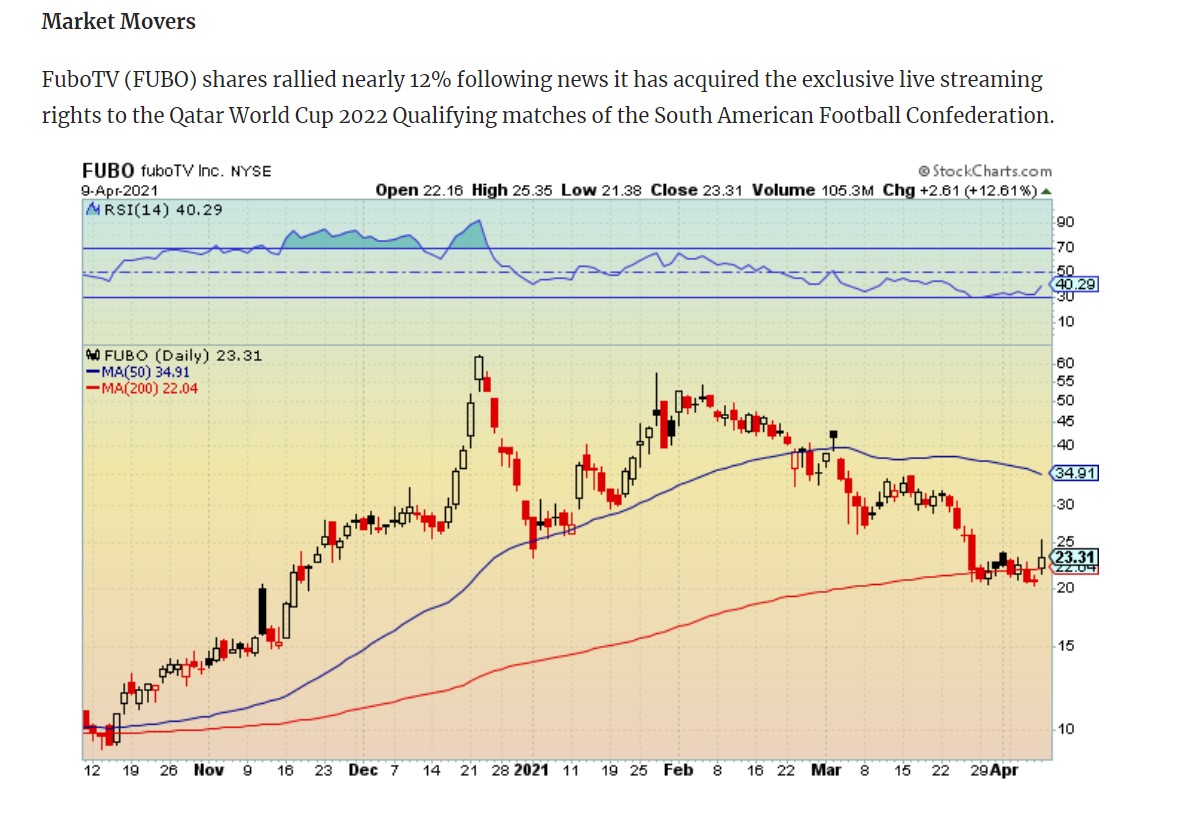 I'll dissect a particular sector worth watching…and maybe diving into to find a good trade: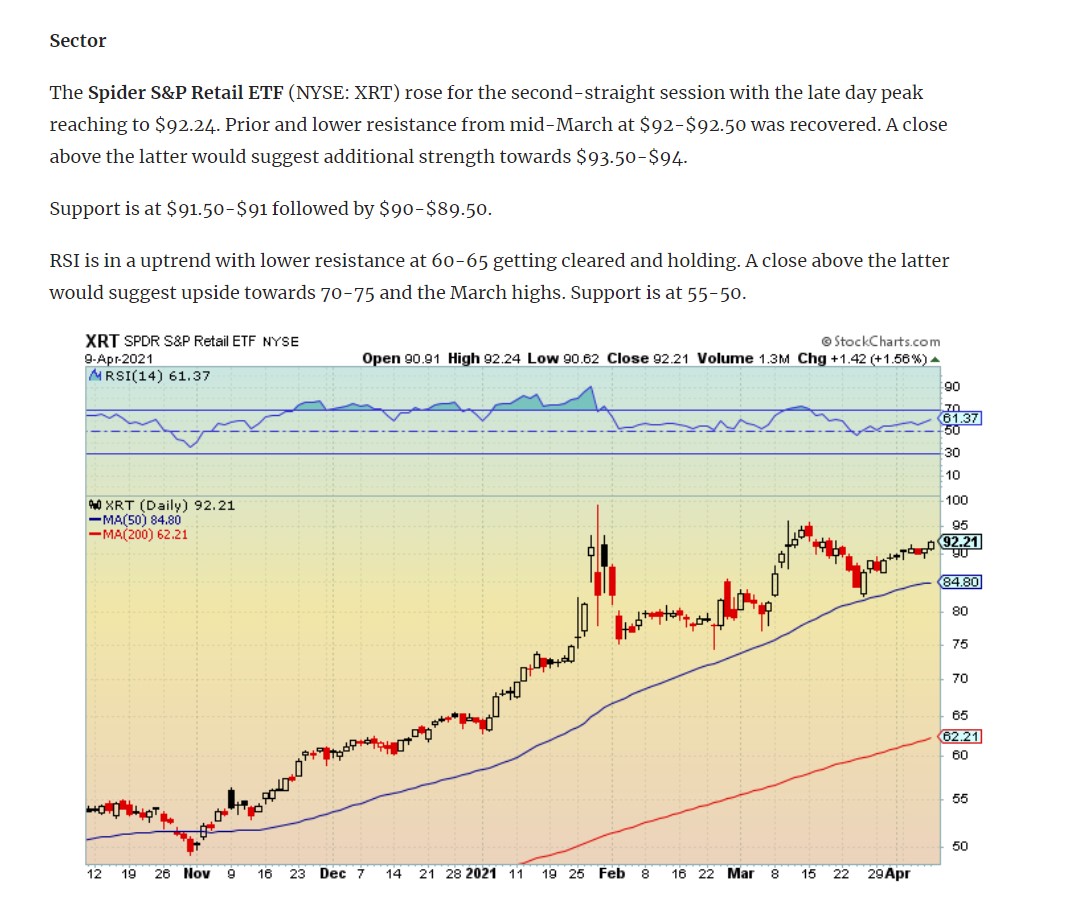 Maybe the most popular section is my "Market Outlook" for the day and week ahead. 

Plus, I give updates on volatility in the market…and, of course, our current open positions. 
Read as much of it as you want… or just pick out what you need. 
Different strokes.
This Daily Update is important as I may drop a hint about a new play, or tell you what's going on in the market.
This Daily Update is a free add-on to 30-Day Double Up, but easily worth $100/month…or $1,200 per year. 
I mean, it's a complete rundown on the market every single trading day of the year. 
That's about 252 Daily Updates you get per year…
$1,200 per year average. 
Free as a Charter Member to 30-Day Double Up. 
Others who have received my Daily Update in the past have loved it: 
One reader even said "Absolutely love the Daily Update. BEST THING about Rick's service." 
Still, there's more. 
Free Bonus Report ($199 value)
My Top 3 Stocks to Trade Options on Again, Again, Again, and Again
(a repeatable strategy you can steal from me)
I'm a simple guy. 
Laid back. 
And sometimes I look for a shortcut…and I think I've found one when it comes to winning at options.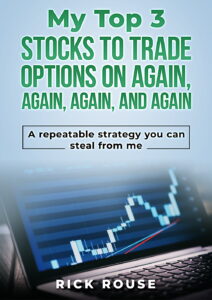 I've found 3 stocks that I've traded dozens and dozens of times that produce a ton of huge gains for me and my readers. 
They're also diversified across three different industries as well:
433%…567%…120%…106%…194%…181% gains on this one stock alone.
Stock #2:

A boring materials stock that pays out huge gains…which makes it

not

boring. I've traded this stock 19 times.
182%…113%…138%…233%…296%…100% gains on this one stock alone.
100%…114%…100%…300%…145%…102% gains on this one stock alone.
This 12-page report, 3 stocks you can trade options on forever is no fluff… all hard-hitting content. 
This information is a treasure trove. As, for over a decade, I've never shared which stocks are my 'go-to.' That's why these plays could go for $199 as I share my strategy behind approaching each of these stocks. 
A ton of gold in just this freebie alone. 
$199 value. Free for you as a Charter Member.
Look, I'm trying to make this a no-brainer decision for you to join. 
We're up to $5,400 in value in this service…and you're about to get a massive 77% discount off this now. 
Because the price for 30-day Double Up isn't 
$19,404…
$5,400…
$4,000…
In the future after this Charter Launch, I'm bumping the price to $2,000…
But, on this page…when you click the button below…you can claim another $503 off immediately. 
Meaning, one year of access to 30-Day Double Up is just $1,497. 
It's a steal with everything you're getting.
My 6-8x trades per month

Monthly calls

Text alerts

*Bonus* Daily updates up to 252x per year

*Bonus* My top 3 stocks to trade options on forever
A $5,400 value…
All for just $1,497. 
I already showed you one trade… where you could've paid off your 1-year subscription with one trade!
BSX … 297% win in 4 days!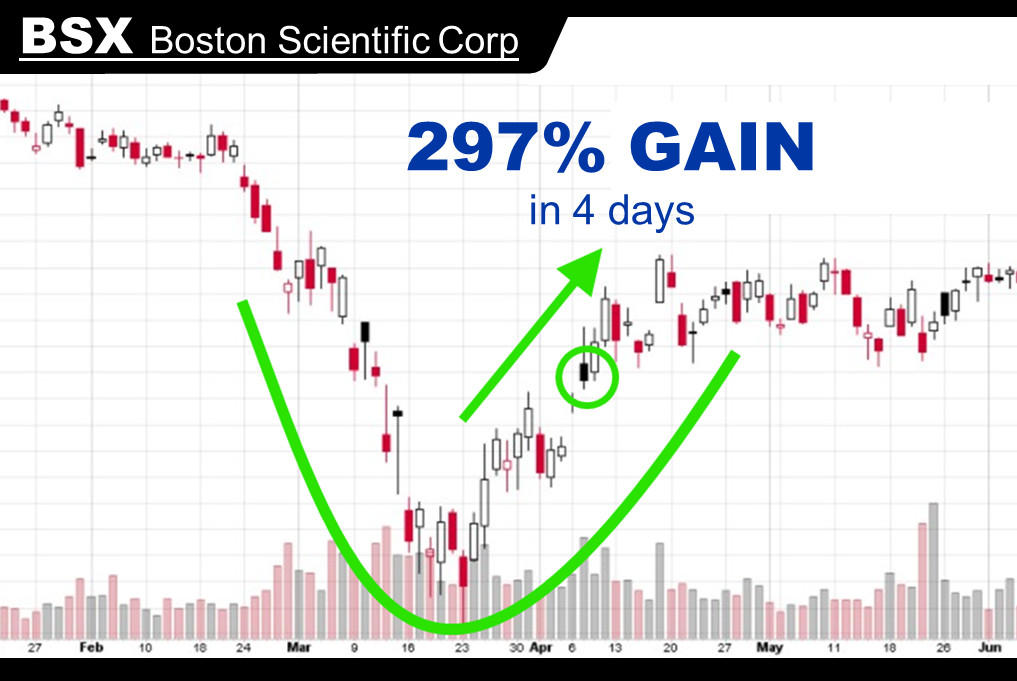 10 contracts is just $750. A 297% winner = $2,227 in profits! Subscription paid in 4 days!
And we're just gettin' started.
Click the button below to get started. 
And when you do…
As a special bonus for Charter Members ONLY (like yourself)… 
I'm sharing something I've never done before — 
My entire strategy from finding a trade, entering and getting out. The WHOLE DANG THING!
Plus, I'll do it LIVE. 
Starting May 13th, I will hold 4 LIVE sessions
To walk you through my entire 3-step method and identifying 30-day double up opportunities
(my entire life's work put in front of you)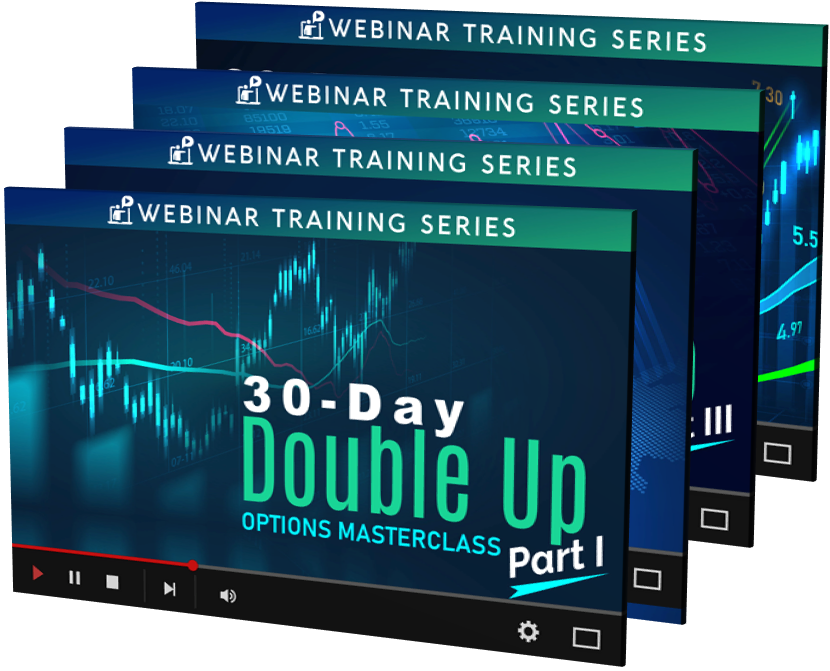 Because you stuck with me this far, I can tell you're serious about not only landing your first 30-day double up starting today…
But you're also ready to become a consistently profitable options trader. 
Whether you: 
…trade options for fun
…want a little extra spending money each month
…or, you're really ready to rapidly grow a trading account fast
No matter where you fall, this LIVE 4-Part Options Masterclass on my 3-step method is for you. 
During these LIVE sessions,  you'll discover:
An exact percentage you should risk with every options trade

to ensure long-term profitability

When I decide to place a stop loss

and when I let an option expire -100% (this will save you from panic-selling only to watch the option rally back)

How to calculate whether a stock will hit your 2-for-1 reward-to-risk profile

. A simple equation will determine if the trade will be a 100%+ winner or not

Which stocks have cheaper options and which do not

— aka which option contracts you should avoid at all costs
Why some cup-pattern setups work and why others fail
And that's only the beginning…
We're going extremely in-depth in how I evaluate opportunities and determine which ones I send out to subscribers…and which I trash. 
Many advanced techniques will be shown, including: 
3 different places I go to find potential opportunities

to trade

My #1 indicator to determine if a move in our favor has legs

or it might fail (and we get out)

Two simple words that immediately alert me whether we should be bullish

or bearish on a play

How I can look at a chart and determine in 30 seconds where a stock might move

next — and then capitalize on it
Of course, you'll be looking over my shoulder as I run through all of this and more. 
If you're new to options, we'll touch briefly on the basics, including how to actually buy a call or put. 
I've never held a LIVE 4-part session like this before, and may not do it again. 
Once the LIVE classes start on May 13th, you're shut out for good. 
Recordings will only be provided when you join me today. 
And here's what I want you to do next. 
You've heard the phrase, 'give a man to fish, teach him how to fish' and all that I'm hoping. 
Well, with this 4-part class, I'm teaching you how to fish. 
You're getting absolutely everything today with 30-Day Double Up. 
All my trade alerts… the strategy… bonus content and more. 
A $5,400 value…
All for just $1,497. 
Click the button below to get started. 
And I suggest you do it now. 
#1. Urgent Reason to Join 30-Day Double Up A Double Guarantee on Your Purchase
First, you get an automatic 60-day money back guarantee for joining. If after 60-days, you aren't satisfied…call and get a refund right away. 
Second, I told you I'd guarantee you a 100%+ winner every month on average. 
So, here's my bold guarantee for you. 
If after one full year…you haven't received 12 opportunities to double your money from me…you get a second year of 30-Day Double Up FOR FREE. 
Meaning, if you only receive 11 double ups…free year. 
If you only receive 5 triple-digit winners that pay off your subscription 5X over…still, another year free. 
I'm guaranteeing you a potentially great year ahead for your trading. 
If I don't perform, just call up my team and request your free year on the house.
One product. 
Two special guarantees. 
So click the button below and on the next page you'll have a chance to secure your seat. 
And you'll want to do it fast…as here's another urgent reason to join:
#2. Urgent Reason to Join Double Options
The LIVE Masterclass for Charter Members is a ONE-TIME EVENT
On May 13, 2021, I'm going LIVE to do Part 1 of 4 of the LIVE Masterclass on my strategy and 3-step method. 
In the future, these will be recorded sessions for new members (who will be paying a higher price). 
Tuning in LIVE, you get to ask questions, follow me in real-time as we navigate the markets together, and more. 
There's nothing like the live experience. A little nugget you learn in the session, you can turn around and use in a trade the next day. It's topical and relevant for that day. 
Future 30-Day Double Up subscribers won't have this 4-part LIVE masterclass…theirs will be recorded. 
#3. Urgent Reason to Join Double Options
30-Day Double Up 1-year price goes up to $2,000 once Charter Membership is Full
The minute the May 13th LIVE Masterclass begins, Charter Membership is gone for good. 
After that, you may subscribe as a regular member…and guess what…the price will be $503 more than what you pay now. 
Use that $503 to put into an options play that could hit triple-digits…don't send it to me!
Look, friend…
If you're still on the fence about joining 30-Day Double Up after all this…there's nothing else I can show or tell. 
I mean, on the next page is a FAQ if that'll persuade you.
All I can say is this —> I've tried to be as open and honest as I can with you. In the options world, that's hard to come by as most option trading gurus have win rates around 20-40%. 
I've subscribed to services myself where the guy had a 20% win rate.
Meanwhile, I'm nailing 30-day doubles 326 times at a 67% win rate. 
You've seen how simple it is to follow along with my strategy. 
You don't need to spend hours studying charts. Let me do that work. 
At the same time, I can still arm you with awesome options strategies that'll make your financial manager cry, but you could potentially be stock-piling 30-day double up wins.
I'm guessing you've tried other options services and likely were disappointed. Else, you wouldn't be here reading this. 
If you're looking for high-flying weekly plays…I'm not your guy. 
If you're looking for a guy who shows off his Lambo to you everyday…I'm not your buy. 
If you're looking to day trade Amazon and Tesla…I'm 100% not your guy. 
Find someone else for that stuff. 
In March 2021, I wanted you to know 30-Day Double Up was the real deal, that I allowed Investors Alley to admit 'beta testers' in for free
And the results were incredible
For two months, a small group of subscribers here at Investors Alley gave 30-Day Double Up the test drive. 
The results…
Check out some of the gains:
"I'm averaging over 120% profit!"
And the feedback has been amazing:
"His recommendations speak for themselves"
"I like it because it makes me feel like he is paying close attention to my investments"
"

I like the format. I think you're onto something…"
"Simple and straightforward!!! I was losing confidence … but Rick Rouse's analysis has resuscitated my confidence."
The wins —
Very first trade I recommended…111% winner. 
Another trade went as high as 374%. 
Still another ended up running over 160%. 
All in two months. 
And the markets were choppy as heck March and April 2021… yet, we still had those opportunities available. 
That's why I challenge you now. 
Join me inside 30-Day Double Up. You've seen my track record. The proof. How easy and stress-free it is to trade with me. 
If you're new to options, that's okay. There's training to cover everything. 
If you just want to trade options as a side hobby… great. I send the alerts right to your phone. Take 2 minutes, make the trade and you're done. 
Join me… 
Or continue to try and trade options alone.
Wall Street designed options for you to lose. 
They tempt you to be greedy so you make mistakes. 
Don't trade options alone. 
I saw a video just a few weeks ago of this young-ish kid…
He was about to lose all his savings (amounting to $20,000)…because he put all his cash into one trade.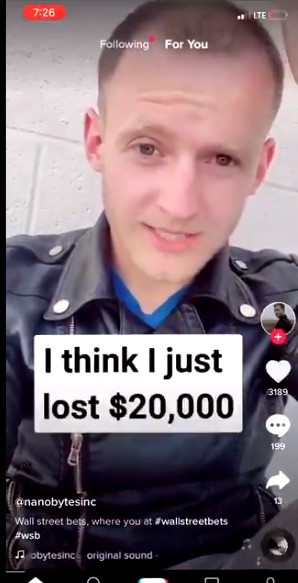 He placed a weekly options trade expiring in 3-5 days…and was hoping to double his money if the stock (AMD) dropped in price. 
Well, the stock dropped by Tuesday…then Wednesday through Friday it skyrocketed upwards. He lost all his savings. 
You read about all these kids on the forums buying a few options and making millions. 
Overnight riches is a dream that ruins all new options traders.
It's stories like this that your financial managers and the stock gurus use to convince you "options are risky and gambling."
That's not what you're doing inside 30-Day Double Up.
We're looking to double our money like this kid… but we give our trades 4-6 weeks, and we don't need to risk all our money to do it!
Let me tell you something as direct as you'll ever hear from me…a guy who's traded successfully 20+ years…
No one trade will make you rich. 
No one trade will even make you life-changing money. 
Instead, as a member of 30-Day Double Up, our goal together is consistent double ups that you can grow over time. 
Because as you make these trades…
You follow along with me through winners and losers…
You can grow your account quickly. 
| | | |
| --- | --- | --- |
| Year 1 | $10,000 | $12,306 |
| Year 2 | $22,306 | $12,306 |
| Year 3 | $34,612 | $12,306 |
| Year 4 | $46,918 | $12,306 |
| Year 5 | $59,224 | $12,306 |
| Year 6 | $71,530 | $12,306 |
| Year 7 | $83,836 | $12,306 |
| Year 8 | $96,142 | $12,306 |
| Year 9 | $108,448 | $12,306 |
| Year 10 | $120,754 | $12,306 |
After 10 years, we're sitting on $120,754 in our options trading account. 
Over 10 years, you could see 6-figures in profits. 
If you had followed me since the beginning,  you had a shot at turning $7,000 into $252,655. 
And total gains of 50,421%!
Follow me now going forward this year and for years to come…
Your friends and family will be wowed with this extra money you're generating from your fun trading hobby. 
It won't even look like you're working. 
A few taps on your phone and you're whooshing your spouse off for a weekend at a 5-star hotel. They'll love that. 
Or, be like me… hang out on the beach, take in the sun, worry about nothing. 
That's where I'll be trading…
Will you join me? 
With me, you can count on consistent winners, a 100%+ winner on average every month, and less time staring at the market or your trades. 
After all, I'm giving you my Daily Update. 
I'm giving you the trades. 
Like one of my readers, while at the pool, grab your phone, make the trade I send you and go back to swimming. 
Get back more of your time and more of your profits.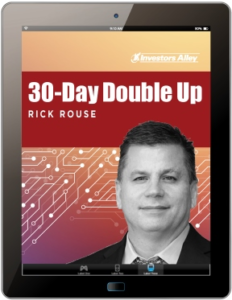 Click the button below to start your 1-year subscription to 30-Day Double Up now. 
On the next page, you'll have a chance to put in your information on a private, secure page. Plus, like I said, there's a FAQ to answer any lingering questions. 
I can't wait to see you inside 30-Day Double Up. 
Beers on me if we ever get to meet. 
See ya on the LIVE masterclass,
Rick Rouse
Editor of 30-Day Double Up
P.S. FAQ on the entire service and my strategy on the next page. Click the button below now to see it all…and everything you get.
P.P.S. If you want to see my entire 13-year track record, just shoot me a message. I'll show you it all for free.