A strong dollar is great news for a handful of companies that operate in the United States. These companies will see their dollars pile up, and if you invest now you will be right there with them. Here's our top investing ideas for the continued dominance of King Dollar. 
The dollar is the strongest it's been since 2010. The U.S. dollar index (a measure of the dollar relative to other currencies) is quickly approaching 90.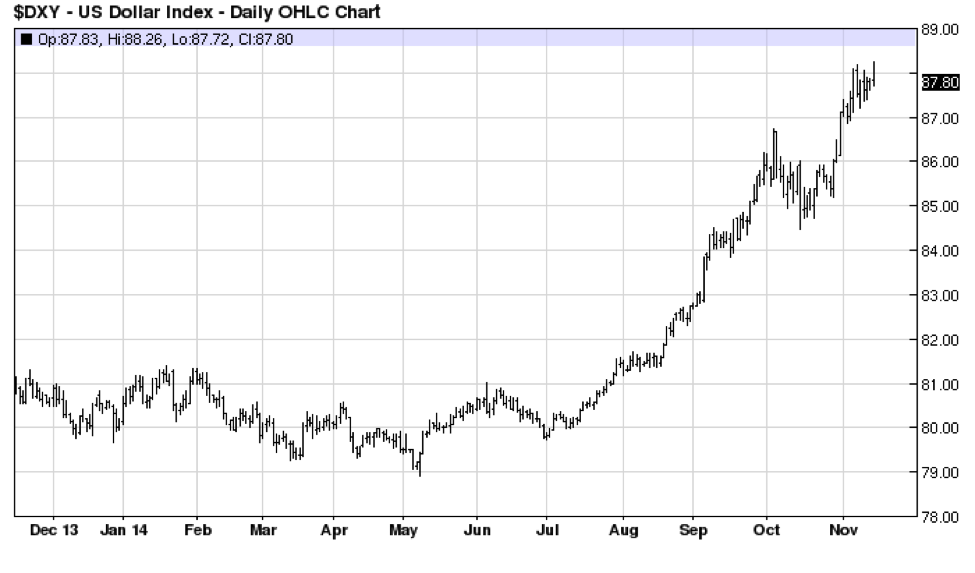 What's more is that king dollar is here to stay, at least for another couple years.
Credit Suisse has found that dollar bull cycles last around eight years — meaning we have another five years of a strong dollar.
Helping keep the dollar strong should be an improving U.S. economy. Oil is denominated in dollars, meaning a strong dollar can help keep oil prices low, which is good news for the majority of Americans.
Strengthening the dollar even more should be the Fed's ending of quantitative easing and the expected rise of interest rates in 2015.
The end of QE means fewer dollars in circulation, which will increase the value of the currency. And the rise of rates will make the U.S. markets more attractive from an investment standpoint, compared to other developed countries.
But what's this mean for investors?
One thing is for sure; multinationals will have a tough time — that's because multinationals have to translate their foreign profits into dollars.
That means, as the dollar appreciates, they get less money for the money they made overseas. The other issue is that American exports look more expensive to foreign buyers as the dollar gains strength. Leading foreign buyers to look to other markets.
Thus, a strong dollar could actually be a drag on earnings for multinationals. Conventional fan favorites might not be all that great investments going forward; these include the likes of Coca-Cola (NYSE: KO), McDonald's (NYSE: MCD) and Procter & Gamble (NYSE: PG) — which all generate a large portion of revenues from outside the U.S.
Tech companies won't be doing any better.
Many of the big tech names also generate a large amount of money from overseas, including Apple (NASDAQ: AAPL) and International Business Machines (NYSE: IBM). Both of which generate over 60% of their sales from overseas.
However, there are a select group of stocks that tend to outperform all others during times of a strong dollar. These include the likes of U.S. focused retailers, construction companies, industrials and financials. Here are the top four ways to outperform the market with a strong dollar:
No. 1 Way To Profit From A Strong Dollar: Domestic Retailers
One of the most obvious ways to profit from a strong dollar is with retailers. The cost of inventory that these companies purchase from overseas markets goes down as the dollar rises, meaning they'll make money on the products they sale.
Retailers also have a very strong tailwind; lower fuel costs. For every penny that gas prices fall, that's a billion dollars in the pockets of consumers. What's more is that Bank of America has reported that over 20% of the annual income for households bringing in less than $50,000 is spent on energy related costs.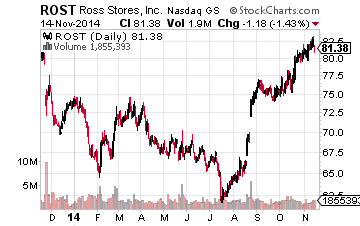 So the American consumer will be saving a lot of money thanks to lower oil. And that money will be plowed back into the economy this holiday season. Ross Stores (NASDAQ: ROST) is an off price retailer operating exclusively in the U.S. Target (NYSE: TGT) and Bed Bath & Beyond (NASDAQ: BBBY) are a couple of other retailers operating primarily in the U.S.
No. 2 Way To Profit From A Strong Dollar: Airlines and Autos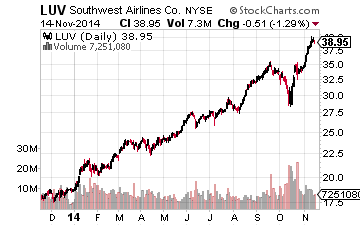 The domestic airlines will be the big winners when it comes to capitalizing on a strong dollar. The top player here is Southwest Airlines (NYSE: LUV). Southwest also has a powerful tailwind related to lower oil prices — where jet fuel makes up about 30% of its total costs.
Along the lines of lower fuel prices and more money in consumer pockets, auto retailers could also be big winners. But not the likes of Ford (NYSE: F) and General Motors (NYSE: GM), which have a big presence overseas. Rather, CarMax (NYSE: KMX) is the play here.
No. 3 Way To Profit From A Strong Dollar: Domestic Homebuilders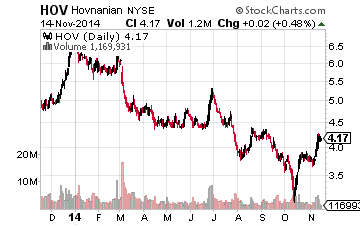 The major domestic homebuilders could be big winners as the economy strengthens. The two attractive investments in this space are Hovnanian Enterprises (NYSE: HOV) and Ryland Group (NYSE: RYL).
These homebuilders are in small cap territory, both trading at market caps below $2 billion. In general, the small and mid cap stocks are some of the best ways to invest for a strong dollar, as they generally operate strictly in the U.S.
Related to homebuilding, Lowe's (NYSE: LOW) is another interesting player. It gives investors exposure to the homebuilding and remodeling, while also being a retailer. It generates the majority of its revenues in the U.S. and pays 1.7% dividend yield.
No. 4 Way To Profit From A Strong Dollar: Banks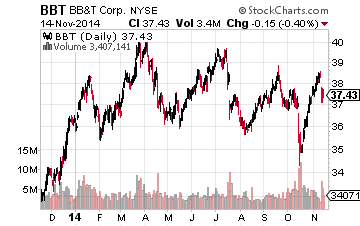 While domestic utilities are appealing in a strong dollar environment, given they generate all their income from the U.S., they aren't enticing in a rising rate environment. However, banks could be big benefactors for higher rates. Two of the top regional banks in the U.S. are Pittsburgh based PNC Financial (NYSE: PNC) and BB&T (NYSE: BBT). Both also offer dividend yields above 2.2%.
All the stocks above will be helped by the dominance of king dollar. But investors can also take a look at small cap stocks, which have been beaten down year to date. The Russell 2000 is up just 1% year-to-date, while the S&P 500 is up 10%.
The key to remember is that small cap stocks tend to have more exposure to the U.S. economy. Earlier this year, RBC found that sales growth of companies that generate a majority of sales their from the U.S. was much stronger than those with a strong international mix. The U.S. focused companies could be set up to surprise investors with earnings beats over the next few quarters. One thing is for sure, don't bet against king dollar.
Bret Jensen, Investors Alley's small cap stock expert has been adding stocks in several of the sectors I've mentioned above, including retailers, homebuilders, and financial firms. With a strong dollar and surging market Bret's building out a portfolio of profit-making small caps poised for tremendous returns. One of them that's in the hospitality industry is already on the move as takes over it smaller competitors in one of the last highly fragmented industries. Bret's calling for it to at least double. Click here to find out more.