The multitudes faster 5G wireless technology will start rolling out around the globe over the next few years. Under the 4G system, mobile data has grown 17-fold over the past five years. Verizon predicts that 5G will allow data speeds up to 20 times faster than 4G. This means 20 as much data will be shared and much of it stored. The higher 5G speed will result in many more connections to the wireless network, including current wireline connected equipment and currently unconnected devices that will join the Internet of Things.
Exponential growth of data sharing means similar growth levels required for data storage. The tech industry, really all industries, rely on data centers for data storage. These are dedicated facilities with specific design feature to house servers, routers, switches, backup servers and the connections required to so data can be transmitted, accessed and stored. In the current world these are very large, high-tech facilities with advanced cooling and power generation capabilities. Data center storage is a growth business, as show by this chart showing data center storage data amounts for 2016 through 2021 from statista.com.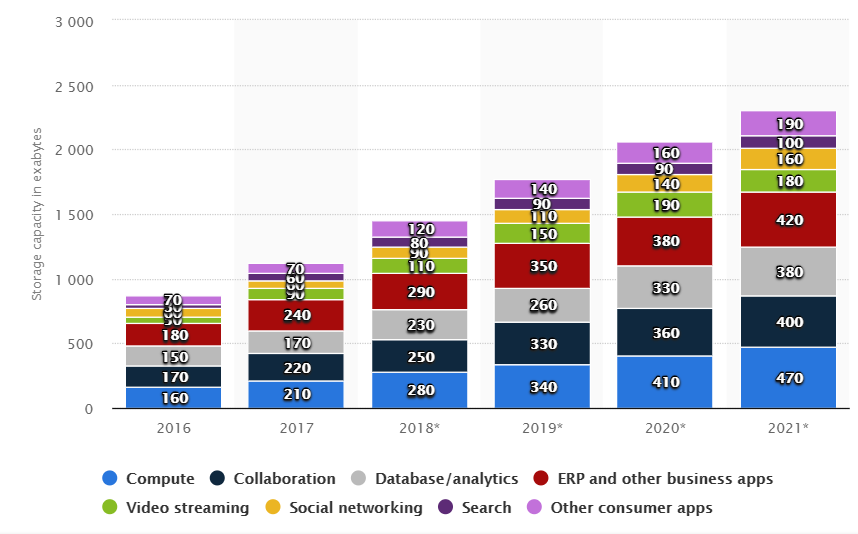 Data centers are a great, longer term way to participate in both 5G and data storage requirements growth. There are a handful of real estate investment trusts (REITs) that operate exclusively in providing data center services to the tech sector and other industries. Here are three to consider.
Equinix, Inc. (Nasdaq: EQIX) is the $35 billion market cap, the large-cap standard of the data center industry. The company converted from corporate tax payer to REIT status at the start of 2015. The company is a colocation and interconnection service provider. Colocation is a data center facility in which a business can rent space for servers and other computing hardware. Typically, a colocation facility provides the building, cooling, power, bandwidth and physical security while the customer provides servers and storage.
The company's services currently give 9,500 customers 300,000 interconnects between data centers and world's digital exchanges. According to the current Investor Overview presentation, Equinix owns over 200 data centers in 24 countries, on five continents. This is truly an international company. Over the last decade the company has produced in excess of 20% compounding annual revenue and EBITDA growth. This results in mid-teen per share cash flow growth.
For 2019 the company forecasts 11% FFO per share and dividend increases.
The shares currently yield 2.3%.
Digital Realty Trust, Inc. (NYSE: DLR) is a $24 billion market cap REIT that owns 198 data centers in 32 metropolitan areas. Digital Realty has over 2,300 customers.
Like Equinix, Digital Realty is also a colocation and interconnection services provider.
This REIT's customer list includes some of the largest technology and telecommunications companies.
In the top 10 are IBM, Oracle, Verizon, Linked In, and even Equinix.
According to the current investor presentation, Digital Realty has grown FFO per share for 13 straight years. Over that period cash flow to pay dividends has grown by a compounding 12% per year.
This chart shows the FFO growth compared to large REITs in other sectors: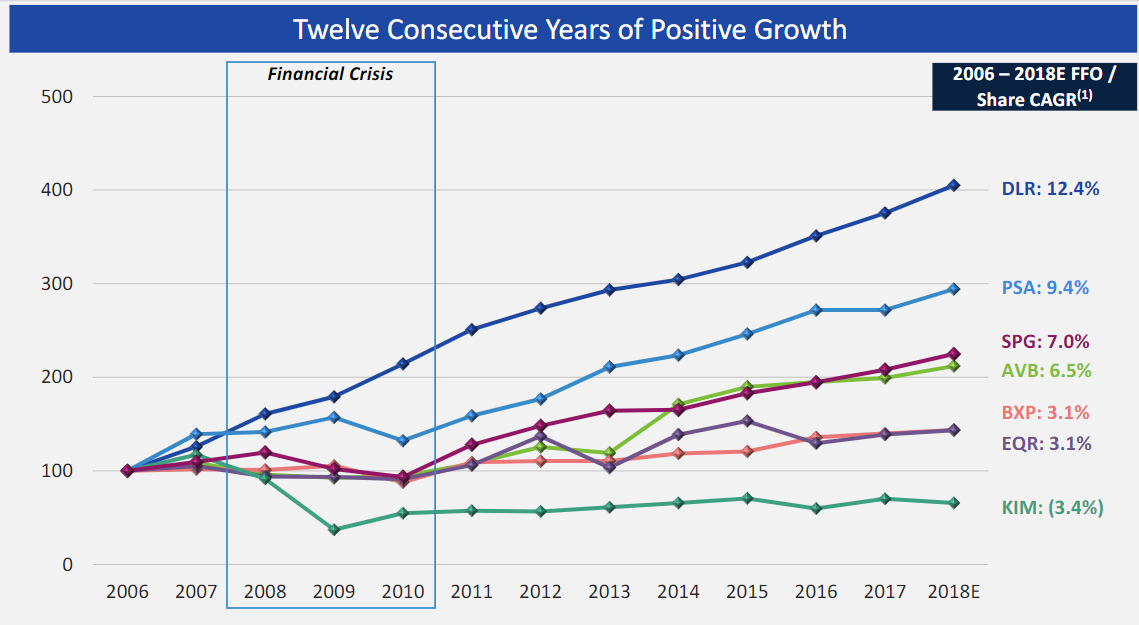 The DLR dividend has grown by 10% plus per year for the last decade. The shares currently yield 3.6%.
CoreSite Realty Corp (NYSE: COR) is a $3.9 billion market cap REIT that owns 22 data centers in eight strategic U.S. cities.
The company's focus is to provide colocation services to enterprise, network, and cloud services companies. The company has over 1,300 current customers. CoreSite is the high growth, higher risk company out of the three covered here.
Since 2011, FFO per share has grown by 23% compounded and the dividend by more than 30% per year. Future results will cycle from relatively flat to high growth years. An investment in COR will not be as stable as with the large cap data center REITs. The flip side is the potential for large dividend increases and corresponding share price gains.
The shares currently yield 4.2%.
Did Trump just unleash the greatest income stream in American history?
16 of Trump's Executive Orders could've just launched a little-known income opportunity called 'venture royalties.'
They're approved by Congress and Americans are collecting checks every month for $2,123... even $9,586. Everyone is asking me about income right now, I'm pointing to venture royalties. Here's how to collect 14 royalty checks this year.
Click here
.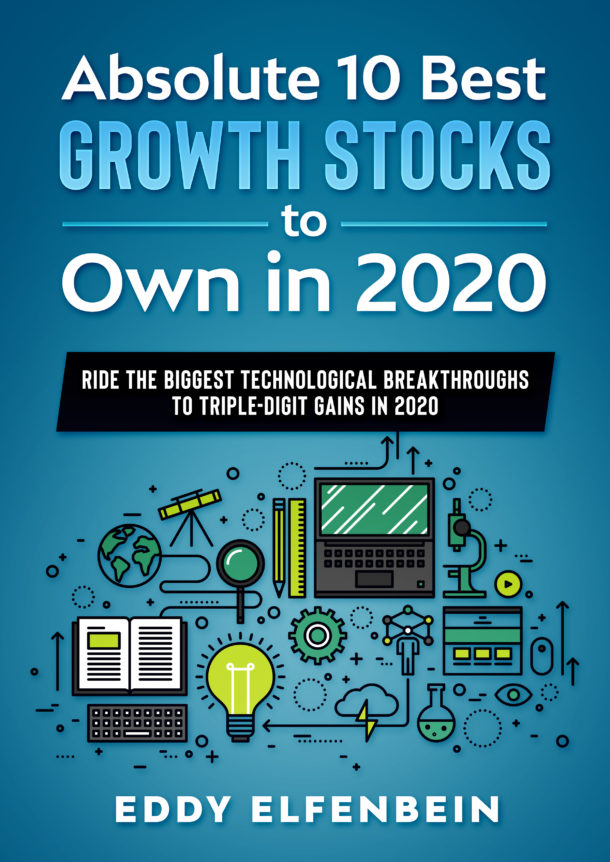 [NEW REPORT] Absolute 10 Best Growth Stocks to Own in 2020
Get the best 10 stocks to ride the 2020 tech explosion. 
One could be the most valuable stock of the next decade. 
Normally, I charge $20 for this report…
But, today...you can claim a copy absolutely free.
One stock alone has a chance at 167% profits in the next 12 months (or sooner). 
Enter your email below to claim a free copy while they last.