One has a bombastic rhetoric and desire to speak his mind no matter the public opinion. The other is out for blood, taking the pharma industry to task recently. Could they each have a hand in bringing stock prices lower over the last month?
Investing is no easy game, as we've seen the last few weeks.
There is a lot to factor in when trying to analyze the market and individual stocks. The upcoming Presidential election means even more monkey wrenches for investor portfolios.
The four leading candidates will have to convince the country that their plan for the economy is best. And believe me, it's all about the economy.
44% of Americans said the economy was their top concern in a recent CNN poll.
But all the candidates have different paths for growing the economy.
On the Democratic side, it's been the Hillary Clinton show, with Bernie Sanders quietly gaining ground. In the Presidential polls, Clinton is getting upwards of 41% of the approval for the Democratic Presidential nomination, while Sanders is second at 23%.
Hillary's goal is to boost incomes for average Americans. Sanders says he will accept slower economic growth if it means a more equitable distribution of income.
On the Republican side, it is the real estate mogul Donald Trump and neurosurgeon Ben Carson, neither of which have any political experience. In the Republican Presidential nomination poll, Trump has 23% of the support and Carson is at 13%.
Trump has ambitions of being known as the "jobs president," with his plan focused on boosting employment. But, he doesn't have any plans for raising wages. When it comes to Carson, his focus is on reducing the national debt load to take some of the burden off millennials and later generations.
However, no matter how great Trump's "a job for everyone" or Clinton's "income equality for everyone" may sound, they still might not help your portfolio in the interim.
Ned Davis Research has found that the S&P 500 has the weakest returns during the first year of a four-year election cycle. Going back to 1900, stocks have gained just 3.4% in the post-election year. Compare that to the best year — the pre-election year, where stocks have gained 11.3% on average.
We still have a year or so before that, but in the meantime, the stock market could remain on shaky ground. A Wall Street Journal poll, taken over the summer, found that less than a quarter of those surveyed felt that the economy was going to strengthen over the next year.
So, we could be in for a couple of off years. And while it might not be as bad as 2008, some defensive strategies are called for. And while you're thinking through how to take some risk off the table, let's not forget the negative impact that candidates and Presidents can have on certain industries.
Hillary took the biotech and pharma industry to task the other week, putting out a plan to limit price increases by drug companies and forcing them to put more money toward research and less toward marketing. It all started with her September tweet, where she called drug price gouging into question.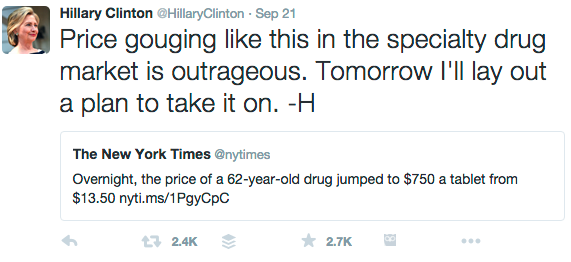 Hillary also recently broke her silence on the Keystone XL pipeline project, saying she opposes it. In part, because it goes against her fight against climate change.
Hillary is out for blood. And she's getting it. Her biotech tweet sank the iShares NASDAQ Biotechnology Index ETF (NASDAQ: IBB) by 15% in just a few days. The biotech index is now down 22% from its all-time highs in July.
Meanwhile, let's not forget Trump's push to put a tariff on Chinese goods. China would likely retaliate and investors that own companies doing business in China should be worried.
But investors can't simply sell all their stocks and hide in cash for the next couple years. Investors shouldn't risk giving up the long-term benefits of stocks by selling to avoid short-term losses. And there's no secret that missing just the top performing days can have a material (negative) impact on performance.
It's also not as simple as just selling stocks and buying bonds. The long-term average return for the S&P 500, going back to 1928, is close to 10%. Meanwhile, the average return for the 10-year T-Bond has been just 5%. A five percentage point difference doesn't sound like much, but it adds up quick over the course of a couple years.
In the end, there are a few things investors can do to keep themselves invested in the stock market. One, is to look to dividend stocks. If you look at return of the S&P 500 for the last 15 years, the total return (price appreciation and dividends) is double the price return. Low volatility stocks are also a great way to keep your sanity. Their price fluctuations are generally milder — meaning, investors are less likely to panic sell.
And diversification doesn't just mean buying different asset classes. You can still diversify across the stock market spectrum; for example, there's emerging markets, small-, mid- and large-caps, and developed markets besides the U.S.
One of the final strategies, and one that requires a bit more work, is to take a deep value approach. Buy stocks that get unfairly beaten up over the next couple years. This can include stocks that are beaten down due to an industry selloff — an example being the recent romping in biotech, where many stable large-caps that won't be impacted by any pricing changes were sold off with the others.
Given the weak outlook over the next year and the fact that the first year of a new President is generally the worst for the market, it pays to be a bit defensive here. Regardless of who wins the Presidential race, things will be interesting and the least you can do is take some of the uncertainty out of your portfolio.
High yield / high dividend growth investment that regularly boost their dividends are an integral part of the income strategy with my newsletter, The Dividend Hunter. And there are currently several in my Monthly Paycheck Dividend Calendar, an income system used by thousands of dividend investors enjoying a steady stream of cash.
The Monthly Dividend Paycheck Calendar is set up to make sure you're a minimum of 5 and in some months 8, 9, even 12 paychecks per month from stable, reliable stocks with high yields.
And it ensures that your dividend stock income stream will be more stable and predictable as you're getting payments every month, not just once a quarter like some investors do.
The Calendar tells you when you need to own the stock, when to expect your next payout, and how much you could make from stable, low risk stocks paying upwards of 8%, 9%, even 11% in the case of one of them.All the research and hard work is done; you just have to pick the stocks and how much you want to get paid.
The next critical date is Monday, October 19th (it's closer than you think!), so you'll want to take before that date to make sure you don't miss out. This time we're gearing up for an extra $4,850.50 in payouts by Thanksgiving, but only if you're on the list before the 19th. Click here to find out more about this unique, easy way of collecting monthly dividends.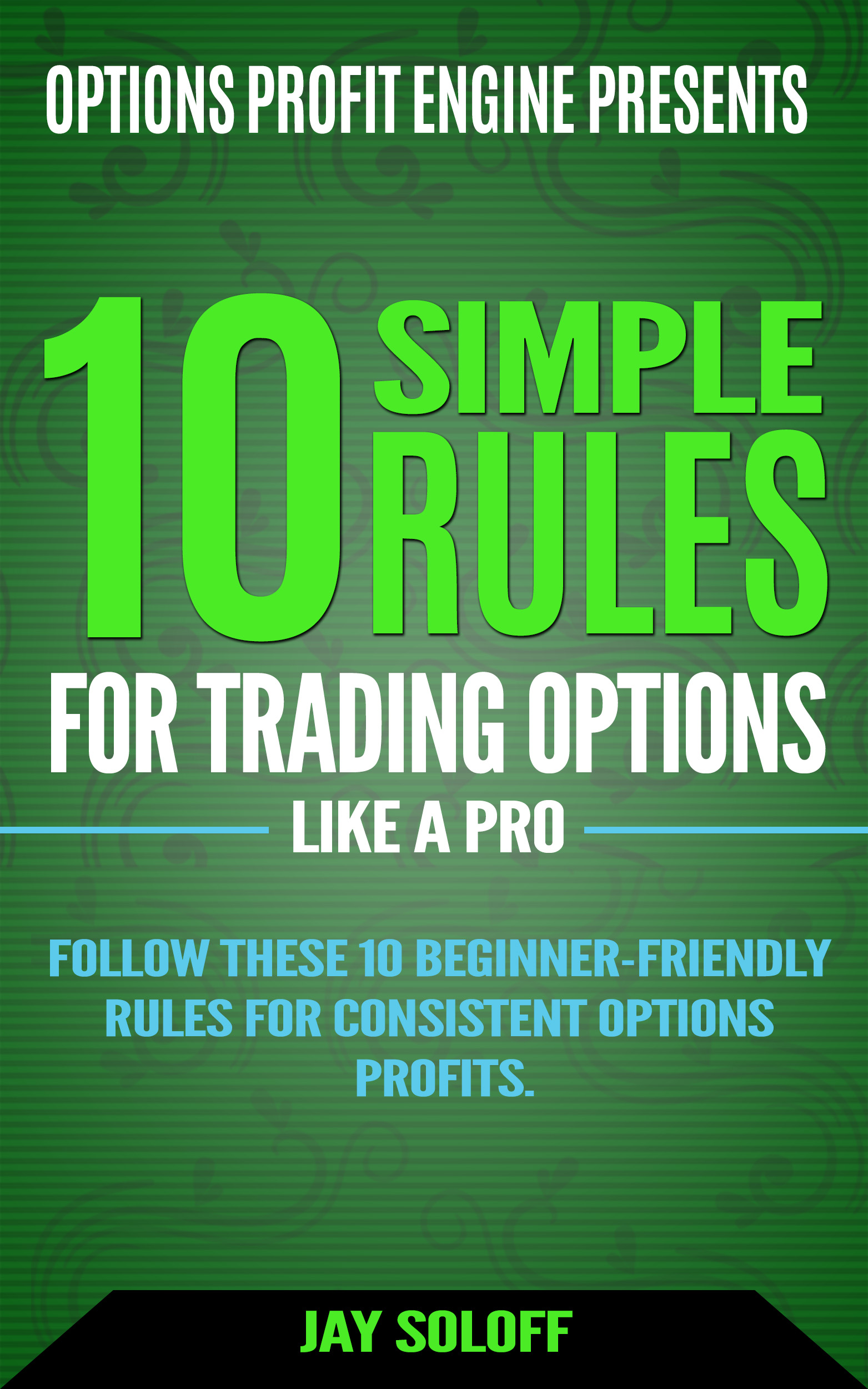 [FREE DOWNLOAD] 10 Simple Rules for Trading Options Like a Pro
Follow these 10 simple rules from 20-year professional options trading veteran, Jay Soloff and start earning a reliable extra income from options.
NO prior experience needed to master these 10 simple options trading rules. 
Enter your email below and receive access to this FREE guide...