My colleague, Tim Plaehn, called it on November 15, 2017…
"Frontier Communications (Nasdaq: FTR) is a company that likely must completely suspend its dividend." See the article here for more.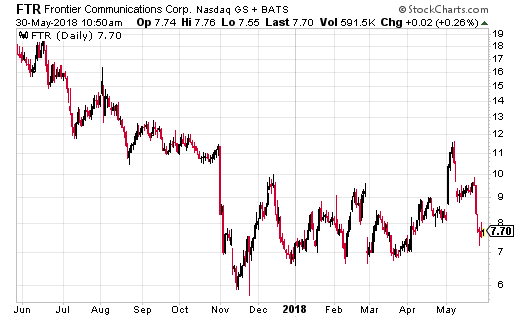 Sure enough, it did just that only three months later.
It's a world away from the days when Frontier was an attractive dividend-paying stock, sporting robust yields.
But the decision was hardly surprising for a 91-year-old company that's seriously lost its mojo.
More specifically, it's losing subscribers, losing money, and racking up an astonishing amount of debt.
Needless to say, that's a pretty dangerous combo.
New Frontier? Hardly…
As its name suggests, Frontier is in the communications business. It provides wireless broadband internet, voice, video, and TV services to consumers and businesses in 29 states.
For a while, Frontier was one of the companies in the box-seat, amid the mass migration from dial-up and landlines to broadband and wireless.
Or so you'd think.
Such a huge technological undertaking requires equally huge investment capital and Frontier hasn't been able to generate the revenue needed to make it worthwhile.
In fact, the company has posted a net loss in the past two fiscal years.
That's bad enough by itself. But an ill-fated purchase has only exacerbated Frontier's problems…
Slow and Steady Loses the Race
In April 2016, Frontier shelled out $10.5 billion to buy Verizon's wired line, FiOS, and broadband businesses in California, Texas, and Florida.
Given the size and populations of those states, the deal was initially a huge boon for Frontier, as it aimed to compete with bigger players in cable television and broadband. The company doubled in size, as it added 3.7 million new voice customers, 2.2 million broadband subscribers, and 1.2 million FiOS hookups.
Alas, all those new customers mean nothing if you can't actually retain them.
Frontier has steadily lost customers in every quarter since then.
But the declines actually go further back than that. Frontier has shed paying TV subscribers every year since 2013 and internet subscribers every year since 2014.
Much of the former is due to the increase in people "cutting the cord" on cable TV and moving to streaming services instead.
In 2013, for example, the cable industry lost 105,000 subscribers. The number then rocketed to 795,000 in 2016 – the year Frontier's Verizon's deal closed. Cord-cutters doubled to 1.5 million last year – and of that 2017 number, Frontier lost 184,000, in addition to dropping 330,000 broadband customers.
The upshot is that Frontier paid a massive amount for a subscriber base that's now rapidly eroding. And trying to make money from a shrinking number of customers isn't exactly a winning strategy.
More seriously, the Verizon deal saddled Frontier with an enormous amount of debt. As of the last quarter, the company was $17.5 billion in the red, versus a market cap of just $636 million and just $200 million in cash.
It just received more bad news, too…
Let's Make a Deal! Anyone? Anyone?
In an attempt to pay down some of that debt, Frontier recently tried to auction off the Florida landline assets that it acquired from Verizon.
But shares tanked last week after the company said that despite receiving several bids, none of them were high enough to warrant selling.
As a result, Frontier has now returned to negotiations with its bondholders to figure out an alternative.
On the one hand, there's something to be said for not simply cashing out for an unacceptable price and taking a big loss. It would have signaled desperation and a "weak negotiating position," says Creditsights analyst Lindsay Gibbons on Bloomberg. "If they sold Florida for less than what they paid, it wouldn't look good and puts a watermark on the other asset values."
But I'm also not sure what Frontier expects. As its customer base continues to shrink and debt remains high, my guess is it will eventually be forced into a sale.
And against that backdrop, I'm also not sure how the company will deliver the "continuous quarterly improvements" in revenue and cost cuts that CEO Dan McCarthy recently pledged.
Dialing-Up Declines
In 2017, Frontier shares tumbled by 85%. And last July also saw a 1-for-15 reverse stock split in order to maintain the stock's listing.
Shares had rebounded strongly this year, but last week's failed asset auction has put the company under pressure again.
While the suspension of the dividend three months ago will free up around $250 million in operating capital, it's like putting a Band-Aid on a deep gash. There's very little that Frontier can do to arrest the cord-cutting trend. And as customers continue to drift away, so does the company's revenue stream.
Case in point: First-quarter revenue dropped by 7% year-over-year to $2.2 billion. It also lost $0.58 per share in adjusted earnings. While Wall Street expected heavier losses in the $0.83 to $0.91 range, this is merely a case of going from "bad" to "less bad." Frontier's overall profit margin is -19%. Its industry peers are well ahead on 18%.
Ultimately, Frontier is sipping on a nasty cocktail: Customers are leaving… revenue and earnings are falling… it's saddled with underperforming assets and sky-high debt… and with little cash on hand, the dividend is dead, too.
Frontier does have assets, so a buyout is possible. But it can't even find a buyer for its Verizon property. Not to mention those dwindling subscribers. So it's hardly appealing.
There's only so long this scenario can continue. And with no money to invest in its business, Frontier can't buy its way out of trouble, either.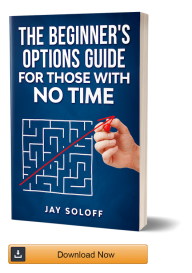 If not, here's your chance to save it to your computer while it's still free. That way you will never have to pay for it again in the future.
This guide will get you placing winning trades without you needing to spend hundreds of hours studying.
In fact, you can place your first trade today after reading my "Beginner's Guide" to trading options.