Just last week, Apple stock reached an all-time high, achieving a total market capitalization of $777 billion dollars. But, how does Apple grow from here? Is now the best time to sell and move your funds to a new stock? Find out here.
On May 2, Apple (Nasdaq: AAPL) finally hit a new record high stock price. Its market capitalization touched $777 billion, surpassing its previous high of $775 billion set in February 2015.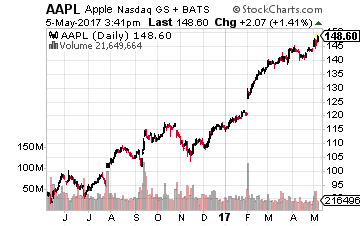 Apple was the first ever company to have a market cap in excess of $700 billion.
Its stock had surged in anticipation of its latest quarterly earnings. That's quite a contrast to the sentiment about a year ago after the company reported its first decline in quarterly revenue in 13 years.
Apple has regained its fans on Wall Street through renewed iPhone sales growth and the promise of a lot of capital to be returned to shareholders. Further fuel to the latter point has been added by potential tax breaks to be proposed by the Trump Administration.
Before I take a peek at what the future holds for Apple, let's look first at the latest quarterly report.
Apple's iPhone Market Share
Apple did extend its rebound, reporting both rising profits and revenues. Revenues rose 4.6% to $52.9 billion, at least partially thanks to a higher average selling price (ASP) for the iPhone.
The rise in revenue was the second in a row for Apple, following three consecutive quarters of declining revenues.
But iPhone demand was lukewarm at best. Shipments fell one percent to 50.8 million iPhones.
Apple's global market share of the smartphone market in the first quarter of 2017 fell to 14.9%. Its rival Samsung regained the number one spot at 22.8%. The data comes from American market research firm International Data Corporation (IDC).
The iPhone seems to have lost market share to lower-priced smartphones whose features and quality have improved dramatically.
This is especially true in China where the average smartphone selling price is $362 and competition is fierce from local brands, Oppo and Vivo.
Apple reported sales in the Greater China region fell by 14% in the quarter to $10.73 billion.
In urban China, in the three-month period ending February 2017, it was a study in contrasts for Apple.
The iPhone 7 and iPhone 7 Plus were the top selling devices. Yet, iOS accounted for only 13.2% of sales in urban China. This was the lowest reading since the three-month period ending July 2014.
Not to Worry
I'm really not too worried though about iPhone sales in this or the next quarter.
Consumers, even in China, are waiting for the iPhone 8, the 10th anniversary device, that will launch later this year.
Sales should be brisk, judging from how the stocks of key Apple suppliers are performing.
I'm looking across the Pacific Ocean to Taiwan's stock market, which is closing in on the 10,000 mark and its dot-com era high.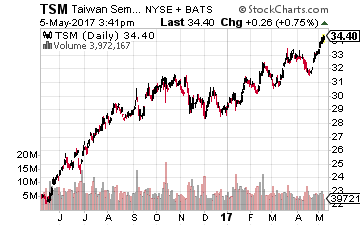 All thanks to its two biggest components – Taiwan Semiconductor (NYSE: TSM) and Hon Hai Precision Technology (OTC: HNHPF), which is also known as Foxconn. Both stocks are trading at record highs. And other suppliers such as Pegatron are very near all-time record highs.
In fact, Taiwan Semiconductor is battling Intel (Nasdaq: INTC) for the title of the world's most valuable semiconductor company.
Bottom line – iPhone 8 sales more than anything else will be the driver for Apple stock in the months ahead.
But that's not to say we should ignore other stories within Apple.
Pluses From the Quarterly Report
Other important items gleaned from the quarterly report included seeing Apple's cash reserves swell to $256.8 billion!
The company announced it would boost its cash dividend by 10.5% and its share repurchase program by $35 billion to $210 billion. Apple promised to give back to shareholders at least $300 billion, via buybacks and dividends, through March 2019.
The iPad – Apple's third biggest product by sales – continued its downward spiral in unit shipments.
A huge bright spot for me was Apple's services business. It delivered another quarter with strong, double-digit growth with rising from nearly $6 billion a year ago to $7.04 billion in the latest quarter.
That is the highest revenue ever for the services business, which includes iTunes and Apple Music, the App Store, iCloud, Apple Pay and more.
And while the services business is still only about a seventh of Apple's overall revenue, it represented more than half of Apple's overall revenue growth for the quarter.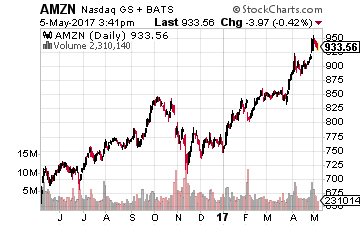 For perspective, the size of Apple's services business revenue is much bigger than Amazon.com (Nasdaq: AMZN) web services revenues. AWS, in the first quarter of 2017, had revenue of $3.66 billion.
The services business, in my view, is the glue for the whole Apple ecosystem. The hope is that it works almost like an annuity for the company.
The services business creates and locks-in a user base, which today has 165 million paid, recurring subscriptions. Apple retains as much as 30% of what these customers spend.
Apple's goal, of course, is to get that subscriber number as close as possible to the total number of people with iPhones – about 600 million worldwide.
Apple Stock's Future
With the iPhone 8 coming and the services business booming, I do remain positive on Apple.
The only real negative in my eyes is the overwhelming positive Wall Street sentiment toward Apple at the moment.
Remember, these are the same guys that were negative on Apple a year ago, missing the 60% move over the past year, and have now turned positive.
FactSet data reveals that 27 analysts raised their price target on Apple in February alone. That was followed by 31 analysts in March and 25 analysts in April.
That always worries a contrarian like me.
I actually hope the analysts are "right" again. Note the sarcasm.
Any Apple stock price weakness before the iPhone 8 launches will be welcomed by me and should be seen by you as an opportunity to buy Apple at a bit of a discount from its all-time high.
Investing in Apple stock in 2006, right before they launched the first iPhone, is what I like to call a generational investing opportunity. These are the investments in your portfolio that will keep going up for decades to come.
And, right now, I am recommending a stock that sits right at the crossroads of two unbelievably promising industries that could have similar long-term potential to buying Apple in 2006.
The first industry has the potential to be one of the largest growth opportunities the market will see over the next ten years, and the second is a sector that has been around for over 100 years and is as essential to the global economy as water is for a human to live.
That combination makes for one massive growth opportunity for this one company. You can get the name of this stock for free in the May issue of my Growth Stock Advisor newsletter. If you're not already a subscriber, I'm offering up a 30 day free trial to anyone who joins today, so they can read the May issue that contains this potential generational investing opportunity.
To join at this special discounted rate, CLICK HERE to take advantage.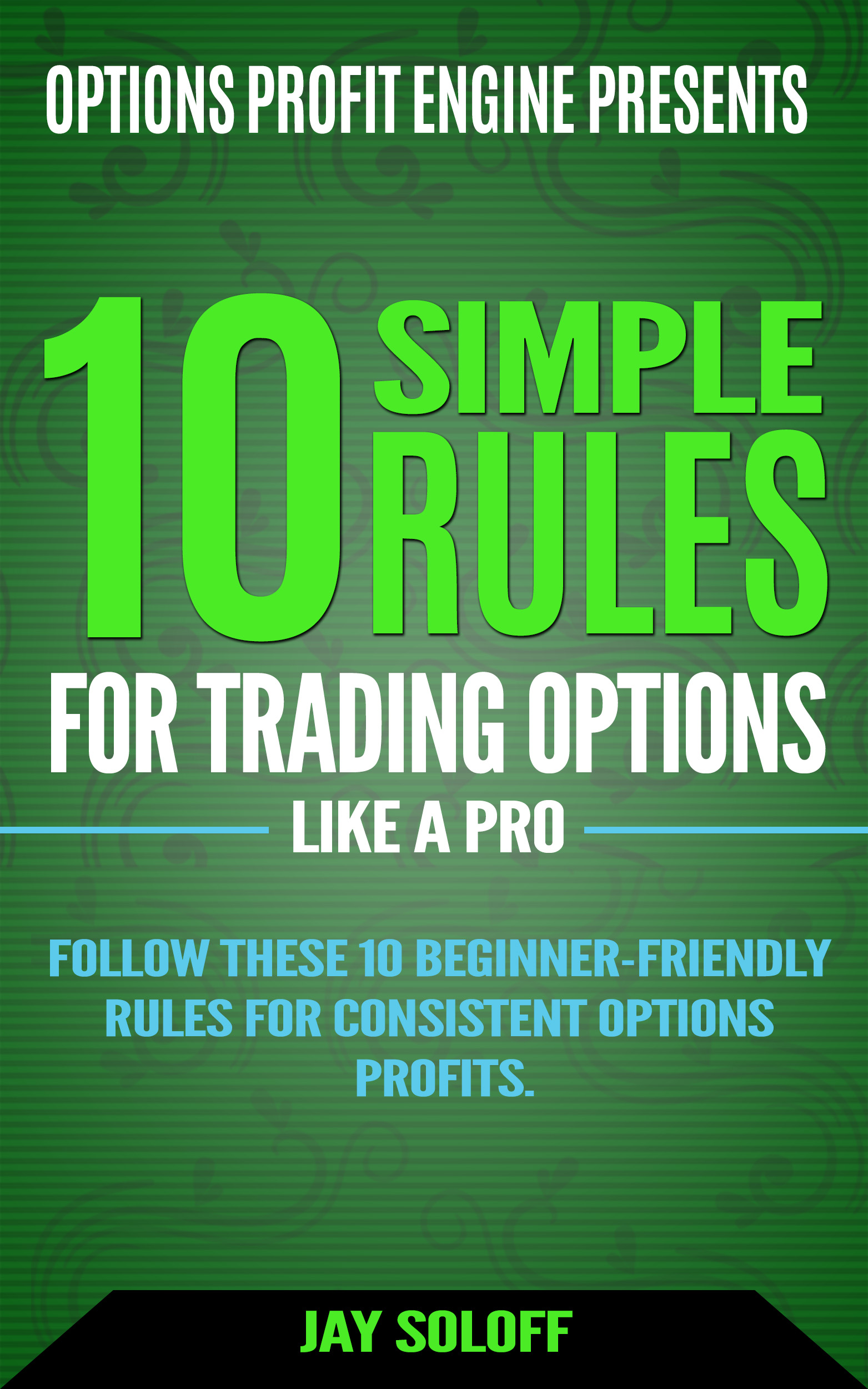 [FREE DOWNLOAD] 10 Simple Rules for Trading Options Like a Pro
Follow these 10 simple rules from 20-year professional options trading veteran, Jay Soloff and start earning a reliable extra income from options.
NO prior experience needed to master these 10 simple options trading rules. 
Enter your email below and receive access to this FREE guide...