American consumers have more money this year than ever to spend on holiday shopping meaning certain retail stocks will get a big boost in Q4 earnings. Since the recession the likes of Walmart and Target were the main benefactors of Black Friday mania, but this year this underrated group of stocks will take over.
Shoppers hit the stores in droves last Friday for the biggest shopping day of the year, Black Friday.
But unlike 2013 and many years prior, shoppers actually had a few extra billion dollars in their pockets and appeared more confident than ever.
The details don't need to be rehashed: You already know that unemployment is at multi-year lows, personal income has been steadily rising, consumer sentiment is at the highest levels in seven years. And now with oil below $70 a barrel and at the lowest level in four years, shoppers are finally ready to loosen the purse strings.
But think about this: Assuming everyone knows that this holiday season could be big, haven't investors already been buying up retailers in anticipation?
The market has already singled out Wal-Mart (NYSE: WMT) and Target (NYSE: TGT), with both stocks hitting all-time highs during trading on Black Friday.
Investors are front-running the entire trade. The SPDR S&P 500 Retail ETF (NYSEARCA:XRT) is up 8.5% over for last month, while the S&P 500 is up just 5.7%.
I'm not buying into the retail hype and think investors should look beyond that Black Friday trade.
One place to look is the luxury brands.
The middle income shoppers have traded down to the likes of Wal-Mart (NYSE: WMT) over the years, but with the economic recovery barreling ahead, it is time to trade back up.
Truth be told, regardless of the amount of money in your bank account, we all like the idea of a deal. That's precisely why Neiman Marcus, which sells Gucci, Fendi and Tom Ford handbags for upwards of $5,000 apiece, opened its doors early on Black Friday.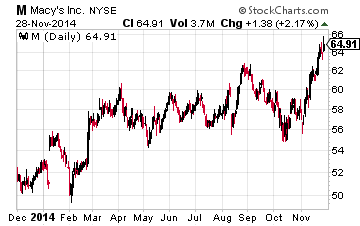 While Black Friday shoppers were out stuffing their shopping bags with iPads, TVs, and GoPros, they likely found time to stop into Macy's (NYSE: M), Nordstrom (NYSE: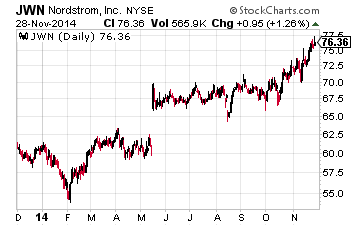 JWN) and other high-end boutique shops.
By all accounts, shoppers were opening up their pocketbooks to buy glamour brands for the first time in a number of years. However, the media is focused on the retail trade and whether this will be the last holiday season for Sears Holdings (NASDAQ: SHLD), J.C. Penney (NYSE: JCP) and RadioShack (NYSE: RSH).
Luxury is one of the most underrated Black Friday plays. This includes the major handbag and accessory makers.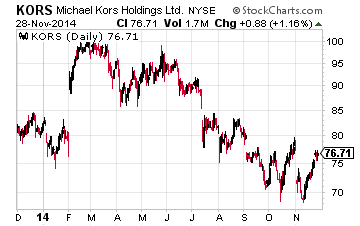 Michael Kors Holdings (NYSE: KORS) is not just a handbag manufacturer, it's also a maker of jewelry and apparel. Macy's CEO Terry Lundgren has already noted that Kors watches were selling quite nicely on Black Friday. Kors has been investing in its ecommerce channel and opening retail locations, including shop-in-shops, in anticipation for this holiday season.
However, shares of Kors are down 20% over the last six months. With the tumble, the stock now trades at a forward P/E ratio (price-to-earnings ratio based on next year's earnings estimates) of 16. Its P/E-to-growth rate (PEG) ratio is at 0.9, where anything below 1.0 is considered an attractively priced stock. And with no debt Kors looks to be one of the better value and growth stocks the market has to offer.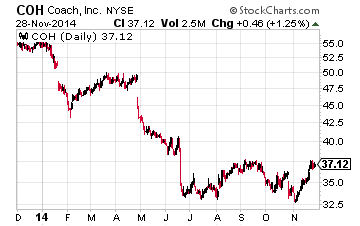 Then there's Coach, Inc. (NYSE: COH), which has actually been the victim of Kors' success. Coach is down 33% year-to-date, but has no debt and generates a return on investment of over 30% — thanks to the high margin handbags it sells.
The problem is that Coach is also amidst a reinvention cycle and the turnaround story is taking longer than expected. However, investors do get a 3.7% dividend yield while they wait. This Black Friday shopping season was the first full year that Coach had Stuart Vevers in the Creative Director position — Vevers, having worked with Marc Jacobs and at Louis Vuitton and Mulberry, is expected to bring a much needed revamp to Coach's product lineup.
Now, with Coach and Michael Kors in focus, does that mean all bags are back?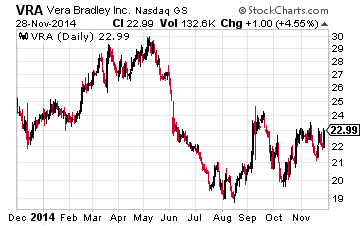 A couple of the most underrated plays in the high-end bag area are Vera Bradley (NASDAQ: VRA) and Tumi Holdings (NYSE: TUMI).
Known for its unique patterns, Vera Bradley sells various handbags and totes in a number of  boutique shops. But it's been a lackluster performer and many investors are still betting that its products are just a fad. The stock topped out at $50 shortly after its IPO in 2011, but has been trading around $25 of late.
On the positive side, Vera Bradley is a solid free cash generating business. Its free cash flow yield is over 7.5%. But the amount of shares short remains high. The short interest for Vera is upwards of 42%, compared to the likes of struggling smartphone maker, BlackBerry (NASDAQ: BBRY), which has a short interest of just 20%.
Is a strong holiday season just what Vera Bradley needs to break out of its trading funk and prove short sellers wrong once and for all? We shall see. It is worth noting that it has no debt and generates a 20% plus return on investment.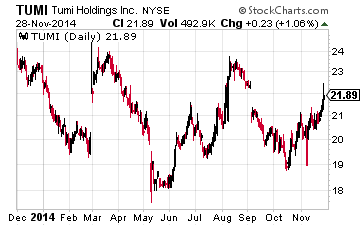 Along the lines of unique bags, there's also Tumi. While Tumi is known for its luggage, it is also a maker of totes, outerwear and various accessories like belts and wallets.
Since its 2012 IPO, shares of Tumi are down 15%. However, it has no debt and sells its various bags and luggage in high-end retailers like Macy's. It's also taking control of its ecommerce platform, which should help boost long-term profitability.
Finally, let's not forget about wrist-wear.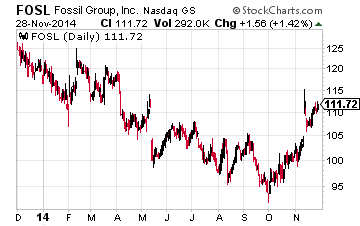 The leaders here are Fossil Group (NASDAQ: FOSL) and Movado Group (NYSE: MOV). Fossil has been holding up better than some of the other luxury retailers. It has a number of Fossil brands and licensed branded watched, which includes Michael Kors. It's also an international retailer — where its latest leather jewelry has been quite popular.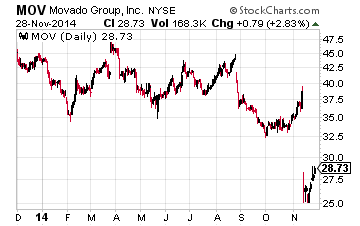 Meanwhile, its counterpart, Movado, sold off hard last month after lowering its guidance for this year. The stock is now down 35% year-to-date. But it appears shares are trading at a forward P/E of 14.5 and its PEG ratio is right at 1.0, which could make it a compelling investment for value investors.
One of the biggest misunderstandings for these watchmakers is that the rise of the smart watches will mean the decline of fashion-focused watches.
But the smartwatch hasn't caught on of late. This still leaves an opportunity for the likes of Movado and Fossil to collaborate with tech companies to help make smart watches more appealing and fashionable.
In the end, although investors are choosing to focus on the retail names this Black Friday, there may have been some unexpected and underrated winners — the luxury brands — that are being overlooked.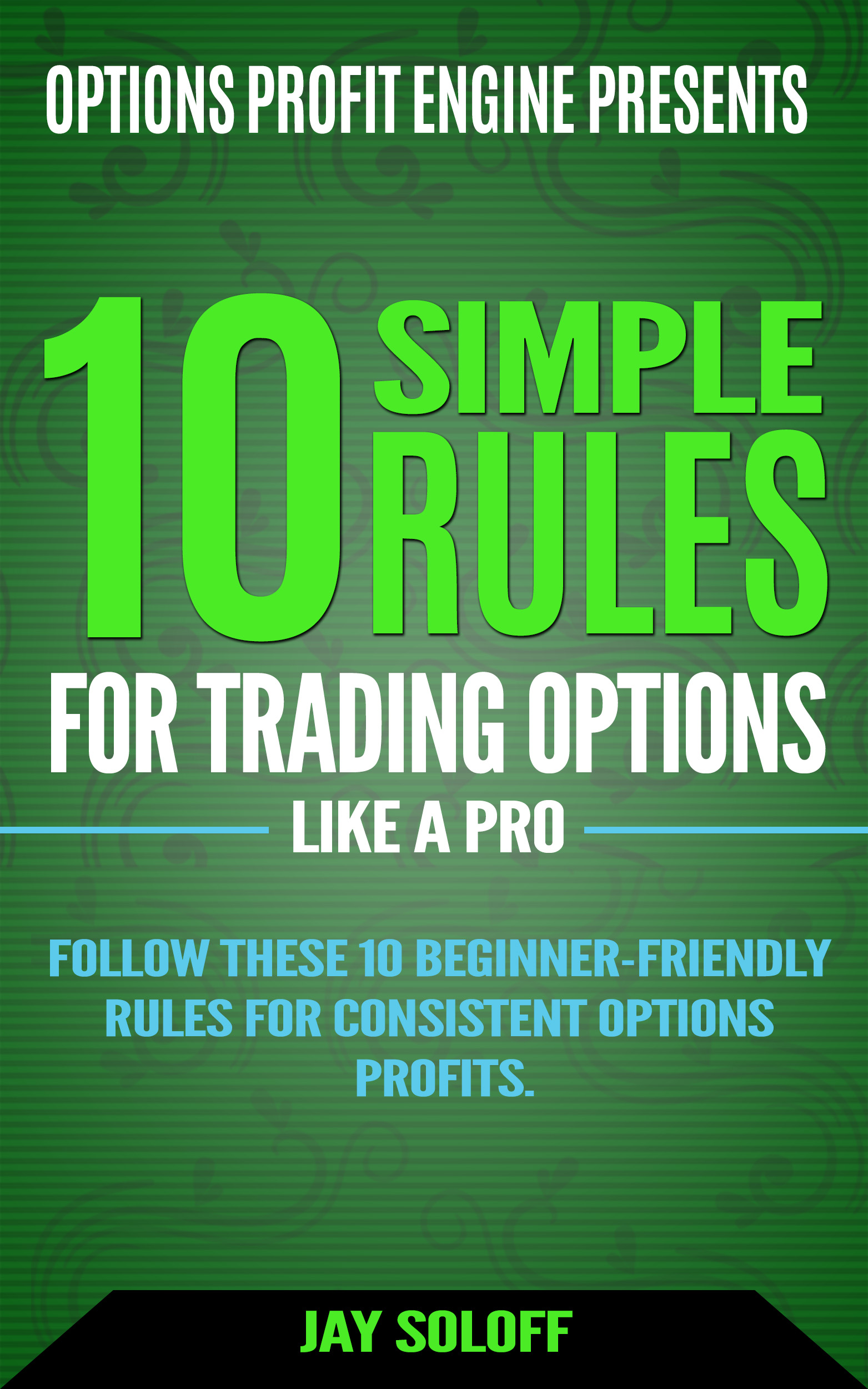 [FREE DOWNLOAD] 10 Simple Rules for Trading Options Like a Pro
Follow these 10 simple rules from 20-year professional options trading veteran, Jay Soloff and start earning a reliable extra income from options.
NO prior experience needed to master these 10 simple options trading rules. 
Enter your email below and receive access to this FREE guide...