Want a contrarian play? Check out the retail sector.
This year, retail stocks – represented by the S&P 500 Retail Index (RLX) – are up 14.3%.
By contrast, the S&P 500 has barely budged.
The gap between the two indexes actually began to widen in November 2017 – around the holiday season.
You might be surprised by the extent of that outperformance, given the fierce competition and cannibalization within the retail sector. But many retailers are feeding off strong holiday sales and earnings. In addition, retail and food sales snapped a downtrend in March by rising 0.6%, having fallen by 0.2% and 0.1% in January and February, respectively.
Zacks projects this will result in year-over-year retail earnings growth of 12% this quarter, versus just 3% during the fourth quarter.
But be warned. A rising tide doesn't always lift all boats. And not all retailers are equal, either.
Related: Pick Up These 2 Dividend Stocks as Retailers Wage War
The e-Horses Are Winning
While some analysts are banging the retail drum – and even see further improvement ahead – it doesn't alter the fact that it's one of the most competitive, cut-throat sectors.
Much of that competition comes from online retailers, which are squeezing traditional retailers on cost (fewer overheads mean lower prices), convenience, and fast delivery.
As a result, bricks-and-mortar stores are forced out of their comfort zone and into battle with both online rivals, as well as their closer counterparts.
Specifically, they're compelled to offer bigger discounts and build a greater online presence. The former erodes profit margins; the latter costs money to run as successfully as e-retailers (in addition to their higher overheads, of course).
So while investors might be enjoying retailers' post-holiday buzz, what happens when that fades and normal service resumes?
Quoted in Barron's, Brian McGough, head retail analyst at Hedgeye Risk Management, is clear: "At this juncture, it's a two-horse race."
Those horses are Amazon.com (Nasdaq: AMZN) and Walmart Inc. (NYSE: WMT).
And their dominance spells upheaval for traditional retailers like Macy's Inc. (NYSE: M).
The Great Retail Migration
Remember when department stores used to cater to all your shopping needs?
Failing that, it was the local mall.
That still happens, of course. But not as much. As tastes – and technology – have evolved, it's often far more convenient to shop online. There's a much greater choice of products, too.
The internet is the new one-stop shop. You can still buy what you need under one roof… except that roof is now your own!
Foot traffic is down, and many stores and malls are closing.
Hence the struggle for traditional department stores like Macy's.
Don't be fooled by the company's strong holiday period. Yes… earnings of $2.82 per share beat expectations. But it was only Macy's first sales rise in 11 quarters. And while the stock is up around 20% this year, it follows a 2015-2017 slump where the price tanked by over two-thirds. And the momentum could be short-lived amid the battle with discount stores and e-retailers.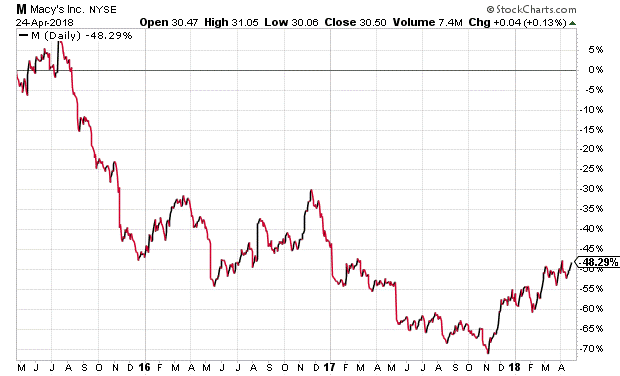 As Macy's CEO Jeff Gennette admitted at the ShopTalk retail conference last month, "It's the most competitive environment we've ever seen. Macy's heritage isn't going to be enough to guarantee success."
I agree.
So what is Macy's doing about it?
Macy's "Backstage" Pass
In 2015, Macy's introduced a new off-price initiative called Backstage.
Designed to compete with discount retailers like T.J. Maxx, Marshalls, and Ross, Backstage stores first appeared in New York. The company then expanded it in 2016 by placing Backstage within existing Macy's stores.
As the concept has grown, there were 45 Backstage stores at the end of 2017, with plans to open another 100 outlets this year.
Backstage essentially works like a discount retailer. It boasts marked-down merchandise and operates separately from the main Macy's line.
But here's the rub: It also carries many of the same brands as Macy's.
If you're a budget-conscious consumer, why not just wait to see if items get bumped to Backstage and get a fat discount before buying?
While Backstage has worked so far – it's produced an average 7% sales rise per store – it could end up cannibalizing higher-end Macy's sales… and impacting the overall bottom line.
Macy plans to put Backstage in flagship stores and market it more heavily. But right now, it only forecasts measly overall same-store sales growth of zero to 1% this year.
Going Mobile (Kind Of)
"The single biggest pain point."
That's how Gennette describes Macy's checkout process, where it's often a trek to find a register, and then a long wait to pay.
To address that, the company has trialed a mobile checkout system – and will launch it in all stores by the end of the year.
But talk about unwieldy.
Customers must download Macy's mobile checkout app, join its free wifi network, and use the camera on their phone with the app to scan items. They use a saved payment card to buy the goods. But before leaving, they still have to stop at a mobile checkout counter to verify the purchases and remove security tags.
Not so quick or convenient.
The app also includes a virtual reality pilot program, which allows customers to "virtually" place Macy's furniture in their home via an in-store tablet and use a VR headset to see how it looks and fits before they buy. The system will be in 60 stores by the autumn.
That's pretty cool. But is it a game-changer for Macy's amid all the competition?
Macy's has closed stores in recent months, while existing ones – including those at malls – remain susceptible to declining foot traffic. Cool technology doesn't mean much if there aren't actually as many people in the stores!
Buyer Beware
FactSet says while U.S. retail sales are projected to rise by 9% this year, 2019 and 2020 will see drops of 5% and 3.9%, respectively. For Macy's, sales are expected to be flat over the next three years.
So while Macy's and other retailers are faring well now, if you're looking to hitch a ride on the wagon… buyer beware.
The company is trying to improve the in-store experience through technology and pivot more to digital sales, but until it (and other traditional retailers) proves it can compete with discounters and online rivals, it will be an uphill battle.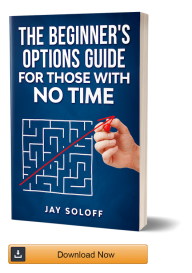 If not, here's your chance to save it to your computer while it's still free. That way you will never have to pay for it again in the future.
This guide will get you placing winning trades without you needing to spend hundreds of hours studying.
In fact, you can place your first trade today after reading my "Beginner's Guide" to trading options.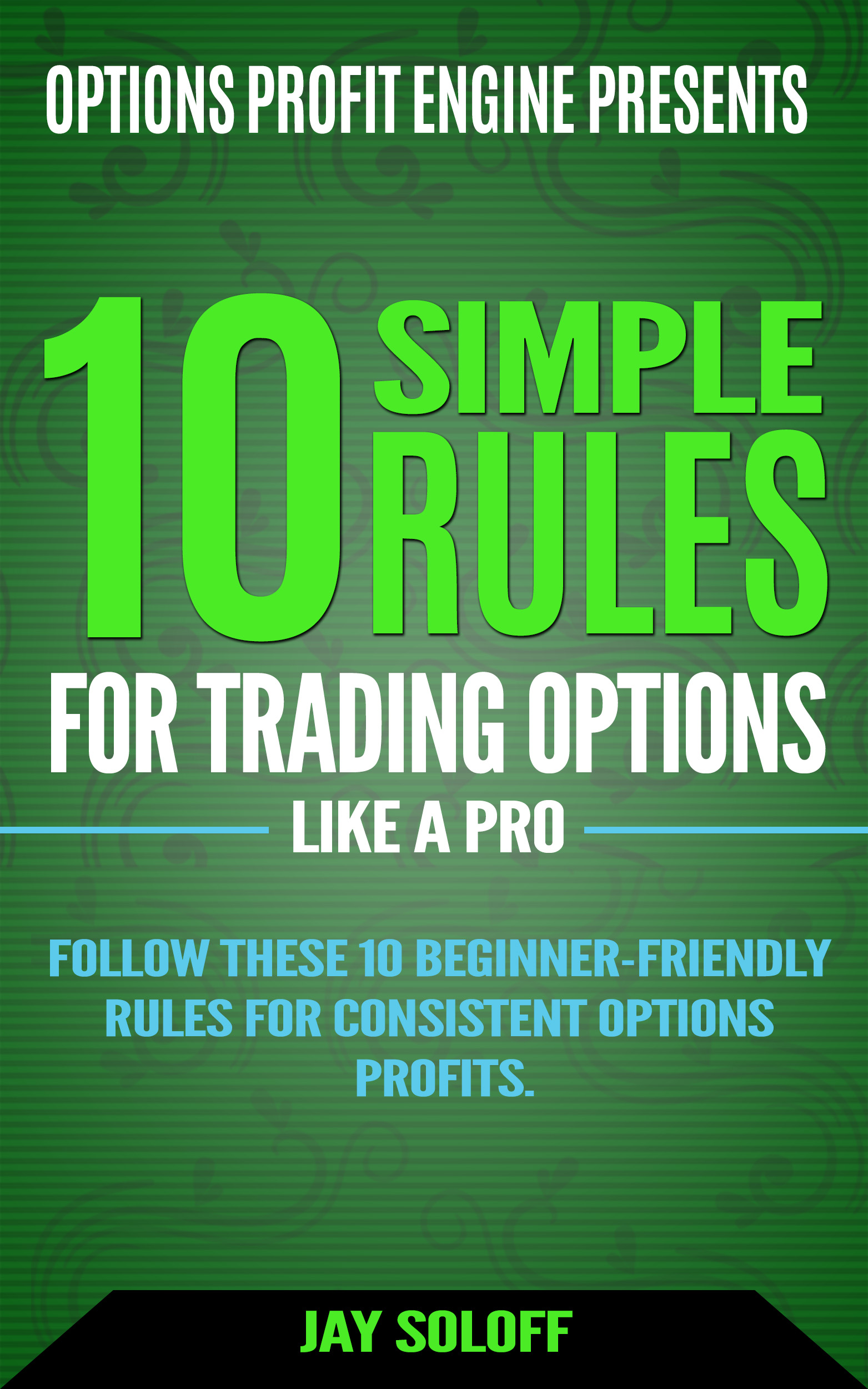 [FREE DOWNLOAD] 10 Simple Rules for Trading Options Like a Pro
Follow these 10 simple rules from 20-year professional options trading veteran, Jay Soloff and start earning a reliable extra income from options.
NO prior experience needed to master these 10 simple options trading rules. 
Enter your email below and receive access to this FREE guide...