Recent geopolitical events have focused investors' attention on gold and oil and both have recently taken substantial hits in price.
Many investors were lured into gold on July 2, when a "golden cross" appeared on the chart for the spot price of the yellow metal.  A golden cross is formed when the 50-day moving average crosses above the 200-day moving average.  Less than two weeks later, gold abruptly sank 2.40 percent on July 14.  Things really began to get ugly after August 14.  August 21 brought the fifth consecutive day of declines, as the spot price of gold abruptly sank 1.18 percent to $1,277.30 per ounce.
Gold investors have been watching the one-year chart for gold's spot price, paying particular attention to a symmetrical triangle pattern which has formed.  Once the price breaks above the upper trendline or below the lower trendline, we usually have a signal that a decisive move is about to occur.  The August 21 decline hit the lower trendline on a day of heavy selling, as gold's spot price dropped below its 200-day moving average.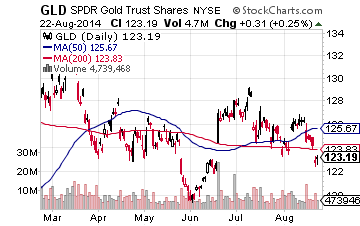 Investors who are interested in attempting to benefit from a continuing decline in gold prices have a number of alternatives available.  One approach would involve taking short positions on the SPDR Gold Shares ETF (NYSEARCA:GLD).  Another strategy could involve buying put options on GLD.
For those who might be unwilling to take the risk of short-selling shares, there are a few ETFs which are designed to advance as gold prices decline.  The PowerShares Deutsche Bank Gold Short ETN (NYSEARCA:DGZ) is used to track the market value of certain gold futures contracts.
Other "short" gold ETFs include the The PowerShares Deutsche Bank Gold Double Short ETN (NYSEARCA:DZZ), which is a 2X inverse ETF, much like ProShares UltraShort Gold ETF (NYSEARCA:GLL).
For those who have the financial means and the stomach lining to take a more significant risk, there is the VelocityShares 3x Inverse Gold ETN (NYSEARCA:DGLD), which is an inverse (-3x) ETF that tracks the S&P GSCI Gold Index.
Oil investors have become accustomed to seeing bearish signals on the charts for the various investments in so-called "black gold", which have been performing as badly as those for its yellow counterpart.  Bearish head-and-shoulders patterns are the most prominent features on the charts for the U.S. Oil Fund ETF (NYSEARCA:USO) and West Texas Intermediate Crude (WTI).  Both have dropped far below their respective 200-day moving averages.  Oil prices have fallen as the Ukrainian situation has stabilized.  The airstrikes on Iraq have also helped stabilize oil prices.
Investors seeking to profit from declining oil prices also have several available alternatives.  Short positions on the United States Oil Fund ETF (USO) can be used, or put options on USO could also be purchased.  USO is a large commodity ETF that follows the prices of West Texas Intermediate (WTI) light, sweet crude oil.
There are also a number of "short" ETFs, which should advance as oil prices decline.  United States Short Oil (DNO) tracks the inverse percentage in movements of the price of Oil, much like ProShares Short Oil & Gas ETF (DDG) which delivers inverse -1X of the daily results of the Dow Jones U.S. Oil & Gas Index.  ProShares UltraShort Dow Jones – UBS Crude Oil ETF (SCO) is a -2X leveraged inverse oil ETF for more adventuresome traders and tracks the Dow Jones – UBS Crude Oil Sub-Index. Leveraged ETFs can be extremely volatile and are suitable only for investors who have carefully studied these products and understand how they work.
"Black gold" and "Yellow Gold" continue to remain volatile, as always, and can offer both long and short opportunities for traders and investors with a solid trading and risk management plan.