A 40% haircut to oil prices has the market up in arms, ignoring everything that actually matters. While everyone focuses on how far or how quick oil will move, we've set our focus on profiting from the fall in oil. Here's how. 
The move in oil prices has been quick and quite violent. You likely don't need a recap of what's happened, but in case you do, he's a chart of crude oil prices.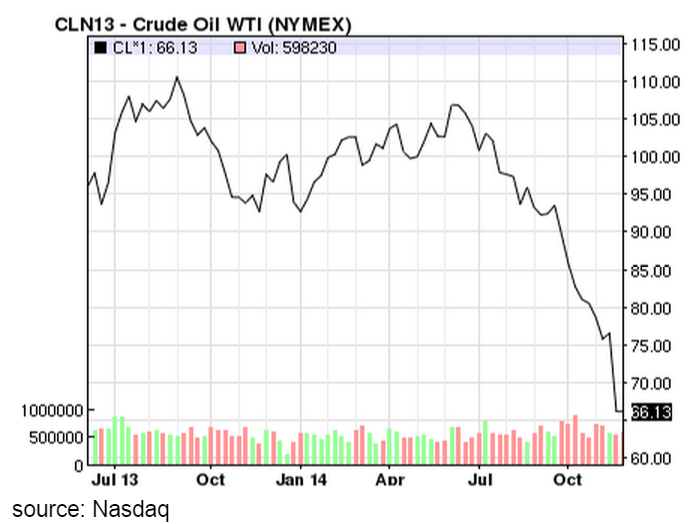 By the media's proclamation, things are dire. Desperate even. One thing remains true, the media loves to fear monger, because fear sells.
Some headlines have said oil could fall below $50 a barrel. Recall when oil was barreling past $140 in 2008, Goldman Sachs called for $200. Shortly after that, oil plummeted to $40.
Some headlines have even suggested that OPEC is waging war on the American shale revolution. Where by forcing prices even lower, many of America's smaller oil producers will be forced out of business, re-crowning the Middle East as the oil overloads.
There will always be extremist. But all this has still sent oil-related names into a vicious selloff. There is some "blood in the streets" opportunities, but that's a post for another time.
One of the things I find most interesting is that most of the news around the current price of oil is pitched in a negative light. However, there are a couple things that studious investors should be paying attention to.
As you likely known — with every penny fall in gas prices, Americans saves a billion dollars. Considering the fact that gas prices are the lowest in over five years, it looks to be an easy bet that Americans will have a lot more money in their pockets in the coming months.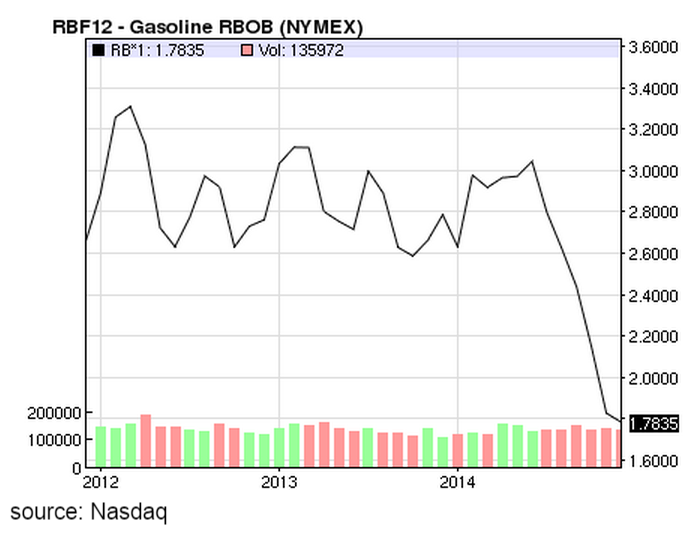 And when consumers are winning, investors should be winning too. Here's a few ways they've been winning this month: the S&P airline industry is up 12% over the last month. Many other companies that use a lot of gas are also winning. Shares of Domino's Pizza (NYSE: DPZ) and FedEx Corporation (NYSE: FDX) are up 6% and 7% for the last thirty days, respectively.
Cheap gas is a big win for the American driver and will hopefully lead to a return of the gas guzzling SUVs and pickup trucks. This would be a welcomed sight for the sore eyes in Detroit, think: General Motors (NYSE: GM) and Ford (NYSE: F). Both stocks have been punished over the last six months, but the valuations are still quite attractive.
The other big winners should be the companies catering to the low-income families.
The obvious winners will be the world's largest department store, Wal-Mart (NYSE: WMT), and your neighborhood dollar store, Dollar General (NYSE: DG).
A more speculative play could be Big Lots (NYSE: BIG). Big Lots sold off hard after reporting lower than expected earnings last week. However, it still has a strong balance sheet with virtually no debt and is cheaper than its discount store peers on a forward earnings and free  cash flow basis.
The problem is; all this still doesn't remedy the fact that the market has missed three big trends during this gutting of oil. Here's a deeper look:
No.1: The Oil Selloff Overshadowed Strong Growth
Just a day before OPEC announced it wouldn't cut production, the Bureau of Economic Analysis (BEA) released third quarter GDP that was very positive. The market was too busy trying to figure out the bottom in oil prices to notice.
Third quarter growth in the U.S. was better than expected, growing at an annual pace of 3.9%. Coupled with the 4.6% growth during the second quarter, and the U.S. has put in the fastest six-month growth in over a decade.
The growth hasn't stopped with the broader economy, the likes of Gap (NYSE: GPS) and L Brands (NYSE: LB) were up nicely last week after posting robust comparable store sales for November. These guys will continue to be winners.
No. 2: The Oil Selloff Put A Gloom On Black Friday
The large decline in oil prices on Black Friday seemed to put the NRF in a bad mood. The NRF — the authority on guessing holiday sales — came out last week and said that sales on Black Friday were down 11% from 2013.
But those numbers tell a very different story from the actual status of the American shopper. And is in direct contradiction to the strong economic numbers and robust comps by Gap and L Brands last week.
How could this be possible?
You be the judge; so far this year the unemployment rate is down to 5.8% versus 7.2% at this time last year, consumer confidence is up to 88.7 compared to last year's 72, and disposable income per capita is up 3.2% year-over-year.
No one can say for sure what holiday sales were, since we won't have the data until January, but by all accounts it looks to be the opposite. As well, the NRF guesstimated that Black Friday sales were down 2% in 2013, when in fact sales grew 4%.
On the other hand, there's a lot at work as to why Black Friday sales may have looked weak: Spending is more spread out across the entire holiday season and not just Black Friday thanks to online shopping. Plus, with more money in people's pockets, less people have to abandon their families to go stand in the cold to get a deal. And deals appeared to start earlier this year, so some sales were pre-Black Friday.
One big trend that we did see on Black Friday and the record breaking Cyber Monday is that online shopping is here to stay. And it'll likely remain robust through Christmas. The obvious play here is Amazon.com (NASDAQ: AMZN), or a sleeper pick could the Groupon (NASDAQ: GRPN).
No. 3: The Oil Selloff Is Pushing The Dollar Even Higher
Lower oil is a big positive for the dollar. The chart below is very telling.
And the dollar might be set up to appreciate even further. European countries and other weak economies might take advantage of the slumping oil prices by implementing more monetary easing to try and jumpstart their economies.
This will further weaken their currencies and lead to an even stronger dollar. That can be a negative for U.S.-based companies that generate a lot of their revenues overseas — given they have to convert their profits back to U.S. dollars.
Thus, why not focus on those companies that will benefit from low gas prices and a strong dollar? Think: Ross Stores (NASDAQ: ROST) and Bed Bath & Beyond (NASDAQ: BBBY), both of which derive nearly all their sales from the U.S.
Another interesting play is the red hot athletic apparel stock Under Armour (NYSE: UA), generating 90% of its revenues from the North America. All three will benefit by having most of their revenues generated in U.S. dollars and not having to convert from a weaker currency, but will also be benefactors of continued consumer discretionary spending growth.
In the end, The fall in oil has happened so fast that the market can't process the information fast enough. The key to remember is that the American consumers are strong and only strengthen more when is oil prices are low.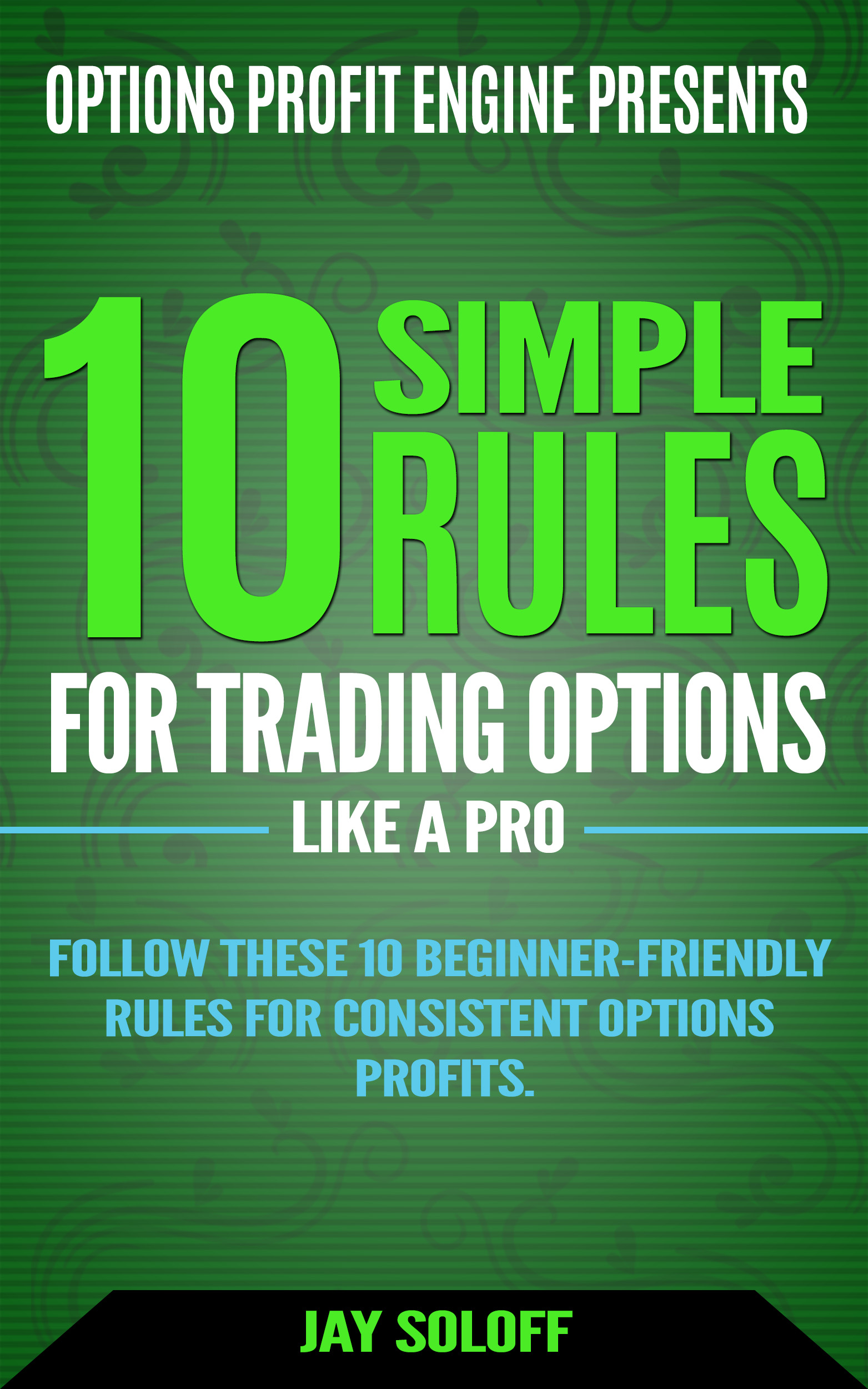 [FREE DOWNLOAD] 10 Simple Rules for Trading Options Like a Pro
Follow these 10 simple rules from 20-year professional options trading veteran, Jay Soloff and start earning a reliable extra income from options.
NO prior experience needed to master these 10 simple options trading rules. 
Enter your email below and receive access to this FREE guide...