There's been no shortage of geopolitical news lately.  While summer is usually the time when the news cycle slows down, so far it hasn't been the case.  In particular, there has been an unusual amount of discussion concerning international trade and tariffs.
Regarding tariffs, the stock market has had plenty to digest.  The US currently has a new steel and aluminum tariff impacting Canada, Mexico, and the EU.  The retaliatory tariffs from those regions came quick, with plenty of discord involved.  Tariffs generally make up a very small portion of trade with our primary allies.  But, recent events have threatened to make them a much bigger deal.
Politics aside, tariffs are typically a very negative variable for the global economy.  First off, most large companies from developed nations have an international presence.  More importantly, tariffs are a precursor to trade wars, and trade wars raise the price of basically everything.  There may have been a time where protectionist policies were good for the US, but this is clearly not one of them.
At first, the stock market didn't like any of the news regarding tariffs.  The potential for a trade war with China is a big part of what sparked the major stock selloff on February 5th.  However, since the current tariffs have only been directed towards steel and aluminum, the market has mostly shrugged off the situation.  That could change should the administration attempt to levy more or bigger tariffs.
On the other hand, it looks like the US and China (for better or worse) have worked out an arrangement for the time being which will prevent a trade war.  That's been mostly good news for the stock market.  It's also been moderately bullish for iShares China Large-Cap ETF (NYSE: FXI).
FXI is possibly the most popular method for US investors who want to trade Chinese stocks.  The ETF trades about 25 million shares a day on average, along with a fairly brisk 80,000 contracts in options.  As you can see from the chart, FXI has jumped off its 200-day moving average ($46.75) and is near the top end of its recent trading range.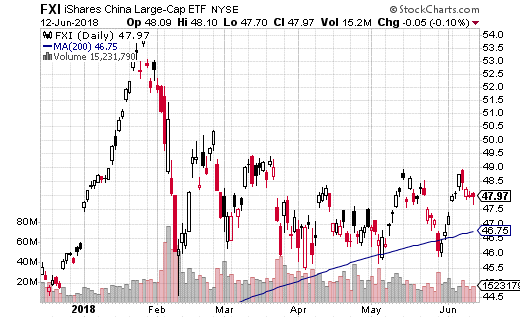 At least one size trader believes FXI is going to remain above the bottom of the range for the next six months or so.   With the stock at $48, the trader sold 10,000 January 2019 45 puts for $1.93.  The trade collects $1.9 million in premium should FXI remain above $45 by January expiration.
The downside risk of selling naked puts can be substantial, but not as much as it first may seem.  Realistically, China stocks have a floor, even if the market crashes.  Moreover, the put seller may be happy to get long FXI at $45 and hold for the long-term.  (Keep in mind, being short puts comes with possibility of getting assigned long shares of the underlying if the stock drops below the strike price.)
Many investors use short puts as a method to generate income while waiting for their entry price to buy into the underlying asset.  This very well could be the case with the put seller, who may wish to earn a decent yield on FXI while waiting to purchase 1 million shares of the ETF at $45 or thereabouts.
$500 into $678,906?
If you had followed Jay Soloff's 2018 trades, with a little luck, you could've turned $500 into as much as $678,906.
That sounds unbelievable. But you gotta see how it's possible.
If you can scrounge together $500 in cash, it could've been worth a small fortune today.
Check out how it could've happened for you,
click here
.